Trans News Updates:
Compiled and edited by Lynn Conway
[Version of 8-26-14]
These pages link to news of special interest to the trans community, including excerpts to convey the gist of each story. In addition to alerting readers about important events, the links provide a moving-window into shifting media spins and societal behavior towards trans people ‒ enabling us to track historical shifts in such behaviors as years go by. Of special interest are news articles from outside the U.S., enabling us to follow media-trends in other cultures too. In some cases, excerpts are followed by my editorial comments, in brackets [ ].
E-mail Lynn to send links for listing. To browse the archive, click the relevant year/month in the table below. You can conduct detailed searches of the archive, by using the site-search-box at the top of the page.
2014: Jan, Feb, Mar, Apr, May, Jun, Jul, Aug
2013: Jan, Feb, Mar, Apr, May, Jun, Jul, Aug, Sep, Oct, Nov, Dec
2012: Jan, Feb, Mar, Apr, May, Jun, Jul, Aug, Sep, Oct, Nov, Dec
2011: Jan, Feb, Mar, Apr, May, Jun, Jul, Aug, Sep, Oct, Nov, Dec
2010: Jan, Feb, Mar, Apr, May, Jun, Jul, Aug, Sep, Oct, Nov, Dec
2009: Jan, Feb, Mar, Apr, May, Jun, Jul, Aug, Sep, Oct, Nov, Dec
2008: Jan, Feb, Mar, Apr, May, Jun, Jul, Aug, Sep, Oct, Nov, Dec
2007: Jan, Feb, Mar, Apr, May, Jun, Jul, Aug, Sep, Oct, Nov, Dec
2006: Jan, Feb, Mar, Apr, May, Jun, Jul, Aug, Sep, Oct, Nov, Dec
2005: - - - Apr, May, Jun, Jul, Aug, Sep, Oct, Nov, Dec
SPECIAL ALERTS:
02-25-14: GIDReform: "Methodological Questions in Childhood Gender Identity 'Desistence' Research", by Kelley Winters, Ph.D.
01-30-14: Metro Weekly: "Maine Supreme Court rules transgender student cannot be denied bathroom access" (more, more, more, more)
01-14-14: IEEE Institute: "Approved IEEE Code of Ethics − IEEE Board approves changes"
01-13-14: HRC: "The Institute of Electrical and Electronic Engineers Adopts LGBT-Inclusive Code of Ethics"
01-13-14: Huffington Post (posted 1-08): "Leadership and the Value of Exceptional Allies", by Dana Beyer
01-02-14: Just Plain Sense: "Ten Years On", by Christine Burns
12-31-13: Amazon.com: "Pressing Matters (Vol 1) [Kindle Edition]", by Christine Burns
09-07-13: Idolator (posted 9-03): "Goldfrapp's "Annabel" Video: Watch The Thoughtful Exploration In Gender Identity" (more, more, more)
09-04-13: Huffington Post: "University of Arizona Helps Transgender Studies Take a Bold Leap Forward", by Mitch Kellaway
08-28-13: IU News (Indiana University): "Kinsey Institute receives grant to study transgender issues in the U.S. military"
08-28-13: Huffington Post: "LGBT Legal Progress: 1988 - 2038" by Dana Beyer
08-25-13: The Gothamist: "[UPDATE] Transgender Woman Dies After Saturday Night Assault In Harlem" (Islan's LinkedIn page)
08-25-13: The Guardian (UK re US, posted 8-24): "High hopes: . . .Victims of FGM are only offered surgery to reduce their pain. But a cult is supporting a few surgeons as they attempt to restore sexual sensation"
08-23-13: PBS: "How Will the Military Handle Bradley Manning's Request to Be 'Chelsea'?"
(A must-see interview/discussion by Allyson Robinson on the issue of transgender people in the military)
08-23-13: NBC News: "For transgender prisoners, hormones seen as matter of life and death"
08-23-13: The Telegraph (UK re US): "Prison will not be kind to Chelsea Manning" by Cathy Newman, Channel 4 News
08-17-13: Facebook (India): "'Her name is Sowmya' - An angel gone", by Kalki Subramaniam [A must see video film for all.]
08-15-13: Washington Post: "Conservative Christianity and the transgender question", by Russell D. Moore (more)
08-12-13: Sacramento Bee: "Jerry Brown signs bill empowering transgender students" (more, more, more, AB-1266)
08-05-13: The New Civil Rights Movement: "After DADT: Transgender Life In The United States Military . . ," by guest author Brynn Tannehill
07-31-13: The New York Times: "Editorial: The Next Civil Rights Frontier", by The NYT Editorial Board
07-23-13: Huffington Post: "Arin Andrews and Katie Hill, Transgender Teenage Couple, Transition Together" (more)
07-14-13: Huffington Post: "The Many Shades of 'Out'", by Lynn Conway
07-05-13: GIDReform: "Response to Dr. Jack Drescher and the New York Times About Childhood Transition: Part 1", by Kelley Winters, Ph.D. (Part 2, 3, 4, 5, 6)
06-26-13: ACLU: "VICTORY: DOMA Unconstitutional! And Prop 8 Goes Down, Too!"
06-21-13: HRC: "CalPERS Makes History: Board Approves Trans-Inclusive Health Coverage", by Andre Wilson
06-14-13: Think Progress: "VICTORY: Transgender People Can Now Change Their Social Security Record's Gender Identity" (more)
06-13-13: GID Reform : "GID Reform in the DSM-5 and ICD-11: a Status Update", by Kelley Winters, Ph.D (more)
04-11-13: Motherboard: "How the Psychiatrist Who Co-Wrote the Manual on Sex Talks About Sex"
01-17-13: 4 News (UK): "Transsexual awareness 'at tipping point' - video"
01-14-13: LynnConway.com (posted 10:58am EST, re UK): "ALERT: The Guardian removed Burchill's transphobic Observer article from its website!"
12-23-12: Catholic Online: "Pope Benedict XVI Exposes the Profound Falsehood of the Philosophy of the Gender Identity Movement"
12-07-12: GIDReform.org: "Gender Dysphoria Diagnosis to be Moved Out of Sexual Disorders Chapter of DSM-5", by Kelley Winters,Ph.D.
10-20-12: STP 2012 Press Release: "International Day of Action for Trans Depathologization 2012: More than 100 Actions Worldwide"
10-10-12: The Phoenix: "How Norman Spack transformed the way we treat transgender children"
10-04-12: TS Roadmap: "Toronto schools list local trans-friendly resources, CAMH rightfully omitted", by Andrea James (link to TDSB guidelines)
09-29-12: U. S. Politics Today: "L.A. Gay & Lesbian Center Commends California Governor Jerry Brown for Signing SB 1172, Protecting LGBT Youth" (link to SB 1172)
08-20-12: GID Reform Advocates: "The American Psychiatric Association Issues Historic Position Statements on Trans Issues", by Kelley Winters, Ph.D.
08-16-12: APA: "APA Issues Official Positions Supporting Access to Care and the Rights of Transgender and Gender Variant Persons"
07-22-12: Washington Post (AP): "Transgender advocates push US psychiatric establishment to revise mental illness labels"
07-10-12: The 519 (Toronto, Canada): "The 519 mourns the passing of Kyle Scanlon" (more, more)
06-19-12: GID Reform.org: "Third Swing: My Comments to the APA for a Less Harmful Gender Dysphoria Category in the DSM-5", by Kelley Winters, Ph.D.
05-08-12: GID Reform.org: "Final Public Comment Period For Proposed DSM-5 Criteria Ends June 15", by Kelley Winters, Ph.D.
04-25-12: Lynnconway.com: (re Netherlands): "Colette Berends [Oct. 13, 1934 - Apr 23, 2012]: Her life and her art", by Lynn Conway
04-23-12: Metro weekly: "Transgender Breakthrough - EEOC ruling that gender-identity discrimination is covered by Title VII is a ''sea change" (more, more, more, more, more, PDF)
04-21-12: GID Reform.org: "These Aren't the Droids You're Looking For: Gender Diversity, Scapegoating and Erasure in Medicine and Media", by Kelley Winters, Ph.D.
02-19-12: Chicago Tribune: "A year after scandal, new sexuality class at NU Course offered as introduction to gender studies" (NU takes Bailey's course away from him and from the NU psychology department, turning it over to a more responsible faculty member in NU's gender studies program.)
02-17-12: Endocrine Today: "Pubertal blockade safe for pediatric patients with gender identity disorder"
02-13-12: The New Statesman (UK): "The turning of the tide - The media's monstering of transgender people is finally being challenged"
11-02-11: YouTube: "TransYouth Family Allies (TYFA) imaTYFA's Channel
10-26-11: YouTube: "Plaintiff Nicole Maines' Remarks at GLAD's 2011 Spirit of Justice Award Dinner"
09-25-11: GID Reform.org: "New Standards of Care for the Health of Transsexual, Transgender, and Gender Nonconforming People, " (In the SOC7 WPATH denounces trans-reparatism as being unethical.)
08-25-11: TS Roadmap.com: "Kenneth Zucker's cronyism and pathologizing ideologies about trans youth examined"
07-09-11: TS Roadmap.com: "Academic pathologization of trasgender people" (a social map of the 'invisible college' of trans-pathologizers)
06-28-11: Psychology & Sexuality: "Cisgenderism in psychology: pathologising and misgendering children from 1999 to 2008", by Y. Gavriel Ansara & Peter Hegarty
05-26-11: GID Reform Advocates:"Transvestic Disorder, the Overlooked Anti-Trans Diagnosis in the DSM-5," by Kelley Winters, Ph.D. (more)
05-20-11: The Bilerico Project: "Trans Visibility Sparks Right-Wing Blogosphere Explosion," by:Austen Crowder (a important, must-read essay)
05-10-11: Daily Northwestern: "Bailey's Human Sexuality class will NOT be offered next academic year" (more, more, more, more)
04-19-11: In The Life Media: "Injustice at Every Turn (Video)"
04-18-11: Huffington Post: "New Tool for Treating Transgender People" (i.e., the UCSF Primary Care Protocol for Transgender Patient Care)
03-18-11: "UK's Channel 4 signs agreement to improve coverage of transgender issues" (more, more, more, more)
03-14-11: TS Roadmap.com: "Close the CAMH Gender Identity Clinic" (see news about dramatic developments in Quebec)
03-04-11: Jezebel.com: Higher Education: Professor Fucksaw: "The Storied Past Of Northwestern's Sex Professor"
03-03-11: Chicago Tribune: "Northwestern president 'troubled' over live sex demonstration" (more, more, more, more)
02-15-11: Medscape Medical News: "Addressing the Needs of Transgender Youth in Primary Care", by Laurie Barclay, MD (link to Journal article)
12-29-10: GJSS: "Transgender children: more than a theoretical challenge", by Natacha Kennedy and Mark Hellen (more)
12-29-10: "My Encounter with Prof K Zucker at the BPS conference in Salford", by Natacha Jessica Kennedy
12-21-10: Change.org Petition: "Remove Transgender from the DSM-5 "
10-15-10: GID Reform Advocates: "Ten Reasons Why the Transvestic Disorder Diagnosis in the DSM-5 Has Got to Go"
07-25-10: TS Roadmap: "Ontario moves to end CAMH death grip on trans health services"
---
[See the ongoing Trans News Updates further below]:
Ken Zucker's leading role in the pathologization of gender variance:
"Numbers count, even if psychiatrists can't!" ‒ Lynn Conway
This special section contains compilations of news and information about the pathologization of gender variance as mental illness by the psychiatric community. We focus especially on Ken Zucker of CAMH in Toronto, Canada, and his role in the revision of the Diagnostic and Statistical Manual of Mental Disorders (DSM). Zucker is widely known for his trans-reparatist therapy on gender variant children, and for heavy-handed promotion of his colleague Ray Blanchard's transphobic pronouncements that ALL transitioned women are either effeminate homosexual men or mentally-ill sexually paraphilic men.
As his role in DSM revision came under increasing criticism, Zucker and his strident spokesperson Alice Dreger launched many personal attacks on Zucker's and Blanchard's transgender critics. This includes the smearing of critics in the Archives of Sexual Behavior (the journal Zucker controls), attempts to stop critics from speaking at universities, the smearing of critics on major professional association e-lists, attempts to prevent critics from holding sessions at conferences, launchings of threats of libel against critics, and attempts to shut down this very website - all the while claiming that transgender critics were infringing upon the academic freedom of an academic clique that was pathologizing gender variance. This section exposes Zucker's trans-reparatism and his subsequent overreactions to criticisms of that exposure:
1. Zucker's trans-reparatism and his role in DSM revisions:
In April 2007, this site began an exposure of Zucker's trans-reparatism in a webpage entitled: "Drop the Barbie: Ken Zucker's reparatist treatment of gender-variant children", reflecting back on a 2001 article that had broken the story and coordinating with Andrea James who posted a parallel exposé of Zucker's reparatism.
The following year National Public Radio broadcast a heartbreaking documentary on May 8-9, 2008 contrasting Zucker's decades-old reparatist methods to more modern treatment protocols. A further exposé of Zucker's reparatist treatment of gender-variant children, "But For Today I Am A Boy" (Français), was published in the Torontoist (on May 9, 2008). OII followed up by raising important questions about Ontario's sponsorship of Zucker's work (see also OII's Open Letter to WPATH)
However, even though he was known to be a trans-reparatist, Zucker was selected to lead the revision of the American Psychiatric Association's section on 'sexual and gender identity disorders' in the Diagnostic and Statistical Manual of Mental Disorders (DSM). With Zucker thus empowered, there appears to be little chance for removal of GID from the DSM, and trans people will likely be stigmatized for another decade as being mentally ill even after transition. See the National Gay and Lesbian Task Force (NGLTF) press release protesting Zucker's DSM selection. The huge scale of the protest was made even more visible in a petition against Zucker's DSM selection that gained over 9,500 signatures (noticia en español). See also the petition protesting Ontario gov't support of Zucker's work. (more, more), and the petition in protest of Zucker's key role in a UK conference on adolescent transitions.
For background on needed DSM reforms see GIDReform.org and Kelley Winters' essays ( 1, 2, 3, 4, 5, 6, 7, 8, 9, 10, 11, 12, 13, 14, 15, 16 ), especially "Blinded Me With Science: The Burden of Proof". See also "DSM ON THE BOOKSHELF", an open letter to WPATH by clinician Tracie O'Keefe [PDF], "DSM: Diagnosing for Status and Money" (more, more, more). See also Prof. Sam Winter's report on how the 'mental-illness' classification causes transphobia all around the world.
On Feb 6, 2009, Joelle Ruby Ryan (chair), Julia Serano, and Kelley Winters, Ph.D. presented a workshop at IFGE 2009 entitled "Disordered" No More: Challenging Transphobia in Psychology, Academia and Society" [NEW], in response to the pathologization of gender variant people by reactionary psychiatrists and sexologists. You'll find a report on the workshop at this link and we'll be posting videos there soon. See also the text of Joelle's presentation, "The Transgender Tipping Point: It is Not the Transperson Who is "Disordered" but the Society in which S/he Lives", by Joelle Ruby Ryan [PDF], and Kelley's presentation on "Top Ten Problems with the GID Diagnosis", by Kelley Winters, Ph.D. [PDF]
For more on the pathologization of transpeople by the DSM, see Kelley Winter's new book: Gender Madness in American Psychiatry, Essays from the Struggle for Dignity", by Kelley Winters, Ph.D. [announcement PDF] .
2. Zucker's attacks on transgender critics, with support from his ideological operative Alice Dreger:
In July '07, Zucker as editor of the Archives of Sexual Behavior (ASB) subverted that journal as a propaganda machine in defense of ASB editorial board members Bailey, Blanchard, Lawrence (BBL). Zucker did this by announcing and pre-publishing Alice Dreger's one-sided history of the Bailey book investigation in the ASB. Zucker promoted Dreger's anti-transgender hit-piece as if it were an independent scholarly work, devoting the entire June '08 ASB to Dreger's defense of Bailey, Blanchard and Lawrence – in a not-so-veiled attack on Zucker's own primary critics Andrea James and Lynn Conway. Ardent Bailey supporter Ben Carey followed with a New York Times article on 8-21-07 in which Dreger portrayed Bailey as a great scientist under siege for 'telling the truth'. For more about Dreger, including her role in the medical pathologization of intersex people, see this link and this one too.
Determined to stop trans criticism of Zucker, Bailey, Blanchard and Lawrence, Dreger went on to launch e-mail attacks and threaten the academic career of graduate student Joelle Ruby Ryan who had proposed a women's study conference panel on transphobia in academe (see Élise Hendrick's commentary, Lynn's comments and this article). Dreger's attempt to prevent Joelle's panel backfired. It was held as scheduled on June 21, 2008 (see flyer and handout), and produced powerful essays that further exposed Bailey and Dreger (see detailed report at this link) including Élise's essay on the odd form of 'academic freedom' claimed by Bailey and Dreger and Andrea's essay "Fair comment, foul play". Videos of all the presentations are posted on YouTube. See also the prestigious Point Foundation 's mention of Joelle's NWSA panel at this link and her upcoming IFGE workshop at this link.
Julia Serano has published an exposé of Dreger 's effort to resurrect Bailey's disgraced career, and her book Whipping Girl: A Transsexual Woman on Sexism and the Scapegoating of Femininity provides the context for understanding these events. For an overview of BBL pseudo-science, see "Science and Ideology: The Blanchard-Bailey-Lawrence Model of Transsexuality, by Élise Hendrick and "The Bailey Affair, Again" by Joan Roughgarden. For a deconstruction of Carey's Times' article, see this essay by Elise Hendrick. Dreger's scholarship was further questioned in June '08 in ASB peer commentary papers highly critical of Dreger's 'history'. For more about Dreger's methods, see "Go Ask Alice – But Not About Transsexuals' Lives and History: A Defense of the Right of Members of an Oppressed Class to Speak for Themselves", by Katrina C. Rose.
In early 2011, Alice Dreger's hero J. Michael Bailey went one-controversy-too-far, by staging a live "fucksaw demonstration" in front of many of his students (more). For an overview of the event and its implications, see Joelle Ruby Ryan's essay "The Fuckwit and the Fucksaw: Sex-Monger John Michael Bailey Strikes Again", March 6, 2011, and also Anna North's report on "The Storied Past of Professor Fucksaw". This bizarre episode turned Northwestern into national media joke as "Fucksaw University". It also spelled doom for Bailey's reputation and career, for Northwestern's administration finally figured out what to do with him: They cancelled his large human sexuality course in the abysmally irresponsible Psychology Department, and turned over the teaching of such courses to Northwestern's far more enlightened Gender Studies Program. This has left Bailey academically stranded as an isolated, aging teacher of minor, poorly-attended psych courses. Meanwhile, an unrepentant Dreger continues to deify Bailey, as if he were as modern-day 'Galileo'.
3. Zucker exploits the 'other' APA to push his views and suppress opposition:
During 2008, Zucker attempted to suppress evidence that the prevalence of transsexualism is much greater than he has previously claimed: See: "Falsification of GID prevalence results by the APA Task Force on Gender Identity and Gender Variance", an Investigative Report by Lynn Conway, 8-28-08 [PDF]. See also Lynn's letter to the President of the APA re that Task Force, 9-05-08 [PDF], and this open letter and investigative report re the APA's response.
4. Zucker's attempt to suppress Lynn's website and attack her freedom of speech:
Lynn's exposure of Zucker's trans-reparatist therapy and of his exploitation of the ASB to disseminate anti-transgender propaganda has apparently unsetted Zucker. On January 27, 2009, Zucker responded by falsely accusing Lynn of libel in a letter sent by CAMH attorney Peter Jacobsen to Lynn and to her university (more) - in a clear attempt to suppress Lynn's website on the eve of an IFGE workshop that would prove embarrassing to Zucker.
Lynn called Zucker's bluff by openly reporting the attempt to infringe her rights (En Español, En Français). (For a humorous view of the events, see the cartoon by Jayna Pavlin). The IFGE workshop went on as planned, and a presentation by Joelle Ruby Ryan ("The Transgender Tipping Point") further revealed Zucker's and Dreger's efforts to silence their critics. News of Zucker's attack quickly spread, as in the Queerty article "Dr. Kenneth Zucker's War on Transgenders" and in essays by Kelley Winters and Mercedes Allen, and Lynn was interviewed by LOGO-TV about Zucker's attack. See also this YouTube video and the 365Gay.com News video: "Transgender Crusader". Evidence then emerged that Zucker had engaged in a pattern of threats against other women. In June '09, Lynn filed a formal complaint of academic misconduct against Zucker (PDF) for launching that unfounded attack.
5. Zucker's downfall now inevitable as medical professionals, public health professionals, gender counselors and the media widely recognize the inhumanity of his trans-reparatism:
By 2009, the transgender community's outrage against Zucker finally became so intense that CAMH launched a study to consider the complaints, leading to a scathing report issued by CAMH's own Diversity Program Office. The study led to stinging indictments in 2009 of CAMH's gender clinics and to well-reasoned recommendations on how to alleviate the problems.
In response, Zucker if anything intensified his ongoing 'war on transgenders', and engaged in a war within CAMH to sidestep the recommendations. However, by now Zucker was increasingly isolated from the main movement towards transgender health care, and could no longer control the flow of events. In 2010, the Province of Ontario finally moved to end CAMH's death grip on trans health services there, and began supporting such services at a variety of other, more humane and supportive organizations.
Zucker's claim to any 'scientific' authenticity was also undermined in 2011 by the brilliant research of Gavi Ansara, and his report in Psychology & Sexuality on "Cisgenderism in psychology: pathologising and misgendering children from 1999 to 2008" − a report that singled-out Zucker as leader of an 'invisible college' of group-think researchers who collectively used pathologizing language to control 'scientific' thought regarding gender variance.
Events swirled further out of Zucker's control when in 2012 the State of California passed legislation outlawing both gay and trans-reparatist therapy on children. Even Zucker's staunchest supporters had to pause for thought now, for their reputations could be lost if they continued to advocate treatments that were becoming ILLEGAL!
In 2012 Zucker also received a huge signal of public rejection, when the Toronto public school system listed a wide range of trans-friendly resources for transgender students, but omitted CAMH from the list , thus turning their back on him and his entire body of work! (link to TDSB guidelines)
6. Key articles re the DSM and the pathologization of gender variance:
02-06-09: "Disordered" No More: Challenging Transphobia in Psychology, Academia and Society", an IFGE 2009 workshop.
02-06-09: Queerty: "Dr. Kenneth Zucker's War on Transgenders"
02-10-09: The Bilerico Report: "Surrender Dorothy: the Clarke Wags a Broomstick at the Trans-Community", by Kelley Winters, Ph.D.
04-27-09: Facebook Group launched: "Close the CAMH Gender Identity Clinic" (reaches > 1000 members!)
04-29-09: Documentary Video re the DSM Controversy
04-30-09: "The War Within: CAMH battles notorious reputation of Zucker's and Blanchard's gender clinics with scathing report"
05-15-09: "Reform GID Now: A Protest to demand the APA Reform Gender Identity Disorder"
05-15-09: "Resolution by IFGE BOD to APA" (IFGE calls for DSM Reform)
05-16-09: "Transsexualism will no longer be classified as a mental illness in France (FR, DE, ES, NL, PT, SU)
05-19-09: Psychiatric Times: "Gender Identity Disorder: Has Accepted Practice Caused Harm?"
05-20-09: "GID Reform Now Protest At Annual APA Meeting - Speaker Madeline Deutch, M.D." (Links to Video)
05-23-09: "Call to Action to Urge Trans-Affirming Position Statements by the APA"
05-30-09: "We say, to the APA, stop sexualizing us!", by Julia Serano, Ph.D.
10-21-09: Exposed by Andrea James: "$325,000+ in salaries for Zucker & Blanchard to pathologize trans people"
11-02-09: Exposed by Andrea James: "What motivates Ray Blanchard's oppression of sex and gender minorities?"
11-04-09: GID Reform: "Update: Statement on Gender Identity Disorder and Transvestic Fetishism in the DSM-V"
11-11-09: ENDAblog: "The Dredge Is At It Again"
11-20-09: "A call for the removal of gender identity variance from the psychiatric diagnostic manuals," by Sam Winter, Ph.D. (ES)
11-23-09: Society for Humanistic Psychology: "Controversial issues for the future DSM-V", by Sarah Kamens
11-24-09: "Doctor Promotes Medical View of Transgenderism - Clinic founder decries labeling transgenderism as a psychological issue"
12-11-09: New Scientist: "Psychiatry's civil war "; "Time's up for psychiatry's bible" (more)
01-07-10: "Toronto: global epicenter for oppression of sex and gender minorities," by Andrea James
01-08-10: "You will become mentally ill in 2013" by Andrea James
01-10-10: "The Americanization of Mental Illness", by Ethan Watters
01-18-10: "Essays expose CAMH's despicable practices toward transgender people"
01-24-10: "Academic pathologization of transgender people" (a graphical overview) by Andrea James
02-06-10: "A Taxing Question of Medical Necessity" by Kelley Winters, Ph.D.
03-14-10: "DSM5 Sexual Disorders Make No Sense", by Allen Frances, MD
04-08-10: Professionals Concerned with Gender Diagnoses in the DSM: "Call to Action"
04-09-10: Care2.com: "US - Hope and Hurt for Trans Americans in the APA's Proposed DSM Revisions"
05-25-10: "Response of WPATH to the Proposed DSM 5 Criteria for Gender Incongruence" (more)
06-11-10: YouTube Video: "STP2012 March in Barcelona, Spain 2010 June 5", by Henry Hallint (more)
07-25-10: TS Roadmap: "Ontario moves to end CAMH death grip on trans health services"
10-15-10: GID Reform Advocates: "Ten Reasons Why the Transvestic Disorder Diagnosis in the DSM-5 Has Got to Go"
12-29-10: GJSS: "Transgender children: more than a theoretical challenge", by Natacha Kennedy and Mark Hellen (more)
12-29-10: "My Encounter with Prof K Zucker at the BPS conference in Salford", by Natacha Jessica Kennedy
03-14-11: TS Roadmap: "Close the CAMH Gender Identity Clinic" (see news about dramatic developments in Quebec)
03-19-11: Montreal Gazette (Canada): "The Debate over Diagnosis", By Donna Nebenzahl
05-29-11: GID Reform Advocates: "Transvestic Disorder, the Overlooked Anti-Trans Diagnosis in the DSM-5"
06-28-11: Psychology & Sexuality: "Cisgenderism in psychology: pathologising and misgendering children from 1999 to 2008", by Ansara & Hegarty
07-09-11: TS Roadmap: "Academic pathologization of transgender people" (social map of the 'invisible college' of trans-pathologizers)
08025-11: TS Roadmap.com: "Kenneth Zucker's cronyism and pathologizing ideologies about trans youth examined"
09-25-11: GID Reform.org: "New Standards of Care for the Health of Transsexual, Transgender, and Gender Nonconforming People, "
[WPATH's new Standards of Care (Version 7) denounces trans-reparatism as being unethical.]
02-19-12: Chicago Tribune: "A year after scandal, new sexuality class at NU Course offered as introduction to gender studies"
[NU takes Bailey's course away from him and NU psychology department, turning it over to NU's gender studies program.]
04-25-12: IPG: "SPITZER, ZUCKER, AND REPARATIVE THERAPY: EX AND PRE-GAY", by Margie Nichols
05-11-12: The New York Times: "Diagnosing the D.S.M.", by Allen Francis
07-22-12: Washington Post (AP): "Transgender advocates push US psychiatric establishment to revise mental illness labels"
09-29-12: U. S. Politics Today: "L.A. Gay & Lesbian Center Commends California Governor Jerry Brown for Signing SB 1172, Protecting LGBT Youth" (link to SB 1172)
10-04-12: TS Roadmap: "Toronto schools list local trans-friendly resources, CAMH rightfully omitted", by Andrea James (link to TDSB guidelines)
10-10-12: The Phoenix: "How Norman Spack transformed the way we treat transgender children"
12-07-12: GIDReform.org: "Gender Dysphoria Diagnosis to be Moved Out of Sexual Disorders Chapter of DSM-5", by Kelley Winters, Ph.D.
---
8-26-14: WBUR Boston (posted 8-19): "How Transgender People Are Changing Their Voices", by Martha Bebinger
"BOSTON — Lorelei Erisis taps the screen of a borrowed iPhone. The key of A, with kazoo-like resonance, fills her living room in Ayer, Mass.
Erisis taps another button labeled "start," takes a deep breath, and sings the word "he," trying to match the tone. A number, 75 percent, pops onto the screen. "My pitch was too low," Erisis says. "Oh well. Let me try again."
Erisis, a transgender woman, is trying out Eva, a mobile phone app that may be the first of its kind. Transgender men and women who want to raise or lower the pitch of their voice can go through a series of breathing and pitch exercises designed to help with what can be the most difficult characteristic to change — their voice.
"What I often hear is, 'I pass as a woman until I open my mouth,' " says Kathe Perez, a speech language pathologist who designed the Eva app.
Erisis plays the tone again. This time, before she speaks, Erisis places two fingers below her Adam's apple and pushes up, just a touch, to physically raise the pitch of her voice. Erisis, now 41, says she felt like a girl growing up, but did not begin the physical transition from male to female until she was 33. Just for fun, Erisis tries the pitch test with her preferred pronoun. "She," Erisis sings out. "Hey, 99 percent. It's hilarious that 'she' brought me to 99 percent."
Erisis, who writes a column called "Ask a Transwoman," hears from many transgender women, and some men, who say, "Voice can be a real liability. There are definitely large parts of this country, even this state, where it's dangerous to be trans. It can be a matter of life or death."
"Many of the people I work with will not go out in public because they have to talk," Perez adds. "Or they'll go with people so that their wife or their friend will order for them at a restaurant. They're afraid to open their mouths because the sound that comes out doesn't match the person that's sitting at that table."
There are lots of online programs. Some transgender men and women work one-on-one with a coach. Perez says it takes six months to a year of daily practice to permanently adjust one's voice.
"It's extremely difficult to override some of the early programming we have in our brains about how we express ourselves," she says. "So we retrain the voice by retraining the brain. They go together.""
8-26-14: PGN: "Tenika Watson's memoirs published"
"A dream has come true for Tenika Watson. The 63-year-old transgender woman's memoirs were published earlier this month as an eBook on Amazon.com.
"It was a dream for me to get this book," Watson said. "Since the 1990s, I've wanted my story told. It's finally come to life. I'm very proud of my baby."
"My Life is No Accident" is a first-person account of Watson's life from childhood to the present day. The 177-page book was written by Jennifer Daelyn, who conducted dozens of interviews with Watson over the course of about a year.
"I'm very grateful to Jennifer," Watson said. "She did a great job. It's all my words. But she pulled it together and created a very readable narrative."
Working on her memoirs was cathartic, Watson noted. "It was very healing. And I hope it can help heal somebody else."
Watson said she believes everything in life happens for a reason, hence the book's title. "It's also a play on words because of the accident I was involved in with Teddy [Pendergrass]. I don't want that incident to define me. I survived it. I guess that's the way it was meant to be.""
8-25-14: Kaiser Health News: "With Coverage Through Obamacare, Transgender Woman Opts For Surgery"
"Devin Payne had gone years without health insurance – having little need and not much money to pay for it. Then Payne, who had a wife and four children, realized she could no longer live as a man.
In her early 40s, she changed her name, began wearing long skirts and grew out her sandy blond hair. And she started taking female hormones, which caused her breasts to develop and the muscle mass on her 6-foot one-inch frame to shrink.
The next step was gender reassignment surgery. For that, Payne, who is now 44, said she needed health coverage. "It is not a simple, easy, magical surgery," said Payne, a photographer who lives in Palm Springs. "Trying to do this without insurance is a big risk. Things can go wrong … not having the money to pay for it would be awful."
Payne learned in the fall that she might qualify for subsidies through the state's new insurance marketplace, Covered California, because her income fell under the limit of $46,000 a year. She eagerly signed up in March for a Blue Shield plan for about $230 a month, and began making preparations for the surgery that would change her life . . .
Among the less-talked-about implications of the Affordable Care Act is the relief it is providing to many transgender people, many of whom are low-income and who have struggled to obtain health coverage. Getting jobs that offer insurance often has been difficult for transgender people and the cost of purchasing plans on the private market can be prohibitive. Some have been denied policies altogether after being diagnosed with "gender identity disorder," often considered a pre-existing condition.
Without insurance, many people were unable to afford the hormones, surgeries and counseling needed to complete their transition. Nor would they have been covered in the event of surgical complications, which can include infections.
"We are still dependent on insurance and the medical community for us to be able to live authentically," said Aydin Kennedy, coordinator of the transgender health program at St. John's Well Child and Family Center in Los Angeles.
Now, federal law prohibits health insurance companies from discriminating against transgender people, and it bars insurers from denying coverage based on pre-existing conditions. That makes it possible for more transgender people to purchase private plans. And in states that expanded their Medicaid programs, those with low incomes may get free coverage."
8-25-14: Washington Post: "The Pentagon can easily drop its ban on transgender troops, study finds"
"The Defense Department repealed its controversial "don't ask, don't tell" policy banning gay people from openly serving in the military three years ago in September. Some senior officers questioned the decision, fearing it could cost lives, but Pentagon officials said the repeal has not hurt military readiness or cohesion.
Civil rights advocates, including some retired military officers, are now pressing for another change. The armed forces continue to enforce a ban on transgender military service, months after Defense Secretary Chuck Hagel said in May that he was open to a review that would lift it.
The results of a forthcoming study, which was provided to Checkpoint, found that a repeal on transgender service could be lifted in a way that would not be burdensome or exceedingly complex for the military. The Palm Center, a think tank in San Francisco that promotes the study of lesbian, gay, bisexual and transgender people in the military, says that there already are 15,500 transgender personnel in the U.S. military, but they are not allowed to serve openly.
The center reached that figure by extrapolation based on surveys conducted with veterans, said retired Army Maj. Gen. Gale S. Pollock, a former deputy surgeon general of the Army, who helped lead the Palm Center commission examining the issue. The commission included several other retired military officers, including Army Brig. Gen. Clara Adams-Ender, who once led the Army's nurse corps, and Army Brig. Gen. Thomas A. Kolditz, who is now a professor at Yale University.
"From a military officer perspective, we consider honor and integrity to be just essential values," Pollock said. "But how can we say that when we're asking these men and women to lie about who they are? That's very comparable to the 'don't ask, don't tell' piece. To me, it's just wrong.""
8-25-14: Huffington Post: "Mills College Changes Policy To Allow Transgender Students To Enroll"
"For the first time in its 162 years as a school of higher education, one all-women's college will become the first higher education, all-female institution in America to consider an application from any individual who self-identifies as a woman.
Mills College in California recently changed its admissions policy to allow anyone who self-identifies as a woman to apply to the school. This definition reportedly includes individuals whose gender identity falls outside of the male/female binary and those not assigned female at birth but who identify as women. Those assigned female at birth but who transition to male while enrolled will also not reportedly be asked to leave the university.
"Mills has the most open policy with regards to trans students," Skylar Crownover, the university's next student body president, told SFGate. "It's been the unwritten policy of Mills for a while now, but to see it finally put down in words and to see it official is a great step."
According to Brian O'Rourke, vice president of enrollment and admissions at Mills, three to five students out of every 1,000 enrolled identify either as transgender or something other than the gender they were assigned at birth.
Admission of individuals not assigned female at birth to all-female universities has been an issue for some time, most notably surrounding the high-profile case of Calliope Wong and Smith College. Wong was rejected from Smith College because her government financial aid forms identified her as male, and she ultimately did not receive admission to the university. While Smith has said they will continue to address the issue, the university's policy currently states: "Smith expects that, to be eligible for review, a student's application and supporting documentation (transcripts, recommendations, etc.) will reflect her status as a woman.""
8-21-14: New York Daily News: "Pennsylvania transgender teen commits suicide by stepping in front of train"
"A suicide note left behind by a Pennsylvania transgender teen hints at depression and being "a prisoner" of his body.
"My mirror reflects Jessica, my heart and mind say Riley," wrote Riley Moscatel, 17, on Tuesday just before he was killed by an oncoming Amtrak train near Croyden. "You see me as the happiest person in school, I'm a prisoner of my own body."
Surveillance footage confirmed the suspicion that the Bucks County Technical High School senior born as Jessica took his own life at about 1:30 p.m. after fighting a private, but desperate struggle to identify as Riley.
The teen struggled with depression years before he decided to publicly self-identify as Riley earlier this year. However, in an interview with the Trentonian newspaper, his parents continued to reference him as their daughter.
"She did a really good job of masking her depression in front of the people that she loved," his father, Rich Moscatel told the newspaper. "We're still kicking ourselves as to what was the straw that broke the camel's back. She was dealing with a lot of pressures."
Riley had no problem adjusting from Jessica to Riley at his Fairless Hills school where other transgender or gay students attended including his friend, Kate Cimino, who described Riley as "everyone's best friend."
"Even though everyone showed support and called him Riley, it didn't match up to what he felt of himself," Cimino told the Philadelphia Inquirer.
Riley wanted to have breast surgery, but his mother, Kristine Moscatel, gave him a binder to help flatten his chest even though she admits his transition was hard to handle after having a daughter for 17 years.
"She's my daughter. She'll always be my daughter," Moscatel told the Trentonian. "We were trying to accept and never said, 'No, you can't be a boy.'"
Riley had also been researching hormone treatments he could begin after his 18th birthday in December.
"If I could choose if I was born a girl or guy I would have chosen a guy," Riley wrote in another Instagram post describing his female-to-male dysphoria. "Most female-to-males wouldn't agree because (their) journey made them stronger, but it really takes a toll on me.""
8-19-14: Quartz (re India): "Delhi University is about to accept transgender students—now comes the harder part" (more, more)
"Delhi University's decision last week to introduce the "third gender" category in its post-graduate degree application forms has been hailed as a progressive move towards inclusion. But transgender students fear that the university is rushing through with a measure whose implications it may not be prepared to handle.
The university has introduced a third gender option under the Other Backward Classes category on application forms for post-graduate courses. This has come four months after a Supreme Court judgement gave legal recognition to transgender people and a month after the University Grants Commission asked educational institutions to introduce a third gender option on application forms.
But the decision has raised an array of questions that Delhi University has not yet been able to answer. Will the staff of the university be sensitized, for instance, to handle the admissions of transgender students smoothly? How will it ensure the safety of these students since Delhi University no longer has an inclusive sexual harassment policy? How will the university address smaller, but vital, issues such as toilet and hostel facilities for them?
Activists are skeptical. "We have been a bit skeptical about the university's decision because often, such changes happen only on paper," says Aapurv Jain, the co-ordinator of Delhi University's informal gender studies group. "Transgenders constantly face a lot of harassment from other students, teachers and college administration, so the university needs to have a plan for their safety before opening up admissions to them" . . .
Getting a school education is itself a difficult achievement for most transgenders, who often have no support from their families and live with severe financial constraints. Many are forced to get college degrees through online courses, and given the hostility towards sexual minorities in Indian society, they end up facing huge problems finding employment, housing or even healthcare. According to Jain of the Delhi University gender studies group, transgenders often face greater social harassment than gay or lesbian students in educational institutions.
"Our system is not accommodating of transgenders as a whole," says Taksh. "So offering us the opportunity to get just a post-graduate degree is like trying to build a house without a foundation, or telling us to eat cake when we have no bread."
While DU officials reportedly claimed that the third gender option was introduced only in post-graduate courses because it was too late for under-graduate applications this year, Taksh and other university members believe such a move should have been introduced at the lower levels, and should be preceded by sensitivity training for all staff members.
The time is right. "If this move focuses just on getting a tick in the box and not creating attitudinal change, then it won't make much of a difference to transgender students," says Anjana Srivastava, an associate professor of English and convener of the women's development cell at Delhi University's Kamala Nehru College. However, even though Abha Habib admits the new project could have been implemented better, she believes it is not too early to introduce the third gender option in the university. "For transgenders to be empowered and to raise their voices, they need to be in classrooms," says Habib"
8-19-14: Metro Weekly: "Labor Department protects transgender employees of federal contractors"
"The Labor Department issued guidance Tuesday clarifying that discrimination against the employees of federal contractors on the basis of transgender status is considered discrimination based on sex under federal law.
In a blog post published Tuesday, Director of the Office of Federal Contract Compliance Programs Patricia Shiu confirmed the guidance had been issued "clarifying that sex discrimination extends to gender identity and transgender status."
The announcement comes more than two years after the Equal Employment Opportunity Commission (EEOC) found in Macy v. Holder that "sex discrimination," which is prohibited under federal law, includes discrimination against transgender people. But in the years since that ruling in April 2012, the Labor Department would not indicate whether it was applying the decision to protect transgender employees of federal contractors. At that time, Executive Order 11246 prohibited federal contractors are prohibited from discrimination on the basis of of race, color, religion, sex or national origin.
During a surprise visit to the White House press briefing in February, Labor Secretary Perez said that the application of the EEOC ruling was still under review.
"That issue is under review in the aftermath of the Macy decision. And I've asked my staff to expedite that review so that we can bring that issue to conclusion at the Department of Labor," Perez said, adding that he hopes the review "will come to an end as soon as possible."
In June, Perez went further, making clear that guidance would be issued to update "enforcement protocols and anti-discrimination guidance to clarify that we provide the full protection of the federal non-discrimination laws that we enforce to transgender individuals."
That announcement came after the White House indicated on June 16 that President Barack Obama would sign a long-sought executive order prohibiting federal contractors. Executive Order 11246, which Obama amended to include those LGBT protections, is enforced by the Office of Federal Contract Compliance Programs.
According to the Human Rights Campaign, the guidance will both equip employees of federal contractors experiencing discrimination with an additional avenue to file a complaint outside of the EEOC process and put employees on notice of existing nondiscrimination regulations.
"The Labor Department guidance issued today is a giant step toward ensuring American workers are judged based on the work they do, and never because of a fundamental aspect of who they are – like their gender identity," said HRC Legal Director Sarah Warbelow in a statement. "Transgender people face some of the highest levels of discrimination in our community, particularly in the workplace. And while explicit workplace protections are still needed at all levels of government, transgender people who work for federal contractors can now use this guidance as further protection from discrimination on the job.""
8-19-14: SFist: "First Transgender Officer Graduates From San Francisco Police Academy [Video]"
"Last Friday, 33 recruits from the San Francisco Police Academy graduated and became officers, but one represented a milestone for the city: Mikayla Connell is the first transgender person in her class and any that came before her.
As KTVU captures in the above video, Connell gives a touching speech as the elected president of her academy class, her voice breaking as she says "I could not be more prouder of you." That night, she also received two awards for academic achievement.
Connell, who started transitioning in 2001, first applied to be a police officer in the early '90s, but ended up dropping out and joining the Army, then going to law school."
There's literally been a sea change in the way, at least this state and maybe the country, views LGBT people and transgender people." Connell says, adding: "I got literally nothing but love and acceptance from my classmates."
Now Connell is 45, the oldest graduate in her class, and ready to be an example in the transgender community.
"It means you can't screw up, because you can't ruin it for everyone coming behind you," Connell says. "I know people...are going to be watching me. I cannot let them down."
8-19-14: Huffington Post: "A Transgender Student Who Was Reportedly Banned From Her School Receives Good News" (more, more)
"A transgender student who was reportedly told she would not be allowed back at school because of her new gender identity scored a victory Monday evening.
Rachel Pepe, 13, previously attended Thorne Middle School in New Jersey as a male student. However, when her mother told a school official she would be returning to the classroom this year as Rachel, the school reportedly said she would not be allowed back and that it would not find her an alternative school to attend, according to New Jersey's Asbury Park Press.
"He was going to school last year as Brian," Angela Peters, Rachel's mother, told the outlet, adding that her daughter had been suffering from depression. "How can I send her back as Rachel? And I am not sending her back as Brian because the depression will start again."
On Monday evening, however, the superintendent of the school district, William O. George, said he would work with staff to make sure Rachel could attend school in a safe environment. According to Garden State Equality, George said Middletown Township Public Schools staff would undergo lesbian, gay, bisexual and transgender sensitivity training.
"We applaud Superintendent George for taking the right steps to affirm the health and safety of students," GSE Executive Director Andrea Bowen said in a statement. "This is a victory for transgender students everywhere. This Middletown student and students like her are heroes for standing up for their needs. We're excited that the community came together in dialogue to bring this situation to a happy resolution."
George said he was not initially aware of the situation, but that he could not disclose much information because of confidentiality laws.
"We as a district want to do everything we can as a district," George told the Asbury Park Press. "Every child is different and their education and social and emotional well being is my priority. We will work with them to find the appropriate placement."
Rachel told the Asbury Park Press that she wanted to make her story public so she could potentially help other struggling teens.
"There could be other kids scared out there, who live secretly at school and go home and be themselves," she told the outlet. "If this helps one person, I can be happy about that, too.""
8-17-14: ABC News: "'Orange Is the New Black' Star Laverne Cox's One Wish for America"
"Laverne Cox, star of the Netflix hit series "Orange Is the New Black," is breaking barriers for the transgender community both on and off the screen. In an interview for "This Week", she shared her one wish for America with ABC's Byron Pitts.
"One thing I would wish for America…[are] spaces where we have real gender freedom, where we…create spaces of gender self-determination, where we don't police people's genders or we don't tell people that they're not supposed to act a certain way," Cox said.
Cox has spent her whole life dealing with discrimination and harassment. Growing up in Mobile, Ala., she was constantly bullied for her gender expression, she said.
"I was bullied and I internalized a lot of shame about who I was as a child," Cox said. "Bullied because I didn't act the way someone assigned male at birth was supposed to act. And so I was called sissy, I was called the F-word. I was chased home from school practically every day. There was always a kid or groups of kids who wanted to beat me up," she said.
Overwhelmed by social persecution, she attempted suicide at an early age, Cox said. "The suicide attempt happened when I was in sixth grade and I was having all these feelings about other boys. And I didn't want to live," Cox said.
Hollywood blockbusters and hit TV series like "Orange Is the New Black" are shining a new spotlight on transgender rights, starring characters like her own that Cox says many in the trans community can relate to.
READ: Six Questions for Transgender Rights Advocate Mara Keisling.
"So many trans folks have said that they see themselves reflected in this character," Cox said. "Having your story told validates your experience. It's like, 'I'm not alone anymore, and maybe I'll be OK.
Cox has helped raise awareness and give voice to members of the trans community, pushing forward this newest battle on the civil rights front. "I'm really, really happy that I survived," she said. "If I didn't survive, I wouldn't be here today.""
8-17-14: People: "Transgender Model Geena Rocero Reveals Why She Shared Her Secret" (more, more, more)
"Long before her TED talk made headlines in March, model Geena Rocero agonized over what it would mean – to her, to her bosses, to her career – if it came out that the gorgeous woman modeling bikinis in fashion mags had started life as a boy.
"There was always that fear: What if people found out? They'd think I'd duped them, and maybe I'd lose my regular clients. It could ruin my career," Rocero tells Glamour magazine in its September issue. "I carried the paranoia with me every day."
Rocero, 30, explains that, being born a boy in the Philippines, where the transgender community has a long history in the culture, she loved playing with her Barbie dolls, sewed clothes for them, and, at age 8, tagged along to a transgender beauty pageant.
"I always knew I felt something different," she says. In junior high, she wore the boys' uniform of her Catholic school "but I'd have it altered to make the waist tiny and the slacks fitted and a pocket like the girls had." And while some in the streets hurled gay epithets at her, "I did not feel gay," she says. "I just felt I was a girl."
With the support of her parents, Rocero, who relocated to San Francisco at the age of 17 with her mother, underwent her "dream" of sex reassignment surgery not long after settling in the U.S.
"It was like a rebirth. I never enjoyed having sex before, and all of a sudden it felt good. I was much more in touch with my sensuality, and I went crazy exploring it," she says.
But once she established herself as a successful model and had a couple of relationships under her belt, the truth of her history – and having to edit that history for anyone who got close to her – began to gnaw at her. When a boyfriend asked if she'd ever been in the Girl Scouts, she answered by saying she'd been in the Boy Scouts.
The tipping point came on the dawn of her 30th birthday. When her then boyfriend asked her, "What does 30 mean to you?" Rocero says she decided then and there, "I don't give a damn anymore. I'm ready to share my full journey as a woman.""
8-13-14: Huffington Post: "Transmormon Sheds Light on Trans Members of the LDS Church" (Video)
"Last summer production wrapped on a small project called Transmormon, a 15-minute documentary focusing on the Haywards, a Mormon family whose transgender child was pursuing sex reassignment surgery. On the day that production wrapped last year, July 7, 2013, the family boarded a plane to Thailand to complete the process of "Eddie" becoming Eri.
Like much of America and other branches of Christianity, the Church of Jesus Christ of Latter-day Saints has been reexamining its position on marriage, gender roles, and sexual expression. It was only last year that they changed their position on female missionaries, allowing them to depart at an earlier age. But whatever may come of these new considerations for today's religious teenagers and their families, the world that Eri grew up in left no way to question her assigned sex, let alone articulate her gender identity.
As the documentary points out, the Haywards were conservative Mormons who were not sure how to respond to their child when she came to them, confused that she felt like two people -- the boy she saw in the mirror and the girl she knew herself to be. Eri's father, Ed Hayward, explains in the film, "She came to me one time, when she was probably about 4 years old, crying and saying that, 'Daddy, I want to be a girl.' And at the time I just thought she was going through some kind of a phase."
"When it was explained to [me] that I was a boy, it was because God had made me that way," Eri says in the film, adding that that "didn't make a really great relationship, as a 5 year old, between me and God."
Caught in the tension between the LDS Church's teachings and her gender identity, Eri created a fantasy world for herself. "For the longest time I kind of had this fantasy that I'd escape to that a fairy godmother would come and turn me into a girl and make everything better," she says.
On the outside, things seemed to have worked themselves out by her teens. "Eddie" was ordained to the priesthood in her church and appointed as first assistant to the bishop. At 16 "Eddie" -- identifying as a boy at this point -- began dating a girl from the church. The family relaxed, believing that things were getting better. "Eddie" was behaving less effeminately, but inside she knew something didn't fit. Because she really was attracted to boys, Eri felt she must be gay, so she came out to her community, trying to sort out what this meant and what she had been feeling. One of the hardest parts, she says, was watching her sister begin dating. "That was really hard. I was like, 'Of course. I'm this ugly boy, and my sister is this beautiful girl. That was a really difficult thing for me to deal with."
Eri eventually quit high school. "[B]eing at a Mormon private school, I didn't graduate; I just stopped going when I came out [as gay]," she says. The family decided to send her to Japan to stay with her grandparents in hopes that a change of scenery might help. One day, Eri was watching television when a panel on trans people came on. "My grandmother turned to me and was like, 'Oh, this is all about you!'" she recalls . . . "
8-05-14: The Advocate: "Op-ed: An Open Letter to The New Yorker --When The New Yorker took a look at the tension between transgender women and radical feminists, one writer says the examination was unfair", by Julia Serano
"Dear New Yorker magazine,
You probably don't remember me — I was the transgender activist who briefly appeared toward the end of that Michelle Goldberg article you ran last week. You know, the one about the "dispute between radical feminism and transgenderism." I know, that topic sounds somewhat bizarre and potentially fascinating — I'm sure you got lots of click-throughs on it! But the thing is, it was a rather awful experience on my end, and I want to share why with you.
For me, the story begins several months ago when Goldberg contacted me about an article she was intending to write about "tensions between trans activists and some radical feminists." She wanted to interview me for her piece, which makes sense for several reasons. I am a trans woman who has written two books about the intersection of feminism and transgender activism. Some of that work critiques strands of feminism that have historically been antagonistic toward transgender people, and trans woman-exclusion policies (i.e., when women's spaces or organizations bar trans women from attending because we were assigned a male sex at birth). As you can imagine, trans-exclusive radical feminists (or TERFs, as they are often called*)—who believe that transgender activism upholds the patriarchy and who deny and disrespect trans people's identities — are not especially fond of my work (to put it quite mildly) . . ."
8-04-14: Autostraddle (posted 7/29): "The New Yorker's Skewed History of Trans-Exclusionary Radical Feminism Ignores Actual Trans Women"
"Media coverage of transgender issues has increased rapidly in the last few years as trans people have made larger and louder pushes for relatively basic rights and recognition. Unfortunately, as ground is gained in the fight for trans acceptance, the opposition to that progress only grows more louder and more aggressive. This is visible in Michelle Goldberg's latest piece for The New Yorker, which investigates the conflict between trans-exclusionary radical feminists and the transgender population. Sadly, what she presents is a disturbingly one-sided view of the situation that relies on heavily anecdotal evidence, uncited claims and debunked theories, and ignores the extended campaign of harassment and attack that the the trans community has endured at the hands of radical feminists.
Let's start with the numbers. In the piece, Goldberg mentions the names of 14 radical feminist activists (frequently providing physical descriptions), and provides quotes from nine of them — including two from books penned by radfems. In contrast, she mentions and quotes a total of four trans women (zero from books), and two of them are quoted to supporting the radical feminist position. The problem isn't necessarily that Goldberg appears to side with the radical feminist viewpoint; that's perfectly within her rights, and perfectly within The New Yorker's right to print it. The real issue is that Ms Goldberg gives the impression that she's covering the conflict between the trans rights movement and radical feminism — after all, the piece is subtitled "The dispute between radical feminism and transgenderism" — but gives only passing lip service to the transgender community's side of this situation. In failing to provide a semblance of balance to the voices in the piece, this account becomes hopelessly skewed, and becomes little more than a radical feminist propaganda piece . . . "
8-04-14: Bitch Magazine (posted 8/1): "TERF War: The New Yorker's One-Sided Article Undermines Transgender Identity", by Leela Ginelle
"Reading Michelle Goldberg's recent New Yorker article "What is a Woman? The Dispute Between Radical Feminism and Transgenderism" made me feel sick.
The article is meant to paint a clear picture of a longstanding debate within feminist groups about whether transgender women should be accepted as women, profiling several feminists and exploring the history of current discussions about the push to exclude transgender women from "women only" spaces. But in the process, it paints trans identity as suspect, does nothing to counter the hurtful misconception that trans women are either "men" exercising entitled "male privilege" in deeming themselves female or sexual fetishists acting out "erotic compulsions," and holds up authors who've written book-length academic works delineating these ideas as noble, aggrieved scholars.
While this may sound like speculative fiction set in a world where trans-exclusionary radical feminist (TERF) theories have conquered queer and gender studies communities, it's not. Instead, it's something more disheartening: a one-sided profile that's sympathetic to writers and activists who've spent their careers working to marginalize and persecute the already-oppressed transgender community.
Trans-exclusionary radical feminists posit that transgender women can never be considered women. At their worst, they argue that transgender women are malicious in their deceit, aiming to infiltrate female-only spaces with the goal of harassing or raping other women. These are the feminists who campaign against gender-neutral bathrooms and support the exclusion of transgender women from other women-only spaces.
In the article, it feels like Goldberg personally has a low opinion of social justice activists—that's the view presented in her other recent article "Feminism's Toxic Twitter Wars." One of the biggest problems in the New Yorker piece is that Goldberg presents trans people's self-definitions as opinions: "Trans women say that they are women because they feel female—that, as some put it, they have women's brains in men's bodies." TERF's views are presented the same way, following the previous statement with this one, "Radical feminists reject the notion of a 'female brain.' They believe that if women think and act differently from men it's because society forces them to, requiring them to be sexually attractive, nurturing, and deferential."
Reading this passage, one might think TERFs and trans people have a philosophical or semantic debate. Trans people's identities, for which they and their allies are waging a worldwide human rights campaign to define as legally legitimate—backed by decades of medical and psychological data—and TERFs' hateful academic theories carry equal weight and import. If those two sides were balanced in the piece, readers might walk away with a shoulder shrug, "Who knows whether trans identity is legitimate or not?" The title of the piece certainly encourages this confusion, making it a question as to whether transgender women should be seen as women."
8-04-14: The New Yorker: "What Is a Woman? The dispute between radical feminism and transgenderism". By Michelle Goldberg
"On May 24th, a few dozen people gathered in a conference room at the Central Library, a century-old Georgian Revival building in downtown Portland, Oregon, for an event called Radfems Respond. The conference had been convened by a group that wanted to defend two positions that have made radical feminism anathema to much of the left.
First, the organizers hoped to refute charges that the desire to ban prostitution implies hostility toward prostitutes. Then they were going to try to explain why, at a time when transgender rights are ascendant, radical feminists insist on regarding transgender women as men, who should not be allowed to use women's facilities, such as public rest rooms, or to participate in events organized exclusively for women.
The dispute began more than forty years ago, at the height of the second-wave feminist movement. In one early skirmish, in 1973, the West Coast Lesbian Conference, in Los Angeles, furiously split over a scheduled performance by the folksinger Beth Elliott, who is what was then called a transsexual. Robin Morgan, the keynote speaker, said:
"I will not call a male "she"; thirty-two years of suffering in this androcentric society, and of surviving, have earned me the title "woman"; one walk down the street by a male transvestite, five minutes of his being hassled (which he may enjoy), and then he dares, he dares to think he understands our pain? No, in our mothers' names and in our own, we must not call him sister."
Such views are shared by few feminists now, but they still have a foothold among some self-described radical feminists, who have found themselves in an acrimonious battle with trans people and their allies. Trans women say that they are women because they feel female—that, as some put it, they have women's brains in men's bodies. Radical feminists reject the notion of a "female brain." They believe that if women think and act differently from men it's because society forces them to, requiring them to be sexually attractive, nurturing, and deferential. In the words of Lierre Keith, a speaker at Radfems Respond, femininity is "ritualized submission." . . .
Yet, at the same time, the trans-rights movement is growing in power and cachet: a recent Time cover featuring the actress Laverne Cox was headlined "THE TRANSGENDER TIPPING POINT." The very word "transgender," which first came into wide use in the nineteen-nineties, encompasses far more people than the term "transsexual" did. It includes not just the small number of people who seek gender-reassignment surgery—according to frequently cited estimates, about one in thirty thousand men and one in a hundred thousand women—but also those who take hormones, or who simply identify with the opposite gender, or, in some cases, with both or with neither. (According to the National Center survey, most trans women have taken female hormones, but only about a quarter of them have had genital surgery.) The elasticity of the term "transgender" has forced a rethinking of what sex and gender mean; at least in progressive circles, what's determinative isn't people's chromosomes or their genitals or the way that they were brought up but how they see themselves.
Having rejected this supposition, radical feminists now find themselves in a position that few would have imagined when the conflict began: shunned as reactionaries on the wrong side of a sexual-rights issue. It is, to them, a baffling political inversion . . . "
[Ed: Old radfems never change; they just fade away.]
8-01-14: NBC4 Washington DC: "Transgender Girl Stabbed in Back on Green Line Train, Suspect in Custody" (more, more)
"A transgender 15-year-old girl was stabbed in the back aboard a Metro train Wednesday afternoon, D.C. police say. The attack at the Fort Totten station on the green line going toward Branch Avenue was reported just after 4:30 p.m.
The girl's friends told News4 the suspect, identified as 24-year-old Reginald Anthony Klaiber, came up to the group inside the train and insulted the victim's appearance, asking why she was wearing a wig and commenting on what she was wearing.
According to documents, the victim repeatedly told Klaiber to leave her alone, but he was persistent and asked her, "Are you a boy? Are you a boy? ... Why you be looking like a girl?
Document say that when the train stopped at Fort Totten station, both the victim and Klaiber got up. That's when documents say Klaiber grabbed her from behind in a bear hug and stabbed her in the back. Documents say one of the victim's friends then sprayed Klaiber with pepper spray.
The victim and her two friends then ran off the train with Klaiber giving chase, documents say, shouting, "I'm going to [stab you] again!" Klaiber was apprehended shortly after and charged with assault with deadly weapon.
Metro Police say the charges include the possibility of enhanced penalties for hate or bias motivation. If convicted, Klaiber could be subject to a 1.5-time enhancement under D.C. law. According to court records uncovered by News4, Klaiber has a lengthy criminal history that includes previous charges of assault and resisting arrest."
7-30-14: Rolling Stone: "The Transgender Crucible As a homeless trans teen, CeCe McDonald suffered a lifetime of hardships. But when she was charged with murder for simply defending herself, she became a folk hero"
". . . Touching her cheek, CeCe felt a shock of pain as her finger entered the open wound where Flaherty's glass had punctured her salivary gland. Purse still over her shoulder, CeCe fast-walked from the scene. She'd made it more than a half-block away when she heard her friends calling, "Watch your back!"
CeCe whirled around to see Schmitz heading toward her: walking, then running, his face a twist of wild, unrestrained hatred. CeCe felt terror burst out from that remote place where she normally locked it away. She didn't know that Schmitz's veins were pounding with cocaine and meth. She didn't know of his lengthy rap sheet, including convictions for assault. Nor did she know that under Schmitz's shirt, inked across his solar plexus, was a four-inch swastika tattoo. All CeCe needed to see was the look on his face to know her worst fears were coming true: Her young life was about to end as a grim statistic, the victim of a hate crime.
"Come here, bitch!" Schmitz roared as he closed in. CeCe pedaled backward, blood dripping from her slashed face.
"Didn't y'all get enough?" CeCe asked, defiant and afraid, while her hand fished into her large handbag for anything to protect herself. Her fingers closed on a pair of black-handled fabric scissors she used for school. She held them up high as a warning, their five-inch blades glinting in the parking-lot floodlights. Schmitz stopped an arm's length away, raising clenched fists and shuffling his feet in a boxing stance. His eyes were terrible with rage.
"Bitch, you gonna stab me?" he shouted. They squared off for a tense moment: the furious white guy, amped up on meth, Nazi tattoo across his belly; the terrified black trans woman with a cartoon pony on her T-shirt; the scissors between them. CeCe saw Schmitz lunge toward her and braced herself for impact. Their bodies collided, then separated. He was still looking at her.
"Bitch – you stabbed me!"
"Yes, I did," CeCe announced, even as she wondered if that could possibly be true; in the adrenaline of the moment, she'd felt nothing. Scanning Schmitz over, she saw no sign of injury – though in fact he'd sustained a wound so grisly that CeCe would later recall to police that the button-down shirt Schmitz wore that night was not white but "mainly red. Like one of them Hawaiian shirts." CeCe waited until he turned to rejoin his crowd. Then she and Thomas ran arm in arm down the block toward the nearly empty Cub Foods parking lot, where they waited for police to arrive . . .
[Ed: A powerful in-depth report that says it all.]
7-27-14: Queerty: "Federal Government Grants Christian Colleges Right To Expel Transgender Students"
"You can't say that Christian Colleges aren't keeping up with the times. Now they've discovered transgender people. As a target of discrimination, of course.
Two conservative Christian colleges have been granted an exemption to federal education regulations on religious grounds. The regulation, Title IX, provides nondiscrimination protections that the Department of Education recently determined apply to transgender students. Needless to say, two colleges have stepped forward to say that they don't want to offer those protections because they want to kick transgender students out of their schools.
The colleges, Spring Arbor University in Michigan and Simpson University in California, argue that they should be able to expel students at will because the Bible tells them so.
"The university has deeply held religious beliefs, based upon Biblical principles and the Book of Discipline, which do not allow for any sexuality, other than heterosexuality," Spring Arbor wrote in its request to the Department of Education. "The university also believes, based upon Biblical principles, that a person cannot change their birth gender." Spring Arbor also sought–and was granted–the right to expel lesbian and gay students.
Simpson was equally unapologetic about this request. "[S]exual practices that are divorced from loving, conventional relationships between men and women pervert God's intentions and result in sinful behavior that ruptures relationships between men and women, and erodes the relationship between human beings and their creator."
The Department of Education said that it had no choice but to grant the exceptions, which are readily available on the basis of religious grounds."
7-26-14: The Oregonian: "Families of transgender children find the path of acceptance"
"Three-year-old N.H. didn't understand why his teachers stopped him from walking into his preschool's bathroom with green walls with fire trucks on the wall. He liked it more than the pink girls bathroom. Plus, N.H. told them he was a boy.
Yet, when his mom explained to the administrators of the Corvallis school, where tuition cost more than $10,000 a year, they insisted the gender listed on his birth certificate determined his bathroom. He was a girl, they said.
So his mom moved N.H. to a preschool that accepted N.H. for who he is. Now 5, N.H. is a transgender boy, which means he was assigned a gender at birth based on his body that doesn't match how he feels. "I'm a boy, and when people call me a girl, I get mad and I stick my tongue out," N.H. said. Then growled.
The Corvallis family with a transgender son asked to use initials because most people in the community know N.H. as a boy only, and they don't want to risk bullying if his peers find out . . .
Many people think that being transgender means that someone underwent sex reassignment surgery, but that is an expensive step that not every transgender person wants, nor can afford. In Corvallis and many places in America, it's difficult to be transgender. Many transgender kids face extreme bullying from their peers and adults, or lose their families. N.H.'s family, though, supports him completely.
"The way I see it is I have two kids and they need to be raised and taken care of, and everything else is secondary," his mom, A.H., said. They are trying to bring together a community of families with transgender children in the Corvallis area to feel less alone."
7-24-14: Huffington Post: "Super Model Andreja Pejic Comes Out As Transgender" (more, more)
"Super model Andreja Pejic, formerly known as Andrej Pejic, has come out as transgender.
A statement emailed to The Huffington Post by GLAAD notes, Pejic "will only be modeling women's clothing going forward and has received support from her agency, friends and family."
Pejic, who previously made waves in the fashion industry with her androgynous look and has been featured on the covers of Elle and French Vogue, among other publications, and has walked in both men's and women's fashion shows, said in a statement, "To all trans youth out there, I would like to say respect yourself and be proud of who you are. All human beings deserve equal treatment no matter their gender identity or sexuality. To be perceived as what you say you are is a basic human right."
She also told Style.com, "I figured out who I was very early on—actually, at the age of 13, with the help of the Internet—so I knew that a transition, becoming a woman, was always something I needed to do. But it wasn't possible at the time, and I put it off, and androgyny became a way of expressing my femininity without having to explain myself to people too much."
On her decision to change her name by adding an "a" to the end of it, Pejic noted, "it's not a full transformation —it's just an evolution." She added, "...Andrej is a Christian Orthodox name, and in that religion, it's definitely a male name. So I kept the 'j' and added an 'a,' which actually becomes a name that I don't think exists. But I wanted to keep the 'j' because that's me. That's my name."
For the full interview with Style.com, head here."
7-24-14: Huffington Post: "Janet Mock Named Contributing Editor At Marie Claire"
"What a week for some of our favorite transgender icons!
New York Times bestselling author Janet Mock received a big honor this week when Marie Claire named the writer as a contributing editor to their publication. The transgender inspiration will reportedly contribute to both print and online articles for Marie Claire, as well as serving as the brand ambassador.
Marie Claire Editor-in-Chief Anne Fulenwider spoke highly of Mock and her work:
"Janet is an incredibly smart and articulate writer. Her ideas about identity, youth culture, and society's changing norms about beauty illuminate the ever-evolving definition of the modern woman. I look forward to adding her unique point of view to our pages."
Mock first shared her story about growing up as a transgender woman through a seminal article in Marie Claire in 2011. A number of Mock's fans and supporters took to Twitter to congratulate the writer on this most recent achievement and applaud the publication's decision."
7-23-14: Los Angeles Times: "Editorial: It's time to end the ban against transgender soldiers"
"What does transgenderism have in common with drug abuse and schizophrenia? According to the Department of Defense, they are all reasons to bar people from military service.
The repeal of "don't ask, don't tell" may have ended the ban on openly gay and lesbian troops, but a ban remains in place for an estimated 15,000 transgender troops, who must serve in secret or not at all. This groundless policy not only weakens the military, it stigmatizes transgenderism and deprives military personnel and veterans of the transgender-specific healthcare they need — even as other federal programs such as Medicare have lifted similar restrictions.
Military regulations have lagged behind on issues of civil rights for centuries. Commanding officers use the same reasoning to ban transgender troops that they previously did to ban female and gay troops: They're not fit for battle. It will harm unit cohesion. Yet time and again, these assertions have proved to be unfounded.
The Palm Center, a think tank at San Francisco State University that focuses on LGBT issues in the military, put these archaic notions to rest earlier this year in a study co-chaired by former Surgeon Gen. Joycelyn Elders and Rear Adm. Alan M. Steinman, MD. The report declared that "there is no compelling medical rationale to exclude transgender people from military service, and eliminating the ban would enable commanders to better care for their troops." Retired Brig. Gen. Thomas A. Kolditz, who served on the commission, predicted that ending the ban would reduce harassment, assaults and suicides.
If the military is unswayed by the research, perhaps it should consider the story of Kristin Beck. For 20 years, Beck served in the Navy SEALs, seeing 13 deployments, most of them in combat, and earning an impressive slate of military awards and decorations, including a Bronze Star and a Purple Heart. In 2013, Beck came out as a trans woman after years of hiding her true identity. "No one ever met the real me," she told CNN's Anderson Cooper later that year.
In May, Secretary of Defense Chuck Hagel told ABC News that he was open to reviewing the transgender ban, and President Obama signed an executive order on Monday that includes formal protection of transgender federal employees from discrimination at work.
When it comes to issues of civil rights, Obama, like most politicians, has allowed public opinion to dictate his actions. Progress has been made, but at an infuriatingly slow pace. If this president hopes to be remembered for advancing equality, he won't wait any longer on this issue. The military is not only America's largest employer, it's an important face we present to the world — and no place for discrimination."
7-23-14: Huffington Post: "Comic Con San Diego To Hold Panel On Transgender Issues"
"Well done, Comic Con!
At this year's popular comic book convention in San Diego, organizers have orchestrated a panel focusing specifically on transgender issues. Called "Breaking Barriers: Transgender Trends in Popular Culture," this panel is reportedly the first of its kind as it will consist solely of panelists that identify as transgender.
The panel is organized by Prism Comic's Tara Madison Avery and will reportedly analyze the appearances and representations of trans characters and include open discussion about the complexity and depth added by featuring the transgender experience in comic books.
"In recent years, Transgender creators have gained visibility in comics, movies, and television after long being consigned to the shadows," the Comic Con program reads. "From coming out and transition to navigating gender politics in a world still struggling to understand, cartoonists, writers, and filmmakers are investing their work with unique personal experiences as their characters learn to live and love in new and unexpected ways."
Comic Con is also slated to feature four additional panels on comics and issues affect the lesbian, gay, bisexual (LGBT) community.
"Breaking Barriers: Transgender Trends in Popular Culture" will take place at the San Diego Comic Con on Thursday, July 24 at 5:00 p.m."
7-23-14: Daily Nation (Kenya): "Court allows transgender activists to register lobby group" (more)
"A group seeking to have their transgender status recognised in Kenya has won a major legal battle. This is after a high court judge ordered the Non-Governmental Organisations (NGOs) coordination board to register an advocacy group for transgender people in a landmark ruling likely to open a Pandora's box of gender discrimination lawsuits.
Justice George Odunga criticised the board for declining to recognise the Transgender Education and Advocacy (TEA), whose members had sued for discrimination and violation of their fundamental human rights. Justice Odunga said the board's refusal to register the group amounted to a failure in discharging statutory functions and mandate and "was unfair, unreasonable, unjustified and in breach of rules of natural justice."
He also ordered the board to compensate Ms Audrey Mbugua, Ms Maureen Muia and Ms Annet Jennifer the cost of the three-year litigation. The judge said the Constitution upheld the individuals' rights to assembly and cannot be deterred on grounds of gender orientation.
The board had argued that it could not recognise the group's members since the names they had submitted for registration were not the ones reflecting their gender. However, the judge said there was evidence that Ms Mbugua and her colleagues had indeed changed their names through a deed poll they annexed in the suit papers.
The judge said the premise of gender cannot be used to deny registration. "A public authority cannot be allowed to get away with discriminatory actions that deny persons their rights of assembly which is a clear abuse of the power bestowed on such an authority," the judge added. He said the reasons advanced for refusing to register the advocacy group had no legal basis and were unreasonable.
Ms Audrey, formerly Andrew Ithibu Mbugua, has been battling for recognition as a transsexual. She has a separate pending case in which she wants the Kenya National Examinations Council (Knec) to change the gender designation in her certificates on the grounds that the male identity has rendered her unemployable."
7-23-14: CTV (Canada): "11-year-old transgender girl 'not done yet' after changing birth certificate"
"An 11-year-old Vancouver Island girl was among the first 30 Britsh Columbians to take advantage of a new law that allows transgender people to change the sex listed on their birth certificates without having surgery. According to her, she was the first person in line after the bill passed.
"I was probably the youngest," Harriette Cunningham told CTV News. "I know I was the first."
The Comox resident said she's always known she was a girl, despite being labeled "male" on her original birth certificate. The new document is the latest success in a campaign to get legal recognition for her gender that began when she was 8 or 9, she said.
It just made me so mad and made me almost frustrated to know that I'm a girl and then I look on my passport and it says that I'm a boy," Cunningham said.
Some children who don't conform to gender norms can be persuaded to stay quiet about it in official situations like border crossings, Cunningham's father Colin told CTV News. That was never an option with Harriette, who's expecting a new passport soon to match her new birth certificate.
"For her, it was a matter of principle, where she wasn't being acknowledged for who she really was," Colin Cunningham said.
The younger Cunningham has always been very sure of her gender identity, her father said. It was up to her parents to educate themselves and support her in her transition. It was a steep learning curve.
"We didn't even know there were transgender youth," Colin Cunningham said. "Once she started down that path, it was really obvious. It was really obvious that this is exactly who she is. It was us that had to catch up.""
7-22-14: Baltimore Sun: "Maryland shifts insurance policy to cover transition-related care of transgender employees"
"In a reversal of state healthcare policy, transgender state employees in Maryland can now access gender reassignment surgery, hormone therapy and other transition-related care under their state-provided health insurance plans.
The change quietly went into effect at the start of this month as the result of legal negotiations in a discrimination case brought against the state by Sailor.
The state agreed amid those negotiations to reimburse Holobaugh's transition-related medical costs to date and apply the new standard to all of its employee health plans, rather than fight Holobaugh's claim in court.
"This is basically a fabulous shift in policy," Holobaugh said in an interview.
The change makes Maryland the third state, after Oregon and California, to offer such coverage to its employees, according to Holobaugh's attorneys at Free State Legal, a nonprofit organization that represents lesbian, gay, bisexual and transgender clients in Maryland. . .
Holobaugh's case began in November 2012, when Holobaugh paid nearly $4,500 out of pocket for a bilateral mastectomy as part of his transition, then said he was denied reimbursement for the surgery by provider CareFirst BlueCross BlueShield based on coverage restrictions under his state-provided policy.
Holobaugh appealed the decision with the Maryland Insurance Administration and the Maryland Attorney General's Office, he said. As the case dragged on, he also secured legal representation with Free State Legal.
Attorneys filed additional complaints on Holobaugh's behalf with the Equal Employment Opportunity Commission and the Maryland Commission on Civil Rights, and soon after began out-of-court negotiations to settle the case with officials in the state's Department of Budget & Management, which oversees state employee compensation and benefits, including health coverage.
The change strips language explicitly banning coverage for such procedures and care under state employee plans and replaces it with language adopted from the World Professional Association for Transgender Health outlining a broad array of transition-related care that employee plans will now cover."
7-21-14: MSNBC: "Obama signs historic order on LGBT equality" (more)
"Six years after promising to do so, President Barack Obama added his signature on Monday to an executive order barring LGBT discrimination by federal contractors. He also went further and formally amended a separate executive order to include workplace protections for transgender employees of the U.S. government.
"I know I'm a little late," said Obama, referring to the near-30 minute delay of Monday's signing ceremony (though some might argue that it was a delay of six years and 30 minutes). "Many of you have worked for a long time to see this day come."
Virginia Governor Terry McAuliffe — a Democrat whose first order of business after his inauguration was to sign an executive order prohibiting discrimination on the basis of sexual orientation or gender identity in the state government — Deputy Secretary of Labor Chris Lu, and a number of LGBT workplace equality advocates joined the president for the announcement. Obama declared that, as of Monday, the federal government would "become just a little bit fairer."
"For more than two centuries we have strived, often at great cost, to form a more perfect union," said Obama. "Many of us are only here because others fought to secure rights and opportunities for us. We've got a responsibility to do the same for future generations."
Though the order won't protect all LGBT employees, it will apply to approximately 20% of the national workforce, which is the percentage employed by federal contractors legally bound to comply with the order. To cover the remaining 80%, the president urged Congress to act on the Employment Non-Discrimination Act (ENDA). If passed, the law would bar any employer from firing, refusing to hire, or otherwise discriminating on the basis of sexual orientation or gender identity. A version of ENDA was first proposed on the House floor in 1974 . . .
The latest version of ENDA passed the U.S. Senate last year, but failed to go anywhere in the Republican-controlled House. After the U.S. Supreme Court issued a controversial ruling allowing companies like Hobby Lobby, a craft store chain owned by evangelical Christian family, to be exempt from contraception-related provisions under the Affordable Care Act, LGBT advocates walked away from ENDA in its current form because the bill contained a broad religious exemption.
Last week, the White House announced that Monday's executive order would not include a similar exemption despite pressure from high-profile faith leaders — some of whom are Obama's allies — to create one for religious organizations in business with the U.S. government. Whatever their religious beliefs, all federal contractors will be prohibited from discriminating on the basis of sexual orientation or gender identity."
7-21-14: GID Reform: "Gender Troubles: What's Wrong With the WHO Proposal for Gender Incongruence in Childhood", guest post by Dr. Sam Winter
Breaking, on the GID Reform Advocates Blog-- "Gender Troubles: What's Wrong With the WHO Proposal for Gender Incongruence in Childhood" A Guest Post by Sam Winter, Ph.D., Faculty of Education, University of Hong Kong . . . previously a member of the World Health Organization (WHO) Working Group on Sexual Disorders and Sexual Health.
"I believe that the proposed [Gender Incongruence of Childhood] diagnosis [proposed for the ICD-11] pathologises patterns of development that should not be pathologised, that the diagnosis is inconsistent with the approach the [WHO] Working Group proposes for other children and youth (including, importantly, homosexual youth), that the pathologisation carries risks for the gender-different child (and indeed for the broader work of the Working Group), and that there are alternative ways of providing health care services for gender-different children (plus their parents, teachers and others) who may need such services...In short the argument is for de-pathologising, rather than simply de-psychopathologising, genderdifference in childhood." --Dr. Sam Winter"
7-21-14: GIWExposed: "Gender Identity Watch Exposed"
"For several months, a hate group called Gender Identity Watch has posted pictures and images of transgender women who have spoken out against them online, along with personal information including where those people work, the names of any spouses, their geographical location, and other demographic information.
Without further ado, I am about to level the playing field. The original GenderIdentityWatch.com website, does not have geotag information on its posters, however, the Facebook group certainly did.
The locations listed below were garnered from PUBLICLY available geotagging information on the GIW original Facebook page, and represent those who re-published the GIW information repeatedly, and repeatedly left pro-GIW thank you posts on the GIW page. This is not secret information, or private information, the addresses were garnered from those using their own names coupled with geotagging information from their respective public Facebook pages.
The ringleader for GIW, is Cathy Brennan, who lives on Banks Odee Rd, Newburg MD 20664. Another prominent member, is Linda Hudson, Lafayette Pl, Lake St Louis MO 63387. There is also Nancy Leaman, who lives in an apartment on Bradley Ave, Meriden CT 06451, Justin Allen Norwood, a 29 yr old gay male from San Angelo TX, and two prominent members in Queensland, Australia - the first being Cailey Quinn, who owns a company called Paradise ShadeUmbrellas, in Robena QLD Australia, and Kerry Van Gemert, who operates East Coast Home Loans in QLD Australia.
Within the transgender community, we also have a contributor to GIW, named Katherine Middleton who works as a tattoo artist in Montreal QC Canada.
Catherine is someone who made many claims on social media websites, such as Facebook, that she was a transgender female, and yet was sending information back to GIW's Cathy Brennan. Katherine later changed her story to being intersex, and an "androgynous weirdo" who was somehow excluded from GIW's hate and taken into their inner circle."
7-20-14: EurWeb: "Laverne Cox Educates Katie Couric On The Struggles of Transgender People"
"Katie Couric may have wanted to "educate" others who may not be familiar with transgender, but it was she who received a first hand account of being transgender, courtesy of Laverne Cox.
According to salon.com, the "Orange Is the New Black" star put a halt to Couric's focus on her and transgender model Carmen Carrera's genitalia by presenting an issue that more than hits close to home for her.
"I do feel there is a preoccupation with that. The preoccupation with transition and surgery objectifies trans people. And then we don't get to really deal with the real lived experiences. The reality of trans people's lives is that so often we are targets of violence," Cox told Couric. "We experience discrimination disproportionately to the rest of the community. Our unemployment rate is twice the national average; if you are a trans person of color, that rate is four times the national average. The homicide rate is highest among trans women. If we focus on transition, we don't actually get to talk about those things." . . .
Before speaking to Cox, Couric referenced an earlier segment that had Carrera deflecting her questions about surgery and trans bodies. "I don't want to talk about it, it's really personal," Carrera replied. After relaying the common struggle among transgender people, Cox continued to educate Couric while mentioning the recent murder of Islan Nettles, a 21-year-old trans woman, in addition to the rate of violence against trans people in the United States.
"By focusing on bodies we don't focus on the lived realities of that oppression and that discrimination," Cox stated. To see more of Katie Couric's interview with Laverne Cox and Carmen Carrera, check out the video . . . "
7-17-14: Newsweek: "Science Magazine Puts Transgender Women on Cover, Without Their Heads" (more, more, more)
"Science, the academic journal of the American Association for the Advancement of Science, put an image of transgender women sex workers on their cover this week, to accompany an extensive special section about HIV/AIDS prevention approaches. However, on the cover, the women's heads were cut out of the frame, leaving only their bodies.
Prosanta Chakrabarty, an evolutionary biologist at Louisiana University, pointed out the problem: "When we said we wanted more women in Science this is not what we meant . . ."
7-17-14: Slate: "Science Has a Gender Problem. Science Just Made It Worse."
"The cover of Science magazine's special AIDS and HIV issue hit mailboxes on Wednesday: It shows the legs and minidress-clad torsos of transgender sex workers in Jakarta. The women have breasts but no heads. "Staying a step ahead of HIV/AIDS," reads the display text, a winking inch or so away from their stiletto heels. Though transgender sex workers are a "key affected population" for the epidemic in Indonesia, they are often overlooked by government health services, which is ostensibly why Science chose to splash bits of their anatomy on its cover. If transwomen get ignored, though, it's in large part due to prejudice—and in that respect the optics of the Science tableau do more harm than good.
The Slantist sex blog explains this car wreck of noble intentions pretty well. "Instead of showing viewers a humanizing glimpse into the lives of these women," writes A.V. Flox, the cover objectifies their bodies. It uses their bare legs as bait to lure in male readers, and then reverses the readers' expectations in a way that's supposed to be … funny? "Interesting to consider how those gazey males will feel when they find out," tweeted Science editor Jim Austin gleefully.
Because transgender women with AIDS are great comedic fodder! "Am I the only one who finds moral indignation really boring?" he continued. If only. Update, July 17, 2014: Science editor-in-chief Marcia McNutt has expressed regret about the image on the magazine's July 11 cover. "From us at Science, we apologize to those offended by recent cover. Intent was to highlight solutions to HIV, and it badly missed the mark," she wrote in a tweet.
But sexist and homophobic (and racist) exploitation just kicks off the July 11 issue's offenses. As Flox also points out, the cropping commits a metaphorical decapitation. It takes apart the bodies of people who go through life at terrifying risk of violence and murder. Transgender people are 28 percent more likely to experience physical brutality than those who are gender normative. In that context, the choice to lop off their heads for aesthetic effect—especially when the magazine so rarely depicts human subjects without their faces—seems chillingly insensitive. (Flox found that over 10 years of Science covers, only two featured free-floating body parts, and they did so in a nonsexual manner.)
Pro tip: When you "raise awareness" about the plight of an underserved group of people, the type of awareness you raise matters. Transgender sex workers should not be expected to thank Science for "raising awareness" of them as erotic objects, jokes, or disease vectors. The STEM fields have a reputation for exclusiveness, for ushering straight white men to the front of the line, and this particular magazine's treatment of its subjects—Typhoid Marys who are also hot, and fake—is unlikely to challenge that perception.
Indeed, it's only gathering steam. On Wednesday, Vox reported on a paper in the journal PLOS ONE suggesting that sexual misbehavior may be more prevalent on field sites than we thought. Roughly 71 percent of female scientist respondents told researchers they had experienced harassment or assault. This is not good publicity for a discipline that desperately wants and needs to increase diversity. Transgender sex workers may have an image problem, but so does science—and now, Science."
7-17-14: Vancouver Sun (Canada): "Daphne Bramham: Vancouver Catholic schools first in Canada to have transgender policy -- Schools told to respect the right of transgender children to choose the names they want to be identified by, to wear the uniform that best fits their gender identification and to have privacy in bathrooms"
"Tracey Wilson shyly concedes that some people might think of her as a hero. Of course, she says, her brother says you can only be a hero if you have super powers.
Super powers or not, the petite 11-year-old with dreadlocks is the reason the Catholic Independent Schools of the Vancouver Archdiocese are the first Catholic schools in Canada with a policy aimed at accommodating and supporting students with gender dysphoria. "No other kids in the world deserve anything like I've gone through ... I don't want anyone else to feel that they don't belong," says Tracey.
Tears trickle down her face as she names the friends whose parents no longer allow them to speak to her. This is because two years ago, after lots of counselling and discussion, the little boy began living as a girl.
"I believe my soul was mixed up and confused about which body to go into and it accidentally went into my boy body instead of a girl body," she says softly.
Living like a boy "kind of felt like being a vampire and being stabbed in the heart all the time. I felt like my whole life was ending. I felt like I wanted to cry all the time."
Many times, she stood crying outside the Catholic school in her boy's uniform, imagining herself with long hair, wearing a flower barrette and a girl's uniform.
At those times, Tracey says her friends were there for support. "It was very good to have friends who loved me."
In kindergarten, a boy told Tracey that boys don't play with dolls. "So, I thought I must be a girl, but that obviously wasn't the case. And as I went on, I started noticing how I was becoming more like a girl.""
[Ed: Especially watch the very moving video interview with Tracey and her mom.]
7-15-14: Huffington Post: "Debi Jackson, Mother Of Transgender Child, Gives Moving Speech"
"My daughter is six years old. She transitioned, which means she changed her outward appearance from male to female and started living full time as her true gender, when she was four. Until that point she was quite a rough and tumble little boy with a buzz cut and a shark tooth necklace."
And so begins the absolutely beautiful speech Debi Jackson gave earlier this year about her transgender daughter, AJ, at the Unity Temple on the Plaza in Kansas City. As Jackson continues, she outlines how her family came to realize that AJ is transgender, what happened the first day she went to school "in girl clothes" and the bigotry her family faced.
But the best part of the video may be when Jackson addresses the comments she's heard about her daughter and sets the record straight about statements like you "wanted a girl so you turned your child into one" and "kids have no idea what they want or who they are -- my kids wants to be a dog, should I let him?"
Spend six minutes and get to know Jackson and her family a little better. You'll be happy you did."
7-03-14: The Advocate: "WATCH: Another Atlanta Trans Woman Brutally Assaulted -- The attack marks the second anti-trans assault caught on tape in Atlanta in just over a month"
Late Tuesday, video surfaced of a transgender woman being assaulted in front of Stratosphere Skateboards, a skate shop located in Atlanta's Little Five Points district. This attack comes just one month after two Atlanta trans women were brutally assaulted aboard a MARTA train.
The video, comprised of a series of short Vine videos, shows the woman pacing in front of the shop, engaging in a verbal altercation with a number of people. In the video's final moments, a man can be seen throwing the woman to the ground and stomping on her head.
According to The GA Voice, the Atlanta Police Department was not yet aware of this incident.
"I have checked with Zone 6 Command and searched myself but cannot locate a reported dispute at that location," Atlanta Police Department employee Gregory Lyon told the Voice. "It's quite possible the person being attacked in the video did not report this to us."
In a statement to the Voice, Georgia Equality executive director Jeff Graham condemned the attacker, and urged the city of Atlanta to make the protection of transgender individuals a priority.
"That's another horrific attack against a transgender or gender-variant person," Graham said. "I hope that the person who has been attacked comes forward so that the police can fully investigate. It is also time to address the overall violence that transgender people live with every day through increased public education and enforcement of the policies that the city of Atlanta has put in place."
7-03-14: Hollywood Life: "Hank Baskett's Alleged Transgender Lover: How I Became A Woman"
"After claiming that she had a tryst with Kendra Wilkinson's husband, Ava Sabrina London revealed on July 2 the grueling, expensive process she went through to become the woman who caught Hank's wandering eye.
Going from a boy named "Paul" to Ava Sabrina London – the transexual who's at the center of Hank Baskett's alleged cheating scandal — was not easy. The transgender model opened up on July 2 and broke down the grueling process, from deciding to become a woman to dropping a whopping $50,000 on a shocking amount of surgeries.
"I always wished I was born a girl," Ava told Radar Online. "Everything I did to my sister, I did to myself. I did her makeup, her hair, styled her. I wished I was my sister. But I never thought I'd transition."
After growing up as a boy named "Paul" in Modesto, Calif., Ava finally decided, with some hesitation, to start undergoing hormone therapy in 2011 as the first step to transition from a man to a woman. After that, Ava racked up a shocking 18 surgeries to complete the transformation . . .
Ava Sabrina London has been thrust into the public eye after she alleged that Hank Baskett cheated on his wife, Kendra Wilkinson, with her. According to Ava, her relationship with Hank started as an online flirtation, but that eventually they met in person, and he paid her for sexual acts.
Now Kendra is reeling — she's been spotted out without her wedding band — and her marriage with Hank is definitely in doubt"
7-03-14: PRI (re Indonesia): "Transgender women find a safe place to practice their faith in Indonesia"
"On a recent Sunday afternoon, a group of women lay out books, mats and glasses of hot tea on a shady veranda. It's time for Arabic class at Pondok Pesantren Waria, an Islamic school in the Indonesian town of Yogyakarta.
It's one of more than 13,000 such schools — called "pesantren" — in Indonesia. But here there's a key difference: the students are all transgender women. They're mostly adults, who come after work on the weekend for their religious study. They're known in Indonesia as "waria," a term that mixes "wanita" and "pria," the Indonesian words for "woman" and "man."
Bunda Yeti, a stout waria who's been studying here for several years, carries a small shelf of Arabic textbooks onto the veranda. Yeti was raised as a boy, but she knew early on that she was really a girl. In high school, she told friends and began wearing makeup.
It wasn't an easy decision — Indonesians are relatively tolerant when it comes to transgender women, but discrimination is still widespread. Many waria struggle to get identity cards, which are required for voting, and medical care can be hard to access.
Yeti also struggled with another problem: How, and where, should she pray? In Indonesia's mosques, men and women pray separately and wear different religious garb. Bunda didn't fit into either category.
"Normally I would have joined the men's section," she says, "but I was wearing a dress and makeup. And could I pray with the women? Of course not." She thought that people would stare at her and worried that her presence would distract other worshippers from their own prayers. Eventually she stopped going to the mosque altogether. She tried praying at home, but it wasn't the same.
"For major holidays I might go to the public square in order to pray with other people," she says, "but I couldn't do Friday prayers at the mosque." Yeti felt she had fallen away from God.
Then, in 2008, a friend of hers opened Pondok Pesantren Waria. It's a small, informal setup — no grades, no graduation and only about 20 students. But, for the first time in years, Yeti felt she had a place to practice her faith."
7-02-14: Rolling Stone: "4 Reasons President Obama's New Trans Rights Policy Is a Big Deal -- By protecting transgender federal employees, the president makes a powerful statement of equality" By Parker Marie Molloy (more, more)
"At the White House Pride reception on June 30th, President Barack Obama expressed his intent to issue an executive order that would extend employment protections to federal employees on the basis of gender identity – making it illegal for federal agencies to discriminate against transgender and gender non-conforming individuals. This follows a 2009 executive order that extended these same protections to employees on the basis of their sexual orientation.
This is big news for trans individuals, both current and aspiring federal employees. Here are four reasons why:
1. The new policy clarifies current case law, and continues to set precedent . . .
2. It opens a wide range of job opportunities to a group plagued by high unemployment . . .
3. It provides continued legitimacy to a group often brushed off as fringe or abnormal . . .
4. It's the latest sign that the Obama administration truly has the transgender community's best interests in mind . . .
In each of the past several years, President Obama has invited trans activists and public figures to the White House as part of the annual Pride reception.
In 2011, the Social Security Administration stopped issuing "no match" letters to employers. These letters – which were sent out whenever an employee's gender as filed with the SSA didn't match the gender as filed with a company after bringing on a new employee – unwittingly outed trans employees and flagged them as possible fraud or identity theft cases. Many employers, not wanting to deal with the hassle, simply cut ties with these trans new hires.
In 2010, the State Department removed surgical requirements for individuals to update their passport information's gender marker; in 2012 and 2013, the Social Security Administration and Veterans Administration followed suit, respectively. Removing these requirements has helped numerous trans individuals streamline their legal identification documents.
Earlier this year, the Department of Education issued a ruling that states that Title IX of the Civil Rights Act protects trans students.
Without a doubt, Obama has shown himself to be an ally to the trans community. With more than two years left in his term, it will be interesting to see what other advances we'll see by 2016."
7-02-14: Medscape: "Largest Study to Date: Transgender Hormone Treatment Safe"
"Cross-sex hormone treatment of transgender adults leads to very few long-term side effects, according to the authors of the largest study to date to examine this issue.
More than 2000 patients from 15 US and European centers participated in the retrospective study, called Comorbidity and Side Effects of Cross-Sex Hormone Treatment in Transsexual Subjects, and nearly 1600 received at least 1 year of follow-up, the authors reported.
"Our results are very reassuring," principal investigator Henk Asscheman, MD, PhD, who heads HAJAP, his clinical research company in Amsterdam, the Netherlands, told Medscape Medical News. "There are mostly minor side effects and no new [adverse events] observed in this large population."
Speaking at ICE/ENDO 2014 last week, where he presented the initial results of the research, Dr. Asscheman said the data confirm findings from smaller studies published in the past decade.
"The take-home message," he said, "is that when using the guidelines from the Endocrine Society ["Endocrine Treatment of Transsexual Persons"], you are not going to see a lot of comorbidities with cross-sex hormone treatment."
7-01-14: KCET: "Changing Birth Certificates Now Easier for Transgender People"
"Transgender Californians seeking changes to their name and gender identities on birth certificates will no longer need to go through a lengthy and exploitative legal process. Effective today, individuals seeking a name change on a birth certificate are no longer required to publish their reflected name in a local newspaper. Additionally, they will no longer be required to attend a court hearing prior to authenticating the request. "These new protections were created to improve the safety and privacy needs of transgender people seeking to obtain accurate and consistent identity documents," said Danny Kirchoff from the Transgender Law Center.
AB 1121, authored by Speaker Toni G. Atkins in 2013, ensures that one's gender identity is accurately represented on legal documents. The bill was co-sponsored by the Transgender Law Center and Equality California, and aims to make it easier for transgender people to seek changes to properly reflect one's gender identity without going through so much red tape . . .
The old process for making changes to birth certificates involved the issuance of a court date and the payment of $435 for a gender or name change. An individual seeking to change the gender or name on the birth certificate would then be required to provide a physician's affidavit documenting the individual's gender transition.Under the new provision, however, individuals would no longer be required to go through court. The individual would be responsible for sending the request to the State Registrar, which would then verify information from a physician and grant the request through a simplified administrative procedure.
"Under this change, an individual could simply apply directly to the Office of Vital Records to change the gender/and/or name on a birth certificate, supplying the required physician's affidavit to that office instead of to the court," the bill's language notes.
AB 1121 has also worked to streamline the birth certificate process while also protecting the rights of transgender people. It will also eliminate the discriminatory requirement for having transgender people publish and pay for their reflected name changes in media publications. "A lot of our clients had major concerns about the safety issues of publishing the name change in the newspaper. And especially in recent years, a lot of publications have moved online and people's information about a person's old and new name would come up on Google search, and it's often really private information," noted Kirchoff from the Transgender Law Center.
"There's a lot of privacy and safety concerns that people had, and also the cost. Changing your name is essential for people to have to get to reflect name and gender," he added. Another bill for transgender rights, AB 1577, or the Respect After Death Act, cleared the Senate Judiciary Committee last Thursday. If signed into law, it will ensure that death certificates will reflect the deceased's correct gender identity."
6-30-14: MTPC (posted 3/07): "Sylvia Rivera's Legacy of Resistance", by Aaron, MTPC Intern (VIDEO)
"Born in New York City in 1951, Sylvia Rivera had a rocky start to life. Her mother's early death and father's frequent absence left Rivera bouncing from one place to another, enduring abuse for her effeminate presentation. In the early 1960's, she began engaging in sex work alongside other trans women and drag queens. Leaving home for good, Rivera immersed herself in the transgender and drag queen community she discovered while hustling, finding solace in spaces like the Stonewall Inn. When police raided the Inn on June 18th, 1969, Rivera actively fought back. She was famously quoted as saying, "I'm not missing a minute of this — it's the revolution!"
Rivera's activism did not end with the Stonewall Riots. Recognizing the need for inclusion in a white, middle-class, gay-male-dominated movement, she became a voice for those without representation. As a Latina trans woman, Rivera fought for people of color and trans folks to be recognized and pressed for New York City's gay rights bill to include protections for drag queens and trans people. While that campaign was unsuccessful, she went on to found the Street Transvestite Action Revolutionaries (S.T.A.R.) with Marsha P. Johnson in 1970. The organization provided shelter, clothes, and support for young homeless trans women and drag queens.
While cancer took her life in 2002, Rivera spent her lifetime working toward an inclusive LGBT movement and support for the most vulnerable folks in her community. She refused to accept that anyone should be left by the wayside. Her goal was intersectionality through resistance and representation, which remain important parts of today's fight for equality.
Before her death, she said, "Before I die, I will see our community given the respect we deserve. I'll be damned if I'm going to my grave without having the respect this community deserves. I want to go to wherever I go with that in my soul and peacefully say I've finally overcome."
Watch Rivera's speech at the 1973 Christopher Street Liberation Day Rally here. (Trigger warning: violence, sexual assault, transphobia)"
6-28-14: Al Jazeera America (re India): "After Koovagam, India's largest transgender carnival -- Making a life on the margins of society"
"VILLUPURAM, India — Only two days to go before the start of religious festivities at the 2014 Koovagam festival, India's largest gathering of transgender women, and countless used condoms lie scattered across a garbage-covered field. By 10 that night, the grounds will be filled by a hundred or more transgender sex workers plying their trade for 200 rupees per session, or a little over $3.
The trans community in India made headlines this past April thanks to a much-celebrated Supreme Court ruling that provided recognition to a "third gender" on official documents such as voter ID cards. The decision could potentially lead to the reservation of government jobs for transgender people and legal guarantees of educational rights in the future. In the meantime, the vast majority of India's estimated 1 million-plus trans women are relegated to begging and sex work to earn a living. With no legal protection against discrimination from employers and little emotional support from family members (who often cast them out), trans women — also known as hijras or aravanis — typically live on the fringes of Indian society. . .
Every year, tens of thousands of people — mostly trans women but also many tribal men — congregate at Koovagam, galvanizing this otherwise sleepy town in the southern Indian state of Tamil Nadu. The women are there to make new friends, earn money through sex work and achieve spiritual cleansing through Hindu rituals. The atmosphere is part carnival, part intimate community, as celebrants from all over the country come together to gossip, party and participate in beauty pageants and talent competitions."
[Ed: An in-depth article with many photos.]
6-25-14: Insurance.wa.gov: "Kreidler calls for health insurers to end discrimination based on gender identity"
"Insurance Commissioner Mike Kreidler is asking all health insurers doing business in Washington state to end discrimination in health insurance based on gender identity and related medical conditions.
In a letter sent to health insurers this morning, Kreidler reminded health insurers that exclusions and denials of coverage on the basis of gender identity are against the Washington Law Against Discrimination (RCW 49.60) and the federal Affordable Care Act (Section 1557).
If a health insurer covers medically necessary services for its enrollees, it cannot deny those services for a transgender person solely on the basis of a person's gender status. Future regulatory steps will depend on the response of insurers to today's letter and the number and nature of consumer complaints received in response to today's announcement.
"Transgender people are entitled to the same access to health care as everyone else," said Insurance Commissioner Mike Kreidler. "Whether specific services are considered medically necessary should be up to the provider to decide on behalf of their patient."
While Washington state insurance law doesn't require insurance companies to cover sexual reassignment surgery, it also doesn't prevent insurers from adding this coverage if they chose to do so. Health insurers are required to cover procedures that are part of a gender transition process if they're covered for other policyholders for different reasons.
Examples of such services include: Hormone therapy, Counseling services, Gender transition process, Mastectomy, Breast augmentation and reconstruction.
Currently, some insurers have exclusions for all transgender services. Today's announcement makes it clear that disparate access to these and other medical services is not allowed."
6-20-14: Boston Globe: "Mass. to cover range of transgender medical care"
"Massachusetts on Friday became the third state in the nation to cover transgender medical services, including gender reassignment surgery, as a standard benefit in its government health plan for lower-income and disabled people.
The administration of Governor Deval Patrick also moved to prohibit private insurers from denying coverage for gender reassignment surgery or other treatments medically necessary for patients who are transgender, saying that would constitute sex discrimination.
The Patrick administration will strongly recommend similar reforms to the Group Insurance Commission, which provides coverage for thousands of state and municipal employees and their dependents.
"I am proud to be part of a Commonwealth that puts equality as its top priority," Patrick said in a statement. "Massachusetts is a leader in health care, where we make the tough decisions for the good of our communities, and where discrimination, of any kind, will not be tolerated."
Only two other states — California and Vermont — have Medicaid programs guaranteeing treatment for gender dysphoria, a condition in which there is a pronounced difference between patients' feelings about their gender and their physical sex characteristics, according to Gay & Lesbian Advocates and Defenders, a Boston-based organization providing legal services for the lesbian, gay, bisexual, and transgender community.
"This announcement is really historic because I don't think there is a state that has announced in one fell swoop, this comprehensively, that medical care for transgender people is essential," said Bennett H. Klein, a senior attorney for the group. "It's not very often that we see moments we can point to as groundbreaking . . . and this is one of them.""
6-12-14: The Daily Beast: "Southern Baptist Convention: Trans People Don't Exist" (more, more, more)
"Forget decades of scientific studies and transgender people's own lives—the Southern Baptist Convention has gone ahead and decided gender is only about your junk."Gender" refers to one's felt, and societally constructed, sense of being male, female, or somewhere in between. As understood by a generation of psychologists, sociologists, and other scientists, it is distinct from sex, which has to do with biology, genitalia, and genetics. Put roughly, sex is between your legs. Gender is between your ears.
Not so, the Southern Baptist Convention said this week. An expert team—no, wait a minute, an entirely unqualified assembly of 5,000 people who know nothing about gender—just voted to deny decades of scientific studies, as well as thousands of transgender people's own lives. Nope, they said, gender is about your junk, and transgender doesn't exist.
As easy as it is to ridicule this resolution, and ridicule it I shall, it is also a sustained, informed critique of contemporary understandings of gender. Somebody has read their Judith Butler. And as such, it bears closer inspection, if only because it may be a harbinger of conservative attacks to come.
Of course, for the Baptist Convention, this was a matter of theology, not rationality. It says right there in the Bible, "male and female created he them." And God don't make no mistakes. If you've got a penis, you're a man, plain and simple."
6-10-14: CBC (Canada): "Transgender pianist shunned in U.S., gets encore in Edmonton"
"Canada was my salvation in many ways," said Buechner, 54, before a recent concert in Montreal. She is to play in Edmonton on Monday, part of a packed schedule that matches the 60 concerts a year she performed during the height of her career as a man.
But there is no more New York Philharmonic. No American Symphony in Carnegie Hall.
"It seemed like the skies were certainly open to a lot of big orchestras and that all just closed down. It was just gone," recalled Buechner.
After coming out, she was shut out of the conservative concert scene in the U.S. and, despite earning some money teaching children piano lessons, was on the verge of becoming homeless.
'Canada was my salvation in many ways' . . . "The conductors and presenters in Canada were much more open, because they hadn't really known me," Buechner said. "They judged me on the music itself.""
6-06-14: US News & World Report: "What Transgender Looks Like in Pop Culture -- Laverne Cox shows how far trans representation has come in pop culture, and where it still needs to go."
"Netflix released its second season of its greatly acclaimed, top-watched television show "Orange Is the New Black" Friday. And with it, one of the most prominent depictions of a transgender figure in pop culture today returns. Laverne Cox – the trans actress who plays Sophia, one of the show's many incarcerated characters and its prison's in-house hair dresser – has become such a touchstone for the trans community that she claimed the cover of a recent Time Magazine story about the transgender civil rights movement.
As it did with the acceptance of gays and lesbians in society at large, pop culture – film, TV, music and other media – has an undeniably powerful role in introducing this group of people, often heavily discriminated against and deeply misunderstood, to mass audiences.
"In absence of actually knowing someone who is LGBT [lesbian, gay, bisexual or transgender], sometimes seeing a story about them on television or in film is the next best thing to fostering understanding and empathy for people," says Matt Kane, the associate director of entertainment media at GLAAD. "That is one of the most important components for when people go to the ballot box and vote on someone's rights."
But more than just its political dynamics, seeing trans representation on screen can be encouraging and invaluable sign to trans people watching from home,
"It's looking at the matrix, the mix, where everything is happening and not seeing people like you and me," says Paris Lees, a British writer, presenter and trans activist. "You look for people that are respected, people that are taken seriously, people that are a part of things, and that can be very isolating when you look for yourself and you're not there.""
6-05-14: Reuters (UK re US): "Transgender people can now get birth certificates easier in NY" (more)
"Transgender people born in New York state, with the exception of New York City, will no longer have to prove that they have had sex-reassignment surgery to change the sex marked on their birth certificate, Governor Andrew Cuomo's office said on Thursday.
About 100 people a year seek to change the sex on their birth certificate in New York state, according to the office of the governor, who is a Democrat. New York City has a separate records system from the rest of the state and still requires proof of surgery for such a change.
Under the policy, a transgender person will still need to provide a notarized affidavit from the doctor treating them for what the American Psychiatric Association calls gender dysphoria, previously known as gender identity disorder, in order to get their birth certificate modified.
But under the policy the doctor will no longer need to affirm that their patient has had surgery, only that they are receiving "appropriate treatment."
Transgender rights groups say many transgender people, who identify as having a different sex from their one at birth, do not need, do not want or cannot afford sex-reassignment surgery.Being unable to change the sex marked on their identity documents can leave them vulnerable to discrimination or embarrassment, these rights groups say.
"This change brings New York in line with the current standards of medical care for gender transition - it's not 'one size fits all,'" Dru Levassuer, the transgender rights director for the advocacy group Lambda Legal, said in an interview. "It is important to have accurate identity documents that reflect who people are in the world," he said."
6-05-14: Washington Post: "Why the news media need to get it right in covering transgender people"
"Transgender people have been in the news a lot lately. Last week Time Magazine made history by putting Laverne Cox, the transgender actress in the hit Netflix series "Orange Is the New Black," on its cover. A seven minute YouTube video about raising a transgender child just went viral with more than 5 million views. And this week The Chicago Sun-Times came under fire for publishing, and then removing, an anti-transgender column that originally ran in The National Review.
The Sun-Times op-ed threatened to undo what little progress Time had achieved by putting an elegant trans woman on its cover — and one who is black, which is significant because historically, when it comes to LGBT movements, the public faces have been white. That's why Women, Action & the Media and LGBT activists acted so swiftly in demanding the Sun-Times apologize to Cox and set standards in covering transgender people. It's also why it is important to note how quickly the newspaper took corrective action.
Although it is the news media's job to present an array of views, even unpopular ones, it is also the media's responsibility to report fairly and factually, even in the space of an opinion piece. That's where the Sun-Times fell short. The column, written by Kevin D. Williamson, claims that Cox is not a woman despite how she identifies herself and stated that transgender people are delusional. Williamson also dismisses findings by the American Psychological Association recognizing the benefits and efficacy of gender transition treatments.
The essay remains on The National Review's Web site, the Sun-Times took it down from its site Tuesday afternoon.
"
6-05-14: Daily Mail (UK re Cuba): "Out of the shadows: Striking pictures of transgender Cubans shed light on struggles and triumphs of the communist country's oppressed LGBT community"
Under Fidel Castro, Cuba's revolutionary leader who transferred power to his younger brother, Raul, in 2008 after 50 years at the helm, homosexuals and transgender people were treated as
"For transgender Cubans, life on the Island of Freedom has long been a struggle - a daily battle against poverty and entrenched discrimination. But as a new book of photographs titled TransCuba shows, there is now a light at the end of the tunnel for the island's fledgling LGBT community . . .
social deviants and ostracized by society. In the 1960s, gay Cubans were banned from serving in the military or becoming teachers, and thousands of them were shipped off to labor camps, reported Mother Jones. At the height of the AIDS epidemic In the 80s and 90s, and those who contracted HIV were quarantined . . .
Two years after his retirement, Fidel Castro said in an interview with the Mexican newspaper La Jornada that imprisoning gay people was 'a great injustice,' for which he was to blame.
Since becoming president of the republic six years ago, Raul Castro has enacted sweeping reforms to boost the island nation's floundering economy and bring it into the 21st century by allowing its citizens greater personal freedoms. Under Castro, Cuba's LGBT community has slowly begun coming out of the shadows, with the president's own daughter, Castro Espin, emerging as a leading advocate for the rights of gay and transgender people. It was Castro Espin who in 2008 persuaded the Cuban government to legalize gender reassignment surgery, but transgender people still face discrimination in the workforce, and many turn to prostitution to eke out a meagre living.
'I see transgender Cubans as a metaphor for Cuba itself: people living between genders in a country moving between doctrines,' Allen writes. Mariette Pathy Allen's transgender women are strong and optimistic about the future, but they continue to face great challenges, from HIV to lack of work and deep-seated intolerance pervading Cuba's society."
6-05-14: Slate: "The Wellesley Man: In the era of transgender rights, women's colleges are struggling to figure out where their loyalties lie."
"In 1870, when Henry and Pauline Durant founded Wellesley College, gender was simple. You were either male, in which case the ivy-fringed bounty of American higher education lay at your feet, or female, in which case your options were confined to a few women's schools. Now, in 2014, most previously male universities are co-ed, and gender is complicated. The traditional women's college looms out of the past like a dinosaur.
Evolving the dinosaur requires a fluid understanding of gender, one that embraces transmen and transwomen as well as everyone in between. As the New York Times reported last month, single-sex colleges are struggling to work out where their loyalties lie. The ideological masonry of these schools rests on progressive assumptions about inclusion and empowerment, but they were also designed with specific beneficiaries in mind: women. So who counts as a woman? And is it possible for colleges to draw that line without tarring their missions of tolerance?
6-03-14: Media Matters: "The Inspiring Transgender Child And The Fox News Doctor Who Would Prescribe Anti-Psychotic Medication"
"Fox News "Medical A Team" member Dr. Keith Ablow assailed the parents of a transgender child whose story has gone viral on the web, suggesting that six-year-old Ryland Whittington would have been better served by "anti-psychotic medication" than by having his parents affirm his gender identity.
On May 27, Jeff and Hillary Whittington shared Ryland's story in a seven-minute YouTube video. The video, which has been viewed more than 4 million times, describes Ryland's discovery of his gender identity and the family's acceptance of his gender transition.
The Whittingtons' support for Ryland was spotlighted at the Harvey Milk Diversity Breakfast last month, where they received the Inspiration Award for 2014.
According to a June 3 article on right-wing website LifeSiteNews.com, Fox's Ablow wasn't moved by Ryland's story of self-discovery. LifeSiteNews - which misgendered Ryland throughout its story - reported that Ablow opposes parents helping their children transition to the genders with which they identify"
6-01-14: New York Daily News (posted 5-30): "WATCH: San Diego parents reveal story of transgender son who became boy at 5"
"Proud parents from San Diego have shared their story of having a transgender son who became a boy aged just 5-years-old. Jeff and Hillary Whittington presented a touching video showing little Ryland's female-to-male transition as they were honored at the 6th annual Harvey Milk Diversity Breakfast last Thursday.
The stirring footage revealed how Ryland suffered severe hearing problems when she was just 12-months-old and was fitted with cochlear implants. "I am a boy," the long blonde haired toddler reportedly declared to her parents after the operation and learning to speak.
Despite her room being painted pink and being dressed in girly outfits, her parents said she preferred masculine toys and activities. Confused as to what to do, the Whittingtons believed it was a phase that would soon pass. But, on turning five, Ryland started concretely rejecting all things feminine. "When the family dies, I will cut my hair so I could be a boy," Ryland reportedly told her parents, later adding: "Why did God make me like this?"
Jeff Whittington, a former firefighter-turned-real estate agent, and wife Hillary began researching the issue - and soon decided the answer was that their girl was transgender.
Terrified to learn about the high suicide rate associated with transgender people who feel socially unaccepted, they decided to properly embrace Ryland's identity. "Ryland's gender identity was not caused by our parenting style, family structure or environmental factors," the couple stated in the 7-minute montage.
They cut off their infant's long hair, bought new clothes and started referring to Ryland as a male. His room was also redecorated. The footage then showed Ryland playing soccer and baseball, wearing ties and dancing with a flower girl at a wedding reception. "Relative to the horrific things people have to endure with their children all over the world, this is nothing," his parents added.
The video was played before the couple accepted the event's Inspiration Award, reports LGBT Weekly. A short-haired Ryland, dressed in a smart suit, also took to the stage to say: "My name is Ryland Michael Whittington. I am a transgender kid."
Jeff Whittingon, speaking afterwards to the emotional 1,000-strong audience, claimed "one of the most inspiring things Harvey Milk had done" was "to encourage people to come out."
"To let their voices be heard; break down the walls, break down the barriers and start allowing people to see them for their authentic selves and be true to themselves," he said. "This is our coming out [...] this is us making our voices heard," he added.
Uploaded to YouTube Tuesday, the video has already been seen more than 250,000 times. ON A MOBILE DEVICE? CLICK HERE TO WATCH THE VIDEO."
5-31-14: Time (posted 5-29): "The Transgender Tipping Point" (more, more, more, more, more)
"Nearly a year after the Supreme Court legalized same-sex marriage, another social movement is poised to challenge deeply held cultural beliefs.
In the beaux-arts lobby of the Nourse Theater in San Francisco, men in deep V-necks and necklaces walk by women with crew cuts and plaid shirts buttoned to the top. Boys carrying pink backpacks kiss on the lips, while long-haired ladies whose sequined tank tops expose broad shoulders snap selfies. About 1,100 people, many gleefully defying gender stereotypes, eventually pack the auditorium to hear the story of an unlikely icon. "I stand before you this evening," Laverne Cox, who stars in the Netflix drama Orange Is the New Black, tells the crowd, "a proud, African-American transgender woman." The cheers are loud and long."
5-31-14: Time (posted 5-29) "Laverne Cox Talks to TIME About the Transgender Movement"
"The Orange Is the New Black star on politics, happiness and why genitalia isn't destiny.
On TIME's cover this week is an unlikely icon: Laverne Cox. Bullied and harassed for appearing feminine while growing up in Mobile, Ala., Cox eventually came out as transgender while living in New York City and took up acting. Now a star on the Netflix drama Orange Is the New Black, she has emerged as a public leader of the trans movement, using her increasingly prominent perch to make the case for equal rights and touring the country giving a stump speech titled "Ain't I A Woman?" When Cox says it, that refrain is not a question.
Cox spoke with TIME for this week's cover story, "The Transgender Tipping Point." Below is a behind-the-scenes video of the cover shoot at her home in New York, and an edited transcript of an interview conducted May 8 in Palo Alto, before Cox addressed an audience at Stanford University."
5-31-14: Time (posted 5-29): "21 Transgender People Who Influenced American Culture"
"TIME's cover story, the Transgender Tipping Point, chronicles the increased visibility of trans people in American society and the nation's evolving understanding of gender. Here are some of the notable trans people who have left a mark on popular culture."
5-31-14: The Advocate (posted 5-01): "GLAAD Cochair Jennifer Finney Boylan Joins Barnard College"
"The celebrated trans activist and author has been named the prestigious Seven Sisters school's inaugural Anna Quindlen Writer-in-Residence.
GLAAD cochair and New York Times best-selling author Jennifer Finney Boylan has been named Barnard College's inaugural Anna Quindlen Writer-in-Residence, the school announced today. As such, Boylan will helm two creative writing courses during the school year and work with the school to further enhance its reputation for turning out talented writers.
Boylan joins Barnard after having taught at Maine's Colby College for more than 25 years, authoring 13 books, and contributing to The New York Times' op-ed page.
"The English Department is overjoyed to be welcoming Jenny Finney Boylan to Barnard," Peter Platt, chair of the school's English department, said in a release announcing Boylan's appointment. "A terrific writer, a compelling speaker, and a gifted teacher, she will be an asset to both our students and the department. Her many books — in particular her narratives about gender and parenting — and her engaging op-ed pieces provide her with a profile that can only prove advantageous to the college.""
5-27-14: Metro Weekly (posted 5-19): "Transgender military equality: The plan of attack"
"Earlier this year, a select group of active duty members of the military met at a community center in Texas. The 30 Americans represented every branch and component of military service. They were members of the Army, Navy, Air Force, Marines and Coast Guard. The vast majority had been deployed to Iraq or Afghanistan at least once, and many others had multiple deployments under their belts — some to both countries. A majority were junior enlisted and junior noncommissioned officers. But what brought them together was the same thing that cloaked their meeting in secrecy: They are all transgender.
For three days, those 30 servicemembers — who under military policy can be discharged because of their gender identity — heard each others' stories. Many of them had never met another transgender servicemember before, let alone another trans person. In some cases, it marked the first time they had ever come out to another person. The meeting was not just an opportunity to build a network of support relationships for those forced to continue to live life in the closet while serving their country, but also to strategize. The gathering had been organized by a group of activists with decades of combined experience working on LGBT military issues who are seeking to open the armed forces to transgender service . . .
The meeting, many details of which organizers have asked not be disclosed for fear participants could be identified, was born in the aftermath of the collapse of OutServe-SLDN last summer . . . "We came to this moment where we looked at one another and said, 'What if we just did it? We have the connections, we have the expertise,'" Robinson says. "At that time the organization SPARTA" — Service Members, Partners, Allies For Respect and Tolerance For All — "was standing itself up and building itself around the two remaining equality goals in DoD, which are updating the regulations on transgender people serving and securing nondiscrimination and equal opportunity protections across the board. What we realized is we have a set of resources here that might allow us to accomplish something if we set our minds to it."
And so Robinson, along with military advocates such as Sue Fulton, Brynn Tannehill, Zeke Stokes and others, looked to the successful repeal of DADT for guidance. "We knew from the lead up to the repeal of 'Don't Ask, Don't Tell' that gay and lesbian servicemembers coming together with one another and having the opportunity to build a network and to share their stories was a catalyst for what was eventually a successful effort," Robinson says. "We wanted to do something similar and so we began planning to bring together a meeting of transgender servicemembers."
Organizers went to the transgender chapter of SPARTA, which boasts more than 200 actively service transgender Americans, for members who indicated they wanted to be "at the tip of the spear in this fight." With logistical and financial support from individuals, as well as organizations like the Human Rights Campaign, the National Center for Transgender Equality and the Palm Center, they were able to bring the meeting together at no personal cost to the servicemembers.
"We were able to let them know what a campaign of activism would look like if they were to undertake it," says Stokes, who previously served as spokesman for OutServe-SLDN. "We really came away with a core group of people committed to making this happen. We came away thinking this is possible." . . .
5-27-14: South China Morning Post (Hong Kong): "Transgender marriage legal by July even if government misses deadline"
"Marriages involving transgender people will be recognised as legal from July - whether or not the government passes the marriage amendment bill by then. That's what officials told the Legislative Council yesterday after coming under fire for moving too slowly on the matter.
The government was set a deadline of July this year to amend the law to recognise such marriages following a landmark case in May last year, when the Court of Final Appeal granted a transgender person known as W the right to marry her male fiance. Since then the government has been criticised for dragging its feet, and with little more than a month to go, some fear it will struggle to meet the deadline.
People Power lawmaker Raymond Chan Chi-chuen told a meeting of the Bills Committee on Marriage (Amendment) Bill yesterday that the government's slowness to act had given lawmakers too little time to discuss the bill . . .
But Secretary for Security Lai Tung-kwok said that transgender people would be able to marry in July, whether or not the bill had been passed. "Even if the bill is not passed, the court's ruling will still take effect [in July]. The government will execute the judge's ruling and register marriages [involving transgender people]," Lai said.
Maggie Wong Siu-chu, Lai's deputy, added that the court's ruling would "automatically come into effect and become law" in July, even if the amendment bill had not been passed."
5-27-14: The Telegraph (UK): "Why transgender people have the right to their past identity being forgotten -- As a trans woman fights to get her previous life as a man removed from official government records, Ava Vidal talks to trans people about the difference it would make"
"A trans woman is currently in court fighting a case that if she wins, will have huge implications for the way that transgender people are treated in the UK. The European Court of Justice recently held that a Spanish man was entitled to have items in the search engine 'Google' linked to personal data removed at his request. The EU ruled that they must honour the 'right to be forgotten'.
On the back of this decision the woman known only as C has launched her case requesting that the Government (namely the Department for Work and Pensions) no longer retain or use the information that she was once considered male. She claims that her gender reassignment surgery is a private matter and is totally irrelevant to her ability to find work. She is requesting that the details of her previous life including her old name be removed from the records and 'forgotten'.
A growing number of transgender people agree that once they transition they should have the right to completely wipe out their past identity as the opposite sex. Beatrix Grimbly, a trans woman and activist, tells me why. "It's outrageous that sensitive details of a woman's former identity are kept unnecessarily by the DWP, apparently allowing staff to harass and humiliate her when she is already vulnerable. Public servants should respect her legal identity and her privacy.""

5-26-14: New York Times: "Arcade Fire Addresses Criticism of Video With Transgender Character", by Dave Itzkoff (more)
"The rock group Arcade Fire has responded to criticism of a recent video that some viewers felt was insensitive to transgender people, saying that the band put careful consideration into casting and creating the video.
The video, for the song "We Exist," is described by Arcade Fire as telling "the story of a young person's struggle with gender identity" and depicts the actor Andrew Garfield ("The Amazing Spider-Man") as a transgender woman who is assaulted in a bar but later finds acceptance at an Arcade Fire concert. After the video was posted earlier this month it was criticized by performers like Laura Jane Grace, the lead singer of the punk-rock group Against Me!, who is transgender, and who wrote on her Twitter feed, "Maybe when making a video for a song called 'We Exist' you should get an actual 'Trans' actor instead of Spider-Man?"
In an interview with The Advocate, the Arcade Fire frontman Win Butler addressed this criticism, saying, "There was just so much thought and love that went into the video I don't personally see it as negative." He added, "I can totally see the sensitivity of the issue."
The video's director, David Wilson, told The Advocate that Mr. Garfield's "commitment and passion toward the project was just overwhelming." "For an actor of that caliber to be that emotionally invested in a music video is just a very special thing," Mr. Wilson said. "It just completely made sense."
Ms. Grace later posted on Twitter that she had spoken with Our Lady J, a transgender musician who worked with Mr. Garfield on the video, adding, "Her perspective really made me think about it differently.""
5-26-14: Wired.com: "How to Build a Kinder Web for the Transgender Community"
"For the transgender community, the web is an important resource for finding trans-friendly doctors, housing, jobs and public restrooms–many things the rest of us take for granted. But web filtering software designed to prevent access to pornography often stops people from accessing websites that with information on a host of other topics, such as breast feeding, safe sex and, yes, transgender issues. It's a subtle–and possibly unintentional–form of discrimination, one that can have a big impact. Web filters are more than a temporary inconvenience for many transgender people who rely on public libraries and internet cafes to access the internet. The problem is even worse in the UK, where all new internet connections are filtered by default at the ISP level.
"Because homelessness and poverty are such a big issues in the trans community, many don't have access to unfiltered, uncensored internet," says Lauren Voswinkel, a transgender software developer based Pittsburgh. These hurdles to accessing information can make it even harder for transgender people to escape poverty.
That's why she's building Transgress, a tool that lets people bypass web filters to access sites about transgender issues and only transgender issues. Transgress is one of many projects to come out of Trans*H4CK, a series of hackathons dedicated to using technology to improve the lives of transgender people. The site isn't up and running yet. But Voswinkel has built the underlying code–available on GitHub–and needs volunteers to help to bring the site onto the web, complete with its own design and branding . . .
Voswinkel came up with the idea for Trangress while driving to the Trans*Hack event in Chicago. She was thinking about a speech given by Sarah Brown–a Cambridge, England city councilor and the only openly transgender elected politician in the UK–about web filtering in the UK and how it was stopping people from accessing many different types of content beyond pornography. Voswinkel realized that some means of selectively circumventing web filters was needed if any of the other sites and resources built at the event were to have any impact. "If you cannot help the least among you, you're not helping anyone really," Voswinkel says."
5-24-14: New York Times: "Who Are Women's Colleges For?", by Kiera Feldman
"FOR hundreds of years, universities excluded women. Denied access to these institutions, they created their own. "Attempt great things," the founder of Mount Holyoke, Mary Lyon, told her students. "Accomplish great things." These schools, including the elite Seven Sisters — Mount Holyoke, Barnard, Bryn Mawr, Radcliffe, Smith, Vassar and Wellesley — were where the nation's most promising young women went to do just that.
But today, women's colleges are at a crossroads their founders could never have foreseen, struggling to reconcile their mission with a growing societal shift on how gender itself is defined. A handful of applications from transgender women have rattled school administrators over the past year, giving rise to anxious meetings and campus demonstrations. On April 29, the Department of Education issued new guidance: Transgender students are protected from discrimination under Title IX."
5-24-14: The Guardian (UK): "Transgender children know their identity. Bigots in the media don't"
"'NHS to give sex change drugs to children' screamed the newspaper headlines last week. The reality is so different for families dealing with the condition known as gender dysphoria. Here, a mother writes of the pain such coverage causes . . . "
5-23-14: The Blaze: "'Dude Can Look Like a Lady': Radio Hosts Fired After Lambasting Transgender Community in 'Hateful' On-Air Commentary"
"Two radio hosts in Rochester, New York, were fired this week following an on-air discussion slamming the transgender community and the city's recent decision to cover benefits associated with gender reassignment surgeries.
Kimberly and Beck (Kimberly Ray and Barry Beck), hosts of the "The Breakfast Buzz" on 98.9 FM The Buzz, were terminated Thursday morning following their "hateful comments against the transgender community," according to WHAM-TV.
The pair mocked the city of Rochester's decision to cover related physical and mental benefits for its employees during a 12-minute segment on their show Monday, with Kimberly saying that "you're probably a nut job to begin with" if you're seeking reassignment surgery."
5-22-14: Vice.com (UK): "It's Time We Exposed the Media's Lies About Transgender Kids", by Paris Lees (more, more)
"What a horrible pile of shit the Mail on Sunday ran on its cover last weekend: "NHS to give sex change drugs to nine-year-olds: Clinics accused of 'playing God' with treatment that stops puberty". You know what that means, don't you? That the NHS is definitely NOT giving nine-year-olds any "sex change drugs" and won't be any time soon.
The Telegraph, a paper that revels in being openly hostile towards trans people, is now repeating the misleading headline. And what's with the "playing God" bullshit? As one parent of a trans child pointed out by email: "The Mail wouldn't be questioning the treatment of diabetic children or children with congenital hypothyroidism on the NHS, so what makes it OK to print this shite about children receiving another kind of endocrine treatment?" . . .
This article is going to contain a lot of "shits", because I give one. But does the media? I may be completely wrong, but the people arguing against so-called "sex change drugs" on behalf of vulnerable under-16s don't, as far as I'm aware, go out of their way to combat gender-based bullying in schools. If you're not doing anything to stop transgender kids from being beaten up – AKA, the most important issue here – then how the fuck are you planning to get away with starting a moralising headline campaign about the choices they're allowed to make?
Trans kids are some of the most vulnerable people in society; I know because I was one. Tiny violin time: it was shit; I got bullied at school for talking like a girl and bullied at home for "acting like a poof"; I hated going to school and I hated going home. I've written about this before, so forgive me if I'm repeating myself, but so long as there are still kids going through what I went through – those who aren't protected at school and let down by parents confused by the shit they've read in the media – it's a message people need to hear.
Puberty blockers are not "sex change drugs". They pause puberty. They're completely reversible. The whole point of them is to allow the kids time to grow up and decide what they want to do. Seriously, they're like the opposite of "sex change drugs". They're "wait and see how you feel in a few years" drugs. They're caution drugs. In fact, why call them "drugs" at all? When doctors prescribe drugs for medical conditions in this country, we generally just call them "medicine". So no drugs, no sex change and no actual nine-year-olds on this trial. Don't let that get in the way of a juicy headline, though. Sex! Transgender children! The NHS spending money on stuff that's not cancer! Thank god they didn't find a way to connect all this to house prices, or else the majority of Mail readers would be housebound indefinitely, glued to the floor by their own bodily secretions.
Trans kids need family support and expert medical advice, not tabloid-induced fear and confusion. Of course, anyone with even so much as a cursory awareness of gender dysphoria or endocrinology would have known that the headline was misleading. So what's that – like, ten people? Common sense is what everyone else is an expert in, but you don't treat people's medical conditions with common sense (properly controlled medicines usually do the trick, though). The quicker this happens, the quicker trans kids can get on with their lives and the less crap they'll have to deal with.
I wish I'd had hormone blockers. My life got mega shit for about five years while I had to go through an unwanted male puberty – which I've since spent another five trying to undo. I feel better now. More me. What's the point in pissing about? Time waits for no man, but it will wait for you to grow into one if you don't take action when it's needed."
5-19-14: ABC News: "Transgender Couple Photographs Their Opposite Transitions"
"Transgender artists Zackary Drucker and Rhys Ernst are transitioning in opposite directions and have captured their individual transformations in the "Relationship" series, a collection of photographs on exhibit as part of Biennial 2014 at The Whitney Museum of American Art from March 7 to May 25.
The photo series is an intimate diary of the couple's love affair and their gender identity transitions -- Drucker from male to female and Ernst from female to male. The photos span five years of their relationship from 2008 to 2013. The photographs include tender embraces, their bandaged bodies from hormone injections and also shots of Drucker's growing breasts.
Drucker, 31, was born male in Syracuse, N.Y., and is a graduate of The School of Visual Arts in New York City. Ernst, 31, was born female in Pomona, Calif., and graduated from Hampshire College. She had appeared on a TV reality show "Artstar," and he had been working for MTV when the couple met in 2005. They now live in Los Angeles. The pair have recently been hired to act as advisers on Amazon's new original series, "Transparent."
Going public with their photographs as their relationship progressed seemed "organic," Ernst told ABC News. "We stepped back and we had a huge body of work. It felt like a natural choice. We didn't think about being in the closet. It's faithful to our lives and has a lot of layers, not just to do with gender."
Drucker told ABC News their project was "was an impulse to investigate and to record and to be an inspiration . . . "
5-13-14: Human Rights Watch (re Malaysia): "Malaysia: Court to Rule on Transgender Rights Local Laws Encourage Discrimination, Abuse" (with VIDEO)
"Transgender women in Malaysia have filed a groundbreaking court case challenging a law that prohibits them from expressing their gender identity, Human Rights Watch said today. On May 22, 2014, the Putrajaya Court of Appeal is expected to hear a challenge to the constitutionality of the laws.
Three transgender women from the state of Negeri Sembilan are asking the court to strike down a state law that prohibits "any male person who, in any public place wears a woman's attire or poses as a woman," which has been used repeatedly to arrest transgender women. All three petitioners, who identify as female but are described as "male" on their national identification cards, have been arrested solely because they dress in attire that state religious officials deem to be "female."
"Under discriminatory state laws, transgender women in Malaysia face a daily risk of arrest just for being themselves," said Neela Ghoshal, senior researcher on lesbian, gay, bisexual and transgender rights (LGBT) at Human Rights Watch. "The government shouldn't be harassing and punishing transgender people just for peacefully going about their lives."
The national Registration Department routinely rejects transgender women's applications to legally change their gender, leaving Muslim transgender women exposed to repeated arrests. One woman told Human Rights Watch she had been arrested over 20 times. Application of vague laws that fail to define what constitutes women's attire has resulted in some transgender women being arrested simply on the basis of their hairstyle or – as in the case of transgender women who are undergoing hormone replacement therapy – because they have breasts, even if they are wearing clothing deemed masculine.
State religious department officials at times subject transgender women to physical or sexual violence while during arrests, groping their genitals or beating them. Although several transgender women have filed police reports after such abuse, police have not been willing to hold the religious department officials accountable for violating the law. Transgender women are often held in cells with men, where they are subjected to further sexual violence at the hands of wardens or fellow detainees.
Transgender women told Human Rights Watch that police are sometimes directly involved in arrests, in some cases based on a vague provision in the federal criminal code that prohibits "indecent offenses." Police also accompany religious department officials on raids against Muslim transgender women. At times, police arrest Muslim transgender women on their own initiative, solely for purposes of extortion. Several people told Human Rights Watch that when transgender women resisted police attempts to extort bribes from them or were unable to pay, they were turned over to the state religious authorities.
"The Malaysian authorities' abuses against transgender women are an assault on human dignity and violate their basic rights," Ghoshal said. "It's horrifying to hear about religious department officials stripping transgender women in front of cameras, poking and prodding at their genitals, and punching them." . . .
An official from the federal Department of Islamic Development Malaysia (JAKIM), who spoke to Human Rights Watch on the condition of anonymity, acknowledged that, "Arresting or punishing anyone is not going to change them." However, the department has remained silent on the abuses carried out by state religious departments."
[Ed: An important in-depth article.]
5-12-14: Slate: "Will Obama Sanction a Policy on Transgender Military Service That's at Odds With Science?",by Nathaniel Frank
"Secretary of Defense Chuck Hagel said Sunday that the ban on transgender service members should be "reviewed" and that "every qualified American who wants to serve our country should have an opportunity" to do so. Although military spokespeople have said before that the policy is regularly under review, the remarks by the Pentagon chief, in which he said he was "open" to reassessing the policy and reiterated that service members should be judged by their performance abilities, appear to signal a new level of commitment to reconsidering the trans ban.
The question is how long this will take, what the review will find, and what force will ensure that it really happens, so that each Pentagon leader doesn't just run out the clock, locking in the status quo.
The most obvious answer to this last question is a force who has been oddly absent: the commander in chief. President Barack Obama has said nothing about his position on the transgender ban, although he was eager to tout the repeal of "Don't Ask, Don't Tell" as one of his important accomplishments. When asked by the Washington Blade whether the president would direct the Pentagon to end the trans ban, White House Press Secretary Jay Carney punted, saying, "I don't have anything on that. I'll have to direct you to the Pentagon at this point."
It may seem reasonable, at first blush, for the president to avoid weighing in on a touchy cultural issue at this point in his tenure. His second term is floundering, and it could open him up to criticism if he seems to be taking on small-bore social issues while the economy and world events appear to spiral out of control.
But that assessment is incomplete. For starters, transgender equality may seem like a small-bore issue, (though not, obviously, to transgender people); but with literally no reason beyond prejudice to let transgender Americans suffer in silence as they honorably defend out nation, it's increasingly becoming a blemish on the president's record, and on our country's soul, to do nothing . . . "
5-11-14: ABC News: "Secretary of Defense Chuck Hagel: Military's Transgender Policy 'Continually Should Be Reviewed'" (more, more, more)
"Secretary of Defense Chuck Hagel told ABC News' Martha Raddatz that he believes the ban that prohibits transgender individuals from serving in the U.S. military should be reviewed. "I do think it continually should be reviewed," Hagel said. "I'm open to that."
After the 2010 repeal of the policy barring gay and lesbian service members from being open about their sexuality, known as "Don't Ask, Don't Tell," activists turned their attention to the transgender policy, calling on the military to allow transgender individuals to serve openly. But there has been no review of the ban. Earlier this month, a Pentagon spokesperson told Slate, "At this time there are no plans to change the department's policy."
But in an exclusive interview that aired on "This Week with George Stephanopoulos," Hagel said he's now ready to reconsider the ban.
"I'm open to those assessments, because — again, I go back to the bottom line — every qualified American who wants to serve our country should have an opportunity if they fit the qualifications and can do it," he said. Transgender issues are "an area that we've not defined enough."
Hagel said his biggest concern is providing the medical support necessary to support transgender individuals, especially if they are stationed in what he called "austere locations."
A recent commission, co-chaired by a former U.S. surgeon general, found that there was no "compelling medical rationale" for not allowing transgender military service."
[ED: An important developing story . . . ]
5-11-14: Huffington Post: "A Mother And Her Transgender Daughter Share Their Incredible Story" (more)
"This is one incredible way to recognize all of the great mothers out there today.
In this video, a transgender teen, Zoe, recalls her journey to realizing her gender identity and authentic self. Her mother appears to be endlessly supportive and provides some incredible words of support for other transgender teens and children out in the world:
What I would say to a student or child or young person that's transgender and having difficulties is if you can't get the support at home -- search and you will find support. There are a lot of people out there that are allies that understand your plight and are willing to do anything to help you get through.
Mostly I want you to know that you are valuable. You are important and we need you here in this world and in this community. You can shine through no matter what anybody else thinks... Remember to stay strong. It will pass.
Powerful and important words from an incredible mother.
Happy Mother's Day!"
5-11-14: The Advocate: "Op-ed: What My Transgender Child Taught Me About Motherhood; One mother learns the value in listening to her son".
This year, as I count the fortunes that give me so much to cherish, I think about how getting here wasn't always clear or easy. As parents, we're always challenged by the lessons our children teach us. But as a mom of a transgender child, our journey toward acceptance and understanding taught me more about motherhood than I could have ever known. For mothers like me, it's this journey that inspires hope for the world my child lives in.
In 2009, my husband, Ty, and I welcomed a baby girl into the world. We named her Alia. But Alia had other plans. As early as 12-18 months of age, Alia gravitated to "all things boy's" picking out cars, trucks, and dinosaurs over dolls or anything pink or sequined.
By the time Alia was 3 years old, she continually said, in the adorable way pleading children speak, "Mommy, I want to be a boy." Alia was clear and articulate in communicating this demand, but my loving response, "honey, you can be anything you want," was a shortfall in understanding what she was truly saying.
The problem was, in that moment, I failed to realize that this wasn't just a cute thing Alia was saying. Alia's claim to her true self wasn't the adorable misgivings of a child. It was the fiery sureness of a person's identity finding a voice. This was the first lesson Alia taught me—to listen, both verbally and nonverbally.
One afternoon clicking through television channels, I stumbled on Katie Couric's show, when she had an episode on transgender children. As I watched, I immediately phoned my parents in Colorado who coincidentally were watching the same show. That segment, for the first time, introduced me to the word "transgender" and made me think that maybe this is part of Alia's story . . .
Today, Alia is Alex. Ty is more supportive than ever, fondly calling him son and engaging in NERF gun adventures and Lego building block competitions. At four-and-a-half years old, I am in awe of this magical child who is so confident in his gender. "That's a dress, mommy, and I am a boy and boys don't wear dresses," he'll tell me. Alex will frequently remind his grandparents of his new name and has even offered his old name to a new baby should we ever have a new baby girl in our family.
I won't lie and say that Alex's transition didn't come with a great sense of loss of the daughter we thought we had. But all mothers have a fear of our children's safety and a passionate defense for their happiness. Doing anything less for Alex went against what I knew about being a mom. Alex helped me see that.
Acceptance means loving my child for who he is. I give him love and tender discipline, but when it comes to accepting him for who he is, I do it without reserve. So as mothers celebrate the fulfillment of being a mom, we should remember that our children — transgender or not — have something to teach us about motherhood. It's up to us to listen."
[Ed: A very moving story.]
5-10-14: The Guardian (UK): "Scientist Kate Stone hails landmark press ruling over transgender reporting"
"When Kate Stone nearly died after being gored by a stag, media coverage led not on her ordeal but on the fact that she had had a sex change. Now, after a Press Complaints Commission ruling that will have a dramatic impact, six newspapers have now admitted they were wrong.
Five months ago, on New Year's Eve, Stone, aged 44, again found herself in the limelight, thanks to a million-to-one freak accident. On holiday in the Scottish Highlands, she and some friends were walking back from the village pub. It was pitch black. The friends went on ahead into their enclosed garden. Stone walked through the gate alone and a stag that had strayed into the garden ran into her, ramming its antlers into her throat.
With honourable exceptions, such as the BBC, coverage in the British media majored on Stone's transgender status: "Deer spears sex-swap Kate"; "Sex swap scientist in fight for life"; and "Sex-swap scientist gored by stag."
Now, as a result of a landmark negotiation with the Press Complaints Commission (PCC), six national newspapers – the Daily Mail, the Daily Telegraph, the Sun, the Scottish Sun, the Daily Record and the Daily Mirror – have agreed that the "sex swap" headlines and the reference to Stone's transgender status were inappropriate.
They acknowledged that such references constituted a direct breach of the discrimination clause in the PCC editors' code. The code states that details of an individual's transgender status "must be avoided unless genuinely relevant to the story". All such references were subsequently withdrawn from the newspapers' online stories. . .
"When Kate first made the complaint," says Sarah Lennox, of All About Trans, "some papers said 'sex swap' was a light-hearted term. Very few people actually know a transgender person – they get their information from the media – so it's important that the coverage is fair. Let's hope 'sex swap' headlines will now become a relic of the past. Name-calling and finger-pointing validates the bullies so they believe they are behaving in a socially acceptable way. Thousands of transgender people are living in secret because of the stigma that still exists and they are fearful of the reaction. That has to change."
According to some estimates, there are 500,000 transgender people in the UK. In the couple of years before her accident, Dr Stone says, life had improved. "I had friends, I was back in touch with my children and I had my own business. I went to the gym. I was Kate. Now, after the press coverage, I am a lot more sensitive again as to how people will react. Will they treat me differently? I hope not.""
5-09-14: New York Daily News (re India): "SEE IT: Transgender women in India urge motorists to use seatbelts" (VIDEO)
"An online video entitled "The Seatbelt Crew" shows how transgender women in India, known as "Hijra," are directing motorists at traffic stops to use their safety devices . . . In the video, the Hijra dress in matching saris and act as flight attendants and they fill the lanes between cars at a busy intersection during a red light.
"May I have your attention please? If you're going to drive like a pilot then you should know some things. Your car doesn't have an oxygen mask. Under your seat you won't find a life jacket," a woman asks using a megaphone. "But you do have a seatbelt. So why aren't you wearing it, honey?"
The Seatbelt Crew then gives her simple instructions to put it on. "Your pretty face won't look so good after an accident," she warns and then chides some motorists for filming her instead of wearing the seatbelt.
As the light turns green the cars drive off, and the Hijra give out their blessings as promised to those who are wearing their seatbelts.
Ryan Mendonca, a member of the group, told the Daily News via email that the cause began in March. "Unfortunately, most Indian motorists don't wear seat belts and no amount of rational messaging explaining the benefits works on them," he said.
The activists are currently talking to drivers in Mumbai. And so far the results have been enormously encouraging, he said. The group is hoping to expand to other areas, he said.
"Most motorists are pleasantly shocked at first. But the Seatbelt Crew is always met with smiles," he said. "Every now and then there are requests for photographs."
The transgender community in India is as high as 2 million people according to some estimates, and the country's Supreme Court ruled last month to create a "third gender" category for Indians who don't identify as either male or female."
[Ed: This is a brilliant move to positively-shift the social-image of transwomen in India.]
5-09-14: TENI (Ireland): "Press Release: Historic Moment for Trans Rights"
"Today, 9th May, marks a historic moment for Trans* Rights in Ireland as the report on the Gender Recognition Scheme will be debated in the Dáil at 12pm. This marks the very first time that gender recognition legislation will be discussed in Dáil Eireann.
Speaking today, Transgender Equality Network Ireland (TENI) Chief Executive Broden Giambrone said:
"I am hopeful that this discussion will be robust and fruitful and may well result in tangible changes in the legislation that will benefit the transgender community. This is a very important moment in the history of trans rights in Ireland, and it is something to be celebrated. Now is the time to make the real changes. Changes which will have a full and affirming effect on the lives of trans people and their families in Ireland."
The debate can be followed live online here. You can also read the report from the Joint Oireachtas Committee on Education and Social Protection here . . .
In preparation for this historic debate we have compiled a paper outlining the main issues facing our community in relation to the legislation.
You can read TENI's analysis of the Gender Recognition Scheme here.
You can read the Executive Summary here."
5-07-14: Hartford Courant: "EDITORIAL: Prison Is The Wrong Place For 'Jane Doe' -- At 16, neither charged nor convicted" (more, more, more)
"The following shouldn't happen in America or to a child: A transgender girl known as Jane Doe (because she is a juvenile) has been held in an adult prison, the York Correctional Institute for women in Niantic, for a month as of Saturday. She could be housed there for up to a year longer.
It is well past time that she is removed from York and placed in an age-appropriate setting where she can get the treatment and education she needs and learn to get along with peers.
Jane Doe is wrongly placed because she's only 16 — a child. What's more, she hasn't been charged with a crime, let alone been convicted of one. People who haven't been charged or convicted of crimes shouldn't go to prison in a country of laws.
A seldom-used state statute permits the Superior Court to sign off on the transfer of a juvenile in the custody of the Department of Children and Families to adult prison if DCF proves to the court that it can't adequately care for the child. The law was used — for the first time in 14 years — in this case.
Jane Doe's lawyers are appealing the transfer to adult prison. And they are understandably suing in federal court on grounds that her imprisonment violates due process guarantees in the state and federal constitutions and that it also violates the state law banning discrimination against transgender people.
Meanwhile, DCF, Jane Doe's attorneys and other parties are negotiating a settlement that would get the child out of prison and into a suitable treatment program. But the talks proceed at a glacial pace.
This is a difficult case. The teenager has been by all accounts the victim of horrific sexual, physical and emotional abuse. Issues arising from her being born a biological male but identifying as a female complicate her situation. She is prone to violence, having attacked staff members in several settings, although no charges have been filed.
But the state can't just shove challenging kids into adult prison if no crimes have been committed. Youngsters who have led troubled lives deserve better than that."
5-08-14: Mother Jones (re Cuba): "New Photobook Documents the Travails of Transgender Cubans -- A living hell has become hopeful under Raúl Castro."
"Of all the allies in the global fight for LGBT equality, Cuba may be the most unlikely. For decades, the island was notorious for its crackdown on "social deviants"—an underclass that included homosexuals, transgender people, Jehovah's Witnesses, Seventh Day Adventists, and anyone critical of the Castro regime. The 1960s were especially bleak. Deemed unfit for the revolution, gay Cubans were banned from joining the military or becoming teachers. Thousands were confined to isolated labor camps. Conditions deteriorated further in the '80s and '90s as Cuba quarantined HIV-positive citizens, many of whom were gay.
Mariette Pathy Allen's new photobook, TransCuba (Daylight Books), captures a country slowly outgrowing its history of persecution. Shot in 2012 and 2013, the book is haunted by the trauma inflicted by Fidel Castro's government. But it is optimistic about life under his brother, Raúl, who assumed the presidency in 2008. Since the change in power, Cuba's Ministry of Public Health has approved state-funded sex reassignment surgery, and the government has relaxed many discriminatory policies targeting sexual orientation and gender. In 2012, Adela Hernández became the country's first openly transgender person elected to public office. Perhaps most shockingly, in a 2010 interview with the Mexican newspaper La Jornada, Fidel Castro called his decision to imprison homosexuals in the 1960's "a great injustice…I'm not going to place the blame on others," Castro said, "We had so many and such terrible problems, problems of life or death."
Despite its progressive reforms, Cuba continues to have serious problems, particularly with transgender rights. "I see transgender Cubans as a metaphor for Cuba itself: people living between genders in a country moving between doctrines," Allen writes. The women she documents are grateful for the increasing tolerance, but they still suffer from entrenched stigmas". . .
TransCuba follows her (Allen's) two previous photobooks—Transformations (1989) and The Gender Frontier (2003)—capping a loose trilogy that is one of contemporary photography's most poignant explorations of gender identity. Her portraits, whether shot in Cuba or the United States, remind us that looking is a political act, and seeing a revolutionary one. Although Allen's subjects face the camera instead of a jury or a firing squad, their expressions bear the same frank entreaty for compassion. To quote Yanet, another Allen subject: "We all have implausible dreams, things that make no sense, we all have fantasies." TransCuba is a testament to the difficult, intoxicating, sometimes tragic work of realizing who we are.
[Ed: A very powerful visual-essay.]
5-05-14: The Guardian (UK re international): "Transgender people shouldn't have to fight for the right to get a new ID -- Laws for updating government-issued ID with accurate gender markers are a patchwork at best – and have far-reaching effects"
"Transgender people – and some of the issues they face – have achieved an unprecedented level of media visibility in the last year, from trans celebrities Janet Mock and Laverne Cox, to Chelsea Manning and CeCe McDonald, to gender non-conforming students Grayson Bruce and Sunnie Kahle. But the public acknowledgment of trans people in no way begins to confront the difficulties they face in attempting to have their lived realities accepted by governments and the law.
A new global report released Thursday by the Open Society Foundations, License to Be Yourself, outlines the issues policy-makers need to consider in giving trans people legal gender recognition, and includes best practices from around the world. The report's authors admit that these solutions are not "one size fits all" – especially because some countries, like the US, are lagging behind.
Argentina is considered the leader in progressive gender marker policies, having passed a law in 2012 that allows individuals to update their gender markers on government-issued documents without any medical or mental health diagnosis.
"Before, I'd have had to undergo psychiatric diagnoses, hormonal treatment, surgeries and sterilization just to be recognized as a guy," Mauro Cabral, co-director of Argentina's Global Action for Trans Equality, told me this week. "I'd even even have to lie to a judge, and declare myself a straight guy – which I am not."
In America, the ID and documentation system creates "a ripple effect of problems," explained Arli Christian, policy counsel at the National Center for Transgender Equality. "It hinders employment, instigates suspicion or harassment from public officials, and makes it difficult to enroll in school, secure housing or public benefits, travel, drive or vote."
A country where a person can't drive or vote because of gender is a country that needs to get its act together.
Current laws for updating government-issued IDs with accurate name and gender markers are a patchwork at best – across the US and the globe, on federal, state and local levels.
"For a driver's license in New York, you just need a letter from your doctor," Kate Barnhart, the executive director of New York City's New Alternatives for Homeless LGBT Youth, told me. "But an NYC birth certificate requires sex-reassignment surgery, which many people don't want and many others can't afford." At least 14 states require surgery, a court order and/or a birth certificate for gender updates, Christian added. This discrepancy between agency rules means that it's common for transgender people to have different IDs that say different things, which isn't just stupid – it's a bureaucratic nightmare . . .
Right now, the bureaucratic headache for transgender people looks alarming even across much of Europe. Julia Ehrt, the executive director of Transgender Europe, told me that there is no one standard for legal name and gender changes across Europe. While 13 of the 47 nations have no standards at all, forcing trans people to seek individual court rulings to obtain legal recognition of their genders, the rest all require a medical "diagnosis of gender dysphoria or equivalent" psychiatric disorder. Worse, she said that trans people in 21 countries must be sterilized to obtain legal gender recognition – and 20 countries require that trans people legally divorce their spouses.
With any luck, this new report will bring more attention to the legal strictures that fracture transgender people's lives and expose them to danger and discrimination. At a time when much of the west has seen progress around issues like marriage equality, transgender people are still fighting for basic rights and visibility. They shouldn't be wasting their time fighting with the DMV instead of being able to live their lives as partners, friends, co-workers and taxpayers."
5-01-14: "For Transgender People, a Massive New Resource", By David Crary, AP National Writer (more, more)
"As transgender people strive to gain more acceptance and legal protections, they will soon have a hefty new resource to assist them — a 672-page book, written by scores of transgender contributors, that encompasses social history, gender politics and wide-ranging advice on health, law, relationships and many other matters.
Encyclopedic in scope, conversational in tone, and candid about complex sexual issues, the Oxford University Press book being released in mid-May is titled "Trans Bodies, Trans Selves" (more) — a deliberate echo of a pioneering feminist health-resource book, "Our Bodies, Ourselves" that appeared more than 40 years ago
The new book's editor, New York University psychiatrist Laura Erickson-Schroth, writes in the preface about reading her mother's copy of "Our Bodies, Ourselves" as a 12-year-old.
"At a time when over 90 percent of physicians were men ... it was an extremely daring and exciting thing to publish a book in which women taught other women about their bodies, their sexuality, and their rights," she wrote.
The goal for "Trans Bodies, Trans Selves," she writes, was "to make it as radical as its predecessor" — an act of empowerment through which transgender people exert more control over the available information about their lives.
From conception to publication, the book has taken five years to produce. To ensure it reflected diverse viewpoints, the editors, authors and other collaborators held public forums across North America and conducted an online survey that attracted more than 3,000 responses. With more than 200 contributors, Erickson-Schroth described her task as "herding cats."
"Our community is still conversing among itself about what the important issues are, what it means to be trans," said Jennifer Finney Boylan, an author and English professor at Colby College in Maine who wrote the book's introduction. "Is it social, is it medical? Something very private, or something very public?""
April 2014:
4-30-14: MSNBC: "Transgender students protected under Title IX, DOE says"
"Tucked away in a document on reducing sexual assault at school – part of an unprecedented effort by the Obama administration to address such abuse – the Department of Education included a historic guideline extending federal civil rights protections to transgender students on Tuesday.
Title IX – the civil rights law that prohibits sex discrimination in federally funded education programs and activities – also bars discrimination on the basis of gender identity, announced the Department of Education's Office for Civil Rights, marking a major victory in the fight to codify LGBT protections into federal law.
"Title IX's sex discrimination prohibition extends to claims of discrimination based on gender identity or failure to conform to stereotypical notions of masculinity or femininity and OCR accepts such complaints for investigation," reads the 46-page document. "Similarly, the actual or perceived sexual orientation or gender identity of the parties does not change a school's obligations. Indeed, lesbian, gay, bisexual, and transgender (LGBT) youth report high rates of sexual harassment and sexual violence. A school should investigate and resolve allegations of sexual violence regarding LGBT students using the same procedures and standards that it uses in all complaints involving sexual violence."
Though aimed at clarifying how Title IX relates to sexual violence, the guidance carries far broader implications. LGBT advocates note that transgender students will not just be explicitly protected from physical or sexual abuse under Title IX, but from all forms of discrimination in education.
"It certainly would be our view that transgender students should be given the ability to participate in sex segregated activities, like sports teams, consistent with their gender identity," said Ian Thompson, legislative representative at the American Civil Liberties Union, to msnbc. "Failure on part of the school to allow that would be discrimination against that student."
The Department of Education's guidance builds off numerous court decisions and a 2012 opinion by the Equal Employment Opportunity Commission (EEOC) that gender identity discrimination falls under sex discrimination, which is barred by Title VII of the 1964 Civil Rights Act. Two other areas of federal law that explicitly protect individuals on the basis of gender identity and sexual orientation include hate crime legislation (the Matthew Shepard and James Byrd, Jr. Hate Crimes Prevention Act) and domestic violence legislation (the Violence Against Women ACT.) However, in other areas areas of daily life – including housing and employment, for example – LGBT individuals remain vulnerable."
4-29-14: The Advocate: "U.S. Department of Education Extends Protections to Trans Students -- In a major step forward for the protection of trans students, the United States Department of Education announced today that trans students are protected from discrimination under Title IX."
"Earlier today, the United States Department of Education issued clarification to the until-now unanswered question of whether transgender students were protected from discrimination on the basis of Title IX, confirming that transgender students are, indeed, protected by the federal legislation's prohibition discrimination on the basis of sex.
Today's guidance, released by the department's Office for Civil Rights states, "Title IX's sex discrimination prohibition extends to claims of discrimination based on gender identity or failure to conform to stereotypical notions of masculinity or femininity and OCR accepts such complaints for investigation."
The extent to which this protection extends is not immediately clear, though some LGBT advocacy organizations have expressed hope that this may pave the way for more clear-cut, sweeping protections, like those currently codified in state law in California.
"This guidance is crystal clear and leaves no room for uncertainty on the part of schools regarding their legal obligation to protect transgender students from discrimination," said American Civil Liberties Union Legislative Representative Ian Thompson in a Tuesday statement. "The Office for Civil Rights must now take the next step and issue comprehensive guidance on Title IX and transgender students."
Nearly 80 percent of transgender students report experiencing harassment as a result of their gender identity at school, according to the National Gay and Lesbian Task Force.
"This announcement is a breakthrough for transgender students, who too often face hostility at school and refusal by school officials to accept them for who they truly are," National Center for Transgender Equality's policy director Harper Jean Tobin said in a statement. "It is now clearer than ever that schools nationwide are responsible for ensuring that transgender students are respected and safe, and students can seek protection from the Department of Education and the courts if schools fail to do so.""
4-26-14: Washington Post: "For transgender service members, honesty can end career"
"It felt like the pinnacle of his career, working the graveyard shift in a windowless plywood facility in Afghanistan, monitoring a Special Operations mission as it unfolded in real time on grainy video feeds.
After spending hundreds of thousands of dollars training Landon Wilson to intercept communications, the U.S. military was capitalizing on its investment in the young sailor, already regarded as a rising star in a critical, highly technical field.
But shortly after 2 a.m. on Dec. 7, when a superior tapped him on the back and summoned him outside, one of the secrets that mattered most to Wilson began to unravel.
"This Navy record says female, but this paper says male," the grim-faced sergeant major noted, displaying two sets of personnel records. "So, what are you?"
After an awkward pause, Wilson, who joined the Navy as a woman but who has long felt like a man, provided the answer that set in motion the end of his militry career: "I am male."
More than two years after the repeal of the law that barred gay men and lesbians from serving in the military openly, transgender service members can still be dismissed from the force without question, the result of a decades-old policy that dates back to an era when gender nonconformity was widely seen as a mental illness.
The policy, however, is now coming under scrutiny as service members like Wilson become more visible. Transgender service members are increasingly undergoing procedures to align their bodies more closely with the genders with which they identify. Medical experts, meanwhile, are urging the Defense Department to rescind a policy they view as discriminatory and outdated, noting that some of America's closest allies, including Canada, Britain and Australia, have done so seamlessly.
Although the American Psychiatric Association revised its manual last year to indicate gender nonconformity is "not in itself a mental disorder," the Defense Department relies on guidelines that describe transgender individuals as sexual deviants, and their condition as a "paraphilia." Thousands of transgender men and women are now serving in the military while remaining in the closet, according to studies."
4-22-14: Huffington Post (posted 4-18): "The LGB/T Divide From a Cisgender, White Gay Male of Privilege", by Adam Hunt
"There's a conversation happening right now that's long overdue. With growing tensions between the LGB and T components of our community, we are doing little to bridge the gap -- quite the opposite in fact. Instead of binding together to respect one another's viewpoints and have a meaningful discussion about language in our culture, we're jumping on the defense every chance we get -- further hurting the historic bond we have. It has to stop.
Gay men: Telling trans people to stop being so touchy and sensitive over language is wrong. For too long they've stood in the dark supporting you for your fight for marriage equality and protections under the law, while you make little attempt to understand their struggles. Why are you jumping to assume this is a new sensitivity or cry for attention? Why aren't you attempting to understand that MAYBE the trans community finally feels like it has enough clout in our society to speak up for themselves? Why are we trying to stifle that and treat them as if their opinions and feelings don't matter? . . .
Non-trans drag queens: You are not trans. You don't get to throw around hateful terms, either, even if you feel you're reclaiming the word. It's not yours to reclaim. There are women who get beaten by their boyfriends or random strangers, left for dead, where tranny is the last word they hear. It's not a word that represents frivolity and flamboyance or whatever you want it to mean. It's not a joke, and trans people aren't a spectacle. When someone tells you they're offended by your language, instead of jumping to defend your free speech, take a moment to educate yourself on why it means so much to this person that you change your behavior . . .
Trans people: Please understand that there are cisgender gay men who are on your side, and please continue to have this dialogue. I understand you're frustrated, hurt, annoyed, angry, etc. on how you've been treated, and for me to ask patience of you is probably insensitive, but I do ask that you help us be better allies by calmly and eloquently continuing to call us out. Continue to let us know when our words, behaviors and micro-aggressions get to you, but please forgive those of us who make mistakes unknowingly as we work to change our language and understandings to reflect yours . . .
Finding middle ground in a community as diverse, artistic, and expressionistic as ours is tough. BUT what we CAN do is respect one another and educate ourselves on how words affect us. It's high time compassion and authenticity and an attempt to understand one another be our goals in this fight for equality."
4-22-14: Transadvocate (posted 4-19): "On policing RuPaul's "free speech"", by Cristan Williams ("counter-point" re RuPaul Andre Charles)
"I think the freedom of speech and policing arguments that have popped up around RuPaul are entirely disingenuous. Nobody is stopping RuPaul Andre Charles from using these terms as much as he likes in his personal life. RuPaul Andre Charles is a human being; RuPaul is a brand that Logo sells. Logo does not want the brand they're selling to be associated with terms people use while they kill trans women. Period . . .
WE ALL joke and say things that editors, producers, employers, etc would never allow near their brand. That's not censorship, that's public relations. Equating PR with censorship is equivocation. Whether you're a writer or a Walmart greeter, your boss won't allow you to use certain terms because – for whatever reason – they're loaded and if you want to equivocate, you can call that censorship. Others might call it professionalism . . .
If Logo wants a brand it's selling to not be viewed as misogynistic, they're probably not going to allow drag terms like "fish" or "fishy" to be associated with that brand. In the larger community, referring to women as being "fishy" has a wider disparaging context. If RuPaul wanted to associate Logo's brand with that specific in-group term, how do you think that would work? . . .
On your own dime, using your own platform, you get to associate anything you want with your reputation – your brand – but that doesn't mean that there won't be consequences. If the value of your reputation goes down because you are associated with the terms people widely use when they're killing oppressed people, then that's the price you'll pay. Claiming that you're oppressed because you think you should somehow be exempt from the rules of social currency is a bogus argument."
4-22-14: Huffington Post (posted 4-14): "RuPaul's Drag Race and the Danger of Overpolicing Language", by Our Lady J ("point" re RuPaul)
""Tranny," "sissy," "sex change," and "she-male" are self-identifying slang words used by gender-nonconforming people -- mostly performers, artists, sex workers, and others considered to be living on the fringe of our queer community. Although we use these words playfully to relate, empower, and communicate, these words, like the word "gay," are sometimes used to disrespect us.
When I first transitioned, I proudly identified as a "tranny" until people within the trans community told me the word was offensive to them. I complied but quickly realized that while striving to be accepted by the hetero-dominated world, the upper echelons of the trans community were trying to sweep the fringe under the rug by censoring the language with which they identify. In addition to banishing "tranny," "sissy," "sex change," and "she-male" as slander, they insisted that the users of these words were the oppressors, making themselves the victims -- a well-worn tool of manipulation and control.
As an artist, I love language, and I cherish free speech. RuPaul has been the number-one defender of these, and at the same time he continues to support every shade of queerness within our community, no matter the class. Drag is punk and should never be subjected to politically correct ideals. The moment it stops provoking is the moment it fails as an art form. Trans people are forever indebted to drag for the mainstream explosion of gender as we see it today."
4-21-14: Daily Northwestern: "Northwestern community evaluates culture, resources for transgender students", by Tyler Pager
"At Northwestern, (Bea) Sullivan-Knoff is part of a small community of transgender students who continue to see improved resources and facilities. But members of the transgender community say many areas still need to see improvement, including the availability of gender-neutral bathrooms and housing, as well as a greater understanding of what it means to be transgender . . .
Although an NU survey compiling data from the last few years suggests .32 percent of undergraduate students identify as transgender, the number reflects a small sample size and does not account for students who chose not to share their gender identity, said Devin Moss, director of NU's LGBT Resource Center.
Overall, Sullivan-Knoff and other members of the transgender community believe NU is an accepting place. National nonprofit Campus Pride, which ranks colleges based on LGBT-friendliness, awarded NU five out of five stars.
Campus Pride Trans Policy Clearinghouse, a database of transgender policies at colleges, also lists NU as one of 730 schools that have nondiscrimination policies regarding gender identity, one of 149 that offer gender-inclusive housing, one of 75 that allow students to use their preferred name on university records and one of 51 with student insurance covering gender-reassignment surgeries. The University of Chicago, Duke University and Washington University in St. Louis also appear on all four lists.
Though Sullivan-Knoff has not directly experienced discrimination on campus, she said NU lacks a unified transgender community. A Facebook group for transgender students only includes about 10 people, she said.
"It is a pretty isolating experience," she said. "I'm going to start looking at communities outside of campus just so I can have that sort of support system that doesn't really exist in a substantial way on campus.""
[Ed: Seems the dark legacy of J. Michael Bailey's trans-demonizing teachings in his infamous 2003 book The Man Who Would be Queen still hangs like a pungent pall over Northwestern University, without students quite knowing what that stink is, much less who set the fire.]
4-21-14: BuzzFeed: "Smith College Students Continue Fight Over "Discriminatory" Policy On Transgender Applicants"
"Dozens of students plan to protest at Smith College on Thursday due to what they say is the women's school's refusal to make its admissions process more inclusive for transgender women after students' negotiations with administrators failed.
The Northampton, Mass., school came under fire last spring for its admissions policy after Calliope Wong, a transgender woman, was rejected because a federal student aid form identified her as male, even though she identifies as female. Since then, activists from the Smith Q&A student organization have pressed administrators to make a key change to the policy, but they said their demands have not yet been met; they will demonstrate as a result.
"We no longer have a working relationship with admissions [officials], and they refuse to negotiate further, so we need to show them that a lot of people care about this and that we aren't going away," said Sarah Fraas, a member of Q&A who is organizing the demonstration. "I think if Smith sees that their image as a feminist institution and a welcoming place will be compromised by not changing the policy, that is something they will respond to."
At issue is the school's continued demand for consistent female gender markers on admissions documents such as high school transcripts, mid-year academic reports, and three letters of recommendation required for consideration. Activists such as Fraas demand the school allow transgender applicants to submit additional documents that would help to demonstrate their identities as women, considering how difficult it may be for some students to request changes to their gender marker on a high school transcript, for example. In other words, they say letters from teachers, social workers, advisors, employers, and other adult sources confirming the applicant's female gender identity should be sufficient proof."
4-21-14: CBC News (Canada): "Transgender students included in Vancouver school policy review"
"A local trans-rights advocate is applauding the efforts of the Vancouver School Board to update its school policy and student conduct guidelines to better support transgender students.​
The school board has spent the past few months listening to concerns in order to revise a 10-year-old plan created to help foster a safe learning environment.
Marie Little, chair of Vancouver's Trans Alliance Society, says the revisions are both welcomed, and necessary. "It indicates people are beginning to move in the right direction in their thinking," she said.
The new content in the draft plan includes a section on gender identity and expression, and the guidelines outline practices that include allowing trans students to dress, within existing school rules, according to their self-identified gender and to be called by a name or pronoun that matches their identity.
Under the plan's revisions, which will be presented for approval later next month, teachers are advised to cut down on sex-segregated activities, and trans students are permitted to use washrooms or change rooms that match their gender identity."
4-21-14: The Daily Cougar (Univ. of Houston): "Transgender rights bill leaves campus divided"
"For most, listening for their names to be called from the roster is a simple, if not mundane, reality of being a college student. Few would associate it as anything more than that, and even fewer would ever think of roll call as something that could potentially put their life in danger.
Viewing the world from the lens of a transgender man or woman paints a much different picture than most ever see, though. To a trans man, having no choice but to correct his professor and ask to be called Jason instead of Julie outs him as a transgender man to all who are present. Such a scenario not only places Jason in immense psychological turmoil but also makes him vulnerable to students who harbor negative sentiments toward the LGBT community.
On Wednesday, the Student Government Association acted for those students.
The Josephine Tittsworth Act, which allows students, faculty and staff "to apply their preferred first name, title and personally discerned gender in all standard forms of documentation or record keeping," passed in an 11-4 vote in the SGA Senate Chambers. Throughout its brief lifespan, the bill has managed to become one of the University's most controversial pieces of legislation."
4-18-14: NPR (re India): "A Journey Of Pain And Beauty: On Becoming Transgender In India"
"The signs came early that Abhina Aher was different. Born a boy biologically and given the male name Abhijit, Aher grew up in a middle-class neighborhood of Mumbai, India. The son of a single mother who nurtured a love of dance, Aher would watch enthralled as she performed.
"I used to love to wear the clothes that my mother used to wear — her jewelry, her makeup," Aher, now 37, recalls. "That is something which used to extremely fascinate me."
Draped in a bright sari, gold earrings and painted nails, Aher is, by outward appearance, a female, preferring to be addressed as a woman.
She has undertaken a long and arduous journey, rejecting her biological sex and opting to become a hijra — a member of an ancient transgender community in India, popularly referred to as eunuchs.
This week, India's Supreme Court handed down , by recognizing a third gender under the law that is neither male nor female. The sweeping decision redefines their rights and the state's obligation to them as one of India's most marginalized groups . . . "
4-17-14: Bay Area Reporter: "SF set to name street after transgender icon"
"San Francisco is set to name a street after a transgender icon, marking the first time the city has awarded such an honor to a member of the transgender community.
At its meeting Tuesday, April 22, the Board of Supervisors is expected to approve adding Vicki Marlane's name to street signs along the 100 block of Turk Street in the Tenderloin neighborhood. Marlane, who died in 2011 at the age of 76 due to AIDS-related complications, hosted a popular drag revue show at gay bar Aunt Charlie's located at 133 Turk.
The board's land use and economic development community unanimously approved the proposal at its meeting Monday, April 14. District 6 Supervisor Jane Kim, who represents the Tenderloin and is the main sponsor of the street-naming resolution, said this week she does not expect any opposition to the proposal when it reaches the full board.
"This is a historic vote and action," Kim said during the hearing before the committee on which she serves. "Vicki in particular was a mentor to many folks in this room, other performers, and transgender youth coming up in the scene. It is time to finally recognize this icon and activist. This block is the perfect place to memorialize her legacy."
Born Donald Sterger in Crookston, Minnesota, Marlane started out as a traveling circus performer before settling in San Francisco in 1966. She underwent sex reassignment surgery in the 1980s and moved to San Diego.
A decade later Marlane had returned to the city and her show "Girls Just Wanna Have Fun" debuted in 1998 at Aunt Charlie's. It evolved into popular weekly Friday and Saturday shows called "The Hot Boxxx Girls."
Known as "the lady with the liquid spine" for her performance moves, Marlane was featured in the 2009 independent film Forever's Gonna Start Tonight."
4-17-14: Badger Herald (University of Wisconsin): "Transgender activist highlights importance of self-acceptance, identity"
"As an activist, a leader and an advocate, Janet Mock took her audience through her journey of self-acceptance in a talk on campus Wednesday, telling students to stay true to their identity.
Mock, the New York Times bestselling author of "Redefining Realness: My Path to Womanhood, Identity, Love and So Much More" and a transgender woman, was the featured speaker at the Distinguished Lecture Series for the LGBT Campus Center's Out and About Month at Union South.
Mock was born the middle child with four siblings and raised in Honolulu. A first generation college graduate, she said her journey as a young person was defined by her efforts to try to be herself in a culture that did not acknowledge or accept her true identity.
"In high school, some of my most pivotal moments rose from pop culture. I saw Beyoncé in TV. Things touched me. I was not represented in the media, but Beyoncé validated me. She is the epitome of a graceful, talented, strong, hard-working woman, who was the role model for me," Mock said. "She made me love being brown."
A pivotal moment in Mock's journey was in 2001 while watching footage of the World Trade Center burning down after 9/11. In that moment, she said she realized she did not want to die before she got to be her true self.
Mock said she decided to tell her story to Marie Claire in 2011. Her decision came from her desire to show people how transgender women express their identity and share themselves with the world, she said.
"I wanted to help advance social and racial justice, advance social identity of trans-women of color, who is struggling with lower income discrimination," Mock said. "I want to tell people their struggles and their triumph.""
4-16-14: Huffington Post: "Monica Jones, Transgender Woman, Convicted Of 'Manifesting Prostitution'" (more)
"Apparently you can be arrested and convicted for "walking while trans" in some parts of the country.
Monica Jones, a transgender woman and activist, was found guilty of "manifesting prostitution" by a Phoenix, Arizona judge on Friday following her arrest by undercover police officers in 2013.
The kicker? Jones did not actually engage in prostitution the night of her arrest. Rather, she accepted a ride to a bar in her neighborhood by two undercover cops.
Jones' conviction stems from a law defining prostitution as act or action that "manifests an intent to commit or solicit an act of prostitution" -- with the keyword being "intent."
This ambiguity puts the power within the hands of the state, who can define intent within their own framework. According to Policymic, the Arizona ACLU notes that "innocent" and "criminal" behavior is defined by how a person looks . . .
All of these factors have led some to claim that Jones' arrest and subsequent conviction under this ambiguous law stems simply from her identity as a transgender woman of color.
During her recent acceptance of the Stephen F Kolzak Award at the GLAAD Awards, transgender actress and activist Laverne Cox mentioned Jones' story and highlighted the need for further conversation about the daily injustices being faced by transgender individuals. Check it out in the video below."
4-17-14: CNN World (re India): "The transgender community: Legally invisible no more?" (more, more, more, more)
"Simran Mahant's excitement is palpable ahead of heading to the nearby polling booth in a small village in northern India.
This is the first time that the 23-year-old transgender dancer will vote in the country's parliamentary election. With an official identity stamp, Simran will also be able to get a passport and travel abroad. The first destination? "Singapore," says the dancer.
"Seeing everyone vote made me feel there is something abnormal about me," says Simran, through an interpreter. "Now, I have my own identity."
Simran is among the three million transgender Indians who will now be entitled to the same rights and welfare support given to other socially and economically disadvantaged classes. Transgender is a broad community encompassing people whose gender identity does not align to their assigned sex.
In a landmark judgment passed on Tuesday, the country's highest court has recognized transgender people as a third sex, allowing them equal access to education, healthcare and employment, and prohibiting discrimination against them.
The move reflects a growing wave of recognition of the rights of transgender for equal recognition internationally.
Earlier this month, the Australian High Court also ruled that the government should legally recognize a third gender, in response to a case filed by a sexual equality campaigner in Sydney. Even social networking site Facebook has announced plans to offer users new gender options.
"Even though we are at a very early stage, there is an unstoppable movement in the world towards recognition of their rights," says Hong Kong-based Michael Vidler, a human rights lawyer."
4-16-14: Huffington Post: "Couple Plans Own Prom After School Bars Transgender Boyfriend From Attending"
"Anais Celini won't let her school's decision to not let her transgender boyfriend attend prom ruin their special night.
Yesterday, The Huffington Post brought you the news that Anais Celini, a senior at Martin Luther High School in Maspeth, Queens, was told she could not bring her transgender boyfriend, Nathaniel Baez, to prom because his "transition was unconventional" and "not beneficial."
Now, the couple have decided to have their own prom and share their special night together rather than further challenging the school. As reported by Buzzfeed, a transitional housing center has already offered the couple their space in order to hold their own prom.
"We are no longer a same-sex couple," Celini told Buzzfeed. "They need to see him as male and respect that. We didn't want to sneak ourselves into prom, we wanted to be upfront and be respectful about it.""
4-16-14: Independent.ie (Ireland): "My Transgender Journey: An unexpected public service from brave TV3"
"This is the kind of public service broadcasting you'd expect a public service broadcaster, not a commercial one, to be producing.
The documentary focuses on three people searching for a sense of identity and fighting to find their place in a society that, as governed by our political masters, makes both those goals extraordinarily difficult to attain: Ireland is currently the only EU country that doesn't provide a legal mechanism for recognising transgender people . . .
Nineteen-year-old veterinary student Sam Blanckensee, who seemed to sense from the very beginning that being born a girl was the wrong fit, was luckier in the parental stakes. He has loving parents and siblings who have supported him; the family accompanied Sam to Florida for gender reassignment.
At the time of filming, however, that had yet to happen. Sam describes the physical discomfort of binding -- tightly strapping down the female breasts to give the illusion of a manly chest -- and the long-term health risks involved.
"You can't breathe in them [binders]. You can break ribs. I developed asthma from wearing them too much. I know a friend who will possibly need heart surgery because it has cut off the circulation to the blood vessels in his heart. "
Perhaps the most moving moment occurs when Kay Bear Boss, who was born a boy in Indiana, Michigan, listens tensely on the phone, while at the other end, in America, her mother awaits a judge's decision on whether Kay's birth certificate can be changed to reflect her female status.
It's a "Yes". Kay's delight is matched by that of the judge, who we hear jovially telling her to have a glass of Jameson for him. It's hard to envision such a scene unfolding in an Irish courtroom.
My Transgender Journey is an eye-opener. Hopefully it will also be a mind-opener, not least for the people who commission RTE comedies.
Irish Lives: My Transgender Journey, TV3, 9pm tonight"

4-16-14: NPR: "Justice's 'Peacemaker' Unit Focuses On Transgender Rights"
"A groundbreaking survey reports that say they've been victims of physical assault. Most of those crimes are never reported to police. This year, the Justice Department wants to change that by training law enforcement to be more sensitive to the needs of trans people in their communities.
Deputy Attorney General Jim Cole says its new training program is motivated by a simple yet powerful idea. "The department recognizes what is often lost in the debates about transgender individuals, and it's that transgender lives are human lives," Cole told a group of about 130 police and community activists who recently gathered at the Justice Department to unveil the new program.
"We heard you when you told us that we needed to establish a foundation of trust between those who serve and protect the public and those in the LGBT community, particularly the transgender community."
In charge of the project is Justice's Community Relations Service unit, known as CRS. The service came to life in the 1964 Civil Rights Act as a way to dial down desegregation tensions in the South. "And for nearly 50 years CRS has served as America's peacemaker," says Grande Lum, who runs the unit . . . Increasingly, that means doing more to reach out to transgender people.
Diego Sanchez, director of policy for Parents, Families and Friends of Lesbians and Gays, helped to develop the new Justice Department training.
"It can be very difficult to interact with law enforcement officials," Sanchez tells NPR. "We're people like everyone else. We're not any different than anyone else. However, when we're encountered by law enforcement officers, we often find challenges both in being seen or respected."
And Sanchez says that's why many crimes go unreported. "While we are at greater risk perhaps for violence on the street, we're also less likely to report that to law enforcement officers," he adds.
Sanchez, the first openly transgender person to have worked as a legislative staffer on Capitol Hill, says those barriers can be overcome. It's as simple as using a person's preferred name, or gender pronoun, or asking for identification in a safe and respectful way.
"First thing they'll do is ask for the driver's license," he says. "If the gender that is indicated on the license doesn't match who the officer thinks they're looking at, if they say something loudly and then leave, they're leaving in danger that individual in their neighborhood."
Harper Jean Tobin of the National Center for Transgender Equality says too often, police treat trans people like they're doing something suspicious just for being themselves.
"Profiling by law enforcement, particularly transgender women of color, report that when they are walking in certain areas of a city, that they will get stopped for what they call 'walking while trans,' " Tobin says."
4-05-14: Huffington Post: "Mom Announces Her Son Is Transgender In The Best Way"
"When Jodi Gholson Oliver announced her son is transgender, she didn't just announce it. She celebrated.
On March 27, Oliver, a hairstylist living in Las Vegas, posted a photo of a white stork delivering a blue bundle with the words "It's a BOY!" Along with the photo, Oliver shared a touching -- and joyful -- message about her 19-year-old son, Jes, who is transgender.
Yep, it's true! I am proud to announce that I have given birth to a bouncing baby boy on December 18, 1994. For about 18 1/2 years we thought he was a girl, who just happened to like bugs, tattoos, flames, skulls, snakes, lizards, etc, etc. Then one day Jes explained to us that he never felt like he was supposed to be a girl, always identified more as boy and therefore planned on living as a male (a term called transgender in case you are not sure). This is something that we have all seen over the years and I am so happy that he can finally feel like the person he was born to be! If you have any questions please feel free to ask me, as I will do my best to help you understand a concept that may be unfamiliar to you! If you think your question may be inappropriate, it probably is and I will probably not answer it!
She tagged it with a "feeling proud" emoticon.

Jes shared his mom's awesome and inspiring message on his Tumblr account, writing: "My mom let her facebook friends/family know what's up regarding me just now and this is how she did it. Heck yeah, mom." It got more than 150,000 notes and the story was picked up by the Daily Dot.

Oliver wrote a follow-up message on Facebook Friday saying how shocked she is by the response her viral post has gotten. "I thought when I made this announcement on FB I was just letting all of my friends and family know about recent developments in our lives and that telling everyone at the same time would just be so much easier," she wrote. "I had no idea this was going to affect so many people like it has.""

4-04-14: Huffington Post: "The Perils and Possibilities of Transgender Visibility", by Lisa Stulberg, Associate Professor, Sociology of Education, NYU Steinhardt

" . . . Last month's Academy Awards also provided an occasion for a complicated discussion about trans visibility in mainstream pop culture. Jared Leto, who took home an Oscar for his performance, was at the center of a fair amount of controversy for his portrayal of the transgender woman, Rayon, in "Dallas Buyers Club." Many lauded Leto's portrayal, finding it to be sensitive, serious, and much-needed to increase trans inclusion in mainstream creative work. Others criticized the film's writers and casting folks for many of their creative choices. These critics found the role to be dehumanizing, recklessly stereotypical, and a misrepresentation of the experience of most trans woman. They also found it problematic that Rayon was played by Leto rather than by a trans actress.

Some high-profile trans women activists also have begun to bring mainstream attention to their experiences and their politics. For some, these names are new. For many, they are very familiar. Laverne Cox, a transgender actress, plays trans woman Sophia Burset on the highly-acclaimed Netflix series "Orange Is the New Black," and she has become a vocal activist for trans justice. Janet Mock, a transgender writer-activist has recently written a New York Times bestselling autobiography (Redefining Realness). Model and advocate Geena Rocero just publicly came out as trans in her March 2014 TED talk.

In sports, Fallon Fox made news last year when she came out as a transgender woman in Mixed Martial Arts (MMA). Kye Allums also made headlines in 2010 when he became the first openly transgender athlete to play Division I college sports. In the same year, Ironman triathlete Chris Mosier publicly came out as trans and began competing in men's races. And many people do not know that the National Collegiate Athletic Association (the NCAA) took the lead on a proactive and inclusive transgender student athlete policy in 2011.

As Russo and others remind us, visibility alone does not ensure social progress or progressive social change. It certainly comes with dangers. But, in the research I do, when we interview people about why LGBTQ visibility matters, we hear them talk about the fact that visibility has the potential to eviscerate loneliness. Visibility can build community. Visibility has the power to irrevocably change hearts and minds.

For trans visibility in particular, there is something more: Trans visibility and inclusion in mainstream movies, television, fashion, and sports demonstrates the ways in which creative change can come from those who have been severely culturally and politically marginalized. It pushes important questions that we should be asking -- not just about legal inclusion and civil rights, but about what it means to be a man or a woman and to rely on this binary. It raises complicated questions about the relationship between biological sex and social gender identity. It challenges us to rethink the utility of sex segregation in sports and the accuracy of the popular stories we tell ourselves about natural distinctions between men and women. These questions go to the root of our cultural narratives and our taken-for-granted assumptions about sex and gender.

Pop culture can dangerously affirm age-old stereotypes and images that dehumanize and marginalize. It also has the power and potential to make us confront our ignorance and confront each other, ask questions we didn't even know existed, and feel with every fiber of our being. Trans visibility in mainstream pop culture really does have the power to radically transform. I am hopeful, and I am watching."

[Ed: A powerful, must-read essay on our times.]

4-04-14: KGW New8 (Portland, Oregon): "Transgender George Fox student told he can't live in male dorms"

"A transgender student has filed a complaint against George Fox University after officials said he couldn't live with other men on campus during the upcoming school year.

Jaycen, who goes by 'Jayce,' is currently a sophomore at the Christian college in Newberg. He has been undergoing a female-to-male transition over the past few years.

Next week, a judge will issue a court order affirming his gender, allowing him to change his gender on his driver's license, birth certificate and with Social Security.

But when Jayce asked school officials in December if he could live with his male friends during the upcoming school year, George Fox denied his request.

Now, Jayce is fighting to live in male housing and has filed a formal complaint against the college, alleging discrimination on the basis of sex and gender in violation of Title IX.

"The university's decision makes me feel rejected, misunderstood and punished for something I cannot change," Jayce said. "It also makes me anxious and nervous about where I'll be able to live next year, and the year after that."

Jayce said the university is proposing a housing policy based on "biological birth sex," which would mean if he wanted to live on campus, it would have to be with women.

"I feel like I deserve to be treated better, so I am asserting my rights under Title IX," he said. "I am a man. I deserve to be treated like any other man on campus.""

4-03-14: Daily Mail (UK re US): "'I am so grateful to be a woman': Transgender model comes out for the first time during moving TED talk" (VIDEO)

After keeping her birth gender a secret for years, New York-based model Geena Rocero decided to come out to her friends, her neighbors, and even her modeling agent, who didn't know the truth.

Speaking in front of a large audience for the first TED talk on transgender rights on Monday, the Philippines-born model opened up about her experience 'to help others live without shame and terror'.

'All of us are put into boxes by our families, by our religion, by society,' she said. 'But some people have the courage to break free from the beliefs of the people around them.'

"The world makes you something that you're not — but you know inside what you are." Model and activist Geena Rocero opens her powerful talk in the first session on Wednesday, March 19, at TED2014.

Rocero, poised in sky-high black patent heels, shows photos from throughout her modeling career: bold, bikini-ed, confident. Her career as a successful fashion model for the last nine years seemed to mean she had achieved her greatest dream: To the public, Rocero's outer self finally matched her inner truth. All the while, she admits, she was keeping the truth of her past from neighbors, friends, colleagues, and until recently, even her agent: She was born assigned male. "All of us are put in boxes by our family, our religion, our society, our moment in history, even our own bodies," says Rocero. But some people have the courage to defy those boxes — so she decided she would no longer hide within the status quo . . . "

4-03-14: TED Blog (posted 3-14): "Live from TED2014: Why I must come out: Geena Rocero at TED2014" (more)

". . . To start her story, Rocero shows a photo of herself as a kid growing up in the Philippines, a T-shirt draped around her head. Even as a little girl, she knew that her assigned sex of little boy did not match her real identity. Why are you wearing a T-shirt on your head? her mother would ask. "Mom, this is my hair! I'm a girl!" Rocero says, smiling at the memory.

In the Philippines, Rocero was supported by her family and friends, and she began participating in — and winning — countless trans women beauty pageants. So when her mother called to tell her that her American green card petition had come through, Rocero hesitated. She was a beauty queen in the Philippines, surrounded by supportive friends and having fun. But then came the crucial detail: Rocero's mother told her that in the US she would be able to change her name and gender marker. It was all she needed to hear.

At the time in the US, sexual reassignment surgery was required before one could legally change one's gender marker. So at 19, Rocero went to Thailand for surgery. And in 2001 she arrived in San Francisco with a new name — she added a second "e" to become Geena — and legal recognition as a woman. To others, says Rocero, a driver's license is permission to drive or buy alcohol. "For me, that was my license to live, to feel dignified."

Not everyone is so lucky — and that's why Rocero feels it's her responsibility to come out to the world and tell her story. She pauses and says: "Today, this very moment is my real coming out." Standing tall, striking and misty-eyed, she spreads her arms on the TED stage: "I am here exposed … to help others live without shame and terror.""

[Ed: Be sure to watch this wonderful video!]

4-01-14: The TransAdvocate: "Transgender college student Andraya Williams humiliated by Piedmont campus police says enough is enough" by Kelli Busey (more, more, more)

"Subjected to discrimination, intimidation, humiliation and stonewalled by North Carolina Central Piedmont Community College (CPCC), transgender student Andraya Williams tells the TransAdvocate she's had enough.

On March 19th, Ms. Williams was detained by a campus school guard while exiting the lady's room bathroom telling her that they had heard reports of a man in the restroom and asked her for her college ID.

Ms. Williams then presented her ID, which clearly identifies her as female. Despite that the guard persisted in mockingly questioning Ms.Williams gender and called reinforcement. When the other guards arrived, they surrounded Ms. Williams eventually escorting her off campus.

The next-day Ms. Williams intent on resolving the incident went to the Dean of student life, who informed her she was suspended for not presenting her ID to the guards.

Ms. Williams told the TransAdvocate the Colleges version was simply not true, and she has proof. "When the guard first approached me, I called my attorney who listened to the entire incident. She heard me present my ID to several officers. She heard me then ask if I was free to leave"

Ms. Williams begun the process of changing her legal documents say she started transition in 2010 and began living in her authentic gender in 2012 when she turned 20.

The school says she won't be 'protected' if she uses the lady's room until she complies with their demands. "The school is requiring me to show proof of my gender," says Ms Williams, "but they haven't specified what they need to see." "

March 2014:

3-26-14: National Post (Canada): "Transgender girl's rights violated by ID requirements, mother says" (more)

"Saskatoon mother Fran Forsberg believes schools, libraries and the government shouldn't need to know the gender of her child. In fact, she'd like to see the designation removed from all government-issued ID altogether. "I don't think it's anybody's business what gender you are," she said on Wednesday.

"I have to show a birth certificate when I register at a school. Why do they need to know her gender? We have to show that even to get a library card."

Ms. Forsberg has launched a complaint with the Saskatchewan Human Rights Commission over her six-year-old daughter's birth certificate, because the provincial government has refused to switch the "M" to "F.''

Renn was born with male genitalia, but has identified as a female for three years . . . Ms. Forsberg said she wanted Renn's birth certificate changed so the girl wouldn't face confusion or discrimination. The government refused: sex can be changed on ID only after a person has undergone sex reassignment surgery.

Ms. Forsberg noted Ontario has removed the surgery requirement; she filed a complaint with the Human Rights Commission in May, but has heard nothing in almost a year. Ultimately, she said she wants government to stop recording gender altogether . . .

Ms. Forsberg said she and her family have come under heavy criticism. Call in shows have blasted her parenting and called Renn an "it." "I don't care about me, but when they attack a child like that, it's such cowardice," she said.

Renn's older brother, Tana, is also "gender fluid," Ms. Forsberg said. "Tana is not a transgender child, Tana is what we call two-spirited. He's in touch with his male and female side," she said.

Ms. Forsberg said gender is much more fluid than most people believe, and some children live along a spectrum. "My children don't have an issue. Society has an issue. People need to educate themselves," she said."

3-26-14: Deutche Welle (Germany re India): "Indian transgender community not keen on voting -- Most members of India's transgender community are not keen on voting in the upcoming parliamentary elections despite winning the right to vote. Activists say this reflects their lack of trust in the electoral system."

"Sanjana and D' Souza are members of India's three-million-strong transgender community called "hijras" in the Hindi language. The term is loosely used for transgender men and women, eunuchs, transvestites, and also for natural intersex people and male cross-dressers. Most of these people are either sex workers or beggars.

In 2011, the Indian election commission decided to allow the transgender people to vote in general elections as a separate group and they are expected to cast their ballots for the first time in the upcoming polls. But election officials say only a handful of them have enrolled in the 'others' category on ballot papers.

"This is not encouraging. We have done our best to go to these people and register them for polls but they don't seem very interested," a senior election commission official told DW on condition of anonymity.

Activists say a lack of interest in the elections reflects the community's anger at a system which has never treated them as equal citizens and deprived them of a dignified life.

"Transgender people continue to live on the margins of society and are constantly harassed by the police. Also, it seems as if the community means nothing to political parties, probably because of their small population," Anjan Joshi, who works for the non-governmental Society for Peoples' Awareness, Care and Empowerment organization, told DW.

The transgender people's indifference to the elections also stems from the fact that their interests are not reflected in the manifestos of the mainstream political parties. "If we don't figure in their agenda, why should we bother voting for them?" said Flora, another member of the community.

Transgender people are also upset about last year's Supreme Court decision which reinstated a British colonial era law banning gay sex. The transgender people say the controversial law exposes them again to police harassment and further ostracizes them."

3-25-14: Huffington Post: ""What's Between Your Legs?" Is the New "So What Do You Do in Bed?"

"Possibly inspired by Laverne Cox and Orange is the New Black, I blurted out the title of this post at a recent panel about media coverage of transgender issues, as I was trying to put into context the quality of coverage of transgender issues today, as compared to gay and lesbian issues in the early 1990s. It has stuck in my head since . . .

Which brings me to the swift, growing visibility for transgender people we are seeing in the media. Transgender characters in entertainment were always around, but as the punch line. When it came to news, it was usually about a hate crime. And I can tell you from personal experience even that coverage had to be fought for, from Brandon Teena to Fred Martinez to Gwen Araujo.

But increasingly, we are seeing transgender actors, activists, filmmakers, politicians and people from every walk of life coming out and telling their stories . . . Which brings me back to that panel at CUNY Graduate School of Journalism.

Of course, we talked about Piers Morgan's recent ham-fisted and very unsatisfying interview with author and activist Janet Mock and the controversy afterwards . . . He asked the same kind of leading questions he always does and botched the opportunity to explore the life of an amazing woman. And obviously he did not have to point out repeatedly that she was assigned male at birth. But does it make him transphobic?

It is exactly the situation I see time and time again with journalists. They are not homophobic, they are homo-ignorant. So let's add "trans-ignorant" to the lexicon, especially for those who obviously simply need some education. As I explained to the students in the audience, that education ideally should happen BEFORE the coverage whenever possible and with some nuance after if necessary. Piers was shocked and then got defensive. Everybody loses.

I love the carrot and stick approach but some folks seem to forget the carrot and go right to taking the stick to someone who is making a mistake they don't even realize is offensive . . . Like Katie Couric. Her interview with actress Laverne Cox and model Carmen Carrera about their lives and careers came to an awkward impasse when she asked them what some would call "the plumbing question." Laverne handled it extraordinarily well, realizing it was an "educable moment." And you could see that Katie realized the same thing as Laverne responded to her."

3-24-14: Huffington Post: "Anti-Trans Slurs and Drag: Who Exactly Is Transgender, and Does It Matter?", by Dana Beyer

"Within the LGBT community's activist sphere, marriage is also becoming increasingly boring, with few debates or arguments arising on the topic. Where the fireworks exist and are expanding is on the issue of gender: gender identity, gender expression, and gender roles. The more fundamental issues of sex and gender are now the locus of debate, and sides are being taken that are exposing increasingly contentious ideological positions.

This arose last week on one of my lists, where it was mentioned that RuPaul was using the slurs "tranny" and "shemale." RuPaul is the drag queen and host of RuPaul's Drag Race, and he identifies as a gay man. According to folk etymology, "drag" is an acronym for "dressed as girl," though there have long been drag kings as well as drag queens. And while there have been trans women who have performed drag, either as a form of self-expression and self-actualization or as a means of making a living in a hostile world (or both), most trans women have spent little time with and do not live within the gay male drag culture -- or so I thought, until it was pointed out to me that trans persons of color often do partake deeply in such culture . . .

While many trans women take offense at the words "tranny" and "shemale," there is a generational divide on this issue, as well as a racial one, with some younger trans people embracing the terms as a form of empowerment. This is analogous to the long-standing debate about the "N" word in the black community and the signals that its use sends to the outside world.

I've discussed this before and concluded that because I believe in self-determination, I should support the right of anyone to define themselves in any way that they like. They can use any language they choose. I expanded on this when talking about Facebook's consideration of multiple gender identities. However, just as freedom of speech in this country is generally construed very broadly, it is not absolute and is not acceptable when it impinges on the rights of others. The problem arises when that language is broadcast publicly, as it is with RuPaul, and then creates a perception among those in the general public who might be ignorant of the nuances and subtleties that are considered dangerous by many who are so defined."

[Ed: An important and timely essay; highly recommended food for thought.]

3-23-14: Think Progress (key article, posted 1-31): "Laverne Cox: 'Loving Trans People Is A Revolutionary Act'", by Zack Ford (more; be sure to watch the full video)

"This weekend, over 4,000 LGBT activists and allies are gathering in Houston, Texas for Creating Change, the National Conference on LGBT Equality, hosted by the National Gay and Lesbian Task Force. The conference kicked off Thursday night with an opening keynote by Laverne Cox from Orange is the New Black. She spoke about her own experiences as a transgender woman of color and addressed the injustices that trans women of color continue to experience.

Invoking Cornell West, Cox told the audience that, "Justice is what love looks like in public." ""When a trans woman is called a man," she said, "that is an act of violence." But "loving trans people," she believes, "is a revolutionary act."

Cox is currently developing a documentary about CeCe McDonald, a trans woman of color who was imprisoned for defending herself from racist, anti-trans attackers. "She defended herself because she refused to be a statistic," Cox said. Applauding the growing awareness and visibility of trans people, she proudly proclaimed that "for the first time, we are setting the agenda for how our stories are told."

3-23-14: The Guardian (UK; posted 3-18): "Things you wanted to know about trans people and were rude enough to ask"

"I would predict that every trans person who has ever come out has been asked a variation on the question, "But what was your old name?" Or the ruder version, "But what's your real name?" Or the slightly bizarre, "But what was your birth name?" I'd like to know how many of us are born with names.

The problem is signified by the "but", stated or implicit. It implies that I'm lying or at best being evasive. The questioner becomes a detective and with me as their case study. It is simple: my name is my name, as "real" as yours. Case closed.

Perhaps it's less offensive than a question about one's body or sex life, but the name question is the tip of the inappropriate iceberg. Below the surface, ready to spew forth, lies: "Do you have a penis?"

I am attempting here to set some ground rules for those of you who are not trans – ie those who are cisgender – who, perhaps with innocent intentions, ask these dreaded questions.

You may not think you are one of these people, so I have a quick test. Were you raised in a society that assigns gender, as well as sex, at birth? Hint: the answer is yes. Does that society label gender nonconformity "weird"? Hint: unless you are Native American and were raised knowing about two-spirited people, the answer is also yes.

If you answered yes to both of these, there are two likely possibilities. First, you've never knowingly met a trans person. In this case, you're just yet to realise that you're this kind of person. I know from experience that, even for sensitive, progressive souls the urge to ask about "real names" and intimate body parts is as strong as the urge to sneeze . . . "

3-21-14: Huffington Post: "Our Lady J, Transgender Artist, Talks About 'Gospel For The Godless'"

""This show is church for people who don't like church," Our Lady J told HuffPost Gay Voices last week when we spoke about her "Gospel For the Godless." The acclaimed singer-songwriter and classically trained pianist will bring the regularly sold-out show, which she has toured around the world, to New York City's Joe's Pub on Sunday, March 23.

"I call it 'Gospel For the Godless' because I take the medium of gospel music and I take away the dogma and write my own gospel," she added.

Our Lady J has been writing her own gospel for years. Aside from penning and performing her own music, she is a much sought after pianist and has collaborated with Sia, Lady Gaga, Cyndi Lauper, Debbie Harry, Antony of Antony and the Johnsons and Scissor Sisters, among others. As a classical pianist, she has worked with American Ballet Theatre, Alvin Ailey American Dance Theatre, Los Angeles Ballet, Royal Danish Ballet and the Mark Morris Dance Group. She's also made headlines with her buddy Daniel Radcliffe and most recently guest starred on "RuPaul's Drag Race."

We caught up with Our Lady J to chat about her music, her dedication to beauty as a guiding principal, life in the music industry as a transgender musician and more . . . "

3-21-14: The Oklahoman: "State court allows transgender Oklahoman to change name"

"James Dean Ingram, 31, was denied the ability to be legally recognized as Angela Renee Ingram in 2012 by District Judge Bill Graves. It was the second time Graves had denied such a request, ruling in both instances they were made for a fraudulent purpose.

In 2010, Graves concluded a person cannot really change his or her sex because the person's DNA stays the same.

"A so-called sex-change surgery can make one appear to be the opposite sex, but in fact they are nothing more than an imitation of the opposite sex," the judge wrote in a seven-page order.

"To grant a name change in this case would be to assist that which is fraudulent," Graves wrote.

What court ruling means:

On Friday, the Court of Civil Appeals reversed Graves decision, exactly as it had done for his first name change denial, allowing Steven Charles Harvey to change to Christie Ann Harvey in 2012.

The denial by Graves was an unusual one, said Brady Henderson, legal director for the American Civil Liberties Union of Oklahoma. Several Oklahoma County judges told The Oklahoman in 2012 they routinely grant name change requests by transgender individuals."

3-21-14: ABC News: "Transgender Defense: 'Donna' Says 'Doug' Is the Spokane Serial Killer" (more)

"A transgender woman accused of being a serial killer is blaming the 1990 murders of three prostitutes in Washington State on Douglas Perry, the person she identified as before her transition.

Donna Perry, 62, told police in 2012 in an affidavit filed in Spokane Superior Court that she had gender reassignment surgery in Thailand, and when a person transitions from male to female, "there's a great downturn in violence."

She also told police that she intentionally had the operation, which she underwent in 2000, "as a permanent way to control violence."

Perry is being held on $1 million bond in a Spokane County jail and declined to make a court appearance on murder charges this week, according to ABC affiliate KTLY, which first reported the story.

In a case that has been cold for more than two decades, the affidavit filed Jan. 14 says Perry was linked through DNA evidence to the killings of Yolanda Sapp, Kathleen Brisbois and Nickie Lowe, whom police say were prostitutes.

Police allege that Perry shot the women and left their naked bodies on the banks of the Spokane River. She was arrested earlier this year and served jail time for federal weapons charges. Police say they matched Perry's fingerprints to the crime scenes, according to the affidavit.

The accused's reported defense that it was not Donna Perry but Douglas Perry who killed the women is headline-grabbing, but not necessarily a true reflection of how transgender people view their nonconforming identity, according to mental health experts. "

3-20-14: Media Matters: "Debunking The Big Myth About Transgender-Inclusive Bathrooms -- Experts Call Bathroom Myth "Beyond Specious"

"Experts have repeatedly debunked the myth that transgender non-discrimination laws give sexual predators access to women's restrooms, but that hasn't stopped conservative media outlets from promoting fake news stories to fear monger about trans-inclusive bathrooms.

For as long as the transgender community has fought for protection from discrimination in public spaces, conservatives have peddled the myth that sexual predators will exploit non-discrimination laws to sneak into women's restrooms.

That fear has been an extremely effective tool for scaring people into voting against even basic protections for transgender people, which is why conservatives routinely use the phrase "bathroom bill" to describe laws prohibiting discrimination in public accommodations. When conservative media outlets attack non-discrimination laws for transgender people, they almost exclusively focus on bathroom and locker room facilities.

But that fear is baseless - completely unsupported by years of evidence from states that already have non-discrimination laws on the books. In a new Media Matters report, experts from twelve states - including law enforcement officials, state human rights workers, and sexual assault victims advocates - debunk the myth that non-discrimination laws have any relation to incidents of sexual assault or harassment in public restrooms."

[Link to the full Media Matters Report]

3-20-14: New York Times: "The Scientific Quest to Prove Bisexuality Exists"

"But when Bailey and others tested self-described gay, straight and bisexual men the following year, they found one group — bisexuals — for whom identity and arousal didn't appear to match. Though the men claimed to be turned on by men and women, in the lab their bodies told a different story. "Most bisexual men appeared homosexual in their genital arousal . . ."

The New York Times summarized the study's findings with a headline that read: "Straight, Gay or Lying? Bisexuality Revisited." "It was so disheartening," recalled Ellyn Ruthstrom, the president of the Bisexual Resource Center in Boston. "It was this terrible moment where we all wondered, Do we really have to keep debating whether bisexuality exists? . . .

While some bisexual activists filled Bailey's email inbox with hate mail, Sylla invited Bailey to dinner. "I wanted to work with Mike and help him design a better study" . . . Bailey said he was skeptical, but he was impressed with Sylla's civility and decided to hear him out.

That turned out to be a smart decision: A few years later, A.I.B. became an important source of funding for research on bisexuals . . .

At A.I.B.'s suggestion, Bailey did a second study in which he used more stringent criteria to find bisexual-identified test subjects. Instead of advertising in an alternative newspaper and gay magazines, Bailey's team recruited men who placed online ads seeking sex with both members of a mixed-gender couple. The men also needed to have had romantic relationships with both men and women.

To Bailey's surprise, the new study — published in 2011 and called "Sexual Arousal Patterns of Bisexual Men Revisited" — found that the bisexual men did in fact demonstrate "bisexual patterns of both subjective and genital arousal." Their arousal pattern matched their professed orientation, and A.I.B., which had been criticized by some bisexual activists for working with Bailey, was vindicated."

[Ed: Remember the J. Michael Bailey fiasco of 2003-2005? Seems that some things just keep going around in circles: JMB is still hustling support from the unsuspecting, and the New York Times is still publicizing his "research results".]

3-20-14: Time: "Chelsea Manning Petitions for a Name Change"

"Bradley Edward Manning, the U.S. Army private who was convicted of leaking classified military information to WikiLeaks, has petitioned a Kansas court to formally change her name to Chelsea Elizabeth Manning.

The petition was announced on Wednesday by the Private Manning Support Network, which also said it is changing its name to the Chelsea Manning Support Network. A hearing on the request has been scheduled for April 23 in Fort Leavenworth, where Manning is currently serving a 35-year sentence.

Manning declared in August that she wanted to be treated as a woman while incarcerated and that she would, if necessary, go to court for the right to obtain hormone treatment. Military prisons don't provide treatment issues related to gender assignment because transgender soldiers are not allowed to serve."

3-19-14: Fox News Latino: "Transgender Model Carmen Carrera On Victoria's Secret Snub, Motherhood"

"Coming off a dazzling feature in Glamour UK Magazine and through her work as a reality television star, supermodel Carmen Carrera continues to change the way that people look at transgender people.

You may remember Carrera from the hit show "RuPaul's Drag Race" on the Logo network. Since then, she's come out of the closet as a transgender woman and is close to accomplishing something that's never been done. Nearly 50,000 people have signed a petition at change.org to have her represent Victoria's Secret in an upcoming runway show.

Watch the video this week to find out what she is doing to ensure a more fair and diverse representation of transgender people in the media, how she feels about being a trailblazer in modeling and much more."

3-17-14: The Raw Story: "Transgender student named Miss Congeniality in California university's beauty pageant"

"A transgender student was named "Miss Congeniality" last week at a southern California university beauty pageant.

Chapman University senior Addie Vincent was nominated to compete against 15 other students in the all-woman Miss Delta Queen pageant organized by the school's Greek system, reported the Orange County Register.

The 21-year-old Vincent was nominated by the Alpha Delta Phi fraternity in a 20-0 vote to become the first transgender contestant in the annual fundraiser held Wednesday for the Beckstrand Cancer Association.

Vincent, who is working to create the university's first gender-neutral "fraority," is a Detroit-area native who came out as gay while a freshman at Chapman and started wearing makeup and feminine clothing as a sophomore. She drew loud cheers from the crowd every time she took the stage during the pageant, which was founded in 2008 by the Delta Tau Delta sorority.

Although Alexandria Kessinger won the Miss Delta Queen title, Vincent said she was thrilled to be a part of the event. "Tonight was so awesome," Vincent said. "The fact that I was just able to compete was so amazing on its own.""

3-16-14: The Vancouver Sun (British Columbia, Canada): "B.C. man alleges health ministry discriminates against transgender patients"

"A transgender B.C. man is alleging that the province discriminates against people seeking gender-reassignment surgery by forcing them to ask the Ministry of Health for approval before they can go under the knife.

Jackson Rae Flagg's complaint to the B.C. Human Rights Tribunal argues that the government unfairly puts itself between transgender patients and their doctors, even though it acknowledges that gender-reassignment surgeries are medically necessary.

Before he could get MSP funding for breast-removal and chest contouring surgery, Flagg's doctor had to get the ministry's permission to refer him to an assessing physician, who then made a recommendation to the provincial gender-reassignment surgical review committee about whether Flagg truly had "persistent, well-documented gender dysphoria" and was physically and mentally ready to take the plunge. That committee had the final say on whether MSP would pay for the procedure.

In contrast, a man who required a breast reduction to treat gynecomastia, or benign breast tissue enlargement, would simply need to be referred to a specialist by his family doctor in order to get approved for coverage. Flagg described the process he had to go through as "archaic."

"If you think about many of the other health services that the Ministry of Health provides, there isn't a lot of intervention by the state," he said. He felt his privacy was violated when the physician who assessed him passed on private information about his medical and psychological history to the government committee.

"The application form that the ministry provides to the doctors to fill out is very, very invasive," Flagg said. "It talks about all these sensitive things that have nothing to do with gender, and it's not the business of the government.""

3-15-14: Aljzeera America: "Transgender teen takes softball field with all the other California girls -- New California law allows transgender students to play school athletics, but some parents worry about the locker room"

"When Pat Cordova-Goff was born 17 years ago, the hospital marked her gender as male. It was true by conventional measures, but Cordova-Goff never really felt like a boy.

On the playground, she jumped rope with girls, and they became her confidantes. Some of her elementary-school classmates called her homophobic slurs.

"I think over the years I realized that I can't care what people are going to say," she said. "I can't live my life that way, even though sometimes it's hard not to."

Cordova-Goff came out as transgender as a sophomore in high school, and now she colors her lips with a deep fuchsia hue and perks her eyelashes with mascara. She listens to Alicia Keys and Beyoncé and says Princess Diana is her idol. Cordova-Goff takes pride in attending Azusa High School in California's San Gabriel Valley, so she joined the cheer team before identifying as transgender and continued to perform after coming out. As a senior, she ran for student body president against a popular candidate — and won.

Though Cordova-Goff's family lost its home several years ago and has lived in motels since, she tries to seize every opportunity available to her. She might seem like any other highly motivated teenage girl overcoming tough odds if it weren't for the media attention surrounding her latest achievement: joining the girls' softball team.

As a freshman, Cordova-Goff played baseball but felt uncomfortable and didn't try out again. Now she is one of the first transgender students to benefit from a new state law, A.B. 1266, which offers youth the right to participate in sex-segregated school programs, activities and athletics even if their gender identity does not match what appears on their school records. It also permits these students to use bathrooms and locker rooms according to their stated gender. "

3-15-14: New York Times: "Transgender Models Prosper in Brazil, Where Carnival and Faith Reign"

"As a young boy in Brazil's heartland, Carol Marra watched her parents politely correct strangers who said what a pretty daughter they had. In her teenage years, she coveted the boyfriends of her female classmates and tried out androgynous outfits, dutifully changing back into a young man's clothes in her car before returning home.

Now a favorite among Brazil's growing class of transgender models, Ms. Marra, 26, has become a star. She filmed two mini-series for major Brazilian television channels, is starting a lingerie line, and was the first transgender model to walk Fashion Rio — considered a top national runway event — and also the first to pose for Revista Trip, a Brazilian culture magazine that features female nudes.

Her popularity points to striking, if precarious, gains in Brazil's popular culture for Ms. Marra and her small number of peers. In a country that publicly celebrates its mixed-race and multicultural heritage, Brazil's cosmopolitan capitals like São Paulo and Rio de Janeiro have become places where crossing gender lines is increasingly accepted. Still, transgender models themselves say Brazil is also in many ways a deeply conservative country with strong religious forces that can create a hostile environment for its gay and transgender population."

3-14-14: Huffington Post: "8 Myths About Transgender Men's Genital Reconstructions", by Mitch Kellaway

"Recently, writer Brynn Tannehill produced a list of misconceptions that plague people's understanding of gender-confirmation surgeries (in particular, those of the genital variety). Perusing her inventory, I nodded in recognition at every barb; like her, I've heard all these and more hurled at me, my loved ones, or my comrades online. "It's not life-or-death," "It's cosmetic," "You need therapy, not surgery," and "It will burden taxpayers" are among the many toxic myths in need of exploding.

Inspired, I decided to build on this conversation by considering the specific fictions concerning trans-male procedures and embodiments -- and I hope to read a list generated about women's gender-specific experiences as well.

So -- with the caveats that this list is not exhaustive and I am no medical expert -- it's time to bust some myths! . . . "

3-13-14: The Advocate: "Study Urges U.S. Military to Reconsider Ban on Transgender Personnel" (more, more, more)

"In a report released today by the Palm Center — a research branch of San Fancisco State University's Department of Political Science focusing on gender, sexuality, and the military — a commission led by former U.S. surgeon general Dr. Joycelyn Elders declared there is "no compelling medical reason" for the military to continue its ban on transgender service members.

Despite the 2010 repeal of the military's "Don't Ask, Don't Tell" policy, transgender people remain banned from military service on the basis of a Department of Defense medical regulation, DODI 6130.03, which considers any gender-confirming clinical, medical, or surgical treatments as"disqualifying physical and mental conditions."

"Removal of the military's blanket ban on transgender service members would improve health outcomes, enable commanders to better care for their troops, and reflect the federal government's committment to reducing disparities in health care access for transgender people," the report reads. The report elaborates on the results of a study funded by a $1.35 million grant awarded to the Palm Center from trans billionare and veteran Jennifer Pritzker, to study the potential impact of lifting the ban.

"Arguments based on mental health are not convincing rationales for prohibiting transgender military service, and [the ban] is not consistent with modern medical understanding," the report argues. "Scientists have abandoned psychopathological understandings of transgender identity, and no longer classify gender non-conformity as a mental illness.

The report goes on to explain that the diagnosis "transsexualism" — which is one of the specific conditions listed in the regulations banning trans service members — was replaced in the American Psychiatric Association's Diagnostic and Statistical Manual by the term "gender identity disorder" in 1994, and once again changed to the diagnosis gender dysphoria in 2013. "While gender identity disorder was pathologized as an all-encompassing mental illness, gender dysphoria is understood as a condition that is amenable to treatment," the report adds.

The commission also dispelled arguments that suggest that the military providing hormone replacement therapy treatments and gender-confirming surgeries would disrupt deployment plans, and come at too high a cost to the federal government. Outlined in the report, the commission points to the expensive medical treatment non-military personnel often receive, comparing that to the relatively inexpensive and sparingly used treatment of trans service members."

[Ed: Please spread this vitally important story wide and far.]

3-07-14: Huffington Post: "Do Transgender Athletes Have an Unfair Advantage?", by Brynn Tannehill, Director of Advocacy, SPART*A

"Perhaps no transgender issue brings out more anger than the idea of transgender women competing in athletics. This was evident again when a female transgender CrossFit athlete was told, in writing, by the CrossFit governing body that she cannot compete as a woman. She in turn filed suit. However, the most disturbing part of this incident is the offensive and ignorant language used by CrossFit in their letter of explanation:

We have simply ruled that based upon [Chloie] being born as a male, she will need to compete in the Men's Division. ... The fundamental, ineluctable fact is that a male competitor who has a sex reassignment procedure still has a genetic makeup that confers a physical and physiological advantage over women. ... Our decision has nothing to do with "ignorance" or being bigots -- it has to do with a very real understanding of the human genome, of fundamental biology, that you are either intentionally ignoring or missed in high school.

The International Olympic Committee (IOC) settled the issue of transgender athletes in 2004, when they released the rules for them to compete. The IOC rules boil down to three basic points:

They must have had gender reassignment surgery.
They must have legal recognition of their assigned gender.
They must have at least two years of hormone therapy.

Given these conditions, the IOC does not consider being transgender an unfair advantage. The IOC did, however, consider drinking too much coffee an unfair competitive advantage for nearly 20 years. The IOC still considers baking soda a potential doping agent, though. Many common cough syrups, lozenges, eye drops, cold medications, diet products, nasal sprays, and allergy medications will also result in a medical disqualification for being at an unfair advantage. Clearly, the IOC does not approach matters of unfair advantage with an under-abundance of caution."

3-07-14: CNN: "Transgender athlete sues CrossFit for banning her from competing as female" (more, more)

"CrossFit maintains that Jonsson was born as a male, so she should compete in the men's division, according to a letter from the company's lawyer to Jonsson's attorney. It also stated that the company had an "obligation to protect the 'rights' of all competitors and the competition itself."

"The fundamental, ineluctable fact is that a male competitor who has a sex reassignment procedure still has a genetic makeup that confers a physical and physiological advantage over women," according to the letter from CrossFit's lawyer sent in October.

CNN reached out to CrossFit but did not get a response on Thursday. The letter from CrossFit was provided to CNN by Jonsson's attorney, Waukeen McCoy, who blasted the company's decision.

"(Jonsson) doesn't have an advantage over other women. She's been on estrogen for such a long time," he said about his client . . .

McCoy said that CrossFit should change its rules to be more like the International Olympic Committee, which allows transgender athletes to compete in their identified gender after undergoing sexual reassignment surgery.

"She's female," McCoy said about Jonsson. "She's legally female. A corporation like CrossFit, they're doing business in California. The law precludes from discrimination on gender identity.""

3-05-14: Polygon: "Gaming is my safe space: Gender options are important for the transgender community", by Jessica Janiuk

"Gaming and the virtual world were really my only outlets to be myself before I came out as a transgender woman.

There were fewer games with female protagonists or the option to play as a female character a decade ago, but I took what I could get . . .

The trans* community may seem confusing to most people. The "T" is often the least understood bit of the LGBT (Lesbian, Gay, Bisexual Transgender) community, even among the L, G and B parts of the community. Everyone has a gender identity, but explaining what a gender identity is can be difficult . . .

The game of life has given us a character gender that doesn't match us as the player. If you're a guy, this would be like you were only given female gender choices in Skyrim, or if Commander Shepard was always Femshep. I know how awesome that sounds, because we all know that Jennifer Hale did the best job as Shepard ... but you get my point.

This mismatch of mind and body creates an incongruency, or dysphoria, that can be very painful. Dysphoria is a strange word, but it essentially means the psychological and physical pain that comes from the mismatch of the physical body and gender identity.

Here's another example of how to understand this. Imagine you slipped on an Oculus Rift, and in that virtual world you existed as a person that was not your gender in the real world. You'd look down and see a body that didn't feel like yours. Your voice wouldn't sound the way you'd like to express yourself. In some cases the sexual options available to your character don't match your sexual feelings.

Now imagine you'd never be able to remove that VR helmet again . . . It may not seem so bad at first but, over time, dysphoria would really become an issue as you come to realize that this is the body you'll have to live in forever. That's what it's like for those of us in the trans* community every day of our lives, and unfortunately for us, we can't take off the VR helmet, even though we wish we could . . . "

3-04-14: San Jose Mercury News: "Hercules transgender student recants story; made up attack, sexual assault"

"A day after telling police he was viciously attacked in a campus restroom, a transgender high school student recanted his report to police, admitting that he fabricated an incident that fit a troubling pattern of violence on the campus and raised concerns about a groundbreaking state transgender rights law.

The student, who was not identified, told police that three teens had cornered him in a bathroom on the Hercules High School campus, physically and sexually assaulting him.

Police said at the time that they were classifying the attack as a hate crime because of "disparaging remarks" the attackers reportedly made.

On the day after a transgender student told police he was assaulted by three boys at Hercules High School, a police car and security guard are seen at the entrance to the school in Hercules, Calif. on Tuesday, March 4, 2014. (Kristopher Skinner/Bay Area News Group)

Before the hoax was revealed Tuesday afternoon, the purported assault at Hercules had reignited the heated debate about AB 1266, the new, first-of-its-kind California law that allows transgender students to use restrooms that match their gender identity. The Hercules student identifies as male, police said."

3-03-14: Contra Costa Times: "Hercules High transgender student reports sexual assault in bathroom" (more, more)

"On a campus already beset by claims of bullying and sexual harassment, a Hercules High School transgender student told police he was assaulted by three boys Monday while exercising his right under a controversial new law to use a bathroom that matched his gender identity.

The attack was the second altercation involving a transgender student on the campus this school year and came only days after an overwhelming teachers' vote of no-confidence in the school's principal, partially spurred by complaints of a lack of safety on campus that had led to fights and arrests.

In the latest incident, a 15-year-old transgender male student told police he was leaving the bathroom in the 300 building at around 11 a.m. when the three suspects pushed him inside a bathroom stall and physically and sexually assaulted him. The victim was taken to a hospital; his condition was not released Monday evening.

Hercules police Officer Connie Van Putten said investigators are treating the incident as a hate crime. Detectives processed the crime scene and interviewed witnesses Monday, but so far no suspects have been identified or arrested, Van Putten added. The suspects were described only as being 16 to 17 years old.

The student, who identifies as male, was using his right under Assembly Bill 1266, which says schools must grant transgender K-12 students access to participate in sex-segregated programs and use the restrooms and locker rooms that align with their chosen gender identity. Gov. Jerry Brown signed the bill into law in August."

3-03-14: Slate (re Mongolia): "Transgender in Mongolia", by Jordan G. Teicher with photos by Álvaro Laiz (more)

"In Mongolia, transgender people face extreme violence and discrimination, much of which goes unreported because the law does not protect them. Out of fear, many stay in the closet. Photographer Álvaro Laiz spent three and a half months in 2011 photographing male-to-female transgender people in Mongolia to explore notions of identity in a place where they are forced to hide who they are. "They cannot express themselves normally except in certain places. Your life becomes a scenario in which you are pretending to be someone else. Your job, your relatives become part of this performance, and little space is left to act as you would really want to be. It is insane," he said via email.

Since 2008, Laiz's work has focused on marginalized and repressed groups, including HIV orphans in Uganda and ex–child soldiers from Joseph Kony's Lord's Resistance Army. Laiz arrived in Mongolia by chance but quickly became interested in how LGBT Mongolians fare in a society that leaves almost no room for sexual or gender diversity. "I'm not a war photographer, so I have a limited experience in terms of ethnic violence or open conflicts. But what I can tell you is that this kind of repression is as cruel as the ones that arise during conflict," Laiz said.

After doing research through NGOs and other organizations, Laiz located several subjects who gave him access to their lives. Some worked in nightclubs or as prostitutes and could only reveal their identities in those realms. Others were ballet dancers, social workers, tour guides, and teachers who presented as men in their work environments. Laiz also photographed his subjects in traditional Mongolian queen costumes as part of a more lyrical, less documentary-style aspect of his project. "I wanted to show how they are, but also how they see themselves. Identity isn't a one-way concept but a fluent mixture of influences, both internal and external, which forms the way we face the world," Laiz said.

There are signs that conditions may improve for transgender Mongolians. In 2009, the first LGBT rights organization in the country, Mongolia LGBT Centre, was finally registered as an NGO. Last year, Mongolia celebrated its first Pride Week. "One bright side is that the Mongolian society is young and we believe that we can change the attitude of the public slowly through educating the younger generation about human rights principles, democratic values and tolerant, forgiving human nature," the organization's executive director, Otgonbaatar Tsedendemberel, told Gay Star News."

3-03-14: Time (posted 2-28): "Don't Applaud Jared Leto's Transgender 'Mammy' -- 'Dallas Buyers Club' has garnered praise for the actor's supposedly brave portrayal of a transgender woman. Don't expect anyone to find it admirable 20 years from now", by Steve Friess (more)

"Back in 1940, when Hattie McDaniel took home the Oscar for Best Supporting Actress for her portrayal of Mammy in "Gone With The Wind," Hollywood was incessantly proud of itself. The Academy indulged in feel-good self-congratulations that night because McDaniel was the first black person to win any of its acting honors.

(Oscars 2014 Prediction: Why Jared Leto Will Win Best Supporting Actor)

"It opens the doors of this room, moves back the walls, and enables us to embrace the whole of America, an America that we love, an America that almost alone in the world today recognizes and pays tribute to those who give her their best, regardless of creed, race, or color," explained the actress Fay Bainter before calling McDaniel up from her segregated table in the back of the Ambassador Hotel ballroom where she sat far from her white co-stars . . .

In the light of more than seven decades, that moment and performance are tainted by our collective understanding of how hypocritical and patronizing it was. McDaniel's portrayal of a house slave is now, alongside the old Aunt Jemima syrup logos, viewed as an archetypical, racist touchstone. It is difficult to watch McDaniel's infantilized Mammy without cringing.

Now the Academy is on the brink of doing it again for another badly misunderstood minority. Unless virtually every odds maker and show-biz pundit is wrong, the straight actor Jared Leto will on Sunday win the Best Supporting Actor statuette for a portrayal of a transgender woman with AIDS in "Dallas Buyers Club."

Not long from now — it surely won't take decades, given the brisk pace of progress on matters of identity and sexuality these days — Leto's award-winning performance as the sassy, tragic-yet-silly Rayon will belong in the dishonorable pantheon along with McDaniel's Mammy. That is, it'll be another moment when liberals in Hollywood, both in the industry and in the media, showed how little they understood or empathized with the lives of a minority they imagine they and Leto are honoring."

[Ed: Now that Steve Friess' prediction has come true, it is all the more important to disseminate his essay.]

February 2014:

2-28-14: GIDReform (posted 2-25): "Methodological Questions in Childhood Gender Identity 'Desistence' Research", by Kelley Winters, Ph.D.

"An expanded presentation to the 23rd World Professional Association for Transgender Health Biennial Symposium, Feb. 16, 2014, Bangkok, Thailand. (Presented remotely, from Loveland, Colorado, USA)

It is frequently repeated in mental health literature and popular media that the vast majority of children whose gender identity differs from their assigned birth-sex, or who are severly distressed by their birth-sex, will "desist" in their gender identities and gender dysphoria by adolescence. As a consequence, gender dysphoric children are pressed to remain in their birth-assigned roles throughout the world. But are gender dysphoria and diverse gender identities just a phase?

This presentation reexamines research in Canada and The Netherlands that underlies the "desistence" axiom, with respect to methodological rigor and validity of claims.

[Embedded Slideshare Slideshow]

Conclusions:

(1) Evidence from these studies suggests that the majority of gender nonconforming children are not gender dysphoric adolescents or adults.

(2) It does not support the stereotype that most children who are actually gender dysphoric will "desist" in their gender identities before adolescence.

(3) These studies do acknowledge that intense anatomic dysphoria in childhood may be associated with persistent gender dysphoria and persistent gender identity through adolescence.

(4) Speculation that allowing childhood social transition traps cisgender youth in roles that are incongruent with their identities is not supported by evidence.

(5) These studies fail to examine the diagnostic value of Real Life Experience in congruent gender roles for gender dysphoric children."

[Ed: A brilliant and masterfully-communicted exposé of the foundational methodological flaws underlying so-called "Childhood Gender Identity 'Desistence' Research". Quite easily understood, except perhaps by those engaging in such research.]

2-27-14: Henry Ford Health System (posted 2-18): "Transgender Patients Discriminated Against for Health Care Services"

"DETROIT – Discrimination against transgender people –as many as one million Americans identify themselves as transgender – should immediately be addressed by the medical establishment, backed by policy change at the national level to provide equal access to quality health care.

That is the primary recommendation of a study by Daphna Stroumsa, M.D., MPH, an obstetrics and gynecology resident at Henry Ford Hospital, whose research was published in the March issue of the American Journal of Public Health.

"Bias against transgender people takes an enormous toll on their health through direct harm, lack of appropriate care and a hostile environment, and through transgender people's avoidance of the medical system as a result of discrimination and lack of respect," Dr. Stroumsa says. "The medical establishment has a duty, and an ability, to protect transgender patients from such harms."

A top priority, she recommends, is that all health care programs funded by the federal government be required to provide coverage of care – including sex reassignment surgery – while transgender patients make the physical transition to the sex matching their gender identity.

These should include the U.S. Department of Veterans Affairs, Medicaid and Medicare, and Children's Health Insurance Program – also known as Children's Medicaid.

"Private insurance may ultimately follow adoption of full coverage by federally funded programs," Dr. Stroumsa writes. "But until it does, federal guidelines protecting transgender people from discrimination by private insurance companies is warranted, including a ban on the practice of denying medical care coverage by linking the care to transition, which is not covered under most policies" . . .

As part of its duty to provide appropriate, quality care, the medical establishment should include transgender-sensitive care in all medical education "as has been done with other cultural competencies."

To back this up, Dr. Stroumsa calls for federal grants to help fund educational programs teaching postgraduate-level medical care of transgender patients, including sex reassignment surgery. She notes that the ACA "has taken a first positive step in that direction" by providing funding for LGBT (lesbian, gay, bisexual and transgender) cultural competency training. Such training has already been implemented in some "big-city" health departments, and is underway for staff of the National Health Service Corps.

Among the study's other recommendations:
•Establish more health centers dedicated to caring for transgender patients as well as strengthen those already in operation.
•Draft clear guidelines for all federally funded health centers, including appropriate language, adoption of gender-neutral bathrooms and health records that respect transgender patients' preferred names and gender pronouns.
•Include questions regarding gender identity in health surveys to help monitor the progress and effects of new transgender health care measures.
•Help overcome the high rates of unemployment in the transgender population by hiring transgender people in the health care workforce. This would also offer an important avenue to address some of the challenges and barriers this population faces in the health care system.

A final recommendation of the study is that those who care for transgender patients should collect and publish data with the goal of improving that care. "It goes without saying that all such research must be conducted with sensitivity and respect toward participants," Dr. Stroumsa concludes.

See video of Dr. Stroumsa's comments on the study. For a copy of the study, please send an email to Dwight Angell at Dwight.Angell@hfhs.org."

2-27-14: Huffington Post (posted 2-17): "Why Gay Rights and Trans Rights Should Be Separated", by Tyler Curry

"The issues of transgender men and women are often brushed to the side as the preoccupations of an overly sensitive group of people. People often justify their intolerance of the trans community while expressing support for same-sex rights.

Just last week, actress Gabourey Sidibe repeatedly used the slur "tranny" while on Arsenio Hall's show. Sidibe, an outspoken supporter of gay rights, was stunned to find out that the slur was considered offensive, and she quickly apologized for her error.

But then, something interesting happened. Stories published on several media forums, including the Advocate Magazine online and Instinct Magazine online, posed the question of whether we are being too sensitive about a word that is commonly used in the gay community.

Numerous gay men and women then weighed in on whether the trans slur was, in fact, a slur. A large percentage of the commenters agreed that the media and the gay community were being too harsh on the popular TV actress. One commenter even said it could not be considered a negative term if popular shows like RuPaul's Drag Race used the term in a comedic and even an affectionate way.

These comments are evidence that even the gay community does not understand and are often the cause of discrimination against transgender people. In case you weren't aware, the drag queens on RuPaul's Drag Race are the reason people like Sidibe are clueless about trans slurs. Those drag queens are gay men who continually abuse a term that damages trans people. Just like "that's so gay" is often meant to be humorous, comically calling someone a "tranny" may garner a few laughs, but it unintentionally demeans a group of people.

When drag queens remove the trappings of their dramatized personas, they become once again a part of the gay rights movement and leave real transgender people to suffer the consequences.

Although the discrimination against trans people by the gay community is unintentional, it is the reason the "T" should be removed from the LGBT. Gay men often use the slur because they believe it's a part of their collective community vocabulary. Just as we take liberties by using our own gay slurs as we chose, we mistakenly use the slurs aimed at trans people and whose objections are brushed off as political sensitivity.

There is a difference between sexual orientation and gender identity, and it can't be expected that one movement will equally serve both groups. However, gays and transgender individuals both share in the effects of being misunderstood. So, as gay men and women, we don't fully need to understand being transgender to be able to whole-heartedly support that cause."

2-27-14: District of Columbia Government: "Mayor Gray Announces Steps to Protect GLBT Community from Discrimination in Health Care" (more)

"Today, the District of Columbia advanced the rights of the city's transgender community by prohibiting discrimination in health insurance based on gender identity and expression. Mayor Vincent C. Gray announced the Department of Insurance, Securities, and Banking (DISB) is issuing a bulletin to District health insurance companies addressing the application of anti-discrimination provisions in the insurance code, including recognizing gender dysphoria, or gender identity disorder, as a recognized medical condition.

"Last March, the District began the process of removing exclusions in health insurance on the basis of gender identity or expression. Through the hard work of my Office of GLBT Affairs and a multi-agency working group lead by my Chief of Staff, Chris Murphy, we have today taken the necessary steps to completely eliminate these exclusions," said Mayor Gray. "Today, the District takes a major step towards leveling the playing field for individuals diagnosed with gender dysphoria. These residents should not have to pay exorbitant out-of-pocket expenses for medically necessary treatment when those without gender dysphoria do not. Today's actions bring us closer to being One City that values and protects the health of all of our residents."

This action follows DISB's March 15, 2013 bulletin notifying health insurers to remove language that discriminated on the basis of gender identity and expression from their policies and permit those with gender dysphoria to obtain medically necessary benefits. Today's action goes one step further in protecting this community's health insurance rights by affirming that gender dysphoria is a recognized medical condition and thereby treatment, including gender reassignment surgeries, is a covered benefit. To view the full bulletin, click here"

2-27-14: BuzzFeed: "D.C. Government Announces Broad Protections For Transgender Health Care Coverage -- "Critically important" step, advocates say, that will make D.C.'s insurance coverage "the most comprehensive in the country" for transgender people"

"Insurance plans regulated by the D.C. government must cover transgender health care expenses, including gender reassignment surgery, D.C. Mayor Vincent Gray announced Thursday.

"This action places the District at the forefront of advancing the rights of transgender individuals," Gray said in a statement. "It also fully implements the District's Human Rights Act by incorporating gender identity and expression as protected classes in the District's health insurance laws."

The National Center for Transgender Equality praised the move, announcing that the decision created "the most comprehensive [insurance] plans for transgender Americans in the United States."

In a revised bulletin issued Thursday from the D.C. Department of Insurance, Securities, and Banking, it notes that D.C.'s Unfair Insurance Trade Practices Act "prohibits discrimination in health insurance based on gender identity or expression."

Further, it states that the government "would view attempts by companies to limit or deny medically necessary treatments for gender dysphoria, including gender reassignment surgeries, to be discriminatory," and therefore, prohibited under D.C. law.

Andy Bowen, NCTE's policy associate, said in a statement, "This victory reaffirms growing agreement among advocates and the medical community that DC's healthcare nondiscrimination laws require that insurance cover medically necessary transgender healthcare.""

2-21-14: Mother Jones: "How US Evangelicals Helped Create Russia's Anti-Gay Movement -- Meet the Fox News producer, the nightclub impresario, and the oligarchs who teamed up to write inequality into law", by Hannah Levintova

"In November 2010, Russia's Sanctity of Motherhood organization kicked off its first-ever national conference. The theme, according to its organizers, was urgent: solving "the crisis of traditional family values" in a modernizing Russia. The day opened with a sextet leading 1,000 swaying attendees in a prayer. Some made the sign of the cross, others bowed or raised their arms to the sky before settling into the plush red and gold seats of the conference hall at Moscow's Christ the Savior Cathedral.

On the second morning of the conference, the only American in attendance, a tall, collected man, stepped up for his speech. Larry Jacobs, vice president of the Rockford, Illinois-based World Congress of Families (WCF), an umbrella organization for the US religious right's heavy hitters, told the audience that American evangelicals had a 40-year track record of "defending life and family" and they hoped to be "true allies" in Russia's traditional values crusade.

The gathering marked the beginning of the family values fervor that has swept Russia in recent years. Warning that low birth rates are a threat to the long-term survival of the Russian people, politicians have been pushing to restrict abortion and encourage bigger families. Among the movement's successes is a law that passed last summer and garnered global outrage in the run-up to the Sochi Winter Olympics, banning "propaganda of nontraditional sexual relations to minors," a vague term that has been seen as effectively criminalizing any public expression of same-sex relationships.

Anti-gay groups have made tormenting the LGBT community a national and organized affair: Vigilante gangs have used social media to lure hundreds of gay people to fake dates and then disseminate videos of them being beaten or sexually humiliated, garnering hundreds of thousands of followers. Arrests and beatings at gay rights demonstrations are commonplace. This month, LGBT activists were arrested in Moscow and St. Petersburg hours before the Olympic opening ceremony and have been detained in Sochi itself.

Since Jacobs first traveled to Russia for the Sanctity of Motherhood conference, he and his WCF colleagues have returned regularly to bolster Russia's nascent anti-gay movement—and to work with powerful Russian connections that they've acquired along the way. In 2014, the World Congress of Families will draw an international group of conservative activists together in Moscow, a celebratory convening that Jacobs foreshadowed on that first visit, when he ended his speech triumphantly: "Together, we can win!""

[Ed: A powerful detailed exposé of the US instigators of anti-LBGT terror in Russia.]

2-26-14: Dallas News: "Federal judge voids Texas' gay marriage ban, though he delays order from taking effect immediately"

2-21-14: Australia Network News: "Transgender groups in Asia-Pacific speak out on health needs"

"For the first time, non-governmental organisations joined leading experts at an international conference to discuss the latest advances in research and advocacy for transgender and transsexual people.

The World Professional Association for Transgender Health (WPATH) symposium, held this week in Bangkok, also included a scientific program focusing on issues relating to transgender sexuality and health.

Transgender groups say members of their community often miss out on testing or treatment, because of stigma and discrimination."

2-20-14: Scientific American: "For Transgender People, a Good Doctor Is Hard to Find"

"In her knee-length jumper and cobalt blue tights, Hannah Simpson cuts a neat figure. The vibrant 29-year-old student of osteopathic medicine throws back her thick chestnut-brown hair when she laughs, but she turns serious when talking about her experience as a patient rather than a caregiver. That's because for the past few years she has had a tough time finding a doctor, not because of geography or lack of insurance, but rather because Simpson was born physically male and now lives as a woman.

It is hard to determine the exact number of transgender people in the United States, although some estimates put the figure around 700,000. Like Simpson, many of them have known since they were very young that the gender with which they identify is not the gender they appear to be. Yet research has shown that finding a doctor can often be a challenge and a source of stress for transgender people due to a combination of provider prejudice and lack of knowledge.

"A lot of it is ignorance," Simpson said, "and not being aware of what transgender people are and what their needs are." Examples of insensitivity have been all too common in her experience, including a mental healthcare provider who did not realize he was being insulting when he equated being transgender with diaper fetishism, and a pharmacist who snickered when she deduced from Simpson's prescription list that she was transgender (Simpson now gets her prescriptions mailed to her home) . . .

Transgenderism "is something any primary care provider should be able to handle," said Simpson. "They should think about this patient as just another person who comes in with diabetes or high blood pressure. There really isn't much more to it than that."

Yet among transgender people, "the biggest barrier to healthcare is getting any care at all," said endocrinologist Joshua Safer, a faculty member and physician at Boston University School of Medicine who routinely administers hormones to the many transgender patients he sees in his clinic."

2-20-14: Daily Mail (UK): "Beauty queen contestant who used to be a BOY receives death threats from internet trolls after entering Miss England competition"

"A 17-year-old girl who lived as a boy until last year has received death threats from online trolls after bidding to become the first transgender Miss England beauty queen.

Jordan Davis, of Radford, West Midlands, is one of 15 finalists in the Miss Coventry competition after beating more than 300 other girls. But the college student has revealed social network users have told her she 'isn't a real woman'- and that she has closed her Ask.fm account after people threatened to kill her.

She said: "I wanted to give a voice, provide advocacy and become a role model for the transgender community.

I have threatened to drop out several times because of the abuse I have received on social networking sites. I had to close my Ask.fm account down because I was getting death threats. I was expecting it, but I wasn't expecting it to be quite as bad.

I felt it was important to make a stand - to say you can define beauty in many ways. You don't have to look or be a certain way to be beautiful."
Jordan said she decided to make the transition to living life as a woman after she had finished school, adding: "I went to college as a girl and didn't tell anyone there or give them any knowledge. It was a clean slate for me."

"But as the month went on people in the year above who knew me from school started the whispering. I just kept smiling and carried on walking.

The way I look at it is that it is the same as when people are born with a birthmark and have it removed. It's no different for me. I didn't want to waste any more time after going through five years of hell at school." Despite the challenges, Jordan said the competition has provided her with a confidence boost and she is pleased to be involved.

'The view that these shows are outdated and sexist are rubbish,' she said. 'I have had great support from the organisers and the other girls. It helps confidence, self-image and self-worth and it has helped me to learn to love myself. I may not have been born a girl, but I am no less female than the rest of the girls. The competition has been a lot nicer than I thought it would be."

2-18-14: Boston Globe: "Transgender student takes national stage Zach Kerr was born a girl, but knew from early on that was wrong. With his family's support, he's finding himself – and inspiring others."

"He wants people to know that though he has had an easier time than many transgender youth, with a supportive family, school, and medical help, this is not a life he chose.

"Why would anyone choose this? I would never wish this upon anybody," he says. "There's nothing worse than feeling like you're in the wrong body and having to deal with that every single day." He is majoring in social work and hopes to work with transgender children and their families when he graduates.

Zach says it was a rocker named Joe Stevens who really "saved my life." Stevens's band, Coyote Grace, was opening for the Indigo Girls in Lowell and the 16-year-old triplets and their mom got tickets.

Between songs, Stevens told the audience that he was transgender. After the concert, Zach spoke to him. "He was the first transgender person I'd met. It was a defining point of my life. I realized I could be a boy and could have a life," he says."

2-15-14: CNN (posted 2-09): "From Hayley to Harrison: Transitioning to a man", by Sara Swaty

[Ed: A brilliant collection of photos; for more see Sara Swaty's website.]

2-14-14: ABC News: "Court Revives Transgender Widow's Legal Fight" (more)

"A Texas appeals court on Thursday overturned a judge's ruling that had voided the marriage of a transgender widow whose firefighter husband died battling a blaze. The 13th Texas Court of Appeals sent the case of Nikki Araguz back to the lower court, saying "there is a genuine issue of material fact regarding (Araguz's) sex and whether the marriage was a same sex marriage."

In 2011, state District Judge Randy Clapp in Wharton County ruled that the marriage between Nikki Araguz and her husband Thomas Araguz was "void as a matter of law." Thomas Araguz's mother and his first wife had challenged the marriage's validity, arguing the fallen firefighter's estate should go to his two sons because Nikki Araguz was born a man and Texas does not recognize same-sex marriage.

Nikki Araguz, 38, had argued in court she had done everything medically and legally possible to show she is female and was legally married under Texas law and that she's entitled to widow's benefits. Kent Rutter, Nikki Araguz's attorney, said his client was very pleased by Thursday's ruling.

"This decision recognizes that transgender Texans have the right to marry the person that they love," he said.

Attorneys for Simona Longoria, Thomas Araguz's mother, and Heather Delgado, his ex-wife, did not immediately return phone calls seeking comment.

Longoria and her family have said Thomas Araguz learned of his wife's gender history just before his death and had planned to end the marriage.

But Nikki Araguz, who remarried in 2013, has insisted Thomas Araguz fully supported her through the surgical process to become a woman. She underwent surgery two months after they were married in 2008. Thomas Araguz died July 2010 while fighting a fire at an egg farm near Wharton, located 60 miles southwest of Houston. He was 30.

In its 26-page ruling, the three-judge panel of the Corpus Christi-based appeals court wrote that Clapp erred by essentially saying in his ruling that Nikki Araguz was a man at the time of her husband's death."

2-13-14: San Gabriel Valley Tribune: "Transgender student to play on Azusa High School softball team"

"The Azusa High School girls softball team will include the state's first transgender student-athlete, district officials said Thursday. A senior, Pat Cordova-Goff, 17, is a member of the school's cheer squad and played on the school's baseball team as a freshman.

"We feel really confident about her ability," Azusa Unified Superintendent Linda Kaminski said. "No.  1 as a district, we want to ensure access to everyone, but we're also committed to placing students on the team on their merits  ... Based on her skills, Pat did make the team."

California Interscholastic Federation-Southern Section officials cited CIF guidelines for gender identity participation Wednesday and said that Cordova-Goff — who was born a boy but identifies as a girl — will be allowed to play on the girls team. The new rules took effect in September.

Cordova-Goff credited a change in state law — A.B.  1266 — for her decision to try out. Carlos Alcala, a spokesman for Assemblyman Tom Ammiano, said California law that took effect in January is meant to give all students a full range of opportunity.

Local high school coaches expressed little concern about Cordova-Goff's inclusion on the roster.

"There is no issue for me," West Covina softball coach Jesse Mendez said. "Could there be a competitive advantage? Sure, but softball is a pretty skillful game. There aren't many (recreational) softball players. These are competitive players who have played all their lives, and a lot of them are physically built. They know what it's like to play (with) the best of the best, so I have no concerns.""

2-13-14: The Advocate: "Facebook Expands Gender Options for Trans and Gender-Nonconforming Users"
"Today, Facebook unveiled a slew of new pronoun and gender options for its profile, a frequently requested feature among transgender users.

In addition to being able to select from "male," "female," or "gender-neutral" pronouns, users can now enter their gender as they see fit. "Androgyne," "Pangender," "Bi-gender," "Agender," "Trans Woman," "Transsexual," "Trans* Man," "Cis woman," and dozens of other gender-identifying options are now available to users by selecting the "custom" option in the profile's "Basic Information" section. The new gender identity listing also has a built-in privacy setting, allowing users to determine who is able to view their gender identity when looking at their profile.

It's no secret that Facebook has struggled with a pronoun problem. With only male and female options available when it came to pronouns, trans individuals were often forced to label themselves in categories that simply didn't fit. Gendered announcements like "John updated his profile," or "Jane updated her profile" are commonplace, and until now were the only options available — unless someone was willing to jump through a series of technological hoops.

"This new feature is a step forward in recognizing transgender people and allows them to tell their authentic story in their own words," GLAAD president Sarah Kate Ellis said in a blog post. "Once again, Facebook is on the forefront of ensuring that the platform is safe and accessible to all of its LGBT users.""

2-13-14: KQED (posted 2-05): "Medi-Cal Expansion Opens Doors to Care for Transgender Patients"

"Among those estimated to enroll in the expansion of Medi-Cal, some of those most likely to benefit are among the most stigmatized in health care — transgender patients. Darryl Avery, 48, is one of them. Avery was born female, but identifies as a man. Several years ago, he began his transition. He moved to San Francisco where he sought medical care, stable housing, culinary schooling, and eventually, sex reassignment surgery . . .

In 2001, the California Supreme Court ruled that Medi-Cal must cover "medically-necessary treatment," including sex reassignment surgery. But the problem, Harbatkin said, is Medi-Cal reimbursement rates were too low. In San Francisco, she said, there were no surgeons providing sex reassignment surgery who would take Medi-Cal rates.

"We would write to Medi-Cal and say, 'We'd like you to cover this,' and they'd say 'Great, find a surgeon who takes Medi-Cal,'" Harbatkin said. "But there were no surgeons who were taking Medi-Cal."

But in recent years, California shifted patients to county-run Medi-Cal managed care plans. In San Francisco, that meant two health plans, Anthem Blue Cross and the San Francisco Health Plan, would contract with Med-Cal and providers would now cover sex-reassignment surgeries and other transition-related health care procedures.

"The big exciting piece of this is that Medi-Cal will actually cover transgender surgeries now," Harbatkin said. "The plans have contracted with surgeons who can do transition-related surgeries."

The response, in a word, has been overwhelming, said doctors who specialize in transgender health care.

"When I started doing trans care in 1997, I did not think in my lifetime that we would be able to see people able to have transgender surgery," Harbatkin said. "So as we move into more accessibility, we're also thinking about how to allow people to be more successful … and have the long-term results they want.""

2-13-14: NY Daily News (posted 2-04): "Exclusive: A sex change operation is funded by New York City's Administration for Children's Services -- Beneficiary of surgery is second under gender-reassignment policy put in place in 2010"

"A 21-year-old in foster care had a sex change operation paid for by the city under a policy that covers such procedures if the person has no insurance coverage.

The patient underwent the procedure in Pennsylvania last Wednesday to become a woman.

She is the second beneficiary of the gender-reassignment policy, which was put in place in 2010.

Mariah Lopez, an activist with Strategic Transgender Alliance for Radical Reform, said the city Administration for Children's Services approved the surgery before the woman turned 21, the age at which most leave the foster care system.

The woman, whose name was not released, will "inspire others," said Lopez. "What's happening now is a shift by ACS, in the largest city in the world, influencing health care nationally." ACS would not comment on the surgery, citing confidentiality laws."

2-13-14: MLive: "Ann Arbor schools exploring new policies for transgender students"

"Ann Arbor Public Schools officials are working to develop better policies to accommodate its transgender students. The discussion comes as school districts across the country are grappling with the issue of transgender student rights—and districts' policies being successfully challenged in court by parents and rights groups.

Under Michigan law, school districts identify a student's gender in its records according to the student's birth certificate. That gender can be changed in the student's file if the student is over 18, or at a parent's request.

According to the Gay, Lesbian & Straight Education Network (GLSEN), "transgender" is defined as "an adjective describing a person whose gender identity or expression is different from that traditionally associated with an assigned sex at birth. Other terms that can have similar meanings are transsexual and trans."

However, there's no set guideline for a school district to use to determine if a student is transgender—and some would argue an adolescent's sense of self is constantly changing.

As Ann Arbor Public School's policies stand now, transgender students are included under its extremely broad non-discrimination policy. "What we have is non-discriminatory treatment, but it is not equal treatment," Superintendent Jeanice Swift said."

2-08-14: Kansas City Star: "'I am a girl': Transgender children face a society slow to accept them" (Video, Photos)

"Many transgender people say they first realized as children that they should have been born a different sex. A.J., a transgender 6-year-old, has the support of both parents, who hope to dispel misconceptions about transgender children . . .

She is only 6 years old. Already the child who sits, legs tucked, on a canopied bed near a closet filled with princess dresses has lost her best friends.

Kids who used to ask A.J. to birthday parties stopped calling. Parents back in preschool avoided making eye contact.

Once, at a ballet open house, A.J. and her mom ran into a family with whom they had always been close. "They looked at us," the Kansas City mother recalls, "crossed the sidewalk and didn't say anything."

"For a while it made me hate humanity," she conceded. " 'You just proved yourselves to be the lowest human beings on the planet. You know my kid. You know my child is a happy, kind, sweet, considerate kid and nothing has changed, except …' "

Except that A.J., born and known to all as a boy, had been determined to be transgender. The rough-and-tumble kid who once sported buzz cuts and dressed for his birthday as a pirate was growing her chestnut hair below her shoulders. A.J. was now a girl.

"There is huge judgment in society," said her father. "Not only on her, but on us.""

2-08-14: Haaretz (Israel): "Israeli transgender man tells tale of love and darkness – At the mobile clinic he runs in Tel Aviv, he also tells about transgender women's particularly bad experiences with prostitution."

"The mobile unit of the Health Ministry's Levinsky Clinic parks at 9 P.M. at the prostitution hub at Tel Aviv's old central bus station. It's a Sunday night, and sex workers and drug addicts, both men and women, slowly gather around.

Yonatan Marton, a 32-year-old transgender man and coordinator of the clinic's LGBT and HIV divisions, begins his work: finding transgender people working as prostitutes. Marton, a social worker who wrote his master's thesis on hostility toward transgender people (transphobia), offers transgender prostitutes STD testing, psychosocial therapy and assistance "from filling out forms to getting out of prostitution," he says . . .

According to Marton, "I feel sad every time I see a transgender woman working in prostitution because I know she's in that world only because she's transgender." He says that in this population group, the average age of entry into prostitution is 14 to 15.

"They're thrown out of the house the moment they start showing signs of feminity. The rejection occurs in all segments of society; Arabs and Jews, religious and secular," he says.

"When they're thrown out of their homes, they contact other transgender women, see that they're in prostitution and are drawn into that trap. They're socially isolated, without family relationships. They can't find jobs and have no other way to survive."

Marton says there are no statistics on the number of transgender women working in prostitution, but these women are more likely to be victims of violence.

"This group, which is even weaker, suffers from stigmas and parodies, and this encourages abuse," he says. "They have a high visibility in prostitution, and they suffer constant harassment and verbal, physical and sexual violence from clients and people on the street.""

2-08-14: Boston Globe: Books: "Transgender 'Revolutionary' "

"When he coached the boys' cross-country team at a private boarding school in Rhode Island, Alex Myers would sometimes outpace the students to push them to run harder.

"Look," he'd say, needling, "you're getting beaten by a 30-year-old transsexual."

Myers, now 35, has been living as a man for half his life, having come out as transgender before his senior year at Phillips Exeter Academy. Through adolescence, he was a tomboyish girl named Alice Myers.

Now a first-time novelist, Myers is using the historical tale of a distant ancestor, the Revolutionary War figure Deborah Sampson, as a literary parallel to his own determination to live as a man. Sampson, a native of Plympton 45 miles south of Boston, disguised herself as a man and served in the Continental Army during the war for independence.

"Revolutionary," Myers's debut novel, imagines Sampson's struggle to keep her secret and her will to live as she chose. Frustrated by her indentured servitude and the social and professional limitations she faced as a woman at the time, the tall young woman cut her hair and dressed as a young man, binding her breasts with strips of cloth, and enlisted . . . "

2-06-14: CNN: "In the spotlight: Carmen Carrera"

"It's an early morning photo shoot for Glamour Magazine UK. There's a blizzard outside the window of Jack Studios in New York as the crew sets up in a flurry: Photographers meticulously adjust the lighting, makeup and hair artists arrange their bounty of brushes and stylists hang up racks upon racks of familiar names -- Ralph Lauren, DSquared2, Zac Posen, Helmut Lang, Agent Provocateur, Vivienne Westwood.

They're all here for one person.

"Hi, I'm Carmen."

The woman in an unassuming black tank top, jeans, simple ponytail and hoop earrings (a staple she would later credit to growing up in New Jersey) introduces herself to the crew -- but everybody in the room already knows who she is.

"People know me from a lot of places," she tells CNN later at her Perth Amboy, New Jersey, home. "Google-dot-com Carmen Carrera!" she laughs.

Carrera first caught a glimpse of the spotlight on the third season of the cult favorite and gif-ready reality show "RuPaul's Drag Race." The day after she finished the show, she decided to begin her transition into the Carmen Carrera we know today -- a proud transgender fashion personality . . .

Carrera became a part of the mainstream media conversation when she received more than 46,000 signatures on a Change.org petition to become Victoria's Secret's first transgender "angel." The petition gained a significant amount of traction only a few days before the 2013 fashion show was set to tape in November, but it was ultimately unsuccessful. (The company has not responded to the petition.)

Even so, she says, the support from fans has motivated her to try out for the over-the-top lingerie show in 2014.
"It's kind of like validation," she says. "No matter how insecure I might be, no matter how un-pretty I might feel, there are people out there who look to me to be strong and to keep going and to keep proving people wrong.""

02-05-14: BuzzFeed: "Transgender Advocate Janet Mock: Piers Morgan "Sensationalized" My Story – Taking the trans story "outside the safe bubble.""

"Transgender advocate Janet Mock accused CNN's Piers Morgan of seeking to "sensationalize" her life after Morgan and his producers focused intensely on Mock's past and physical aspects of her transition in an interview coinciding with the release of her book, Redefining Realness.

Morgan ended the first segment of the Piers Morgan Live interview by saying that Mock at one point had to tell the man she was dating that "you used to be yourself a man" — although Mock has never identified as a man.

The on-screen description of Mock was that she "was a boy until age 18," although she was identifying as a girl in high school, and the Piers Morgan Live Twitter account posed the question during the interview, "How would you feel if you found out the woman you are dating was formerly a man?"

"He's trying to do info-tainment," Mock told BuzzFeed Tuesday night. "He doesn't really want to talk about trans issues, he wants to sensationalize my life and not really talk about the work that I do and what the purpose of me writing this book was about" . . .

But, she said, the interview — for better and worse — is part of want she chose to do by "going out of the bubble" and being public with her story.

"This is my first mainstream television show, was that moment, with Piers Morgan, and you see what they did to my story. Compared to a moment if I'm on Melissa Harris-Perry, which is slightly different, a more sensitive and safe space. But I go onto Piers Morgan, and all of my followers and everyone are like, 'What is this?'" she said. But, she noted, "It's also more representative of the ignorance that there is about trans people's lives. We're out of the safe bubble of social justice.""

2-04-14: Amnesty International: "Europe: Transgender people face discrimination and inhuman treatment"

"Amnesty International's report, The state decides who I am: lack of legal recognition for transgender people in Europe, focuses on seven European countries. It highlights how procedures to obtain legal gender recognition violate fundamental human rights in Denmark, Finland, France, Norway, Belgium and Germany. And how in Ireland no procedure exists at all, though legislation in this area is planned.

It is estimated that there could be as many as 1.5 million transgender people in the European Union.

In many states there are strict conditions under which individuals can change their legal gender. Transgender people can obtain legal gender recognition only if they are diagnosed with a mental disorder, agree to undergo medical procedures such as hormone treatments and surgeries resulting in irreversible sterilization, and have to prove that they are single. The whole process can take years.

"States must ensure that transgender people can obtain legal recognition of their gender through a quick, accessible and transparent procedure in accordance with the individual's own sense of their gender identity, while preserving their right to privacy and without imposing on them mandatory requirements that violate their human rights," said Marco Perolini.

"People have to make an odious decision – either they allow themselves to be subjected to a raft of degrading steps and measures on the behest of the state or they are forced to continue to live with a gender based on the sex they were assigned at birth – even if that contradicts their appearance and identity."

In Ireland no procedures yet exist to enable people to change their gender identity. Victoria, a transgender woman living in Dublin, Ireland told Amnesty International: "Legal gender recognition is important because, once and for all, I wouldn't have to battle with people [for anything] I have a right [to], like social welfare. I want to be recognised as who I bloody well am. It's ridiculous that the state doesn't recognize me as who I am."

Legal gender recognition is key for the enjoyment of human rights by transgender people. Transgender people are at risk of being discriminated against whenever they have to produce documents mentioning a name or gender-related information that do not reflect their gender identity and expression."

2-01-14: BuzzFeed (posted 1-29): "This 92-Year-Old Trans WWII Veteran Is Fighting To Be Treated Like Any Other Widow – Robina Asti shares her extraordinary love story and her fight to receive survivor benefits after losing the love of her life." (Be sure to watch this beautiful video of Robina from Lambda Legal)

"After serving as a pilot during WWII, Robina Asti transitioned to living as a woman in the 1970s.

Now 92 years old, she fondly remembers spending time over the Pacific during World War II. She was only 21 at the time.

Getting her pilot's license at just 18, Robina became a commercial pilot and flight instructor.

In 1976, she decided to begin living as a woman "in body, soul, and mind." The prejudice against her at that time was extraordinary . . .

She legally changed the sex on her pilot's license, her driver's license, and obtained a U.S. passport as a woman. For Robina, it was a complete rebirth.

She soon met Norwood Patton, the man who would one day become her husband. When things became serious, Robina knew she would have to tell Norwood about her transition. Less than a week later, Norwood came back. Every month, Norwood would ask for her hand in marriage. Every month, she would refuse.

Finally in 2004, Robina married her longtime sweetheart in a small ceremony in an airplane hangar in Orange County, N.Y.

Eight years later, Norwood passed away at the age of 97. After his passing, Robina applied for survivor benefits with the SSA. She was denied after it was determined she was "legally male" at the time of their marriage — despite all the legal documents she had in her possession . . .

In June 2013, Lambda Legal filed a request for reconsideration on Robina's behalf. After more than six months, there is still no word from the Social Security Administration. She hopes that her case is a success, not for the money, but for "the act of humanity which is necessary here."

Lambda Legal created this beautiful video to share Robina's story."

2-01-14: Vanity Fair (posted 1-25): "Ringy Dinghy", by James Wolcott

Standing at the dock, his handkerchief dotted with tears of gladness, TBogg bears witness to the tragic glug-glug of the "Good Ship National Review," whose hull sprung a hole due that old debbil hubris.

I have written previously about the very distressing, by which I mean 'high-larious', legal woes of National Review which is being sued for letting contributor Mark Steyn defame climate scientist Michael Mann for comparing him to child molester Jerry Sandusky on the internet pages of NRO. Long story short: Competitive Enterprise Institute "scholar" Rand Simberg wrote an article attacking Mann's research and, trying to be topical, referenced the fact that he teaches at Penn State as the basis for an oh-so-clever PSU Michael Mann = Penn State football coach/kid rapist Jerry Sandusky analogy. Writing at NRO, former drama critic Mark Steyn whose climate science knowledge is limited to knowing all the lyrics to They Call The Wind Maria, LOL'd and repeated what Simberg wrote. When Mann protested, CEI backed down and deleted the offending lines but not the rest of the post. On the other hand National Review Editor Rich Lowry seemed to be under the impression that he was William F. Badass Jr. and told Mann and his attorneys to pound sand...

My advice to poor Michael is to go away and bother someone else. If he doesn't have the good sense to do that, we look forward to teaching him a thing or two about the law and about how free debate works in a free country.

"Poor" Michael Mann didn't listen to Rich Lowry, and instead called his bluff and sued anyway forcing Lowry to beg for money from his readers because the treasure chest at National Review – which is a money losing wingnut welfare suckhole – couldn't cover the check Lowry's dumbass wrote...

And now Mark Steyn is in quite the pickle himself, divorced from the legal firm that was defending him and the magazine after he excoriated the former judge in the case for being a stupido. Tactically, that isn't considered the brightest chess move to try in the halls of justice. Steyn is now representing himself, like a character in a wacky sitcom racing from the defense table to the witness chair as he cross-examines himself, and estranged from National Review, where he is considered a star attraction, such is the condition to which conservatism has fallen.

[Ed: NRO has been engaging in over-the-top anti-progressive media-defamations for a long, long time. Some of you may recall when homophobic National Review writer John Derbyshire made these snarky, libelous comments about me: "Not to put too fine a point on it, Lynn Conway is nuts. She and her pals have money, though, and energy, and a big cheering section in the "gay rights" crowd, so I shall probably end up in jail for some kind of "hate crime" before they are through with me." -- John Derbyshire, NRO, Nov. 16, 2003. Of course, I took all that as a way-cool compliment!]

January 2014:

1-31-14: Gay Star News: "Proposed law in California would ensure transgender people die as they lived – Respect After Death Act calls for authentic gender identity to be reflected on death certificates"

"California Assembly Majority Leader Toni Atkins introduced a bill on Thursday (30 January) that would ensure the authentic gender identity of a transgender person be reflected on their death certificate.

If passed into law, the Respect After Death Act would require that the authority responsible for completing the transgender person's death certificate adhere to documentation of their gender identity such as an updated birth certificate or driver's license.

'Once we are deceased, we are often at the mercy of others to treat us with dignity,' said Atkins, a lesbian who also authored the historic School Success and Opportunity Act.

'For transgender people, their gender identity may not be consistently recognized after death by family, friends and even officials,' said Atkins (pictured). 'This bill provides an objective way to make sure that a transgender person's gender will be correctly identified after they pass on.'

In addition to a birth certificate or driver's license, other documentation could include written instructions from the deceased person confirming their wishes or evidence of medical treatment for gender transition . . .

'Transgender people face horrific rates of discrimination and violence," said Masen Davis, executive director of Transgender Law Center which is co-sponsoring the bill along with Equality California. 'The very least we can do is ensure folks are given basic human dignity by honoring their authentic selves when they pass . . . "

1-30-14: Metro Weekly: "Maine Supreme Court rules transgender student cannot be denied bathroom access" (more, more, more, more)

"Maine's highest court sided with a transgender girl Thursday in a ruling that stated her school violated state law when it denied her access to the girls' restroom.

The 5-1 decision by the Maine Supreme Judicial Court reversed a lower court's ruling from November 2012 and stated that the school was in violation of Maine's Human Rights Act when it denied Nicole Maines (referred to in the ruling as Susan Doe) access to the appropriate bathroom when she was a fifth-grade student at Asa Adams Elementary School in 2007.

According to the ruling, "it has been clearly established that a student's psychological well-being and educational success depend upon being permitted to use the communal bathroom consistent with her gender identity, denying access to the appropriate bathroom constitutes sexual orientation discrimination in violation of the [Maine Human Rights Act]."

While Maines was originally granted access to the girls' bathroom, the school later barred Maines from doing so following media attention when a male student followed her into the girls' bathroom at the instruction of his grandfather, who was opposed to the policy.

"Based upon its determination that Susan is a girl, and in keeping with the information provided to the school by Susan's family, her therapists, and experts in the field of transgender children, the school determined that Susan should use the girls' bathroom. In so doing, the school provided her with the same access to public facilities that it provided other girls," the ruling states.

"[The school's] later decision to ban Susan from the girls' bathroom, based not on a determination that there had been some change in Susan's status but on others' complaints about the school's well-considered decision, constituted discrimination based on Susan's sexual orientation," the ruling continues. "She was treated differently from other students solely because of her status as a transgender girl."

The ruling from Maine's highest court in Doe v. Clenchy marks the first time a state court has ruled that transgender students must be allowed to use the bathrooms for the gender they identity with.

Calling the ruling a "momentous decision," Jennifer Levi, director of GLAD's Transgender Rights Project, who argued the case before the Maine Law Court in June, said the decision "marks a huge breakthrough for transgender young people.""

1-30-14: RH Reality Check: "It's Not 'All Psychological': How the Medical Establishment Fails Transgender Patients", by Molly Jane Knefel

"Seeking health care when you're sick or injured can sometimes be a confusing, nerve-racking, or frustrating experience. Patients, already in a compromised position, may not know how best to advocate for themselves or what rights they have. But for transgender and gender nonconforming people, just going to the doctor means risking mistreatment, misdiagnosis, hostility, or aggression.

A number of professional medical organizations, including the American Medical Association and the American Psychiatric Association, have drafted resolutions in recent years affirming equal treatment for trans* and gender variant individuals. And according to M. Dru Levasseur, transgender rights project director at Lamba Legal, 17 states and more than 150 jurisdictions now have protections regarding gender identity. "These are all great steps," Levasseur told RH Reality Check. "But one of the things we still hear is that, when people are at their most vulnerable moment of need, like going to the hospital for emergency care, horrible things still happen."

Indeed, while medical protections for transgender patients may be gradually increasing, many in the trans* community continue to experience disturbing levels of discrimination from health-care providers.

"Every once in a while I get really anxious about what would happen if I had a major accident and had to go to the emergency room," Kara Baker, a researcher in plant pathology, told RH Reality Check. "I constantly worry about upcoming appointments with doctors or clinics I don't know." Baker, who identifies as genderqueer and prefers the pronouns "they/their," says most of their negative experiences with medical care have been relatively minor, like a doctor or nurse using non-preferred pronouns. But those interactions still cause uncertainty, anxiety, and self-blame.

That anxiety can lead some transgender people to avoid seeking medical care when they need it. According to a 2011 survey of over 6,000 trans* Americans, a third of respondents had put off or avoided seeking preventative care, and 28 percent had avoided seeking necessary care. Patients may be flat-out denied treatment, and not just for transgender-related health needs—8 percent of people surveyed as part of a 2009 survey were refused emergency care, with another 8 percent denied necessary surgery. In the same survey, a staggering 70 percent of trans* patients had experienced abusive language, physical abuse, blame for their health status from health-care providers, or providers refusing to touch them . . . "

1-30-14: KQED: "New Law on Transgender Students Is Tested in Manteca"

"Sixteen-year-old Ashton Lee is a junior at Manteca High School in the Manteca Unified School District, located in a small conservative town in the San Joaquin Valley. He says his friends can spot him a mile away. "I'm pretty masculine … I have broad shoulders and I'm pretty tall," Ashton says. "I'm built like my dad."

He is the child of a biracial marriage. But it's not his race that has caused inner turmoil. It's his gender identity. Ashton was born a girl but identifies as a boy. "I used to go by Kimberly," he says. "It never really felt like it was my real name. It never fit me."

Ashton says he can remember not fitting in as early as preschool. Later on, in middle school, he battled depression and thoughts of suicide. He says his life finally changed a couple years ago after he did his own research and explored the meaning of being transgender. "I had been struggling with not feeling right in my body my whole life," Lee says. "It just clicked when I read that. I'm not a freak … other people feel like this."

Ashton says he still felt extremely uncomfortable at school because he was treated like a female student. He saw an opportunity for change last year when a bill giving transgender students more rights on campus made its way to Gov. Jerry Brown's desk.

That bill, AB1266, is also known as the School Success and Opportunity Act. The law was enacted this year, and Ashton decided to use it after he was assigned to an all-girls aerobic class. The law allows transgender students to use bathrooms and locker rooms that correspond to their gender identity. They can also try out for sports teams and take part in extracurricular activities without any gender restrictions.

Like many California school districts, Manteca Unified was now faced with trying to implement this very controversial new policy. "We had a lot of conversations about how to deal with this," says Clara Schmiedt, Manteca Unified's director of secondary education, who was picked to develop a new district policy after Ashton came forward. "Controversy on either side of this is something that a school district does not want."

Schmiedt did her own research, calling other districts and meeting with attorneys. She says it became clear to her that Ashton was entitled to certain rights. Manteca Unified now joins other school districts that are granting accommodations on a case-by-case basis. In Ashton's case, his teachers have to address him by his new name and use all the corresponding male pronouns. And he is free to use the boys' restroom and the boys' locker rooms."

1-30-14: Huffington Post: "My Declaration of Candidacy for the Maryland State Senate", by Dana Beyer, Executive Director, Gender Rights Maryland (more, more)

"Last week I ended my latest blog post on leadership with the following paragraph:

We are all one. When any minority group works on an issue of concern to a larger population, it has an opportunity to solidify its credibility as an integral part of the whole. More importantly, it gets to do the labor of love that directly benefits everyone, without regard to race, creed, color, ancestry, age, religion, gender, sex, sexual orientation, gender identity, national origin, marital status, veteran's status or disability. That is my goal -- to do good, one day at a time. I am honored to work with so many who share that goal.

Today I am announcing my next campaign for the betterment of my community in Montgomery County.

We are ready for progress. For too long, hardworking Marylanders have waited for economic fairness and equal opportunity. We have asked our elected officials to help bring better jobs to our neighborhoods, build stronger schools for our children, fix our roads and infrastructure and make quality health care an affordable reality.

We are ready to move forward, and that's why I'm declaring my candidacy for the Maryland Senate . . .

Politics is the "art of the possible." The possible only becomes probable -- and then actual -- when people care, are willing to step forward and change the conversation, take risks and reach out to each other and build the better world of which we all dream. I ask for your support and your vote, and in return I promise to be the progressive champion Montgomery County sorely needs. I promise to represent you as you deserve to be represented. Together, we can make Montgomery County and Maryland better as we lead the way to a more progressive America."

1-30-14: The Daily Mail (UK re US): "'What's happening to me is not about sex - it's about identity': Meet the transgender stars behind Barneys' inspiring new campaign" (more, more) (With photos and video)

"A cast of 17 transgender people have taken center stage in an inspiring new ad series for Barneys New York. The campaign, shot by legendary photographer Bruce Weber, features individuals who have experienced immense challenges while transitioning genders.

Katie Hill, for example, was born a boy and was the first transgender student to graduate from her Oklahoma High School in 2012. After announcing her ambitions of becoming a woman to her fellow high school students, Miss Hill says that she was 'bullied and spat on.' She was homeschooled for a year and then returned to school 'because I decided I didn't want to be treated like a victim or a freak,' told Barneys' The Window blog.

Everybody had been pretty ignorant about the subject of transgender, but they listened and after a while some of the kids who'd been bullying me and making fun of me became my friends. Eventually some of them revealed themselves about being trans people,' she said. Miss Hill legally became a woman at the age of 16 and underwent gender reassignment surgery at the age of 18 – a procedure that was paid for by an anonymous financial donor who had seen her story on television.

Another model named Maxine Neu, a 20-year-old from Hamburg, was also born a boy. While she always felt female inside, Miss Neu has only lived as a woman for the last year-and-a-half. She is still transitioning into her new life, she says, and has not yet begun to seriously date as a woman. 'I don't have a boyfriend. I like to cuddle and watch a movie but I don't want to go beyond that yet. Maybe I need to protect myself. What's happening to me is not about sex—it's about identity. Nobody wants to get hurt. I have time,' she told the retailer.

Ahya Taylor was born a boy too. She tells Barneys that she 'began transitioning when I was a freshman in college. The process was very public, but it didn't matter! I was doing what I had to do. It was a matter of psychological survival.' She currently attends Wayne State University as a harp performance major. But music is just one element of her dream career – she also plans to go into social work. 'Art and people are my passion and I want to contribute in the best way I can,' she explained. 'I want to be a catalyst for the change and uplifting of my community.'

The campaign's conception was overseen by Barneys' creative director, Dennis Freedman, who told WWD that his casting decision had 'a lot to do with the realization that such extraordinary progress has been made in the last few years for the lesbian, gay and bisexual community, but it's striking how the transgender community has been left behind' and it is 'disturbing and upsetting to see that.'

Mr Weber also created a series of short films that will premiere on Barneys' website. The photographer told the paper: 'I hope that my photographs and films of these 17 new friends, who are transgender men and women, convey the respect I have for them and how I stand in awe of their courage to face the world.'"

1-27-14: Huffington Post: "Transgender Men And Dating: Elliott Deline, Bill Roundy And Matt Kailey On HuffPost Live" (With video)

"HuffPost Live guests offered their advice regarding transgender men and dating as part of a spirited discussion last week. Joining the group were cartoonist Bill Roundy, blogger Matt Kailey and Refuse author Elliott Deline.

Deline noted, "I think if everybody stopped looking at sexuality as a black-and-white kind of thing, stopped looking at gender as a black-and-white kind of thing ... they don't have to put a label on it."

Deline, who prefers "the idea of a queer identity," added, "Personally, I'm much more attracted to men who are open to whatever they find themselves attracted to and don't have to box it in and limit themselves." Check out more tips in the clip above."

1-22-14: Daily Mail (UK): "'Paedophilia IS an illness': An abnormally-wired brain causes the predatory behaviour, claims expert"

"Clinical psychologist James Cantor found 'huge differences in the white matter of paedophiles' brains, compared to typical men's.

He took MRI scans to study their brains.

Dr Cantor believes there is a literal 'cross wiring' of paedophiles' sexual response system and parental, nurturing system, in their brains.

Paedophiles tend to be between 10 and 15 IQ points lower than average, his study revealed.

They are also typically 2.3cm shorter in height than a typical male.

30 to 45 per cent of paedophiles are left-handed, compared to 10 to 12 per cent of the population."

[Ed: Here we go again! Yet another round of pseudo-sex-science via media-propaganda from CAMH (formerly called the Clarke Institute). This time, it's the parents of short, left-handed, less-than-average performing teenage-boys in public schools who need to watch out. If CAMH gets it way in Canada (and perhaps even the UK), their sons will begin to be psychologically scrutinized for early signs of paedophilia . . . and then targeted for medication by 'big pharma'.]

1-22-14: Autostraddle (posted 1-20): "New York Can Pass Same-Sex Marriage But Not Trans* Protections: How GENDA Died"

"A few months ago, a bill supporting the rights of transgender and other gender nonconforming people failed to come up for a vote in the New York State Senate. It died quietly years after Republicans and Democrats came together to vote in support of same sex marriage. Like most failed legislative efforts, there usually isn't one clear-cut reason for its downfall. A myriad of forces were working against the bill: a coterie of Democrats aligned with Republicans, a lack of unity in the advocacy community and a wider political problem in how elected leaders perceive Americans' opinions of transgender people.

Let's start with the obvious: The bill wasn't prioritized as same sex marriage efforts were, which is not a story only familiar to New York, but the whole country. Same sex marriage has been the central focus of major LGBT rights organizations for years, to the consternation of many LGBT rights activists, who believe issues that impact impoverished people, and/or people of color, have been neglected. After DOMA, one would think this would be the best time for activists to shine a light on other issues, such as hate crimes against LGBT people. But that hasn't proven to be the case, at least in New York.

Activists have differed in their approach to pushing the Gender Expression Non-Discrimination Act. The Empire State Pride Agenda released a radio ad that never used the word "transgender". . .

Ryan Sallans, a trans man who speaks as an activist on transgender issues, said there is hesitancy from leaders in major LGBT advocacy organizations to use the word "transgender," pointing out that, historically, trans issues are pushed out of LGBT groups' legislative agendas . . .

"A lot of the time, people think, 'Bring too much attention to the word and people will look away. Sometimes they drop gender ID from it [nondiscrimination bills] entirely.' There are multiple factors—It has to do with money, education and transphobia within the LGBT community," Sallans said."

1-22-14: Los Angeles Times: "YouTube is a lifeline for transgender young people"

"Thousands of teens and twentysomethings who are transgender — identifying with a gender that is different than their sex at birth – have turned to YouTube as a kind of public diary. As they start taking hormones or using new names, many are documenting their journeys on video, baring their souls and revealing their changing faces to strangers online.
Their videos tell stories that were once routinely hidden: Transgender people were told to abandon their old lives and craft a new history after making their transition.

As recently as a decade ago, "you lost everything if people knew that you had transitioned," actress and activist Calpernia Addams said. "You eliminated dating opportunities. You exposed yourself to violence."

Three years ago, a national survey of more than 6,400 transgender and gender-nonconforming people found that 71% had tried to avoid discrimination by hiding their gender or gender transition. Sharing their stories remains risky: More than a third of people who were gender nonconforming or had a transgender identity before graduating from high school said they had been physically assaulted, the National Transgender Discrimination Survey found.

Violence and bias aren't their only worries: If "coming out" for gays and lesbians means being recognized for who they truly are, many transgender men and women feel that telling new people they are transgender does just the opposite, making people think of them as less than a "real" man or woman.

But sidestepping the past has become much harder for a generation that has had digital footprints since childhood. And many teens see little reason to do so, embracing their transition as an essential and even celebrated part of their identity.

"I'll always be trans," said Naomi Ngoy, a Utah 15-year-old who uploads makeup tips and videos about her transition on YouTube. Other video bloggers, or vloggers, have removed their videos once they are regularly recognized as their identified gender, but Naomi plans to keep hers online. "There's no point in trying to take them down in the future.""

1-21-14: "Transgender Shreveport woman gains national attention for daring councilman to 'cast the first stone'" (more, more)

"A transgender Shreveport woman is in the national spotlight after showing up to last week's council meeting with a stone and daring Councilman Ron Webb to use it.

Pamela Raintree told Webb — who proposed a repeal of the city's fairness ordinance — that Leviticus 20:13 states, "If a man lie also with mankind as he lieth with a woman, they shall surely put him to death."

"I brought the first stone, Mr. Webb," she said, forcibly placing a stone on the table where she stood. "In case that your Bible talk isn't just a smoke screen for personal prejudices. But if it is, I hope you'll vote for a fair Shreveport."

Her statements caught the attention of national LGBT media outlets and The Huffington Post this weekend, and a video of her comments has been going viral since."

1-21-14: Huffington Post: "Kye Allums, Trans Sports Star, Reveals He Wanted To Kill Himself After ESPN Profile" (more, more, and be sure to watch both videos)

"A controversial story published by ESPN's Grantland last week sent shockwaves through the Internet.

What was intended to be an exploration of "scientifically superior" golfing equipment quickly became an investigation of Essay Anne Vanderbilt, the inventor of the new golf club that originally inspired the story, and her transgender identity. Vanderbilt committed suicide while the story's author, Caleb Hannan, was still researching the piece.

The backlash surrounding the outing, as well as the article's misgendering and lack of empathy for Vanderbilt's experiences, led Grantland Editor-in-Chief Bill Simmons to pen a letter responding to the controversy.

In order to better understand these events, HuffPost Live sat down with OutSports Editor Cyd Zeigler and prominent trans athlete and advocate Kye Allums to hear their perspectives surrounding the article, titled "Dr. V's Magical Putter."

"Suicide is so prevalent in the trans community," Allums, who also experienced problematic reporting from ESPN about his identity, told HuffPost Live. "41 percent of people in the trans community have attempted suicide –- I was one of them. That was all because of someone who didn't take the time to listen to what I said –- who didn't care, who didn't value me as a person and who just saw me as, 'Oh, you're just this story.'""

[Ed: The more we learn about this situation, the worse it looks.]

1-19-14: Nieman Storyboard: "The journalist and Dr. V", by Paige Williams

"To be a journalist on Twitter in the past four days has meant taking part, one way or another, in one of the more heated story dissections in recent memory. Last Wednesday, Grantland published "Dr. V's Magical Putter," by Caleb Hannan, a writer in Denver. The story, borne of Hannan's insomnia and his desire to play better golf, began as a profile of the inventor of a club called the Oracle GX1.

The inventor's name was Dr. Essay Anne Vanderbilt, whom friends called Dr. V. She described herself as an MIT-educated aeronautical physicist and her invention as an instrument superior for its scientifically advanced head design. Hannan tested the club and liked it. As he verified Vanderbilt's credentials, the story changed, in two ways: The scientist's background failed to check out, and Hannan learned that Dr. V had been "born a boy." The piece turns heavily on this revelation.

Vanderbilt had agreed to be the subject of Hannan's story only if Hannan wrote about "the science, not the scientist." Once Hannan discovered the biographical discrepancies, he told Vanderbilt he could no longer honor the agreement. Vanderbilt emailed him a warning that publishing the story against her wishes would be tantamount to a "hate crime." She had attempted suicide in the past, with carbon monoxide and prescription drugs, and, in October, as Hannan continued preparing his story, Vanderbilt made another attempt, and succeeded. Her partner and the president of her golf company, Gerri Jordan, found her dead on the bedroom floor, with a bag over her head; in the kitchen was an empty prescription bottle. This was in mid-October, in Gilbert, Ariz. Vanderbilt, according to the funeral home that handled her arrangements, was 60.

Hannan's story immediately got attention that was positive . . . And negative . . . The rage has centered on the ethics of outing a woman who did not want to be outed, and on a line in the story suggesting an authorial attitude of otherness toward Vanderbilt . . . "

[Ed: A definitive analysis of the Vanderbilt tragedy]

1-19-14: The New Republic: "The Mistake That Doomed The Grantland Story About a Putter" (more, more)

"The Internet is abuzz with conversation and disputation over a long article published last week on Grantland. "Dr. V's Magical Putter," written by Caleb Hannan, tells the story (spoilers follow) of a woman named Essay Anne Vanderbilt who invented an odd-looking putter that certain golfers came to swear by, based in part on its special design. Vanderbilt advertised the putter as based on scientific-sounding principles such as "moment of inertia." Reporting the story, Hannan realized that much of what Vanderbilt said about her own credentials is fraudulent. He also learned that she is transgender, a fact that shocked him—"a chill actually ran up my spine"—and apparently influenced his larger view that she is a fraud. At the very end of the story, we learn that Vanderbilt has recently killed herself.

As week turned to weekend and as, perhaps, a wider set of people had time to plow through the story's nearly 8,000 words, the reaction turned from positive to negative. The Toast had a good, early round-up; Jezebel published a long meditation yesterday. Both centered around what seems basically indisputable: Hannan evinces an extremely distorted view of what it means to be transgender. At best, Vanderbilt's gender identity and her—I was about to write "efforts to cover it up," but actually it's more just an ordinary, passive privacy—is erroneously lumped in with her very real lies about her educational history and business background. At worst, the piece is transphobic, with Hannan so weirded out by Vanderbilt that he acts surprised when a Vanderbilt business partner is not aghast to learn that Vanderbilt was born biologically a man. At that moment, I was embarrassed for Hannan.

But embarrassment isn't the only feeling Hannan deserves. Slate's Josh Levin laid out several of Hannan's errors in reporting and writing. I agree with him that those who have accused Hannan of abetting Vanderbilt's suicide are taking it too far (including Jezebel). But if anything I'm inclined to see the story as yet more problematic. This was not just prizing fact-finding over compassion, as Levin writes. This was a reporter entering a story with fundamentally flawed, not to mention bigoted, premises and letting those premises guide his reporting and his writing—a problem magnified since Hannan and his reporting are an essential part of the story.

"This is the kind of story, though, that breeds cynicism about journalists," Levin writes, hitting upon an essential point. My initial reaction before reading and digesting the piece was that of many journalists on Twitter: to defend it in order to defend the writing of such stories. Ultimately, though, I hesitate even to cite this article as a deeply flawed instance of a valuable kind of story. The bathwater is dirty enough that I'm willing to lose the baby, too."

[Ed: Journalism, thus exposed, should collectively hang its head in shame.]

1-15-14: Federal Times: "OPM considering transgender care in future employee health plans"

"Federal employees may be one step closer to being able to access transgender care through their federal health insurance coverage.

The Office of Personnel Management is currently evaluating the exclusion of transgender care in the federal employee health benefit program, according to the agency.

But the agency said that no decision has been made yet and that when it does come to a decision it will be reflected in the coverage options for future health care plans.

While some company and local government health plans cover care for transgender policy-holders, the Federal government does not and specifically excludes transition-related care from coverage.

Transition-related care may include hormone replacement therapy, mental health services, and sexual reassignment surgery (SRS). The costs of this care can easily reach into the tens of thousands of dollars, putting it beyond the reach of many who need it.

While OPM is evaluating the issue, HHS is considering whether the current policy of refusing to cover transition-related care is even legal."

[Ed: This news make a nice counterpoint to the rather hysterical rantings of trans-deniers like Keith Ablow and Paul McHugh.]

1-15-14: Media Matters: "Fox's Ablow: There's No Such Thing As Being Transgender", by Luke Brinkler

"Fox News "Medical A Team" member Dr. Keith Ablow continued his pattern of baseless smears against LGBT people with an ill-informed, transphobic rant against a new California law that allows transgender students to use facilities that match their gender identities.

In a January 14 column for FoxNews.com, Ablow criticized a recently-enacted California law that allows transgender public school students to use bathroom facilities that correspond with their gender identity. Ablow predicted that nothing but "toxicity" would come from the measure, parroting the "bathroom panic" that's been central to Fox's coverage of the legislation . . .

Ablow's worst fears are baseless. School districts that have implemented similar policies have reported "nothing but positive results" and no instances of misconduct, which is why anti-LGBT groups have been forced to make up incidents of their own.

Ablow went on to falsely suggest that there's no proof that transgender people even exist, even while admitting that "many psychiatrists with very impressive credentials" disagree with him.

Those well-meaning psychiatrists include the American Psychiatric Association and the American Psychological Association, which both recognize transgender people as real and deserving of respect and acknowledgment. Instead of taking the advice of America's largest professional psychological and psychiatric organizations, Ablow - who has no expertise in gender or sexuality issues - merely asserted that he is "not convinced" of the existence of transgender people."

1-15-14: Fox News (posted 1-14): "All wrong -- in California, girls can use urinals in the boys' restroom", By Dr. Keith Ablow

"As of January 1, students in California public schools have been able to choose whether to use the boys' rest room or girls' rest room, as well as the girls' locker room or boys' locker room, based on whether they feel female or male, not whether they are anatomically female or male.

That's right: Governor Jerry Brown, of California, signed a bill that took effect January 1 that tells kids from kindergarten on that they should decide whether they believe their gender identity is and act, accordingly. The legislation also allows students to choose their sports teams based on whether they sense they are boys or girls, not whether they were born male or born female.

I don't believe we have definitive data that any male or female soul has ever in the history of the world been born into the wrong anatomic gender.

I know that other psychiatrists may well disagree, and I know that LGBT activists will criticize me, but I believe that allowing this "choice" is profoundly destructive, psychologically, to all students, including the ones who identify themselves as transgender.

The mere fact that teachers and administrators will have to explain to kindergarten and first-grade students that they might see girls in the boys' restroom, or boys in the girls' locker room, but that those really aren't kids of the gender they appear to be, could (and, here, data is sorely lacking) do harm to their own developing sense of self by suggesting to them that their gender is fluid, that it well might change for them, too, and that they should be on the lookout for signs that they want to switch."

[Ed: Ablow is a passionate media-spokesperson for conservative Catholic psychiatrist Paul McHugh, who's made it is lifelong mission to "stop sex changes".]

1-15-14: Haaretz (Israel): "What transgender violence says about Israeli society − In the strict hierarchy that reigns in the human jungle, it would be hard to find a group more denounced and discriminated against than the transgender community", By Tsafi Saar

"Two weeks ago, 11 men – armed with pepper spray and an electric prod, some wearing masks – attacked a transgender woman next to a club in south Tel Aviv . . .

In the strict hierarchy that reigns in the jungle known as human society, there is a group that it would be hard to find more denounced and discriminated against than the transgender community. These are people whose gender identities do not coincide with society's expectations that one's sexual organs will determine their gender.

Transgender people are estimated to comprise between 0.1% and 0.3% of the population. The attack on the woman was a poignant and painful reminder of the depths to which the transgendered are pushed. It even turned out that the 11 suspects in the attack were members of the Border Police . . .

In their lives, they pay a high price – not infrequently a price greater than just physical violence. They experience exclusion, stigma, denial of the legitimacy of their identity, social rejection, discrimination, hostility, humiliation, persecution and negation of their humanity.

The labor market is just one sphere of life where they experience this. The health-care system also places obstacles on their path to realizing their aspiration to fulfill their gender identity – a basic human right.

It is doubtful that there is another group of humans that everyone feels free to determine what lies exactly under their clothes, including their most intimate parts. Is the possibility that they embody the blurring of binary-gender identity really so threatening to society, its structure and the individuals within it?"

1-15-14: CNN: "What not to say to a transgender person", by T. Cooper

"Recently, Katie Couric interviewed model Carmen Carrera and "Orange is the New Black" star Laverne Cox on her daytime talk show. Cox and Carrera are both male-to-female transsexual women who are enjoying a level of mainstream success in their respective fields. As such, they were interviewed for an episode of Couric's show dubbed "Transgender Trailblazers."

As a male transgender trailblazer myself -- meaning I was designated female at birth and transitioned to male later in life -- I watched the "Katie" show with fervent hope that the time had finally come when a transgender subject was not going to be asked about their private parts.

My hopes were swiftly dashed the moment Couric stuttered to Carrera, "Your, your, your private parts are different now, aren't they?"

Carrera, clearly taken aback, handled the question with poise, politely informing Couric that she was uncomfortable talking about such personal information as her genitalia. As anyone might be.

When Couric raised the question to Cox later in the show, Cox deftly added that focusing so much attention on transgender people's bodies objectifies them. More critically, she noted, the focus on private parts diverts the cultural discussion from more relevant and pressing issues, such as the violence and discrimination transpeople (and transwomen of color especially) face every day in this country. (In a later show, Couric addressed the response to her questions about their anatomy.)

As someone who has also been asked on multiple occasions by complete strangers what might or might not be happening in my pants, I thought this was a good time to suggest eight things NOT to say to transgender people, a handy list which just might make your office parties, family reunions, jury duty -- or interviews in front of millions of viewers -- go more smoothly."

[Ed: Be sure to pass on the link to these well-framed "questions not to ask".]

1-14-14: WRAL-TV (North Carolina): "Parents say love for transgender child is unconditional"

"The parents of a Cumberland County first-grader who was born a boy but identifies as a girl say their decision to allow her to go to school as a transgender child was one based on unconditional love and a desire for her to be happy.

"It's been a long process for us, and basically, we just had to come to a decision that we were going to love and support our child, no matter what," the girl's mother said Tuesday. "We decided that our love for our kids was going to be unconditional, and we needed to make sure we were doing what was right for our child's happiness." . . .

The child's parents say they spent years in therapy and made the decision to start raising their child as a girl on the advice of her psychologist. When they did, they say, they didn't know what to expect, and they have been surprised by the support they've received.

"We've been really impressed and amazed by our friends and our family and especially the school and the school system about how supportive and encouraging they've been," the mother said. "They've all been very loving."

Cumberland County Schools Superintendent Frank Till says for the past five years that he's been superintendent, he's seen at least one transgender student each year.
"We don't make a big thing out of it, because we don't consider it a big thing," he said . . . "Our goal is to make every student comfortable and to make every student feel good about where they are and to help people understand that diversity comes in a variety of forms.""

1-14-14: IEEE Institute: "Approved IEEE Code of Ethics − IEEE Board approves changes" (more, more)

The IEEE Board of Directors at its meeting of 25 November 2013 approved a revision to the IEEE Code of Ethics. This action was taken pursuant to a set of resolutions it approved at its meeting of 1 July 2013 in accordance with Section 7.8 of the IEEE Policies.

The following is the approved IEEE Code of Ethics:

"We, the members of the IEEE, in recognition of the importance of our technologies in affecting the quality of life throughout the world, and in accepting a personal obligation to our profession, its members and the communities we serve, do hereby commit ourselves to the highest ethical and professional conduct and agree:
to accept responsibility in making decisions consistent with the safety, health, and welfare of the public, and to disclose promptly factors that might endanger the public or the environment;

to avoid real or perceived conflicts of interest whenever possible, and to disclose them to affected parties when they do exist;

to be honest and realistic in stating claims or estimates based on available data;

to reject bribery in all its forms;

to improve the understanding of technology; its appropriate application, and potential consequences;

to maintain and improve our technical competence and to undertake technological tasks for others only if qualified by training or experience, or after full disclosure of pertinent limitations;

to seek, accept, and offer honest criticism of technical work, to acknowledge and correct errors, and to credit properly the contributions of others;

to treat fairly all persons and to not engage in acts of discrimination based on race, religion, gender, disability, age, national origin, sexual orientation, gender identity, or gender expression;

to avoid injuring others, their property, reputation, or employment by false or malicious action;

to assist colleagues and co-workers in their professional development and to support them in following this code of ethics."
1-13-14: CNN (posted 1-02): "Homeless transgendered woman murdered in Rome honored by Jesuits" (includes VIDEO of Andrea)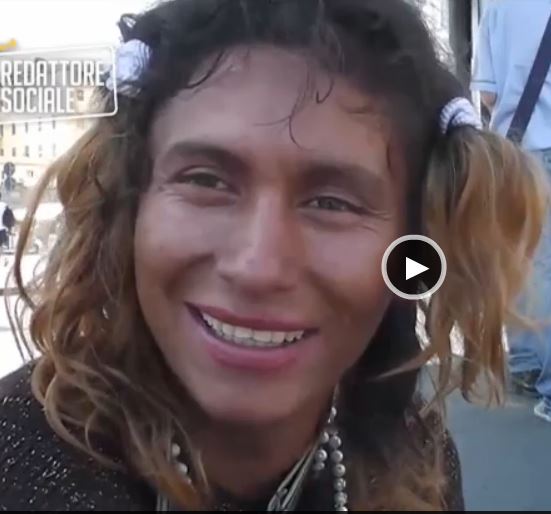 "Andrea Quintero was described by those who knew her as a gentle soul and a devout Catholic. Transgendered and homeless, she left Colombia for Italy in search of a society that could accept her for who she was -- a man who felt like a woman.

But in Rome it was no different. In fact it was worse. She said her paralyzed arm and prominent limp were evidence of the regular beatings she endured as a drifter at Rome's main railway station. Despite the abuse, she hoped for better. "I dream of meeting a boy that has money and that will allow me to leave such a terrible life," Andrea said in an interview with an Italian newspaper.

That dream would never come true. On July 29 this year, Andrea's body was found after she had been beaten to death on platform 10 of Rome's main railway station.

That very same day, on a plane ride from Brazil to the Vatican, Pope Francis uttered the five words about homosexuality that have come to define his papacy. "Who am I to judge?" The answer signaled a shift in the relationship between the Catholic Church and the gay community. He said that while homosexuality is still a sin, gay people should not be marginalized.

CNN Vatican analyst John Allen said: "In general what you are going to see is a church that is more compassionate and tolerant, particularly with regard to gays and transgendered persons, but the concern that people might mistake that compassion for a change in church doctrine, that is no longer going to get in the way of outreach."

Months after Andrea's death, her body remained unclaimed in the morgue. Local charity workers decided Andrea needed to be acknowledged with a Catholic funeral. A priest at Chiesa Del Gesu, one of the most prominent Jesuit churches in Rome opened its doors.

"With Pope Francis, we have courage, we have enthusiasm," said Father Giovanni La Manna, who helped organize the funeral. "We have no excuse. We are called to open our hearts."

Charity workers, government officials, even the city's mayor gathered to pay tribute. Andrea's coffin lay amid the church's breathtaking frescos. A Catholic mass was held in her memory.

And then something happened that stunned those inside the church. Throughout the mass, the priest acknowledged Andrea as a 'She'.

"Up until this point we haven't been acknowledged by the Catholic Church," said Vladimir Luxuria, a transgendered activist who attended the funeral. "It is as if the Catholic Church says 'we see you the way you feel you are.'"

While Andrea's dream of a white church wedding was never possible -- at least in death she was accepted by the religion she believed in so deeply."

1-13-14: HRC: "The Institute of Electrical and Electronic Engineers Adopts LGBT-Inclusive Code of Ethics"

"Early last week, the world's largest professional body of engineers amended its Code of Ethics -- by which all of its more than 425,000 members must abide -- to include a nondiscrimination policy based on sexual orientation and gender identity and expression.

More than two-thirds of the Board of the Institute of Electrical and Electronics Engineers, an international professional association dedicated to advancing technological innovation and excellence, voted in favor of the Code of Ethics changes.

Under the new professional policy, members of the IEEE, many of whom live in nations that still lag behind in LGBT protections, must treat their LGBT colleagues with the respect and dignity they so rightfully deserve, IEEE's move sends a powerful message to the international community about importance of LGBT-inclusivity. Not only is equality the right thing to do, it's a sound business practice."

1-13-14: Huffington Post (posted 1-08): "Leadership and the Value of Exceptional Allies", by Dana Beyer Executive Director, Gender Rights Maryland

"This week I am continuing my series on leadership with an example of quiet leadership deep within a massive global professional community.

Today is a momentous day for equality in the world of nerds, geeks and hackers. Given that many of us have, to some degree, become technologically proficient during the new industrial revolution, this is of great importance to all of us. Today, the IEEE -- the Institute of Electrical and Electronics Engineers, the world's largest professional body of engineers, which has more than 425,000 members in over 160 countries, including both academia and industry -- is publishing its new Code of Ethics. And that Code, known within the profession as much as a code of honor as one of ethics, is, for the first time, LGBT-inclusive.

The campaign to make this happen was spearheaded and coordinated by two trans women: Lynn Conway, Professor of Electrical Engineering and Computer Science, Emerita, at the University of Michigan in Ann Arbor, and a Life Fellow of the IEEE, and Leandra Vicci, lecturer and Director of the Applied Engineering Laboratory in the Department of Computer Science at the University of North Carolina at Chapel Hill, and a Life Senior Member of the IEEE. Last September Lynn and Leandra brought an oversight to the attention of the Institute's Board of Directors, as they noted that the planned change to the Code of Ethics, to add sexual orientation to its non-discrimination policy, was exclusive of gender identity and expression.

By Oct. 12, many prominent IEEE thought leaders had co-signed a letter requesting trans inclusion. These thought leaders were led by UNC's Dr. Fred Brooks, the father of the IBM System/360, and included the president of Stanford University, the presidents emeriti of M.I.T. and CalTech, numerous members of the National Academies of Engineering and Science, and many other widely respected IEEE Fellows . . .

So what does this mean? It means that hundreds of thousands of engineers worldwide -- including in Russia, Uganda and over 60 other nations where being gay or trans is considered a crime -- are now honor bound to treat their colleagues with respect. It means inclusion and acceptance will bubble up from this professional society to impact the larger local cultures, as it did recently in the U.S. when multiple professional medical organizations -- including the American Medical Association, the American Psychological Association, the World Professional Association for Transgender Health, and the American Academy of Pediatrics, to name a few -- changed their policies and pushed the American Psychiatric Association to remove transgender status from being considered a mental illness.

It exemplifies the power of being alert to one's personal and professional surroundings so as to be aware that change is needed and, when the moment arrives, that it is finally possible to create that change. It shows the value of having a close colleague in whom one can confide and trust to actually get the work done. It shows the power of "showing up," of asking one's colleagues for their support of your humanity, both in an official capacity as well as in your daily interactions. It shows the wellspring of support that exists even in places where you might least expect it. It shows how much the work of so many others has already changed the culture sufficiently that progress like this is not only possible but increasingly probable."

1-13-14: NPR: "Understanding What It Means To Be Transgender"

"A new California law allows transgender students to choose bathrooms and sports teams based on the gender they identify with. The law intends to make those students feel more comfortable, but it's also making others feel uneasy. Tell Me More looks again at truths and misconceptions involving transgender people, especially when it comes to public accommodations."

[Ed: An important NPR program series regarding the new California law.]

1-13-14: NPR (posted 1-10): "Listeners Weigh In: Transgendered Students Choosing Bathrooms"

"Editor Ammad Omar and host Michel Martin crack open the listener inbox for BackTalk. They talk about an ongoing conversation on California's new school bathroom law."

1-13-14: NPR (posted 1-07): "New Law Allows Transgender Students To Choose Bathrooms And Sports Teams"

"A new California law allows transgender students to choose restrooms and sport teams based on the gender they identify with. Host Michel Martin speaks with a parenting roundtable about the pros and cons."

1-13-14: New York Daily News: "Transgender woman CeCe McDonald released from men's prison McDonald and her friends had been harassed and peppered with slurs on a Minneapolis street in June 2011 when a fight broke out. McDonald stabbed a man to death during the brawl. In a plea deal, she was sentenced to 41 months, but was freed early.

"A transgender woman serving time in a Minnesota men's prison for stabbing a man to death outside a bar was released on Monday morning.

CeCe McDonald had been sentenced to 41 months in prison in May 2012 after pleading guilty to second-degree manslaughter as part of a plea deal.

1-10-14: Huffington Post: "The Fatal Transgender Double Standard", by Brynn Tannehill Director of Advocacy, SPART*A (more)

"A few days ago, Katie Couric interviewed transgender model Carmen Carrera, and Orange is the New Black star Laverne Cox. For whatever reason, Couric chose to veer suddenly into questioning Carrera about how her "private parts" are "different now" and if she's had that surgery yet. Carmen shushed her immediately, and reminded Couric that's a very private issue. In the next segment with Laverne, Couric went right back to asking Ms. Cox about the genitalia question.

Laverne's answer was flawless: "The preoccupation with transition with surgery objectifies trans people and then we don't get to really deal with the real lived experiences. The reality of trans people's lives is that so often we're targets of violence. We experience discrimination disproportionately to the rest of the [LGBT] community. ... [B]y focusing on bodies, we don't focus on the lived realities of that oppression and that discrimination."

Other commentators have noted that the bodies of transgender people are somehow public domain. Though Laverne alluded to it, not only are our bodies expected to be public domain, but so are our histories. The results of this unrealistic expectation are horrific . . .

From Gwen Araujo, to Brandon Teena, to Angie Zapata, to Cemia Dove, our lack of ownership of our bodies has meant being forcibly stripped, groped, raped, strangled, stabbed burned, and bludgeoned. It means that transgender panic defenses live on in court, and sometimes even win. After Brandon McInerney shot Larry King twice in the back of the head in the middle of a crowded classroom, the jury deadlocked on the case. Some even sympathized with the murderer. "[Brandon] was just solving a problem," one juror said.

Since Couric's interview, much has been written about how transgender people seem to have no expectation of privacy. Laverne alluded to the violence that the transgender community faces. Couric's expectation that transgender people have little right to physical privacy is an expression of the cause."

1-08-14: San Francisco Chronicle: "Bid to repeal transgender-student law falling short"

"Opponents of a new state law that expands transgender students' rights appear to have fallen just short of qualifying a repeal initiative for the November ballot, the secretary of state's office said Wednesday.

A random sampling indicated that the law's opponents failed to gather the 504,760 valid signatures of registered voters that they needed to put their measure on the ballot, Secretary of State Debra Bowen said. Her office will now begin a full signature-by-signature count that could take 30 working days, or until Feb. 24.

Opponents of the law, AB1266, turned in 619,244 signatures in November. But the random count showed that just 482,582, or about 78 percent, were likely to be valid, Bowen's office said.

The signature-gathering drive was mounted by a coalition of church and conservative groups called Privacy for All Students. It was led by Frank Schubert, a Republican political strategist who also headed the 2008 campaign for Proposition 8, the constitutional amendment that would have banned same-sex marriage in California. That measure passed, but federal courts ruled it unconstitutional."

[Ed: Let's keep our fingers crossed on this one. If it gets on the ballot, right-wingers will descend like vultures onto trans children in schools everywhere, during the 2014 elections.]

1-07-14: Huffington Post: "Laverne Cox And Carmen Carrera Discuss Transgender Issues On Katie Couric Show" (more)

"Transgender icons and television stars Laverne Cox and Carmen Carrera sat down with Katie Couric on "Katie" yesterday to discuss issues specifically affecting the transgender community, as well as their own personal journeys as trailblazing LGBT pioneers.

Carmen Carrera of "RuPaul's Drag Race" fame, who is also an Elite model, and Laverne Cox of "Orange Is The New Black" are two of the most prominent transgender figures in the entertainment industry today. When Couric tried to hit the two with a sensitive, and oftentimes invasive, question about transitioning and the cultural fixation on trans individuals' genetalia, Cox eloquently broke down the issues surrounding this mentality.

"I do feel like there's preoccupation with [transitioning]," Cox told Couric in the above clip. "I think the preoccupation with transition and with surgery objectifies trans people and then we don't get to really deal with the real lived experiences. The reality of trans people's lives is that so often we're targets of violence. We experience violence disproportionately to the rest of the community... when we focus on transition we don't get to talk about those things."

Cox also used her platform on the Couric show to highlight the tragic case of Islan Nettles, a trans women who was assaulted in Harlem earlier this year and subsequently died of her injuries.

Check out the clip of both Cox and Carrera above and head here to watch the segment where Carrera discusses her journey to becoming her authentic, realized self."

[Ed: Laverne Cox cooly conveys a vitally important message that we all need to spread.]

1-07-14: Haaretz (Israel): "Transgender man (sic) after attack: We're assaulted daily - Rise in homophobic violence prompts local 'Taking back the night' protest march next weekend"

"Over the weekend Tel Aviv police arrested 11 Israel Defense Forces soldiers on leave, who are suspected of attacking a transgender man (sic) in south Tel Aviv. Following the initial questioning of the soldiers, who are all from the Yavneh area, it seems that the attack was apparently motivated by boredom after the group had finished partying at a local club.

N., the victim, was attacked at 2 A.M. Saturday at the place where she has been employed for more than seven years. She says the men came up alongside her in two cars with dark windows, and two of them got out, one wearing a gorilla mask and the other a mask of a monster.

One man approached her with a stun gun, threatening to shock her and trying to hit her. She says she tried to back away to avoid a confrontation but the two ran after her and refused to leave her alone.

"I didn't show that I was afraid of them, but in the end I ran away," says N. "I wasn't looking for trouble and didn't want to be hurt by their shocker. When I ran away they drove after me for a bit, and the driver of the second car sprayed me with tear gas from inside the car. It burned my eyes and other parts of my body, but I wasn't seriously hurt. It was mostly humiliating."

The attack was not an unusual occurrence for N., who adds that she and her friends suffer such harassment frequently. Indeed, she says that violent men and homophobes attack transgenders who work in south Tel Aviv almost every day."

[Ed: The Haaretz editor/writer was apparently in total cognitive-dissonance when attempting to describe the victim.]

1-05-14: San Francisco Chronicle: "California's right pins hopes on transgender issue"

"Conservative activists will have a better idea this week of whether their ballot measure to overturn new protections for California's transgender students will appear before voters in November.

If it does, conservatives believe it could change the dynamics of an otherwise sleepy 2014 election year. The result could be a new round in the culture wars that would reverberate nationally - this time, over the rights of the estimated 700,000 transgender Americans.

It would also give California Republicans, facing long odds for major offices such as governor, perhaps their only reason to go to the polls this fall. The state's Republican Party has endorsed overturning the new law.

"This could get voters who wouldn't get out for other issues, but will for this," said Karen England, a longtime conservative activist who is co-chairing the Privacy for All Students campaign to put the measure on the ballot. "And I think this will stop any other state from introducing" similar legislation.
The stakes have been mounting for both sides since Gov. Jerry Brown signed the School Success and Opportunity Act in October. The law took effect Jan. 1, but its impact will be felt first this week as most California public school students return to class from the holiday break."

[Ed: If this proposal gets onto the California ballot for the fall of 2014, right-wing Republicans will go on a national-rampage of anti-transgender hate-mongering during the coming elections. Be prepared for the worst . . . ]

1-05-14: South China Morning Post (Hong Kong): "Draft laws for transgender marriage 'too limited' says expert Sam Winter"

"Draft changes to the city's marriage laws to recognise transgender people are too restrictive because they are limited to those who undergo sex-change operations, a leading transgender expert says. "The government is taking the minimalist approach," said Sam Winter, a University of Hong Kong associate professor and a director of the World Professional Association for Transgender Health.

On Tuesday, the Legislative Council's security panel will discuss the latest developments on proposed amendments to recognise transgender people following the landmark ruling last May that granted a post- surgery transsexual the right to marry her boyfriend. In handing down its judgment, the Court of First Instance gave the government a year to decide whether marriage laws needed to be amended to reflect the ruling that the definition of "woman" include a "post-operative male-to- female transsexual".

Winter cited the World Health Organisation's definition of a transgender person as someone who desires to live and be accepted as a member of the opposite sex and was "usually accompanied" by a wish to have hormonal treatment and surgery to reflect their desired sex. He said the words "usually" were crucial to the debate because there were individuals who met the diagnostic requirements for a transsexual but who opted to live as the opposite sex without going under the knife.

"The draft legislation is not inclusive or comprehensive enough," Winter said. "But we are cautiously optimistic that the government will set up an interdepartmental group which could be the first step to look into broader transgender issues without going to the courts," he added."

1-04-14: The Express Tribune (Pakistan): "Gay or transgender: A psychiatrist's perspective on Uzma Tahir's show "Khufia"", by Hassan Majeed MD"

"Aab Tak, a Pakistani television station started its transmission earlier this year with a strong statement,

'Ladies, Gentlemen and She-males'

It did not take long for the station to air a sensational TV show Khufia where the hostess, Uzma Tahir, ignored people's right to independence and a free life as she bullied them with a television camera. Chasing people frantically on the streets of Karachi, she and her team put hands on people, manhandled them and then barged into their homes with a camera crew to ask the victims of her camera bullying,

"Are you gay or transgender?"

The saddest part of the show occurred later when the hostess arrogantly ignored someone's suicide threat. I couldn't accept the fact that Uzma Tahir didn't care about human life. Suicide is a preventable death and every suicide threat needs to be taken seriously. The most sickening moment came when she wishfully said,

"Why don't these people become targets of bombs?"

One victim of her television camera abuse pleaded on air that he had some mental health issues and couldn't talk about them. She tortured the poor soul by judging him and mockingly saying,

"How can a 'crazy' know that he is 'crazy' and even know his doctor? This is enough to prove that you are lying."

It is a known fact that people with mental illness and non-conforming sexual behaviour are often victims of violence but it is quite rare to find sexual and psychological harassment by a television program crew . . .

People with different sexual orientations and behaviours lead a very difficult and objected life in Pakistan. A television program like Khufia can risk many other lives. It is time to treat transgender and transsexual people with respect as fellow human beings. There is a need to accept their presence in society and to help them with education and employment in regular jobs.

In the television program, I came across many of the victims requesting opportunities for honourable lives like everyone else in society. Unfortunately, their voices were ignored."

1-04-14: Times of Israel (Isreal): "11 arrested for attacking transgender prostitute – Tel Aviv assault carried out by men in Purim masks using mace and tasers, police say"

"Eleven men were arrested on Saturday morning on suspicion of attacking a transgender prostitute in Tel Aviv.
Police suspect the men assaulted the prostitute, dressed in women's clothing, overnight Friday on South Tel Aviv's Hamifal Street using mace and tasers. They were wearing Purim masks.

The men, all Yavneh residents in their twenties, were arrested after police chased down the two vehicles in which they were riding. The prostitute was lightly wounded and did not require medical treatment. Police opened an investigation against the men on Saturday morning."

1-04-14: Press Enterprise, Riverside, CA: "TRANSGENDER COMMUNITY: Suicide attempts common", by David Olson

"I recently wrote about Jaden Handzlik, a 17-year-old transgender boy from Murrieta.

Transitioning from the biologically female person he was born as into a boy hasn't been easy, he told me. When Jaden was a toddler named Jill, she threw tantrums when her parents tried to force her to wear dresses, and she pulled earrings out of her ears. The incompatibility between the body Jill was born with and the gender she identified with became even more obvious during puberty, as her breasts began to grow.

"If this is life, then I don't want to live," an October 2011 entry in Jill's diary read. "I have no identity. I have no reason to live. I just want to die."

But Jaden was in some ways lucky. Despite the emotional turmoil he has endured through most of his life, Jaden only THOUGHT about suicide. Forty-one percent of transgender people surveyed said they had attempted suicide, compared to 1.6 percent of the population as a whole, according to this 2011 report from the National Center for Transgender Equality and the National Gay and Lesbian Task Force.

The report found higher rates of suicide attempts among transgender people who were harassed or bullied in school and those who were rejected by family.

Jaden is lucky in those respects as well. His parents and brother have been loving and supportive, and Jaden said no one has bullied him at Murrieta Mesa High School. Teachers and school officials have always treated him with respect.

Despite all the support Jaden has received, he still faces isolation. Boys in his neighborhood who used to hang out with him now ignore him. But he said he's happier and much more comfortable with himself now. And he no longer wants to kill himself."

1-04-14: NPR: "Transgender Issues Follow Path Blazed By Gay Rights"

"It may have been "" as some gay and lesbian activists put it — 2013 saw the Defense of Marriage Act struck down by the Supreme Court and the number of states offering marriage rights to same-sex couples doubled, to a total of 18. But as 2014 begins, another issue is gaining traction: transgender rights.

A new transgender rights law went into effect Jan. 1 in California. Called the School Success and Opportunity Act, the law allows students to use the facilities consistent with their gender identity and to play on sports teams, and adds protections against bullying and harassment.

Transgender stories have registered in the media recently, too. Chelsea Manning, who came to prominence as Bradley Manning, is now in prison, convicted of leaking classified government information.

And a transgender character in Netflix's new series, Orange Is the New Black, was named one of Time magazine's of 2013."

1-02-14: BuzzFeed: "Fallon Fox, The First Transgender MMA Fighter, Opens Up To GQ "Dark and powerful. That was my version of femme."" (more)

Fallon Fox, born Boyd Burton, is a 37-year-old transgender athlete who fathered a daughter and served in the Navy before transitioning. Now her job is to fight women. During a recent interview with GQ magazine, Fox opened up about her life as a transgender professional MMA fighter. Here are a few of the highlights."

[Ed: A wonderful series of photos and quotations by Fallon Fox.]

1-02-14: San Francisco Chronicle: "Bride met soul mate - who happened to be a transgender man"

"It was June of 2010 and Kyra Byrne attended her first San Francisco Pride celebration. The workers' rights advocate had moved from the East Coast the previous year, and the last thing on her mind was a relationship.

At a Michael Jackson dance party that broke out spontaneously in the Mission, a random man grabbed her hand. "There's the cutest guy over there, come meet him with me," he said. Kyra reluctantly played wingman, and shared an awkward moment with these two strangers. She then fled back to her friends.

It could have ended there. But as soon as "the cutest guy" laid eyes on Kyra, he was done . . . "

1-02-14: Just Plain Sense: "Ten Years On", by Christine Burns

"TEN YEARS AGO, at the start of 2004, the House of Lords was debating the Gender Recognition Bill. The debate began in the Lords on 18th December 2003 and ended in a long and colourful report stage debate and third reading in the House of Commons on 8th June 2004.

Three weeks later, on 1st July 2004, the legislation received Royal Assent to become an Act of Parliament and, in April 2005, a new Gender Recognition Panel began receiving applications for the legal recognition of people who had undergone gender reassignment.

Since that time approximately four thousand people have successfully applied under the terms of the Act to be recognised for who they are in their acquired gender. After the inevitable rush of cases to begin with, the rate quickly settled down to around 300 cases per year and has remained fairly constant at that rate ever since . . .

For all that ongoing struggle there is no doubt, in hindsight, that the Gender Recognition Act had a transformative effect on the consciousness of the UK's trans community.

When the Act was passed, few people would identify themselves willingly as trans and stand up to talk about these issues. Nowadays there are hundreds — even thousands — of people openly talking about them . . . The understanding of the diversity of what 'trans' or 'transgender' means has been transformed . . .

Pressing Matters tells the story of how Britain's tiny transsexual population lost their rights to privacy, legal protections and the recognition of family relationships for more than a generation in 1970. It explains how the long road to organising as a campaign took shape — and the setbacks along the way.

Pressing Matters is not a dull academic history though. The story of how Press for Change took shape and found its feet is woven with my own personal memoir of how it was on the inside — helping to create an effective political force engaging the energy of people who were mostly closeted, frightened, poor and geographically isolated.

Pressing Matters describes a time before email — before the web — before social media — and how the fledgling organisation gradually harnessed the power of computing and electronic communications as these became available. It is about careful strategic planning to use judicial processes effectively. But it is also about swift footed opportunism and community building too."

[Ed: Christine Burns's history of the hugely successful Press for Change campaign provides a powerful script for others to follow.]

1-01-14: The Associated Press (6-25-13): "Gender a new challenge for schools"

"Attitudes about differences in gender identity have been changing, even in the last decade, says Eli Erlick, a transgender student and graduating high school senior in Willits, Calif., a small town in the northern part of the state.

When Erlick began her transition from boy to girl at age 8, she says that even she didn't know what the word "transgender" meant. She just knew that she wanted to live life as a girl. "I thought I was the only person like this," she says.

School was difficult. Some teachers made fun of her in front of the class, she says. To avoid dealing with which bathroom to use, she would pretend to be sick, so she could go home and use the facilities there.

Now Erlick is the director of an organization called Trans Student Equality Resources, which provides schools with training and information about students like her. Erlick also has helped her school district and others in California develop transgender policies.
Some schools in other states are doing the same."

[Ed: Story about Eli Erlick, a young trans woman featured in the 1-01-14 Autostraddle article.]

1-01-14: Autostraddle: "35 Trans Women I Had #Herocrushes On In 2013", by Mey

A #HeroCrush has nothing to do with romantic or sexual attraction. You don't even have to want to be friends with the person. Instead, it's all about people you admire and look to for inspiration and influence. It's that special feeling you get when you look at someone and you think, "dang girl, I want to smash the patriarchy with you!" You can see yourself holding hands with them marching in a parade or creating a human blockade. You fantasize about a future spent together dismantling systems of oppression side by side. You want to follow them on twitter and you make sure to tune in when you hear that they're going to be on MSNBC or NPR. For me, a lot of my #herocrushes in 2013 happened to be trans women. Some of these people are heroes because they faced serious oppression or obstacles, others are heroes because they're thriving in their fields, but all of these trans women deserve to be recognized and remembered this year.

[Ed: A wonderful series of photos and vignettes about an amazing group of women!]
---
Click here to access the current Trans News Updates
Click here to access the Trans News Updates for 2013 (2nd half)
Click here to access the Trans News Updates for 2013 (1st half)
Click here to access the Trans News Updates for 2012 (2nd half)
Click here to access the Trans News Updates for 2012 (1st half)
Click here to access the Trans News Updates for 2011 (2nd half)
Click here to access the Trans News Updates for 2011 (1st half)
Click here to access the Trans News Updates for 2010 (2nd half)
Click here to access the Trans News Updates for 2010 (1st half)
Click here to access the Trans News Updates for 2009 (2nd half)
Click here to access the Trans News Updates for 2009 (1st half)
Click here to access the Trans News Updates for 2008 (2nd half)
Click here to access the Trans News Updates for 2008 (1st half)
Click here to access the Trans News Updates for 2007
Click here to access the Trans News Updates for 2006
Click here to access the Trans News Updates for 2005
---
LynnConway.com > TS Information > Trans News Updates
---
Reset 3-02-06