Trans News Updates of 2013 (Jul-Dec):
This page links to news of general interest to the trans community during the second half of 2013. This running log of news also serves as a window into areas of media focus and public interest regarding trans issues during 2013. Let us know if you hear of news to include in this list. To access to a wide range of trans news, we recommend "Google News", searching on keywords such as transgender, transsexual, sex reassignment, sex change, gender variance and gender transition.
2013: Jul, Aug, Sep, Oct, Nov, Dec
Link to first half of 2013
Lynn Conway
Click here to access the currrent Trans News Updates
---
December 2013

12-31-13: Amazon.com: "Pressing Matters (Vol 1) [Kindle Edition]", by Christine Burns

"Press for Change (founded in 1992) was a hugely successful campaign for the civil rights of transgender people in the UK -- achieving in the first 12 years a string of legislative successes that included protection against discrimination in employment, the right to NHS treatment and ultimately the process for full legal recognition of transsexual people in their acquired gender in 2004. The organisation continues to this day.

These are the memoirs of Christine Burns MBE, one of the leading figures in that campaign until 2007. Christine tells the story of how she personally became involved in campaigning and how that involvement entwined in her home, work and political life.

This is no conventional trans biography, nor is it a conventional political history. Christine tells the story of a remarkably successful campaign from her personal perspective, at the centre of much of the action. Her perspectives provide valuable insights into how such a successful campaign planned its strategy and grew, working all the while on a minuscule budget.

The historical perspective is backed up with extensive contemporaneous material (including her personal correspondence) written to document events as they happened. And the personal perspective is full of revealing insights into Christine's inner life, her loves, her setbacks and concerns.

Nobody has ever before published an account of this amazing period in the development of civil rights for trans people. And few transsexual people have written in this detail about their lives and career development on the "other side" of the transition from one gender to the other.

This first volume covers the background to why trans people sought civil rights in the UK and Christine's personal recollections from childhood until 1997 when the major elements of the campaign were in place. The second volume will cover the period from 1998 onwards -- successes and failures -- leading to the passage of the Gender Recognition Act in 2004 and afterwards."

[Ed: With this amazing book, Christine Burns unfolds how the UK's Gender Recognition Act came to be.]

12-31-13: The Advocate: "Connecticut Becomes Fifth State to Require Transgender Medical Coverage – The state's insurance department issued a directive informing health insurance companies operating within the state that they are now required to cover benefits."

"Joining California, Colorado, Oregon, and Vermont, Connecticut will become the fifth state to require health insurance providers to cover treatments related to gender transition.

A December 19th bulletin prohibits a health insurer from implementing blanket policy exclusions for transition-related care. Insurers will still be allowed to evaluate the medical necessity of any given treatment on a case by case basis, much like they'd evaluate any other insurance claim.

Deputy Insurance Commissioner Anne Melissa Dowling told the Hartford Courant, "[Connecticut] wanted to go out and affirmatively make [the policy] very clear." She later states, "As we were turning the corner into the new year, we just wanted to make sure every constituency was clearly heard."

Citing a 2011 statute that added "gender identity or expression" to the state's antidiscrimination law concerning employment, public accommodations, housing, credit, public schools, and other areas, including health care, the Connecticut Insurance Department considered lawmakers' intent and extended equality into health insurance practices. The bulletin goes on to state, "medically necessary services related to gender dysphoria should not be handled differently from medically necessary services for other medical and behavioral health conditions.""

12-30-13: Huffington Post: "10 Transgender Wins of 2013 You Should Know About", by Mara Keisling

If anything is true of transgender rights in 2013, it's the year the right wing fringe in the U.S. set their sights and their fundraising machines on our community.

Between Arizona lawmaker John Kavanagh's attempt to criminalize transgender people for using public restrooms to the radical National Organization for Marriage's campaign to repeal California's equal access law for transgender students, this was the year the right wing fringe started gunning for us with their hate.

Their standard operating procedure is well-documented. A right wing extremist group fabricated stories of an innocent transgender girl in Colorado preying on other girls in locker rooms resulted in that transgender child being placed on suicide watch. A minor-league GOP official in South Carolina threatened to round us up into concentration camps. And anti-transgender groups put forward their best effort to block or repeal local LGBT non-discrimination laws in San Antonio, TX and Royal Oak, MI. (They failed, by the way).

And while the threat from right wing extremists will only grow in 2014, the attacks are coming as we expected they would when the National Center for Transgender Equality was first founded. For the last ten years, we have been carefully allocating our resources, laying the groundwork for win after win that smartly sets us up for the next win. So despite the right wing's best efforts -- for transgender people and the transgender movement -- 2013 was also the year when the dominoes on healthcare, employment protections, and ID records began to fall the way we needed them to.

While we'll continue to push back on the growing threat of right wing extremists, 2013 marks an important year for transgender people -- it will be remembered as a year that put us right to the edge of the tipping point. Below is a list of 10 wins in 2013 that, I believe, illustrate why . . . "

12-27-13: Press Enterprise, Riverside, CA: "TEEN IN TRANSITION: Jill becomes Jaden", by David Olson

"Jaden Handzlik showers in the dark so he doesn't have to look at his biologically female body. He dresses himself under his bed covers to prevent himself from glimpsing even a shadow of the body he wishes he hadn't been born with.

When the 17-year-old high school student walks downstairs into the kitchen of his Murrieta home for breakfast, past family photos of him when he was a long-haired Jill Handzlik, he's wearing an elastic and cloth binder that flattens his breasts.

Jaden is still in the early phases of his transition to becoming someone who looks as male outside as he feels inside. Four months of testosterone have added hair to his legs, his arms and below his navel. Peach fuzz has sprouted on his cheeks.

But his fantasies of walking shirtless on the beach, looking like any other guy, have yet to be fulfilled. "I hate having those dreams," Jaden said. "Because it's not now."

Jaden and other transgender youth are at the center of a cultural and civil-rights battle that may lead to a high-profile referendum campaign in 2014.

In August, Gov. Jerry Brown signed a bill into law that requires school districts in California to allow students to use restrooms and join sports teams that correspond to the gender they identify with, rather than the biological sex they were born with.

It is scheduled to go into effect Jan. 1, but opponents are seeking to repeal the law with a November 2014 voter referendum. Petitions are now being reviewed to determine whether the proposed referendum has enough valid signatures to qualify for the state ballot."

12-13-13: Associated Press: "Many hurdles ahead for transgender rights movement"

"As gays and lesbians rack up victories in their quest for marriage equality and other rights, transgender Americans are following in their path — hopefully, but less smoothly.

There have been some important legal rulings and political votes in recent months bolstering transgender rights. But those have coincided with an upsurge of hostility from some conservative activists, and an acknowledgement by transgender-rights leaders that they face distinct challenges in building public support for their cause.

"My sense is that we are 20 years behind the mainstream gay and lesbian movement in terms of public understanding," said Michael Silverman, executive director of the Transgender Legal Defense and Education Fund.

"I see a lessening of anti-gay rhetoric as the American people get to know gays and lesbians," he said. "But fewer Americans know transgender people that way at this point, and that presents an opening that opponents of transgender rights can exploit" . . .

Mara Keisling, executive director of the National Center for Transgender Equality, says the best strategy for combatting such attitudes would be to enable more Americans to become familiar with transgender people.

"A huge number of Americans now have gay family members, gay co-workers ... but most of them don't know a transgender person, and that means we're ripe for scapegoating," Keisling said. "There are a lot of people in this country who just are ignorant about us. They hear people in authority demeaning and dehumanizing us, and they believe it.""

12-12-13: Aljazeera (re India): "Tough times for India's transgender community Transgender people in India face turbulent times, as top court reinstates ban on gay sex"

"India's Lesbian, Gay, Bisexual and Transgender (LGBT) community has reacted with shock and horror to Wednesday's Supreme Court ruling, reinstating a ban on gay sex.

Hundreds have poured onto the streets across cities since then, expressing their collective outrage at the verdict they say drags the community back into "medieval ages".

While calls grow for rescinding the ruling, politicians, legal luminaries and actors alike, have joined the chorus of criticism on the ban on "sex between two consenting adults".

The top court's ruling ends a brief interlude when the much-misunderstood LGBT community felt they had a rightful place in the country. A High Court in 2009 had struck down a law that criminalized gay sex with long jail terms, and unshackled them to lead normal lives.

But its back to square one now, and the LGBT community is bracing for a fresh protracted battle to earn back its rights.

It's the toughest for the transgender community to live in a social milieu that has very little understanding of them and subjects them to regular ridicule.

For years, they have loudly proclaimed that they were perfectly normal human beings, albeit with a different sexual orientation. But as society struggles to understand and embrace them, transgenders continue to live on the margins.

They laugh, cry, love, despise, dream, despair and do everything else as everyone else does. Only, life seems a lot tougher for transgenders with mindsets stacked against them."

[Ed: Includes powerful photos of transwomen whose identities have been recriminalized in India.]

12-12-13: National Journal: "Younger Americans Back Transgender Worker Protections -- But United Technologies/National Journal Congressional Connection Poll finds support decreases with age."

"Thanks to overwhelming support among younger Americans, a majority of the country would support new legislation barring workplace discrimination against transgender people. But the latest United Technologies/National Journal Congressional Connection Poll found that older generations are less likely to support protections for transgendered people in the workplace than for gay workers.

Even among supporters of new legislation barring employers from treating workers differently because of their sexual orientation, the poll found many people were less sure overall about extending protections to transgendered people.

The numbers reflect a longtime split in the LGBT activist community, in which the "T" has often taken a backseat and seen less recognition and progress on its issues. That has started to shift among the younger generation of activists and gay-rights supporters, and the poll results show a narrower gap between support for gay protections and transgender protections among younger respondents to the poll."

12-12-13: Los Angeles Times (posted 12-10): "Right wing frenzied over transgendered students choosing bathroom"

Last August, Gov. Jerry Brown set off a right-wing frenzy when he signed into law an anti-discrimination bill that seemed pretty straightforward: Transgender public school students in California should be able to use the sex-segregated bathrooms and play on the sex-segregated sports teams of the gender with which they identify, not the gender listed on their school records.

As soon as Brown signed the bill, AB 1266, which is set to go into effect on Jan. 1, the right sprang back with Privacy for All Students, a coalition aimed at overturning the law, which they have dubbed the "Co-ed Bathroom Bill."

Why? In the words of Focus on the Family's James Dobson, in a radio segment about the law, "God made us male and female. You just don't choose gender." . . .

Over 90 days, using volunteer and paid signature gatherers, Privacy for All Students amassed about 620,000 signatures, 400,000 of them directly from churches, according to political consultant Frank Schubert, the Prop. 8 campaign brain who is handling this effort. Schubert is also the political director of the National Organization for Marriage, or NOM, which is also backing the effort . . .

"All of this is damaging to society," Schubert said. "They are using those children to advance an agenda to strip society of all gender norms and to move down a path where men and women are considered to be interchangeable, where gender is an irrelevant fact, something that's fungible and flexible."

12-11-13: Washington Post (re India): "Court in India criminalizes homosexuality"

"India's Supreme Court overturned a historic lower court decision on homosexuality Wednesday, making consensual same-sex acts once again a crime in the world's most populous democracy.
The court ruled that India's colonial-era homosexuality law — which says that gay sex is "against the order of nature" and punishable by up to 10 years in prison — is constitutional. Changing it should be left up to the country's Parliament, not the courts, the judges ruled.

Human rights activists called the move a "major setback" to the decade-long fight against the law — known as "Section 377" — which was ruled unconstitutional by a Delhi High Court in 2009. That victory has long been seen as watershed moment for the country's burgeoning gay-rights movement — in a still traditional and deeply religious society where many homosexuals have long felt the need to conceal their sexual identities, and even marry members of the opposite sex, because of the stigma attached.

At a news conference following the decision, activists said that they were shocked and discouraged by the court's ruling.

"It's a black day for us," said Anjali Gopalan, the founder of the Naz Foundation, a nongovernmental organization that works on HIV/AIDS and was the petitioner in the original Delhi case. "I feel so exhausted right now thinking we are being set back by 100 years. . . . I think it's pathetic and sad."

The court's 2009 decision was widely controversial and opposed by many religious groups. A lawyer for the government who presented arguments in the case before the Supreme Court in February 2012 called gay sex "highly immoral," touching off another firestorm. "All religious communities — Muslims, Christians, Hindus — had said that this was unnatural sex," said Ejaz Maqbool, a lawyer representing religious groups. "Today, the Supreme Court held that the earlier judgment was wrong."

12-11-13: Medical Xpress: "Transgender medical research and provider education lacking"

"As a result of the limited transgender medical training offered at medical schools, very few physicians possess the knowledge needed to treat transgendered patients. This circumstance is the topic of a paper in this month's issue Current Opinion in Endocrinology, Diabetes and Obesity.

Joshua Safer, MD, FACP, associate professor of medicine at Boston University School of Medicine (BUSM) and Director of the Endocrinology Fellowship Training Program at Boston Medical Center, is the senior author of the piece which includes guidelines for transgender treatment and also references the impact of recently piloted teaching on the topic at BUSM.

There are approximately 900,000 transgender persons living in the U.S. These individuals have a unique set of medical needs because their gender identities do not correlate with their biological sex. Medical interventions such as hormone therapy are required to appropriately and safely address the health of transgender patients.

According to Safer while many of the treatment regimens for transgender patients are fairly straightforward, very few physicians have the knowledge needed to treat these individuals. In fact, many physicians share the misconception that transgender treatment is a psychological issue and that gender identity can be reversed—an assumption that has been discredited.

"Because medically appropriate high-quality care for transgender individuals is not taught in most medical curricula, too few physicians have the requisite knowledge and comfort level for treatment of transgender individuals," explained Safer.

Safer has recently piloted a transgender medicine component to the pathophysiology curriculum for medical school students at BUSM. According to pre- and post-course surveys published this summer in the journal Endocrine Practice, there was a 67 percent improvement among students enrolled in his course regarding their confidence with transgender medicine.

Safer is working to develop comprehensive transgender medicine training curricula for medical students, physician trainees, teaching physicians and other health care professionals. to address the specific biological distinctions of the patient group and evidence-based treatment paradigms derived from that biology. This training program would increase access to safe care for transgender patients."

12-10-13: Taipei Times (Taiwan): "Ministry supports easing rules on gender-change: The health ministry said it was time to scrap the 'medical prerequisites' for gender change to reflect the priority placed by the government on human rights"

"Following a heated debate, the Ministry of Health and Welfare yesterday came to the conclusion to scrap a regulation requiring people to meet certain "medical prerequisites," such as psychiatric assessment and gender-specific organ removal, before they can officially change their gender.

"We have arrived at the conclusion that the requirement to fulfil medical prerequisites should be voided," Chen Kuai-lo (陳快樂), director of the ministry's Department of Mental and Oral Health, announced after the decision was reached at a meeting in Taipei that he presided over . . .

Speaking to the Taipei Times in a brief interview after the meeting, Chen said that in 2008, the interior ministry issued an executive order requiring the removal of gender-specific organs and assessments by two psychiatrists before a citizen is allowed to change their gender on official documents.

"Since human rights values have become more of a priority for the government in policymaking, we feel it's time to make a change and respect the will of any person wishing to change their gender," Chen said.

However, because the current regulations were issued by the interior ministry and it is the authority in charge of household registration and compulsory military service, the health ministry's conclusion has to be forwarded to the interior ministry for further examination before it can begin the process of implementation."

12-08-13: Global News (Canada): "Two transgender children struggle to be themselves", by Mia Sheldon and Jill Krop

"From Trey to Tracey: One child's journey to be herself

For Tracey Wilson, who is 10 now, her struggle is making sure people see her the way she does. She is transgender; born a boy, but has identified as a girl for as long as she can remember . . .

10-year-old transgender child fights to have gender removed from birth certificate

"I've always been a girl, even when I was considered a boy," says 10-year-old transgender child, Harriette Cunningham

Harriette is transgender, born a boy but identifies as a girl. About a year ago, Harriette fully transitioned, legally changing her name from Declan, wearing only female clothes and being referred to with female pronouns.

Biologically, she is still a boy, but she now wants her birth certificate and passport to reflect her real identity . . .

[Ed: This article contains series of very-powerful video interviews. Please pass this link on!]

12-08-13: Huffington Post: "Myths About Gender Confirmation Surgery", by Brynn Tannehill

"Recently I attended training on lobbying for transgender issues. One of the big "no-no's" was talking about medical care for transgender people. The reason is pretty simple: people have a visceral negative reaction to the idea of genital surgery. In many ways, the reaction the idea of Gender Confirmation Surgeries (GCS) resembles the reaction people have to the thought of two men having sex.

The problem is that the lack of understanding about GCS for transgender people is the biggest impediment to actually receiving care. When I read the comments section of a recent article on an individual who is resorting to crowd funding her GCS, I saw the same misconceptions popping up over and over again. As a result, I wanted to address the most common comments on the subject . . . "

[Ed: A very valuable deconstruction of 16 myths about trans-surgery. Please pass this link on.]

12-07-13: The Plain Dealer: "Two violent deaths in two days worry Cleveland transgender community"

"The violent deaths of two transgender women in the last few days has sent shock waves through a community whose members remain outraged over the brutal murder in January of a transgender woman in Olmsted Township.

Jacob Nash, an advocate for the Greater Cleveland transgender community, said the death Friday of Brittany Stergis looks particularly like a hate crime. Stergis, identified by the Cuyahoga County Medical Examiner's Office as Laron Kidd, was found shot in the head inside her car off West 25th Street. "There would be no other reason for anyone to come up like that and shoot somebody the way they shot her," Nash said.

Police said the 22-year-old was parked at a public housing facility. Nash said the area is near nightclubs. Police initially said the victim was a woman, but on Saturday said the person was a man dressed in women's clothing.

On Thursday morning, Betty Skinner, a 52-year-old disabled resident of a senior apartment complex in Cleveland's Old Brooklyn neighborhood, was found dead in her bed of an apparent homicide. She had head injuries.

Skinner legally changed her name from Brian Skinner in 2002. Nash said he did not know when Kidd began calling herself Brittany Stergis. There have been no arrests in either case.

"

12-05-13: The Daily Mail (UK re US): "Bias incidents at Vassar were a hoax as one of the culprits was 'the transgender student leading the investigations into the offensive graffiti'"

"A string of offensive graffiti messages were made by the transgender student who was tasked with leading the investigation group, according to Vassar College officials.

One of the two known culprits was revealed as Genesis Hernandez, a transgender student in charge of the Bias Incident Reporting Team, and officials said that the offending pair were the ones behind some of the graffiti.

The school's director of media relations told MailOnline that they have only been able to pinpoint two of the six incidents to the pair, and the investigation into the other incidents is ongoing.

Some of the messages- though it is unclear whether they were the ones attributed to the guilty pair or not- included offensive sentiments such as 'Hey Tranny. Know Your Place' and 'Avoid Being B****es'.

Another message found on a student's door was 'F*** N*****', showing that gender identity was not the only bias issue being addressed by the culprit."

[Ed: There are wackos and losers in every community.]

12-04-13: Stanford Daily: "Anti-Transgender Campaign Shows Lack of Awareness and Education

"Currently, in the state of California, transgender students' rights are in contention. Six weeks after the Supreme Court of the United States decided in favor of gay marriage in two landmark cases, California governor Jerry Brown signed into law the School Success and Opportunity Act (SSOA). SSOA states that all students have the right to participate in gender-segregated activities and use gender-segregated facilities according to their gender identity. It was authored in response to reports that transgender students were being prohibited from using gendered restroom facilities and appropriately participating in activities such as sports or physical education. The law is set to go into effect on January 1, 2014. . .

Unfortunately, there has been considerable backlash to this law. The National Organization for Marriage, the Pacific Justice Institute, the Capitol Resource Institute, and Faith and Public Policy have bankrolled the conservative coalition Privacy for All Students to use California's referendum to put the law on the ballot next year. As of November 10, Privacy for All Students has gathered 620,000 signatures, largely by taking advantage of the public's lack of awareness about transgender people. One organization's homepage prominently features a misleading banner urging readers to stop the "Co-Ed Bathroom Bill," a line of argument that has been used extensively to scare voters into signing the petition for the referendum effort. Another example of scare tactics used by Privacy for All Students are the Pacific Justice Institute's publicly-admitted lies about a transgender student harassing classmates while using the women's restroom.

Until widespread awareness is raised about transgender issues, the public will continue to be misled by conservative groups. If SSOA ends up on the ballot, it will only contribute to the damage done by years of silence around transgender issues."

12-04-13: The Raw Story: "Ohio mom accuses other parents of bullying her transgender daughter" (with excellent video)

"A central Ohio woman says other parents are using social media to harass her and her transgender child.

Emily LeVan said she legally changed her daughter's name last week from Keaten to Keat to reflect her identification with the female gender and announced the move on Facebook. "I was celebrating it because it was a big step for us, and a couple of people took it upon themselves to berate me for it," LeVan said.

LeVan said parents of some of Keat's classmates at Highland Elementary School in Morrow County wrote negative or derogatory messages about her daughter. "I am terribly ticked that the parents are allowed to send their boy to school as a girl and put him in this embarrassing situation," wrote one parent, and another called her actions child abuse.

The transgender girl said she was teased by other children as she started her transition last year, saying that she was a boy the year before. "I said, 'I was a girl, and it's none of your business,'" said 9-year-old Keat.

School officials said they addressed the harassment immediately and have a zero tolerance policy for that type of behavior. "It's disgusting," said Highland Local Schools District Superintendent Bill Dodds. "We don't accept it, and we won't accept it."

LeVan said she's troubled by the way other parents have acted, but she appreciates the school district's support."

12-03-13: New York Daily News: "Transgender student speaks out about bullying before fight, reveals systemic problem"

"Californian high school student Jewelyes Guitierrez opened up to her school board about the bullying and harassment she suffers on account of her transgender identity. Advocates on the West Coast and here in New York are trying to foster safer environments for such students, especially in light of recent studies on the prevalence of suicide among LGBT youths . . .

A transgender high school sophomore spoke out Monday about the relentless harassment that compelled her to fight back last month — pushing her into the national spotlight.

"As I was telling her how she was being disrespectful and rude, she spits gum in her hand and throws it in my face," said Jewelyes Guitierrez, a student at Hercules High School in California. "It was just build up after build up after build up and no one was there to really, like, help me."

Guitierrez told the school board that she unsuccessfully tried to get help from the vice principal before the Nov. 15 fight that was captured on a cellphone camera, reported local station KNTV. All of the students involved were suspended."

12-03-13: Providence Journal: "Actually Andy, Part 4: After surgery, newfound pride, peace of mind / Gallery"

12-03-13: Providence Journal: "Actually Andy, Part 3: Surgery is a major milestone in transgender journey / Gallery"

12-03-13: Providence Journal: "Actually Andy, Part 2, A teenager's gender journey: A new name, a 'fresh start' / Gallery"

November 2013

11-30-13: Providence Journal: "Actually Andy, Part 1: A major announcement in teenager's gender journey / Gallery", by Karen Lee Ziner (includes a wonderful video)

"Part 1 of a four-part series:

Andy Schultz, blue-striped tie loosened at the collar and faded gray cap tugged low, stares into a webcam lens. It is Feb. 6, 2013. From the family room, the 16-year-old nervously delivers a major announcement to Facebook friends:

"About a year ago, I came out as a lesbian. It is true, I do like girls. But I'm not a girl. At least, not where it counts. So, I'm transgender."

In this first of a series of video updates, Andy says, "Today I had my first shot of T." That's T for testosterone, a cross-gender hormone treatment that marks a major step in Andy's personal and medical transition from female to male. From female to male — FTM. Andrea Schultz to Andrew Noel.

"You don't have to call me Andrew right away," Andy says. "You can just call me Andy, my nickname." He gives his Facebook viewers an out, saying that if his gender transition "makes you uncomfortable and you don't want to speak to me anymore, OK, fine ..."

And then Andy — still legally Andrea Schultz — but identifying as a male — asks for love and support.

Beyond that, he hopes that telling his story will help counter the widespread discrimination and prejudice that transgender people face, and foster understanding and acceptance."

11-28-13: Huffington Post: "Ashley Jones, Transgender Woman, Documents Transition In YouTube Video" (more)

"Ashley Jones is a transgender woman who documented the experience of her transition over the course of a year's time. In this incredible video, Jones chronicles her journey through a series of photographs.

Jones told The Huffington Post that she decided to make the video after seeing so many of her transgender sisters coming to an understanding of their gender identity and her desire to share her story with them.

"I used to drown my sorrows in alcohol and drugs and tried to do 'manly' things many, many times because I always thought I would turn into some horrible creature if I transitioned, and I thought even the notion of 'becoming a woman' was out of the question," Jones told The Huffington Post.

"It was hard for awhile when I first started but every month I looked in the mirror and, little by little, I started seeing the person I saw inside my heart and it became easier and easier to be me... I know there are other trans girls just like me out there, that are scared and unsure, but I just hope that by watching this video, it will spark some hope in their hearts, because everyone deserves to be happy."

Check out the beautiful video . . . "

11-28-13: The Daily Mail (UK): "'Now I only have cake on my birthday!' Sonny and Cher's transgender son Chaz Bono opens up about his 85lb weight loss"

"Sonny and Cher's transgender son Chaz Bono has opened up about his dramatic 85lb weight loss, claiming he feels 'more confident', 'healthier' and 'happier' than ever.

The 44-year-old LGBT advocate, author and musician, told Extra TV that he has cut out 99per cent of grains and dairy from his diet, adding: 'I pretty much eat vegetables, meat, fruit, nuts . . . My birthday is the one day of the year I'll do cake.'

In a bid to get rid of the excess skin hanging off his body he went under the knife this month - an experience he described as 'not fun, but worth it.'

His 5ft 5in frame previously tipped the scales at 250lbs, putting him in the obese category. But now, thanks to adopting a healthier diet, he weighs a lighter 165lbs.

Asked what his famous mother thinks about his transformation, he replied: 'She's pretty darn proud of me.'"

11-27-13: NewYork Times: "The Masculine Mystique − Custom Suits to Make Transgender and Female Clients Feel Handsome"

"Breakthrough ideas often come from the least expected sources. For Daniel Friedman, the flash came from a woman named Rachel Tutera. Mr. Friedman makes custom men's suits, mostly for corporate clients in his end of Park Slope, Brooklyn.

Ms. Tutera runs a blog called The Handsome Butch. When she wrote to him last year, seeking a sales job, she had a proposition: Why couldn't Mr. Friedman, with his expertise in men's suits, make them for women like her — not women's suits, but the same gear he was making for guys, with the same masculine profile, but fitted to women's bodies? It was a question he had never considered.

In a coffee shop near his home the other day, he seemed still struck by the world that opened to him after that initial email.

"The whole thing is really strange, and sometimes I can't — " he said, his voice evaporating into the wonder of it all. He was not even sure how to identify Ms. Tutera, gender-wise. Was she transgender or just mannish? Sometimes it was hard to know such things. What he knew was that she had changed his life. "When we started this business, it was for money," he said. "And now it's not. It was the emotion, the excitement that people had, that became everything for the company. At least for me. You don't expect to turn a corner and that's what you're going to find." . . .

He added, "I had no idea that this market existed." Women and transgender men now make up one-quarter of his customers, he said, and their numbers are growing. Others have turned to a spate of new companies, including Tomboy Tailors, Haute Butch and Saint Harrida."

11-27-13: The Raw Story: "Fmr. Navy chaplain: 'Demon of rape' sending transgender people 'to violate your daughters'" (with video)

"Former Navy chaplain Gordon Klingenschmitt warned on Wednesday that a "demon of rape" was granting bathroom rights to transgender people so that they could "violate your daughters."

On his Pray in Jesus Name Internet broadcast, the disgraced former Navy chaplain pointed to the story of 6-year-old Colorado girl Coy Mathis, who was born as a boy.

"He has been dressed as a girl by his parents because his parents have a political agenda to push these coed bathroom bills into Colorado state law," Klingenschmitt opined. "What a cute little boy. Unfortunately, he's being abused by his parents, who have paraded him on national television shows."

"You know, there's not just a demon of deception here or confusion or sexual immorality," he explained. "But there is a demon of rape inside of this movement to violate your daughters.""

[Ed: It's a timeless story: religious-superstition leads to hate-speech, social-panic, and mobbing.]

11-25-13: Huffington Post: "Gay Dudes, Can You Just Not?", by Parker Marie Molloy

"Dear gay dudes,

James Nichols at HuffPost Gay Voices has been doing a series of pieces covering Brooklyn drag culture. As someone who frequently blogs on HuffPost, I tend to read what is going on here. For the latest installment Nichols interviewed a drag queen by the name of -- sigh -- Amber Alert. As certainly as the sun will rise, an interview with a drag queen will invoke one of the more hateful trans-specific slurs: "tranny." This interview proved to be no exception. "I felt immediately at home there among the irreverent trannies," the drag queen told Nichols. Sigh.

I've found that one of the more common misconceptions that people have about transgender people is that we're the same thing as drag queens. Trans friends of mine have had people ask them what their "stage name" is, and people have been surprised by my somewhat mainstream and conservative appearance . . .

As I've written about in the past, a quick way to see why "tranny" is a slur is to perform a few quick Google Image searches. First, search "transgender woman." Next, search "tranny." Notice the difference? Yeah, that's why I'm not thrilled when someone calls a trans woman a "tranny." Nor am I thrilled that this term . . . is legitimized in the public eye through use by drag queens and cisgender gay men (which most drag queens are)."

11-25-13: Electronic Urban Report: "Transgender Actress Laverne Cox Talks Bullying (Watch / Listen)" (more)

"LOOK who's on the cover of Vibe Vixen. It's beautiful Laverne Cox, an open book, writer, breakout actress, and advocate for transgender issues. The actress appears on the cover of the glossy, starring into the eyes of any who dare to step into her world.

She is the star of Netflix hit, "Orange is the New Black," a show about a white Yuppie girl who gets thrown into jail to experience life behind bars. Not only is the story insane, but the cast of characters are colorful, exciting and multidimensional. In the show, she plays the lively, confident hairdresser, Sophia Burset, who was imprisoned after stealing money to get a sex change. Despite the orange, or brown, jumpsuit, she manages to stay fabulous and classy.

In the article, Laverne tells an incredibly inspirational story about her journey from the rejection and bullying in her childhood while living in the South to becoming a hot commodity in Hollywood. And since becoming what 'they' are calling an overnight success, she's been extremely vocal about anti-bullying.

"My entire life is different. It's been wild—people recognize me when I walk down the street, in bars and restaurants," she tells Vibe Vixen. "It's a good thing and I'm really excited. Right now I'm doing a college tour, speaking engagements, and the anti-bullying Spirits Day, which raises awareness against ending bullying against the LGBT community and different groups" . . . Check out the rest of the interview at vibevixen.com. Watch as Laverne Cox speaks on being a victim of bullying … and more:"

11-21-13: Huffington Post: "Holding the Line on Transgender Student Protections", by Brynn Tannehill Director of Advocacy, SPART*A

"During the 1990s and 2000s the two biggest LGBT issues that the religious right flogged their faithful with were gay marriage and gays in the military. From 1998 until now, the religious right has used marriage as a wedge issue to put anti-LGBT laws and state constitutional amendments on the ballot. But with the demise of Section 3 of the Defense of Marriage Act (DOMA), the end of "don't ask, don't tell" (DADT), and the more or less inevitable end of Section 2 of DOMA, even the hard right has come to realize that they've lost on these issues. This doesn't mean that they have given up and gone home, though. Not by a long shot.

They have effectively pivoted to two new arguments. The first is "religious freedom," by which they really mean, "I don't want anyone holding me accountable for being awful." The second issue they have pivoted to is transgender people in public spaces. The attempt to repeal A.B. 1266 (a law ensuring equal access to activities and facilities for transgender students in California) has drawn a mob of hate groups, plus the National Organization for Marriage (NOM). Given the staggering defeats that NOM has suffered in the past year, a search for a new raison d'être is imperative for their organization to survive.

As a result, I believe that the transgender community is facing an imminent wave of anti-transgender laws and amendments. Just as the religious right began learning in 1998 that legislating against marriage equality was a winning issue for them, the current attempt to repeal A.B. 1266 is effectively a test marketing of a new brand of anti-LGBT hate. If they win, you can expect a wave of bills targeting transgender people's access to public accommodations, just like with marriage. The nature of the anti-transgender bills is bounded only by what few constitutional protections transgender people have (read: nearly zero) and the fertile imaginations of people like Tony Perkins.

The only way to stem this tsunami of anti-transgender legislation is a vigorous offense. The counteroffensive needs to hit fast, hit hard, and hit often. The problem within the LGBT community is that there is a tendency to want to go for defensive messages designed to stir empathy. These play well with progressives and other LGBT people, but not with wider audiences. We need to acknowledge upfront that these types of ads preach to an echo chamber and lack effectiveness. Marriage campaigns eventually got this. Supporters of A.B. 1266 and the transgender community as a whole must acknowledge it upfront.

We can't afford a long learning curve. This has to be stopped now, or the next decade is going to see us going steadily backwards. Doing so requires the philosophy that the best defense is a good offense. Here are the messaging rules that I would use if it were up to me: . . . "

[Ed: An important, must-read thought-piece.]

11-20-13: Huffington Post: "Transgender Day of Remembrance: Rita Hester and Beyond", by Gwendolyn Ann Smith, Founder, Transgender Day of Remembrance (more, more, more)

"This month is the 15th anniversary of the death of Rita Hester, a young transgender woman of color who was murdered in her apartment in Allston, Mass. It was her death that led to the creation of the Transgender Day of Remembrance, which is held each year on Nov. 20.

Since Rita Hester's murder, hundreds of others have been murdered. This year more than 200 people have died at the hand of anti-transgender violence. Every two weeks, on average, someone is murdered in the United States in an act of anti-transgender violence. Internationally, you see these murders happening as a near-daily occurrence . . .

Cases of anti-transgender violence have affected people of all ages, from newborn to elderly, and go across all sexual identities, races, and socioeconomic backgrounds. There's no "magical" way to be protected from anti-transgender violence. This said, I want you to understand that after 15 years -- and with cases dating back 30 years before that -- one can start to see that some groups are at a higher risk than others. In the United States of America, for example, most cases of anti-transgender violence leading to murder are perpetrated against young transgender woman of color like Rita Hester . . .

Over the last handful of years, attacks have intensified as groups attempt to fight against equality for trans people in the wake of their largely failed war against same-gender marriage. The battle against trans people is rearing its head in California, as several of the same groups who defended Proposition 8 now try to repeal A.B. 1266 and its protections of transgender students.

As they attack us and our ability to live, and as they mislead people about who we are, it is all the more likely that we shall see anti-transgender attacks increase. This too is why we gather for the Transgender Day of Remembrance: It is a reminder that we have to continue to fight, to struggle, and to survive."

11-19-13: AmericaBlog: "Air Force Academy has "ex-gay" cure advocate overseeing cadet counseling" (more, more, more, more)

"The US Air Force Academy hired a man to run their counseling program for young cadets who, for the past two decades, has devoted his entire professional career to the cause of "curing homosexuality," and who claims that he himself has been "cured" of the "addiction."

The news of "ex-gay" activist Dr. Mike Rosebush running the academy's counseling program comes on the heels of growing concerns as to whether the academy is serious about becoming a welcoming place for gay cadets in the post-"Don't Ask, Don't Tell" era.

Rosebush is the chief of Character and Leadership Coaching at the US Air Force Academy, located in Colorado Springs, Colorado, putting him in charge of a team of counselors.

Rosebush's primary counseling experience before coming to the academy was in supposedly "curing" homosexuality and other "sexual addictions" since 1995. Before that time, he was in the Air Force and also taught at the Academy. His resume reads like a veritable who's-who of anti-gay hate and pseudo-science."

[Ed: Good grief, what were they thinking?]

11-19-13: "KHQ Exclusive: An 8-Year-Old's Transgender Transformation"

"Parents often dream about who their children will grow up to be, but sometimes the answer isn't at all what they had planned. Rob & Shannon Cox are one example. Their 8-year-old daughter, Aya, was born Aiden.

"There wasn't that light bulb moment, we didn't really say, 'Oh, we have a transgendered child here,'" Rob Cox told KHQ's Kelsey Watts. Instead, it was a gradual realization. The Cox's say Aya identified as a girl from birth, asking for princess diapers and playing with mommy's clothes. But those little signs led up to one big announcement when Aya was just 7 years old.

"Without any coaching, without any prompting, without us saying, 'Hey, you may be a transgendered child,' she just one day said, 'I want to be called Aya and she and her,' and that was it," Rob added.

"I just felt like a girl inside, even when I was a baby," Aya Cox told KHQ's Kelsey Watts, adding that she felt nervous and happy to tell her parents. "I just wasn't born correct."

The Cox family found Spokane therapist Marybeth Markham – and also found, they're not alone. Markham sees 10-15 transgendered clients every week, as old as 72 and as young as 5.

For clarification, transgender refers to a person who was born one gender and identifies as the other. Transsexual refers to a physical change. The term 'gender identity' refers to what you live your life as, while boys playing with dolls is an example of 'gender expression.' Some studies say 1 in 500 children identify as transgender, others say it's closer to 1 in 100.

When asked if children this young can really know if they are transgendered, Markham replied: "Absolutely, nobody had to tell me I was a girl, I just knew. These kids are the same."

Every month, kids like Aya come together for a playgroup at Markham's office, which is also a chance for their parents and families to connect."

11-18-13: Albany Times Union: "Court takes couple's children because father is transgender", By Byrgen Finkelman

"Imagine if this were your nightmare.

Daniel and Cindy are young parents whose world has been turned upside down because Daniel is transgender. He transitioned over a decade ago when he was 19, and few people know that he is transgender.

When Daniel and Cindy decided to have children, they told Cindy's parents that Daniel is transgender because they were conceiving in vitro with donated sperm. And, I suppose, they must also have trusted that her parents would continue to accept their son-in-law.

This was a mistake.

Cindy gave birth to healthy twins 2 ½ years ago, and Daniel and Cindy and the twins have been very happy – except for one problem. Cindy's parents make rude comments about Daniel being transgender, and they do it in front of the twins. Requests for them to stop are met with mirth.

Daniel and Cindy put up with this behavior for a long while, but as the twins are getting older, they worry that the negative comments are harmful, and they don't want to be forced to try and explain concepts to their young children that are beyond their ability or need to understand – in vitro, transgender.

Daniel and Cindy made the difficult decision that the grandparents are no longer welcome in their lives. The grandparents got angry and sued for custody of the children.

The twins have two loving parents. Child Protective Services have never been called; there have been no police reports of abuse; neither parent has a criminal record. Last week, a court removed the twins from their home and gave custody to the grandparents.
The reason? Their father is transgender."

11-18-13: The Advocate: "Transgender Woman Found Murdered in Detroit − The victim's body was found in a trash can behind a bar; her identity remains unknown"

"A murder victim whose body was found in a trash can in Detroit November 8 has not been identified, but both LGBT advocates and police say the victim was a transgender woman.

"We are saddened and angry to hear of the murder of another transgender woman of color who has yet to be identified," said Yvonne Siferd, director of victim services for Equality Michigan, an LGBT rights group, in a press release. "The undignified way in which her body was dumped speaks to the larger issue of antitransgender hostility in our society, and the vast amount of work we, as supporters of the LGBT communities, have in front of us. We know that transgender women of color are the most disproportionately affected by violence and hate against the LGBT communities, and this latest incident is a tragic reminder of that reality.""

11-17-13: Huffington Post: "Kayhar, Transgender Woman, Performs Duet With Pre-Transition Self"

"In late September, The Huffington Post brought you an incredible video that chronicled the journey and transition of a transgender woman named Kayhar. This week Kayhar released another striking video in which she performs a duet with her pre-transition self.

"Progress for the trans community has been painfully slow," said Kayhar in a statement to The Huffington Post. "Despite some minor advances, society still sees us as only one of two things: sex objects or punch lines. Through my music, I hope to change that. Now is the time for a trans revolution. We're more than what the media and society has portrayed us to be and the time has come to correct those wrongs."

Check out Kayhar's unique cover of "Battlefield," originally performed by Jordin Sparks, above. For more information about the artist, visit her YouTube page."

11-17-13: South China Morning Post (Hong Kong): "Transgender asylum seeker says she turned to prostitution to survive"

"A Sri Lankan transgender woman seeking asylum in Hong Kong says she was forced to become a prostitute in Wan Chai to survive because the city's laws denied her the right to find a job. "I never thought I would do sex work but my life became very difficult so I decided to do it," said the woman, 28.

"Tina", not her real name, first came to Hong Kong in 2007 when she was 22 to escape persecution in her home country. She had left her family home at 18 to live with her aunt because her immediate family did not accept her desire to live as a woman. "Ever since I was young, when I was six or seven, I wanted to be a girl," Tina said. "When I saw my sisters, I wanted to be like them, but my family did not accept this. Only my mother did."

After leaving Sri Lanka, she and her aunt lived in Malaysia for a year before the aunt told her to go to Hong Kong to seek asylum. When Tina's application for a Hong Kong visa was rejected, her aunt paid for a boat to smuggle her into the city . . .

"In my country, they really don't like people like me; they will attack me if I go out like a woman," Tina said. "Even though I was born a man, I feel like a woman. This is how I feel. "But it is difficult because in my culture, transgender people will be stoned and their families will be cut off from society.""

11-16-13: The Bilerico Project (posted 11-13): "An Open Letter to Google CEO Larry Page about Bullying", by Kelley Winters

"Dear Mr. Page, Civil rights and children's advocates have been outraged by a November 4 Youtube video, entitled, "Boy Allowed in Girls' School Bathroom: Victims Respond," that attacked and demeaned an innocent transgender girl attending a public High School in Florence, Colorado. Posted by a Sacramento based political group, Pacific Justice Institute, the video smears this young woman with defamatory stereotypes of transgender people and demonizes school officials for extending her the very same access to public education and school facilities as other youth in her community.

There are eight false or defamatory statements in this video: . . . (see listed statements)

Google would never host material that promotes prejudice, school segregation, apartheid, or Jim Crow on the basis of race, ethnicity or religion. Yet YouTube staff have ignored countless flags by readers, reporting violation of terms of use in this video. By ignoring their own community standards, by allowing this prejudiced and defamatory attack on a transgender youth, YouTube staffers are tacitly collaborating with this injustice and subjecting an innocent young life to increased risk of violence.

Mr. Page, as a parent, as a colleague with more that 30 years of experience in the computer industry, and as a trans* woman who has faced prejudice and violence, I ask you to please take down this hateful propaganda video from your site.""

11-16-13: The Guardian (UK): "My transgender uncle: A family secret hidden for decades Clearing her mother's house, Sara Davidmann found a stash of letters, documents and photographs revealing a closely kept family secret. She tells Hannah Booth about her transgender uncle's hidden life in the buttoned-up 1950s"

"After Sara Davidmann's mother, Audrey, had been in a nursing home for a year, Sara and her brother began the task of clearing her Oxfordshire house. First they found the "notes" – pieces of paper pinned to clothes and objects as reminders. "Still wearable but only with buttons undone," read one, tacked to a cardigan. Another note attached to a broken watch told of the date it stopped working . . .

Then they found a chest of drawers in the garage. In the top drawer was a copy of every letter Sara had written to Audrey; in the drawer below, two brown manila envelopes. On one was written, in small, neat script: "Ken. To be destroyed." A stash of letters, documents and photographs, it was the full story of a closely kept family secret – one that Sara knew something of, but not the whole story.

Ken was Sara's uncle – he married her "beautiful, glamorous" aunt Hazel – Audrey's younger sister – in 1954. Their wedding photograph shows a gorgeous, dimpled bride smiling in a white dress and veil, and an upright man in a dark suit, with a serious expression. He was 34, she 29.

Among the documents was a letter from Hazel to Audrey, dated 10 September 1959. "This letter will no doubt come as a surprise to you," she wrote, "but don't be unduly alarmed. "Last October, without any previous inkling whatsoever, I learned that K was changing his sex.""

11-15-13: The Wrap: "11 Transgender Stars Weigh In on Trans Images in Entertainment (Exclusive)"

[Ed: An outstanding series of photos and quotes from leading transgender stars/advocates.]

11-15-13: CTV News (Canada): "Bullying report ignores transgender concerns, opposition critic and TransSask president agree"

"The provincial government's recent anti-bullying report could further alienate Saskatchewan's transgender youth, says a prominent leader in Saskatchewan's transgender community.

Mikayla Schultz, director of the Gender Equality Society of Saskatchewan and president of TransSask Support Services, worries language used in the province's anti-bullying action plan could reinforce misconceptions that cause transgender people to feel excluded. "It shows a lack of knowledge or education that the provincial government may have in terms of transgender issues," Schultz says.

She points out that both times the government refers to transgender people in their 32-page report, they use the term 'transgendered' — transgender is an adjective, not a verb, Schultz argues. "No one is ever 'transgendered' or 'manned' or 'womanned.'"

NDP opposition critic David Forbes says the province missed a great opportunity in its action plan to push for legislation banning discrimination based on gender identity and gender expression. "Right now in our human rights code, sex and sexual orientation are prohibited grounds," Forbes says. Gender identity is not protected."

11-15-13: Daily Mail (UK re US): "Warren Beatty and Annette Bening's transgender son Stephen appears in PSA calling for healthcare for trans community"

"The eldest child of Warren Beatty and Annette Bening, who revealed he was transgender at the age of 14, appears in a new public service announcement (PSA) urging New York to change its Medicaid regulation which excludes transgender people from accessing healthcare.

Stephen, 21, appears confident and informed as he speaks about the problem, saying: 'I grew up outside of New York, but I've always known I've wanted to move here for the city's vibrant artistic community. 'As a trans person, I would hope that I'd be welcomed but many trans people aren't because we don't have the basic healthcare coverage we need to survive.'

The video has been produced by GLAAD and the Sylvia Rivera Law Project and features a number of transgender people along with the mother of a transgender woman.

Medicaid is the United States health programme for families and individuals with low income and resources. This new PSA is opposing the New York State Medicaid which specifically excludes transgender people from accessing care. New York Governor Andrew Cuomo and New York State Health Commissioner Nirav Shah are being called upon to overturn the regulation.

Stephen was born Kathlyn Elizabeth and has three younger siblings. Last year he made a video in which he talked openly about his transition from female to make, and listed his friends and peers as his greatest supporters. Nowhere in the six-and-a-half-minute video was there mention of his famous parents, who are reported to have initially struggled with transition."

11-15-13: Associated Press: "Transgender student's tuxedo banned yearbook photo gets approved" (more)

"A civil rights organization says a South Texas school district has reversed course and will allow a photo of a transgender student in a tuxedo to appear in the teen's high school yearbook.

The Southern Poverty Law Center says that after a Friday afternoon meeting, the La Feria school district decided to include the photo of Jeydon Loredo, who grew up female but now identifies as a male.

Loredo said earlier that the district was not allowing his photograph, saying it violated "community standards." The law center had threatened to file a lawsuit if a decision allowing the photograph wasn't made by Nov. 21. Superintendent Raymundo Villarreal says the resolution is in the best interest of the student and the district."

11-12-13: "Transition game − America's first publicly out transgender high school coach is opening minds in the conservative rural town of Glocester, R.I."

"It's the last place on earth most would expect to find a thriving transgender coach. Set on the outskirts of Providence over an hour away from Boston, the quaint town of fewer than 10,000 people, with its rolling hills and plush farms, harkens back to a simpler time . . . "It's the old Yankee mentality," he said. "They're very conservative, they like things how it used to be with very little change . . .

Alexander knew he was a boy when he was five. He eschewed Barbie dolls and My Little Pony, instead playing with Go-Bots and G.I. Joe, making mud pies by the lake where he lived since birth. He shunned dresses and skirts, opting for pants and — unique to him on his girls teams — turtlenecks under his uniforms.

"He was very uncomfortable as a girl," his mother, Linda Dandrow, remembered. Looking back at the signs, she wondered why she didn't see it coming. "He often referred to his breasts as tumors. 'Those are tumors on my chest, I want to get them off.'"

Even with the growing discomfort with his identity, the environment of the area kept him from fully expressing who he was. It was marginally acceptable to be a "tomboy" with short hair and pants; to be an actual boy was something Alexander thought would never be accepted.

zIt was in sports that he found his refuge from a very young age. "Sports saved me," Alexander said. "In dealing with life, it was something where I could step outside of myself and be part of something greater, rather than the introspective you have to do in order to survive.""

11-11-13: MSNBC: "Landmark transgender equality law in jeopardy

"

"

A conservative group has gathered enough signatures in California to put the state's newly-signed law protecting transgender students to a vote in 2014. The group Privacy for all Students on Friday submitted 620,000 signatures—more than the 100,000 needed to get a referendum on the November ballot—in an effort to repeal the law despite being approved by the California legislature. The signatures must then be reviewed and verified by each of California's 58 counties before a referendum can be approved for 2014.

The law, signed by Gov. Jerry Brown in August, would prohibit discrimination against transgender students in public schools–making California the first in the nation to pass a statewide law on the issue. The law also allows transgender students to use public facilities and join gender-specific teams that best match their gender identity . . .

The effort to overturn the law is being led by political strategist Frank Schubert, who also led successful efforts to defeat same-sex marriage in California in 2008 with the passage of Proposition 8, as well as in Maine and North Carolina. Schubert was also the go-to man behind efforts to block marriage initiatives in Maryland, Washington, and Maine again in 2012.

Schubert, a California native who's been called the "Karl Rove of the anti-gay movement," is the founder of Mission Public Affairs, a consulting firm dedicated to fighting for conservative values in the debate over social issues."

11-11-13: Poynter: "Nine ways journalists can do justice to transgender people's stories", by Lauren Klinger

"Transgender people make news of all kinds, so reporters of all kinds need to know how to write about them – not just journalists whose beats regularly include diversity issues. Recently, government reporters found themselves writing about Pvt. Chelsea Manning, crime reporters in Orlando covered the murder of Ashley Sinclair, and Cosmo got an exclusive shot at punk rocker Laura Jane Grace's coming out story.

A good starting point is this style guide from the Gay and Lesbian Alliance Against Defamation, which monitors media coverage of the LGBT community. But the issues go deeper than the basics of pronouns, adjectives and names.

"You can still be insensitive using the right words," Janet Mock, an activist, author and former journalist at People, said in a phone interview. "You can still completely be dehumanizing using the right words."

The kinds of stories journalists write, what information they include, and how they ask for that information are all just as important or more important than which words they use. With that in mind, here are nine ways to do justice to transgender people's stories: . . . "

11-11-13: Autostraddle (posted 11-01): "Queered Science: NOGLSTP's Rochelle Diamond Forged A Path For All of Us"

"Queered Science is a series of profiles meant to highlight queer science and tell you what you need to know about it, for your intellectual edification and so you don't feel excluded from a major and predominantly heterosexist subset of academia and industry:

Rochelle Diamond works at Caltech (the California Institute of Technology) as the applications specialist and lab manager of the Flow Cytometry/Cell Sorting Facility. She is also the chair of the National Organization of Gay and Lesbian Scientists and Technical Professionals, (NOGLSTP) which we've mentioned before as an important step young queer scientists can take to get connected to others . . .

"We're out here trying to get other people to come out and not be afraid and push visibility, because that's what's going to change the climate."

They say, "It's important to understand that if you do come out you will know where a good place to work is and is not. And if you feel uncomfortable after coming out then you shouldn't be in that place. The point is to be yourself as much as possible. You want to feel safe in your own skin."

And this is where NOGLSTP comes in. Its mission is to empower lesbian, gay, bisexual, transgender, and queer individuals in the STEM professions, and to educate their surrounding communities about LGBTQ issues. They also manage the popular Queer Scientists of Historical Note list, and run a popular mentoring program where young students or scientists can talk to an older role model. They give out two $5,000 scholarships every year and facilitate communication through the queer science community. They just collaborated with over 20 other STEM professional organizations to apply for a grant for developing a National Research Mentoring Network, that would include LGBTQ students in a larger and more intensive mentoring program. And they coordinate a gay scientist conference every other year called Out to Innovate; the next will be in 2014 in Atlanta, so if you're interested you can start planning to go now!"

11-11-13: ABC News: "Transgender Veterans Fight for Military Paperwork to Match New Gender"

"Paula M. Neira thrived in the U.S. Navy for six years, serving at home and at sea in mine warfare combat during Operation Desert Storm, culling numerous awards. After leaving the military in 1991, she went to law school and then went on to become a registered nurse and educator at a major hospital in Maryland.

But Neira is transgender, and during those years of decorated service she was known as Paul, and all her military records reflect that name. Today she lives openly as female, but her name and physical appearance don't match her discharge paperwork, or what the U.S. Department of Defense calls the DD-214.

That paperwork is used to obtain employment preferences, as well as medical, dependent, funeral and other veterans' benefits. "It opens you up to abject discrimination," said Neira. After giving up her naval career and transitioning to a woman, she had two job offers rescinded from potential employers who learned about her gender change . . .

Neira and others are calling on the Obama administration to allow transgender military veterans an opportunity to change their DD-214 to reflect their current legal name and gender. Working with the National LGBT Bar Association, these transgender veterans are making a formal request to the Department of Defense to change the gender and the name on their own DD-214s . . .

The association argues that veterans may be denied access to benefits and services when there are discrepancies between what appears on the DD-214 and on court orders, state identification cards and revised birth certificates. They say there may also be "embarrassing" encounters in which transgender veterans have to "out" themselves to officials."

11-10-13: Futurity (posted 11-05): "How transgender policy sets off 'gender panic'"

A new study looks at mainstream news coverage of transgender-related issues, and identifies a trend the researchers call "gender panic."

When New York City moved in 2006 to make it easier for transgender people to revise the gender on their birth certificates, the proposal was widely expected to pass. But the anti-discrimination measure failed, in part because of public opposition to removing the requirement that individuals have genital surgery before claiming a different gender.

"The backlash was intense," says Kristen Schilt, assistant professor of sociology at the University of Chicago. "There was such a fervor over taking the surgery requirement out, a sense of, 'Absolutely not. There's going to be chaos.'"

Schilt calls this public reaction "gender panic," a concept that she and co-author Laurel Westbrook explore in a new study in the journal Gender and Society. The authors examined mainstream news coverage of transgender-related news and policy issues, and found trends that reflect entrenched views about transgender people and broader gender issues.

Like the terms "moral panic" and "sex panic," Schilt describes gender panic as a deep, cultural fear, set off in this case when the "naturalness" of a male-female gender binary is challenged. When such challenges affect public policy, Schilt says, "that's when the panic starts to get really hot."

"

11-08-13: Out In Jersey: "Transgender and gender nonconformity: New words, new self-expressions for our youth", by Margie Nichols PhD

"Transgender and gender nonconforming (TGNC) is a term that didn't exist just ten years ago, and is probably new to many of you. It refers to an unexpected cultural change that has emerged in the last two decades in the mainstream as well as the LGBT community. Increasingly, children and teens are coming out as transgender, gender queer, gender fluid or just simply gender nonconforming. And their parents and families are supporting their right to live in their "affirmed" gender, rather than the "assigned" gender they received at birth.

Where did this apparent explosion of TGNC youth come from? It's the culmination of a lot of things: the natural progression of people feeling free to express the true diversity of their gender and sexuality; the crumbling of the concept of the "gender binary" (you're either male or female, nothing in between). It is the result of a culture increasingly tolerant of difference, and the expression of the second wave of feminism in a new generation of parents accepting their gender nonconforming children as normal.

Margie Nichols PhD at IPG discusses issues with a client. Much of mainstream culture still pathologizes these children, but that is changing as parents refuse to let their children be labeled as mentally ill. Health care providers within the LGBT community have led the movement to radicalize treatment. For example, in the past when parents sought therapy, they were told to force their children to suppress their gender nonconforming behavior, to "throw away the Barbies." Now, thanks to trans- activists and trans- affirmative providers, that form of treatment is considered unethical."

11-08-13: The Advocate: "BREAKING: GLAAD Appoints First Transgender Cochair"

"GLAAD has appointed its first transgender cochair to helm its National Board of Directors.

The media advocacy organization announced its choice of Jennifer Finney Boylan, a trans advocate and author of the autobiography She's Not There: A Life in Two Genders. The book was the first by a transgender American to become a best seller.

Boylan, who is a professor of English at Colby College and a mother of two, will serve alongside Steve Warren, a prominent entertainment lawyer who was recently honored with the Stephen F. Kolzak Award at the 2013 GLAAD Media Awards.

"GLAAD's commitment to the trans community is real and unwavering," Boylan said in a statement. "As transgender people continue to advocate for basic legal protections and recognition, the work that the staff of GLAAD is leading to proactively share stories of transgender people through the media is a game changer.""

11-08-13: ColorLines: "Who Is Ines Rau, the Gorgeous Transgender Woman Posing With Tyson Beckford?" (more)

"Tyson Beckford posed for a series of gorgeous (and pretty raunchy) photos with transgender model Ines Rau. The shoot was for OOB Magazine's "Tropical Surrealism" spread and was photographed by Rodolpho Martinez. You can see the rest of the NSFW photos here.

But who exactly is Ines Rau, the gorgeous transgender model who's posing with Beckford? She's a 24-year-old New York City-based French model of North African descent who was inspired to come out by Carolina "Tula" Cossey, an English model who's appeared in a James Bond film and posed for "Playboy." In an interview with Models of the Minute Rau said, "After reading [Tolu's] book [I Am Woman] at least two times I realized how important it is to assume who you are with no fears."

When asked what she would say to children who are struggling with their gender identities, Rau said:

Having a sex change is not the answer to insecurities or other issues, a lot of transgender do not understand that it has to be done with reflection: because of a real deep desire to be a woman from a younger age. It's fabulous the level of happiness- it's just absolutely impossible to describe. I'm the happiest girl in the world, just being what I wanted to be. You have to love yourself enough to go for it without the fear of being judged or rejected. That's my advice for them.

Read more of her interview here."

11-08-13: "GOP's intolerance trap: How ENDA fight explains all of U.S. politics America's liberalization has coincided with the right's increasing extremism. Is the House GOP running out of time?"

"Yesterday, as in 1996, most Senate Republicans, including party leaders, voted against ENDA . . .

The bill passed, yes. But the majority of Republicans continue to support the proposition that employers should be allowed to fire (or refuse to hire) people on the basis of their sexual orientations And all but two voted for an amendment that would have created a loophole in the bill big enough to drive the Westboro Baptist Church through. After it failed, only ten Republicans broke ranks to help pass the final Senate legislation. Eight of them were among the same members of the GOP conference who helped pass immigration reform legislation earlier this year.

This splinter group of Senate Republicans recognizes that the right can't fight the changing demographic tide any longer. But they haven't won that argument with the rest of the party. In fact, they are House Speaker John Boehner's second biggest problem. Every politically potent piece of legislation they help Democrats pass paints him deeper into a corner. It clarifies that he, and House Republicans generally, are standing alone in the way of efforts to improve the lives of constituencies that Republicans know they can't keep alienating — minorities, women, immigrants, the LGBT community."

11-07-13: Fox2 News, St. Louis: "Treatments help transgender kids cope" (includes excellent videos)

"More transgender children in St. Louis are coming forward and getting medical help that is proving to be life changing and life saving. Doctors in St. Louis are blocking puberty so these kids don't have to grow up in the wrong body. A Ladue High School senior went through this medical procedure before puberty. Will Copeland is 17 and was born female. When he was two years old he asked his father why God made him wrong. He has never waivered from that belief that he was born the wrong gender. Will grew up by the name of Grace. At age 12 doctors gave him hormone blockers preventing him from going through female puberty. He never developed breasts or other female characteristics. Now he takes testosterone injections. It stimulated male puberty, giving him a low voice, facial hair and male characteristics. He was able to get extra height as well. Will is thankful for he's never been bullied and has been respected by his friends who know his background.

Dr. Norman Spack recently visited St. Louis to speak with medical professionals and parents about treating transgender children. He is one of the first doctors in the country to tackle the medical problem of treating transgender children. One in five of his patients at Boston Children's hospital had tried to self mutilate or commit suicide because of the affects of puberty on their bodies. Dr. Spack says in order to pass as somebody of a female for example, you must give the hormone blockers before age 16 to stop the pronounced facial bone structure, Adam's apple and voice change. The goal is not to do anything permanent with these children until they are absolutely certain they were born the wrong gender and decide to make a permanent physical change.

Bottom-line, the hormone blockers are completely reversible. Dr. Abby Hollander at Children's hospital in St. Louis has seen her transgender pediatric patient load more than double in the past two years. The St. Louis support group Transparent started two years ago with four families. They now have 57 families with no advertising. Families of transgender children say there are many more kids out there needing medical treatment than most people realize."

11-07-13: Washington Post: "Senate votes to ban discrimination against gay and transgender workers" (more)

"The Senate passed a historic piece of gay rights legislation Thursday that would ban workplace discrimination against gay and transgender employees, another milestone victory for a gay rights movement that has been gaining favor in the courts and electoral politics.

The 64 to 32 vote to approve the Employment Non-Discrimination Act marked the first time federal lawmakers had approved legislation to advance gay rights since repealing the military's ban on gay men and lesbians in uniform in late 2010.

President Obama praised supportive senators and called on House Republicans to quickly permit a vote.

"One party in one house of Congress should not stand in the way of millions of Americans who want to go to work each day and simply be judged by the job they do," Obama said in a statement. "Now is the time to end this kind of discrimination in the workplace, not enable it."

But ENDA faces a steep uphill climb in a GOP-controlled House still dominated by social conservatives. House Speaker John A. Boehner (R-Ohio) and his lieutenants think the measure is too broad and is unnecessary; they think that the people ENDA is intended to protect are already covered under existing federal, state and private workplace protection laws."

11-07-13: Chicago Tribune: "Hate crime charge for California boy accused of setting transgender teen on fire" (more)

"A 16-year-old California boy accused of setting fire to a transgender teen's skirt as the victim slept on a public bus in the city of Oakland earlier this week was charged as an adult on Thursday with committing a hate crime.

Richard Thomas was charged with aggravated mayhem, felony assault and a hate-crime "enhancement" after telling a police officer he committed Monday's attack "because he was homophobic," according to the criminal complaint.

The 18-year-old victim, Luke Fleischman, who was born male but identifies himself as gender neutral and goes by the name of Sasha, remained hospitalized in San Francisco with severe burns on Thursday and was listed in stable condition, a hospital spokeswoman said.

The teen will require several surgeries to recover, according to a website posted by family members to raise money for the victim's medical treatment."

11-07-13: Hip Hollywood: "NSFW: Tyson Beckford Gets Steamy With Transgender Model Ines Rau"

"Check out these stunning images of male supermodel Tyson Beckford getting steamy with transgender model, Ines Rau. Yes, you read that right … TRANSGENDER MODEL. The shots were snapped by photographer Rodolfo Martinez for the "Tropical Surrealism" issue of OOB magazine

Rau says her Facebook and Instagram account were shutdown over the sultry images, writing online:

"I'm not posting anything about it anymore … You know where to see it! And I am taking a pause with Instagram for a little bit as they disabled it two times because of those pictures."

Rau is a Parisian model of French-North African descent."

11-07-13: Daily Mail (UK re US): "Could this be the first transgender Victoria's Secret's model? Petition calls for lingerie label to feature former reality star on runway" (with video)

"A new petition, which has more than 23,000 signatures so far, is calling for Victoria's Secret to feature a transgender model in its upcoming fashion show. The Change.org petition stipulates that Carmen Carrera, who starred on RuPaul's Drag Race, be enlisted to walk in the annual Victoria's Secret show, thereby making history as the first-ever transgender supermodel . . .

New Jersey native Carmen, who was born a boy named Christopher, made a name for herself as a contestant on Logo reality show RuPaul's Drag Race, where she placed fifth. After the show, she publicly began her transition from a man to a woman and was subsequently signed by Elite Model Management . . .

Something of an LBGT icon, Carmen has been featured twice in W Magazine and walked the runway for designer Marco Marco at LA Fashion Week last month.

And if Carmen's fans have their way, she'll soon be hitting mainstream fashion as a lingerie model in Victoria Secret's annual show, which is set to film next week and air on December 10."

11-07-13: Huffington Post: "Nikki Araguz, Transgender Woman, Gets Married After Heartbreak" (with video)

"Nikki Araguz was 18 years old when she began to live her life as a woman, after a lifetime of feeling as if her gender identity did not correspond with her anatomy.

Following the realization of her gender identity, she married a firefighter named Thomas Araguz III, who she "loved tremendously," and underwent gender confirmation surgery a year after their wedding. But Araguz's husband was tragically killed while working to diffuse a monstrous factory fire.

Following her husband's death, Araguz was forced to fight a drawn-out legal battle with her late husband's family in an effort to receive his firefighter's benefits. A Texas judge effectively voided Araguz's marriage, telling the widow that the marriage was not considered legal since she was born a male. The fact that Araguz had both gone through gender reassignment surgery and had government documents that reflected her new sex as female did not appear to matter.

Araguz, who also blogs for The Huffington Post Gay Voices, went on to meet and fall in love with a Houston-based artist named William Loyd.

When the two attempted to get married, however, Araguz encountered problems with legal system in Houston, which informed her that their union would be considered a same-sex marriage -- even though Araguz has both a license and passport that identifies her as a woman . . .

In an effort to have their union recognized, the pair eventually traveled to nearby Corpus Christi where, according to a press release sent to The Huffington Post, her "proof of a sex change was accepted and she could finally start over with a second chance at happiness."

11-05-13: CNN: "Memoir details transgender sibling's journey"

"CNN: How was it different at age 59 than it might have been earlier?

Haskell: I think the reason she didn't go through with it before is because there was no acceptance. Why is so much of this happening now? Because it can. There is a word for it and there are people doing it. This submerged desire finally had a means of being liberated.

CNN: Having Ellen in your life took some adjusting, even in small areas like the correct language, right?

Haskell: The first time we went out in public, I was very self-conscious and nervous. We went to dinner at an upscale restaurant and the waiter asked how we liked our food. I said, "Mine is good, but his is fabulous." She (Ellen) smirked and I smirked.

I would often call her Chevey by mistake when it was just the two of us. And on the phone, the voice is a huge thing that is not improvable. There is no good surgery. When she gets on the phone, I would see her as Chevey, my brother. Recently, though, I've stopped doing that. It's automatically Ellen.

CNN: Ellen initially didn't want you to write the book, but then she changed her mind. Why?

Haskell: She wished she had this book when she was struggling with it. I wanted it to be her book as much as my book. I think of it as a partnership."

October 2013

10-29-13: The Advocate (posted 10-30: "Op-ed: Why Are Americans Terrified of Transgender 6-Year-Olds? − Transgender first-graders aren't the problem. Uninformed adults are."

"Our society operates on the principle that there are men and women, and nothing in between. These gender identities are assigned at birth, and we're expected to "live up to them" all our lives.

For previous generations of transgender and gender-variant individuals, this has meant a life of secrecy, pain, and closeting — a life spent policing one's self and feeling abnormal.

The growing visibility of transgender 6-year-olds, however, is disrupting this dynamic and causing an evolution of thought, as cisgender people — men and women who identify with their assigned gender — recognize that they are not "normal," as previously thought, but rather, members of a majority group.

This evolution will likely continue, as recent prevelance studies suggest that one in 10 children are gender-nonconfirming, and one in 100 children are transgender. This means that one in 10 young people may not feel a need or inclination to live up to their assigned gender, and one of every 100 6-year-olds in our schools is like Coy Mathis.

Through their honesty and bravery, these children are introducing new ideas to us about gender identity. They're not trying to, though. They're just being themselves in a world that is too often failing to believe and accept them.

Like most teachers of new ideas, transgender 6-year-olds are being met with skepticism, fear, and hostility. They have a lot to show us, however, about how the "rules" we have concerning our gender are not as rooted in nature and fact as we've assumed. It's time to start listening to them."

[Ed.: To all the Christians out there, remember Matthew 11:25: ". . . you have hidden these things from the wise and learned, and revealed them to little children." ]

10-30-13: The Telegraph (UK re US): "Lou Reed's inspiration was a transsexual. Don't let pop historians write her out of the story" (more)

"One of the best websites you'll ever visit is Dangerous Minds, run by Richard Metzger – a man with an encyclopedic knowledge of trash culture. Unsurprisingly, he's blogged on Lou Reed. And, unsurprisingly, he's come up with something that few of us would otherwise know about Mr Wild Side.

During the 1970s, Lou Reed's muse was a half-Mexican indian transsexual called Rachel. Her biography is a mystery and the few details we have come from the time that Reed was in to her – somewhere between his divorce and the 1975 album Coney Island Baby. The lack of detail is significant. The tragedy of the muse is that they only really exist so long as the poet needs them to. Reed describes their meeting thus:

"It was in a late night club in Greenwich Village. I'd been up for days as usual and everything was at that super-real, glowing stage. I walked in there and there was this amazing person, this incredible head, kind of vibrating out of it all. Rachel was wearing this amazing make-up and dress and was obviously in a different world to anyone else in the place. Eventually I spoke and she came home with me. I rapped for hours and hours, while Rachel just sat there looking at me saying nothing. At the time I was living with a girl, a crazy blonde lady and I kind of wanted us all three to live together but somehow it was too heavy for her. Rachel just stayed on and the girl moved out. Rachel was completely disinterested in who I was and what I did. Nothing could impress her. He'd hardly heard my music and didn't like it all that much when he did.

Rachel knows how to do it for me. No one else ever did before. Rachel's something else.""

10-29-13: New York Times: "Lou Reed, 1942-2013 Outsider Whose Dark, Lyrical Vision Helped Shape Rock 'n' Roll" (more, more)

"Lou Reed, the singer, songwriter and guitarist whose work with the Velvet Underground in the 1960s had a major influence on generations of rock musicians, and who remained a powerful if polarizing force for the rest of his life, died on Sunday at his home in Amagansett, N.Y., on Long Island. He was 71 . . .

Not too long after his first recordings, made at 16 with a doo-wop band in Freeport, N.Y., Mr. Reed started singing outside of the song's melody, as if he were giving a speech with a fluctuating drone in a New York accent. That sound, heard with the Velvet Underground on songs like "Heroin" and "Sweet Jane" and in his post-Velvet songs "Walk on the Wild Side," "Street Hassle" and others, became one of the most familiar frequencies in rock. He played lead guitar the same way, straining against his limitations.

Mr. Reed confidently made artistic decisions that other musicians would not have even considered. He was an aesthetic primitivist with high-end audio obsessions. He was an English major who understood his work as a form of literature, though he distrusted overly poetic pop lyrics, and though distorted electric guitars and drums sometimes drowned out his words."

10-29-13: CBS Los Angeles: "Transgender Woman Says LA Fitness Barred Her From Women's Locker Room" (with video)

"A transgender woman says she was recently disrespected and harassed at an LA Fitness in Montclair. Yanel Valenzuela told KCAL9's Crystal Cruz that one manager at the health club, located at 9385 Monte Vista Ave., told her she can no longer use the women's locker room.

"It gave me emotional stress," she said. "I don't think it was fair." Valenzuela said the manager's request came after she had told another employee that she is a transgender woman looking for workout advice catered to her needs. "I felt hurt because I don't understand why she did it. She had no reason. She had no complaints from anyone," Valenzuela said.

Valenzuela said she showed the manager her California driver's license, which states she's female. She also had a letter from her doctor that said she was born a man but had surgery to become a woman.

"I hope this never happens to anybody again because it's not fair for me to be disrespected in front of clients and the members that come here," Valenzuela said."

10-28-13: Bustle: "I'm a Transgender Woman, and This Is What It's Like", by By Parker Molloy

"I didn't choose to be transgender. I'm different, and I'm okay with that.

I don't want "special treatment," I just want to be respected as a human being, as deserving of dignity as anyone else. I want to be able to exist in the world without the core of my identity, something that I grappled with for more than a quarter century, being dismissed by someone who couldn't possibly understand what it's like. I want to be able to go to work without worrying about being fired for who I am. I want to be able to use the restroom without fear of being beaten or accused of having malicious intentions. Like everyone else, I want the world to see me for me.

Is that really so much to ask, to be treated like everyone else, to have the same rights and protections as everyone else? From a legal and public accommodations viewpoint, that's really all any of us are asking for."

10-27-13: Huffington Post (posted 10/22): "Native American Transsexual Actress Stars in New Film", by Jasper Zweibel

"Drunktown's Finest is a movie about finding hope in the bleakest of circumstances. Director Sydney Freeland grew up in the real Drunktown: Gallup, N.M. . . . Instead of resigning herself to a life of addiction, Sydney found a source of hope in her Navajo culture. She wrote Drunktown's Finest to share that hope with the world, and to show that the wisdom of Navajo tradition can be a powerful force for good in our modern society.

An important tenet of this Navajo wisdom is respect for the Nadleeh, or third gender. Since long before the LGBT movement, the Navajo have had a sensitivity for people born with gender identities across the entire spectrum of possibility . . . This seemingly postmodern concept of gender is actually hundreds if not thousands of years old and still informs Navajo culture today.

One of the main characters in Drunktown's Finest, Felixia, is a transgender Navajo woman who dreams of modeling in the big city. As she struggles internally with her own identity, she is assaulted from the outside by judgment and rejection. . . . Early in the film Felixia seeks comfort from these affronts online, where countless strangers lavish her with messages that beg for her affection. Identifying as "TS-Beautiful," being wanted becomes a core part of her identity . . .

The external locus of her identity continues to cause problems, and when Felixia faces outright rejection at the hands of other aspiring models, she's left wondering whether or not to give up on her dream entirely. Even though men want her, the scorn of other women is almost too much to bear. Thankfully, her loving and supportive grandparents are there to remind her that she always has a home, and that the world needs the Nadleeh . . .

Playing the role of Felixia is a real-life transgender Navajo woman, Carmen Moore, who says that just about everything that Felixia experiences in the film is something that she's gone through in her life."

10-27-13: USA Today: "Restroom battles emerge in transgender rights cases"

"Two Iowans born as males are the first in the state to win Iowa Civil Rights Commission cases that allow them to use women's restrooms in public places. But a third transgender Iowan, Jessica Smalley, lost her battle to use the women's facilities at the YMCA in Burlington, Iowa.

The three cases are the first to advance through a civil rights complaint process since 2007, when lawmakers added gender identity to the state's nondiscrimination policies. And their vastly different outcomes foreshadow additional legal challenges, according to both advocates and opponents of the law.

These cases, along with milestones such as the University of Northern Iowa's crowning of transgender student Steven Sanchez as its homecoming queen this month, bring visibility to a new zset of rights issues in Iowa."

10-26-13: A Gender Variance Who's Who: "Femke Olyslager (1966 - 2009) professor of engineering." (more)

"Frank Olyslager was born near Antwerp, and became a shy boy who escaped into science. After a Ph.D. in Electrical Engineering 1993 at Ghent University, Olyslager became a Full Professor in Electrical Engineering and Applied Physics also at Ghent and wrote outstanding books in the field of electrical engineering. By this time he was married to a woman and they had two children. At age 28 Olyslager became a laureate of the Royal Academy of Sciences, Literature and Fine Arts of Belgium, and at age 38 a laureate of the Royal Flemish Academy.

Olyslager discovered Lynn Conway's web site and was directed to the Ghent University hospital, where as Femke she was able to transition.

Femke worked with Lynn Conway on a report on the prevalence of transsexuality that argues rigourously that the 1 in 30,000 occurrence for trans women so frequently cited cannot possibly be correct, and that the real world occurrence is probably 1-2 per 1,000.

Femke died at the age of 43 from a long-standing illness.

Olyslager has authored over 150 publications in electrical engineering.

Microsoft Academic Search(Frank) Microsoft Academic Search(Femke) WORLDCAT (Frank) WORLDCAT(Femke) Google Scholar(Frank) Google Scholar(Femke)

It is rather shabby that Microsoft Academic, Worldcat and Google Scholar return significantly different lists for Olyslager's life work depending on whether one puts her boy name or her real name. Do these databases do as poorly when an academic changes her name for marriage or religious reasons?"

10-26-13: Mother Jones (Nov-Dec): "Do Bishops Run Your Hospital? − The Catholic Church is making health care decisions for more and more Americans—whether they know it or not."

"Between 2001 and 2011, the number of American hospitals affiliated with the Catholic Church grew 16 percent, even as the number of public hospitals and secular nonprofit hospitals dropped 31 percent and 12 percent, respectively, according to an upcoming report by the American Civil Liberties Union and MergerWatch, a nonprofit that tracks religious health care mergers. In 2012, Catholic hospitals and health care systems were involved in 24 mergers or acquisitions, according to Irving Levin Associates, a market research firm. Ten of the 25 largest nonprofit hospital systems in the country are Catholic, and Catholic hospitals care for 1 in 6 American patients. In at least eight states, 30 percent or more of patient admissions are at Catholic facilities.

Ten of the 25 largest nonprofit hospital systems in the country are Catholic, and Catholic hospitals care for 1 in 6 patients.

Catholic hospitals are required to follow health care directives handed down by the US Conference of Catholic Bishops—a group of celibate older men who have become increasingly conservative over the past few decades. (Recall the bishops' ongoing showdown with the White House over Obamacare's requirement that health insurance plans cover contraception.) The issues go far beyond abortion. The bishops' directives restrict how doctors in Catholic hospitals may treat everything from miscarriages to terminal illness. How this treatment differs from that of secular hospitals is not always disclosed to patients . . .

"The Catholic bishops are seizing an opportunity to control the health care we all pay for, and they're being wildly successful," says Monica Harrington, the co-chair of Washington Women for Choice. A spate of proposed deals could leave Catholic facilities accounting for 50 percent of the state's hospital admissions. "We could very well end up with three conservative bishops overseeing health care for 6 million people," McCarthy says . . . In the end, hospital mergers have allowed the bishops to accomplish in practice what they haven't been able to achieve through the political process: making abortion and contraception harder to access."

10-26-13: The Daily Beast (US re Brazil, posted 10-24): "Brazil Crowns Transgender Beauty Queen in Daring New "Miss T" Contest − Brazil crowned a winner in its second annual Miss T competition, which is winning fans and challenging definitions of femininity and beauty in tradition-bound Latin America" (more)

"Besting 27 other transgender and transvestite contenders from 11 Brazilian states, the 21-year-old model and escort from São Paulo paraded in a bikini and then in an evening gown to win the second annual Miss T competition before an emotional crowd at the Teatro João Caetano, one of Rio de Janeiro's most traditional stages.

With a smile as big as Brazil, that not even a mouth full of corrective braces could spoil, Ferraz was overcome with emotion as she took her bows and swore to uphold the honor of the transgender community.

As well as a bouquet and the gleaming tiara, she won an all-expenses-paid excursion to Thailand for the global version of the beauty contest, Miss International Queen 2014, plus the right to a sex change operation in a Bangkok hospital. Ferraz, however, demurred, creating an instant buzz across the gender-bending spectrum where genital surgery is often held up as the final passage to freedom for those convinced they were born in the wrong body. "I love being the way I am," she said"

10-26-13: Radio Free Europe (re Pakistan): "Despite Gains, Pakistan's Transgender Community Under Attack"

"Zeba, a transgender rights activist in Pakistan who was born with both male and female sex organs, was resting at home in the Imamia Colony neighborhood of Peshawar when the front door was suddenly kicked open. Local police, together with angry residents of the area, stormed inside -- smashing Zeba's belongings and shouting threats.

Forced outside into the street on that October 20 evening, Zeba saw that the same thing was happening to scores of others from Pakistan's transgender minority who have moved to the neighborhood during the last 25 years.

"Nobody listens to our outcry. Now look at how these locals, along with police, have attacked our homes. They destroyed our household items and beat us badly. Some of our friends are now in the hospital. They injured us badly," Zeba said.

Members of the long-oppressed community had hoped their plight would improve after the Supreme Court ordered national identity cards to include a third gender category in 2009 . . . Despite the advancements, however, the plight of Pakistan's third-gender community is difficult. Discrimination limits employment opportunities, and the transgender minority regularly faces intimidation, humiliation, and abuse. . .

Many also become the victims of extortion, sexual violence, and criminal gangs. That has driven them together into unofficial settlements such as Peshawar's Imamia Colony neighborhood.

But that has caused tensions with Sunni and Shi'a Muslims and Pakistani Christians who also live in the neighborhood. Those groups -- often at odds elsewhere in Pakistan -- have united in Imamia Colony behind the goal of trying to force out members of the transgender community . . .

Leading the campaign is Abdul Rehman, a 48-year-old Sunni Muslim who is trying to put pressure on the landlords of Imamia Colony to evict any transgender residents. Rehman told RFE/RL he sees his efforts as a "cleansing campaign.""

10-25-13: NBC Los Angeles: "El Monte Police Officer Accused of Raping Transgender Woman"

"A transgender woman is alleging in a federal lawsuit that a uniformed El Monte, Calif. police officer detained her without legal cause and raped her on his patrol car in a dark and empty parking lot . . . The plaintiff, who used the pseudonym "Jane Roe" in court documents, alleges the attack happened early Oct. 23, 2012.

Roe was crossing Garvey Avenue at Central Avenue (map) on the way to a friend's house between 4 a.m. and 6 a.m. when a uniformed El Monte police officer pulled up in a marked patrol car and demanded to know what she was doing, according to the civil complaint.

The officer ordered her to lean into the driver's side window of the patrol car. "Because she feared for her safety if she refused, (she) leaned forward and (the officer) groped her breasts," the complaint says. "He then asked (her) if she was 'a nasty she-male.' (She) responded that she was transsexual."

The officer then allegedly ordered her to walk into an alley behind businesses in the southeastern corner of the intersection, and into a secluded parking lot behind 10052 Garvey Avenue. Once there, he ordered her to perform oral sex on him, the complaint says. After several minutes, he raped her on the trunk of his patrol car while calling her demeaning names.

The officer then allegedly threw his used condom on the ground and told the transgender woman to leave. After a few moments, she returned to retrieve the condom for use as evidence, according to the complaint."

10-24-13: Think Progress: "How The Incendiary Rhetoric Against Transgender Youth Is Escalating"

Conservatives are continuing to ramp up their rhetoric against transgender youth, using the Pacific Justice Institute's (PJI) fabricated story about Colorado teen Jane Doe to justify overturning California's new law protecting transgender students. All Jane seemed to do is go the bathroom, but her mere existence and use of the school facilities seems to be agitating conservatives to use some particularly incendiary rhetoric.

Disgraced Navy Chaplain Gordon Klingenschmitt, who recently announced he's running for state office in Colorado, added to the attacks on Jane this week, accusing her of "raping — at least visually — these teenage girls" who were in the locker room with her [trigger warning: Jane is misgendered]:

KLINGENSCHMITT: Now the public school children are being told by a demonic spirit, "You must open up your daughter's privacy to our perversion." And this demonic spirit inside of this boy is now violating, and for all intents and purposes, he's raping — at least visually — these teenage girls."

10-24-13: The Advocate: "Cops Arrest Second Suspect in Trans Woman's Hollywood Beating "

"Officers with the Los Angeles Police Department have arrested a second suspect in connection with a vicious beating in May that left a transgender woman with a broken jaw, shattered cheekbone, and two cracked ribs.

Los Angeles CBS affiliate KCAL reports that officers aren't releasing information about the newly arrested suspect, but noted that the authorities planned to do so at a press conference Thursday.

Vivian Diego, a 22-year-old transgender woman, was walking toward the Metro transit station on Hollywood Boulevard at about 2:30 a.m. on May 31 when a group of four men jumped her and began punching and kicking her, Diego says. Diego spent a week in the hospital after the attack, and her mouth was wired shut while she recovered."

10-21-13: Salon: "Anti-LGBTQ group admits it lied about transgender student "harassing" classmates − The Pacific Justice Institute concocted a story to stoke anti-trans sentiment and turned a teenager into a target "

"Last week, anti-LGBTQ group the Pacific Justice Institute started a conservative media firestorm with its claim that a transgender teenager in Colorado was "harassing" her classmates in the girls' bathroom. The allegations, after being picked up by Fox News and other right-wing media outlets, were quickly debunked by a transgender advocacy group that reached out to the school's superintendent, who explained that no harassment had occurred. In reality, the complaint stemmed from one area mother who objected to the school's policy allowing transgender students to use facilities that correspond to their gender identity.

After having its lie exposed, PJI issued a statement explaining that the very presence of a transgender teenager in the girls' bathroom is "inherently intimidating and harassing," and, in a separate statement, said the organization would be "standing by our allegations."

"The core issue is that this school is giving this transgender youth full access to both boys' and girls' facilities, and they are showing little if any regard for the privacy rights of other students," PJI staff attorney Matthew McReynolds told the National Review. "We have received additional reports of specific, inappropriate statements made by this student, and we are working to corroborate those reports."

As a result of PJI's false accusations, a 16-year-old girl became a national target for transphobic vitriol, harassment and death threats. This weekend, her family spoke with the Transadvocate about the experience and the toll its taken on their daughter . . ."

10-21-13: Huffington Post: "California Transgender Rights Bill Is 'An Affront To God' And Children, Claims Pastor Jack Hibbs"

"Pastor Jack Hibbs has joined the chorus of right-wing voices who have condemned California's transgender student rights legislation.

As Right Wing Watch first reported, Hibbs appeared on California Pastor Jim Garlow's podcast, where he declared California's Assembly Bill 1266 "an affront to God" and children.

"This is the most aggressive, the most dangerous bit of legislation against the child and against family than any other in the history of the United States," Hibbs of the Calvary Chapel in Chino Hills, Calif. noted. "We've never seen a government pass such an insane bill as this."

Unfortunately, Gibbs is not alone in his dissent. "This radical bill warps the gender expectations of children by forcing all California public schools to permit biological boys in girls restrooms, showers, clubs and on girls sports teams and biological girls in boys restrooms, showers, clubs and sports teams," Randy Thomasson of savecalifornia.com told Fox News earlier this year. "This is insanity."

Meanwhile, conservative evangelist Pat Robertson condemned the legislation as "insane" and absurd" on a recent installment of "The 700 Club," even comparing members of the transgender community to his castrated horse, Right Wing Watch also originally reported."

10-20-13: Los Angeles Times: "Opponents gear up to fight transgender law − AB 1266 allows transgender students to play on sports teams and use bathrooms of the gender they identify with. Conservatives aim to repeal it."

"It seems pretty simple: If a student has male genitalia, the kid uses the boys' bathroom. If there are female organs, then it's the girls' room. Right?

But what if the student wears a skirt, makeup and lipstick, and has a penis? Which restroom then?

California voters may be asked to answer that question next year in the November election. And it's not really so simple after all. What if a kid with a penis is standing at the boys' urinal wearing a dress and a pretty hair bow?

"That just causes commotion," says Wendy Hill, a state Assembly staffer who helped guide a new transgender-rights law through the Legislature. "It opens up to bullying." A student who looks like a girl, Hill adds, "feels safer going into a stall in the girls' restroom."

If you think all of this is silly, you're not alone. That's probably most voters' view. Doesn't Sacramento have more important problems to solve?

Maybe not if you're a transgender kid whose gender identity doesn't conform to your sex organs of birth.

Admittedly I'm way out of my league here, like most people are on this topic."

10-19-13: Metro Weekly: "CDC urged to stop denying cancer screenings to transgender women"

"Two national LGBT-rights organizations are calling on the Centers for Disease Control and Prevention (CDC) to re-evaluate a discriminatory policy that denies cancer screenings to transgender women.

In a letter to the CDC sent by the Human Rights Campaign and the National Center for Transgender Equality, the two groups insist a CDC policy that denies subsidized cancer screening to low-income transgender women under the Breast and Cervical Cancer Mortality Prevention Act of 1990 because they are not considered women is "clearly discriminatory, dangerous to the health of an at-risk population, inconsistent with prevailing recommendations for transgender health care and at odds with current federal policy ensuring access to care for transgender individuals."

"The CDC policy denying transgender women equal access to cancer screening puts individuals at personal risk and generally exacerbates the health disparities and poor health outcomes experienced by the transgender community," the letter states.
The letter comes amid reports that a transgender woman in Colorado is suing after a state-run health care program turned her away for free breast-cancer screenings because she is "not genetically female."

According to Denver's KUSA, 62-year-old Jennifer Blair filed a complaint under the Colorado Anti-Discrimination Act after being forced to pay for a mammogram that would have otherwise been covered under federal law. She was determined to be cancer-free, but advocates argue her case reveals inconsistencies between CDC policy and "well-established administrative precedent and the strong federal commitment to ending health disparities resulting from lack of access to care."

While CDC guidelines issued in January 2012 stipulate transgender men are still eligible for free breast cancer screenings "since their cancer risk remains the same," transgender women are not."

10-18-13: Autostraddle: "Does The Gay Agenda Have Room For Transgender Rights?"

"So, are trans* rights a part of the larger gay rights movement? This is a tough question for someone like me. I'm both a trans* woman and a lesbian, so both of these fights are very relevant to me and the way I live my life. For me, and the other trans* people like me, gay rights and trans* rights are both vitally necessary. I don't want one without the other. That's the thing that I think bothers me so much about this discussion. It, like so many other mainstream discussions about oppression, ignores the intersectionality that often exists throughout these identities. When we argue that trans* and gay rights are separate battles, we ignore the fact that many people are both. We ignore that homophobia and transphobia both have many of the same roots in sexism and racism. Many of those who want to take rights away from LGB people and trans* people want to do it because neither group fits into their idea of how men and women should act. Laverne Cox wrote in her piece for the NYT debate that the way bullies see it, there's little difference between gay and trans* people:

When kids are bullied and called anti-gay slurs, it's rarely because the victim seemed to be attracted to members of the same sex. It's because the child did not conform to gender expectations based on the sex they were assigned at birth. The bullies might yell "gay," but it's about gender expression."

10-18-13: Londo24 (UK): "Man jailed for 18 years over murder of transgender woman in Finsbury Park"

"A killer who stabbed to death a transsexual woman in north London was jailed for a minimum of 18 years today.

Passing sentence, Judge Charles Wide QC said he could not be sure but suggested Romy Maynard, 28, killed Chrissie Azzopardi after having "some sort of sexual contact" before learning she used to be a man.

The Old Bailey heard how he pinned 22-year-old down on her bed to inflict the fatal blows, then covered her face with a pillow before fleeing the scene, leaving her decomposing body undiscovered for more than a month.

Red-haired Miss Azzopardi, who was born male in 1989, had applied to change her gender just two months before she was fatally stabbed, the Old Bailey heard."

10-18-13: Huffington Post: "Transforming Skin: Transgender Dermatology", by Brian Ginsberg, M.D.

"For the transgender individual whose misrepresentative outer appearance is at the root of their personal conflict, it may be clear how the skin is a critical component of establishing self-harmony. However, the role of the dermatologist in their care is yet to be determined in the academic literature and subsequently in routine practice, but to me it has always been evident that we dermatologists have a unique perspective on addressing their needs in both a medical and aesthetic manner . . .

It is not yet commonplace for dermatologists to be sought after in the care of transgender individuals. I hope to bring dermatology to the forefront of transgender care, making our resources known to the community, while making the dermatology community aware of how to better utilize these resources for a new good. Through public voice and dedicated research, I plan to expand the practice of transgender dermatology, directing it toward the increasingly better-understood needs of our patients and applying and adjusting commonly used techniques for a novel purpose. With improvement in our abilities, expanded access to care, and a widely acknowledged understanding of what we as dermatologists have in our armamentarium, I hope to serve the greater community by providing an effective and safe option for realizing one's self-image and caring for it thereafter."

10-18-13: Association of Russian Lawyers for Human Rights (Russia): "19 October 2013 The Day of Remembrance will be held in Moscow: transgender girl from Ekaterinburg had committed suicide"

"The Day of Rememrance of transgender young woman Dasha Shtern will be held in Moscow October 19, 2013 . . . The action will starts at 18.00 in feast day of Dasha Shtern, who had committed suicide several days ago in Ekaterinburg .

As the resident of Ekaterinburg transgender woman Julia Solovyova said, she knew Dasha Shtern, and she considers, the last straw of the decision of Dasha was the termination of employment, the pressure of the relatives. As Julia Solovyova stressed, Dasha was forced to leave parental home, she stayed without home, money and work.

The representatives of the TG-community of Ekaterinburgsaid, that Dasha Shtern was quite successful municipal employees, was able to get a mortgage to purchase an apartment, bought a car, traveling. The death of Dasha Shtern was a suddenness for everyone, said friends.
Top-lawyer and human rights defender Masha Bast said, that Dasha Shtern was dismissed after the signing of Vladimir Putin of the law "Against gays": trasngender girl lost work, the ability to pay the mortgage, home and parents.

As Masha Bast stressed, Vladimir Putin had created the system where there is no place for transgender, there is no place for dissidents. Masha Bast considers, that Dasha Shtern is one of the first victims of the law "Against gays" and also Dasha is the victim of the indifference of the Russian society."

10-18-13: The Hindu (India): "Transgender opens boutique in Madurai"

"After struggling for over a year to launch her own business venture, Srinidhi, a transwoman, finally opened a designer boutique in Madurai. It was a dream-come-true moment for 26-year-old Srinidhi, when Collector L. Subramanian inaugurated the garment outlet at Poomalai Shopping Complex opposite Anna bus stand on Thursday.

Ms.Srinidhi is the first transgender in the State to have started a garment shop with financial help from the Mahalir Thittam. She thanked former Collectors U. Sagayam and Anshul Mishra for the assistance they extended to her in securing the loan. Named after her, the textile store has clothing for women and kids. The prices of the products range between Rs.250 and Rs.1,000.

"Unlike a few transgenders who are forced into undesirable acts to make a living, I want to lead a noble life by running my own textile shop," said Ms.Srinidhi.

Though she had got a Masters' degree in business administration from Madurai Kamaraj University, Ms.Srinidhi was constantly denied job opportunities owing to her gender. However, this prompted her to turn an entrepreneur. "I plan to expand my business and employ more transgenders, and my wish is to export garments soon," she added.

"It is a proud moment for the transgender community. The Central and the State governments should encourage people like Ms.Srinidhi and help uplift them by providing financial aid and self-employment opportunities," said Barathi Kannamma, a transgender social activist."

10-18-13: Metro (UK): "A transsexual police officer is suing her force after she had to come 'out' over a police radio system because an operator said she had a 'male voice'"

PC Emma Chapman, who works for Essex police, claims there were a number of incidents in the force's control room.

An employment tribunal heard how, in October 2012, an operator did not believe who she was over the radio handset. According to her witness statement, as seen by the BBC, she said she felt 'a combination of alarm and distress'.

'I replied… 'I am a transsexual. I felt very embarrassed and desperate. The incident took my breath away.' PC Chapman said she was left feeling very 'distressed' that she had to 'out' herself over the police radio channel which is broadcast to hundreds of officers and staff.

She claims that not enough had been done to help officers understand transgender issues and Essex police failed to properly investigate what happened."

10-17-13: "Jennifer Blair, a transsexual woman, is suing for the right to get free breast cancer screenings"

"The legal definition of "female" is at the center of a new lawsuit. Jennifer Blair, a transsexual woman, is suing for the right to get free breast cancer screenings.

Blair had surgery to change her gender more than a decade ago. Women's Wellness Connection, a state-run healthcare program, recently turned her away because she is "not genetically female." . . .

After noticing unusual breast growth, Blair went to Planned Parenthood of the Rocky Mountains on the 6300 block of E. Exposition in Denver for a mammogram, paid for by Women's Wellness Connection.

The state-run program offers free cancer screenings for low income women. "I don't have any health insurance," Blair said.

Even though she meets all the requirements, Blair was turned away. "I was shocked. I was hurt," Blair said.

The Centers for Disease Control and Prevention (CDC) pays for the program, and says it only covers clients who are "genetically female.""

10-17-13: Think Progress (posted 10-15): "Anti-LGBT Group Admits It Invented Story About Transgender Student Harassing Classmates [UPDATED] "

"Conservative media has been quite exercised this week by a story about a transgender student at Florence High School in Colorado allegedly harassing girls in the locker room. The Pacific Justice Institute, a California-based anti-LGBT group, spurred the media focus by sending a letter to the school demanding accommodation for the supposed victims. Cristan Williams at The TransAdvocate debunked the story by speaking directly with Superintendent Rhonda Vendetti, who explained that no harassment took place — a few parents just don't like that a transgender student is being allowed to use the locker room of the gender with which she identifies. Now, PJI has basically admitted they invented the story because they're just transphobic.

One of PJI's responses came through the conduit of attorney Cathy Brennan, a mouthpiece for a fringe group of transphobic feminists who do not believe that trans people exist and that any attempt to recognize or respect them is an attack on all women. Here's the message she delivered to The TransAdvocate on behalf of PJI . . . "

10-16-13: Aljazeera America: "The Flagship Oct 16 Watch: Are police profiling transgender Americans?"

"The modern gay rights movement was born on June 28, 1969, at the Stonewall Inn, on Christopher Street in New York City's West Village. Resistance broke out in response to a violent police raid against the gay community, and riots continued for several days. Many of the key leaders were transgender women, such as Sylvia Rivera, who had started her activism during the 1950s civil rights movement and continued until her death in 2002.

More than 40 years later, correspondent Christof Putzel and I returned to Christopher Streeet and found that even in a place long considered a haven for lesbian, gay, bisexual, and transgender (LGBT) people, many LGBT individuals are still living in fear of police violence.

Mitchyll Mora, a young activist, said police had harassed him for dressing feminine, and his friends for not fitting into narrow gender roles.

"Christopher Street is a historic location, and it's always been a haven for queer folks, especially young folks of color. But with gentrification, there's been aggressive policing here, and that's a really scary thing," Mora told us. "It's scary when safe spaces are taken away from us."

It's not just in New York City. A 2012 study [PDF] by the National Coalition of Anti-Violence Programs found that transgender people across the U.S. experience three times as much police violence as non-transgender individuals. Those numbers are even higher for transgender people of color. Even when transgender people were the victims of hate crimes, 48 percent reported receiving mistreatment from the police when they went for help."

10-16-13: Huffington Post: "Todd Kincannon, Former Executive Director of South Carolina GOP, Believes Transgender People Should Be 'Put in a Camp'" by Parker Marie Molloy

"Todd Kincannon, former executive director of the South Carolina Republican Party, took to his Twitter account on Monday to express his opinion on transgender rights. After transgender activist Kat Haché replied to one of Kincannon's tweets on an entirely different topic, Kincannon launched into an anti-transgender tirade, making use of slurs, name calling, and his belief that transgender individuals should be locked away in concentration camps."

10-16-13: Huffington Post (posted 10-15): "The Moment I Finally Came to Understand and Accept Transgender People", by Mehrac Aliyari
"For a very long time I saw trans people as gay people who were ashamed or afraid to be themselves. It was something that I thought was insulting homosexuality. I respected trans people but didn't understand them. "There's no shame in being gay," I thought, "so why can't they understand it?" I, like a lot of other people, was confusing sexuality with gender.

I became aware of this recently when I heard about the story of Arin Andrews and Katie Hill via Neil Gaiman's and Will Wheaton's Tumblr posts, which directed me to a video published in a HuffPost article.

Arin and Katie are a teenage couple who both felt that they did not identify with their biological sex. They met in a support group and fell in love with each other. And we all know what happened next: They transitioned together. I found this really cute but didn't understand why they transitioned in the first place. They were heterosexual, weren't they?

Then I watched the video (below). And after all those years, I finally understood it.

Now I laugh at my own ignorance. I laugh because laughing is much better than crying. To HuffPost Gay Voices editor Noah Michelson, who's featured in the video: I learned a very important lesson thanks to what you said in that video. And I thank you for this."

[Ed: A very important insight into why many in the past have misunderstood transgender people.]

10-16-13: Think Progress: "How Eager Is Conservative Media To Demonize Transgender Youth? "

"Conservative groups have been ramping up their rhetoric against transgender young people, particularly as they work to overturn California's new bill protecting transgender students. Conservative media has now pounced on a story about a transgender student supposedly causing trouble in a girls' locker room at a Colorado high school, but it turns out that the trouble actually came from some transphobic parents.

The story first broke at the Christian Broadcasting Network. Unsurprisingly, that report about a "male student" at Florence High School who "claims to be a transgender" [sic] "harassing girls in the bathroom" did not identify a single student or parent who complained nor a single complaint about what was actually happening. In fact, the story seemed to be built around a letter submitted to the school by the anti-LGBT Pacific Justice Institute demanding privacy protections on behalf of the girls.

The story was then picked up by the Daily Mail, Examiner, and Fox Nation, as well as other fringe conservative outlets, all of which repeated the same lack of details. But Cristan Williams of The Transadvocate thought the story was fishy, so she took it upon herself to talk to Superintendent Rhonda Vendetti herself and discovered some interesting facts about the situation . . ."

10-16-13: The TransAdvocate (posted 10/14): "Trans Student Attacking Girls in School Restroom! Or, you know… not", by Cristan Williams

"I challenged David about his facts and he admitted that he abdicated his responsibility to conduct due diligence for a story concerning a trans kid. Let's be honest here, this is a case where ADULTS are targeting a trans KID, asserting that the kid is predator. Apparently, for people like David, what he's knowingly doing to this kid is acceptable as long as he has his juicy headline that plays well for his audience.

At this point, it's become an international story. Of course it has. It appeals to the trans-rapist/stalker-meme so beloved by the right wing. The fact is that this "news" was generated by a right wing organization that apparently doesn't have an issue with targeting trans kids in their ideological war.

Since none of these "news" sites were willing to actually do any fact checking, I took it upon myself to do it for them. Before you listen to the phone conversation me and school Superintendent Rhonda Vendetti, care to take a guess as to how accurate the international reports have been? Yeah, I didn't think so."

10-16-13: Fox News (posted 10/14): "Girls 'Harassed' In School Bathroom By Transgender Student Told His Rights Trump Their Privacy

"The push for radical transgender rights in schools is trumping privacy rights at one Colorado high school.

A male student at Florence High School who claims to be a transgender has been harrassing girls in the bathroom. When parents complained, school officials said the boy's rights as a transgender trumped their daughters' privacy rights.

As the controversy grew, some students were threatened with being kicked off athletic teams or charged with hate crimes if they continued to voice concerns."

10-15-13: New York Times: "Are 'Trans Rights' and 'Gay Rights' Still Allies?"

"The gay-rights movement has racked up some big wins in the past few years. First it was: "Obama Ends 'Don't Ask, Don't Tell' Policy." And then: "Supreme Court Bolsters Gay Marriage With Two Major Rulings." But time and again, federal measures to protect transgender Americans have faltered.

Does it still make sense to think of trans rights as part of the gay-rights movement? Or at this point, is it a different campaign with different goals? Read the Discussion » Debaters:

Susan Stryker Susan Stryker, Institute for LGBT Studies: Trans Advocates Welcome Gay Allies

John Corvino John Corvino, author, "What's Wrong With Homosexuality?: The Two Variables Don't Always Intersect

Tiq Milan Tiq Milan, GLAAD: There's Only One Movement

Thomas Page McBee Thomas Page McBee, writer: Our Allies Must Not Eclipse Us

Mattilda Bernstein Sycamore Mattilda Bernstein Sycamore, activist and author: A Movement That's a Little More Radical

Laverne Cox Laverne Cox, actress and advocate: The Bullies Don't Draw a Distinction"

10-14-13: The Independent (UK): "Transgender activists praise Independent on Sunday for Pink List selection"

"Leading figures in the transgender community have praised the The Independent on Sunday for naming a transgender person at No 1 on its Pink List of Britain's 101 most influential LBGT people.

The list was topped by Paris Lees, the journalist, broadcaster, campaigner and editor of Meta magazine, for her work in "leading a slow but determined change in attitudes" towards the transgender community.

Janet Scott, a spokesperson for the Beaumont Society, the UK's largest and longest established transgender support group, welcomed the decision, saying Lees was a "wonderful ambassador, who sends out the right message about transgender people"."

10-13-14: South China Morning Post (Hong Kong): "Joanne Leung raises transgender awareness − Joanne Leung Wing-yan has become the poster girl for the transgender community"

"By the time she was six, Joanne Leung Wing-yan, born a boy with the name Donne, felt she should be a girl. But it wasn't until four years ago that Leung completed the sex-change surgery that would finally make her at peace with herself.

While Hong Kong society has gradually become more liberal in its views of gay and lesbian people, Leung says it's still tough for the transgender community.

"Already at six I felt I should be a girl,' she says. "In primary school I always played with the girls. Then I was at a secondary boys' school, so I tried to fit in."

Leung hid her dilemma for decades, and the strain led to four suicide bids. The self doubt, the feeling that you are alone and there is no one else like you, ate at her. Making it worse was the fact there was very little information available for transgender people.

Based on her own struggle, Leung works with several organisations, including as chair of the Transgender Resource Centre – where she works full time – to ensure other transgender people do not have to go through what she endured."

10-12-13: The TransAdvocate: "TERFs & Trans Healthcare", by Christan Williams (Note: TERF = Trans Exclusionary Radical Feminist)

"The TERF movement played a significant role in the revocation of trans healthcare access. In fact, TERF activist, Janice Raymond, authored the government's anti-trans position.

The National Center for Healthcare Technology was a government funded body that reviewed metadata so that Health & Human Services (HHS) would be able to make evidence-based ​judgements about the efficacy of medical technologies. In short, they informed the US government on what was and what was not medically efficacious. The NCHCT had Janice Raymond, author of The Transsexual Empire: The Making of the She-Male issue their position on the efficacy of trans medical care in a paper titled, "Technology on the Social and Ethical Aspects of Transsexual Surgery." This position paper makes practically all the same assertions about trans people commonly found in far right-wing anti-trans propaganda; however, unlike other extremist group propaganda, this misleading report informed HHS' position on trans medical care. The report was available through the Office of the Associate Director for Medical and Scientific Evaluation, Public Health Service.

Raymond asserted that trans medical care was a new phenomena, unethical, asserted that legislation should block trans medical care and that it would be best to institute a national program of reparative therapy . . .

The ghost Janice Raymond's hard work is still alive today. TERFs continue to advocate against any movement away from the medical landscape Raymond wrought. Even in 2013, 33 years after Raymond's successful effort to dismantle trans healthcare, trans people continue to suffer each and every day.

Even though the American Medical Association, American Psychological Association, American Academy of Family Physicians, National Association of Social Workers, World Professional Association for Transgender Health, National Commission on Correctional Health Care, American Public Health Association, American College of Obstetricians and Gynecologists all agree that trans care is medically necessary, trans people still endure under the TERF movement's yoke."

[Ed: The horrific legacy of Janice Raymond lives on in the medical establishment (see next article) . . . ]

10-12-13: Huffington Post (posted 10-09): "Health Insurance Exchanges Might Not Be Accessible to Trans* People", by Scout, Ph.D.

"As the largest-ever health insurance expansion rolls out, the promise of finally getting health care will be a boon for many -- but not necessarily for trans* people . . .

Then the news turned grim. In one example of how data collection helps us see problems, the Center for American Progress commissioned research on the messaging about how and why LGBT people should enroll in the new insurance offerings. The findings showed that the existing messaging works for most LGB people, but not for trans* people. The researcher was blunt: The trans* focus groups were some of the saddest she had ever run. The participants had such a profound history of discrimination that they had developed extreme wariness of any representative of the health care system. Plus, trans* people needed to have very specific questions answered: Will the policy cover hormones, have friendly providers, or cover gender confirmation surgeries? But people had no confidence that insurance navigators could answer these questions, and, worse, no confidence that they'd even be treated decently once they disclosed they were trans* . . .

Just today, for example, I got a report from Tracy McCreery of the LGBT equality group in Missouri, PROMO. Tracy is working on a state health policy project, so she's trying to figure out the trans* benefits that different insurers in their exchange offer. Her experience does not bode well for other callers. She reported that the first insurer she called transferred her approximately 20 times and, after all that, she never received the information she sought about trans* health coverage. At the White House event the presenters had a proposed solution for this problem: In addition to the Out2enroll online portal, they are trying to launch a single national trans* hotline. But with the six-month open enrollment window open now, I was disappointed to learn that this was still just another good idea without funding.

To make matters worse, the feds can't identify one single state or national survey that's added trans* measures as a result of their enhanced data collection efforts. (Meanwhile they have added an LGB measure to their most influential survey.) It's pretty harsh to showcase trans* data that highlights a sincere need, then realize that in most all cases trans* data are not being collected in our national health surveillance system. That's like lighting a candle in the woods, seeing red malevolent eyes, then putting the candle out again!

Knowing that trans* people are reluctant to even call navigators, combined with the early confirmation of the fears that navigators don't know enough about trans* coverage, I fear that even with the increased protections, health insurance exchanges are not fundamentally accessible to trans* people. And worse, the government is still not collecting the data to even monitor this problem. I'd like to hope that these are just wrinkles that will iron themselves out in the next few weeks, but I suspect that we will need that dedicated trans* hotline before we're going to get real traction on this issue. And I want to ask: Who's responsible for making sure that the funded health insurance navigators serve everyone?"

10-11-13: Los Angeles Times (posted 10-03): "He's tough enough to be a Sissy in Wyoming − Longtime cross-dresser Sissy Goodwin of Douglas, Wyo., has been anything but weak as he stands up to bigotry in the Cowboy State" (with video)

"Goodwin is a cross-dresser in the Cowboy State, a place known for its big-buckled outdoor ethic and intolerance of alternative lifestyles. It is the state remembered for the death of college student Matthew Shepard, who was tortured and killed in 1998 because he was gay.

For most of his life Goodwin has lived a compulsion — one that at times has made him cry and embarrassed his family. But he found out long ago that he can't stop himself.

Cross-dressing is widely considered aberrant behavior even in the most liberal big cities, but out here in the nation's least-populated state, the practice is almost unthinkable. For decades, Goodwin has endured a profoundly hostile environment. He has stood up to bigotry and has begun to make a difference."

10-11-13: The Guardian (re the Gulf States): "Gulf countries consider medical checks to bar transgender expats − Kuwait proposal aimed at preventing transgender migrant workers from entering six-member Gulf Co-operation Council countries criticised as 'immoral' "

"The Gulf Co-operation Council (GCC) will next month consider a proposal from Kuwait to introduce medical checks to prevent transgender people from entering the six-member Arab countries as migrant workers.

The Saudi-based Arab News reported this week that authorities in Kuwait's ministry of health have proposed "genetic tests" aimed at detecting transsexuals who wish to enter and work in Bahrain, Kuwait, Oman, Saudi Arabia, the UAE and Qatar, where the 2022 football World Cup is scheduled to be held.

Medical screening designed to determine the sex of migrant workers has already been in place for some time in some Arab countries but the new proposal specifically targets members of the transgender community."

10-11-13: The Raw Story (posted 10-08): "California Republicans target transgender youth protections in 2014 push"

"The California Republican Party is throwing the full weight of its political muscle behind an effort to repeal the state's ban on discrimination against transgender kids. According to BuzzFeed's Tony Merevik, far-right conservatives and tea party operatives have made overturning the recent protections enacted for transgender teens in public schools the center of the party platform.

In July, the California State Assembly passed the School Success and Opportunity Act, which stipulated that all students are "permitted to participate in sex-segregated school programs and activities, including athletic teams and competitions, and use facilities consistent with his or her gender identity, irrespective of the gender listed on the pupil's records."

On Sunday at a meeting of the Republican Party faithful in Anaheim, a majority of delegates voted for the party to endorse a raft of candidates who are all placing opposition to the law at the top of their policy priorities."

10-11-13: LAist (posted 10-05): "Transgender Professor Loses Position At Evangelical University After His Public Transition"

"H. Adam Ackley and Azusa Pacific University announced that they theology professor was leaving his position at the university because of their "different views on the theology of human sexuality." Ackley and the university released a joint statement Friday afternoon, saying that they had come to a mutual agreement after weeks of controversy
"Dr. Ackley and university leadership have engaged in thoughtful conversations regarding Dr. Ackley's continued employment at APU and recognized that they have different views on the theology of human sexuality. While we appreciate Dr. Ackley's past service and pray God's best for the journey ahead, we have reached a mutual agreement that recognizes it would be best for Dr. Ackley to pursue professional endeavors elsewhere."
Yesterday the APU community said their goodbyes to the professor who had taught theology for 15 years and even served as the head of the department of theology and philosophy . . . "

10-11-13: Jakarta Post (Indonesia): "How Bandung's Transgender Community Is Taking on HIV/AIDs One Test at a Time − Yuli Krisna discovers a group of vulnerable people determined to tackle an alarming health trend"

"Ayu, a social worker from Srikandi Pasundan, an organization that advocates for transgender empowerment, said that it is difficult to convince the dozens of transgender prostitutes in Binong to take the voluntary test and practice safe sex. "Most of them refuse to go to the clinic. Sometimes I feel it is easier to take care of my seven cats than take care of these transgenders," said Ayu, herself a transgender and a prostitute.

The 31-year-old social worker said that she joined Srikandi two years ago after attending one of the group's sessions. "Before [joining Srikandi] I used to take [safe sex] for granted. I wasn't taking care of my own health let alone helping others. But after joining Srikandi Pasundan and attending their sessions I became more aware of [HIV]. I've seen examples, cases. That's when it hit me. I need to take my friends to these sessions and tests."

Ayu said that although she still roams the streets of Binong at night, during the day she helps Srikandi by documenting her sex-worker friends, convincing them to attend HIV awareness seminars and sessions as well as taking the VCT. "I want my friends to be healthy. If I don't do it, who else?" she said."

10-10-13: Huffington Post (re Argentina): "Argentina Grants Lulu, 6-Year-Old Transgender Child, Female ID Card"

"Argentina's government has granted a six-year-old transgender girl an ID that corresponds with her gender identity.

Late last month, government officials granted Lulu, who was born biologically male but reportedly dressed and identified as a female since she could talk, a female identification card under the country's Gender Identity Law, according to the International Business Times.

As the Associated Press notes, it is the first case of a minor legally changing their sex on a government document since officials passed the legislation last year.

Passed in January 2012, Argentina's Gender Identity Law enables citizens to change their names and government-sanctioned sex on official documents without approval from a judge or doctor. With an awareness of how government documents designating one's assigned sex can function as a form of body policing and gatekeeping, Argentina remains the only country in the world to allow individuals to change one's sex without medical or legal approval."

10-09-13: Huffington Post: "Pat Robertson Compares Transgender People To His Castrated Horse " (more, more, more, more)

"Pat Robertson condemned California's new transgender protection legislation as "insane" and absurd" on a recent installment of "The 700 Club."

As Right Wing Watch originally reported, however, the conservative evangelist didn't stop there, and even compared members of the transgender community to his castrated horse.

"We talk about transgender -- I have a former stallion who is now a gelding because stallions get very aggressive, but he wasn't trying to be a girl; we just made him into a less aggressive male," Robertson noted.

Earlier in the program, Robertson, 83, asked co-host Wendy Griffith for a definition of "transgender." Blasting the transgender community as "a loud minority," Griffith responded, "They're still boys, but they dress like girls or they're still girls, but they dress like boys." "

10-09-13: SkipTheMakeup: "What's the T... a documentary trip back to 1987", by Gina

"What's the T" is a new 65-minute documentary by filmmaker Cecilio Asuncion. It profiles 5 trans women, 4 of whom live in the San Francisco Bay Area while one is in New York City. They seem to all be in their 20s (except for one who's more mid-late 30s), are all very femme presenting and, in some way, have connections to drag or ballroom performance. The promotion materials for the film read as follows: "These women represent normality and abnormality, seamlessly, in their daily efforts to achieve a balance of feminine and masculine;" and

"This film is not about middle-aged husbands wrangling strained marriages for the sake of identity. It's not about teenagers looking for identity or toddlers embraced by progressive families. And it's not about loners seeking medical solace. The ladies of What's the T? are reality and self-assurance in identity."

Got that? In other words, it's about a specific piece of the trans community which doesn't make it more representative of that community than any of the other genres of trans documentary from which it seems to be attempting to distance itself. Perhaps most importantly, it's a trans documentary made, written and produced by gay cis men."

10-09-13: The Guardian (UK re US): "Chelsea Manning rejects 'pacifist' label in first statement since sentencing Exclusive: In first public remarks since guilty verdict, WikiLeaks source expresses intense upset at public presentation of her"

"In a statement issued to the Guardian, Manning insists that she did not leak hundreds of thousands of US classified documents to WikiLeaks because she was explicitly motivated by pacifism. Rather, she sees herself as a "transparency advocate" who is convinced that the American people needs to be better informed.

"It's not terribly clear to me that my actions were explicitly done for 'peace'... I feel that the public cannot decide what actions and policies are or are not justified if they don't even know the most rudimentary details about them and their effects."

In her first public comments since she was sentenced in August to 35 years in military custody for leaking the largest quantity of US state secrets in history, Manning writes that she is increasingly concerned about what she calls a "substantial disconnect" between her experiences at the US military prison at Fort Leavenworth, Kansas, where she is being held, and messages that are being put out to the rest of the world without her knowledge or approval. "I was shocked and frustrated about what's occurred here," she writes.

Manning's concerns relate to the 2013 Sean MacBride peace award which was granted to the former army private last month by the International Peace Bureau in recognition of her "outstanding work for peace" in "revealing information about US war crimes"."

10-08-13: Huffington Post: "Beyond Transition: Documentaries Capture Rich, Complex Transgender Lives", by Mitch Kellaway

"Mass media have a history of erasing transgender people's complexities and lived experiences. It happens whenever there's an act of misgendering or misnaming or a reliance on social assumptions that trans existence is essentially tragic or reducible to medical procedures. Thankfully, this year has seen a steady stream of trans-focused independent documentaries to offer a counterpoint, illuminating how nuanced, flawed, individualistic, and human trans lives are.

I spoke via email with several filmmakers to learn how they worked toward capturing rich portraits of trans folks that evoke resilience, humor, history, and joy. A common theme emerged from our conversations: Gender transition, while a significant milestone, is not the only, or even necessarily the defining, part of every trans person's life. It's an ongoing process that informs and interacts with other roles and identities, albeit one that is too often rendered tragic by medical and legal stumbling blocks and social stigma. And, like any major change, it's worth celebrating -- even as life goes on despite and because of it."

10-08-13: San Francisco Chronicle: "Transgender name changes made easier by new law"

"The public and costly process for transgender people to legally change the name and gender on their California birth certificate will be streamlined under a law Gov. Jerry Brown signed Tuesday.

Equality California Executive Director John O'Connor said the legislation is "a huge victory for making the world a more inclusive place for transgender people." It follows several other key bills supported by the gay, lesbian, bisexual and transgender community that were signed by Brown this year. The governor has until Sunday to act on 206 remaining bills on his desk.

AB1121 by Assemblywoman Toni Atkins, D-San Diego, allows a transgender person to change the name on their birth certificate without a hearing in open court or publishing their request in a newspaper. Court-ordered name changes are a prerequisite for changing other documents, such as driver's licenses.

The process for changing a gender marker on a birth certificate will be an administrative process requiring a doctor's note indicating the person has undergone a gender transition.

Ilona Turner, legal director for the Transgender Law Center, said Atkins' bill was formed out of concerns from transgender people who were "honestly very nervous about being outed" publicly during the name- or gender-change process. The Transgender Law Center co-sponsored the bill with Equality California."

10-04-13: Time: "Transgender Showed Evolutionary Benefits in Ancestral Societies", by Alexandra Sifferlin

"A new paper published in the journal Human Nature finds that transgendered men were often seen as an asset in some societies.

Among hunter-gatherer communities, the social investments that transgender males made to their groups may have helped to sustain the transgender orientation into modern societies, say researchers led by Doug VanderLaan of the Centre for Addiction and Mental Health in Canada.

VanderLaan and his colleagues studied 146 non-transgendered societies and 46 transgender societies in both current and older hunter-gatherer societies, and found that transgender men were considered useful to their communities as extra help in supporting the family, whether by maintaining households or by contributing to the raising of children. Those benefits provided an evolutionary advantage to the societies in which they belonged, allowing them to survive and remain healthy, and that in turn provided the opportunity for transgender attributes to continue into future generations, despite the fact that many transgender males did not have biological children of their own. Not surprisingly, this effect was strongest in communities in which both male and female contributions to the health of a family — in the form of emotional, social as well as financial and political support — were considered equally important. In these communities, discrimination against homosexual activity was rare, the authors report.

In fact, that condition was critical to the positive societal contributions of the transgender males. In order for the contributions of these men to benefit the community, they had to be accepted by its members."

[Ed: This article about important research is unfortunately marred by hopeless confusions in terminology (as pointed out by numerous commenters), including its use of 'transgender' as a noun in the title and its description of transgender women as 'transgender men'.]

10-04-13: Huffington Post: "The Coming Storm: 'Controversial' Transgender Stories", Parker Marie Molloy

"In the coming year, as A.B. 1266 goes into effect in California, be prepared to read a lot of stories like this: "Local Transgender Student Provokes Mixed Reactions." Leanne Suter of KABC-TV Los Angeles writes about the "controversy" surrounding news that a transgender elementary school student in Glendale, Calif., would begin attending school presenting as a girl. The story goes on to talk about how one parent, Rochelle Mazel, opted to keep her kids home from school on Monday, "afraid the situation at school could be too chaotic or confusing for her children." She later states that she wishes the school had provided a psychologist for the benefit of the other students. Another parent, Natalia Selway, is quoted as saying, "[I]t would be a lot of questions that would be hard to answer, and I would prefer not to deal with this."

These parents don't seem to realize that the reason that children go to school is to gain an education. "Too confusing" and "hard to answer"? Maybe. But Selway's quotation, "I would prefer not to deal with this," is a summation of the attitudes of the ignorant. A core component of being a parent is the ability to answer the tough questions, to enlighten your children instead of leaving them in the dark, but Selway and Mazel are choosing to shield their children from developing a healthy worldview, condemning them to remaining just as much in the dark as their parents are. I feel sorry for these children.

Of course, other parents voiced their concerns over which bathroom the transgender student would be using. It always comes back to the bathroom somehow, doesn't it?

This is a prime example of why legislation like California's A.B. 1266 is so important. It takes so much bravery on the part of this young trans student to do what she's doing. We need steps in place to prevent parents of cisgender children from throwing trans students under the bus, and from trying to change school policy through pulling their own students from the classroom."

10-03-13: The Atlantic: "Harvard Business School's First Transgender Student Speaks Out − Though queer identities are finding greater acceptance in America, the trend is uneven: Transgender individuals still find themselves marginalized."

"Last year, Harvard Business School accepted its first transgender student. She is, in fact, the first openly trans person to be admitted to any top management program in the country.

The implicit message to the business world that comes with a school like Harvard's acceptance isn't one Del (who prefers to go by her first name) expected to hear in her lifetime. Society's tolerance for homosexuality may be on the rise, but so far transgender individuals have been largely left out of this growing openness to queer identities.

One of the greatest challenges trans people face comes with employment. Employers are often reluctant to take on the perceived risk of hiring a visibly trans person, fearing that they will lose customers or make other staff uncomfortable. Thus, despite having consistently greater levels of education than the general population, one in six trans people subsists on a total household income of under $10,000 a year . . .

If she wanted, Del could seamlessly blend into the background at Harvard Business School. It is very clear to me that the only reason she has decided to identify with the trans community is to help others by changing negative stereotypes. Most transgender individuals who manage to defy the odds by achieving success do so because they exist in stealth, hiding their trans history. While Del has chosen to speak out, she says she doesn't fault those who choose not to share their past. "After transition, transgender becomes less an identity than an experience for many people, and one most are happy to forget."

Sometimes it is the indirect discrimination of otherwise well-meaning people, rather than deliberate acts of hate, that most profoundly affects a transgendered person's quality of life. "Most employers and administrators have not only never met a transgender person before, they have never been in an environment where they see others embrace a trans person.

As a result, many open-minded and accepting people do terrible things out of the fear of what other people might think." That's why she sees the school's acceptance of a transgendered individual as being so important. "Any difference I can make by being here is dwarfed by the impact the school and my peers have had by embracing a trans student as one of their own. They are the ones who are changing the world.""

10-03-13: BuzzFeed: "Report Details Discrimination Faced By Undocumented Transgender Immigrants"

"Undocumented transgender immigrants in the United States are among the most vulnerable to discrimination and violence in employment, housing, healthcare, and opportunities for citizenship under current U.S. immigration law, according to a new report being released Friday by the National Center for Transgender Equality.

"It is more difficult to be an immigrant who is a trans person," Johanna Vasquez, 32, told BuzzFeed, speaking through a translator. "They treat you differently when you are detained."

Vasquez fled El Salvador at age 16, after she was beaten and raped by community members who tormented her for being transgender. She missed the one-year asylum filing deadline. After 12 years, she was detained by authorities and placed in a detention facility where she was beaten and sexually assaulted.

Without legal defense, she was deported back to El Salvador in 2009, then returned to the U.S. where she spent seven months in a detention facility, before she was deported again. After returning to the U.S., she obtained the help of a public defender, who obtained a withholding of her removal.

"You are put in a cell where you are by yourself and experience a lot of violence that straight people or cis[gender] people do not experience, but you experience when you are a trans woman," she said of her time in detention.

Just days after House Democrats released new comprehensive immigration reform legislation, advocates at NCTE and dozens of partnering labor and immigration rights organizations involved in the report are calling on lawmakers to pass "common sense" reforms that they say would ensure the safety and security of an estimated 10,000 to 50,000 transgender immigrant adults living in the U.S. as non-citizens."

10-02-13: Daily Mail (UK): "'I sold my house to buy a female face': Transgender woman, 56, sells home to pay for £15,000 'feminisation' surgery"

"A transgender woman unhappy with her masculine features has revealed that she sold her house in order to finance a £15,000 surgical makeover. Jenny Bowman, 56, had been left frustrated by the size of her nose and masculine jawline before discovering a procedure called facial feminisation surgery after an online search.

The operation, which softens and feminises the features, isn't available on the NHS but fed up with her masculine looks, she took the dramatic step of putting her house on the market to pay for it. After selling her three bedroom, semi-detached Cambridge home, Jenny underwent extensive surgery to reshape her nose, forehead and jawline.

Jenny, who was born a boy named Paul, had always felt herself to be a woman trapped in a man's body and began secretly wearing female clothes as a young adult before deciding to live as a woman full-time in her late thirties but lacked confidence because of her looks.

'Since having facial feminisation surgery, I've never looked back,' she said. 'It's been worth every penny as I'm just so much more confident now. 'It meant so much to me that I sold my house to have the operation and I'd do the same again. I think many others in my position would go to the same lengths."

10-01-13: Daily Mail (UK re Belgium): "Transsexual, 44, elects to die by euthanasia after botched sex-change operation turned him into a 'monster' − Nathan Verhelst, 44, born Nancy, was disappointed with sex-change results" (more)

"A Belgian transsexual has chosen to die by euthanasia after a botched sex change operation to complete his transformation into a man left him a 'monster'. Nathan Verhelst, 44, died yesterday afternoon after being allowed to have his life ended on the grounds of 'unbearable psychological suffering'.

It is understood to be the first time someone in Belgium has chosen euthanasia after a sex-change, and comes soon after it emerged that it is now the cause of nearly one in 50 deaths in the country . . .

Born a girl named Nancy, his transformation into a man began with hormone therapy in 2009, followed by a mastectomy and finally an operation to construct a penis last year.

But the procedures did not go according to plan. In the hours before his death he told Belgium's Het Laatse Nieuws: 'I was ready to celebrate my new birth. But when I looked in the mirror, I was disgusted with myself.

'My new breasts did not match my expectations and my new penis had symptoms of rejection. I do not want to be... a monster.'
His family learned of his decision this morning via a farewell letter.

Mr Verhelst's decision comes amid a fierce debate over euthanasia in Belgium, where the number of deaths due to the controversial practice soared by 25 per cent last year.'"

September 2013

9-30-13: Huffington Post (re UK): "'April Ashley: Portrait Of A Lady' Explores The Life Of Britain's First Transgender Icon" (more, more, more)

"Born in 1935, April Ashley was a successful model by the time she turned 26, gracing the pages of magazines like Vogue in nothing but her underwear. By that age, she had also undergone one of the first gender reassignment surgeries in Morocco, leaving her life as George Jamieson behind her to become one of the world's first visible LGBT icons.

An ongoing exhibit at Liverpool Museum, titled "April Ashley: Portrait Of A Lady," is paying tribute to Britain's early transgender advocate. Featuring photographs and documents from the 1930s to today, the show delves into the Liverpool native's transformative journey, from a confused child to a fashion figure to a lauded leader of the UK trans community.

The exhibit traces a timeline beginning with Ashley's tormented childhood, a tumultuous period dominated by intolerant schoolyard bullies, and a young adulthood in harsh psychiatric treatment. Ashley was steadfast in her belief that she was a woman trapped within a male body, and began working in a nightclub in her early 20s to earn enough money for gender reassignment surgery -- a procedure that only eight people had undergone before her.

She was finally able to afford the surgery when she was 25, traveling to a clinic in Casablanca run by Dr. Georges Burou. "I knew by then that I would kill myself if I didn't have [the surgery]," Ashley recalled in an interview with The Telegraph's John Preston. "So when I had the money I wrote to Dr. Borou and he said, 'Please come over when you want.' When I saw him, he said, 'Why would a beautiful girl like you want to become a man?' I said, 'No, no, Dr Borou -- it's the other way round.'"

Following the surgery, she quickly rose through the ranks of the modeling world, working with famous photographers such as David Bailey. Slipping into the role of a female sex symbol beside lingerie models like Christine Keeler, the joyful period was interrupted only when a friend exposed Ashley as a man to a British media outlet. The news tragically amounted to a scandal, and Ashley never worked in fashion again.

But becoming a public object of desire was hardly her lasting triumph compared to the decades of events that followed in Ashley's life. After suffering a divorce from a man who annulled their marriage on the grounds that his wife was a biological man, Ashley watched as the transgender community earned the right to legally change their status on official documents in 1999. "I feel free at last," she is quoted as saying.

Her private life was a mixture of glamour and strife -- she was a partner in a restaurant business and she claimed to have had dalliances with Omar Shariff and Grayson Perry. At the same time she worked as a hostess here and a waitress there without much financial security. Nevertheless, she remained an oft-watched celebrity, breaking taboos along the way until she was awarded a MBE (Member of the Most Excellent Order of the British Empire), a coveted honor bestowed upon her for her advocacy work in LGBT rights with the UK-based group, Homotopia.

"She was born into a world where boys who acted like girls were beaten and reviled and scorned," wrote Jonathan Jones in a recent article. "She lived into –- and helped create –- a world where everyone has the right to the life they need to live. Isn't that, quite simply, liberating?""

9-30-13: Huffington Post: "What It's Like To Be A Transgender Teen? By James Nichols

"In wake of the CW network developing a new show about the life of a transgender teenager, HuffPost Live sat down with several teens who identify as transgender last week to discuss their experiences.

One transgender teenager, Ryan Cassata, stressed the importance of educating one's parents about transgender issues as crucial to gaining a system of familial support for one's gender identity.

Phoenix Schneider, Project Manager at Contact USA, highlighted the need to portray a diverse range of transgender experiences that don't fixate on violence or trauma:

I think it's really important to acknowledge that there is a huge transgender community. There is a diverse range of gender identities and there are folks that don't identify exclusively as male or female -- man or woman. I think it's really important to portray this in the media and have positive representation as well. It's certainly important to share and educate folks around the reality -- the real experience of a trans, genderqueer, non-binary person. Certainly there is more than just negative --there's so many positive experiences and I think it's so important to make sure that we're including those experiences as well in the media.

Check out the clip above for more from these inspirational trans teens and to watch the full segment head here."

9-29-13: Med Page Today: "Transgender Healthcare Still Lags", By David Pittman

"Despite advances in civil rights in the gay and lesbian community, transgender patients still face discrimination and disparities in the health system, an expert on gay healthcare said here.

Transgender people routinely avoid using healthcare resources because of the way physicians may have treated them in the past, or because of fear of being treated differently, said Joe Freund, MD, a family physician in Des Moines, Iowa, who cares for a large base of gay, lesbian, bisexual, and transgender (GLBT) patients.

"I've got trans[gender] patients who refuse to go to the emergency room unless they're basically unconscious because of doctors screaming out of the room when they discovered something they didn't think they were going to find," Freund said at the American Academy of Family Physicians (AAFP) scientific assembly. "People are poorly treated at times."

Transgender patients often have difficulty finding physicians who are accepting of their condition, willing to treat them, and knowledgeable about the nuances that come with their care. "Some practices really don't know very many GLBT folk," Freund said. "What that may create is discomfort that is felt immediately by the patient."

Transgender people are more likely to lack insurance coverage or have inadequate insurance. They also are routinely denied coverage because their gender identity and resulting treatments are deemed pre-existing conditions. "Hopefully, this will be addressed -- both access issue and exclusion -- when the [Affordable Care Act] comes on board," Freund said.

Jennifer Burnett, MD, a family practitioner in Selma, Calif., said that between one in 500 and one in 1,000 individuals in the U.S. are transgender, but it's hard to find a more exact number because so many refuse to seek routine healthcare care or simply can't find it . . .

Healthcare disparities in the transgender population is particularly prevalent in the mental health field with up to a third of suicide attempts by teens reported as related to sexual orientation or gender identity."

9-29-13: The Advocate: "Trans Homecoming Queen Poses for NOH8 Campaign"

"Cassidy Lynn Campbell was crowned Homecoming queen at Marina High School on September 20. At the time, she said she was "so proud to win this, not just for me but for everyone out there, and for every kid."

But the next day, Campbell posted a tearful video to her prolific YouTube channel where she said "mean," "ignorant" people online who criticized her victory and hurled transphobic comments at her. "I'm so sad, I'm so distraught, and so broken down, and so upset, and so deteriorated and so tired of this world," Campbell said in the nearly nine-minute video published September 21.

Now, Campbell has taken a public stand against the bigotry that sullied her victory by posing for photographer Adam Bouska's pro-LGBT NOH8 campaign."

9-29-13: Wired (posted 9-24): "YouTube Tries to Clean Up the Filthiest Comments on the Internet"

"There are bad comments, and then there is the seventh level of commenting hell known as YouTube comments. The video service is now hoping to turn those conversations into something that doesn't make you want to take a shower and weep for mankind.

Yes, today YouTube announced that its commenting system is getting an overhaul. The current system drops the latest post right at the top of the comment section. The upcoming system will use several factors to determine which posts float to the top of the conversation. Posts by the video creator, "popular personalities," posts with engaged conversations, and posts from your Google+ friends will appear at the top of the stream of comments.

The move is supposed to help create conversations instead of a deluge of one-off statements and poisonous vitriol. An updated moderator tool will block certain words and could cut down on some of the worst comments from even showing up on the site . . .

How much this will limit the hate-speech found under the average YouTube video is anyone's guess. But it's nice to see YouTube trying something. The site plans on rolling out the update to video pages over the next few months. Until then, please, don't read the comments."

[Ed: YouTube's announcment came just 3 days after transgender teenager Cassidy Lynn Campbell became homecoming queen at her California high school, only to have the widely-viewed YouTube video of that wonderful event ridiculed, smeared and worse in 'comments' by incredibly homophobic/transphobic internet vandals.

9-29-13: National Catholic Reporter (posted 9-26): "Catholic chaplains given marching orders barring service to gay couples"

"Catholic military chaplains cannot be forced to witness or bless a same-sex marriage, nor are they allowed to take part in any marriage counseling retreats that are open to gay couples under new rules issued by the Archdiocese for the Military Services.

The rules, sent to chaplains on Sept. 18 by Archbishop Timothy Broglio, head of the AMS, also bar chaplains from taking part in a funeral for a Catholic if that participation "would give the impression that the church approves of same sex 'marital' relationships."

But the new rules also set out conditions that would allow Catholic military commanders to comply, without violating their beliefs, with rules giving same-sex couples under their command federal employee benefits as required by law.

Broglio cited an interpretation from the National Catholic Bioethics Center explaining that Catholic commanders can morally facilitate benefits for gay couples in their command if there was no other way to avoid it without jeopardizing their career.

"This is also contingent on the commander making known his/her objection to being required to … participate, as well as on attempting through legal channels to continue to accomplish changes in policy consistent with the historic understanding of marriage and family as based on natural moral law," said the statement from the bioethics center . . .

In his statement, Broglio said the new federal policy on gay marriage and gay rights for military personnel "makes it necessary to reiterate with clarity the teaching of the Catholic Church regarding homosexuality." He said same-sex couples account for less than half of 1 percent of couples in the armed forces and "such a small group cannot be allowed to mandate policy for all."

"A clear disservice is rendered if the truth of the Gospel is confused by the actions of those ordained to disseminate that truth," the archbishop said. . .""

[Ed: So now we see the Roman Catholic Church issuing 'orders' to Catholic U.S. military commanders that they must resist, up to the point of jeopardizing their careers, any rules requiring them to treat equally service members under their command who are in same-sex marriages. As a foreign country, the Vatican better tread carefully: This proclamation amounts to instigating the undermining of U.S. military order; i.e., to undermining the U.S. Constitution.]

9-29-13: Omaha World-Herald: "Proudly military, yet always guarded − Transgender service members want to be open about who they are."

"Two years ago the LGBT — lesbian, gay, bisexual and transgender — lobby groups celebrated the end of the military's "don't ask, don't tell" policy that kept gay service members closeted. And earlier this month, the Pentagon granted benefits to those members' same-sex spouses.

But the fight is heating up again because the end of "don't ask, don't tell" had no impact on the transgender members of the LGBT coalition, who are barred from the military on medical grounds. Transgender advocates see no reason why they should be treated differently from their gay brothers and sisters.

"(We're) proud, productive members of the military," said Paula Neira, who as a male served as a naval surface warfare officer from 1985 to 1991. "We're the last group of folks who have to serve without being open about who we are."

An influx of energy and money is adding juice to the movement. The energy comes from Service Members, Partners, Allies with Respect and Tolerance for All (SPART*A), a group formed in July to promote the rights of transgender service members. And the money comes from Jennifer Natalya Pritzker, 63, a Chicago billionaire and retired Army officer formerly known as James who disclosed her change in gender two months ago.

Pritzker also donated $1.35 million to the Palm Center, a California research and advocacy group that provided intellectual heft to the long fight to overturn the 1993 law that created "don't ask, don't tell."

"We've reached a point where there are people who are transgender in the service, functioning at a high level," said Brynn Tannehill, a former male Navy aviator from Xenia, Ohio, who is SPART*A's director of advocacy. "You're not doing any good by trying to keep these people from serving.""

9-28-13: The Advocate: "New Jersey Paper Refuses to Correct Coverage of Trans Woman's Murder − GLAAD said it contacted the New Jersey Star-Ledger's reporter about her incorrect pronoun usage, but the writer refused to correct the story."

"When New Jersey's Star-Ledger newspaper reported on the stabbing death of 26-year-old Eyricka Morgan, a transgender woman of color reportedly killed in her New Brunswick home by a neighbor on Tuesday, the newspaper referred to Morgan by her given name and used male pronouns to refer to her. The Star-Ledger's initial report made no mention of the fact that Morgan was transgender and had been living as a woman, despite confirmation of Morgan's transgender identity by numerous LGBT sites, including The Advocate . . .

"The reporter refused to change the story without confirmation of Eyricka's transgender identity from someone who knew her," reads GLAAD's blog, posted Friday. "GLAAD provided this information, but the newspaper has not corrected its coverage. Editors at the paper have not yet replied to repeated outreach by GLAAD."

Morgan was a former student at Rutgers University and was involved with the North Jersey Community Research Initiative. On Tuesday, Morgan was reportedly stabbed by a neighbor who lived in the same city boarding house as she did. "

9-24-13: Huffington Post: "Oh, Canada! Transgender Archives and Research Center Arises", by Dana Beyer

"I've been fortunate to know some remarkable people since I began my transition over 20 years ago. One of them is Dr. Aaron Devor, who has been doing unsung but indispensable work for years managing the world's foremost transgender archives. He is very fortunate to call home the University of Victoria, British Columbia's hidden gem sitting on Vancouver Island, itself one of the most beautiful places in the world . . .

Perhaps somewhat surprisingly to some, UVic has become a world-class center for transgender research, largely due to the vision and hard work of Dr. Devor. Aaron is a world-renowned researcher in sociology, one of the founders of transgender studies, a former Dean of Graduate Studies, an out trans man, and the founder and Academic Director of the world's largest transgender archives.

The Transgender Archives at the University of Victoria is committed to the preservation of the history of pioneering activists, community leaders, and researchers who have contributed to the betterment of transgender people anywhere in the world. The UVic Transgender Archives began actively acquiring documents, rare publications, and memorabilia of persons and organizations associated with transgender activism in 2007 . . . The collection includes more than 600 books on transgender topics, more than 500 transgender newsletters from around the world (including a full run of the pathbreaking Transvestia, 1960-86), and personal papers and memorabilia of transgender pioneers . . .

Now Devor wants to take it all to another level. He has plans in the works to use the Transgender Archives as a foundational cornerstone for building a much bigger project: the world's first comprehensively interdisciplinary Transgender Research Center . . .

The Transgender Research Center plans to encompass the broadest possible perspectives on trans studies, in a rather breathtaking vision. It would bring together some of the world's best researchers and scholars, along with advanced students, trans community thought leaders, and our allies, to forge new understandings and approaches to advancing the rights of trans people to full respect and support. Inspired scholars and effective activists would work together from every perspective."

9-23-13: Courier Mail (Australia re US): "Transgender teen Cassidy Lynn Campbell breaks down after barrage of hate following homecoming win" (more, more, more, more)

"A teenager who made history when she became the first transgender student at her school to be crowned homecoming queen has broken down in tears after being horrendously bullied over her win.

Cassidy Lynn Campbell made headlines across the US after being named homecoming queen at Marina High School in Huntington Beach last Friday. The 16-year-old was so happy at her unexpected win she fell to the ground and cried.

But in a heartbreaking YouTube video, the teenager, who began transforming from Lance to Cassidy three years ago, reveals how devastated she was at the avalanche of criticism after what should have been the happiest day of her life. Through a flood of tears, the teen reveals her hurt over the backlash and how the haters will just never let her be happy."

9-22-13: CBS Sacramento: "Proposition 8 Backers Joining Bid To Repeal Transgender Law" (more, more)

"An effort to overturn a new law allowing transgender students to choose which school restrooms they use and whether to play boys or girls sports got a boost Friday when a major player in the passage of California's now-defunct same-sex marriage ban threw its support behind the campaign.

The National Organization for Marriage announced it was working with another conservative group, the Capitol Resource Institute, to repeal the law at the ballot box. The marriage group provided early fundraising and organizing for the 2008 ballot initiative that outlawed same-sex marriages, known as Proposition 8 . . .

Equality California Executive Director John O'Connor, whose organization co-sponsored AB1266 and helped lead the campaign to defeat Proposition 8 in 2008, said civil rights groups were closely watching and would be ready to respond if the proposed referendum makes the ballot.

"Frank Schubert has built a political career on these anti-LGBT measures that divide people and perhaps years ago he had some success," O'Connor said. "We have turned the corner. The public is solidly in favor of LGBT equality now."

Schubert said qualifying the referendum for the ballot will be difficult, but he thinks it would pass easily if put before voters.

"This is not a law people support by a long-shot," he said. "This is an attempt to hijack an issue that may be legitimate for a small number of people and use it to impose a statewide mandate in pursuit of a larger political agenda … to strip society of all gender norms so there is no difference between men and women."

"

9-22-13: Los Angeles Times: "Transgender professor may have to leave Azusa Pacific University"

"A professor at a local Christian college is coming out as transgender, and it could cost him his job. He says he's being forced out after 15 years at the school. Adam Ackley is a professor of systematic theology at Azusa Pacific University. For the past 15 years, the administration at the private Christian college has known him as Heather -- up until last week.

Ackley said he struggled for years living as a married woman. He now identifies himself as a transgender man and he is going through a divorce.
"I really wrestled with it, of course, being someone who was trained in biblical scholarship and theological study and that was, that is, Christian," said Ackley.

Ackley decided to tell APU about plans for a legal name change. Ackley says the university is concerned keeping him in the classroom would be a distraction and could affect future admissions and donations. He told his students the truth and that he might soon be replaced. He says they were in tears.

Azusa Pacific University has released a statement on the controversy, saying: "University leadership is engaged in thoughtful conversations with our faculty member in order to honor the contribution and treat all parties with dignity and respect while upholding the values of the university. It is an ongoing conversation, and therefore, a confidential matter."

Ackley says he wants to continue teaching until the end of the semester, but he believes he won't finish out his five-year contract. He doesn't regret discussing the name change, knowing that the conversation has brought about a much-needed dialogue."

9-21-13: Los Angeles Times: "Principal proud of transgender homecoming queen's election" (photos, more, more)

"Principal Paul Morrow said before the ceremony, "then we are proud that the message is one of equity and individual respect."

Cassidy Lynn Campbell, who was born male but told The Times she always felt like a girl, broke down in tears during the homecoming ceremony at the school's football game.

"If I win it would mean that the school recognizes me as the gender I always felt I was," Cassidy, 16, told The Times before the election.

"But with all the attention, I realized it's bigger than me," she said. "I'm doing this for the kids who can't be themselves."

On Friday, at Marina High's homecoming pep rally, the field of 10 homecoming queen candidates was thinned to five -- Cassidy among them.

At halftime, school district spokesman Tom Delapp said, the five finalists were called up and balloons were released from a box to announce the winner -- white for the princesses and bright yellow and blue for the queen.

"She was stunned. She kind of broke down on the podium," Delapp said of Cassidy. "She was shocked. She cried a lot."

Students started chanting her name and then ran down to give her a hug, he said.

"I was so proud to win, not just for me but for everyone out there," Cassidy told reporters afterward. "I think it really shows the progression of the times.""

9-21-13: YouTube (Argentina; posted 8-23): "Mundial de Tango 2013 Categoria Escenario Eliminatorias Rocio Garcia Liendo & Juan Pablo Bulich "

[Ed: Video of Rocio Garcia Liendo & Juan Pablo Bulich dancing at the 2013 World Championship of Tango (the first time same-sex couples have participated). Rocio is totally amazing!]

9-21-13: Tango Time (re Argentina): "Rocio Garcia Liendo & Juan Pablo Bulich, Dance "La Ultima Curda" by Hugo Diaz"

"I have seen thousands of tango videos during the last 10 years and although many have been amazing, only a few had a story behind the dance. This one is one of those very few.

Rocio and Juan (from Argentina) allowed us to live, for 4 minutes, a seductive moment that had me holding my breath. When they started taking off each other's clothes, I wondered how far they would go. Fortunately they kept the dance family friendly . . .

Dancing this song, "La Ultima Curda" by Hugo Diaz, Rocio and Juan won third place in the category stage tango at the Tango World Championship in Buenos Aires on August 24, 2013.

The Tango World Championship is part of the Buenos Aires Tango Festival, organized by the city's government every year since 2003. There are two categories: Tango Salon, in which several couples dance at the same time . . . And Stage Tango, in which there is only one couple on the dance floor . . .

There were 556 couples from 37 countries. One of the most interesting things about this year's competition is that for the first time same sex couples were allowed to compete."

9-21-13: Independent (UK re Argentina; posted 8-28): "'It takes two to Tango, but not necessarily of the opposite sex': World Championship of Tango welcomes same-sex couples for first time" (photo gallery, more, more)

"Same-sex couples competed in the World Championship of Tango for the first time this year, with three male pairs and one female couple taking to the floor. Cheers and applause reportedly rang out as the first couple, Juan Pablo Ramirez of Argentina, and partner Daniel Alejandro Arroyo Miranda of Venezuela, performed a 1940s classic.

"It takes two to tango," Ramirez said after the performance. "But they don't necessarily have to be different sexes." The pair competed in the Salon Tango style qualifier round at the 10th edition of the Tango World Championship in Buenos Aires.

"There is a macho culture," Arroyo told AFP. "But there are older people who appreciate us. "We aren't doing anything transgressive," he said, later adding: "society isn't ready. It's a slow change, with pauses.""

9-18-13: Windy City Times: "Transgender pioneer reflects on sports past", by Ross Forman

"Lynn Conway is a transgender pioneer whose longtime passion has been sports, particularly adventure sports. She's overcome two similar life obstacles (transitioning and a fear of heights) en route to her current state: a 75-year-old Michigan resident—reflective and respected, passionate and accomplished, innovative and intelligent.

"In a strange way, while rock-climbing years ago I was learning exactly what I needed to transition, learning how to overcome fear," Conway said. "Although scared of heights, I worked up to some modest climbing in Yosemite Valley—and passionately enjoyed it". . .

After earning her degrees at Columbia University in the early 1960s, Conway went west into a computer research career and into climbing in Yosemite and the Sierra Nevada. By then she knew what she had to do. She completed her transition in 1968 while living in San Francisco.

"Most of my transition mentors were trans-girls who were either sex workers or entertainers at places like Finnochio's," she said, reflecting on an era long past. "No way could I have been out back then and found a regular job. I didn't have the talent to be an entertainer, so I'd have ended up in sex work."

All along, sports were Conway's crutch, her supporting shoulder. The adventure sports were dangerous and difficult, but transitioning was as well. However, the sports were also exciting. "It's the learning that's fun, the exploring that's fun," she said.

Conway became a widely known computer pioneer while living in stealth after her transition. She also took up whitewater slalom racing and went on to motocross racing, sports that, no doubt, brought her back to summer camp, at age 10, in Maine.

"[Camp] was a transformative experience in my life because all at once I learned about things like making fires, hiking, camping, fishing, swimming, horseback riding, rifle shooting and more," Conway said. "It's what set off my tomboyish adventure-seeking."

9-18-13: Amazon.com (from UK): "Making Equality Work" [Kindle Edition], by Christine Burns, Shahnaz Ali, Loren Grant

"Making Equality Work is both a theoretical primer about the nature of social equality and also a very practical description of how my colleagues and I set out to promote more equal outcomes on a large scale in the NHS.

The book is . . . set in the UK, and the tale it tells of how diversity and protective legislation emerged over the last 50 years is in that context. However, there are lessons here for everyone."

[Ed: An important new book by Christine Burns in collaboration with her former NHS colleagues.]

9-17-13: The Advocate (re Russia): "WATCH: Russian Lawyer Comes Out as Trans In Protest of Anti-LGBT Laws — Masha Bast, a human rights lawyer in Russia, revealed that she is transgender and spoke out against her country's violent crackdown on LGBT people."

"Masha Bast is the chairwoman for the Association of Russian Lawyers for Human Rights and has worked on some of the nation's most high-profile human rights cases. She's defended clients facing down the government for allegedly violently protesting corruption. This weekend she took part in a demonstration on the streets of Moscow to protest Russia's draconian anti-LGBT laws.

And last week the Moscow-based lawyer's fight for human rights took a personal tone, as she announced that she is a bisexual transgender woman. Bast, who is married to another Russian woman, said she decided to come out now to protest the nationwide ban on "propaganda of nontraditional sexual relations," passed this summer. Since the law, modeled after similar local legislation, passed the nation's parliament unanimously, LGBT Russians and visitors have been beaten, kidnapped, arrested, and silenced in what amounts to a ban on LGBT identities in any public or private space that might be accesible to minors."

[Ed: A compelling, heartfelt video.]

9-17-13: Times Colonist (Victoria, B.C., Canada; posted 9-14): "Island family recounts journey of a transgender child growing up in small-town Comox"

"Cathie Dickens saw a change the first time she took her granddaughter Harriette shopping for a dress. "It just broke my heart to see her put it on and look at herself in the mirror," Dickens said. "She's so much happier, being allowed to be who she is."

Harriette Cunningham says she always knew she was a girl, even if she was born with a boy's body. The Comox transgender girl transitioned last September and took the name Harriette in December.

Now 10, she is among a rising number of children identifying themselves as trans and living as their affirmed gender.
Today, Harriette exudes confidence, standing tall with braided hair and showing off her prize-winning rooster, Henry.

She just took her first Irish dance class and finished a babysitting course. But she tenses when she hears the name Declan. It's the name her parents gave her at birth, and it reminds her what it felt like to be treated like someone you're not.

"I feel a lot more secure and confident now," she said. "Back then, I was kind of … I knew who I was. But no one else really did. And I was kind of all alone."

Harriette's father, Colin, a teacher, and mother, Megan, a nurse, say Harriette was always unique. But they didn't know what their options were when their child began obviously identifying as a girl.

"We didn't know there were transgender people at 10 years old until we tried to figure it all out," Colin said.

Harriette's self-awareness and self-expression came gradually, they said. She always had feminine qualities, played with girls and preferred wearing dresses. Then she asked her parents to stop correcting strangers who assumed she was a girl. And then, after learning about puberty at age eight, something clicked.

Harriette's anxiety went through the roof when she learned she might not always be able to just "pass" as a girl, Megan said."It was like a light switch, she was like, "I am NOT a boy.' "

"Once she figured that out, her conviction was absolute," Colin said. "She knows who she is better than anybody I know."

9-16-13: Boing Boing: "Hip-hop, trans people, and a glimpse of a hopeful future", by Andrea James

"Last week, influential hip-hop deejay Mister Cee resigned from New York radio station Hot 97 for fewer than 24 hours. Fabulously-named transgender vlogger Bimbo Winehouse had just published a recording of an encounter where Cee is apparently, as WorldStarHipHop thoughtfully described, "tricking for head & sex." It wasn't the first time Cee's been in the news for seeking out transgender sex workers, so that part came as no surprise to anyone who's kept up with his personal life in recent years. However, few listeners were prepared for the intensity and candor of Cee's September 12 on-air conversation with program manager Ebro Darden. It was a watershed moment for both hip-hop and for one of the least visible segments of society: people who are attracted to transgender people.

By one measure, T-girl sites are the fourth most popular category of adult website, according to the authors of A Billion Wicked Thoughts. Most of the consumers of this material identify as straight men, and it's often classified as a straight specialty genre. But despite a huge population with some level of sexual interest in trans people, it's the rare person who discusses this interest openly. Among the rarest of all is someone involved in hip-hop willing to discuss their interest in trans women. The relationship between trans people and hip-hop is at the center of a volatile intersection of race, misogyny, and homophobia. I'll try to contextualize hip-hop's transphobia with a few examples from old school rap, showing what it was like back in the day for hip-hop artists of a certain age, like Cee, and what was at stake for him personally and professionally . . .

For some excellent insights, I recommend checking out this HuffPost Live conversationthat includes Janet Mock and Laverne Cox. They do a great job of explaining how other specific aspects of Mister Cee's revelations translate to larger issues for our community, a follow-up to Janet's earlier thoughts . . .

Finally, I want to acknowledge the true heroes of this story. Mister Cee has continued to be very generous about sharing an incredibly personal part of his lifeafter decades of silence and secrecy. But neither Mister Cee nor the trans woman who outed him is the real hero here. The main hero is Hot 97 program manager Ebro Darden, who did not accept Mister Cee's resignation and asked him to on-air to stay in his noon daytime slot. I was deeply moved by Breeze's compassion and acceptance during his emotional half hour with his colleague and friend Mister Cee. I'm not alone in that assessment. It's remarkable that Hot 97 management is standing behind Mister Cee, just as I am. Thank you, Mr. Darden and Mister Cee's family at Hot 97. I hope families of every kind follow your inspirational example of principled tolerance. Never have I been more proud to be a hip-hop fan."

[Ed: A must-read essay.]

9-16-13: Huff Post Live (posted 9-12-13): "DJ Mister Cee's Prostitution Scandal"

"DJ Mister Cee resigned from radio station Hot 97 after a video was posted of him allegedly soliciting sex from a cross-dressing video-blogger. Will his resignation derail or advance acceptance of the LGBTQ community in hip hop culture?

Hosted by: Marc Lamont Hill

Guests: Laverne Cox, Star of 'Orange Is the New Black';

Janet Mock, Transgender Advocate, Writer and Social Justice Activist, Founder of #GirlsLikeUs;

Mark Anthony Neal, Professor of Black Popular Culture at Duke University;

Mychal Denzel Smith, Fellow at The Nation Institute and contributor to TheNation.com

[Ed: A must-watch round-table discussion about the stigmatization of men who are attracted to transwomen, and the extra stigmatization this brings down upon such women.]

9-16-13: JanetMock.com (posted 9-12): "How Society Shames Men Dating Trans Women & How This Affects Our Lives" by Janet Mock

"Guess what? Many men are attracted to women, and trans women are amongst these women.

We, as a society, have not created a space for men to openly express their desire to be with trans women. Instead, we shame men who have this desire, from the boyfriends, cheaters and "chasers" to the "trade," clients, and pornography admirers. We tell men to keep their attraction to trans women secret, to limit it to the internet, frame it as a passing fetish or transaction. In effect, we're telling trans women that they are only deserving of secret interactions with men, further demeaning and stigmatizing trans women.

I've stood witness to many so-called scandals, mostly published on gossip blogs, where passing interactions with trans women spawn hundreds of headlines, particularly for a man with fame and social capital. Thousands of words have been dedicated to analyzing whether such and such famous man is now suspect, merely because he took a photo with a fan who happened to be a trans woman. This questioning has led many well-known men to adamantly defend their heterosexuality and has tarnished the reputation and careers of others. It sounds like silliness on the surface, but often times when gossip blogs are the public's only exposure to trans women, it spreads misinformation, validates stereotypes and causes irreparable damage.

When a man can be shamed merely for interacting with a trans women – whether it be through a photograph, a sex tape or correspondences — what does this say about how society views trans women? More important, what does this do to trans women?"

[Ed: With this essay, Janet started a vitally important community dialogue.]

9-16-13: Victoria Times Colonist (Australia, posted 9-14): "Journey of a transgender child"

"Cathie Dickens saw a change the first time she took her granddaughter Harriette shopping for a dress. "It just broke my heart to see her put it on and look at herself in the mirror," Dickens said. "She's so much happier, being allowed to be who she is."

Harriette Cunningham says she always knew she was a girl, even if she was born with a boy's body. The Comox transgender girl transitioned last September and took the name Harriette in December. Now 10, she is among a rising number of children identifying themselves as trans and living as their affirmed gender.

Today, Harriette exudes confidence, standing tall with braided hair and showing off her prize-winning rooster, Henry. She just took her first Irish dance class and finished a babysitting course. But she tenses when she hears the name Declan. It's the name her parents gave her at birth, and it reminds her what it felt like to be treated like someone you're not.

"I feel a lot more secure and confident now," she said. "Back then, I was kind of … I knew who I was. But no one else really did. And I was kind of all alone."

Harriette's father, Colin, a teacher, and mother, Megan, a nurse, say Harriette was always unique. But they didn't know what their options were when their child began obviously identifying as a girl. "We didn't know there were transgender people at 10 years old until we tried to figure it all out," Colin said.

Harriette's self-awareness and self-expression came gradually, they said. She always had feminine qualities, played with girls and preferred wearing dresses. Then she asked her parents to stop correcting strangers who assumed she was a girl. And then, after learning about puberty at age eight, something clicked.

Harriette's anxiety went through the roof when she learned she might not always be able to just "pass" as a girl, Megan said."It was like a light switch, she was like, "I am NOT a boy.' " "Once she figured that out, her conviction was absolute," Colin said. "She knows who she is better than anybody I know.""

9-16-13: Canberra Times (Australia, posted 9-15): "Trans sex workers: Hankering to cross the divide —The work of a transgender sex worker is arduous but in the territory it can pay well - $300 or more an hour"

"At least two types of people can earn $6500 a week in Canberra: senior public service executives and transgender sex workers.

For Danika the dream started when she was a country boy in Wagga Wagga. Young and slim, she started living as a woman when she was about 20 and four times a year rents an apartment to work from in the national capital. ''I can make about $6500 a week gross when I go there,'' says Danika, who identifies as a woman but is still physically male.

So, why the popularity and where do transgender people, prostitutes or not, fit in society?

A self-described civil libertarian and a man who almost became a senator for Tasmania this past week, Robbie Swan, says transgender sex workers are a modern phenomenon who are a product of advances in science because they can take hormones to adjust their appearance . . . ''We had trannies and cross-dressers before [but] these people are fair-dinkum transgender.

''I suppose a lot of guys think it's the best of both worlds and want to indulge in a gay fetish - they're all straight men who visit transsexual sex workers and it's a way for them to satisfy a curiosity without labelling themselves as gay . . .

Queensland University of Technology senior lecturer on gender issues, Angela Dwyer, does not believe transgender is a third sex.

''If you ask them, the most common response is they feel like they're in the wrong body and they just need a sex change so they can get on with their lives,'' Dwyer says."

9-16-13: Springfield News-Leader: "Finding answers for transgender patients"

"The story starts before anyone knew Josh Castillo, before he was Josh Castillo.

He'd been getting great treatment from an allergist who was always attentive and thorough in examinations. But Castillo hadn't yet had surgery. He was still living as a woman — thin, with long hair. "I would say I had a more traditional appearance," he said.

But when Castillo cut his hair and started hormone therapy, the doctor suddenly asked fewer questions. He stopped any touch whatsoever, even for simple exams. "He didn't even listen to me breathe," Castillo said. "I just got my shot and left."

One day, Castillo reacted badly to a shot, eventually going into anaphylactic shock. While nurses quickly treated him, Castillo said the doctor stood away, berating him for not taking his allergy medicine that morning. Castillo never returned. Uncomfortable doctor-patient relationships are not the only barrier to transgendered patients receiving care. According to the Missouri Foundation for Health, transgendered patients have less access to health insurance, are less likely to find competent care, and are less likely to seek care out of fear of how they'll be treated."

9-16-13: Jewish Daily Forward (re Israel): "Israeli Transgender Mom Recognized as Child's 'Father' in Same-Sex First " — Yuval Topper-Erez Gave Birth to Gay Partner's Baby"

"Israel's Interior Ministry has recognized the two biological fathers of the same baby. The baby is the son of Yuval and Matan Topper-Erez. Yuval Topper-Erez, the first Israeli transgender man to get pregnant, gave birth to the baby in December 2011.

The Interior Ministry at first refused to recognize Matan as the baby's biological father, saying they were unable to register two make biological parents. At a hearing a year after the baby was born, the ministry tried to undermine the sex change operation and said it wanted to register Yuval as female.

The Interior Ministry agreed to list the two fathers as the baby's biological parents and listed them in the population registry after the intervention of two lawmakers: Interior Minister Gideon Sa'ar and the chairman of the Knesset Interior Committee Miri Regev. In order to effect the registration, Yuval was first identified as female in order to register the child with his spouse, and then his registration was changed to male.

This is the first time that both members of a same-sex couple in Israel have been listed as a baby's biological parents. In the past, one of the parents was required to adopt the child."

9-15-13: Gay Star News UK re India): "Castrated trans 24-year-old with HIV denied medical treatment in India – State-run hospital refuses to admit 24-year-old, saying third-sex patients need judicial permission"

"A 24-year-old transgender with HIV is struggling between life and death in India after a state hospital refused to admit her, saying she needed judicial permission for that. The transgender woman, who sought treatment for a severe urinary infection, is suspected to have been infected in February when she underwent castration.

The castration was performed by hijras, members of India's eunuch community, in the eastern Indian state of Bihar, using primitive methods that inflict terrible pain and carry a high risk of infection. The person undergoing the operation is held down by force by members of the community and after castration, has the wound cauterized with scalding hot oil.

The transgender, whose identity has not been divulged because of her HIV status, was brought to the state-run SSKM Hospital in Kolkata, the workplace of Mother Teresa, by members of her community this month.

According to local media reports, urologists at the hospital said she should be admitted for treatment. However, the hospital authorities refused to admit her, saying there were no wards for third-sex patients. She was asked to bring an order from a district judge if she wanted to be taken in.

Getting an order from a district judge or any government official is a near-impossible task for India's eunuch community, given their lowly status in the eyes of society.

Most of them are disowned by their families and manage to survive by singing and dancing at weddings and birth ceremonies. They are mostly uneducated, live near the poverty line and run a high risk of becoming infected with HIV and sexually transmitted diseases due to lack of awareness and vulnerability to sexual violence.

"

[Ed: It's sad to see UK media (including gay media), continue the British Colonial practice of stigmatizing the Hijra of India by referring to them as "eunuchs" and referring to their traditional form of SRS as "castration". After all, it was British-imposed-cultural-colonialism that led to the demonization and ostracism of the Hijra in 'modern' India in the first place!]

9-15-13: KVUE Houston: "Transgender widow denied marriage license in Houston"

"The transgender widow of a Wharton County firefighter, whom a judge ruled was not entitled to her late husband's death benefits because she was born a man, is challenging Texas law once more by attempting to get married again.

Nikki Araguz, 38, was the transgender wife of Wharton firefighter Thomas Araguz. He died fighting a blaze at a Wharton County farm in 2010.

Araguz's family -- when they found out Nikki Araguz was born a male named Justin Purdue -- challenged her rights to the benefits. They argued that the marriage should be declared null and void because the Texas Constitution effectively bans same sex marriages.

A judge agreed that, although Araguz had her original California birth certificate amended to show that she is now female, Texas law goes by the original birth certificate that shows Araguz/Purdue was born male.

Araguz, with a documentary film crew following her every move, went to the Harris County Clerk's Office in downtown Houston on Thursday with her new fiancé William Lloyd to obtain a marriage license.

"I'm the transgender widow of the firefighter," she announced to the clerk and presented as her form of identification a proof of sex change document. Under the state family code it is listed as an acceptable form of identification along with a driver's license or a passport. And it was the crux of Araguz' argument that she should be allowed to get a marriage license.
Harris County Clerk Stan Stanart, after conferring with the Harris County Attorney, denied her marriage license application."

9-15-13: The Times of Israel (Israel): "Supreme Court rules leniency for transgender prisoner"

"In what could be a precedent-setting ruling, a transgender man who took part in the violent robbery of a gas station will have his time behind bars reduced because his gender identity requires him to be kept in isolation.

The Supreme Court ruled that the subject, who was born with a female body but identifies as male, should serve just 10 months instead of 15 months, Haaretz reported over the weekend. The convict, 29, is in the process of a sex change and has already undergone surgery to remove his breasts.

Following an appeal, Supreme Court Justices Neal Hendel, Noam Solberg and Salim Joubran said that the particular requirements of the prisoner should be taken into consideration for sentencing.

"The personal circumstances of [the defendant] at this stage of her life are not routine or common, but are unusual," Hendel ruled. "I am of the belief that it is appropriate for additional leniency when it comes to [her] sentence.

The court recommended taking off five months from the time served but opposed substituting community service for incarceration due to the serious nature of the crime, the report said. According to British news outlet GayStar News, the judges also wrote that sentencing for transgender prisoners should taken into account the fact that they are kept in solitary confinement."

9-14-13: Autostraddle: "CW Developing Transgender Teen Drama, Will Hopefully Cast Actual Trans* Actor"

"Today, the CW is a station mainly known for fierce reality competitions, angsty vampires and overly dramatic demon-hunting brothers. That could soon change as they're adding a completely different type of show to that lineup.

The channel is currently developing a new hour-long drama focused on the life about a transgender teen growing up in Texas. This show would be the first mainstream TV show to be centered around a transgender character.

The show will be executive produced by Michael London, the producer of such movies as Thirteen, Milk and Sideways and will be written by Obie award winning playwright Kyle Jarrow. According to The Hollywood Reporter, the show will be called ZE:

"Written by playwright-musician Kyle Jarrow, ZE revolves around a Texas teenager who announces that she is transgendered and will be living life as a boy. As his dysfunctional family spirals into identity crises of their own, he discovers that despite his appearance, he may be the most well-adjusted of them all."

While the initial report does fumble a bit with its terminology (using "transgendered" instead of "transgender" and using "she" to describe a trans man before he comes out), the series does seem to be approaching the issue with care. However, if the show is titled ZE, a pronoun often used for non-binary or gender neutral purposes, one has to wonder if that is the pronoun that the main character will use."

9-14-13: New York Times (posted 9-08): "Embarking on a New Life, Transgender Woman Has It Brutally Taken"

"The transformation of Islan Nettles over the last year was something her friends and relatives discussed with barely concealed awe.

After years of often being hungry and on the verge of homelessness, Ms. Nettles, 21, had recently moved into her own apartment, found a job at an H & M clothing store and was designing her own fashion line.

Most important, she had begun to live publicly as transgender. Seemingly overnight, friends and relatives said, she had metamorphosed from a shy and insecure youth into a radiantly confident young woman.

And then she was killed.

Just after midnight on Aug. 17, a young man knocked her to the ground after learning she was transgender and struck her with his fists until she was unconscious and battered beyond recognition, according to accounts from the police and friends. She lingered in a coma for less than a week before being taken off life support.

The beating occurred on Frederick Douglass Boulevard in Harlem, near her childhood home and across the street from the station house of Police Service Area 6, which patrols public housing projects in the area.

Ms. Nettles's death has incensed New York's transgender community. Many have experienced violence themselves and have spent years overcoming past abuse, depression and thoughts of suicide. And though the leaps toward equality made by gay men and lesbians in recent years seem to have left transgender people behind, they have become more visible in politics, entertainment and sports.

Even in the city's rougher neighborhoods, there is a growing sense of tolerance, even acceptance.

"The death of Islan Nettles has lit a spark with many in the trans community," said Kiara St. James, 39, a transgender woman who lives in Brooklyn and works for an organization called TransJustice. "Although violence toward trans women is far too common and many of us often have varying weapons we carry on our persons to protect ourselves, many of us still do our best to live productive lives and not stay shut in our apartments."

"Rather than make us go into hiding," she added, "we are more determined than ever to stand up and be visible.""

9-09-13: Buzz Feed: "AFL-CIO Adds Transgender Protections To Its Constitution — "Labor has really been stepping up, and the AFL-CIO has been stepping up," transgender advocate Mara Keisling says."

"The AFL-CIO, the country's largest labor federation, amended its constitution Monday to add a provision banning discrimination based on gender identity or gender expression.




The decision to ban transgender discrimination at its 2013 convention followed the decision of several unions within the federation already to have made the addition of similar nondiscrimination policies into their own policies. The federation is made up of 57 national and international unions representing more than 12 million workers.




"Very exciting," National Center for Transgender Equality executive director Mara Keisling said. "Labor has really been stepping up, and the AFL-CIO has been stepping up."




Human Rights Campaign Vice President Fred Sainz said, "The labor movement has long been a leader on full inclusion in the workplace. This important addition to the governing document of the largest federation of labor unions is a historic and important step forward to ensuring that every American has an equal shot at employment and equal benefits.""

9-08-13: Nowness.com (posted 9-02): "Goldfrapp: Annabel The Brooding Pop Outsiders Return with a Cinematic Music Video Premiere"

"A young, androgynous boy explores his femininity through a hoard of trinkets hidden in the undergrowth in the accompanying video to "Annabel," a brand new track from Goldfrapp. For their sixth album Tales Of Us, Alison Goldfrapp and Will Gregory have stepped back from the electronic synth pop with which they made their name. "I like electronic sounds because of the iciness, but I find them quite awkward," says Goldfrapp. "Acoustic instruments have a warmth and sensuality about them." Each song on Tales Of Us is named after a different person and the album sees Goldfrapp's voice—at one moment rich, the next fragile—paired with understated guitar and strings. The intended effect is to allow the characters and narratives to breathe, which is most eloquently achieved in "Annabel," inspired by Kathleen Winter's 2010 novel of the same name which follows a hermaphrodite child who is forced into taking on a male identity in 1960s Canada . . .

So why the decision to make these short films?
Alison Goldfrapp: I think the whole idea of the video has changed—what it does, what it's for—and that's been great because it's opened things up. Lisa knows my aesthetic and I trust her. It's the first time I feel that we've made something that really complements the music—I don't think I've really felt like that before about video.

How does the film relate to both the song "Annabel" and the book that inspired it?
AG: I read Annabel and was totally drawn into that world, and immediately wrote the song. It's very much about my interpretation of the book. If anyone hears that song they'll just think it's about a girl, they won't know what it is about, so I was very intent on making the film. The boy is amazing, he's got a stillness and a melancholy to his face, and an introverted quality about him.

Are the themes explored in "Annabel" present in the rest of the album?
AG: It's very much about memory, identity and gender. I've always been fascinated by dual creatures, personas, people, personalities, and transformation. I think it's a theme that's pretty much always in fairy tales and horror, which I love. What struck me about Annabel is that the parents are in total denial of what their child is: this child has to choose in the end, and that's what society is making them do. Why can't you be both? I feel really strongly about that whole concept in so many things in life. All the characters in these songs are trying to figure out who they are, where they're going, and why they are who they are . . . Tales of Us is out September 9 on Mute."

9-07-13: Idolator (posted 9-03): "Goldfrapp's "Annabel" Video: Watch The Thoughtful Exploration In Gender Identity" (more, more, more)

"Ahead of the release of Tales Of Us (out September 10) and their live gig at New York's Beacon Theatre (same day as album release) next week, Goldfrapp have premiered the short film for their track "Annabel." Much like previous visual "Drew," this one was directed by Lisa Gunning, and it plays out as a thought-provoking, cinematic adventure in black and white beauty — until the end, when we see the main character dancing around in a gold, sequined dress.

It's worth noting that the main character is a young boy, whose life seems quite ordinary and mundane until he disappears into a wooded area and draws a very androgynous-looking figure in a journal. He eventually pulls the dress out of a paper lunch bag, and seems to find a euphoric type of freedom once he tries it on and dances around in the woods.

Goldfrapp seem to have climbed onto a new artistic plateau with their whole Tales Of Us project. Ultimately, the short films for "Annabel" and "Drew" both succeed in teasing us with just enough of a snapshot of intriguing lives that are not out own, while still keeping the specifics an absolute mystery."

[Ed: A powerfully evocative music-video that captures the magic of childhood trans-awareness. As I watched it took me back to my own childhood . . . and to the secret place in the woods where 'Lynn' came alive.]

9-06-13: Huffington Post: "The Media's Coverage of Transgender People: I'm Never Surprised " by Parker Marie Molloy

"When a media outlet calls a trans woman a "man," I'm not surprised. When a website asks trans children questions about "the surgery," I'm not surprised.

When a television network feels the need to include a trans person's "real name" in reporting, I'm not surprised.

While none of this surprises me, it all disappoints me.

Earlier this week The Huffington Post syndicated a column by Chris Purdy of the Canadian Press. The article, "Wren Kauffman, Edmonton Transgender Boy, Shares Story At School," was clearly written with the best intentions.

The story outlines Wren's openness about the fact that he, at 11 years old, is transgender. I can't imagine being as open about who I was at that age. Good for him.

I dove into the article, eager to read the story of this brave young man, but the first sentence stopped me in my tracks:

"When 11-year-old Wren Kauffman goes back to school this week, he won't be hiding the fact that he's actually a girl . . . ""

9-05-13: Washington Post: "Use of preferred gender pronouns indicates expanding acceptance of transgender people"

"As Nicholas Gumas settles into his third year at George Washington University, he won't just be asking incoming students for names, majors and home towns. If the situation calls for it, he says he'll ask for preferred gender pronouns, or PGPs.

To clarify their gender identity, students can request that others refer to them with traditional pronouns (he, him, his or she, her, hers), pick from a number of hybrid options, such as ze, hir, hirs, or use the plural pronoun "they" to refer to an individual.

As president of Allied in Pride, GW's largest lesbian, gay, bisexual, transgender and questioning organization, Gumas hosted the LGBTQ group's first meeting, largely for freshmen, on Thursday night.

Freshmen "who come from progressive or urban areas may have been asked [for their PGPs] before, but others may not have," he said. Asking "is one of the easiest things you can do to help out the transgender population."

While varying sexual orientations have recently gained acceptance in mainstream culture, varying gender identities have yet to be widely accepted. This became clear in August when news outlets reported on former U.S. soldier Bradley Manning's decision to be referred to as a woman named Chelsea . . .

As the Human Rights Campaign's associate director of youth and campus engagement, Candace Gingrich believes that saying "she," "her" and "hers" when talking about Manning is less about extending courtesy than of practicing "basic human dignity." "You should respect how someone wants to be referred to," Gingrich said."

9-04-13: Huffington Post: "University of Arizona Helps Transgender Studies Take a Bold Leap Forward", by Mitch Kellaway

"The University of Arizona, already home to one of the top graduate programs in women's and gender studies, has made a strong statement about the field of transgender studies: It's here to stay.

On Aug. 30, 2013, the institution quietly announced its intention to hire four tenure-track professors specifically dedicated to transgender studies within the next two years. In the same hiring call the institution stated its intention to establish a Center for Critical Studies of the Body and a graduate degree program in transgender studies. The university's LGBT Center already houses the editorial office of the groundbreaking Transgender Studies Quarterly (TSQ), forthcoming in 2014.

The modest reach of this news belies its significant promise: expanded understandings of transgender embodiment and lived experience outside the limiting medical-legal complex.

I spoke via email with one of the discipline's main architects, transgender scholar Susan Stryker of the University of Arizona, to discuss the future of the field and its possible effects outside academia. In her assessment of the cultural importance of transgender studies, she pinpointed one of its game-changing purposes: "to change conditions of knowledge-production on transgender phenomena, and to increase the scope of what counts as 'expert knowledge.'""

[Ed: This is a very significant development!]

9-04-13: Huffington Post: "Spotlight On Transgender Youth" (video interviews)

"In Canada, an 11-year-old went back to school today as a boy although he was born a girl. And according to studies, six out of 1,000 students experience transgenderism. What obstacles do these children face when making the transition?

Originally aired on September 4, 2013; Hosted by: Marc Lamont Hill; Guests:

Aidan Key (Seattle, WA) Gender Specialist; Founder of the Gender Odyssey Family Conference,

Kris Wells (Edmonton, Canada) Director of Programs & Services at the Institute for Sexual Minority Studies and Services; Co-Director at Camp fYrefly,

Leslie Lagerstrom @transparenthood (Minneapolis , MN) Mother of Transgender Child; Blogger at Transparenthood.net,

Linda F. (Seacoast, NH) Mother of Three; Mother of a Transgender Child."

9-04-13: Time (posted 9-03): "Boys Who Wear Pink Aren't Just Internet Sensations ‒ Gender-nonconforming children need empathy, not the media spotlight", by Lori Duron

"Gender variance or transgender identity occurs in as many as 1 in 500 births, making it more common than childhood diabetes. Gender-nonconforming boys have the highest rate of suicide attempts and are three to six times more likely to suffer from major depression, addiction and unsafe sexual behaviors. More than 80% report being harassed at school and, even worse, many are harassed at home.

Life can be dangerous for boys like my son. In her book Gender Born, Gender Made, psychologist Diane Ehrensaft wrote, "To be gender nonconforming is to risk being killed, but on a daily basis it more likely means being harassed, confused and misunderstood in the community … There is no doubt that these children are among the ranks of minority individuals in our society who must anticipate bigotry and antipathy from those who either do not understand, are ill-informed, govern their thinking with myth rather than reality or … project hatred onto those who are different from themselves."

These at-risk children and their families are not getting the help, empathy, acceptance and support they need, because for a lot of people it's easier to live with phobias than to get educated about sex, gender and sexuality. Often those same people think gender-nonconforming children should change the gender identity they were born with — which is as much a part of them as their eye color and handedness — to avoid the problems they face. I argue that it's never the job of a child to make an adult feel comfortable and that we as a society should be working to eradicate bullying behaviors, not the behaviors that prompted the bullying.

As they grow, gender-nonconforming children need to feel safe and understood. We help them when we stop seeing femininity in males as weakness and realize that colors, toys and clothes are for everyone regardless of whom they are marketed to. But that's just a start.

Hopefully soon, stories about gender-nonconforming boys can start a lasting conversation and move the public toward launching all children healthily into adulthood, no matter their sex, gender, sexuality or color, clothing and toy preferences. I don't want children like my son to be short-term media sensations; I want them to be inspirations for change that is long term and much needed."

[Ed: A really thoughtful essay . . . ]

9-04-13: The Raw Story: "Right-wing attorney: 'Clownish' transgender people the 'laughing stock' of the LGBT movement"

"The heads of a conservative law firm believe that transgender individuals are "clownish" and the repeal of Don't Ask, Don't Tell encouraged gay soldiers to rape their colleagues. Wednesday during their "Faith and Freedom" video series on YouTube, Mat Staver and Matt Barber of the Liberty Counsel discussed the transformation of Bradley Manning into Chelsea Manning and sexual assault in the military.

Barber said Manning was a "transgender traitor" and described a photograph of her wearing a wig and lipstick as "clownish." He said that transgender individuals were the "weakest link" in the "alphabet soup of the absurd" known as "LGBT." He alleged that Manning and other transgender individuals were making a "laughing stock" of the entire LGBT movement because they were detached from reality. Barber again described transgender individuals as "clownish."

Staver added that he believes that a man who expresses a desire to transition to being a woman is equivalent to a fat man claiming to be a "skinny man trapped in an obese man's body.""

[Ed: Ranting from the right wing.]

9-03-13: New Busters: "Media's New Mania: Transfixed by Transgender"

"Back to school is an exciting time of year – new classmates, new subjects, new books, new gender and a new court-invented right to use the boys or girls room, depending on how you currently "identify."

Welcome to the brave new world of "the next civil-rights struggle." From a California law decreeing that any student has the right to use any gender-specific restroom and play on any gender-specific sports team he or she (or she or he) wants, biology be d**ned, to LGBT activists counseling network honchos on more sensitive TV portrayals, transgender is all the rage among liberals and media types.

The campaign to normalize gender confusion relies on emotional appeal. The media present "adorable" "transgender" 6-year-olds or teen couples who transitioned genders together. Or, for a child still unsure of his or her gender, lefty sites like Huffington Post and Slate enthusiastically recommend transgender children's cartoons and transgender kid camps where little boys dress as "princesses." It's all part of the effort to "loosen the reins of gender expression," as NPR put it . . . "

[Ed: Whining from the right wing.]

9-01-13: Washington Post Editorial: "Manning's case broadens awareness of transgender people"

"In July, Army Pfc. Bradley Manning, who had passed along classified information to WikiLeaks, was convicted of violating the Espionage Act. When sentenced in mid-August to 35 years in prison, the private issued a public statement that had nothing to do with the sentence or the crime but that nevertheless caught the attention of the country.

"As I transition into this next phase of my life, I want everyone to know the real me," that statement read. "I am Chelsea Manning. I am female."

With four words —"I am Chelsea Manning" — Pfc. Manning positioned the national spotlight onto the nation's transgender community, the oft-forgotten "T" in "LGBT" (lesbian, gay, bisexual and transgender) and what remains one of America's most marginalized and neglected minority groups, even as the country makes significant strides in recognizing the rights of gay and lesbian citizens.

According to the Williams Institute, there are approximately 700,000 transgender individuals in the United States, but this statistic is unlikely to capture the full number of people who have expressed or self-diagnosed an incongruity between the gender they feel and the gender they were born. Even as gays and lesbians have won the right to marry in 13 statesand the District and, this summer, to have the federal government treat those marriages as equal to heterosexual ones, transgender people are still ostracized and stigmatized. They can be refused crucial medical treatments without sufficient justification, and they (like gays) are not protected by federal law from discrimination in the workplace . . . "

9-01-13: Irish Central (Ireland): "Irish transgender teens sent to the UK for treatment by desperate parents ‒ UK options currently surpass anything on offer in Ireland" (more)
"Irish teenagers with trans identities, who may at a later date want to change their sex, are being referred to a UK clinic for hormone blocking treatment to slow the progression of puberty.

The treatment helps them to reduce the amount of surgery they may need later in life if they decide to opt for a sex-change operation as adults.

According to the Independent, three Irish adolescents have recently been sent by the Irish Health Service Executive (HSE) to the Tavistock Clinic in London for the kind of treatment that can help them cope by slowing the development of their sexual organs.

But many Irish parents are being forced to pay for the costly overseas treatment for their teenagers themselves, often having to buy the prescribed drugs via the internet, the paper claims.

Vanessa Lacey, the health and education officer for the support group Transgender Equality Network Ireland (TENI), told the Independent that some parents were often just trying to keep their child - trapped in the wrong body and traumatised by the onset of puberty – alive."

9-01-13: Nevada Appeal: "Documentary to highlight transgender community"

"To help ease he angst of people who identify as transgender and to raise awareness, the Carson City Chapter of Parents and Friends of Lesbians and Gays is hosting a showing of "Trans," a documentary showing the lives, loves and challenges of transgender people from all walks of life.

A news release for the documentary describes the transgender community as "perhaps the most misunderstood and mistreated minority."

"An issue like that seems to frighten people because they don't understand," said Pam Graber, secretary of Carson City PFLAG. "When they're frightened, they say things that aren't nice. They do things that aren't nice."

She said the organization's leaders decided to bring the documentary to Carson City because of the surge in participation from young people who are either in the process of making the transition or are considering it. "This is a message we have to bring to town," she said. "

8-31-13: Huffington Post (posted 8-26): "American Apparel Puts Out Open Call For Transgender Models"

"American Apparel, the clothing company that has historically reached out to the lesbian, gay, bisexual and transgender community (though some have argued "capitalize upon" would be a more appropriate way of putting it) and marketed clothing to pro-LGBT individuals, announced via Instagram an open call for "transgendered/transsexual" models last week . . .

While the company should probably reconsider its use of the word "transgendered" versus "transgender," American Apparel has, in fact, used transgender models in the past -- notably Isis King from "America's Next Top Model." The clothing company also launched a joint campaign with GLAAD earlier this year that featured an LGBT pride t-shirt."

[Ed: An opportunity for some cool gals to really 'go for it'!]

8-31-13: JanetMock.com (posted 8-28): "A Letter to My Sisters Who Showed Up For Islan Nettles & Ourselves at the Vigil", by Janet Mock

"Dear Sister, I stood in a crowd with you last night as we cried and cringed, applauded and gasped, embraced and turned away. I was there with you last night and I saw you in all your fierceness, despair, hope and rage. I also saw love, the same love that Chanel and Laverne wielded when they took the stage, speaking Islan Nettles' name and pronouns with such authority ensuring that no one rewrote the life she brilliantly lived.

Love is what enabled me to walk out of Jackie Robinson Park in Harlem just a block from her attack and not be overcome by the rage of the entire proceeding, a proceeding that did not respect who Islan was – a young black trans woman – by failing to consult us, failing to take our pain and undeniable vulnerability into account, failing to allow us to be heard, failing to educate a grieving family about the necessity of pronouns, failing to correct cis folks who took up too much space and called Islan, therefore every trans woman in the crowd, out of her name.

We were told this vigil was focused on Islan's family versus "political" issues like "transphobia" – as if the personal and political can be separated so effortlessly and cleanly. We are still vulnerable – just as Islan was – and that is not a political issue. That is truth, a truth that we are reminded of every time we step out of the comfort of our homes and are called out of our names, identities and bodies on our streets. And the organizers frankly ignored our truth and that pain paired with the grieving of a sister beaten to death at the tender age of 21 is unbearable.

And I want you to know that your pain is real, your pain is worthy, your pain is just . . . "

[Ed: Profound, must-read reflections on the Vigil for Islan Nettles.]

8-31-13: The Catholic Reporter (posted 8-27): "The Transgender Culture Wars"

"Transgender issues have been prominent in the news all summer. Most recently, on August 22 Army Pvt. Bradley Manning, sentenced to 35 years in military prison for leaking classified documents, announced that he intends to begin hormone treatments so he can live the rest of his life as a woman named Chelsea . . .

Catholics are called to treat all—including all within the LGBT community—with compassion. Yet the Church maintains that people may not change what Pope Benedict XVI has called "their very essence." In a speech at the Vatican last December, Pope Benedict directly addressed transgender issues by cautioning Catholics about "destroying the very essence of the human creature through manipulating their God-given gender to suit their sexual choices." Pope Benedict warned that "when freedom to be creative becomes the freedom to create oneself, then necessarily the Maker himself is denied and ultimately man too is stripped of his dignity as a creature of God" . . .

Dr. Paul McHugh, psychiatrist-in-chief at Johns Hopkins Hospital, was so concerned about the psychological origins of gender-identity disorder that he halted the practice of sex-reassignment surgery at his institution. He wrote about this decision in the November 2004 issue of First Things and concluded that the research demonstrated that Johns Hopkins should no longer participate in what he called "unusual and radical treatment" for "mental disorders."

McHugh, like Blanchard, identified two different groups seeking sex-reassignment: One group consisted of guilt-ridden homosexual men who saw a sex change as a way to resolve their conflicts over homosexuality by allowing them to behave sexually as females with men. The other group, mostly older men, consisted of heterosexual and some bisexual males who found intense sexual arousal in cross-dressing as females. McHugh began to realize that continuing sex-reassignment surgery at Johns Hopkins was "fundamentally cooperating with a mental illness" . . .

Two weeks ago, California's Governor Jerry Brown signed a controversial bill into law allowing transgender public school students to use bathrooms and play on sports teams that fit their preferred gender identities. The law will cover the state's 6.2 million public elementary and high school students . . .

In June, World Magazine reported on a case in which a Colorado school district was accused of discriminating against a six-year-old boy because it would not allow him to use the girls' bathroom . . .

These kinds of cases will continue to emerge. California is only the first state to pass a law like this. School officials in Massachusetts, Connecticut, Washington, and Colorado have adopted similar regulations and guidelines. And, once again, Catholic teachings on transgender issues will be contested. Pope Benedict was courageous in speaking out on this, but a papal pronouncement may be of little help to those of us on the front-lines in the coming transgender culture wars."

[Ed: The Roman Catholic leadership is experiencing serious cognitive dissonance as large numbers of transpeople come into the light, out from under the control of autocratic, paternalistic, pathologizing institutions such as theirs.]

8-31-13: The Seattle Times: "Bar owner to pay $400,000 for banning transgender patrons"

"A Portland bar owner has been ordered to pay about $400,000 to a group of transgendered people he banned from his establishment last year . . . Eleven people will share in the penalty, with amounts they must pay ranging from $20,000 to $50,000. It's the first penalty imposed under the 2007 Oregon Equality Act, which protects the rights of gays, lesbians, bisexual and transgender people in employment, housing and public places. Some other complaints ended in settlements.

The bureau's civil-rights division began investigating the bar formerly known as the P Club last year after owner Chris Penner left a voice message for one of the T-Girls, a social group for transgendered people that went to the bar on Friday nights. According to the complaint filed with the bureau, the message said: "People think that a.) We're a tranny bar or b.) We're a gay bar. We are neither. People are not coming in because they just don't want to be here on a Friday night now."

The complaint listed 11 aggrieved persons, 10 of whom present as women. Their legal names are not given. The T-Girls said they were devastated and humiliated. They said they went to the bar every Friday for two years because they felt safe there — the bartender treated them well, and bouncers walked them to their cars as they left . . .

In 2001, Portland enacted a law banning discrimination against gay and transgender people in employment and public places. The Legislature passed a similar ban for the whole state in 2007. Since then, the Labor Bureau has received 182 complaints of discrimination based on gender or sexual orientation."

8-29-13: Asia Society (re Pakistan): "Interview: Pakistani Transgender Activist Looks to 'New Dawn' of Rights, Dignity" (more)

"Gender identity and transgender issues have come under a renewed focus around the world recently, with a "third gender" option on birth certificates in Germany, Bradley Manning's announcement of his female identity and the fatal beating of a transgender woman in New York City.

In Pakistan, meanwhile, the transgender community has won some victories in obtaining basic civil rights this year.

Pakistan's transgender people, or khawaja seras, have faced abuse and isolation for decades. (The term khawaja sera can refer to transgender people, transvestites, hermaphrodites or eunuchs.) Historically, in South Asia, khawaja seras were respected as caretakers of royal harems, masters of art and culture, and trusted as messengers, watchmen and guardians. Over time, however, their social status diminished significantly. Transgender people now live on the margins of the society as entertainers, beggars and sex workers. Often denied access to education and healthcare, they face extreme discrimination, poverty, abuse and other violations of basic human rights.

But recent gains for Pakistan's transgender community include a ruling by the Supreme Court to allow a third gender category on national identity cards, a legal share of family inheritance, a reserved 2% quota of jobs in all sectors and the right to vote in elections. But not much has changed in practice, and discrimination persists. In a country dealing with overwhelming economic and social ills, Pakistan's transgender community continues to be ignored.

Bindiya Rana is the president of Gender Interactive Alliance, an organization that works for the rights of khawaja seras in Pakistan. Owing to the new right to participate in Pakistan's general elections, Rana is one of the few transgender people who ran for office in 2013. While she didn't secure a seat in the provincial assembly, she believes her victory is in having successfully submitted her nomination papers despite many obstacles. Reflecting on her journey in the run-up to the elections and her work for the rights of transgender people of Pakistan, Rana keeps a cheerful outlook and believes "a new dawn is near." From her home in Karachi, Rana communicated with Asia Society via Skype . . . "

8-28-23: The Advocate: "Op-ed: 72, Transgender, and Finally Myself ‒ One transgender activist remembers the moments when she was forced to hide who she was to simply survive."

"I quit school and joined the Army at 18, hiding my sexuality for a long time, until I learned there were other G.I.'s just like me. By 1964, I was living fully as a woman and having therapy for a sex change that never happened. I was threatened with guns, knives, and fists by other men once they discovered I was not a woman, including being knocked down, kicked, and abused by the very police department that should have protected me.

During the 1960s, while in Ohio, I found out I was transgender. I discovered Rocco's Skid Row Emporium, a club featuring go-go girls who, as it turned out, were all men in female attire. It was something I had never seen before. The transgender bartender took me home and dressed me up in full female attire with makeup. When I looked in the mirror, I said, "Oh, my God, this is really me." And for six months I worked as a go-go-girl there. Later, at a straight club, I joined a chorus line of 20 girls, five of whom were actually men. I loved it and said, "This is it for me!"

At the time, living as a woman made it impossible to obtain a regular job, so I turned to the streets for survival, at times succumbing to the worst of street life, a condition not uncommon in the transgender community. At one point, I even made an unsuccessful attempt at going back to straight life . . .

I attend a transgender a group meeting weekly, doing outreach and educating others so that people will start recognizing the transgender community and help us integrate into mainstream society, because people forget about us. As more transgender people accept themselves, progress will come.

Since 2007, I have lived at Triangle Square, the first affordable housing complex for seniors with in-house services provided by Gay and Lesbian Elder Housing for the gay, lesbian, and transgender community in a supportive environment. GLEH allows me to host Drag Queen Bingo every Saturday night, and residents and all in the community are welcome. Remaining active in the community, I encourage transgender persons, young and old, in seeking out support groups and in building a strong network that will continue opening doors for themselves and the generations to come. We deserve everything good that life has to offer. ROSIE DEL MAR, 72, is a transgender activist living in Los Angeles."

[Ed: A wonderful must-read reflection by a remarkable woman on trans-life, going back to the 1960's.]

8-28-13: Huffington Post: "Shouting Disrupts Vigil For Murdered Transgender Woman Islan Nettles"

"Carmen Neely, the director of Harlem Pride, an lesbian, gay, bisexual and transgender rights group, opened the vigil by asking the crowd to understand that the evening was meant to be a vigil, not a political rally.

"We all know that things need to change and things need to happen and that's very important," she said. "But tonight, let's focus on Islan, her life, and listening to her family and her mother address us all."

A few speakers later, shouts erupted from the crowd after one of the advocates, Vaughn Taylor-Akutagawa, the leader of Gay Men of African Descent, referred to Nettles as "he."

"She was a woman!" shouted Mariah Lopez, a transgender activist who told The Huffington Post that she asked to speak at the vigil and was turned down by organizers. "Gay Men Of African Descent shouldn't be speaking for trans people, period" . . .

Afterwards, actress Laverne Cox, a transgender woman who recently played a starring role in the TV show "Orange Is The New Black," took the microphone.

"I know there are lots of people out there who are upset that she's been called by the wrong pronoun," she began. "That hurts me, too. I stand here as a trans woman of color and my heart aches for this loss. I think that what the trans community needs to hear is that our lives matter." The crowd broke out in applause.

The next day, Cox said the event was not perfect, but the intentions were good. Still, she said, when speakers referred to Islan as a man, it hurt. "

8-28-13: The New Civil Rights Movement (posted 8-26): "Transgender People Being Murdered At A Rate Almost 50 Percent Higher Than Lesbians And Gays"

"Transgender people were murdered last month at a rate that is almost 50 percent higher than the murders of lesbian and gay people. From Canada to the United States to Central and South America, in the month of July alone, 23 transgender people and 16 gay men and lesbian women — a total of 39 people — were murdered, according to a study from the Organization of American States. The OAS represents all 35 countries of the American continent. In just the U.S., an estimated .3 percent of the total population openly identify as transgender, and 3.5 percent of American adults openly identify as gay, lesbian, or bisexual, with bisexual people making up 1.8 percent of that 3.5 percent, according to the Williams Institute."

8-28-13: On Point (WBUR): "Transgender In America: Chelsea Manning – formerly Bradley Manning – is all over in the news. We talk with transgender Americans about that life", with Tom Ashbrook

The story of then-Private-Bradley Manning and his massive leak of classified documents to Wikileaks was big enough. The day after Manning was sentenced to 35 years in prison for that leak, it got bigger. Manning's attorney announced that the Army private self-identified as a woman. That her name was now Chelsea. And with that, millions of Americans were pointed again to the world of transgender fellow citizens. To the complexity of gender identity and to often complex feelings in response. This hour, On Point: we talk with transgender Americans about their lives, their reality -

Guests:

Deirdre McCloskey, professor of economics, history, english, and communication at the University of Illinois at Chicago. Born Donald McCloskey, she transitioned from male to female in 1995, at the age of 53. Author of "Crossing: A Memoir." (@deirdremcclosk)

Ryan Sallans, born Kimberly Ann Sallans. He transitioned from female to male in 2005, when he was 25. He consults and trains higher education, healthcare agencies and non-profit organizations on LGBTQ issues. Author of "Second Son: Transitioning Toward my Destiny, Love and Life." (@rsallans)

Andrew Solomon, author and journalist, writing on politics, culture and psychology. He looks at transgender youth, among other issues, in his latest book, "Far from the Tree: Parents, Children and the Search for Identity." (@andrew_solomon)"

8-28-13: Huffington Post (posted 8-26): "LGBT Legal Progress: 1988 - 2038" by Dana Beyer

"Much of the progress towards freedom and equality occurs in legislatures and courts, making a legal education a necessity. This past weekend I had the pleasure of attending the 25th anniversary conference of Lavender Law in San Francisco. Lavender Law is the national LGBT bar association, led by D'Arcy Kemnitz, and in attendance, speaking on plenaries and workshops, as well as networking in the audience, were some of the greatest legal minds of the LGBT community.

These included: James Esseks of the ACLU, the winner of the organization's highest honor, the Dan Bradley award, for his lifetime of work culminating just months ago in the U.S. v Windsor victory at the Supreme Court, Paul Smith of Jenner & Block, who argued the historic Lawrence v Texas case at the Supreme Court, Shannon Minter of NCLR (National Center for Lesbian Rights) who argued the Prop 8 case in California, Sharon McGowan of the Office of Personnel Management who had argued the historic trans rights case, Schroer v Billington, Tico Almeida of Freedom to Work who recently won the first private business case under Macy, and is leading the sexual orientation discrimination suit against ExxonMobil, and the legal team from the Transgender Law Center in Oakland which won the Macy v Holder case, leading to the expansion of Title VII of the 1964 Civil Rights Act to include trans and gender non-conforming persons . . .

So what are the main challenges ahead? First, the entire community needs to spend the resources to educate the general LGBT population as well as the legal profession that trans persons are covered under Title VII and need to heed the EEOC's plea and bring their claims to the Commission. The Commission's staff has been laboring these past 16 months to educate the staff at all 53 offices and to update their website and documentation to make it easier to file such claims based on gender identity and expression. They are also encouraging claims specifically dealing with discrimination on the basis of sexual orientation - that's the way the ball is moved down-field . . .

Finally, an issue which is specifically relevant to the Lavender Law Conference but has significance to the larger issue of open trans service in the military, is the need to invite back the JAG Corps to the Conference's Job fair. An effort was successfully advanced by some trans leadership last year to have their invitation to participate in the Job Fair revoked because the military is not accepting of open trans service. However, those most impacted by this decision, the trans soldiers and sailors serving covertly, and the veterans who have completed their service, were not consulted. Now represented by SPARTA, they strongly want to increase gay participation in the JAG Corps so as to have allies working within the system to remove the archaic medical obstacles to open trans service.

The next 25 years will see full marriage equality and civil rights, full LGBT military service with anti-discrimination protections, efforts to end the AIDS epidemic once and for all, and the implementation of these rights to change the lived reality of all, and in particular those with the greatest need. So we hope."

8-28-13: IU News (Indiana University): "Kinsey Institute receives grant to study transgender issues in the U.S. military"

"BLOOMINGTON, Ind. -- Researchers at The Kinsey Institute at Indiana University Bloomington have been awarded a two-year grant to study the medical accommodation and care of transgender service members in the U.S. military.

The study, "Understanding Aspects of Transgender Medical Accommodation and Care in the U.S. Military," will include an overall investigation of military polices on transgender identity and inclusion, and how they fit with current medical understanding and professional standards of care for transgender health. The study will also examine the Department of Veterans Affairs' inclusion of transition-related mental health care and hormone therapy for transgender veterans.

"Some research findings and clinical observations have suggested that the rates of veteran status among the transgender community may be elevated compared to the general public," said Brandon J. Hill, research associate at The Kinsey Institute for Research in Sex, Gender and Reproduction. "You can even see cases in the media, like Kristin Beck 'Warrior Princess,' a former Navy SEAL, interviewed on the 'Today' show, and soldier Chelsea (Bradley) Manning, recently convicted of leaking classified documents to WikiLeaks; there seems to be an ongoing connection between the transgender community and U.S. military."

The investigators, Hill and Joshua Trey Barnett, an IU graduate student, will assess medical needs and accommodations of transgender service members and veterans and examine the impact of this care on long-term health outcomes and the discrimination issues facing transgender service members and veterans.

Hill and Barnett will gather through interviews the stories, experiences, challenges and complexities of transgender service members and veterans who have transitioned during active duty or who have accessed medical treatment and care from either the VA or private health care providers after military service. In addition to reflecting on their previous experiences, participants will also have an opportunity to comment on what an ideal medical care system would make available to transgender service members and veterans.

"This project is situated at a unique intersection regarding transgender care, with current military policies not allowing transgender-identified service men and women to serve openly, even in light of Don't Ask Don't Tell being repealed, and the fact that the medical community is shifting transgender care away from a pathology model," Hill said. "Even the VA now covers the cost of transgender transition-related mental health services and hormone therapy for eligible veterans. Clearly, there is a disjuncture between military policies, transgender health standards of care and the VA's policies on how to best treat America's transgender service members."

The project is commissioned by the Palm Center, a research institute focusing on policy related to gender, sexuality and the military. "

8-27-13: Association of Russian Lawyers for Human Rights (Russia; posted 8-13): "Transgender Roman Sorokin has asked for the political asylum in France"
"As the press service of the Association of Russian Lawyers for Human Rights reports, transgender Roman Sorokin asked for the political asylum in France.

As Roman Sorokin said, he had got information about the initiation of a criminal case against him in Russia during a meeting of LGBT activists abroad, also Roman Sorokin found out from mass-media about the illegal search in the house of his lawyer Evgeny Arkhipov August 19, 2013 with the participation of the FSB of Russia. Roman Sorokin considers, that the illegal search related to the protection of the rights of Roman Sorokin and LGBT-people.

As Roman Sorokin said, he decided not to return to Russia and began the process of obtaining the status of a political refugee in France, because the situation in Russia unsafe for him.

Lawyer Evgeny Arkhipov commented the situation and said, that the Russian government openly and deliberately pursues LGBT, which can only be compared with the persecution of Jews by Hitler in Nazi Germany. The lawyer said, that the LGBT community has chosen a peaceful form of protest and defend their rights by conducting gay parades. Vladimir Putin organized the campaign against LGBT community and discriminates LGBT, LGBT activists came to the forefront of protest and resists to fascist regime, which established in Russia. As lawyer Evgeny Arkhipov reminded, Vladimir Putin chose the Eurasian way of development of Russia, which is one of the branches of fascism."

8-27-13: ABC News: "New Details on Manning's Gender Change", By Michelle R. Smith, Associated Press (more)

" Army Pvt. Chelsea Manning, who was previously known as Bradley Manning, wants estrogen treatments that would promote breast development and other female characteristics, which she'd be willing to pay for, while she's incarcerated at the all-men military prison at Fort Leavenworth, Kan., her lawyer said.

Attorney David Coombs told The Associated Press on Monday that Manning hoped the military prison "will simply do the right thing" based on their request for hormone treatment so the soldier will not have to sue in military or civilian court. Coombs said at this point, Manning does not want sex-reassignment surgery and expects to be kept with men in prison where she's serving time for leaking mountains of classified material to the anti-secrecy website WikiLeaks.

Coombs said Manning decided to announce that she wanted to live as a woman the day after sentencing because the prison said publicly it would not provide hormone treatment, her attorney said Monday. Attorney David Coombs told The Associated Press that Manning had known for a long time she would make such a statement, but "she wanted, essentially, for the media surrounding the trial to dissipate."

Manning did not want people to think the statement was insincere. "People might think it was an effort to get further attention," said Coombs, who lives in Providence, R.I. Coombs said he and Manning knew the Army might not provide hormone treatment, but they were hoping the military prison at Fort Leavenworth, Kan., would allow it since Manning had been diagnosed with gender-identity disorder by an Army psychiatrist who testified at his trial."

8-26-13: The Guerilla Angel Report (UK re US): "Defending trans rights? LGBs apparently leave Ts to fend for themselves", by Lexie Cannes.
"After the transgender community was overrun by a conservative tsunami following the recent signing of California's trans kids equality bill, nary a word was heard from leaders of the LGB community — the T's were left to fend for themselves.

The primary defense of the bill came from Transgender Law Center's Masen Davis — who did a remarkable job, But as some observers noticed, and something I've commented on numerous times, the piling onto trans people by conservatives and some in the media was simply outrageous. This warranted a quick and equally strong response from all LGBT advocates, not just trans advocates, to educate the general public. Did we see this? I don't think so.

Conservatives, moralists and the religious right have apparently chosen transgender people to vent their frustrations out on. Brynn Tannehill, writing for The New Civil Rights Movement, summed it up best:

"It's almost as if the right wingers decided they can't beat up on lesbians and gays anymore (and get away with it), and they decided they needed a new straw man to vilify and blame for everything that they see as wrong with America. They need a group they can abuse all they want in perfect safety because they know no one would ever feel sympathetic towards them."

I would like to remind our LGB friends that we've been playing alongside you in the equal rights game all this way. Don't drop the ball now leaving us to fend for ourselves."

8-25-13: The New Civil Rights Movement: "Taking Real Steps To Protect Transgender Kids: A Bridge Too Far For The LGB Community?"

"Radical anti-LGBT groups like the Liberty Council have identified transgender people as the "weakest link" and the "red-headed stepchild" of the LGBT community, and proposed a divide and conquer strategy. It wouldn't be the first time that have tried similarly divisive strategies. Remember the ham-handed attempts by NOM to peel away Blacks with the marriage equality issue?

There are big differences between the two situations, though. This time it isn't just crazy people with tiny audiences piling onto the transgender community, it's the two largest cable news networks. Second, everyone and their dog was rushing to defend lesbians, gays, marriage equality, and downing Proposition 8. There were pro-equality folks all over MSNBC, CNN, and anywhere else a talking head would fit. In short, the LGBT was playing offense in the media effectively.

The first rule of a good information operations campaign is "Get there firstest with the mostest." By that measure, the LGBT community has failed miserably on the issue of framing AB 1266. And it has had the bully pulpit from day one. I wish I could say how the LGBT community tried to frame it, but I can't; Masen Davis was the only one out there on cable news defending it. The Capitol Resource Institute is trying to gather 500,000 signatures in 90 days to put AB 1266 to a referendum . . .

There's an irony here. The entire community regards suicides, violence, and ostracization of lesbian and gay youths a national shame. When it comes to transgender kids, though, the message is entirely different. It feels as though taking real steps to protect transgender kids is a bridge too far for the LGB community right now. And that's the real shame."

8-25-13: The Guardian (UK re US, posted 8-24): "High hopes: . . . Victims of FGM are only offered surgery to reduce their pain. But a cult is supporting a few surgeons as they attempt to restore sexual sensation. Joanna Walters reports on the controversial procedure"

"A nondescript suburb on the outskirts of San Francisco. A plain brick building. Seven nervous women wait in the sunlight. They are here for surgery, which perhaps has as much claim as any other to describe itself as "miraculous" . . .

Soon afterwards one of the first patients, Zaria, 24, is under anaesthetic. "This one's pretty bad," says the surgeon, glancing at me from the stool where she sits between the legs of her patients, scalpel poised.

When I'd met Zaria, just before her operation, I was struck by the energy of this funny, feisty, beautiful young medical student with a tattoo and bundles of raven hair. Now, by her invitation, I am looking at her genitals over the surgeon's shoulder and trying not to cry. Zaria looks more like a doll than a real woman. Her genitals are featureless, completely smooth apart from the opening. Barbie might actually be more anatomically correct . . .

Once at the clinic, she and the other patients (including one who had flown from Australia, who had been "cut" when living in Kenya as a young girl and who had hugged Zaria as she first told her story) were greeted by the two women who were instrumental in encouraging them to break their bonds of cultural taboo. They are an intriguing pair.

One is the surgeon, Dr Marci Bowers, who normally specialises in sex-change surgery, and indeed herself was born male before she transitioned. There's a 14-month waiting list for her $21,000 gender reassignment surgery, but twice a year she clears her diary to operate pro bono on FGM victims – although they must pay a $1,700 fee to the clinic, near San Francisco airport, where Bowers rents an operating theatre. So far she's operated on 50 such women. The other is Nadine Gary, a Frenchwoman who lives in Las Vegas. A schoolteacher, she was inspired to help FGM victims by her following of the outré Raëlian sect . . . Followers strive to campaign for world peace, sharing and nonviolence, but also unfettered sexual joy, which is what drives their movement against FGM . . .

The pioneer of FGM repair surgery is Dr Pierre Foldès in Paris, who began offering the clitoroplasty two decades ago and has operated on almost 3,000 women. He has trained Bowers, 10 more surgeons in France and one in Barcelona, and another doctor who has started offering the surgery in upstate New York. (The reason, incidentally, why there are so many French trainees is that clitoroplasty is paid for by the state as corrective surgery, not only to increase the chance of sexual pleasure, or at least reduce the chance of sexual pain but, crucially, to make women feel normal again; the French see this as a human right.) . . .

There are an estimated quarter of a million women in the US who have suffered FGM or are at risk of it. In Britain there are an estimated 66,000 victims, largely among the African diaspora, and a further 20,000 of their children are believed to be at risk, mostly of being taken abroad for the ritual, even though this is illegal. An article in the Lancet by Foldès in June last year stated that of those who attended a one-year surgical follow-up consultation (admittedly only 29% of his patients), more than half were now having orgasms and almost 98% felt clitoral pleasure . . . "

[Ed: This amazing work by Marci Bowers not only helps the women involved, but it also reveals the hideous-lifelong-torture facing women who've undergone Islamic FGM, doing so in ways that many, many western people will finally understand ‒ and thus could lead to a rapid expansion such surgeries.]

8-25-13: The Gothamist: "[UPDATE] Transgender Woman Dies After Saturday Night Assault In Harlem" (Islan's LinkedIn page)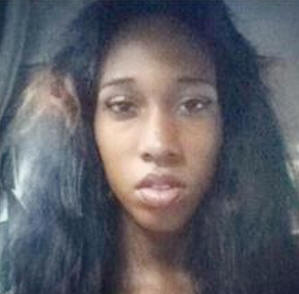 "A transgender woman who was brutally beaten in Harlem on Saturday night succumbed to her injuries yesterday in Harlem Hospital. Islan Nettles, 21, was with her friend, another transgender woman, when she was beaten by a group of men during an argument around 11 p.m. on Saturday. Police sources tell NY1 "the argument took place after the suspect learned that Nettles was not born a female."
Nettles had been in a coma since shortly after the assault, which happened near West 148th Street near 8th Avenue—and directly across the street from the housing bureau's Police Service Area 6 precinct, DNAinfo reports. Her friend told investigators the suspect yelled anti-gay remarks during the beating.
The NYPD press office told us a suspect has been arrested and charged with assault, and more information will be released later this morning. [See below for more info.]
Nettles previously used the names Vaughn Nettles and Alon Nettles, and according to her LinkedIn page, she dreamed of a career in fashion. She previously interned at Ay' Medici, a Harlem design house.
A joint statement released by City Council Speaker Christine Quinn, Councilmember Robert Jackson and Councilmember Inez Dickens says, "We are outraged by reports of a possible hate crime that resulted in the tragic death of a transgender woman in Harlem. The 21 year old victim was walking home with friends when she was brutally assaulted." Public Advocate Bill de Blasio issued this statement:
This is a horrifying and painful moment for our city. Ms. Nettles' murder was crime rooted in hate and ignorance. My heart goes out to her family and her friends as they come to terms with this inexplicable act of violence.
Make no mistake: The denial of fundamental rights to transgender New Yorkers fuels the appalling violence this community continues to face. That must end. Delivering justice here requires we investigate this hate crime and hold the perpetrator or perpetrators fully responsible. But it also demands we finally affirm the rights of transgender New Yorkers as full and equal members of our city, state and country."
8-25-13: The Christian Science Monitor (posted 8-24): "Transgender Americans: Bradley Manning isn't the only one ‒ The case of Army Pvt. Bradley Manning has brought new focus to transgender issues in the US, seen by some as the next major civil rights movement. One question in particular is how to deal with transgender children in schools."
"For many Americans, US Army Pvt. Bradley Manning – the young man who now wishes to be known as a transgender woman called "Chelsea Manning" – brought the issue of gender identity to mind for the first time . . . but he is far from unique. Nor is his particular circumstance – how to fit into a culture and society marked by historical, political, and religious norms about gender – necessarily unusual, even given its military aspect.
The Williams Institute at the UCLA School of Law estimates that there are nearly 700,000 transgender individuals in the US today – males who feel and think of themselves as female and vice versa. That's less than 0.3 percent of the population. But the figure may be understated as it becomes more acceptable for such individuals to reveal their self-perceived gender identity to what may be a critical world around them . . . In any case, the issue is becoming increasingly political – focused most recently on communities faced with decisions involving children.
Colorado officials recently ruled that a suburban Colorado Springs school district discriminated against a transgender 6-year-old (anatomically a boy, although she thought of herself as a girl) by preventing her from using the girls' bathroom, in what advocates described as the first such ruling in what Vice President Joe Biden has been quoted as calling "the civil rights issue of our time."
And in California earlier this month, Gov. Jerry Brown signed legislation requiring public schools to allow transgender students access to whichever restroom and locker room they want.
The law, which takes effect Jan. 1, also will allow transgender kindergarten-through-12th grade students to choose whether they want to play boys' or girls' sports. The new law gives students the right to participate in sex-segregated programs, activities, and facilities based on their self-perception and regardless of their birth gender."
8-25-13: The Guardian (UK re US): "Chelsea Manning and the US military's coming transgender revolution ‒ I struggled in secret with my transgender status for 20 years of service. But Manning's case will force the US military to change"
"In my view, the regulations will have to be changed to allow Manning to receive HRT and to ensure fair treatment for her under the law and constitution. With these changes, the doors will also be forced open to extend the repeal of DADT to transgender service members.
The Palm Center has been tasked with making a study on transgender military service for the DoD, which will be far more comprehensive and thought-out on every level; I look forward to that report. But right now, I am distressed at the way the issue of Manning's transgender status has surfaced, which has appeared somehow to link this human condition to criminal activity.
My hope is that the general public, especially those who have never met a transgender person, will take into consideration my story and those of many other, extremely successful transgender members of the "world community". I will continue to have a dream of equal treatment of all members of the human race. And I will continue to conduct myself with dignity and respect and hope that people will educate themselves about transgender individuals and the many attributes humans are born with. We are a diverse world, and the diversity of the human race is what makes us beautiful.
There is still vast prejudice against various people around the world for being different in color, nationality, religion, sexual orientation and gender identity. Embracing our differences and diversity is a path to peace and happiness; I pray more people will take this path."
8-23-13: US News: "First Person: 'Trans traitor' Manning adds to transgender perception problem"
"Chelsea Manning has claimed her womanhood, leaving Bradley behind, and good for her.
But, as a transgender person myself (I transitioned from male to female in 1990), I can't help but wince and think: Oh, not another unwelcome image of transgenderism for our community to counter. A "trans traitor"? This is not the change I've been waiting for.
For every sympathetic and nuanced portrayal of a transgender person (Roberta Muldoon in "The World According to Garp," Bree in "Transamerica") there are multiple fictional images of psychotic spree killers and various types of victims who identify as TG.
It is a sign of how desperate the transgender community is for positive images that the character played by Laverne Cox in the Netflix series "Orange Is the New Black" is cited as a breakthrough. Sure, the writing is deft and Cox, a transgender actress, is wonderful in the role. But, you know, the character is a criminal.
The transgender community is still waiting for our own "Will & Grace" icon to show up. We need powerful images of the normal, everyday TG person who goes to work, walks the dog, and isn't conspiring to "bring down the country" in their spare time. "
8-23-13: TYT: "The Letter Manning Sent To Obama Requesting A Pardon" (A thoughtful video roundtable discussion, more, more)
"The full text of the letter Chelsea Manning (sentenced to 35 years in prison for leaking classified documents to WikiLeaks) sent to President Obama requesting a pardon is reviewed by Cenk Uygur, John Iadarola (host of TYT University and Common Room), Jimmy Dore, and Michael Shure on The Young Turks.
Read the letter here: http://talkingpointsmemo.com/news/ful... "
8-23-13: TowleRoad: "Transgender Former Navy SEAL Kristin Beck Blasts Chelsea Manning: 'a Traitor to Me Personally'", By Andy Towle
"Kristin Beck, the former elite Navy Seal who was a member of the elite Seal Team 6 and came out as transgender in her book Warrior Princess earlier this year, issued a strong condemnation of Chelsea Manning last night on Facebook in which she accuses Manning of using her gender identity for her own gain.
Writes Beck: This person took an oath to protect American interest and defend the constitution, and took additional oaths due to security clearances to protect information that leaders deem secret. There are legal avenues to whistle blow or bring attention to issues. THIS person is a liar and a thief and a traitor to many people. If Bradley is truly "Chelsea" then "she" is a traitor to ME personally. There is no excuse.
Another problem I have is the EGO that manning had that he would take it upon himself to make a decision to release documents based on personal assumptions, nearly no experience, and without the whole picture. Some say hero? some say traitor? I just say "misguided, egotistical Liar and thief" which can be applied to both hero or traitor depending on a few factors."
8-23-13: PBS: "How Will the Military Handle Bradley Manning's Request to Be 'Chelsea'?" (A must-see discussion by Allyson Robinson on the issue of transgender people in the military)
"RAY SUAREZ: . . . We invited a representative of the Army to join us, but none was available to appear tonight. The Army said in statements it doesn't provide hormone therapy or sex reassignment surgery. "Inmates," the Army said, "are treated equally, regardless of race, rank, ethnicity or sexual orientation."
As for his request for a name change, the Army said it won't be changed unless prisoner Manning completes the legal process to do so. However, some prisoners have taken this action, and the U.S. Disciplinary Barracks can provide guidance.
For a perspective from the transgender community, we turn to Allyson Robinson, a former executive director of OutServe-SLDN, one of the largest LGBT advocacy organizations for military members and their families in the country. She now works as a private consultant on personnel issues for U.S. military and corporate clients. She is herself transgender.
And I mentioned Christine Jorgensen, Allyson Robinson, to remind us that this isn't a brand-new issue, but it's probably not one that the Army has to deal with often, is it?
ALLYSON ROBINSON, former executive director OutServe-SLDN: Well, that's very true, although our estimates would indicate there are anywhere from 6,000 to perhaps 10,000 transgender people who are serving in the military today.
We have strong statistical evidence that shows that transgender people are twice as likely as their fellow citizens to join the military, to have served in the military. I'm just one example of thousands of transgender veterans and people who are actively serving today.
RAY SUAREZ: But Private Manning is unusual that he's trying to make this transition while still under Army supervision, and, even more complicated, as a prisoner. What are the Army's obligations to Private Manning?
ALLYSON ROBINSON: Well, it's worth considering what the Army's obligations are under the U.S. Constitution."
[Ed: This is a powerful, must-see interview/discussion by Allyson Robinson on the issue of transgender people in the military. It's one of those pivotal moments in time when a paradigm is shifted.]
8-23-13: NBC News: "For transgender prisoners, hormones seen as matter of life and death"
"Self-castration, suicide and waves of desperation are byproducts of the denial of sex hormones to inmates yearning to switch genders, advocates say.
But outside the walls, debate has been stirred on whether the prison system is the right place to help chemically escort a man to womanhood, or vice versa, and critics question if any taxpayer money should pay for the hormones used to help inmates undergo sex changes.
Thursday's revelation that convicted secret leaker Bradley Manning wants to live as a woman and begin hormone therapy ignited talk about what happens when prison doctors refuse hormones to inmates with gender identity disorder (GID): depression, death wishes, purposely amputated genitalia and, for those already en route to a new gender, the return or disappearance of certain male or female traits — from body hair to muscles to breasts.
The Army does not provide hormone therapy to such prisoners. At the very least, this significantly delays Manning's plan to physically morph into "Chelsea" -- as he's been sentenced to 35 years in Fort Leavenworth prison.
"You begin to feel like you might as well just die," said Miss Major, 70, who claims her estrogen prescription was withheld by the medical staff during a five-year stint at a New York prison for a prostitution conviction. Major had started taking the pills years before to look like the woman she always felt she was internally. Housed in isolation, and without the drugs, her breasts grew smaller, manly hair again coated her arms and legs, and her emotions ran wild.
"It's like a roller coaster ride without anything to hang on to. You have no control over what's happening to you. It's devastating. You don't know who you are anymore," added Major, who today lives in Oakland, Calif., and advocates for transgender people, including ex-inmates."
8-23-13: Washington Post (posted 8-22): "With Manning's move, transgender issues claim national spotlight"
"Thursday's announcement that Army Pfc. Chelsea Manning wants to live as a woman thrust the issue of treatment of transgender Americans into the national spotlight.
While there have been a handful of public figures who have publicly unveiled their gender change — Chaz Bono, the son of Cher and the late Rep. Sonny Bono (R-Calif.), sparked headlines in the midst of his transition from being Chastity Bono in 2009 — none have generated as much attention as Manning.
Manning's announcement, coming just a day after being sentenced to 35 years in military prison for giving classified documents to WikiLeaks, also comes at a moment when the treatment of transgender Americans in the workplace, schools and prison have become a more prominent part of the nation's political and legal debate.
The first person who became known in the U.S. for undergoing a sex change was Christine Jorgensen, a former G.I. whose case became public in 1952. In recent years, there have been a few Hollywood figures, local officials, sports figures and clergy members that have spoken publicly about their sex reassignment surgery, including former Navy SEAL Kristin Beck; the Rev. David Weekley, a United Methodist minister; Lana Wachowski, director of "The Matrix" and "V is for Vendetta"; former professional tennis player Renée Richards; and Laverne Cox, a transgender woman playing a transgender character on the new TV series "Orange is the New Black."
Amy Stone, a sociology and anthropology professor at Trinity University in San Antonio, Tex., said the impact of Manning's move is hard to predict because the decision to leak classified information to WikiLeaks was already controversial. But the fact that Manning is already familiar to most Americans could help promote greater acceptance of transgender individuals, she said.
"Whenever someone we know comes out as gay, lesbian or transgender, it impacts us differently than it does when we don't know them at all," she said, adding, "There was a lot of invisibility around transgender issues in the past.""
8-23-13: Crain's Chicago Business: "James Pritzker opens new chapter in her life"
"Col. James Pritzker, the ever-private billionaire and an heir to the Pritzker fortune, has come out in the open about his personal life. In a memo to employees at the Pritzker Military Library and Tawani Enterprises, the retired Army lieutenant colonel and wealth management CEO said he is now living as a woman named Jennifer Natalya Pritzker. A statement released by email said this:
"As of Aug. 16, 2013, J.N. Pritzker will undergo an official legal name change, will now be known as Jennifer Natalya Pritzker. This change will reflect the beliefs of her true identity that she has held privately and will now share publicly. Pritzker now identifies herself as a woman for all business and personal undertakings." A spokeswoman declined to answer questions about Col. Pritzker's sexuality or possible hormone therapy . . .
Col. Pritzker, 63, is president and CEO of Tawani, founder and chairman of the military library and on the board of Squadron Capitol LLC, a private-equity firm in Connecticut. Her Tawani Foundation promotes conservation and military causes and programs. Forbes lists her as having a net worth of $1.5 billion.
She has an extensive military career, having served 11 years in active duty in the U.S. Army, including in the 101st Airborne Division at Ft. Campbell, Ky., and VII Corps at Kelly Barracks, Germany. That service was followed by 16 years in the U.S. National Guard . . .
In July, Col. Pritzker's Tawani Foundation awarded a grant to the University of California's Palm Center to study the feasibility of service by transgender people in the military. The $1.35 million donation, according to Courthouse News Service, also will fund research into transgenders in police and fire department. The Palm Center did not immediately return a request to comment.
The issue is getting new attention with the recent announcement by WikiLeaks source Bradley Manning that she wants to live as a woman in prison. One source in the know says Col. Pritzker's announcement will not come as a surprise to those who know her best . . . "
8-23-13: The Telegraph (UK re US): "Prison will not be kind to Chelsea Manning" by Cathy Newman, Presenter, Channel 4 News
"I am Chelsea Manning." It's the simplest of statements, the most uncomplicated of claims. A name, an introduction, no more no less. But when the US soldier formerly known as Bradley Manning declared she was female yesterday and that her name was Chelsea, those four straightforward words concealed years of heartache and turmoil . . .
That's not to excuse what Manning did, and as Bradley Manning, she was sentenced this week to 35 years in prison for leaking hundreds of thousands of classified documents. There was a fair bit of comment that this was a fairly light sentence, given the extent of Manning's treachery. But after her announcement on her gender, the chances are it will feel onerous indeed.
One who has some inkling of what she'll be going through is Paris Lees. She too, traumatised by her own gender identity, committed a crime and was jailed for it. In prison, she grew her hair long and shaved her legs. Tortured by not being able to live as a woman, she crushed up the chalk from her weekly art classes, and, alone in her cell at night, used to smear it on her face to make her cheeks pink and lips red.
Yes, prison's unlikely to be kind to Chelsea Manning. She wants to begin hormone therapy while serving out her sentence. But Fort Leavenworth doesn't provide that to inmates . . . And without in any way condoning what she did, and how she betrayed her own country, the experience of other trans people suggests that on top of the punishment handed down by the courts, she can expect more than her fair share of physical and sexual assault.
Leading members of the trans community say she was penalised by the judicial system too. They say her lawyers advised her not to come out before sentencing for fear it would count against her. Lees told me: "Trans people have known Chelsea Manning is one of us since she first opened up about her gender on private forums, years ago. There was always the suspicion, though, that rumours about her being trans was just propaganda distributed by her enemies to undermine her. Now we learn that she is in fact transgender. Clearly she, and her legal team, believed this information would harm her in court. Why? Why is being transgender something to be ashamed about?""
[Comment by Christine Burns: ". . . a fantastic example of the quality of empathic writing you get when a top journalist has had the benefit of one of the great educational get-togethers organised by 'All About Trans'.]
8-23-13: New Statesman (UK re US): "Behind the Wikipedia wars: what happened when Bradley Manning became Chelsea ‒ Abigail Brady, who edits the site as Morwen, explains . . . " (more)
"Shortly after Chelsea Manning's statement regarding her transition was made public, the Wikipedia page for Bradley Manning was redirected. The article now consistently refers to Chelsea by her chosen name and pronoun, showing more understanding of the issues at hand than many more traditional news sources. But the move wasn't without friction. A glance at the articles talk page, where editors discuss changes, shows an argument in full flow. "This PC-driven move lowers wikipedia's credibility even further", writes one opposing the change."A person's gender identity is their choice to make," says another, supporting the move. Abigail Brady, who is on the site under the name Morwen, was the admin who first made the move. I spoke to her about Manning, wikipedia, and edit wars in general . . .
It seems the page is full of the professionally outraged. Do you think they really are aiming at making the best encyclopaedia possible?
I honestly don't know. Many of them are raising the same old points, over and over again, like they are novel. Yes, there's a background of transphobia to a lot of this, but I think a lot is people driving by and insisting on having their opinion on the raging topic of the day. Someone has come forward already and volunteered to look at the argument and try and determine some kind of consensus from it (hah), and they're going to have their work cut out for them, but they're supposed to look at the actual debate, rather than just weigh the number of randoms who have expressed their opinions, bigoted or not . . . "
[Comment by Christine Burns on Facebook: "My attention has been drawn to an editorial firestorm that's already been raging over on WikiPedia over how to respond to Chelsea's wishes. This is not a new argument. It has been had several times in the past with running vandalism and reversion wars over the biographies of people such as Lynn Conway. This is why WikiPedia already has a standard already worked out for such eventualities, MOS:IDENTITY. However, this argument will involve now a much wider range of editors who never probably concerned themselves with such a question before."]
8-23-13: Huffington Post Live: "LGBT Life In Hyper-Masculine Environment" (Video panel discussion)
"Pfc. Chelsea Manning was recently sentenced to 35 years in military prison. We discuss LGBT life in a hyper-masculine environment, particularly the culture of a "macho" prison."
8-23-13: Village Voice: "A Transgender Woman Dies After an Assault in Harlem [Update]", By Raillan Brooks "
As if we needed another helping of tragedy this summer: 21-year-old Islan Nettles died last night from injuries sustained during fight in Harlem. The fight is believed to have been a verbal attack that escalated when the assailants discovered Nettles' gender identity.
Nettles was out with friends on Saturday when they encountered a group of men near 148th Street and Eighth Avenue. An argument ensued, ending with Nettles being rushed to the hospital with serious injuries. She had been on a ventilator for five days before she died.
There is nothing original left to say about reasons behind the rash of hate crimes this summer. Last count puts the number at 68 so far this year, 14 more than in all of 2012. Is it a result of better reporting to authorities? Or now that a more progressive social regime is set to inherit the city, is this the Last Flail of the Homophobes? . . .
UPDATE: Nettles' death has renewed calls from lawmakers to pass GENDA, an anti-discrimination bill that has been spiked six times by the New York state legislature, most recently this past legislative session.
This morning State Senator Daniel Squadron, sponsor of GENDA in the Senate, released a statement condemning Nettles' murder and reaffirming the central language of the proposed law . . . "
8-22-13: BBC News (UK re US): "How do people who change gender choose a name?"
"Bradley Manning wants to begin hormone therapy and live as a woman named Chelsea. So how do people who change gender go about finding a name that's right, asks Tom Geoghegan.
Not many people have to pick their own name. Your parents do it for you. You can grumble about it, you can hate it but you have two people to blame. Adults who switch do so for many reasons, but for those changing gender, the name is an expression of something more profound - a new identity. And that means the stakes are higher . . .
"The time came for me to tell my father, who I feared rejection from the most," says Krista, president of the Gender Identity Center of Colorado. "We had the conversation and an apparent miracle occurred - my dad not only supported me, but he surprised me a step further when he told me, had I been born a girl, my name would have been Krista.
"It was at that point that the second name revolution occurred and that name has stuck with me ever since. I truly believed it was my name by right as I had been born a girl, albeit not in the physical sense." The relief was indescribable, she says, and it became apparent how forced and unnatural her first chosen name had been, although there were also bitter moments because she felt her true name had been given 33 years late.
Some people choose by instinct - they know who they want to be and who they feel they are, says Joan King of The Gender Trust in the UK. But others agonise about what's right for them. Very masculine or feminine names are popular for those who want to make a strong statement."
8-22-13: Huffington Post (posted 8-20): "Transgender Children, a Tree Stand and Family Traditions", by Wayne Maines
"As fall approaches, I am drawn to my tree stand, which has sat idle for a number of years. Sitting in tree stands and watching nature up close has been a big part of my life. It is the setting of a family tradition of hunting, watching owls and blue jays land on branches six feet away, listening to coyotes howl on a far ridge, and climbing down and sharing peanut-butter-and-jelly sandwiches with a loved one. As much as I want to keep this tradition alive for my children, it has not been easy. I am the proud father of identical twins. One is a boy, and one is a girl. My daughter is transgender. Because of the fears of others, we have had few opportunities to share in my beloved family tradition.
Recently a very special law enforcement officer invited us to the rifle range to shoot with his kids. They all had a great time. The kids asked if we could do this more often, and I struggled with how to explain that the Rod and Gun Club might not be accepting if they knew who we are. On the way home the kids asked me about my father's deer-hunting camp in the Adirondacks. I told them a story about a special Winchester rifle and how it saved my life. I remembered the day clearly . . .
Telling my kids this story, I had their full attention. I saw in their faces the same intense look that I had when my uncles told me their hunting stories. Our kids do not have many family traditions, and I was really surprised by how much the story piqued their interest. They asked whether I still have the rifle. When we returned home, it was soon in their hands, solidifying the story as true, making a lost tradition come alive.
I wish that parents of transgender kids had more opportunities to pass on these types of traditions, but we are more often struggling with daily survival. It makes me very sad. The sadness I feel is not about losing hunting traditions; it is about losing family and missing school performances, lacrosse games, family meals and the many special moments that cannot be captured by phone or Skype.
I sometimes wonder whether we could still have lived together in the same town. Could I have created our own hunting traditions in Maine? Moose hunting, grouse hunts on the Golden Road and snowshoe hare hunts in the big woods? Maybe someday we will recover and start new traditions.
Just like my dad, I am a storyteller. Stories are powerful tools. Stories can open people's eyes, their hearts and, if we are lucky, their minds. Maybe, if I can promote change, I might start to sleep well again. I might quit worrying about the kids' safety and saving for college and medical bills that insurance companies do not cover. Maybe someday the stories will no longer be about the transgender experience but about me sitting in a tree stand with my grandchildren, telling them the .32 Special story as we share a peanut-butter-and-jelly sandwich."
8-22-13: The Advocate: "Op-ed: What's Wrong With Executive Recruiters? ‒ An executive recruiter argues that education and protections are essential to combating discrimination against transgender people in the hiring process", by Joe McCormack
"What is wrong with many executive recruiters is that they are uneducated about transgender issues, and, as gatekeepers, they often make assumptions about whether a transgender candidate is a good fit for their client. Yes, prejudice is a factor, but a lack of awareness about their client's human resources policies regarding transgender employees is an even bigger one . . .
How do we address this? First, we have to educate and train every recruiter about the transgender talent pool as a valuable resource for their searches. Thirty years ago, the mere hint that a candidate could be gay or lesbian was often enough to eliminate them from the hiring process. Today, even the largest search firms have some openly gay search consultants. In 10 years or even sooner, we may have openly transgender search consultants as well, but until then, we have some work to do . . .
Like the LGB community of 30 years ago, the transgender community is beginning to come out of the professional closet and demand its place at the table. The more visible the transgender community becomes, the more acceptance that transgender professionals will have in the workplace, and so on in a virtuous circle. It's difficult for most fair-minded people to stereotype or dislike people they work alongside every day, especially if they are good team members and skilled at their jobs. As a recruiter I've found that transgender candidates are often overachievers, and they are certainly determined or they would never have undertaken their difficult and sometimes painful personal journeys."
8-22-13: Huffington Post: "Chelsea Manning's Gender Transition Could Set Military Precedent" (more, more, more, more)
"Chelsea Manning's lack of access to hormone therapy in military prison could spark a lawsuit and potentially set a military-wide precedent for transgender servicemembers.
On Thursday, one day after she was sentenced to 35 years in prison for sending classified documents to WikiLeaks, Manning confirmed what had been suspected for years: that she identified as a woman and no longer wanted to be called Bradley. But as Manning arrived at military prison in Fort Leavenworth, Kan., officials there said that they do not offer the hormone therapy that Manning has said she wants, and which accepted medical practice says could be used to treat her diagnosed gender dysphoria.
Manning's defense attorney David Coombs vowed Thursday to do "everything in my power to make sure they are forced" to provide her hormone therapy at Fort Leavenworth. But because the prison is citing an Army regulation banning transgender people serving in the military as its basis for denying Manning treatment, it will only provide her hormone therapy if it is forced to.
"Chelsea Manning's refusal of treatment by the military could turn into a very, very interesting game-changer," said Brynn Tannehill of the LGBT servicemember group SPART*A. "This is a lawsuit waiting to happen." The ACLU said in a statement following Manning's announcement that denying her treatment might violate her constitutional rights.
Manning will not be eligible for parole for at least eight years, potentially leaving her without access to appropriate care for the gender dysphoria, intense stress caused by discomfort with one's assigned gender, that a military psychologist diagnosed her with just before her arrest.
Although the military ended its Don't Ask, Don't Tell policy barring openly gay servicemembers in September 2011, the Army still bars transgender servicemembers as "administratively unfit." The official Army regulation uses medically outdated terminology referring to "transvestism, voyeurism, other paraphilias, or factitious disorders, psychosexual conditions, transsexual, (or) gender identity disorder."
Transgender servicemembers are supposed to be administratively separated from the Army, and cannot receive treatments for gender dysphoria like hormone therapy or sex-reassignment surgery. But administrative separation is not an option for soldiers sentenced to prison like Manning, whose rank will soon be reduced to Army private."
8-22-13: Huffington Post: "Bradley Manning Announces Female Identity And Wants To Live As A Woman Named Chelsea"
"Bradley Manning, sentenced to 35 years in military prison for the biggest breach of classified U.S. documents in U.S. history, said in a statement on Thursday she is female and wants to live as a woman named Chelsea.
"As I transition into this next phase of my life, I want everyone to know the real me. I am Chelsea Manning, I am a female," Manning, 25, said in the statement read on NBC News' "Today" show.
"Given the way that I feel and have felt since childhood, I want to begin hormone therapy as soon as possible," Manning said. "I also request that starting today you refer to me by my new name and use the feminine pronoun . . .
(EDITOR'S NOTE: The Huffington Post has changed the pronoun referring to Chelsea Manning from "he" to "she" in the above Reuters text in accordance with Manning's stated preference.)"
8-21-13: USA Today: "Manning sentenced to 35 years in espionage case"
"Army Pfc. Bradley Manning was sentenced to 35 years in prison Wednesday after being convicted of espionage and other charges in connection with a massive leak of classified material. He also received a dishonorable discharge, will forfeit his pay and benefits and was reduced in rank.
Manning faced a maximum of 90 years in prison after his conviction last month on charges of espionage, theft and fraud . . . The judge in the case, Army Col. Denise Lind, announced the sentence in a military courtroom in Fort Meade, Md.
Prosecutors urged the judge to sentence Manning to 60 years as a deterrent to others who might be tempted to leak secret documents . . .
Manning's defense had urged the military to sentence Manning, who served as an intelligence analyst in Iraq, to no more than 25 years in prison . . .
"He had pure intentions at the time that he committed his offenses," defense attorney David Coombs said during the sentencing hearing. "At that time, Pfc. Manning really, truly, genuinely believed that this information could make a difference."
Manning's defense attempted to "play up the human aspect" of Manning by highlighting mental health issues, said Phil Cave, a former military lawyer now in private practice. Defense witnesses testified about Manning's "gender-identity disorder," which contributed to the mental stress he was under . . .
Under military law, the sentence will be automatically appealed. He would probably be eligible for parole after he served one-third of his sentence. Eugene Fidell, who teaches military justice at Yale Law School, said he thought the sentence "was a bit on the high side," but that defense attorneys had a tough case"
8-20-13: Courthouse News Service: "Scarce Transgender Care Options for Manning"
"Though evidence has shown that Bradley Manning has considered living as a woman, the prison likely to hold the WikiLeaks source for decades confirmed that it does not provide hormone therapy or sex-reassignment surgery to inmates.
Manning's gender identity has been a prominent feature of his court-martial for the biggest intelligence leak in United States history. The young soldier shared hundreds of thousands of documents with WikiLeaks, including battlefield reports from Iraq and Afghanistan, diplomatic cables from around the world, profiles of Guantanamo detainees and footage of airstrikes that killed civilians.
Before his detection, he confided in Internet chats with ex-hacker Adrian Lamo, "i wouldn't mind going to prison for the rest of my life, or being executed so much, if it wasn't for the possibility of having pictures of me... plastered all over the world press... as [a] boy."
His desire to be known as a woman apparently shifted as trial approached. On July 24, 2012, his supporters at the Bradley Manning Support Network released the following statement: "Everything we know from Bradley Manning's friends, family, and legal defense team, is that he wishes to be referred to as Brad or Bradley until he's able to get to the next stage of his life."
For Manning, whom prosecutors want to put behind bars for 60 years, that next stage may be a long way away. His lead attorney David Coombs has indicated that Manning will likely serve his sentence in Ft. Leavenworth, Kan. The military judge presiding over his case, Col. Denise Lind, will announce on Wednesday how long Manning will remain there.
Ft. Leavenworth spokeswoman Kimberly Lewis told Courthouse News that treatment for transgender inmates does not extend beyond psychiatric care . . ."The Army does not provide hormone therapy or sex-reassignment surgery for gender identity disorder.""
8-20-13: The Independent (UK re Australia): "An unusual love story: boy (formerly girl) meets girl (formerly boy) ‒ They look like any other happy couple – but each is going through gender reassignment" (more)
"I first met Jamie Eagle and Louis Davies by chance and if, after the hour I chatted to them for, you'd asked me to describe them, I'd probably have just said they were a nice young couple, besotted with each other and warm and witty to talk to. What I would never have guessed was that they are both in the process of undergoing gender reassignment. Jamie, 20, who was born a boy, plans to marry her fiancé, Louis, 25, who was born a girl, although not before they've finished their respective operations.
I gasped when they told me. "Did I hear that right?" one twentysomething man said to me later. "But, but… she's gorgeous," he said, looking confused and uncomfortable, though also impressed. "No way!" his friend said, as if waiting for me to say I was joking.
The next time I met the couple, they'd gone public with their story, appearing on ITV's This Morning and talking to tabloids including The Sun. They have paid a heavy price, particularly Jamie, who has since received daily threats. "I can't go out alone," says Jamie, who is a student who lives with Louis in Bridgend in south Wales. "I mean, it's not new, me getting nasty comments, because I live in a small town. I've always suffered hate crime and have often been followed. But since the publicity, it can feel like someone shouts something from almost every car that drives past and I've had my fair share of internet trolls. I'm on antidepressants."
Yet they don't regret going public. "It's like gay people, black people and women," Jamie says. "None of these groups would have the rights they do if they hadn't fought to change negative stereotypes and perceptions. By going public, I feel like I'm doing my bit to help change history."
In any case, she adds, it hasn't all been negative. "So many people have told me I've inspired them and loads of people have come to me for advice, including parents of young children" . . .
The couple are under no illusion that even highly educated people are not always accepting of them. Feminists including Germaine Greer have been quick to criticise transgender people for aiming to be masculine men and feminine women, thereby failing to challenge the social construction of gender. "The insistence that man-made women be accepted as women is the institutional expression of the mistaken conviction that women are defective males," she wrote in The Whole Woman.
But Jamie and Louis stand firm. "There's a lot of confusion about us and what we're about, but to put it simply, I'm a girl and Louis is a boy," Jamie says. Which is exactly what I thought when we first met."
8-20-13: The Tampa Tribune: "Pinellas commissioners approve transgender protection"
"Five years after refusing to extend legal protection against discrimination to the transgendered, Pinellas County commissioners Tuesday reversed that decision following an impassioned, three-hour public hearing.
The 6-1 vote makes it illegal for most organizations in the county to deny employment, housing opportunities and services to individuals who identify as a different gender from the ones on their birth certificates. That includes the right for transgendered people to use public restrooms, changing rooms and public showers designated for the sex with which they identify.
The evening meeting was so packed with supporters and opponents that two overflow rooms were required. After more than three hours of public comment, commissioners approved the measure, saying it was their role to represent every resident of the county.
"We cannot legislate against what is people's hearts and minds, but we can set policy to protect every member of our community, whether it is 2 percent, 20 percent, 40 percent," said Commissioner Charlie Justice. "We are guaranteed life, liberty and the pursuit of happiness. It is the American way. It is the Pinellas way tonight" . . .
Paul Valenti, director of the Office of Human Rights, said most small businesses have unisex or single occupier toilets. Larger companies have toilets with stalls so privacy would still be provided, he said.
He said other cities and counties including Broward, Palm Beach and the cities of Tampa, Gulfport and Dunedin, already passed similar laws with no problems. "None of the nightmare scenarios being raised came to pass," he said.
Supporters of the law said transgendered people face frequent discrimination. Some said it was sad they needed this law.
"We're talking about the people who too often are denied the right to a job or accommodation or basic decency," said Nadine Smith, executive director of Equality Florida. "We want to show Pinellas County is the kind of place you will be judged by how hard you work, not the random prejudice you might encounter."
8-19-13: The Copenhagen Post (Denmark): "Transsexuality redefined"
"Identifying as transgender is no longer to be taught as a psychological disorder after changes are made to psychiatric handbook. Danish medical students will no longer be taught that people identifying as transgender suffer from a psychological disorder, reports the news site etik.dk
Thorkil Sørensen, the psychiatrist responsible for the chapter on transsexuality in the psychiatric handbook used by medical students, 'Psykiatri. En lærebog om voksnes psykiske sygdom', has decided not to classify it as a disorder in the newest edition. "If it is not experienced like a disorder then it should not be defined as a disorder," Sørensen told etik.dk
The current handbook classifies transgender individuals as suffering from Gender Identity Disorder (GID), but Sørensen thinks this is inaccurate. "Now I would say that identity insecurity applies to a certain group of transsexuals, but not to all of those who identify as transgender," he said.
The change to the Danish textbook follows a new definition that was included in the fifth edition of the American Psychiatric Association's Diagnostic and Statistical Manual of Mental Disorders (DSM-5). In DSM-5, GID has been replaced by Gender Dysphoria. This describes people who are unhappy with the gender they are born with or the gender roles they have been assigned.
"With [DSM-5's] definition, the focus is on the person's mental state," Sørensen said. "If you are dysphoric, it means you are unhappy. But not all people who are transgender are unhappy."
Jack Drescher, a member of the APA subcommittee who worked on the revision, argued that the change was needed to add more cultural context to people who identify as transgender. "We know there is a whole community of people out there who are not seeking medical attention and live between the two binary categories," Drescher told the gay news site advocate.com. "We wanted to send the message that the therapist's job isn't to pathologise"
Psychologist Karina Lins argued that the definition is sensible. "There are plenty of people who have come to terms with their identity and who don't have a problem with their body not living up to their expected gender," she told etik.dk "People who are at ease with their condition and don't experience any problems with it should not be diagnosed or found to have a disorder.""
[Ed: Yet another bizarre twist in Shrinkdom: Danish psychiatrists are now labeling gender-variant people who "don't have a problem with their body not living up to their expected gender" as 'transgender' and defining them as 'not mentally ill'. They then label gender-variant people who "do have a problem with their body . . . " as 'transsexual' and define them as 'mentally ill'). What the $%&@? Is this for real? Or did something get 'lost in translation'?]
8-19-13: Americablog (re Russia; posted 8-18): "Russians film brutal video of attack on transgender woman" (video, more, more)
"Russian anti-gay/anti-trans vigilantes have posted a showing five Russian men participating in the brutal beating of a trans woman.
As we'd reported earlier, violent anti-gay and anti-trans vigilante groups have cropped up around Russia, with the goal of luring young gay and trans kids in to a meeting, then kidnapping, beating and torturing them, while filming the entire thing and then posting it on Russian social media . . .
You should be able to view the video for now on this Russia social media site, I've got screen captures below.
The title of the video refers to the person being beaten as a "homosexual" (they don't even understand the difference between being gay and being trans), and then, troubling, the title continues "view from 16 years old." I'm wondering just how old this person is. We're going to have to wait for some Russians to translate it.
The 3 minute video begins with the men approaching the trans woman in a park. Their friend is filming the attack. The man to the left pretends to use his left arm to prepare to strike her . . . They proceed to kick her in the head, all over her body, and drag and throw her around the park . . . Here she's cowering in fear as they kick her in the head . . . Three of them attack her at once . . . Here they drag her around the park by her underwear . . . "
[Ed: A horrifying look into the dark heart of Russian society, and at the terror beginning to rain down upon LGBT people there.]
8-19-13 Der Spiegel (Germany; posted 8-16): "M, F or Blank: 'Third Gender' Official in Germany from November"
"Germany is set to become the first country in Europe to introduce a third, "indeterminate" gender designation on birth certificates. The European Union, which is attempting to coordinate anti-discrimination efforts across member states, is lagging behind on the issue.
The option of selecting "blank," in addition to the standard choices of "male" or female" on birth certificates will become available in Germany from November 1. The legislative change allows parents to opt out of determining their baby's gender, thereby allowing those born with characteristics of both sexes to choose whether to become male or female in later life. Under the new law, individuals can also opt to remain outside the gender binary altogether.
Germany is the first country in Europe to introduce this option -- Munich-based newspaper Süddeutsche Zeitung is referring to the change as a "legal revolution." It remains unclear, however, how the change will affect gender assignment in other personal documents, such as passports, which still require people to choose between two categories -- "F" for female and "M" for male. German family law publication FamRZ has called for the introduction of a third category, designated by the letter "X" . . .
According to Silvan Agius, policy director at human rights organisation ILGA Europe -- the European chapter of the International Lesbian, Gay, Bisexual, Trans and Intersex Association -- the European Union is lagging behind on the issue. Though Brussels commissioned a report on trans and intersex minorities in 2010, and has since attempted to coordinate efforts to prohibit gender discrimination, progress has been halting.
"Things are moving slower than they should at the European level," says Agius. "Though Brussels has ramped up efforts to promote awareness of trans and intersex discrimination, I would like to see things speed up."
The subsequent EU report on potential changes to European Union law, which was published in 2012 and co-authored by Agius, found that discrimination against trans and intersex people was still "rampant in all EU countries.""
8-19-13: CNN: "New Jersey to outlaw gay conversion therapy for minors"
"Update 11:16 a.m. ET - Christie has signed the bill into law.
New Jersey will become the second state to forbid gay conversion therapy for minors when Gov. Chris Christie signs legislation into law Monday banning the highly controversial practice, CNN has learned.
Gay conversion therapy is an effort championed by people who believe that you can change a person's sexual orientation through counseling. The American Medical Association, American Psychiatric Association and American Psychological Association are just a handful of professional organizations that oppose this practice, saying it is harmful.
New Jersey's decision to outlaw gay conversion therapy will not only be looked upon as another major step in gay rights, but it will also be viewed through the prism of the 2016 race for the White House.
Christie, a centrist Republican, is considered a leading candidate for his party's presidential nomination, and his decision to outlaw the practice for children under the age of 18 is likely to be viewed negatively by some social conservatives.
In explaining his decision to ban gay conversion therapy for minors, Christie is expected to emphasize that while he is wary of the "government limiting parental choice on the care and treatment of their own children," on this particular issue he sided with the experts. The New Jersey senate passed the legislation in late July, but as with any legislation, it ultimately requires Christie's final approval."
8-19-13: Washington Post: "What transgender people teach us about God, and our humanity", by Sharon Groves
""Ultimately, the transgender question is about more than just sex. It's about what it means to be human." – Russell D. Moore, On Faith, Aug. 15
There are certainly more egregious quotes from Moore's recent essay, but to focus on them would miss the larger point – that there is no transgender question. The question is about how people of faith continue to grow in their understanding of our transgender brothers and sisters, sons and daughters, mothers and fathers, teachers and pastors. And it's a growth that, make no mistake, Mr. Moore wants to shut down . . .
What would happen if rather than depicting transgender people as "fac[ing] a long road of learning what it means to live as God created them to be, as male or female," we actually took seriously the question of what it means to be human and, more expansively, what it means to live into our full humanity? What if rather than saying that biology is destiny we actually explored the ways in which we all experience our own gender identities and expressions? What if we learned about the lived experiences of our transgender peers?" . . .
The variation of transgender experience has much to teach us. I was struck that in Moore's piece he didn't reference the experience of one transgender person. He's missing an enormous diversity both in the experiences of faith and of gender identity and expression.
Experiences like that of Joy Ladin, a friend who transitioned while she was teaching at an Yeshiva University, or like Rev. David Weekley, a United Methodist minister who became one of the first openly transgender clergy members after coming out to his congregation about his transition decades prior. These experiences of faith and gender are different again from Rev. Megan Rohrer, an openly gay Lutheran pastor, whose own gender non-conformity provides a unique understanding of those on the margins, many of whom are the homeless community she pastors to in San Francisco.
To live our lives with true compassion and caring, we need to move beyond slogans and ask the deeper questions about gender and the diversity of experiences. But to do that, one must ask the right question and be open to a multitude of answers."
8-17-13: Facebook (India): "'Her name is Sowmya' - An angel gone", by Kalki Subramaniam
"A beautiful Tamil transsexual girl. Her love, her life, her death. 'Her name is Sowmya' - An untold true story, a rare documentation, a bare bitter truth, a ten minute short simple amateur docu film by Kalki Subramaniam. A must see video film for all.
அவள் பெயர் செளம்யா - In Tamil with English subtitles. A film by Indian Transgender rights activist Kalki Subramaniam, Produced by Sahodari Foundation. http://www.sahodari.org/"
[Ed: Sowmya's spirit lives on through Kalki's wonderful documentary, and she will touch hearts and minds forever. This must see video documentary reveals in so many ways the terrible plight of the million or so transgender women scattered across all of India. ]
8-17-13: Washington Post (posted 8-15): "Conservative Christianity and the transgender question", by Russell D. Moore (more, more)
"The Internet is abuzz with conversation about the "T" in "LGBT" this week, after California Gov. Jerry Brown signed into law legislation supporting "equal access" for students who believe themselves to be the opposite gender from their biological sex. As a conservative evangelical Christian, I believe the so-called transgender question will require a church with a strong theological grounding, and a winsome pastoral footing. Here's why . . .
As conservative Christians, we do not see transgendered persons as "freaks" to be despised or ridiculed. We acknowledge that there are some persons who feel alienated from their identities as men or as women. Of course that would be the case in a fallen universe in which all of us are alienated, in some way, from how God created us to be.
But we don't believe this alienation can be solved by pretending as though we have Pharaoh-like dominion over our maleness or femaleness. These categories we believe (along with every civilization before us) are about more than just self-construction, and they can't be eradicated by a change of clothes or chemical tinkering or a surgeon's knife, much less by an arbitrary announcement in the high school gym.
The transgender question means that conservative Christian congregations such as mine must teach what's been handed down to us, that our maleness and femaleness points us to an even deeper reality, to the unity and complementarity of Christ and the church. A rejection of the goodness of those creational realities then is a revolt against God's lordship, and against the picture of the gospel that God had embedded in the creation.
But this also means that we will love and be patient with those who feel alienated from their created identities. We must recognize that some in our churches will face a long road of learning what it means to live as God created them to be, as male or female. That sort of long, slow, plodding and sometimes painful obedience is part of what Jesus said would be true of every believer: the bearing of a cross. That cross-bearing reminds us that God doesn't receive us because of our own effort but because God reconciled us to himself through the life, death, and resurrection of Jesus.
Our transgendered neighbors will disagree with us, of course, that discipleship means an acceptance of who we are as men and women, and that our selves are not separate from our bodies. We should expect such disagreements. But we believe we can no more surgically alter our gospel than we can surgically alter our gender."
[Ed: I think that conservative Christianity is finding itself in deep trouble, being unable to look outside its own closed-teachings for answers for answers to big questions. ]
8-17-13: Huffington Post: "What a Kindergartener Can Teach You About Gender Identity"
"About six months ago my 6-year-old, Joshua, walked into our room while my husband Bob and I were watching a show in which the word "transgender" came up. He asked, "Mom, what is 'transgender'?" For a moment I hesitated over how to respond. In my work persona, I still worry that I might use the wrong pronouns or just generally not get it right on trans issues and unintentionally hurt some great people . . .
I took a deep breath, and my mommy persona took over; I always try to answer questions from my sons as honestly and age-appropriately as I can. I simply explained as best as I could what being transgender is, but I also said that it's a very complicated topic that sometimes even grownups struggle with. Joshua thought about it for a moment and then issued his surprising response: "No, it isn't, Mom. It is just like my Lego Ninjagos when I put the male heads on the female bodies. No biggie. Can I have a cookie?" The whole exchange took three minutes . . .
Don't understand transgender issues? It's possible that this conversation will never take place in your house or in your school district. Who knows, though? How about learning about transgender issues anyway? When you do, you will discover a major value that transgender people and their families uphold that I bet you have as a parent too: At the end of the day, every parent wants to raise a good kid who is comfortable in their own skin and becomes who they are meant to be. It's no different for parents of kids who are transgender, those kids and the adults they become.
All you need to do is step back and think of it from a kindergartener's perspective."
8-17-13: The Guardian (UK re US): "Bradley Manning is a trans hero – I fear for him in prison", by Paris Lees
"Bradley Manning faces 90 years in prison and will probably die behind bars – and that's not the worst of it. He's been successfully brainwashed judging by his recent apology and appeal for leniency. I don't blame him. He must feel powerless, on so many levels. When MailOnline.com published pictures of Manning "in drag" earlier this week, it revealed publicly what the transgender community has known for some time: Manning is one of us.
I personally regard him as a hero, but this isn't an attempt to claim him, politically. There wouldn't be much to gain by it. Even GLAAD and Human Rights Campaign have deserted him, sadly. Whether you see him as brave or treacherous, though, he faces unfair hardship as a gender non-conforming prisoner. I should know, I used to be one.
When I was 16, to my shame, I took part in a robbery. I was terrified of going to borstal, as anyone might be, but with the added fear of what happened to people like me there. Like Manning, I hadn't yet transitioned, but I had always known who I was and that, eventually, I would have to do something about it. I also knew that, because I'd committed a crime, my transition would have to wait.
I was locked up for eight months. Inside, I grew my hair long and shaved my legs. I sneaked chalk out from my weekly art classes and ground it into dust so that when the doors were locked at night and I was alone in my cell, I could make my cheeks pink and lips red, and my eyes green. I must have looked like Grotbags, but there you go. It was torture not expressing my femaleness and I certainly wouldn't have coped with 90 years of it.
Blogger Zinnia Jones, who spent hours chatting to Manning online before he was exposed as a Wikileaks collaborator, describes giving evidence at his trial: "I've talked about Manning as male, because there's been nothing but silence and denial on this front from his family and his attorneys, and I simply don't know how else to refer to him. But I do know what happens when you take one of us and lock us away for most of our early 20s, unable to access treatments like those he was seeking. It horrifies me." She laments the fact that "he's locked in a cage and I'm not, that I got to transition and he didn't" . . . "
8-17-13: Daily Mail (UK re US; posted 8-14): "Army releases photo of Bradley Manning dressed as a woman that he emailed to his therapist - as the private takes stand to apologize for leaking documents to WikiLeaks"
"On the same day that Bradley Manning finally took to the stand and apologized for leaking hundreds of thousands of classified documents to WikiLeaks - the army he betrayed released a picture of the troubled soldier wearing a blond wig, makeup and lipstick.
He addressed the court after a day of testimony about his troubled childhood in Oklahoma and the extreme psychological pressure that experts said he felt in the 'hyper-masculine' military because of his gender-identity disorder — his feeling that he was a woman trapped in a man's body.
Speaking in the court room at Fort Meade, Baltimore, Manning, 25, said, 'First your honor, I want to start off with an apology.' 'I'm sorry I hurt people. I'm sorry that I hurt the US. I'm apologizing for the unexpected results of my actions,' he told the military judge, Colonel Denise Lind.
As the photograph that Manning sent to his army therapist in confidence was circulated to the media, Manning told the court he understood what he was doing at the time of the leaks and the decisions he made. However, he says he did not believe at the time that leaking the information would cause harm.
'When I made these decisions, I believed I was going to help people, not hurt people.' said the former Private 1st Class who was found guilty of 20 out of 21 counts against him last month - including several for espionage. However, he was acquitted of the most serious charge of 'aiding the enemy' - for which he could have faced the death penalty."
8-17-13: JuliaSerano.com: "my new book Excluded: Making Feminist and Queer Movements More Inclusive comes out this Fall!"
"I am excited to announce that my next book, Excluded: Making Feminist and Queer Movements More Inclusive, will be coming out this October! Here is a short blurb for the book:
While feminist and queer/LGBTQIA+ movements are designed to challenge sexism, they often simultaneously police gender and sexuality—sometimes just as fiercely as the straight-male-centric mainstream does. Here, acclaimed feminist and queer activist Julia Serano chronicles this problem of exclusion within these movements. She advocates for a more holistic approach to fighting sexism that avoids these pitfalls, and offers new ways of thinking about gender, sexuality, and sexism that foster inclusivity rather than exclusivity.
While it's not out yet, you can read a sneak peak of the Introduction to the book on my Excluded webpage.
I plan to do some touring for the book, mostly hitting some major cities - I will share those details in my next update. I will also be speaking at various colleges over the course of the 2013-14 year, so perhaps you can catch me doing book readings or giving presentations about the book on one of those occasions.
Also, if you happen to belong to a college organization that may be interested in bringing me to your campus, you can learn more about how to do so by checking out my booking webpage.
In preparation for the book coming out, I recently revamped my website. Stylistically, it's not much different, but a lot of new content has been added, including new writings, articles and interviews, podcasts, and other stuff! So if you haven't visited my website in a while, you should check it out when you get a chance..."
8-16-13: San Francisco Chronicle: "Awareness, laws help transgender youths flourish"
"When Catherine Lee used to take her young child to the grocery store, other shoppers would often comment, "Oh, what a nice son you have, helping you pack the groceries."
She would sometimes just let it pass and exchange a glance with her kid. But other times, she would correct them: "Oh, no, this is my daughter, Kimberly." "I tried to take him shopping to get girlier clothes, dress him in pink, help people understand he was a girl," Lee said.
But her child, now 16-year-old Ashton Zaine Lee, came out as transgender to his parents about two years ago, and Lee had to learn quickly that "this is it - this is my new reality." Lee, a 46-year-old therapist from Manteca, is part of a growing group of parents navigating - sometimes at crash-course speed - the complexities of raising a transgender child.
More transgender people are coming out as teens and as children, a sea change that doctors and therapists say could be caused by increasing awareness among parents and advancements in medical options for transgender children. And as their ranks grow, so does the push for laws like AB1266, signed this week by Gov. Jerry Brown, to allow transgender youth to use school facilities and join groups associated with their gender identity."
8-15-13: The Washington Post: "Transgender in California: All are welcome in pluralistic America", by Becky Garrison
"A new California law signed by Governor Jerry Brown on Monday ensures that students will not have to endure discrimination on the basis of their gender identity and expression. This law (Assembly Bill 1266) which goes into effect January 1, 2014, requires that California public schools respect students' gender identity and makes sure that students can fully participate in all school activities, sports teams, programs and utilize facilities that match their gender identity.
As noted by the Transgender Law Center, "The new law builds on a national movement to end discriminatory practices and ensure transgender youth have the same opportunity to succeed as other students. Massachusetts and Colorado have statewide policies in line with AB 1266, and the Colorado and Maine state human rights commissions have held that state law requires schools to respect students' gender identity. Additionally, many school districts across the country have adopted policies that ensure no student is left out, including the Los Angeles Unified School District, the nation's second largest school district."
Ross Murray, who runs the religion program at GLAAD and serves as a leader with The Naming Project, an LGBT camp based in Minnesota, says the number of trans youth who attend this camp has risen considerable in recent years, having gone from one or each summer to six or seven now. He says this bill now protects those kids who attend public school, some of whom also attend churches, synagogues and places of worship. "Protections for transgender youth in school will help them grow into healthy and productive adults who will eventually be America's leaders," Murray says . . .
Just as encountering actual gay and lesbian people transformed the hearts and minds of many who once believed that homosexuality was a sin, what could happen if the media lens shifted away from those who use the Bible as a tool to demonize transgender people? What if we started hearing the stories from trans people and get to know these individuals as family members, friends, co-workers and neighbors? Just as comedian, actor, executive transvestite, marathoner and aspiring Mayor of London Eddie Izzard proclaims, "I believe in us," I believe there exists a desire among many Americans to explore what it means to live as citizens in an increasingly pluralistic global society that truly embraces all in our shared global humanity."
8-15-13: Mother Jones: "The Pentagon's Transgender Problem: New studies suggest that transgender civilians are twice as likely to enlist, and transgender veterans are 20 times as likely to commit suicide", by Adam Klasfeld and Brett Brownell
"Transgender soldiers and sailors largely fly under the radar, but they are hardly uncommon. In a recent survey (PDF) by the Harvard Kennedy School's LGBTQ Policy Journal, 20 percent of transgender people contacted said they had served in the military—that's twice the rate of the general population. A 2011 study estimates there are nearly 700,000 transgender individuals (about three people per thousand) living in the United States. Meanwhile, the American Journal of Public Health (AJPH) is scheduled to release a report today, which draws from Department of Veterans Affairs data, showing that the number of veterans accepting treatment for transgender health issues has doubled in the past decade. (While viewing the full report requires a subscription, an abstract should be available online as of today.)
These two new peer-reviewed studies indicate that, beyond being discriminatory, the military's current policy starves the armed services of some of their likeliest recruits, and puts transgender people who serve at greater risk of discrimination, homelessness, and assault than those who don't.
The Harvard study, "Still Serving in Silence," relies on statistics compiled by the National Transgender Discrimination Survey (NTDS). It emphasizes that transgender veterans and service members face high rates of job, housing, and medical discrimination. Breaking down the responses between transgender veteran/service members and transgender civilians, the study found that the military respondents were more likely to be fired (36 vs. 24 percent), evicted (14 vs. 10 percent), and refused medical treatment (24 vs. 18 percent) than civilians.
Civil rights groups have seized upon these findings to push the Pentagon to allow transgender personnel to serve openly, as they do in the armed forces of Canada, Thailand, Israel, and certain other countries."
8-15-13: The Guardian (UK re US): "Bradley Manning supervisor 'ignored photo of soldier dressed as woman' ‒ Amid tough questions from defence lawyers, Paul Adkins says he was worried photo would be shared around brigade"
"Details of the incidents emerged during a crucial point in the sentencing hearing at Manning's court martial at Fort Meade military base in Maryland. Manning's defence counsel, David Coombs, has so far called around a dozen of Manning's supervisors in an attempt to show that his client's welfare was neglected.
Coombs has sought to show how the US military missed repeated opportunities to removed Manning's security clearance, which enabled him to download more than 700,000 classified documents that he later passed to WikiLeaks. Manning is facing a possible jail term of up to 90 years when he is sentenced, probably next week.
Adkins was one of four supervising officers who gave evidence on Tuesday. The email he received from Manning in which soldier questioned his gender, was shown to the court, but was not visible from the press room. But a reporter who was in the court said the email began: "This is my problem". Manning went on to describe how this had caused "problems within my family. I thought a career in the military would get rid of it.
"But it's not going away – it's haunting me more and more as I get older. Now the consequences of it are dire, at a time when its [sic] causing me great pain in itself." The attached photograph showed Manning in a blonde wig, apparently wearing make-up. It appeared to be a self-taken image, possibly shot in a car.
Adkins conceded that, when a captain saw the email months later after Manning's arrest, their conclusion was that he should have been immediately removed from the vault where classified information was handled, with his security clearance at least temporarily suspended. Adkins accepted that whether Manning should stay in post should have been a "command decision", but said he did not know why he did not escalate the matter."
8-15-13: Huffington Post: "Miami-Dade Fails To Pass Transgender Amendment To Human Rights Ordinance"
"In Miami-Dade, it's still legal to fire, deny housing, refuse services, or just plain discriminate against an individual for being transgender. That's because a proposed amendment to protected transgendered people under Miami-Dade County's anti-discrimination law failed this week -- and advocates are blaming "chief obstructionist" Commissioner Lynda Bell in particular . . .
Tuesday, its co-sponsors were forced to drop the proposal when it didn't have enough committee votes. "The commission has decided to withdraw the item in order to allow more time to educate the county commission on this important issue," SAVE Dade's deputy director Maria Barth told Gay South Florida. She also pointed the finger at Bell Wednesday morning in an email blast.
"Time and again Commissioner Bell has taken the side of bigotry and discrimination," Barth wrote. "Lynda Bell's outdated and anti-family views are completely out of step with her district. Her bigoted positions have no place in our county government." SAVE Dade promised the group would try again."
8-14-13: Philadelphia Inquirer: "The hard lives and brutal deaths of minority transgender women", by Cei Bell
"The situation with these minority transgender women is that at a young age, they are severely bullied out of school, thrown out of their family's home and onto the streets. Then they have to survive with no education and no jobs. They are severely discriminated against even in the LGBT community. They aren't hired for jobs, and if they find a job they are harassed. At the same time many of the same men who harass them want to have sex with them. I have often suspected that serial killers practice on transgender women because they know that nobody cares.
A long time ago I was looking at an old drag magazine with a friend who was a former Miss Philadelphia from Henri David's pageant. She pointed at pictures and said, 'This one was thrown off a bridge," "This one was strangled with a stocking . . .." We started counting up transsexuals and drag queens we knew who had been murdered, and the count came to 13. There have been 13 times that men have tried to kill me. I rarely tell people about that because they find it incomprehensible. But one moment you are minding your own business and the next a man is chasing you down the street trying to kill you and you haven't done anything. He just thinks he has the right to kill you.
Bigoted media coverage of transgender murder victims has always existed. The coverage usually proclaims that the victims are responsible for their own deaths.
In the late '80s, Anthony Milano, a gay man, was nearly decapitated and murdered by two straight men in Bucks County. The newspapers and Philadelphia magazine wrote sensitive articles about the murder victim and the trial. At about the same time, Tanya Moore and Tina Rodriguez, two minority transsexuals who were alleged to be sex workers, were found murdered, their bodies cut up and set on fire. The newspapers and Philadelphia magazine ran lurid, sensational articles about their depraved lives. They all but suggested that these minority transgender women deserved to die . . . "
8-13-13: Jewish Daily Forward: "For Transgender Converts, Changing Gender and Finding Faith Come Together
Judaism Plays Key Role in Personal Journeys of Transition"
"Henningsen's conversion certificates were the first documents that referred to him with male pronouns. Today, at 35, he is an active member of Beth Chayim Chadashim, a Reform congregation in Los Angeles that bills itself as the world's first lesbian, gay, bisexual and transgender synagogue.
Henningsen is not alone in his trajectory. Transgender converts constitute a vocal — and some say growing — minority within the small community of LGBT Jews. For some trans converts, or, as many call themselves, "Jews by choice," conversion was intrinsically linked to gender transition; the process of soul-searching unearthed one truth after another. For others, Judaism was a lifeline during a time of immense vulnerability and isolation. When friends and family members grew distant, transgender individuals found community at the Hillel House or at the local synagogue.
Some trans converts came from strong faith backgrounds and wanted to supplant their childhood religion with one that would be more accepting of their gender identity. Others came to Judaism from a nonreligious background.
"In one way it is a search for personal authenticity," said Rabbi Jane Litman, a congregational consultant with the Reconstructionist movement who has converted close to two dozen trans Jews. "People who are transitioning in terms of gender are looking for a way to feel most authentically themselves.""
8-13-13: The Raw Story: "Fox News hosts shocked by transgender rights: 'I can't get my head around this'"
""I don't know where to start on this, Michelle, because there seems to be so many questions around this," host Clayton Morris observed. "Is this children who consider themselves a different gender and have not gone through some sort of surgery? Is it a child who is conflicted about their sexuality and chooses one day to use the boys' bathroom as opposed to a girls'?"
"There is such an impetus to pander to political correctness," Malkin explained. "I think this is social engineering run amuck. Apparently according to the bill that was signed, transgender is defined anyway they way to! As long as a child has the self-perception that they are transgender, they will be able to go into any bathroom that they want. Really, I think it's a usurpation of local, parental and community control" . . .
"And also, we know that kids like to pull pranks," co-host Gretchen Carlson pointed out. "Can you imagine now, the boys want to go into the girls bathroom and the girls want to go into the boys bathroom, and they can just say, 'Oh, well, I was transgender for the moment.'"
"I just can't get my head around this," Carlson admitted."
8-13-13: Media Matters: "On CNN, Hate Group Leader Calls Transgender Man A Lady"
"CNN invited hate group leader Randy Thomasson to appear on the network to condemn a new California law ensuring the rights of transgender teens to use facilities and participate in programs corresponding to their gender identities. Thomasson appeared along with the Transgender Law Center's Masen Davis, a transgender male. At the end of the segment, Thomasson told Davis and host Brooke Baldwin, "Hey, good to talk to you ladies."
Appearing on the August 13 edition of CNN Newsroom, Thomasson, president of the anti-LGBT hate group Save California, peddled standard transphobic tropes about "sexually confused" transgender individuals, before closing with his snide remark . . . "
8-13-13: Think Progress: "Conservatives Object To New California Law Protecting Transgender Students"
"California's new law protecting transgender students is an important milestone for creating inclusive schools, but media reports unfortunately included the reactions of many anti-LGBT groups. Here's a look at what they had to say . . . "
8-12-13: KGO-TV, San Francisco: "California governor signs transgender-student bill"
"California on Monday became the first state to enshrine certain rights for transgender K-12 students in state law, requiring public schools to allow those students access to whichever restroom and locker room they want.
Democratic Gov. Jerry Brown announced that he had signed AB1266, which also will allow transgender students to choose whether they want to play boys' or girls' sports. The new law gives students the right "to participate in sex-segregated programs, activities and facilities" based on their self-perception and regardless of their birth gender.
Supporters said it will help reduce bullying and discrimination against transgender students. It comes as the families of transgender students have been waging local battles with school districts across the country over what restrooms and locker rooms their children can use, disagreements that have sometimes landed in court.
The National Center for Lesbian Rights and the ACLU of California were among the bill's supporters. Detractors, including some Republican lawmakers, said allowing students of one gender to use facilities intended for the other could invade the other students' privacy.
Such fears are overblown, said Carlos Alcala, spokesman for the bill's author, Democratic Assemblyman Tom Ammiano of San Francisco. In general, he said, transgender students are trying to blend in and are not trying to call attention to themselves."
8-12-13: Sacramento Bee: "Jerry Brown signs bill empowering transgender students" (more, more, more, AB-1266)
"California students will soon be able to use the bathrooms and join the teams that best match their gender identity, with Gov. Jerry Brown signing a bill enshrining new rights for transgender youth.
The legislation, authored by Assemblyman Tom Ammiano, D-San Francisco, advanced from both houses of the Legislature on largely party-line votes. Advocates called the bill a needed protection for young people who often endure discrimination.
Brown's decision to sign the bill on Monday, ahead of a deadline to act by midnight on Tuesday, dissolved the suspense surrounding the bill's fate.
With his signature, Brown overrode the objections of Republican lawmakers who said the bill would undermine parental choice and put school children into uncomfortable situations. Critics also questioned how the bill would affect the integrity of school athletic records."
[Ed: This is an historic moment in the struggle for transgender human rights.]
8-11-13: JanetMock.com (posted 8-09): "A Conversation with B. Scott on the Power of Defining Yourself", by Janet Mock
,"Throughout my life, I've felt the pressure of having to define my multiple identities for myself and for others. I love words, yet I know that words often fail us. At times, words are unable to fully encompass who we know ourselves to be. Knowing this, I felt immense empathy for B. Scott when I heard him [B. welcomes the following preferred gender pronouns (PGPs): he/him, she/her, they/their] announce after several years in the media spotlight that he is transgender.
B.'s personal announcement arose in the midst of his "gender identity discrimination" lawsuit against BET. According to B.'s open letter to fans, the network hired him as a red carpet style correspondent at the 2013 BET Awards in June, forced him to change into more masculine attire and ultimately replaced him with Adrienne Bailon, a cis Latina woman (cis is a term used to describe those whose assigned sex at birth aligns with their gender identity). He wrote that the day's events "made me feel less than and that something was wrong with who I am as a person."
Though BET released a statement citing "miscommunications from both parties" and stating they "regret any unintentional offense to B. Scott and anyone within the LGBT community and we seek to continue embracing all gender expressions," B. pushed the network for a "true public apology" and "fair remuneration." The lawsuit has spawned many headlines, but what struck me is the discourse B.'s transgender revelation has sparked."
8-11-13: The Hindu (India): "Real change comes only when our family accepts us: transgender"
" In an effort to change the popular perceptions and get rid of the stigma, the transgender (TG) community came together to organise a three-day festival — Mupperum Vizha —which started at Gandhi Museum on Friday.
Theatre artiste and writer Living Smile Vidya, who is a transgender, said that the popular perceptions are that all TGs involve themselves in sex work or beggary. But things have changed in the last decade with the help of many non-governmental organisations which helped them come out of the closet and fight for their right.
"We need icons from the community, a film maker, an IAS officer so that we can take our fight vigorously towards social, economic and cultural liberation. Real change comes only when our families accept us," says Vidya. "
8-11-13: USA Today (re Jamaica): "In Jamaica, transgender teen murdered by mob"
"Dwayne Jones was relentlessly teased in high school for being effeminate until he dropped out. His father not only kicked him out of the house at the age of 14 but also helped jeering neighbors push the youngster from the rough Jamaican slum where he grew up.
By age 16, the teenager was dead — beaten, stabbed, shot and run over by a car when he showed up at a street party dressed as a woman. His mistake: confiding to a friend that he was attending a "straight" party as a girl for the first time in his life.
"When I saw Dwayne's body, I started shaking and crying," said Khloe, one of three transgendered friends who shared a derelict house with the teenager in the hills above the north coast city of Montego Bay. Like most transgenders and gays in Jamaica, Khloe wouldn't give a full name out of fear. "It was horrible. It was so, so painful to see him like that."
International advocacy groups often portray this Caribbean island as the most hostile country in the Western Hemisphere for gays and transgendered people. After two prominent gay rights activists were murdered, a researcher with the U.S.-based Human Rights Watch in 2006 called the environment in Jamaica for such groups "the worst any of us has ever seen.""
8-10-13: New Civil Rights Movement: "'So. Tell Me. Are You Transgender?' — After DADT: Transgender Life In The US Military", by Charlotte
Charlotte, a transwoman, is outed as a transgender soldier to her chain-of-command, but for the moment survives because a senior non-commissioned officer ignores the antiquated medical regulation that excludes transgender persons from serving
""My heart about stops when he tells me to close the door and take a seat. I knew this was bad."
"So. Tell me. Are you transgender?"
"Shitshitshitshit. I'm about to get chaptered. He's going to pull out one of the green legal packets I see on a daily basis and I'm going to get counseled that they're recommending chapter."
"Yes, First Sergeant."
"You planning on doing anything to your junk?"
"No, First Sergeant."
"You going to keep your hair in regs and show up in the right uniform?"
"Yes, First Sergeant."
"Good. I don't give a damn about this trans business as long as you hold to dude standards at work and aren't getting surgery on your junk . . ."
"How did you know, though?"
"Someone outed you to someone, and he came to me about it. That's all you need to know. I've made it clear that I don't want to hear anything about this kind of stuff if the soldier doesn't want people knowing about it. Anyone that goes against this will be considered to be disobeying an order. I've got no problem with you. Now run to legal and pick up SGT So-and-So's packet."
"Yes First Sergeant," she replied, and left. And that was it."
8-10-13: Yahoo! TV (posted 8-09): "Transgender TV Host B. Scott Sues BET for Gender Discrimination" (more)
"B. Scott, a transgender TV host and popular Internet personality with a successful website, sued BET Networks on Tuesday for $2.5 million, stemming from an incident that took place at the 2013 BET Awards. He is claiming gender-identity and gender-expression discrimination along with five other complaints, after he says he was pulled from his hosting job for dressing in women's clothing.
In legal paperwork filed with Los Angeles Superior Court and posted to his website, B. Scott (real name: Brandon Sessoms) is suing for compensatory damages based upon gender-identity and gender-expression discrimination, sexual-orientation discrimination, violation of the Civil Rights Act, breach of contract, wrongful termination, and intentional infliction of emotional distress.
B. Scott claims that while he was working as a Style Stage Correspondent on June 30 for the 2013 BET Awards "106 & Park" Pre-Show, producers pulled him from the red carpet and asked him to wear men's clothing, even though the women's clothing he originally wore had been pre-approved by the network and the broadcast's sponsors. However, "after his first segment, B. Scott was literally yanked backstage and told that he 'wasn't acceptable.' He was told to mute the makeup, pull back his hair, and he was forced to remove his clothing and take off his heels; thereby completely changing his gender identity and expression . . .
omg! spoke with Dr. Timothy Patrick McCarthy, the director of the Sexuality, Gender, and Human Rights Program at the Carr Center for Human Rights Policy at Harvard's Kennedy School, to shed some perspective on the situation. "B. Scott's recent experiences with discrimination at BET place into sharp relief a number of important things related to the ongoing struggle for equal rights and human dignity," he explains.
"First, it highlights the precarious position that LGBT people continue to occupy in all facets of society, especially if we choose, as B. Scott does, to blur or reject rigid conceptions of gender, masculinity, and femininity. Second, it reinforces, yet again, the urgent need for transgender-inclusive policies, like the Employment Non-Discrimination Act, to protect LGBT people from discrimination in the workplace. Third, it forces us to have a more substantive conversation about — and make a more serious commitment to — diversity and inclusion in the media and entertainment industry, in corporate America, and in public life more generally."
Professor McCarthy sees this incident as an chance for BET to step up to the plate in terms of leading a new conversation about truly inclusive diversity. "Given BET's unique position as a trailblazer in American culture, the network has an opportunity here to send a clear message about the importance of all forms of diversity. That a talented gay and transgender entertainer cannot express himself fully and freely within BET's ranks suggests that the company has squandered this opportunity. In a world where LGBT people of color are routinely subjected to multiple and disproportionate forms of discrimination, BET can and should be part of the solution, not the problem.""
[Ed: This is a very important teaching moment in the struggle against the social-suppression of free-gender-expression.]
8-09-13: Media Matters: "Fox News Gins Up "Bathroom Bill" Fears To Dismiss Protections For Transgender Students"
"Fox News attacked a bill in California to allow transgender students equal access to school facilities and programs, inappropriately calling the measure a "bathroom bill" and interviewing a notorious anti-LGBT activist to suggest that students will use the law to take advantage of members of the opposite sex.
During the August 9 edition of Happening Now, Fox News reporter Adam Housley discussed a California bill that would require public schools to allow transgender students to choose which school teams they wish to join based on their gender identity. The bill would also allow transgender students to use restrooms and facilities that match their gender identity.
Throughout the segment, Fox's chyron inaccurately identified the measure as a "bathroom bill," while Housley echoed right-wing fears that the measure might lead to inappropriate behavior between students . . .
Aside from peddling the baseless "bathroom bill" myth, Housley also referenced the case of a transgender male in a Los Angeles school district who successfully pushed his school to grant him access to appropriate facilities. Housley repeatedly referred to the student, who identifies as male, as a female, adding to Fox's long-standing transphobia problem. "
8-09-13: The New Civil Rights Movement: "A Transgender Glossary Of Terms And Definitions", by Tanya Domi (more)
In conjunction with our week-long series "Transgender Life in the United States Military," The New Civil Rights Movement is offering this glossary of terms, via Fenway Health.org."
8-09-13: Huffington Post: "Tim Mooney, Former Gay Marriage Foe, Launches Equality Campaign To Suspicion"
"Andrew Koppelman, a professor of law and political science at Northwestern University, said he wasn't surprised at the skepticism, given Mooney's background. "One of the basic rules of a stealth organization is that when a reporter calls you asking what you're doing, you do not return the phone call," Koppelman said.
Mooney is no stranger to covert maneuvers. In Texas, he organized a campaign to put the Green Party on the gubernatorial ballot in order to split the Democratic vote, contributing to Perry's victory.
Koppelman questioned whether Mooney's latest maneuver is another disguised attempt to sabotage opponents. "Is this just going to suck up money on the left?" he asked, before suggesting that the campaign may also aim to bring out more Republican voters. "It's clear that this is an issue that has in the past helped to mobilize the Republican base," Koppelman said. "That has got to be on the mind of any smart Republican strategist."
As momentum grows for the gay rights movement, concerns about people who would like to profit from that success grow, too, said Fred Sainz, vice president of communications and marketing at the Human Rights Campaign. "One of the concerns that activists are always going to have is whether or not an individual has a profit motive and will put their profit above the good strategic best interest of our movement," he said."
[Ed: This is a very suspicious and disturbing development; something to watch out for all across LGBT advocacy.]
8-09-13: Huffington Post: "Philip Porter, Former Transgender Woman: 'I Was An NFL Cheerleader' (VIDEO)"
""I was born male, and always felt more female than male as a child growing up, to the point of before I could talk, [I thought] 'I should be over there with the girls in dresses. I'm over here wearing pants -- I don't understand it,'" he explained to host Alex Berg.
Growing up in the 1970s, Porter faced skepticism and disdain from doctors and psychologists. "Back then -- this was the '70s, we did not have Google, we did not have Internet -- it was very difficult to find, you know, a professional doctor or psychologist who could hear my story."
Finally, he met a doctor in Dallas, Tex. who helped him. "I was in his office the next day, an endocrinologist office the day after that, and just began my life living as a female. And did that very successfully and very happily for 32 years -- I was an NFL cheerleader and I was a topless dancer for many years."
But 32 years into his life as a woman, Porter began to consider living as a male. "I think part of it might be the mid-life crisis, where like you're starting to have the hot flashes and be very uncomfortable and it's like the hormones were having different effects on me. I just said 'Ok, I'll stop taking these for awhile but it's not going to change back after 34 years of taking them.'"
"And after that, it just started happening," he continued. "After about 6 months to 9 months being off of them, 'you know, you never gave yourself a chance to sort of live as a male. What would that be like?' And it kind of was something in my mind that started as just a little thought that kind of like snowballed. And you know, I mean that's just kind of how it happened.""
8-08-13: The Raw Story (re Taiwan): "Taiwan upholds first transgender marriage"
"Taiwanese authorities have agreed to uphold the marriage status of a local transgender couple, reversing a previous official decision in a ruling activists said would help the bid to legalise same sex marriage.
In what was hailed as a "benchmark" ruling, Taiwan's Ministry of the Interior on Wednesday decided that the marriage status of Abbygail Wu, 27, and her 29-year-old partner Jiyi Wu remained legal.
The couple both had surgery in July last year to transform them from men to women and were married in October. With a view to receiving a marriage certificate from the government, Jiyi registered with government authorities as a male — the "husband" of the couple — while Abbygail said she was female.
However, earlier this year Jiyi applied to be granted legal status as a woman, prompting census authorities to revoke the marriage certificate, saying the union is only legal between a man and a woman.
"The decision was a surprise. We thought we had had a 90 percent chance of losing the appeal," Abbygail told AFP. "It shows that government officials have admitted the existence of multigender marriage in society, different from the traditional concept."
Legislator Cheng Li-chun hailed the "benchmark" ruling, saying it would help push for an amendment to the civil law in September aimed at legalising same-sex marriage, a campaign which has been launched by gay and lesbian groups in Taiwan."
8-08-13: "Transgender ABC new editor switches from man, to woman, to man"
"ABC News editor Don Ennis suffered a very public identity crisis by switching his gender twice in a three-month period, and posting a workplace memo attributing his actions to amnesia.
According to a report by The New York Post, Ennis started dressing as a woman and going by the name "Dawn" in May, but recently switched back to being a "just another boring straight guy."
In a memo posted to the newsroom bulletin board Friday and first obtained by the website NewsBlues.com, Ennis called the episode a "transient global amnesia" and said he accused his wife of playing "some kind of cruel joke, dressing me up in a wig and bra and making fake ID's with the name 'Dawn' on it. Seriously.""
8-07-13: The New Civil Rights Movement: "Transgender Life In The US Military: Hiding In Plain Sight"
"Guest author Brynn Tannehill shares the stories of three transgender members of the U.S. military and how they hide in plain sight, especially as transmen . . .
David McKean, former chief legal counsel for OutServe-SLDN, agrees. "As a general matter, there are several people serving 'openly' (to a degree) while their commands turn a blind eye. That is wonderful, but I share Paula's assessment that the system is very likely to catch up to those members at some point. The goal there is to make sure they're not exposed to any risk of disciplinary action if it does."
From an anecdotal perspective, though, there seems to be some lessons to take away from what I have been seeing. The first is that trans men serving openly seems to be far more common than trans women. I could have easily included 10 more stories like Jake and Mick's. Jessica's story is as far as I could find a trans woman getting, and it was the only one. Mick summed up the situation from his perspective: "I think it is easier for me as a female to male transman. It always seems like the feminine is a lot more scrutinized. No one takes on a lesbian for being too masculine."
The other commonality between all the stories of trans people serving fairly openly is that they have been surprised at how accepting younger people are about being transgender in comparison with the previous generation. This mirrors polling data which shows that Generation X is more accepting than Baby Boomers of LGB people, and members of Generation Y are even more so than Generation X. This shift in attitudes seems to bleed over to transgender people as well.
This leads to the most important question. Could rank-and-file acceptance, or at least tolerance, of transgender people in the military be as big a non-issue as LGB was? Anecdotal evidence suggests so."
8-06-13: The New Civil Rights Movement: "Living In Fear, But Coming Out As Transgender In The Navy"
"Michelle" is a transwoman who currently serves in U.S. Navy with support from her supervisors. She shares her story with The New Civil Rights Movement via guest author Brynn Tannehill."
8-05-13: The New Civil Rights Movement: "After DADT: Transgender Life In The United States Military: Guest author Brynn Tannehill explains that despite the repeal of Don't Ask, Don't Tell, an outdated Department of Defense policy still prohibits transgender persons from military service"
"It has been nearly two years since the end of "Don't Ask, Don't Tell" (DADT). Most people, including many within the LGBT community (including some very prominent LGBT leaders), were or still are unaware that the end of DADT did not end the exclusion of transgender people from military service. There is no law preventing transgender individuals from serving. However, being transgender is still grounds for "rejection for military service." A Department of Defense instruction document, DoDI 6130.03, which is as clinical as its title suggests, states that the following exclude one from military service . . .
The exclusion of transgender people from the military is three-fold. First is the basis of needing intact gonads on the basis that the service does not need the added burden of maintaining an individual's endocrine system. The second is the psychiatric rationale that Gender Identity Disorder (GID), as defined by the DSM-IV, is a mental disorder. The last, unstated assumption is that having openly transgender people would be prejudicial to good order and discipline. While each of these rationales is demonstrably false, overcoming them is extremely difficult due to public stigmatization of the transgender community . . .
It is clear that the existing policy harms the service through the loss of otherwise qualified personnel and endangers the health and well being of transgender members. However, it has previously been difficult to form a convincing argument as to why the policies need to be re-evaluated due to the pathologization of transgender people by the American Psychiatric Association (APA). This has changed significantly in the past few months. This past May the APA recently released the Diagnostic and Statistic Manual of Mental Disorders Fifth Edition (DSM-5) . . .
Many military psychologists and therapists are already viewing the issue this way. Increasingly the active duty transgender people I know are telling me that therapists are following professional standards over military ones, reasoning that there is no reason to kick out someone who is consistently doing well at their jobs. It's easy to see why. Transgender people in the military have consistently demonstrated that they can function at the highest levels. Kristen Beck, a retired member of SEAL Team 6, demonstrated this for over 20 years. I know over 100 active duty transgender individuals, and most of them are highly motivated individuals who are excelling in their careers . . .
Some transgender service members have leadership willing to turn a blind eye to the situation because they don't see a need to lose a top performing Soldier, Sailor, Airman, or Marine. Others have found acceptance from their peers. Often the most disapproving people in the military are the people who are supposed to be the most accepting: Chaplains. Increasingly, the situation for transgender people in the military looks like it did for lesbians and gays during the final decade of DADT.
Over the next few weeks, The New Civil Rights Movement will be telling some of their stories anonymously. These are real people, with real lives, who serve honorably and in silence. The least we can do is listen to them when they tell their stories.We owe them that much, and more."
8-05-13: New York Daily News: "Transsexual actress Laverne Cox finds unlikely path to stardom with 'Orange Is the New Black' ‒ Star of Netflix series plays key role with help from twin brother M. Lamar, who shows character's earlier life as a man" (more)
"She may have been born a he — but now she's a star. Netflix's latest series, "Orange Is the New Black," has been a critical hit and has left fans buzzing.
Among the most popular characters on the women-in-prison drama is transgender inmate Sophia Burset, who is played by real-life transgender actress Laverne Cox.
Related: Netflix's Juicy 'Orange'
"The reality is you don't often see trans characters played by trans folks," Cox told the News, "and there aren't a lot of trans roles written to begin with."
In an early episode, directed by Jodie Foster, Sophia's back story revealed how she was once a former fireman named Marcus who longed to be a woman . . .
"Orange Is the New Black" is considered one of the best dramas of the year, and speaks to the growing number of women's roles in TV.
"The most powerful thing about our show," Cox said, "is that there are voices of women that we don't often get to hear and stories that we don't often get to see.""
8-05-13: National Catholic Reporter (posted 8/03): "A look at marriage equality from a historical perspective", by Thomas M. Finn, Chancellor Professor of Religion (Emeritus) at the College of William and Mary
"Debate over same-sex marriage is raging these days in the United States, be it in the courts, the media, the U.S. Conference of Catholic Bishops, and even among one's friends and family. Deep beneath the breakers runs a broad stream of little-known history that might bring some calm . . .
For most of us, marriage has been shaped by our culture, largely founded on the Book of Genesis and developed over centuries of tradition. God created humans male and female -- Adam and Eve -- to be partners who cling to each other to carry out the mandate to increase and multiply. After the fall, the rest of Genesis recounts the results: The descendants increase and evil multiplies. God determines to make a new start: the flood, Noah and the family ark, a covenant that guarantees God's protection. But the mandate to increase and multiply remains.
And so it goes for the centuries recounted in Exodus, Leviticus, Numbers and Deuteronomy, with marriage as a primary institution. To fulfill the mandate, husbands have many wives; family members marry each other; masters impregnate slaves, sometimes founding a new people (Abraham, Hagar and the Ishmaelites); boys marry at 14 and girls at 12 -- all to ensure the continuity of households. In this long process, the mandate is well on its way to fulfillment, but a cloud hangs just over the horizon: What to do when the mandate is fulfilled?" . . .
Commenting on the Book of Genesis, Augustine reasoned that after the fall from paradise, Adam and his descendants were bound by the precept to increase and multiply until it had been fulfilled by Abraham and his descendants, the patriarchs. Now fulfilled, he concluded, the mandate to increase and multiply had been replaced by a concession: allowing couples to have intercourse without the mandate to procreate . . .
As time passed and the population grew, Augustine's thinking about marriage gradually changed. Tutored by his Roman world and his pastoral life as a bishop, he came to see what made marriage marriage: mutual consent to a life together characterized by marital affection and respect. The importance of offspring, so prominent a reason for marriage, gradually receded in his mind, for his pastoral life brought him face to face with countless childless marriages he considered true marriages . . .
Given the percentage of people for and against same-sex marriage, more than 60 percent of our citizens, including Catholics, seem to agree with what our Western predecessors concluded about what truly constitutes marriage, whether for an opposite-sex or same-sex couple, namely, consent to a life together of partners infused with affection and respect constitutes true marriage, from which the social benefits flow."
[Ed. Opinion: This wonderful article is well-designed to reach its targeted audience. It may also help many non-Catholics, including LGBT people, begin to reach towards a new consensus view on these matters. With Pope Francis showing signs of moving slightly in this direction, it may be quite prescient.]
8-05-13: Los Angeles Times: "Making it easier for transgender people to get new birth certificates - The District of Columbia Council passes the country's most liberal policy for updating birth certificates, one that transgender activists hope will become a nationwide model."
"Kaprice Williams has been waiting four years for a new birth certificate. Williams, 50, transitioned from male to female when she was 15, but some essential legal documents still do not recognize her as a woman.
That had not been an issue until a job interview went sour when her paperwork revealed she is transgender. Efforts to change her birth certificate had stalled because Williams, a native of Washington, has not had sexual reassignment surgery and cannot afford thousands of dollars in lawyer's fees.
Those obstacles are about to become history: Last month, the District of Columbia Council passed the country's most liberal policy for updating birth certificates, one that transgender activists hope will become a nationwide model. The mayor is expected to sign it Tuesday.
Activists say the tremendous boost to gay marriage provided by the Supreme Court's rulings in June ultimately will benefit everyone in the lesbian, gay, bisexual and transgender community. This, they say, is the time to focus on the needs of transgender people, who are seen as the most vulnerable of the four groups.
"Now we have momentum at our back, and we really need to use this time effectively to gain as many protections as possible for transgender people," said Fred Sainz, vice president of the Human Rights Campaign, a Washington-based LGBT rights organization."
8-03-13: Facebook (re UK, posted 7-27): "The World's first - we believe - purpose built Transgender Remembrance Memorial Sculpted on site in Manchester's Sackville Gardens (VIDEO)" , by Amethyst Moonchild
"The World's first - we believe - purpose built Transgender Remembrance Memorial Sculpted on site in Manchester's Sackville Gardens England — with Shane Green, Linda Leaa Sardi, Jennifer Johansson, Jenny-Anne Bishop, Astrid Walker and Canal Street in Manchester, England."
[Ed: A must-see video of an emerging Transgender Remembrance Memorial. Click here for more about the project, and here for more about the sculptor.]
8-03-13: Daily Mail (UK; posted 7-07): "Is this proof the Virgin Queen was an imposter indrag? Shocking new theory about Elizabeth I unearthed in historic manuscripts"
"The bones of Elizabeth I, Good Queen Bess, lie mingled with those of her sister, Bloody Mary, in a single tomb at Westminster Abbey. But are they really royal remains — or evidence of the greatest conspiracy in English history?
If that is not the skeleton of Elizabeth Tudor, the past four centuries of British history have been founded on a lie.
And according to a controversial new book, the lie began on an autumn morning 470 years ago, when panic swept through a little group of courtiers in a manor house in the Cotswold village of Bisley in Gloucestershire . . . "
8-02-13: Human Rights Watch (re Jamaica): "Human Rights Watch condemns killing of Jamaican transgender teenager" (more)
"Human Rights Watch (HRW) has called on Jamaica to conduct a "thorough, impartial and effective investigation" into last month's killing of a transgender teenager.
In a statement released on Thursday, HRW, who are based in New York, said Jamaican authorities needed to send an "unequivocal message that there will be zero tolerance for violence against lesbian, gay, bisexual and transgender people".
Jones was wearing female clothing at the time of the incident and local media say the 17-year-old was attacked after a female attendee told a group Jones was male.
Justice Minister Mark Golding has condemned the killing, saying police "must spare no effort" in finding the killers.
Jamaica is widely known for having a major problem with transphobic and homophobic violence"
8-02-13: Huffington Post: "The Dark Side of Being Transgender: Having Little Choice"
"People outside the trans experience have a truly hard time understanding the magnitude of the task of changing gender expression. No one would ever do this unless they were forced to by their own psychology. I did choose to follow a number of specific steps to change my gender expression; it's just that I was so compelled by inner need that I would say it's not really a choice.
This is so hard that no one would do this if they had any other option. My only other option was to die. And yes, I was prepared to die. I had carefully detailed plans and all the necessary supplies. All I needed were 10 minutes before I went to bed and I wouldn't wake up the next day. I saw it less as suicide and more like euthanasia: I had a medical condition that bordered on unbearable at times.
I don't feel that I need that option anymore; for the most part, my life as a trans woman seems to be working. But I truly cannot go back to living as a man. This is a choice like breathing is a choice. I can choose to not breathe, but not for long. I have to do this to stay alive. Truly I do."
8-02-13: Huffington Post (re UK): "Gosford Anglican Church In Australia Posts Amazing Pro-Gay Sign For Homophobic Christians: 'Get Over It'"
"Get over it! That's the amazingly simple message from Australian Anglican church leader Father Rod Bower, whose statement of equality immediately went viral after he posted it online this week.
The original sign stands outside the Anglican Parish of Gosford in Australia, where it currently reads, "Dear Christians, some people are gay, get over it, Love God." The social-media friendly father also recreated the sign in an image he shared widely on Facebook.
Bower, a longtime supporter of gay rights in Australia, told local news site the Daily Telegraph that he was surprised but pleased by the support he's received.
"This has gone international now -- there are people liking it all over the world and it is just a little sign in Gosford," Bower told the Daily Telegraph, adding, "The conservative view is not the only view. ... Marriage equality is a hot issue at the moment and it seems the church is struggling to get over this issue. I am reflecting on what the spirit of God might be saying in a modern world.""
8-01-13: Stop Trans Pathologization (STP): "STP launches the Call to Action for the International Day of Action for Trans Depathologization 2013 and the Publication of a New Communiqué" (English/Castellano/Français)
"STP, International Campaign Stop Trans Pathologization, announces the date for this year's International Day of Action for Trans Depathologization, which will take place on Saturday, October 19, 2013, and, as in previous years, invites activist groups from throughout the world to organize demonstrations and other actions in support of trans depathologization.
The slogan of the 2013 Call for Action is "Stop Pathologizing Gender Diversity in Childhood".
In addition, we would like to inform you of the publication of a new STP communiqué, in which we reflect on the diagnostic classification of gender diversity in childhood, the ICD revision process and the DSM-5 publication . . .
If you would like to receive further information or to participate in the International Day of Action for Trans Depathologization, please contact us at: contact@stp2012.info ."
8-01-13: Huffington Post: "Ashton Lee, California Transgender Teen, Petitions For Jerry Brown To Sign Bill 1266"
"Over the past several months, Ashton Lee, a transgender 16-year-old from Manteca, California, has been at the forefront of the state's political arena, attempting to convince legislators about the significance of passing Assembly Bill 1266. The bill, which already passed California's Senate earlier this month, now awaits the signature of Governor Jerry Brown.
Yesterday, Lee delivered a petition with 5,700 signatures to Gov. Jerry Brown's Sacramento office.
Assembly Bill 1266 would, "require that a pupil be permitted to participate in sex-segregated school programs and activities, including athletic teams and competitions, and use facilities consistent with his or her gender identity, irrespective of the gender listed on the pupil's records."
Having testified before the California Senate Education Committee prior to the bill passing the Senate, Lee has proven to be a voice for other young people like himself who face marginalization and discrimination at the hands of the public school system as an institution. Gendered spaces, such as bathrooms, and organizations, such as sports teams, often act as forces of regulation on the bodies of trans-identifying individuals, particularly teenagers who have no choice but to navigate these aspects of the public school system.
In a previous interview with CNN, Lee stated that, "I just want to be treated the same as all the other boys, but my school forces me to take P.E. in a class of all girls and live as someone I'm not... I can't learn and succeed when every day in that class leaves me feeling isolated and alone.""
8-01-13: SDLGN: "New study: Transgender troops face rampant discrimination" (more)
"While transgender people serve in the military at a rate double the general population, they nonetheless face discrimination during and after service, according to a new study.
The study titled "Still Serving in Silence: Transgender Service Members and Veterans in the National Transgender Discrimination Survey" is authored by Jody L. Herman, Williams Institute manager of transgender research, and Jack Harrison-Quintana, policy institute manager at the National Gay and Lesbian Task Force.
"Despite the repeal of 'Don't Ask, Don't Tell,' this study highlights the ongoing discrimination faced by transgender people who have served in the military," Herman said. 9% of those who served reported that they were discharged on account of being transgender or gender non-conforming.
While congressional legislation does not prohibit transgender people from military service, the military's medical code lays out regulations that can prevent transgender people from joining the military or serving openly. In this study, some transgender service members reported not serving openly for fear of discharge or verbal, physical and sexual abuse. "
7-31-13: The New York Times: "Editorial: The Next Civil Rights Frontier", by The NYT Editorial Board
"Federal civil rights officials reached an important settlement late last month with a California school district accused of discriminating against a transgender student by denying him equal access to educational programs and activities. Under the agreement, the Arcadia Unified School District in California will revise its policies and ensure that the student, who was born female but has since assumed a male name and identity, is treated fairly and like other male students. The agreement should be required reading for school officials at all levels nationally.
The case involved a child who was anatomically female but began to identify as a boy at an early age, assuming a male first name and wearing boys' clothes. By the end of fifth grade, the student's classmates accepted the transformation, but the school district would not let the matter go. Despite warnings from experts that the student should be treated as a boy in all settings, school officials singled him out in ways that brought unwanted attention and made the gender transformation much more difficult . . .
. . . his parents filed civil rights complaints with the Justice Department and the Department of Education. As the investigation progressed, the district agreed to make sure the student had access to facilities designated for male students at all district-sponsored activities and to revise its antidiscrimination policies so as to prohibit gender-based discrimination.
The agreement ends a painful episode for the student and his family. It may also be the beginning of a more welcoming future for transgender students."
[This statement by the full New York Times Editorial Board signals the onset of a huge paradigm-shift in public understanding of transgender children in the United States.]
7-31-13: BBC News (UK re US): "The US Navy Seal who went from Chris to Kristin"
"Chris Beck spent 20 years operating in secret behind enemy lines as an elite US Navy Seal. But the highly decorated serviceman was always hiding a deeper, personal secret - since early childhood, he felt he was a female born into a male body.
As a Navy Seal, Chris Beck's world was tough, macho, sometimes violent. He took part in covert missions from the Pacific Ocean to the Middle East and fought alongside members of Britain's SAS on the Shatt al-Arab waterway near Basra during the 2003 war in Iraq.
But in February, more than a year after retiring from the US Navy, he replaced the photograph on his LinkedIn profile with one of a tall brunette in a white blouse smiling in front of the Stars and Stripes and wrote "I am now taking off all my disguises and letting the world know my true identity as a woman." Chris had become Kristin. As she awaited the reaction from her former brothers-in-arms, Kristin knew there was no going back from her decision to go public . . .
Kristin says she would have preferred to go through her continuing gender transition in private, rather than in the glare of attention that has inevitably followed the publication of her book. She says, however, that she is approaching her new role as an unofficial spokeswoman for the transgender community with the same "warrior spirit" - a sense of leadership and commitment to duty despite the odds - that defined her military career.
"I think I've saved some lives. I've had some heart-wrenching emails from people who are caught up in pain and prejudice and that does make it worthwhile," she says. "I've also had emails from straight men who have said 'thank you for your service for our country. I never understood what this was but now I do.'"
"Fear of the unknown is the biggest problem and I think reading my book has helped break down that fear for many people," Beck says. "I'm not going to hurt anyone and I'm not contagious. I'm just me.""
7-31-13: Harrisburg Patriot-News: "The fragile financial world of transgender people: Costs of coming out"
"Want to feel the swift hand slap of discrimination and the sting of devastating economic consequences? Go from living your life as a man to coming out as a woman. Perhaps no other group experiences the level of overt discrimination and direct adverse economic setbacks as do transgender people. And it all begins when they come out.
"These people are facing a tremendous amount of discrimination and economic pressure," said Jeanine Ruhsam, president of TransCentralPA Transgender Education Association, an LGBT Center of Pennsylvania board member and a transgender person. "And why is this?" Ruhsam asked rhetorically. "It is just incredible discrimination against these people for their gender nonconformity."
And within the transgender community, no one suffers this kind discrimination and its resulting economic hardships more than transgender women — biological men who identify, come out and live as women. "We live in a patriarchal culture," said Rushsam, who is a transgender woman. "So as a group, you are going to find gay men doing better than the lesbian community. And behind them, the trans community is lagging well behind the gay and lesbian community."
And with no laws in Pennsylvania protecting against employment and housing discrimination based on gender identity, expression and orientation, transgender people — and most especially transgender women — have been summarily "fired, demoted and discriminated against," Ruhsam said. And there is very little anyone can do about it.
"Trans women are in trouble," said Ruhsam, who hears the torment at monthly transgender support groups she attends and helps lead. "I could tell you stories, and it's just amazing," she added. "And they happen weekly. A lot of our people are crashing and burning. It is not about taking hormones and being happy in your new gender. It is being rejected by society, and even your own family and friends."
Yet, not to come out and identify with what they feel as their true gender would be to deny their own sense of self, their very existence as human beings. So transgender people do it, and they suffer the consequences."
7-30: Philadelphia Inquirer: "Police: Woman, 26, critical after Northern Liberties shooting" (update)
A 26-year-old woman was hospitalized Tuesday night in critical but stable condition after police say a man forced his way into her Northern Liberties apartment and shot her in the head. Police sources said the woman, who is transgender, answered a knock at the door to her apartment on Girard Avenue near Hope Street shortly after 9 p.m. to find a gunman at the door. The man forced her upstairs at gunpoint to her third-floor apartment, where he pistol-whipped her and shot her in the head . . .
It was unclear what the motive behind the shooting was, but the shooting comes on the heels of the gruesome murder of Diamond Woods, another transgender woman, who authorities said was murdered and dismembered by Charles "Nolan" Sargent after he picked her up in Hunting Park for a sexual encounter. Woods' murder devastated the LGBT community in the city, and a vigil for the woman was held last week at LOVE Park.
7-30-13: Guerrilla Angel Report: "Trans women murdered in Turkey, Thailand and France"
"A trans woman named Gaye who worked as a florist in Instanbul, Turkey, was found murdered in her home Monday according to LGBTQNation. It is not yet known how she was killed. She is the fourth trans person killed in Turkey in the last 7 months . . .
According to the Bangkok Post, a trans woman was shot by someone who gave her a ride home . . . The Khon Kaen police arrested Anuchit Meetarn for the murder of Jatupon Ratworabood (female name unknown) following Meetarn's identification on CCTV footage.
Planetransgender and Gay Star News are reporting that a trans woman named Mylene was beaten to death with a hammer in Limoges, France last Wednesday . . . "
7-30-13: The Advocate: "What Really Happened When OutServe-SLDN Came Undone - Allyson Robinson's departure from military rights group Outserve-SLDN was messy, shrouded in speculation, and leaves behind questions about the organization's future."
"When the first out transgender executive director of a national LGBT organization was asked to resign after less than a year in her post, some activists were quick to suspect anti-trans bias at work. Other observers immediately ruled bias out, citing a financial crisis within the organization. Weeks later, there is no evidence of explicit transphobia surrounding Allyson Robinson's June ouster at LGBT military advocacy group OutServe-Servicemembers Legal Defense Network. What happened is a bit more nuanced, based on interviews and documents made available to The Advocate.
Members and observers acknowledged that OutServe-SLDN faced a serious financial crisis, as external donations dropped precipitously after the 2011 repeal of "don't ask, don't tell" . . . sources inside the group confirm that OutServe-SLDN had struggled to meet its payroll in the weeks leading up to the June 22 meeting and had begun quietly laying off nonessential staff and working to minimize its overhead . . .
Heinze believes the organization will continue its work to support out service members, though the format in which it does so is likely to change. "I am confident that the organization will emerge from this 'crisis' stronger and better than before, with a renewed since of purpose and engagement—because the job is not done."
Still, several members of OutServe-SLDN's transgender caucus and select local chapters announced their departure from the embattled organization and the creation of a new military equality organization on July 15. "Service Members, Partners, Allies for Respect and Tolerance for All, " or SPART*A, bills itself as a "group of LGBT people and allies who are currently serving or have served in the military, and our families," that is "especially committed to our Trans members… and to gaining full equality for them in the U.S. Armed Forces."
SPΛRT*A lists among its strategic priorities supporting LGBT service members with opportunities for professional development and networking, ensuring them equal opportunity protections, creating a fully inclusive culture within the Department of Defense that is respectful of all military members regardless of sexual orientation or gender identity, and providing connections to legal support for any service member who feels they've been a victim of anti-LGBT bias.
"Since the upheaval at OutServe-SLDN began on June 22, the transgender chapter of the organization has been working to determine where and how we can best fit within the movement," wrote Brynn Tannehill, the former chapter spokeswoman for OutServe-SLDN's Military Transgender Group and founding member of SPART*A in a statement. "This process has been painful, and strained personal and professional relationships that had previously been strong… The ultimate question we had to answer was where we need to be in order to most effectively move the issue of open service for transgender people forward. Unfortunately, it was the considered opinion of our members that OutServe-SLDN will not be able to represent our interests effectively for the foreseeable future.""
7-29-13: Inside Higher Ed: "Equal Access at All Levels", By Allie Grasgreen
"Last week's settlement between the U.S. Education Department's Office for Civil Rights and a California school district may have been issued at the K-12 level, but the newly clear message that federal laws prohibit discrimination based on gender identity applies to colleges too, experts say.
The U.S. Departments of Justice and Education jointly determined that California's Arcadia School District violated Title IX of the Education Amendments of 1972, which prohibits sex discrimination, by barring a transgender student from sex-specific facilities and activities. All schools and colleges receiving federal funds are obligated to comply with Title IX or risk losing that funding.
In a 2010 "Dear Colleague" letter, OCR said schools must work to prevent gender nonconformity discrimination -- when, for example, a student who is assigned a male sex at birth but does not act as a stereotypical boy (maybe by using female pronouns, or wearing dresses) is bullied.
But this resolution agreement takes that a step further by covering gender identity discrimination -- when the same student described above is barred from using the female restroom. She is not being excluded because she doesn't act like a stereotypical boy and is therefore nonconforming, but because she has a transgender gender identity; her identity doesn't match the sex she was assigned at birth.
The settlement is also a first in that it deals with access to educational programs, facilities and activities -- which is really what Title IX is all about -- whereas the 2010 letter related more to school climate, harassment and bullying. The issue is not hypothetical; colleges report that they are enrolling more transgender students who are requesting various services and policies -- anti-bias rules, access to bathrooms, ability to join athletic teams -- and at some institutions, they haven't been satisfied with the response.
"It actually is groundbreaking," Erin Buzevis, the law professor at Western New England School of Law who runs the Title IX Blog, said in an e-mail. "By taking one such case, OCR signals its willingness to take similar cases in the future, and there's no reason to think those cases wouldn't also include college students.""
7-29-13: Bangor Daily News: "Transgender people are a blessing", by Rev. Marvin M. Ellison
"Thank God for transgender persons and their families, who exemplify the amazing beauty of the divine creation in all its complexity and rich diversity.
It is a blessing to share community with our transgender sons and daughters, brothers and sisters, and fathers and mothers and to work alongside them to assure that each and every person, including each and every transgender person, has what they need and deserve: respect and a secure sense of personal dignity and worth, a fair share of resources, a life without fear, and the freedom to live in the world as one's authentic self.
As a clergyperson and president of the Religious Coalition Against Discrimination, I am proud of the fact that RCAD's statewide multireligious network of faith leaders has committed itself to a three-year initiative to promote transgender inclusion and equality in our congregations and communities.
As a Christian ethicist, I have often reminded seminarians and myself that it is wise, in the midst of social change, to slow down and avoid "premature clarity," or what might be called rush to judgment. Before giving any kind of ethical evaluation, we ought to take the time to understand as fully as possible the reality before us, in this instance transgenderism. The best way to gain understanding is to listen to and learn from transgender persons.
Maine Transnet, a nonprofit organization in Maine, is dedicated to educating the public about gender identity and raising awareness of the varied forms of gender expression. Its website provides resources to the trans community of Maine, as well as consultation, education and training to social service, mental health professionals and interested others. My advice, then, is to "go to the source" and become better educated."
7-28-13: Global Voices (re Malaysia): "Hazreen Shaik Daud: Malaysia's First Transgender in Politics"
"Former NGO worker Hazreen Shaik Daud is Malaysia's first transgender in politics after being appointed as political secretary to Tanjung Bungah state assemblyman Teh Yee Cheu of the Democratic Action Party (DAP).
A transgender committee was initially approved in the Penang State to address transgender issues. Hazreen will initially work in the committee but she will also be responsible for other issues as well such as politics, economy, culture, education, health, and human rights.
KiniTV, a Malaysian Internet portal, recognized Hazreen as Malaysia's first transgender in politics . . . "
[Ed: Be sure to see the embedded video and the many interesting, annotated comments.]
7-27-13: Fox News: "DOJ ripped for making transgender restroom use new front in civil rights battle"
"The U.S. Department of Justice's latest cause - fighting for a transgendered California ninth-grader's right to use the boy's room at school - has conservative groups wondering just how far Washington will go in the name of civil rights.
The student was born a girl but "has identified as a boy from a young age," according to the Department of Justice, which reached a settlement with the public school district in Arcadia, an affluent LA suburb. Under the deal, the district must not only change the student's restroom privileges and make similar accommodations on overnight trips. It also must institute a host of measures to ensure transgender students are treated as whatever gender they consider themselves to be.
Randy Thomasson, president of SaveCalifornia.com, said Attorney General Eric Holder is off-base in pushing the case as a matter of civil rights. "Eric Holder needs to reread the Civil Rights Act of 1964 and find out that civil rights are based on an unchangeable, immutable characteristic," Thomasson said. "You cannot change your genes or your gender. You have chromosomes and they are either XX or XY. This is a girl who has been environmentally warped to believe she is a boy, and, instead of coddling this confused child, her parents should have gotten her into counseling with an expert on gender confusion.". .
Under the settlement approved unanimously by the school board, the district agreed to amend "its policies and procedures, training staff, and ensuring appropriate supports for the student and other transgender students who request it." But several conservative groups said the federal agency has no business getting involved in the issue as a civil rights matter, and in doing so, trampled on the rights of other students.
"It is definitely a situation where we have compassion for that child and the child needs help," Bob Tyler, an attorney at Advocates for Faith & Freedom, told FoxNews.com. "But you can't ignore the rights under the constitution of California, and arguably under the United States Constitution, of all the other students of the school." . . .
Andrea Lafferty, president of the Traditional Values Coalition, told FoxNews.com that the main issue is whether this decision will impact the rights and fairness for the majority of kids."We are seeing a trend here nationally where we have individuals who are psychologically unhealthy who are always getting with they want, but what do you do about the hundreds of other children in the school affected?" she said."
7-26-13: New York Daily News: "Transgender teen lovebirds find happiness with each other: Oklahoma teenagers Arin Andrews and Katie Hill have both undergone surgery to change their gender, and have supported each other while transitioning."
"Arin Andrews and Katie Hill seem like any young couple, but the teenagers' love story has a unique twist — they are both transgender.
The Tulsa, Okla., teens have been together for a little over a year. They met at a transgender support group while they were each transitioning to the opposite gender, and it wasn't long before they fell in love. The pair has a lot in common. They were both felt out of place in their bodies from a young age and had to endure bullying in school. It turns out, what Arin had, Katie wanted, and vice versa.
Katie, 19, was born "Luke," and struggled with gender identity from a young age. The brunette said she was depressed and ashamed throughout her youth. She first tried to commit suicide when she was 7. When she was 15, she confessed to her mother that she was transgender and asked for her help in becoming a girl.
For 17-year-old Arin, it was the opposite. He was born a girl named "Emerald" who competed in pageants and performed in dance recitals. But Arin said he felt like he should have been wearing pants instead of dresses. "I talked like a man, I walked like a man, but I wore a skirt," he said in an interview with ABC's "20/20."
Both have undergone surgery to transform their outward appearances. Katie traveled to California a few days after her 18th birthday for gender reassignment surgery. An anonymous donor covered the nearly $40,000 in costs, according to the Tulsa World. Arin had his breasts surgically removed in June.
"I hated my breasts, I always felt like they didn't belong. Now I finally feel comfortable in my own body," he told The Sun. "Now when I'm out in a public pool or lifting weights, no one raises an eyebrow. They just think I'm a guy." He added that he can now wear tank tops and take off his shirt when he goes swimming.
After years of pain, the the couple seems to have finally found happiness, both with themselves and with each other. "Being transgender myself, I understand Arin probably better than anybody else, how good he feels and how complete he feels," Katie said . . . "
7-25-13: USA Today: "Troops wanted; transgender need not apply"
"The Pentagon assures us it is moving with alacrity to develop gender-neutral standards for its most physically challenging jobs, including shouldering a rifle in the infantry. The services are doing so to meet a 2016 deadline for all jobs, including those on front lines of combat, be open to women.
The Army's top personnel officer, Lt. Gen. Howard Bromberg, put it plainly in a tweet this week: "Army's effort to ensure the best-qualified Soldiers, regardless of gender, are in the right positions, said LTG Bromberg." The concept is about as American as it gets: a level playing field for all. If you're capable of doing the job, nothing should prevent you from doing it. In rapid succession, barriers to service have fallen for gays and lesbians and will shortly be eliminated for women.
That egalitarian spirit, however, does not extend to transgender troops. They're barred from service -- regardless of their fitness for service -- for health reasons. The Pentagon has no plans to change that prohibition.
USA TODAY's story on the issue of transgender troops this week drew some predictable comments. There were vituperative, mean-spirited blasts lobbed from behind the safety of a Facebook page. More interesting, unpredictable and certainly more thoughtful, were comments made by transgender troops and veterans . . . "
7-25-13: A Wider Bridge (re Israel; posted 6-06): "The unsung heroes of Israel's LGBT community: Transsexual Rina Natan fought desperately for the chance to become a woman . . ."
"Rina Natan may have been born male and named Gershon Natan, but she went to tremendous lengths to be able to fully claim her identity as a woman. In the 1950s, she waged a tenacious struggle against the Israeli medical and legal establishments, in order to undergo a sex change operation. After trying various forms of passive resistance and then, in a drastic move, attempting to perform surgery on herself, which nearly killed her − she ultimately succeeded in her quest.
The heroic tale of Natan − apparently the first transgender woman in Israel − has recently been retrieved from the depths of oblivion and researched by Dr. Iris Rachamimov, a historian at Tel Aviv University. Rachamimov discussed Natan's struggle at "Beyond the Parade," an event held this week in Tel Aviv. The talk, held in conjunction with Gay Pride Week, was devoted to forgotten or unconventional figures in the history of Israel's LGBT community.
Rachamimov found about 50 reports about Natan in the Israeli press from 1953-1958, which showed that she was born in 1923 or 1924 to an affluent German family in Siegen, Germany. In school, Natan excelled at music, painting and writing stories. As a child, Natan felt "a psychological need to wear women's clothing and act female in every way," as she once put it.
Just how she survived World War II is not entirely clear, but it is known that she spent a period of time in France, learned farming and immigrated to Palestine in 1946. In this country, she lived on a series of kibbutzim − Ma'agan Michael, Ashdot Ya'akov and Na'an − and during the War of Independence served in the Israel Defense Forces as a medic, a job she retained during her subsequent military service . . . Read the full story on Ha'aretz (Some browsers require logging in)"
7-24-13: Health Policy Solutions: "In abrupt reversal, Anthem covers transgender care" by Katie Kerwin McCrimmon
"One of Colorado's largest health insurance companies has reversed itself and is now covering care for transgender patients.
Kelly Costello, 32, of Denver, received stunning news last week. One day after getting a formal notice that Anthem Blue Cross and Blue Shield of Colorado would not cover chest reconstruction surgery, the company abruptly overturned its decision.
Costello received a written notice that Anthem has reversed its decision and now will cover "some or all of the services." Costello had paid about $8,000 in out-of-pocket expenses for the surgery he underwent in April.
Costello is overjoyed. "I'm excited that we're starting to set a precedent for access to trans-inclusive health care in Colorado," said Costello, who came out as transgender at age 23 and recently decided to proceed with surgery."
[See also Katie's 7-17-13 article about the similar Colorado Kaiser Permanente case: "Transgender teen settles landmark health case." and her 3-13-13 article about "The risks of aging in the closet"]
7-24-13: ARTFORUM: "Critics' Picks: Los Angeles, Katie Herzog, NIGHT GALLERY, 2276 East 16th Street, June 29–August 3" (more, more)
"It is an overwhelming experience to enter the installation of forty-eight tightly cropped portrait paintings of transgender men and women that makes up Katie Herzog's solo exhibition "TRANSTEXTUALITY (SB 48)". The double row of black-and-white portraits encircling the small gallery confronts the viewer with too many faces to take in at a glance. The paintings—conceived of and titled as a singular work, Transtextuality (SB 48), 2013—materially and conceptually weave together a Gordian knot of disparate issues: transgender representation and identity politics, the status and role of painting as a medium, and the fate of information and historical memory in the digital age.
Herzog's conceit is an update and inquiry of Gerhard Richter's 48 Portraits, 1972, which features the faces of prominent figures—all male, all white—in the fields of literature, music, philosophy, and science, reproduced from images found in encyclopedias. Appearing during feminism's second wave, Richter's series was a statement of conservatism (and for that reason it was subject to a corrective reinvention in the paintings of an all-female, multiracial cast by Austrian Gottfried Helnwein in 1991). Now, Herzog brings together her painting practice and training in library and information science to reimagine Richter's gesture in the wake of California's Senate Bill 48, which passed in 2011, requiring social studies curricula to include LGBT figures. Her visual archive of mostly living trans leaders, from Susan Stryker to Lana Wachowski (and many lesser-knowns in between), provides a welcome education."
[Ed: A must-see exhibit by an amazing artist.]
7-24-13: Huffington Post (posted 7-23): "Arin Andrews and Katie Hill, Transgender Teenage Couple, Transition Together"
"A pair of teenagers from Oklahoma might seem like your typical young couple, but their love story is unlike many others. The transgender couple actually transitioned together.
Just two years ago, Arin Andrews and Katie Hill hadn't transitioned yet. The two had struggled with their identities throughout childhood; Hill had struggled with bullying. Then one day they met at a trans support group, after each had begun the transitioning process, and they fell in love. Today, Andrews, 17, and Hill, 19, are content.
"I hated my breasts, I always felt like they didn't belong. Now I finally feel comfortable in my own body," Andrews explained to British tabloid The Sun about surgically removing his breasts last month. "Now when I'm out in a public pool or lifting weights, no one raises an eyebrow. They just think I'm a guy. ... I can wear a tank top, which I couldn't before, and I can go swimming shirtless. I can just be a regular guy. And I'm so lucky to have my family and Katie to rely on."
"Being transgender myself, I understand Arin better than anybody else -- how good he feels and how complete he feels," Hill added, per The Sun.
The brunette teen from Bixby did not always feel so complete. In a segment for "Inside Edition" last year, she said that as a young child she was "[b]ullied and abused. Ridiculed. Ashamed and embarrassed." She was depressed for several years before she realized she was transgender, Tulsa World previously reported. Around her 15th birthday she told her mother and asked for help becoming Katie.
"Knowing what Katie went through for eight-plus years -- there's nothing worse than watching your child suffer," Hill's mom, Jazzlyn, told Tulsa World. "It's still my baby -- male or female, she's still my child. And I don't have to kneel at her grave."
Andrews' mom feels the same. "Seeing Katie go through her surgery was helpful to Arin," she said, according to British tabloid The Mirror. "It was being around it and seeing her getting to transform. And being a couple at the time was I think just the cherry on the cake. Every transgender person would love to have the transformation physically because it just completes them as a person.""
7-24-13: Washington Blade (posted 7-23): "LGBT groups court Latinos to build ENDA, marriage support"
"A new truth has emerged about American politics in the aftermath of the election results last year and as Congress works to find a way to pass immigration reform: support from the Latino community is in high demand.
During a three-day conference of the National Council of La Raza in New Orleans, advocates for a range of causes — LGBT and otherwise — made their cases to the community, which is now the most populous minority group in the United States . . .
The opportunity to build support for LGBT issues in the Latino community was not lost on advocates. A closed-door LGBT session on Sunday was one of several sessions held at the conference where an estimated 2,000 attendees interested in Latino activism were present.
Representatives of LGBT groups — Freedom to Work, Lambda Legal and Freedom to Marry — met with local affiliates of the Latino organizations during the session to discuss ways to cooperate and build grassroots support for LGBT initiatives."
7-24-13: PGN: "Trans woman stabbed to death, suspect arrested" (cont: 7-20; 7-23)
"Various media outlets reported that the attack was prompted when Sargent learned Williams was transgender. Morrison, however, said Williams was always open about her identity, and surmised Sargent was attempting to utilize a trans-panic defense.
"I found it hard to believe that this man, who has traditionally dealt with the girls often, would lean towards the trans-panic scapegoat as he has solicited and dated many of the girls who are part of the circuit," Morrison said, noting TIP clients have told her they recognized his mugshot photo. "For him to do something horrific to a wonderful young lady, nobody deserves that."
Williams' murder comes on the heels of a number of unsolved murders of transgender women in recent years, including Stacey Blahnik and Kyra Cordova. Bethel said there does not appear to be a connection between Williams' murder and the other incidents. "At this point, there is no indication that this is linked," Bethel said. "There is no indication that this is beyond an incident revolving around the victim and the suspect."
Morrison encouraged women in the sex-work industry to remain both vigilant and unified. "You can only defend yourself so much in this life; it is not a safe life to live or safe profession to have. It is important to really look out for each other. And there are services in the city that are helpful. We are offering ourselves as refuge to anyone who needs to talk. If they do feel unsafe, they should come to us. We work hard at trying to give empowerment to our community.""
7-24-13: CamillaRose.com: "Camilla Rose Plays City Hall - ADA Celebration - 4:00 pm - 4:30 pm" (more, more, more)
Portland City Hall; Friday, July 26th, 2013 Price: FREE
1221 SW 4th Ave. Portland Oregon 97204 USA (503) 823-4120
"This is a celebration for the American Disabilities Act (ADA). As a blind person, Camilla is representing the blind people of Portland and the state of Oregon. Camilla will be performing a 1/2 hour concert. I hope you can make the event - Camilla"
[Ed: A resident of Portland, Camilla is an internationally acclaimed professional musician who's blind and transsexual. She "will be performing a variety of music from: Cowboy, Western, Country, Folk, Pop, John Denver and her own originals in same genres". It's been said: "Camilla sounds like Tracy Chapman, Mary Chapin Carpenter, Patsy Cline meets Lacy J. Dalton mixed with a little of John Denver spirit..."]
7-24-13: IRIE FM (Jamaica, posted 7-22): "Cross dressing teen killed by mob"
"A teenager was set upon by a mob and killed at a party in St. James overnight.
Reports are that between a 10:00 p-m and 3:00 this morning (July 22), there was river party being held in the Irwin community. It's reported that the 17-year-old was dressed as a female and was dancing with a male, when a woman at the party recognised him and told other patrons that he was not a female, but a male.
It's understood that one of the men at the party, held on to the teen, searched him and discovered that he was in fact, male. Some of the patrons reportedly set up on the teen, and chopped and stabbed him to death.
His body was then dumped in bushes along the Orange Main Road. Police discovered the body about 5:00 this morning."
[Ed: Oh my, what an incredible tragedy. In the darker places on this planet, such public mobbing is perhaps the greatest of fears among transgender people.]
7-23-13: Philadelphia Inquirer: "150 gather to remember slain transgender woman"
"For transgender women facing discrimination in mainstream society, resorting to the sex trade "is a matter of survival," said Aamina Morrison, 33, of the Trans-Health Information Project.
The risky occupation turned fatal when, according to police, Williams was picked up by Charles Sargent, who took her to his home in Strawberry Mansion sometime around July 13. Police say Sargent, 43, killed Williams and dismembered her body, scattering her remains in a weed-choked field near York Street and Sedgley Avenue.
About 150 people gathered Tuesday evening at John F. Kennedy Plaza to remember Williams, 31, of Ogontz, and decry violence against transgender women. Some held signs that read "Our Lives Are Not Expendable," "Transphobia Kills," and "Justice for Diamond."
Police said Sargent confessed to the slaying, saying he became enraged when he discovered Williams was transgender. Williams was also known as Mark Williams. Gloria Casarez, Mayor Nutter's liaison to the lesbian, gay, bisexual, and transgender communities, urged the LOVE Park gathering to fight any "she-tricked-me defense" the alleged killer might use.
Casarez cited the unsolved slayings of transgender women, including Kyra Kruz, who was shot to death in September. Williams "made some choices in life that were unsavory for some people, but we loved her," Morrison said."
7-23-13: USA Today: "Transgender troops serve in silence - Coming out as transgender would get them kicked out of the U.S. military."
"As the military begins to embrace gays and lesbians, one group feels left out: transgender troops.
These men and women weren't even a blip on the nation's radar until former Navy SEAL Team 6 member Chris Beck revealed in a memoir released last month that he had become Kristin Beck, a woman. It's unknown how many transgender troops are serving in the U.S. military, largely because they'd get kicked out for coming out. About 700,000 Americans in a population of more than 300 million are transsexuals, according to a 2011 study by the Williams Institute at the UCLA School of Law.
Another milestone in June: Defense Secretary Chuck Hagel seemed to sanction their service when he addressed a Lesbian, Gay, Bisexual and Transgender Pride (LGBT) event at the Pentagon. But there was a catch: civilians can switch sexes and keep their defense jobs. Troops can't. Unlike allies Great Britain, Israel and Canada, the U.S. military disqualifies transgender troops for health reasons."
7-22-13: GLAAD: "GLAAD working to correct media coverage of trans woman murdered in Philadelphia"
"This past weekend, GLAAD learned that local Philadelphia media sensationalized and inaccurately reported on the murder of a trans woman of color, using the wrong name and pronoun and including irrelevant information about her past. The victim, Ms. Williams, was brutally killed and dismembered last week. Initial reporting by NBC Philadelphia misgendered Ms. Williams with the wrong name and pronoun, used the victim's mug shot and the mention of previous, unrelated criminal charges, and included the victim-blaming suggestion that Ms. Williams was murdered following the supposed "discovery" that she was transgender.
As trans advocate Monica Roberts at TransGriot points out, "One of the reasons we're getting more combative about insisting on respectful media coverage for transpeople is because potential jurors that watch these misgendering and sensationalized reports are being poisoned with this slanted anti-trans coverage that could result in the murder victim at trial not getting justice and the alleged killer going free."
Journalists have a responsibility to represent Ms. Williams fairly and accurately, and GLAAD and the AP Style Book are both clear that fairly and accurately means using the name and pronoun consistent with the way the individual lived publicly. GLAAD has spoken with NBC Philadelphia, and while they have removed the offensive video clip and are now referring to the victim as a transgender woman, they have still erroneously included her mug shot and an incorrect name. GLAAD urges the media to investigate further and reach out to the victim's friends and family for fuller and more accurate information about her life."
7-22-13: Buzzfeed (posted 7-17, re Paris, France): "Beautiful Photography Collection Captures Transgender Women In 1950s Paris - When Christer Strömholm traveled to Paris in late 1950s, he left with a captivating portrait of the trans women who made a living in the city's red-light district." (more)
"In 1983, Strömholm published his book, Les Amies de Place Blanche, with the photographs from his visit. Inside he wrote a powerful introduction:
"This is a book about insecurity. A portrayal of those living a different life in the big city of Paris, of people who endured the roughness of the streets. This is a book about humiliation, about the smell of whores and night life in cafés.
This is a book about the quest for self-identity, about the right to live, about the right to own and control one's own body. This is also a book about friendship, an account of the life we lived in the place Blanche and place Pigalle neighborhood. Its market, its boulevard and the small hotels we resided in.
These are images from another time. A time when de Gaulle was president and France was at war against Algeria.These are images of people whose lives I shared and whom I think I understood. These are images of women—biologically born as men—that we call 'transsexuals.' As for me, I call them 'my friends of place Blanche.' This friendship started here, in the early 60s and it still continues."
Strömholm would go on to became known as the "father" of Swedish photography. Recently the photographs in Les Amies de Place Blanche were re-released in a new version of the original book, complete with essays and anecdotes. You can view the full collection here."
7-22-13: Gay Star News (posted 7-18): "The LA radio host who came out as intersex and why no one gossiped – Los Angeles entertainment icon Sheena Metal thinks being intersex is 'kind of awesome' but she tells GSN no one else in the media wants to talk about it"
"One day Sheena Metal, a Los Angeles entertainment icon, told the whole world she was intersex on live radio.
But no one seemed to notice. Considering she is a popular radio host, actress, journalist and stand-up comic with almost 20,000 Twitter followers, it is amazing there is little or nothing obtainable by Google search that will even mention this element of her life. Until now.
The name Sheena Metal, a professional pseudonym, has been appearing across various forms of entertainment media in LA for well over a decade. So she would appear to be the perfect person to address the question of why, in the world of LGBTQI media coverage, it never seems to be the 'I' that's in the news.
Tell us how you first discovered you are intersex.
I found out when I was 31 in 1998. The terminology with intersex changes all the time, but then I was what they called a 'pseudo-hermaphrodite', which meant my birth defect did not require a gender to be assigned to me as a child.
Anatomically, on the outside I looked female, so no one ever said a word about it. I don't know if anyone even checked up on it, and I'm told this is not uncommon.
I always thought I was kind of an alien – I knew I was a little different on the inside . . ."
7-20-13: NBC10 Philadelphia: "Man Accused of Killing Transgender Lover, Dumping Body Parts in Lot"
"On Wednesday, police received a call from a woman who claimed that her boyfriend had killed someone, according to law enforcement sources. Sources say that in her statement to police, the woman claimed she returned to her home on Sunday where she heard her boyfriend, 43-year-old Charles Sargent, making noise on the second floor. The woman says Sargent then confronted her while naked and with blood on his leg and threatened to kill her if she said anything about the noise she had just heard.
The woman said in her statement that Sargent then brought a body wrapped in bed sheets and then once again threatened to kill her. The woman told police he later grabbed plastic bags to wrap up the body. Sargent also allegedly had an axe in his possession. According to the woman, Sargent told her that the body was that of a person he had relations with. Sargent allegedly killed the victim after finding out she was a Transgender woman. Sargent allegedly used a hatchet and screwdriver to kill the victim and then dumped her remains in a vacant lot at the intersection of Sedgley Avenue and York Street."
7-19-13: The Advocate: "Finding Role Models for My Trans 5-Year-Old: It's a different, better world for young transgender kids", by Gendermom
"Something is going on here. My theory (and my hope) is that we have arrived at a tipping point, with a critical mass of stories coming at us through our TV sets and newspapers and Facebook posts that, taken together, are bound to give birth to new thoughts: Maybe these people really are out there in significant numbers. Maybe that little girl on Barbara Walters wasn't the only person like that.
I shudder when I think what it would have been like five years ago. Had my child been born just a few years earlier, my local support group for parents of trans kids wouldn't yet exist. None of these articles about kids like mine would have been written, and none of these TV profiles would have been broadcast. My child and I would have been on our own, groping around in the dark. I would have thought that perhaps my son was gay. And I would have tried to convince my child that she really was a boy and tried to help her come to terms with that identity, because the world didn't have a way to welcome a girl with a penis. According to the stories and statistics, by the time she was teenager — if not before — she would have been severely depressed and very likely suicidal.
But all that is changing, especially in large, liberal cities like the one I call home. Now there are conferences and even summer camps specifically devoted to kids like mine. Last year, Vice President Joe Biden was quoted as saying that transgender equality is "the civil rights issue of our time" . . .
And a smaller yet equally important change is occurring in the types of conversations I'm having with people about my transgender daughter. I used to encounter one of two responses: Either they would try to convince me that it was "just a phase" and that I was likely harming my child by supporting this "gender confusion," or they were supportive of my approach but were shocked and fascinated by the very idea of a transgender person, let alone a young child . . .
Over time, I have developed several stock responses: "Didn't you know what gender you were as a child?" "Gender is between the ears, not between the legs." "Hard numbers are difficult to come by, but it's probably around one in 500." I still use these phrases fairly regularly, but thanks to all the recent media coverage, things are shifting slightly. These days I'll often hear, "I read an article about that somewhere." Or, "I think I saw a thing about a kid like that on TV."
These conversations are among the many heady moments I'm experiencing lately. Taken together, they convince me that I'm watching the world change right before my eyes: Discussing hormone blockers with other parents of trans kids at my support group. Hearing my neighbors effortlessly shift their pronouns from male to female at my child's request. Seeing a child like mine on the cover of a magazine that's sold at every grocery store check-out stand across the nation. Watching my 5-year-old giddily join the "other girls" to play dress-up at preschool, her biggest worry that someone else might grab the sparkly princess gown before she does."
[ As Lynn has long observed: "Numbers count, even if psychiatrists can't!" ]
7-19-13: France 24 (re The Vatican): "Vatican prelate in 'gay romance' with Swiss guard" (more developments)
"The Vatican's "gay lobby" was back in the headlines on Friday after the alleged exposure of a homosexual prelate appointed by Pope Francis to a key position at the Vatican bank. The Italian weekly L'Espresso said prelate Battista Ricca had gay relationships during his time at the Vatican embassy of Montevideo in Uruguay as well as an affair with a Swiss guard which ultimately saw him sent back to Rome in disgrace.
Vatican expert for L'Espresso Sandro Magister said Ricca provided lodgings and a pay check for captain Patrick Haari in 1999 and was once left badly beaten after trawling notorious gay hangouts before his behaviour saw him transferred out of Montevideo in 2000. An internal bid to protect him and cover up the scandal meant Francis apparently had no idea about Ricca's past before he appointed him as his personal representative at the scandal-hit bank this year."
7-18-13: USA Today (posted 7-17): "Some Christians shift on gays: Column", by Tom Krattenmaker
""This is a new season," declares Exodus International President Alan Chambers,who has shut down his controversial gay-to-straight conversion ministry and apologized for the hurt the program inflicted. In the weeks following Chambers' bombshell, the Supreme Courthas issued rulings accelerating this change of season for gay rights in America, and same-sex marriage advocates are gearing up for new drives inHawaii, Illinois, New Jersey and Oregon.
For conservative Christians, the people who have fought gay rights the hardest and have wagered a good deal of their religion's credibility in the process, these latest developments accentuate a predicament that seems to grow worse by the day — along with, we can hope, a chance to pivot toward a more winsome way to engage a rapidly changing culture . . .
Escaping the trap :To those outside of conservative religious circles, this might seem like skin off nobody's nose. That would be a mistake. Do not underestimate the enormity of the quandary this poses for an evangelical movement that has staked much of its claim on vociferous opposition to homosexuality, and that has based its position on an authoritative text that has not undergone any revisions of late — the Bible, aka the word of God. But as Chambers has demonstrated more than once, the Bible offers not just a limit on what's acceptable, but also a way out of the trap in which conservative Christianity finds itself.
A couple of years ago, in announcing Exodus International's resignation from the anti-gay "Day of Truth" in high schools, Chambers said, "We need to equip kids to live out biblical tolerance and grace, while treating their neighbors as they'd like to be treated." Now, in launching his Reduce Fear campaign, he again draws from the Bible. Exodus, he says, has been "imprisoned in a worldview that's neither honoring toward our fellow human beings, nor biblical. From a Judeo-Christian perspective, gay, straight or otherwise, we're all prodigal sons and daughters. ... God is calling us to ... welcome everyone, to love unhindered.""
7-18-13: The Atlantic (re Mexico): " Gay and Transgender Migrants Face Staggering Violence in Mexico: LGBTQ people endure a treacherous journey on the way to a better life"
"Faced with increasingly higher numbers of arriving gay male and transgender female migrants, some shelters are starting to separately house people who identify as lesbian, gay, bisexual and transgender (LGBT).
"We're seeing more and more transgender migrants and it's difficult for the migrant houses because they don't know where to place them," said Leticia Gutierrez Valderrama, executive secretary of the Pastoral de Movilidad Humana, a humanitarian branch of the Catholic Church that runs 66 migrant shelters. "The women say 'No, he is a man, I don't want him here,' and the men say, 'We don't want to be staying with a woman.'"
But the risks for transgender migrants, in particular, are greater than just the discrimination they face. Nearly 36 percent of transgender people who stayed in a migrant shelter in Mexico reported experiencing some form of violence, according to a 2013 study of 862 migrants conducted by the Mexican National Institute of Public Health. Meanwhile, 57 percent of transgender migrants who did not stay in a shelter reported violence. "
7-18-13: Huffington Post: "Gay Marriage Making 'Life Worse' For Gay People In Developing Countries, Charity Warns"
"The advances in gay rights in the West, including gay marriage, has led to a "perverse" worsening of LGBT freedoms in the developing world, a global equal rights campaign group has warned. Writing for The Huffington Post UK on Thursday, Alistair Stewart, the assistant director of the Kaleidoscope Trust, said as "champagne corks are popped in London and Paris" countless setbacks, reversals and outrages were happening elsewhere . . .
Stewart said that Western opponents of gay rights were increasingly moving their resources to the developing world. "American Evangelical Churches are abandoning the fight against equality at home, in favour of supporting homophobic laws abroad," he said.
"Why fight a losing battle against social liberalism in America or Europe, where you are increasingly ignored and ridiculed, when in Uganda, Belize or Nigeria you are welcomed with open arms. In this perverse way the successes of the LGBT movement in the North, and in particular in the United States, have acted to worsen conditions in the South.""
7-18-13: Iowa Public Radio: "Living Transgender In Iowa"
"When Ed Krug was growing up in Cedar Rapids he felt like he always had something to prove. He was a successful athlete and went on to be a very aggressive and successful lawyer, but there was something wrong and he finally realized that he could no longer live as a man. Today on Talk of Iowa, host Charity Nebbe talks with Ellen Krug about being transgendered and her journey to where she is today.
Trans-identified University of Iowa doctoral student, stef shuster, and UI Hospitals LGBT clinic specialist, Dr. Katie Imborek, also join the program to talk about what it means to be transgender in Iowa."
7-18-13: Gender Rights Maryland: "Progress Made in the Implementation of the Affordable Care Act for Trans Marylanders"
"Gender Rights Maryland (GRMD), the state's only civil rights organization exclusively representing trans persons is very pleased to report significant progress has been made in assuring fair and equal implementation of the Affordable Care Act (ACA) for transgender Marylanders this coming October. Maryland is not only on schedule to implement the ACA, but because of early acceptance of the Act and foresight in planning for its introduction, will be a leader in the rollout this fall.
As part of the Maryland Health Benefits Exchange (MHBE), the ACA requires that the MHBE be administered in such a manner as to prevent discrimination on the basis of gender identity and sexual orientation, and, just as importantly, assess progress in providing access to care and compile data reflecting any disparities encountered, on an annual basis.
Recognizing that discrimination is wrong as well as illegal, the Governor's Office of Healthcare Reform, the Health Benefits Exchange, and the Maryland Insurance Commissioner are now reviewing the plans to ensure full and equal access to care, with the goal to bring Maryland into line with states such as California, Oregon, Vermont and the District of Columbia, which have taken the lead over the past year. "
7-17-13: BBC (UK): "Same-sex marriage becomes law in England and Wales: Same-sex couples will be able to get married in England and Wales after new measures became law"
"The government's controversial legislation on the issue received Royal Assent on Wednesday. The Conservative, Labour and Liberal Democrat leaderships all backed the proposals, which were finally approved by MPs and peers earlier this week. It is expected that the first gay and lesbian wedding ceremonies will take place by summer next year.
Under the terms of the the Marriage (Same Sex Couples) Bill, religious organisations will have to "opt in" to offering weddings, with the Church of England and Church in Wales being banned in law from doing so.
Commons Speaker John Bercow announced the bill had received Royal Assent - the formal approval of the sovereign required for all legislation. The news was greeted with cheers in the Commons chamber."
7-17-13: Newsweek/DailyBeast: "TV's Transformative Moment: Netflix's new show takes a casting cue from real life", by Hugh Ryan
"Orange Is the New Black, Netflix's original series that debuted on July 11, is no prison TV show by way of Victoria's Secret. Created by Jenji Kohan (the mind behind Weeds), the dramedy portrays with nuance its diverse cast of characters—prisoners, lesbians of color, poor people, and even WASPs. And, most shockingly, a transgender woman of color—played by a transgender woman of color.
For the first time in TV history, a transgender character is at the forefront of a show and being portrayed by a black transgender woman. (Transgender is an umbrella term that also includes transsexuals.) Laverne Cox plays Sophia Burset, a former firefighter sent to prison for using credit cards stolen from the wreckage of fires she helped put out. In prison, she acts as a hairdresser, friend, and political conscience for the other prisoners, while also trying to ensure access to her female hormones and repairing her relationship with her wife and son. There has only ever been one other recurring, substantive transgender TV role held by a transgender actor: Dirty Sexy Money's Carmelita, played by Candis Cayne, who is a staple in small transgender roles, including turns on Nip/Tuck, Drop Dead Diva, Necessary Roughness, and CSI: NY.
"Sophia's the role I've dreamed about, prepared for, trained for," says Cox, who has been acting for more than a decade in shows like Law & Order and Bored to Death and in independent films like The Exhibitionists. Born in Alabama, Cox made her way to Marymount Manhattan College in New York City in the late '90s (she demurs on her age), where she would come out as transgender and begin her transition. Almost immediately, she began being cast in shows in the theater department, even though she was a dance major. Despite her talent and interest, acting never seemed a viable career path. "I just didn't think I could have a career as an actor because I'm trans," Cox says."
7-17-13: Chicago Pride: "Chicago House opens nation's first transgender housing"
"On Monday, Chicago House cut the ribbon on the TransLife Center (TLC), a first in the nation facility for members of the transgender community, located in Chicago's Edgewater neighborhood. The non-profit organization said it hopes to offer full wrap-around services to members of Chicago's transgender community, which includes housing, health and employment servicecs, in a discrimination-free space.
"This will set a new model and a new standard for other cities," said Chicago House CEO, Rev. Stan J. Sloan during the morning ceremony. The ribbon was cut by Stormie Williams, the first resident of the house, which includes nine bedrooms. Transgender Hollywood producer and Chicago native Lana Wachowski (The Matrix, V for Vendetta, Cloud Atlas) was joined by Mara Keisling, executive director of the National Center for Transgender Equality for the ceremony held outside the new facility.
A number of other dignitaries and elected officials also attended, including Book of Mormon's Jake Emmerling, Entertainer/Entrepreneur Kinley Preston of ChicagoPride.com, state Reps. Kelly Cassidy (D-Chicago) and Greg Harris (D-Chicago), state Sen. Heather Steans (D-Chicago), U.S. Rep. Jan Schakowsky (D-9th), Alds. Harry Osterman (48th) and James Cappleman (46th), and Mona Noriega, director of the Chicago Commission on Human Relations."
7-17-13: Christian Post: "Transgender Boy's Camp 'Unnatural,' Restrictive, Say Christian Leaders"
"Christian leaders say a camp encouraging boys to act and dress like girls is "unnatural," "horrifying," and restrictive to young boys, taking away their freedom of expression at a young age.
For the last three years, a boy's camp has featured makeup classes, flower hair decorations, and a beauty pageant. Camp "You Are You," an annual weekend family camp, caters to "gender non-conforming and transgender biological boys," according to photographer Lindsay Morris, who published shots of these activities on her website. She praises the camp as "a temporary safe haven where gender-variant boys can freely express their interpretations of femininity alongside their parents and siblings.
But Christian leaders disagree, saying the camp might even be forcing these children down an unnatural path. "There is a risk of locking children into a life course, which, if they had been left to develop naturally, they would have outgrown," warned Peter Sprigg, senior fellow for Policy Studies at the Family Research Council in Washington D.C., in an interview with the Christian Post Tuesday . . .
Sprigg also attacked the very idea of transgender identity, calling it a "mental illness." Citing Genesis, he said "that's part of how God creates us, male and female." Nevertheless, he added, "I think it's an assault upon nature, regardless of your religion, to deny the reality of our biological sex."
He condemned transgender surgery, the idea of medically changing a person's gender. If someone is clearly born male or female, "it should be considered a violation of medical ethics to change their biological sex…because you are essentially damaging or destroying or amputating healthy body parts.""
7-17-13: The Discreet Guide for Executive Women (posted 6-13): "Gender Matters: Cases of Mistaken . . . Gender", by Jennifer K. Crittenden
"Gender perception studies have shown that humans are experts in correctly identifying faces as male or female. They're so good that researchers amuse themselves by seeing if adults can still get it right when they see only the bottom half of the face, or the eyebrows, or upside faces. Mostly, they can. And they're fast. They make this assessment in less than one-tenth of a second. I suppose sex is behind this somehow, but I'll leave the explanation to someone else. Regardless of why, we can conclude: Gender matters. As one researcher wrote, "Perceiving gender is something that humans do automatically and we cannot stop, even if we try to. When we are unable to determine the gender of another person, it radically changes our behavior." Some recent experiences underline her point . . .
Our preoccupation with getting it right is further exploited by the entertainment world's titillating representation of the relatively rare cases of transexualism. Singers, actors, scriptwriters and directors turn to sexual ambiguity again and again. The androgynous photo of Patti Smith on the cover of her Horses album in the sixties drew immediate attention. The Crying Game, a British film, became famous for its revelation that a female character turns out to be (gasp!) male. The popular movie, Boys Don't Cry, about a transboy, further stirred the mix by casting an actress in the lead role, for which she won an Oscar. Based on a true story, the boy was killed by his male companions after they discovered he was anatomically female . . .
Do we ever get it wrong in the business world? Hysterical dramatization aside, it certainly does, and the subsequent confusion and embarrassment reveal our underlying attitudes about gender roles. Several stories have crossed my path lately that show how differently we treat the two genders and how far we are from being 'gender-blind'. . . "
[Interesting food for thought, and confirmation of why FFS is often helpful . . . ]
7-17-13: The Times of India (India): "Transgender volunteers to direct traffic in Chennai"
"They are often seen begging at traffic signals. But soon, members of the transgender community will be managing traffic at those very junctions. A non-profit organization in Chennai has trained 10 transgenders to work as volunteer traffic safety assistants, and they will join duty in August.
The idea is to empower members of the community, against which discrimination is rife. "A group of transgenders kept asking me for money while I was standing on a street. When I protested, they said they wouldn't be begging if they were given jobs," said K Mahadevan, founder of One Indian Road Safety Organization (OIRSO), the non-governmental organization that trained the 10 transgenders.
He thought training them to regulate traffic would serve two purposes. "We need more people to manage traffic signals as the number of vehicles is increasing in Chennai. It would also help members of the community earn a living," said Mahadevan, who came up with the idea six months ago.
The challenge was to identify the right people and find sponsors. OIRSO partnered with Sahodari Foundation, an NGO that works for transgender welfare, to recruit people for training. "We spread the word and screened applicants. We looked at their dedication and ambition, and what the job would mean to them," said Kalki Subramaniam, founder of Sahodari Foundation."
7-16-13: Huffington Post: "Another Historic Week for Trans Civil Rights", by Dana Beyer
"The past week was a historic week for the civil rights of the trans community, on three counts. First, by a bipartisan vote, the Senate committee overseeing the Employment Non-Discrimination Act (ENDA) passed the bill to the floor of the Senate without amendment. Then, nearly 15 months after winning a ruling from the Equal Employment Opportunity Commission (EEOC) that expanded the definition of "sex discrimination" in Title VII of the 1964 Civil Rights Act to include transgender and gender-nonconforming persons, Mia Macy won a judgment from the Department of Justice in the case Macy v. Holder. The DOJ determined that the Bureau of Alcohol, Tobacco, Firearms and Explosives (ATF), a law enforcement organization within the DOJ, had discriminated against Ms. Macy on the basis of her transgender status, and hence on the basis of her sex, and ordered that she be offered the job for which she had applied and been denied based on her trans status, that she be awarded back pay with interest and other benefits, that she be awarded reasonable attorneys' fees, that she be eligible for compensatory damages, and that the ATF take corrective action at the laboratory to prevent further acts of discrimination. This is a significant win for Mia, but just as much for the trans community, as the DOJ took action on behalf of Ms. Macy based on the April 20, 2012, EEOC decision . . .
As my friend Lynn Conway, without whose efforts back in the '70s you would not now be reading this on your computer or phone, recently wrote, "If you want to change the future, start living as if you're already there." For the trans and gender-nonconforming community the future is already here, making living it that much easier."
7-16-13: Salon: "Transgender woman wins landmark employment discrimination suit: In a historic first, the federal government has ruled in favor of a transgender woman in a work harassment case", by Katie Mcdonough (more)
"The federal Equal Employment Opportunity Commission has ruled in favor of a transgender woman who was verbally and physically harassed at her job with a federal contractor in Maryland. The court ruled that the woman's supervisors created a hostile work environment by failing to intervene after being informed of the harassment, in violation of the Civil Rights Act of 1964.
The ruling is a historic first, advocates say. "We applaud the EEOC for conducting such a thorough investigation and interviewing so many witnesses to the anti-transgender harassment," Tico Almeida, president of the LGBT organization Freedom to Work, told the Advocate. "Coming just a few months after the EEOC issued its historic decision that transgender people are protected by Title VII of the Civil Rights Act, the EEOC's reasonable cause determination in this case is, to our knowledge, the first time in history that the EEOC has investigated allegations of anti-transgender harassment and ruled for the transgender employee. This case shows that the EEOC takes very seriously its role in protecting LGBT Americans' freedom to work."
7-16-13: AndrewTobias.com: "She Also Pioneered VLSI*", by Andrew Tobias
"Yesterday, two brave women — one just 16, the other a former battle-scarred Navy SEAL — both speaking out, in different ways, for individual dignity and the freedom to pursue one's own happiness.
Today, Lynn Conway's story. No Navy SEAL she — all she did, before being fired by IBM in 1968 for being transgender (she was born Robert), was invent "dynamic instruction scheduling," an underpinning of supercomputing. That story is updated briefly here, as she and her husband walked into the White House last month to celebrate LGBT Pride with the President of the United States.
Is this a great country, or what?
*Very Large Scale Integrated Circuits. Lynn was "the hidden-hand behind the VLSI microelectronics revolution in Silicon Valley — a revolution that's changed the world forever." Read her whole story here."
7-16-13: Think Progress: "STUDY: HIV Criminalization Laws Disparately Impact Transgender People"
"A serious issue, often not discussed by lawmakers, is the number of selectively enforced criminal laws against HIV transmission that exist across the United States today. These laws allow for the prosecution of people who do not disclose their HIV status, even if transmission risk is minimal or non-existent. In fact, people living with HIV (PLHIV), can be charged with assault and imprisoned even in situations where they did not know their HIV-positive status at the time of sexual intercourse.
These laws pose a major threat to the safety and human rights of PLHIV, particularly those who are members of other marginalized populations, such as transgender people. According to the National HIV Criminalization Survey, 58% of transgender PLHIV believe it is reasonable to avoid HIV testing due to fear of HIV criminal prosecution and general distrust of the criminal justice system.
"These findings don't surprise us," said Cecilia Chung, Senior Strategist at the Transgender Law Center. "The data speaks to the long-standing history of stigmatization and discrimination of trans people, especially trans people of color, by the criminal justice system, because of either their race or their gender identity.""
7-15-13: Human Rights Watch (re Kuwait): "Being Transgender in Kuwait: "My Biggest Fear Is a Flat Tire""
"Reem advised me to "talk to the Parliament – they're the ones who need to fix the law."
The law she was referring to—the main reason that Reem feels forced to live a life of constant subterfuge—is Article 198 of Kuwait's Penal Code, which was amended in 2007 to criminalize, "imitating the opposite sex." Under this law, transgender individuals are essentially considered criminal imposters.
The real-world impact of the 2007 amendment became painfully clear when Reem's best friend, "Dalia," joined us and described a recent experience.
While she was driving home one night, Dalia had car trouble and had to pull over. A policeman pulled up and asked for her papers. On official documents, Dalia, like Reem, is a man—in Kuwait, transgendered people have no legal recourse to change the gender on their ID cards.
he policeman arrested Dalia for dressing as a woman. Ultimately, she spent eight days in prison, for the crime of imitating the opposite sex. Upon release, Dalia was ordered to pay a fine and banned from traveling abroad for seven months. "Now," she told me, "my biggest fear is a flat tire.""
7-15-13: The Jewish Daily Forward: "First Generation of Transgender Rabbis Claims Place at Bimah - Pushing Conversation on Gender in Jewish Community"
"When it comes to the acceptance of transgender Jews, the American Jewish community is itself in a moment of transition.
In 2008, Joy Ladin became the public face of transgender Judaism when she transitioned from male to female after receiving tenure at Yeshiva University's Stern College for Women. Five years later, there are at least six transgender rabbis and rabbis-in-training across the United States. Both the Reform and Reconstructionist movements have programs on transgender inclusion at synagogues and in seminaries.
Still, the tiny community of transgender Jews and their advocates say that the mainstream Jewish world has been slow to reach out to them. Even as non-Orthodox Judaism has embraced lesbians and gay men, transgender individuals pose a unique challenge to an ancient faith built on strict gender roles."
7-15-13: BuzzFeed: "Federal Government Decisions Mark A Changed Landscape For Transgender Workers - In cases against both government and private employers, transgender workers — with the federal government's backing — are successfully using the Civil Rights Act's sex discrimination protections to fight anti-transgender discrimination."
"Transgender workers, backed by the federal government for the first time, are successfully using civil rights laws to challenge government and private employers accused of anti-transgender discrimination, BuzzFeed has learned.
The Department of Justice decided earlier this month in favor of a transgender woman, Mia Macy, who had been refused work at a laboratory of the Bureau of Alcohol, Tobacco, Firearms and Explosives (ATF). After an investigation into her claims, the Justice Department informed Macy July 8 that the bureau "discriminated against [her] based on her transgender status."
Macy celebrated the decision as "validation." "I never thought in my life that it would be over, but to have it not only be over but to have them say, 'Yes, unfortunately, your civil rights were violated. They did do this.' To have that vindication, it's surreal," Macy said.
The changes coming about now are the result of a crucial legal decision made by the Equal Employment Opportunity Commission in Macy's case back in 2012. The commission then ruled that anti-transgender discrimination is covered under the ban on sex discrimination found in Title VII of the Civil Rights Act of 1964. "
7-15-13: Huffington Post: "Transgender Child Who Wanted A Sex Change Talks About Life Now That He's In His 20s (VIDEO)"
"In 2004, Oprah met Kaden, an 11-year-old transgender child who was born a girl. Back then, Kaden explained what it was like feeling as if he had been born in the wrong body and said that he was considering a sex change to permanently change his gender when he turned 18.
Now in his early 20s, Kaden is old enough to decide whether or not to move forward with gender reassignment surgery -- but did he? "Oprah: Where Are They Now?" followed up with Kaden late last year to hear what his life has been like since appearing on "The Oprah Winfrey Show" nearly a decade ago."
7-14-13: Huffington Post: "The Many Shades of 'Out'", by Lynn Conway
"On a sultry June afternoon, as my husband and I strolled towards the White House East Entrance, I reflected back to the time of my gender transition, in 1968.
Shamed as a social outcast, I'd lost my family, my friends and all social support. I'd been fired by IBM, and lost a promising computer research career. In many jurisdictions, I could have been arrested and charged as a sex offender -- or, worse yet, institutionalized and forced to undergo electroshock therapy in a mental hospital.
Evading those fates, I completed my transition and began building a career in a secret new identity, starting at the bottom of the ladder as a contract programmer. Even then, any 'outing' could have led to media exposure, and I'd have become unemployable, out on the streets for good. The resulting fear channeled my life into 'stealth-mode.' I covered my past for over 30 years, always looking over my shoulder, as if a foreign spy in my own country.
But this was June 13, 2013, and what a contrast it was. My husband Charlie and I, along with many other activists, advocates and allies, were about to join the President's White House Reception in celebration of LGBT Pride Month. The atmosphere was full of joy and hope for the future. As we waited for the President, I reflected further . . . "
[See also Katie Kerwin McCrimmon's 3-13-13 article about "The risks of aging in the closet"]
7-13-13: Christian Post: "Christians Warn 'Bathroom Bill' Allowing Men in Womens' Restrooms is Sweeping Nation"
"As Delaware recently became one of the latest states to enact what is known as the 'bathroom bill,' which permits males who identify as females to use the womens' restroom and vice versa, Christians in the state are warning others across the country that similar legislation is sweeping the nation and may come to their state next.
However, during the public hearing for the legislation, a number of Christian organizations and pastors expressed their concerns about the measure. Nicole Theis, president of Delaware Family Policy Council, and Mike Fox, pastor of The Trek Church in Smyrna, were two of those who made their voice heard.
"This opens the door to so many questionable and very concerning things," Theis told Christian News Network. "Women do not want to share [restrooms and locker rooms] with someone–with anyone–who is biologically a man, but thinks that they are a woman."
"It goes against every single thing that we as Christians stand for," Fox stated. "God said, in the beginning, He created them male and female. And so, from the very beginning to the very end of the Bible, this [bill] is demolishing every ounce of identity that God created" . . .
Fox said that it is the duty of every Christian to be salt and light in the culture, and the "bathroom bill" is no exception. "I would encourage every Christian … to stop looking inside of the church, because the battle is not on the inside of the church," he stated. "The battle is on the outside. [We must] gather together as Christians and speak up and speak out.""
7-13-13: GIDReform (posted 7-10): "Response to Dr. Jack Drescher and the NY Times About Childhood Transition: Part 5", by Mary van Balen (Part 1, 2, 3, 4)
"The New York Times publication of Dr. Jack Drescher's letter in its July 30 print edition under the headline: Sunday Dialogue: Our Notions of Gender, has generated much response in the paper, on websites, and on blogs, including this one. I have followed the conversation, appreciated the clinical expertise, and would like to add my perspective. I am the mother of a transsexual daughter, now an adult, who lived for twenty-five years with her "secret" telling me only when she had to choose between suicide or finally accepting herself as she was. We spent hours in the family room as she summoned the courage to speak the truth she had known for so long but had kept hidden: "I hate my body. I always have. Do you know what gender dysphoria is? Well, that's what I have" . . .
"If only I had known," I thought when my now twenty-something daughter told me that she knew she was a girl since she was three and in first grade at a Catholic school dreamed of a "magic uniform" that would change her into one. As she talked I remembered her playing dress-up with her younger sisters and loving to clomp around the house in glittering silver high heels. I didn't know that she had also been making up ballets wearing a pink tutu. I didn't know she was suicidal in sixth grade . . . As my daughter and I continued sharing, she lamented not having had the chance to grow up as a girl. She missed all that socializing. "It would've helped a lot," she said as she struggled to move into the world of women with a history of trying to fit into the world of men.
Dr. Drescher's statement that "Currently experts can't tell apart kids who outgrow gender dysphoria (desisters) from those who don't (persisters)…" seems strange to me. My transsexual daughter's feelings and her positive sense of gender identity by the age of three, are not the same as the desires and feelings of a boy who likes to play with girls toys or dress up.
I read the story of Coy Mathis and applaud the Colorado Civil Rights Division for ruling that she be allowed to use the girl's restroom. California's move to allow children K-12 to use the bathroom that matches their gender identity is a step in the right direction. We should listen to the children and follow their lead. Perhaps then there will be fewer who will lament not having had the opportunity to grow up as the person they know themselves to be and fewer adult transsexuals who look at life and consider opting out of it a good choice."
7-12-13: Edge Boston: "New Study: LGBT Seniors Struggle with Suicide", by Matthew S. Bajko, Bay Area Reporter
"Isolated from family and largely living alone, LGBT seniors in San Francisco contemplate taking their own life at an "alarming" rate, a new study has found.
It is estimated there are anywhere from 18,000 to 20,000 LGBT seniors living in San Francisco, with the population increasing each year as the median age of the city's residents grows older.
A survey of 616 LGBT city residents aged 60 to 92 years old, the results of which were released this week, found that 15 percent had "seriously considered" committing suicide within the last 12 months.
While mainstream and LGBT media coverage in recent years has shed a national spotlight on LGBT teen suicides, leading to such efforts as the It Gets Better video project, the study findings show it is an issue many LGBT people grapple with well into adulthood.
"I am surprised it isn't higher," said Hadley Hall, 80, a gay San Francisco resident . . . He has had friends commit suicide after they determined to take their own life to end their suffering brought on by failing health.
Executive Director Eve R. Meyer said the survey finding "tragically, I think, is not surprising because for a lot of LGBT seniors the living arrangements they have enjoyed change and living independently often becomes an option not available to them and they are often forced to live in extended care facilities of one kind or another."
In such a setting many LGBT seniors are pushed back into the closet, fearful of telling staff or other residents about their sexual orientation or gender identity, noted Meyer. That can exacerbate their risk for depression, she added, causing them to consider suicide."
7-12-13: Dallas Voice: "Two spirits rising - Newly formed Texas Two Spirit Society helps LGBT American Indians rediscover heritage, quickly grows to more than 150 members"
"Peterson and Layton identify as "two spirit," an Indian term to describe those who have both the spirit of a man and the spirit of a woman. In many tribes, the term encompasses those who are gay, lesbian or bisexual, as well as those who are transgender.
But rather than focus on sexuality, Indians focus on spirituality. Since two spirit people were considered doubly blessed, they were often the shamans, teachers and spiritual leaders. Although two spirit is a contemporary term, at least 155 of the indigenous nations have documented multi-gender traditions.
After Peterson and Layton attended the conference in 2012, Layton decided Texas needed to be part of the movement. He formed the Dallas Two Spirit Society, and less than a year later, it has more than 50 members and meets monthly at Resource Center Dallas. Panhandle and South Texas chapters have organized with several others in the works bringing statewide membership to more than 150.
Crisosto Apache, executive director of the Colorado-based Two Spirit National Cultural Exchange, said there are roughly 18 two spirit organizations and social groups nationwide, including the one in Texas. "There's a lot of these organizations that are popping up," he said. "I think it's pretty amazing that that's happening, and I think all these organizations have the same goal in mind.""
7-12-13: TransGriot: "Longtime San Francisco Trans Activist Jazzie Collins Passes Away" by Monica Roberts
"San Francisco based activist Jazzie Collins, who called the city home for over twenty years, was recently honored by the California legislature's LGBT Caucus and was a tireless advocate and voice for all the Bay Area's marginalized communities has passed away at age 54.
The comments are pouring in on her Facebook page for this beloved Bay Area trans elder from all of the people who knew and loved her.
"Jazzie was absolutely glowing last month when the LGBT Caucus honored her in the Capitol," said Assemblymember Tom Ammiano. "Of course, we were the ones honored to have her with us, gracing us with her stature as a community leader and a human being. Her work for justice and equality in San Francisco will have long-lasting impact, as will her advocacy for communities that needed her voice. Her death robs us of that voice, and she is missed."
"Today we lost an advocate and a leader," Assemblyman and LGBT Caucus chair Rich Gordon said. "Jazzie Collins worked tirelessly on behalf of all communities, serving as an untiring advocate for the poor, for the transgender community and truly, for all San Francisco residents. While we celebrate her Ms. Collins and her life's work, her spirit will continue to live on through the many lives she has touched. On behalf of the LGBT Caucus, we extend our heartfelt condolences to her family and loved ones. May she rest in power.""
7-11-13: Washington Post: "Transgender at 6: For Tyler and his parents, no second thoughts" (more)
"After a Maryland couple decided to listen to their 5-year-old daughter's urgent and persistent insistence that she was a boy, after a psychiatrist told them it would be healthy to let the child live as a boy, after they let him pick a boy name and found a school that would enroll the child in kindergarten as a boy last year, Tyler's parents have had no second thoughts.
"It's not a phase," said his mother, Jean. "Anyone who meets him says, 'Yeah, that's a boy.' "
It's only the people who have never met him who wonder.
More than 18 months into the public switch, Tyler shows no signs of ever wanting to be Kathryn again.
I wrote about the family's wrenching decision and learning process last year. I walked with this family through some of the first steps it took in the public transition and watched throughout the year as the child blossomed and flourished in kindergarten. (The Washington Post decided to use family members' middle names and the name they would've given Kathryn if she had been born a boy to protect their privacy.)
I can tell you from plenty of firsthand observation that Tyler is doing great."
7-11-13: CNN (re China): "Jin Xing: China's sex-change pioneer", By Jaime FlorCruz
"Few people have had so much impact on the Chinese attitude towards sexuality and gender equality than Jin Xing. A spritely, sassy cultural icon, Jin Xing (or Golden Star) has sashayed her way to stardom as dancer-choreographer of Shanghai's Jin Xing Dance Theater, one of China's first non-government modern dance troupes.
Jin has also emerged as one of the most prominent -- and controversial -- emblem of personal freedom and gender equality in China. Jin was one of the first Chinese to have a sex change operation -- and the first officially recognized by the Chinese government.
Jin's story acquires distinct significance in the Chinese context. Although the wall of puritanism built around China's sexual mores has been gradually crumbling, traditional Chinese reticence and sexual stereotypes persist . . .
Jin's willingness to reveal -- and revel in -- her sex-change story continues to make waves. When she is not dancing and choreographing, she is acting in films and appearing as a judge in China's versions of "Dancing with the Stars" and "American Idol."
Is she a good role model for the Chinese youth? "I don't want to be a role model," she replied, flashing a smile as she tossed back her coiffed hair. "I just want to be myself. Next month, I will release a book, in which I said, "I don't want to change the world, but I also don't want the world to change me too much.' I just want to be myself.""
7-11-13: Gay and Lesbian Review (posted 6-28): "Portrait of a Transgender Marriage", by Terry Ann Knopf
"Married for thirteen years now, Robyn, 76, and 70-year-old Emery Walters have a nice life in Maui. "We have a wonder- fully satisfying relationship," Robyn says, in her no-nonsense manner. "I cook and he does the laundry." Their relationship, however, is not without its complications and adjustments. "I don't like the bother of shaving, and I'm going bald," Emery gripes. Relations with their grown children, all eight of them, vary. Robyn says she is "very close" to her second and third daughters, but not to the other two. Emery's only really warm relationship is with his 34-year-old son Archie, who is gay.
In a couple of respects they seem more comfortable in their former gender roles. Emery, perhaps echoing his life as Carol, still knits and does the sewing; Robyn, perhaps reverting back to her life as Robert, handles the bills, finances, and driving. Even with the benefit of a sex change, gender roles don't always change accordingly. "It takes Robyn half an hour to vacuum. It takes me five minutes," Emery says, laughing, adding: "My wife, who of course grew up male, is still stronger than I am. When we travel, she's the one lugging the heavy baggage, and I'm tottering along behind like Stan Laurel with the lamp- shade. It can be embarrassing."
But overall, life is good. The two like to hike with friends, in addition to swimming, strolling on the beaches, or just keeping an eye out for humpback whales. They also spend a great deal of time on their computers—Emery working on his latest self-published novel and Robyn consulting for the Navy and working on her beloved ham radio, a childhood hobby she still adores. She also remains a staunch activist for over-fifty transgender people, until recently running an on-line support group for the transgendered called Elder TG. "
7-10-13: Hollywood Gossip: "Dustin Hoffman Breaks Down Discussing Tootsie Character, Perceptions of Female Beauty" (more, more, more, more, more, more)
"In an interview from December that's going viral this week, an emotional Dustin Hoffman shares how the film Tootsie and his character, Dorothy Michaels, came to be.
The 1982 film was both funny and touching. It focused on a struggling actor who can't get a gig and decides to become a woman to see if that helps. Hilarity ensued, but to Hoffman, it was more than just a comedy . . .
Three decades later, he tears up talking about it. As a "woman," he felt he was basically shunned because he wasn't "beautiful" in the traditional sense - something we saw this week with Marion Bartoli.
When Hoffman describes how he wouldn't have talked to his female alter ego because "she" wasn't good-looking enough, it's enough to give you you pause. Hopefully we can all learn something from such experiences . . . "
7-10-13: DCist: "D.C. Council Passes Bill Protecting Transgender Identities"
"Amid today's legislative avalanche, the D.C. Council gave its final approval to a bill that protects the identities of transgender residents who undergo gender transitions. The Council included in its consent agenda the second reading of the JaParker Deoni Jones Birth Certificate Equality Amendment Act, a bill that activists have sought in order to make the District a bit safer for transgender people.
Pending a signature by Mayor Vince Gray, who has said he supports the bill, D.C. law requires people who have their names legally changed to publish notices in a local newspaper once a week for three weeks after the procedure. But for transgender people, posting such a public notice can lead to an inadvertent outing.
The bill allows transgender people to forgo that step. Instead, people who go through gender reassignments would have their original birth certificates sealed and be issued new birth certificates with the proper gender marker with the sealed affidavit of a medical professional. The bill includes people who switch genders with or without surgery; currently, only people who undergo expensive sexual reassignment procedures are eligible to have the gender markers on their birth certificates switched."
7-10-13: WFLA.com: "FL transgender student at odds over restroom use" (more)
"CLEARWATER, FL -Alex Wilson is a certified nursing assistant, hoping to become a licensed practical nurse, by attending classes at Pinellas Technical Education Center in Clearwater. Another transformation is ongoing, from male to female. Four years of hormone therapy means the process is well underway.
Up until yesterday Alex was using the women's restroom on the PTEC campus. But that all came to an end after a fellow student complained, and went to administration. Wilson says she was pulled out of class and told her alternatives. "If I continue to use the female restroom that I would have charges pressed against me. And that because of that I would be removed from the program as a nurse," said Wilson.
Instead of using the restroom near her classroom Wilson says she now has to use one in the administration building. "It's a small restroom in, what looks like a storage part of the administration building. There's some cabinets, cleaning supplies," she said. "
7-10-13: Time: "Identity Crisis: Changing Legal Documents No Easy Task for Transgender Individuals"
"Cecilia Gentili couldn't stand the looks on their faces. The looks waiting room patients would give her when a nurse called a man's name and she stood up instead. The looks nurses would give her when they said they were looking for someone else. The looks she'd get at the bank when she tried to open an account. "They made you feel like less than a person," Gentili says.
Gentili is a transgender woman, and in person, with shoulder-length blond hair, she is the woman she always knew she was. On paper, however, it was another story. For years, Gentili's legal name and documents didn't match her identity, and navigating that discrepancy became a daily struggle. For transgender people — those who don't identify with the sex are born with — any time they have to show ID can turn into moment of awkwardness, humiliation or, in some cases, discrimination: making credit card purchases, applying for jobs, checking into hotels, securing housing, getting into school, voting. Gentili even avoided medical care and traveling through airports because of how uncomfortable the interactions made her feel.
That's because there are plenty of barriers, both personal and financial, keeping people like Gentili from updating their documents. Many are intimidated by the process, which isn't as standard as legally changing your name. And the high cost of legal fees, as well as some courts' continued misconceptions that all transgender people undergo gender-reassignment surgery, are also factors. Data from the 2011 National Transgender Discrimination Survey of close to 6,500 transgender individuals found that only 21% have updated all of their documents, and 60% had experienced discrimination during the process."
7-10-13: The Root: "Black and Transgender: Still on the Margins - Activist Janet Mock spoke to The Root about the transgender community's ongoing fight for equality."
"TR: Do you feel the "T" in "LGBT" is adequately embraced, celebrated and visible?
JM: We need coalitions fighting for social justice to ban together -- coalitions that include trans voices -- and recognize that LGBT people of color, the poor and youth communities are casualties in the LGBT movement's single-lens focus on marriage. What's sadly happening now is that trans people, specifically those of color, are falling in between the gaps of these coalitions and are ending up even more vulnerable than ever.
TR: What should be done to bring greater awareness to issues affecting trans youths and people of color in particular?
JM: First, we need to expand our idea [of] what inclusivity is and how we must address the daily access issues of those most marginalized. How can a trans woman of color get a job if it is not safe for her to step outside her home -- if she's blessed enough to have a home? If she can't change her gender markers on her ID because she doesn't have access to funds that would allow her to file that paperwork, or her state doesn't allow her to change her documents? If she doesn't have access to affordable health care that would allow her a safe, monitored transition? If she's stopped, questioned and frisked because she's profiled as a sex worker?"
7-10-13: US News: "Transgender Former Navy SEAL Fears Discrimination in Job Search"
"She once took part in the most dangerous missions on Earth, and was part of the unit that took down terrorist mastermind Osama bin Laden. But what she now worries about is discrimination in a job search. Former U.S. Navy SEAL Kristin Beck says that after coming out as transgender, her new mission is to stamp out intolerance based on gender identity – and to get a full-time job.
On Wednesday, both of Beck's goals inched a little bit closer as the Employee Non-Discrimination Act passed out of a Senate committee. In more than half of states in the U.S., it is still legal to bar someone from a job based on their gender identity or sexual orientation. The legislation now heads to a Senate vote for the first time in 17 years. Beck, who is looking for a full-time consulting job, says she lost her government job just two weeks after she came out through her book "Warrior Princess: A U.S. Navy SEAL's Journey to Coming out Transgender." The decorated Iraq and Afghanistan veteran and former member of the elite SEAL Team 6 was later hired back to the job in a lesser role, as a part-time consultant, and has not been able to get a full-time job."
7-09-13: Slate: "Capturing the Courage of Transgender Men"
"Lorenzo Triburgo shoots his transgender subjects from a slightly upward-facing angle in order to portray a sense of heroism. It's one of many choices Triburgo made in the construction of his "Transportraits," which are meant to convey specific ideas about a subject matter in which he's highly invested.
"What I wanted to do was create a project that was not about anyone's particular story but more about my connection to the subject, the subject being gender identity and constructions of masculinity," he said . . .
The series of more than 30 portraits took him four years to create. It took that long because, for the most part, Triburgo didn't seek his subjects out. Instead, he let them come to him. Some would approach him at artist lectures or galleries. Others responded to his listserv postings.
"I'm so grateful I could find men who were interested in being out and interested in being photographed. As a trans man myself, I don't have to be out. I could go my whole life and never tell anyone, but for me it's important to be out and create imagery that creates positive representations of trans men," Triburgo said.
7-09-13: Hollywood Reporter: "Remembering PJ Torokvei: Comedy Genius Behind 'WKRP' Was Transgender Trailblazer" (more)
"Producer Stan Brooks recalls how the screenwriter, who died July 3 at age 62, revealed his plans to become a woman: "I was hoping for Christie Brinkley; I fear I'm heading toward Bea Arthur."
PJ Torokvei, a Canadian-born comedy writer and producer who decided at age 50 to become a woman, died as a result of complications from liver failure on July 3 at the age of 62. Torokvei, whose name was originally Peter, was an alum of Second City and SCTV, and went on to serve as a producer and the head writer of WKRP in Cincinnati (1979-1982), for which she and her colleagues received two Emmy nominations for Outstanding Comedy Series. She also co-wrote the films Real Genius (1985), Back to School (1986), Caddyshack II (1988) and Guarding Tess (1994). She is survived by an ex-wife, a son, a daughter and grandchildren."
7-08-13: GIDRefom: "Response to Dr. Jack Drescher and the New York Times About Childhood Transition: Part 4, Guest Blog", A Guest Post from the Child and Adolescent Gender Center, San Francisco, CA
"To the NYT Editors:
June 26, 2013
Dear Editors:
We celebrate the landmark decision by the Colorado Civil Rights Division which allows children to use school facilities in accordance with the gender they know themselves to be. Their decision is consistent with the goals of the affirmative model of gender health–to facilitate a child's opportunity to live in the gender that feels most real or comfortable to that child and to express that gender with freedom from restriction, aspersion, or rejection. So many of us confuse gender identity–who we are on the spectrum of male to female or another gender entirely–with gender expressions–how we show our gender to the world. There are a small number of children, like Coy Mathis, who let us know at a very early age that they are not the sex that was assigned to them on their birth certificate; that their gender identity is different. Like Coy, these children are persistent, consistent, and insistent about who they are. They are to be distinguished from the children who accept their gender label assigned to them but don't accept our social rules about boys and girls and how they should act, dress, and play—their gender expressions are unique. Can we tell those two groups of children apart? Not perfectly, but with pretty good accuracy if we spend the time to listen to them and translate what they are saying to us. The Colorado Civil Rights Division did just that in listening to at least one of those children, and in its ruling blazing the trail for children to live authentically in the gender they know themselves to be. When we consider the alternative, that a child sits home because school won't let them be themselves, how could we do otherwise?
Joel Baum, M.S., Director of Education
Diane Ehrensaft, Ph.D., Director of Mental Health
Stephen Rosenthal, M.D., Medical Director
Ilana Sherer, M.D., Assistant Medical Director
Child and Adolescent Gender Center"
7-07-13: GIDReform: "Response to Dr. Jack Drescher and the New York Times About Childhood Transition: Part 3, Guest Blog", A Guest Post by Jenn Burleton, Founder and Executive Director of TransActive Education & Advocacy, Portland, Oregon
"The letter you recently published from Dr. Jack Drescher regarding the case of the Colorado transgender child contained several misleading and outdated statements regarding the future transgender identity of the young girl in question. Most specifically, his categorical statement that "most [transgender/gender dysphoric] children grow up to be gay, not transgender."
This statement vastly over-generalizes the complexity and diversity of gender nonconforming self-expression and identity in children and youth. As a result, Dr. Drescher helps perpetuate the harmful notion that children who are gender nonconforming or transgender are simply "going through a phase". His comments not only lend fuel to those who practice gender-reparative therapy (proven to do great psychological harm to these children) but they encourage those who wish to deny the very existence of transgender identity."
7-06-13: Night Gallery: "TRANSTEXTUALITY (SB 48)", by Katie Herzog
"For her Night Gallery debut (June 29-Aug 3), Katie Herzog reinterprets Gerhard Richter's "48 Portraits," originally completed for the 1972 German Pavilion of the Venice Biennale. Transtextuality (SB 48) continues Richter's study of the learned portrait, however instead of choosing white men of letters as Richter did, Herzog selects forty-eight transgender leaders in the fields of science, philosophy, and literature. In her title, Herzog also aligns her project with Senate Bill 48 signed by Governor Jerry Brown in 2011 requiring the inclusion of trans individuals in school textbooks. Herzog's project, utilizing images from Wikipedia and other online sources, addresses transgender representation in the public sphere and aligns painting with interactive digital archives to investigate an aesthetic realm of social epistemology and create a new public document. In the process, the term "Men of Letters" is critically engaged to open dialogue surrounding gender, language, and the intellectual body."
[Night Gallery, 2276 East 16th St., Los Angeles, CA 90021; open Tues - Sat | noon - 7pm]
7-05-13: GIDReform: "Response to Dr. Jack Drescher and the New York Times About Childhood Transition: Part 2, Guest Blog", A Guest Post by Arlene Istar Lev LCSW-R, CASAC, Albany New York; Social Worker, Family Therapist, Gender Specialist, Activist; Choices Counseling and Consulting
"Dr. Drescher states that most "children like [Coy] grow up to be gay, not transgender." This is a misleading statement for a number of reasons. First of all, the research he is referring to is a few decades old; gender atypical children who are now gay adults matured into their identities before transgender expression was a viable social option (especially for children!), and in the early days of the gay liberation movement. More options exist in the modern world for exploration of gender identity and expression, as well as the freedom to live an out gay life. This research also examined gender non-conforming children, not necessarily those who were gender dysphoric, a distinction that may appear academic, but is crucial to understanding the experiences and potential trajectories of children's emerging gender identities.
Gender non-conforming behavior can exist in a wide-range of children, and can cause distress since our culture can (still!) be extremely rigid about gender roles and rules, especially for boys. One can imagine a gender atypical boy, particularly one who might be aware of attractions to other boys, might be struggling psychologically. Gender dysphoria is, however, markedly different from the social and identity challenges of a gender non-conforming child who will grow up to be gay. Transgender children are suffering in an intensely personal way, with a body and a social world that is at odds with their deepest sense of self."
7-05-13: GIDReform: "Response to Dr. Jack Drescher and the New York Times About Childhood Transition: Part 1", by Kelley Winters, Ph.D.
"The Sunday Dialogue feature of the June 30 edition of the New York Times responded to the recent Colorado Human Rights Division ruling in favor of Coy Mathis, a six year old transgender girl who sought the same equal treatment and facilities access as other girls at her public school. The Times editors turned to Dr. Jack Drescher, a New York psychiatrist who served on the Work Group on Sexual and Gender Identity Disorders for the DSM-5, the diagnostic manual of mental disorders published by the American Psychiatric Association. Dr. Drescher could have taken this opportunity to acknowledge young Ms. Mathis' remarkable courage and tenacity. He could have taken this teachable moment to note the barriers of intolerance and injustice that transgender people face as children, both in and out of the closet. But, instead, Dr. Drescher said this:
Actually, no one knows whether Coy will continue to feel that she is a girl when her body develops further, since most children like her grow up to be gay, not transgender.
Although Coy has identified as a girl, lived happily as a girl and attended school as a girl since kindergarten, Drescher's statement impugns her legitimacy as a girl and suggests that her strong sense of gender identity is a likely just a passing phase. The statement not so subtly passes judgement on the Mathis family for allowing Coy to be herself as she sees herself. Although the "passing phase" mantra is heard frequently among psychiatric policy makers and institutional researchers in recent years, serious questions remain. Is this prediction based on scientific evidence? And, what exactly is meant by, "children like her"? . . .
The Doctrine of Desistence
Medical and public policy have long been influenced by research, suggesting that gender variance from birth-assigned roles in young children will most likely "desist" by adolescence and adulthood, when they will identify with their birth-assigned sex. Dr. Kenneth Zucker, of the Toronto Centre for Addiction and Mental Health (CAMH) and chairman of the DSM-5 Work Group on Sexual and Gender Identity Disorders, is the most prolific proponent of the 80%-desistence assumption. In 2006, he remarked to the New York Times:
80 percent [of preadolescent gender variant children] grow out of the behavior, but 15 percent to 20 percent continue to be distressed about their gender and may ultimately change their sex.
This "it's just a phase" stereotype, has been repeated for many years and has underpinned policies that keep gender dysphoric children in the closets of their birth-assigned gender. It is based primarily on studies at Dr. Zucker's own practice at CAMH and at VU University Medical Center in Amsterdam. Since 1994, sample selection for these studies has relied on diagnostic criteria for Gender Identity Disorder in Children (GIDC) in the DSM-IV and IV-TR. In fact, Zucker and his colleagues at CAMH were instrumental in defining these criteria. As discussed earlier, these criteria required only gender nonconforming behavior for diagnosis, and not necessarily evidence of gender dysphoria (persistent distress or incongruence with birth-sex or birth-assigned gender role). Gender dysphoric subjects in the resulting study samples were diluted by gender nonconforming children who were not gender dysphoric.
Therefore, much of this research actually suggests that the majority of children who are merely gender nonconforming, and meet the overinclusive GIDC criteria in the DSM-IV and IV-TR, will not be gender dysphoric later in life and will identify with their birth-assigned gender. However, some researcher/policymakers have inexplicably interpolated the 80%-desistance assumption to a smaller subset of children who are gender dysphoric. They have arbitrarily substituted "gender dysphoria" for "gender identity disorder" or "gender variance" in their literature, even though these terms have widely disparate definitions. As a consequence, there are concerns that these studies have scooped up large proportions of gender nonconconforming kids who were never actually gender dysphoric, found them still not gender dysphoric at puberty, and then declared them "desistent" in the literature."
7-04-13: ABC News/Associated Press: "Calif. Passes K-12 Transgender-Rights Bill" (more, more)
"California lawmakers approved a bill Wednesday that would require public K-12 schools to let transgender students choose which restrooms they use and which school teams they join based on their gender identity instead of their chromosomes.
Some school districts around the country have implemented similar policies, but the bill's author says AB1266 would mark the first time a state has mandated such treatment by statute.
Existing state law already prohibits California schools from discriminating against students based on their gender identity, but the legislation that passed the state Senate on Wednesday spells that out in more detail, said Carlos Alcala, a spokesman for the bill's author, Democratic Assemblyman Tom Ammiano of San Francisco.
At least two others state, Massachusetts and Connecticut, have statewide policies granting the same protections, but neither policy is in statute, according to the Gay-Straight Alliance Network . . .
California's bill would give students the right "to participate in sex-segregated programs, activities and facilities" based on their self-perception, regardless of their birth gender. It sparked an impassioned debate on the Senate floor about when transgender students' right to expression might conflict with other students' discomfort and right to privacy."
7-03-13: The Express Tribune (Pakistan): "Sanam Fakir sets her own terms of life as a transgender"
"When Sanam Fakir describes her life, she admits it is not easy. "My life is like a tree, which stands under the scorching sun but provides shelter to others," the 38-year-old transgender tells The Express Tribune . . .
Sanam has seen and experienced people treating transgenders an an object. Something to make them laugh, she says. "But nobody tries to peep into our souls." We are like this because God made us this way, she explains. "Otherwise we too feel pain and joy" . . .
"Everything was going all right until my father was alive,"she recalls. Soon after his death in 1994, her brothers' attitude became intolerable . . . " Her eyes tear up with these memories . . . When she had had enough, Sanam decided to leave her father's home. "I left home at the age of 20 and started living with a transgender, Shahnaz, in Sukkur's Shamsabad Muhalla."
She was heartbroken to leave her family behind and the lifestyle of the transgender community – which included dancing and other vulgarities – did not appeal her. "So I borrowed Rs2,000 from a trader and started selling bedsheets door-to-door." This was the first attempt Sanam made at having an independent life and breaking the norms that the transgender community had made up.
"After sometime my business started flourishing and I started bringing dinner sets and blankets from Quetta and sell them in Sukkur," she recalls happily, adding that her earnings were enough to ensure she led a happy life . . .
In 2002, Sanam decided to engage in social work. "I gave money to another transgender, Mujeeba, for an eye operation." By the year 2008, Sanam established her own social welfare organisation, Sanam Fakir Welfare Association, which aimed at mitigating the sufferings of everyone, especially the transgenders . . .
"I want to establish a shelter home for the transgenders and an old home for parents abandoned by their children" . . . She appeals to donor agencies to help her carry on her dreams. "I am already engaged in social work but I cannot do much with my limited resources," she admits. For her fellow transgenders, she has only one message: to refrain from indecent activities and find respectable living."
7-03-13: Livingston Daily: "'I will not be ruled by fear,' transgender woman says"
"Denise Brogan-Kator reached for her wife's hand at a recent Brighton Art Fair only for her partner to move her hand away. Brogan-Kator, a transgender woman, had recently moved to Michigan and was only accustomed to Ann Arbor, by most accounts a more liberal community than Livingston County.
"She pulled her hand away and she said, 'This is Brighton, honey,' with the absolute clear meaning of two women don't hold hands in Brighton," Brogan-Kator recalled in a clearly feminine voice. "I didn't know that when I moved up here because all I saw was this little sort of little liberal island that was Ann Arbor and extrapolated that to the state," she said . . .
She moved to Michigan nine years ago to study law at the University of Michigan and met her wife online. They attend PFLAG meetings together. They legally married in Canada in 2005 as a same-sex couple, but the union is not recognized under Michigan law . . .
"Since then we have both come to an understanding that unless we are visible, unless people see us, we will never change people's attitudes," she said. "Unless they see us walking down the street holding hands, we will never have the opportunity to become just a part of our community.
"I will not be ruled by fear, and I honestly believe that if people knew me, if people knew my family, if people knew the people I know, that the hate would disappear, that the fear would disappear.""
7-02-13: Daily Mail (UK re Canada): "Transgender artists banned from flying after performing mid-air strip show in protest at being 'asked by staff if they used to be men'"
"Two Canadian transgender performers have been banned from flying by Canada's largest airline after one of them took off her clothes in a mid-air strip show.
Lexi Sanfino, who was travelling with friend Nina Arsenault, took off her top and walked up the plane's aisle before being tackled by staff and ordered to cover up. The artist said she went topless in protest at offensive questioning by flight attendants about whether she used to be a man.
The pair were arrested last month when their WestJet flight landed in Edmonton, Canada. They say they have now been banned from flying with WestJet of Air Canada."
7-02-13: Huffington Post: "Fallon Fox, Transgender MMA Fighter, Receives Support With 'Fight 4 Fallon' Online Campaign"
"An online campaign titled "Fight 4 Fallon" has been launched in support of Fallon Fox, a transgender Mixed Martial Arts (MMA) fighter, who has been scrutinized because she isn't a cisgender woman . . .
According to Out Sports, "Fight 4 Fallon" was launched to combat transphobic commentary and disrespectful treatment towards the MMA fighter. Participants in the campaign, called #FallonFighters, are charged to respond to negative blog posts and commentary about Fox by informing and educating commenters about transgender lives and experiences in a respectful way.
In addition to written responses, their voices can be accentuated by making videos to spread positive stories about Fox. As Go Athletes notes, Hashtags such as #Fighting4Fallon, #F4F and #FallonFighters are used on social media platforms such as Twitter."
7-01-13: Huffington Post: "Gender Transition in Children: A Dialogue Continued", by Dana Beyer
"This past Sunday The New York Times published a letter from Dr. Jack Drescher, a renowned psychiatrist and specialist in gender issues, who served on the DSM 5 Workgroup on Sexual and Gender Identity Disorders, relating to the case of Coy Mathis, an 8-year-old trans girl in Colorado . . . Dr. Drescher's letter was the kickoff to a "dialogue" in the Sunday Times and includes an abbreviated letter from me . . .
In his thoughtful letter, Dr. Ken Zucker of the Toronto Center for Addiction and Mental Health (known in the trans community as "Jurassic Clarke," as it had previously been called the Clarke Institute), the bête noire of the trans community for his practice of reparative therapy over the past several decades, remarks that "in the past decade, children and adolescents with gender dysphoria have come out of the closet at a rate that is rather astonishing" . . . but surely the rapid rise in the number of competent, caring therapists and medical providers must play a very large part.
Parents are usually very concerned about the lives that their children will lead when grown, and their vision of such life was very constrained just a decade ago. When we were sexualized by both society and the medical profession, parents thought their children would be lucky to become hairdressers and florists, if they didn't end up as sex workers. This was the belief of a leading scientific researcher of the gay community, J. Michael Bailey, chair of the psychology department of Northwestern University, evident in his book The Man Who Would Be Queen, published in 2003. That this piece of pseudoscientific trash was published by the National Academies Press, an arm of the elite National Academy of Sciences -- "where the nation turns for independent, expert advice" -- tells you all you need to know about attitudes toward the trans community a decade ago.
Yet as is often the case . . . while extremely dispiriting at the time . . . the Bailey affair catalyzed a new generation of trans activists, including me, and has brought us today to a revamped DSM, Title VII and other federal recognition and protections, along with nearly 50 percent of the trans population being covered by state and local anti-discrimination laws.
We are left with a mental health profession that has made great strides but is still blind to the pain of gender incongruence, which they exacerbate when they deny transition. That reality is not "up in the air," as Dr. Zucker implies, nor is a "wait and see" approach anything more than a more gentle form of torture for trans children. When the (psychiatric) APA published its guidelines for treatment of gender dysphoria last year and laid out the three courses of action touched upon by Dr. Drescher, it was clear that the first of the three was driven by empirical ignorance, and the second learned helplessness, or fear of the impact of cultural hostility. Let's act with hope and faith in our better angels, as more loving parents are doing, and let our children be themselves and thrive."
7-01-13: New York Times (posted 6-29): "Sunday Dialogue: Our Notions of Gender", by Jack Drescher (followed by response letters to the editor by Dana Beyer, Ken Zucker, and others) (more)
"In March, you reported on 6-year-old Coy Mathis, born a boy and now identifying as a girl. Although her school in Colorado first allowed her to use the girls' bathroom, one day she could no longer do so. The state's civil rights division has now ruled against the school, rejecting its argument that "as Coy grows older and his male genitals develop along with the rest of his body, at least some parents and students are likely to become uncomfortable . . ."
Actually, no one knows whether Coy will continue to feel that she is a girl when her body develops further, since most children like her grow up to be gay, not transgender.
Gender identity is one's sense of being a boy or girl, man or woman. Theories abound, but no one knows how it develops in transgender or non-transgender people. Some children strongly disagree with their gender assignment as young as age 2. Clinicians call this gender dysphoria. It is rare, and most gay people were not gender dysphoric as kids.
Currently experts can't tell apart kids who outgrow gender dysphoria (desisters) from those who don't (persisters), and how to treat them is controversial."
7-01-13: Vice.com (UK): "Should Trans People Have to Disclose Their Birth Gender Before Sex?", by Paris Lees
"It's now against the law to suck dick if you have a dick and you don't tell the dick you're sucking that you have a dick. Or if you used to have a dick. Or if you have a pussy when they think you have a dick. Or a pussy. Or something.
In the UK, you see, it's become illegal for trans people not to disclose. You can be sent to prison for it, and some people already have been. Late last week, the UK Court of Appeal made case law by rejecting the appeal of someone called McNally. McNally was born female but identifies as male in certain social settings. McNally's crime? To meet a girl online, date her—presenting himself to her as Scott—and give her oral sex. When the girl's mother discovered that McNally was born female, she told the police. McNally says his girlfriend consented to the sexual activity. British law disagreed . . . "
7-01-13: Metro Weekly: "D.C. Hit with Anti-LGBT Attacks - Community shaken as summer starts with six assaults, one fatal"
"D.C.'s summer of 2013 is off to a tragic start, with these first days since the season began June 21 seeing attacks against six members of the LGBT community, one fatal . . .
Anyone with information in any of these cases is asked to call Police at 202-727-9099. Information can also be submitted to the Text Tip Line by text-messaging 50411. MPD offers a reward of up to $1,000 to anyone who provides information leading to an arrest or conviction of the people responsible. MPD also offers up to $10,000 for those who provide information related to a robbery, and up to $25,000 to anyone who provides information related to a homicide."
7-01-13: Las Vegas Sun: "Overshadowed by gay and lesbian compatriots, the transgender community is fighting for acceptance", by Lornet Turnbull, The Seattle Times
"They are the "T" in LGBT and arguably the most maligned segment of that community. Many transgender men and women face hardships in routine areas of daily life. They are twice as likely as the general population to be unemployed or homeless and four times as likely to live in poverty.
Some 90 percent said in a 2011 national survey that they had encountered discrimination at work, and more than one in three attempt suicide at some point in their lives.
Such dire statistics are part of what inspired Danielle Askini, a 30-year-old transgender activist, and a group of volunteers, to organize Trans Pride in Seattle during the week set aside at the end of June each year to mark the historical launch of the nation's gay rights movement.
Executive director of a Seattle organization called the Gender Justice League, Askini said the goal is to help promote visibility of a population often in the shadows of its higher-profile gay and lesbian brothers and sisters.
"For us there are some very distinct political and sociological justice struggles that the LGBT community has not always been the best in addressing," said Askini, program manager for QLaw, the state's LGBT bar association.
"Some of us are calling this our coming-out party" . . .
Askini believes the next step is for transgender people to gain more acceptance through visibility, by allowing others to get to know them as neighbors, co-workers and friends — much as the larger gay and lesbian community has done.
"That cultural shift has started to happen," she said. "The reason we started Trans Pride is to highlight that, to increase visibility, while creating something where we in the community can see one another and celebrate ourselves.""

---
Click here to access the current Trans News Updates
Click here to access the Trans News Updates for 2013 (2nd half)
Click here to access the Trans News Updates for 2013 (1st half)
Click here to access the Trans News Updates for 2012 (2nd half)
Click here to access the Trans News Updates for 2012 (1st half)
Click here to access the Trans News Updates for 2011 (2nd half)
Click here to access the Trans News Updates for 2011 (1st half)
Click here to access the Trans News Updates for 2010 (2nd half)
Click here to access the Trans News Updates for 2010 (1st half)
Click here to access the Trans News Updates for 2009 (2nd half)
Click here to access the Trans News Updates for 2009 (1st half)
Click here to access the Trans News Updates for 2008 (2nd half)
Click here to access the Trans News Updates for 2008 (1st half)
Click here to access the Trans News Updates for 2007
Click here to access the Trans News Updates for 2006
Click here to access the Trans News Updates for 2005
---
LynnConway.com > TS Information > Trans News Updates
---