Trans News Updates of 2008 (July-Dec):
This page links to news of general interest to the trans community during the second half of 2008. This running log of news also serves as a window into areas of media focus and public interest regarding trans issues during 2008. Let us know if you hear of news to include in this list. To access to a wide range of trans news, we recommend "Google News", searching on keywords such as transgender, transsexual, sex reassignment, sex change, gender variance and gender transition.
2008: Jul, Aug, Sep, Oct, Nov, Dec
Link to first half of 2008
Lynn Conway
Click here to access the currrent Trans News Updates
---
12-31-08: Windy City Times: TRANSNATION: "2008 trans year in review", by Jacob Anderson-Minshall
12-31-08: Pittsburgh Tribune-Review (posted 12-24-08): "'Then and Now' delves into changing times"
"It's a little-discussed fact that Pittsburgh has a long history with cross-dressers and transgendered individuals. In fact, ask any old timer, and you're sure to be regaled with storied memories of seeing the most elegantly dressed cross-dressers either shopping or going about their daily tasks Downtown for the better part of the past century." NEW
12-31-08: Ciao Magazine (Italy; posted 12-23-08): "Attratto da un trans? Una storia comune" - ". . . un uomo eterosessuale è attratto dai trans. E non è una storia rara, anzi, sembra che sia olto più comune di quanto pensiamo."
("Attracted to transwomen? A common story" - " . . . a heterosexual man is attracted to transwomen. And it is not a rare story, or rather, it seems that is a lot more common that many think.") (Note: you can obtain a readable translation by using Freetranslation.com) NEW
12-31-08: LynnConway.com: "Open letter to the President of the APA regarding 'An attempted whitewash of the APA's publication of falsified results for GID prevalence' " [PDF]
12-31-08: LynnConway.com: "An attempted whitewash of the APA's publication of falsified results for GID prevalence", An Investigative Report by Lynn Conway [PDF]
"We realize that any admission that the APA had published false GID prevalence numbers would be a great embarrassment for all involved. However, all scientists have a professional duty to admit mistakes in published data, calculations or analyses. To do otherwise leads to further falsifications and denials – and only delays the inevitable exposure of the errors. "
12-31-08: The Jewish Daily Forward: "Transgender Jews Now Out of Closet, Seeking Communal Recognition"
12-31-08: Locus Magazine: "Caitlín R. Kiernan : Transmutations"
"The same way that I don't want to be thought of as a horror writer, I don't want to be thought of as a gay writer, or 'that transsexual writer.' In interviews it's something I shy away from addressing directly."
12-31-08: Sydney Star Observer (Australia): "Trans author revisits her story"
12-31-08: Bay Area Reporter: "Openly transgender minister ordained" - "Jay Wilson, now one of the few openly transgender pastors in San Francisco, was ordained by Extraordinary Lutheran Ministries and installed as a pastor at First United last month."
12-31-08: Sunday Star Observer (Australia): "Transsexual fears for safety" - "A transsexual woman and her 13-year-old daughter have been forced to move from their Sunshine Coast, Queensland home after a serious assault left them fearing for their safety."
12-31-08: TS Roadmap.com: "transkids.us IP analysis, pre-2005"
"For the first step in the analysis of the contributors, I have limited this to visits prior to the site's publication. Two of the key participants, Denise Tree and Jenn Ross, have been identified by name. Another contributor has asked to remain anonymous. If you have received email from these IP addresses or have forum or blog replies indicating they were posted from these IPs, please contact me." (IP address analyses are now revealing those who fabricated the transkids.us hoax)
12-30-08: TS Roadmap.com: "Transkids.us hoax origins: Kiira Triea sockpuppet "Deni""
(The transkids.us hoax is unraveling further as more and more evidence comes in.)
12-30-08: Organisation Internationale des Intersexués (OII): "OII has published a new version of the Handbook for Parents translated from the French" -"You can download it here":
http://www.intersexualite.org/Handbook.pdf" (ES, FR, CH) NEW
12-30-08: Organisation Internationale des Intersexués (OII): "If there are seven sexes...Then what am I?"
"Manuel Velandia, in an exclusive report for AG Magazine (ES), ponders the most important and recent developments concerning the definition of sex. Translated by Curtis E. Hinkle with permission from the author." NEW
12-30-08: Huffington Post: "The Media, the Legislature and the Police Are Guilty Too" - "IMPD released two male names and mug shots of the victims, commented on the victims' criminal histories and said the two lived "an alternative lifestyle." One of the victims was transgender; the other was her boyfriend." (see also next item):
12-30-08: The Bilerico Project (posted 12-28-08): "Transwoman and her boyfriend murdered in Indianapolis" - "Two Indianapolis residents were killed over the holidays. While details aren't definite, it would appear one or both individuals were specifically targeted. "
12-30-08: BDNews.com (Bangladesh): "Hijras see a better tomorrow" - "Monday's national election, the first in seven years, was a red letter day as they were able to vote as citizens in their own identity."
12-29-08: World Golf: "Did women's long drive winner shaft the competition?" - " Things to think about during golf's off-season."
12-29-08: Eyewitness News (Memphis, TN): "Violence Against Transgenders: Lack of Jobs" - "Transgender advocate Casey Lanham says some transgender people in the area turn to prostitution because of a lack of job opportunities."
12-29-08: The Los Angeles Times: "DSM psychiatry manual's secrecy criticized"
"The Diagnostic and Statistical Manual of Mental Disorders is being revised under a cloak of confidentiality. Critics say the process needs to be open, and cite potential conflicts of interest. . . .In his recent book, "Shyness: How Normal Behavior Became a Sickness," Christopher Lane traces how shyness morphed from a character trait into a pathological condition called "social phobia," which the DSM defines as "fears that he or she may do something or act in a way that will be humiliating or embarrassing." With disorders so broadly drawn, Lane wonders, who among us is sane?" (see also the related following article):
12-29-08: Marin Independent Journal: "Mill Valley author explores male, female and in between"
Article about an important new book, Fixing Sex: Intersex, Medical Authority, and Lived Experience, by Katrina Karkazis (see this review by Curtis Hinkle of OII: "Fixing Sex - A Tour de Force")
12-29-08: Journal PLoS ONE: "The Role of Medical Language in Changing Public Perceptions of Illness", Meredith E. Young, Geoffrey R. Norman, Karin R. Humphreys, Dec. 8, 2008
"This study was designed to investigate the impact of medical terminology on perceptions of disease. . . Students considered the medical label of the recently medicalized disease to be more serious . . ., more representative of a disease . . ., and have lower prevalence . . . than the same disease described using common language."
(This research report provides valuable insights for evaluating the effects of pathologizing medical and psychiatric terminology such as "disorders of sex development", "gender identity disorder", "homosexual transsexualism", "autogynephilia", "transvestic fetishism", etc.).
12-29-08: Arab Times (re Kuwait): "Makeup for transvestites caught" - "Personnel from the Central Prison administration have arrested some Asian workers for attempting to smuggle cosmetics to transvestite inmates, reports Alam Alyawm daily"
12-29-08: Latin American Herald Tribune (re Dominican Republic): "Church and Organizations Slam Dominican Republic Transvestite Beauty Pageant" - "Governor allows it as long as it is held inside and minors are not allowed."
12-28-08: AFP (re Bangladesh): "Bangladesh eunuchs to vote in first elections"
"Among the millions of new voters in Monday's Bangladeshi elections will be some 100,000 hijras -- cross-dressing, pre- and post-operative transsexuals -- allowed to cast ballots for the first time. . . officials were still trying to figure out exactly how hijras would cast their votes . . . "We . . . eventually decided that hijras must go to the line that we think suits them best. The more feminine ones will be in the ladies' line while the ones who seem more manly will be in with the men.""
(Note how the press persists in using the defamatory British colonial word "eunuch" when referring to transgender women in India and Bangladesh)
12-27-08: TS Roadmap.com: "Jenn Ross and the transkids.us hoax "
"Jennifer E. Ross, also known as Jennifer S. Davis (born November 11, 1969) is a Canadian software developer and computer technician involved in the transkids.us hoax. Transkids.us is a website allegedly written by and about transgender minors. . . Ross (age 39 in 2008) . . . is typical of the people associated with the transkids.us hoax."
(Note: The Transkids.us website was exploited by Bailey, Lawrence and Dreger to support Blanchard's two-type theory of transsexualism. For more information about this scientific hoax, see: Kiira Triea and the "transkids.us" hoax.)
12-27-08: News.scotsman.com: (Scotland): "Aitken accuses Pope of teaching death"
"Church of Scotland minister and former city council leader Ewan Aitken has accused the Pope of teaching death rather than love. It follows Pope Benedict XVI's end-of-year address which provoked anger from gay campaigners, who interpreted him as arguing that "saving" humanity from homosexual or transsexual behaviour was as important as saving the rainforests."
12-26-08: The Timaru Herald (New Zealand): ""Sex change brings `freedom at last'" - "Noeleena Lochhead feels like she has been let out of an asylum."
12-26-08: Palm Beach Post: "Transsexual with Boynton tie joins 'Real World'"
"I want to use this as an opportunity to educate the public at large. Everything else is circumstantial," says the 24-year-old former Palm Beach Community College student, who makes her debut on Jan. 7 as the first ever transsexual cast member on MTV's reality stalwart The Real World, on its 21st season."
(link to Katelynn Cusanelli's casting bio; link to photo)
12-26-08: TMCnet.com (re UK): "Transgender actor Eddie Izzard is a student of the military"
""I am a transvestite with a career. You can't afford to screw around," Izzard says during a telephone interview. . . "Think about it. There are not many of us from the transgender community who have been able to stick our heads up and say 'Yes, I am here' and then keep your thing going."
12-25-08: The National (The Arab Emirates re Iran): "Changed lives win acceptance in Iran"
"After waiting nearly 30 years, Sogand finally became the person she dreamt of. . . Every year, about 80 people undergo sex reassignment surgery in Iran, 90 per cent of which are male to female cases, said an official of the Legal Medicine (Forensics) Organisation"

12-25-08: The Times of India (India): "Transgenders showcase talent in Chennai"
"The Tamil Nadu AIDS Initiative and Voluntary Health Services (TAI-VHS) brought about 20,000 transgenders and marginalized women together to showcase their talent."
12-25-08: Asiaone.com: (re Malaysia): "Illegal 'kopi reggae' is new health threat" - "Transsexuals in Kedah (ed: a state in Malaysia) reportedly seek this coffee, laced with drugs and known for boosting sexual energy." (more)
12-24-08: Bay Windows: "Bush's parting gift: Anti-gay 'right of conscience' rules for medical professionals" -
"I have witnessed at a medical school that educates a lot of Mormon students . . . some of those medical students say they would not care for someone who told them they were LGB or T" NEW
12-24-08: ABC24 News (Memphis, TN): "Transgender Woman Shot in Face" (more)
12-24-08: Spiegel Online (Germany re Vatican): "Critics Accuse Pope of Stirring Anti-Gay Sentiment"
"Last year was a bad enough year for homosexuals in Italy. . ." The number of violent attacks in the country against gays and their organizations has risen dramatically . . . "All signs are pointing towards a confrontation," said Mancuso. "People are really scared." (more, more)
12-24-08: Feministe: "The Pope vs. "Gender""
12-24-08: Breaking News (Trinidad and Tobago): "Pope: God decides sex, not man"
"It is not man who decides. It is God who decides who is man and who is woman," the Pope warned, as he discredited the theory that some people are born with the genitalia of one sex but the mentality of the other" (An example of how the Pope's words will be used to spread transphobia in traditional societies)
12-24-08: San Francisco Bay Guardian: "Sentenced to rape" - "LGBT inmates face unusually high risk of sexual assault in prison"
12-24-08: Express Buzz (India): "Transgenders, kothis set up federation"
"CHENNAI: Around 20,000 transgenders, kothis and marginalised women from across the State have come together to set up a federation that will deal exclusively with their needs including healthcare, education, advocacy and financial literacy."
12-23-08: The Daily Record (Baltimore, MD): "Top court explains why it kept transgender-law challenge off ballot"
12-23-08: Dallas Voice: "Trans advocates protest Bush's 11th-hour HHS rule change"
Transgender advocates say the new rule could have a huge impact on health care for transgender men and women. "Transgender people already experience tremendous hostility and discrimination in the health care setting," said Transgender Legal Defense & Education Fund Executive Director Michael Silverman said.
12-23-08: ESPN: "Lawless, former male cop, wins women's title" - "The world of long drive golf might have some controversy, but the player at the center of the storm isn't apologizing." (more, more)
12-23-08: Guardian (UK): "The pope's message: A toxic epistle?" - "Benedict's latest comments on sexuality have prompted dismayed – and some unprintable – reactions"
12-23-08: Time: "The Pope's Christmas Condemnation of Transsexuals"
"Critics of the Church hierarchy see such pronouncements as proof of Catholicism's unhealthy "obsession" with sexual matters. . . Why, for example, does he not use his Christmas address to boldly condemn Robert Mugabe, whose brutal dictatorship has left a largely Christian country crushed and struggling with a cholera outbreak that has already killed more than 1,000 people?"
12-23-08: BBC News (UK): "Pope attacks blurring of gender"
"He explained that defending God's creation was not limited to saving the environment, but also about protecting man from self-destruction . . .Pope Benedict XVI warned that gender theory blurred the distinction between male and female and could thus lead to the "self-destruction" of the human race."
(Hmm. Now he's proclaiming that gender variance and transsexualism could lead to the end of humanity. Sounds like Paul McHugh coached the Pope on his Christmas speech this year!)
12-23-08: Telegraph (UK): "Pope says humanity needs 'saving' from homosexuality"
" Rev Sharon Ferguson, said: "It is more the case that we need to be saved from his comments. . .There are still so many instances of people being killed around the world, including in western society, purely and simply because of their sexual orientation or their gender identity. When you have religious leaders like that making that sort of statement then followers feel they are justified in behaving in an aggressive and violent way because they feel that they are doing God's work in ridding the world of these people.""
12-22-08: Reuters: "Pope likens "saving" gays to saving the rainforest"
VATICAN CITY - Pope Benedict said on Monday that saving humanity from homosexual or transsexual behaviour was just as important as saving the rainforest from destruction."
(Now there's an imaginative new spin: proclaiming homophobia and transphobia as being "green" and thereby "nice"!)
12-22-08: Infoshop News: "Austin: Homeless Transgendered activist dies from lack of shelter space for women & trans folk"
"Jennifer's voice rang through Austin Council Chamber doors every week, often times in support of the homeless population of which she was a part . . . Her death points to critical problems faced by the homeless, and especially by homeless women and the transgender homeless. "Jennifer most nights slept outdoors," said Austin Mayor Will Wynn. "Jennifer, we believe, is the 136th person who has died sleeping on the streets (of Austin) over the last 12 months."
12-22-08: Golf Week: "Long-drive champ shares her secret" - " . . . from the World Long Drive Championship, it is odd but true that the new women's world champion is a 55-year-old bartender who used to be a man." (more)
12-21-08: Jim Cosenza (A supportive therapist in Chicago Illinois): "Psychotherapy Support Group for Women whose husbands and significant others are transitioning from male to female - Beginning Saturday January 17" (For more information on Jim's practice, see www.jimcosenza.com)

12-21-08: San Francisco Chronicle (re Idaho): "Transgender woman fights for her identity" (more)
"For nearly a year, Catherine Carlson refused to pay the fine for driving with a suspended license because it was issued to both her and the man she used to be." (see also The Olympian, which broke this story on 12-13-08)
12-21-08: San Diego Union Tribune: "Online-world immersion probes 'possibilities of transformation' "
12-20-08: Edge (Boston): "'Harvard Business Review' tackles trans issues in the workplace"
12-19-08: Gay People's Chronicle: "Columbus TG equality law passes with few opponents" - "Ohio's capital city became its fifth to protect transgender people from discrimination with passage of an ordinance on December 15."
12-19-08: BBC News (re Argentina): "Dark side of Argentine sex city"
"Susana Martinez is a former prostitute who now helps to run the Sandra Cabrera health centre in the city. . . It was set up two years ago, with the help of the local authorities, after prostitutes, rent-boys, transvestites and transsexuals complained they were suffering discrimination in the public hospitals."
12-19-08: CampKC.com: "For 2009, the Economy Matters Most to the Transgender Community"
12-19-08: Washington Blade: "A broader fight - Pushing the boundaries of the movement for full marriage," by Kellan Baker
"Much of the apparent absence of trans people from the struggle for marriage equality is due to the 40 years of ostracism from the gay rights movement of those whose gender identities are considered problematic. . . Within the LGBQ community, the mention of the word trans is often enough to demote the person from a real, "biological" human being to some medical miracle, the perverse stepchild of mental confusion and modern science." (an important essay on why trans people have been excluded from the marriage equality fight, and on why they should participate.)
12-18-08: Texas Civil Rights Review: "Jennifer Gale Death Caused by Lack of Shelter for Transgender Homeless"Jen
Equality Texas mourns the death of Jennifer Gale, a 47-year-old transgender homeless woman who died yesterday. Jennifer's body was found Wednesday morning. She was lying in an outdoor walkway at the First English Lutheran Church in Central Austin . . . "The Salvation Army (the only shelter in town that takes in women) would not let her in there unless she was grouped with the men (which includes sleeping with, and showering with, other homeless men)."Gale
Death Caused by Lack of Shelter for Transgender Homeless
12-18-08: Los Angeles Times: "Health providers' 'conscience' rule to take effect"
"The last-minute Bush administration declaration lets doctors, clinics, receptionists and others refuse to give care they find morally objectionable. . . The rule says providers -- including hospitals, clinics, universities, pharmacies and doctor's offices -- can be charged with discrimination if an employee is pressured to participate in care that is "contrary to their religious beliefs or moral convictions."" (As a result of Bush's action, trans people whose medical records reveal their pasts now face open discrimination and shunning by religious health care workers.).
12-18-08: Campus Progress: "Bending Gender Bending - "A new book is supposed to be the tell-all behind the greatest literary hoax of our day, but ends up reinforcing stereotypes about gender identity," by Miriam Pérez
". . . these authors take serious liberty in order to sensationalize and play on our fascination with gender non-conformity. Girl Boy Girl and the entire JT Leroy charade is just another example of this, except taken up a notch. This time, it wasn't just fiction, but it was an entire fictionalized persona. As a result Knoop's book is even more irritating and insulting."
12-18-08: Razor.tv (The Straights Times, Singapore)(posted 12-10-08): "Transgenders among us"
These remarkable video interviews reveal, normalize and contrast transgender life in Singapore and Bangkok:
Transgenders among us (Part 1) (15:12); Transgenders among us (Part 2) (17:20); Bangkok's Ladyboys (Part 3) (11:47)
12-18-08: Edge (Boston): "HRC Applauds Naming of Diego Sanchez to Key Legislative Staff Position for Chairman Barney Frank"
12-18-08: Middle Ease Online (re Turkey): "Transsexual star cleared of anti-army charges in Turkey" - "Turkish court rules that famed transsexual singer exercised right to freedom of expression. Bulent Ersoy, 56, was put on trial after she said in February that if she had a son, she would not send him to the army to fight Kurdish rebels, whose 24-year campaign for self-rule in the southeast has claimed about 44,000 lives." (more, more, more)

12-18-08: WHP-TV/CBS-21 (Harrisburg, PA): "Transgender Lawsuit" - "A local community college is accused of sexual discrimination. It's all over a life-altering decision that's now changing the way one student is treated." (Note: please vote on whether it was right or wrong for HACC to suspend Jamie) (more, more, more)
12-18-08: Queerty: "Should Doctors Still Consider Transgenders to Be Suffering a 'Disorder'?" (Note: this might be a good page to leave comments on)
12-18-08: The Spoof: "Sex Change Weekends Are Here"
"Getting in touch with your feminine side could be a weekend thing with news that scientists at the Edinburgh Institute for the Sexually Confused have created a drug which allows temporary sex-changes" (It helps to keep a sense of humor about all this!)
12-17-08: New York Times: "Psychiatrists Revising the Book of Human Troubles" (i.e., the DSM)
"The debate over gender identity, characterized in the manual as "strong and persistent cross-gender identification," is already burning hot among transgender people. Soon after the psychiatric association named the group of researchers working on sexual and gender identity, advocates circulated online petitions objecting to two members whose work they considered demeaning." (i.e., Zucker and Blanchard)
12-17-08: Bay Windows: "Mr. Sanchez goes to Washington" - "Transgender activist Diego Sanchez has been appointed to the position of legislative assistant to Congressman Barney Frank in Washington, D.C."
12-17-08: Windy City Times: "Paging Dr. Bowers: Talking about Sex Change Hospital - Special to the Online Edition of Windy City Times" (an excellent interview with Marci Bowers, with an update on Isis' upcoming surgery)
12-17-08: Dallas Morning News: "Transgendered former Dallas mayoral candidate Jennifer Gale found dead in Austin"
"Ms. Gale, 47, a transgendered homeless former Marine, had run unsuccessfully for numerous public offices in Austin and Dallas. She finished ninth out of 11 candidates in the 2007 race for Dallas mayor." (more, more, more)

12-17-08: Bay Windows: "'Harvard Business Review' tackles trans issues in the workplace"
12-17-08: The Bilerico Project: "December Harvard Business Review Features "When Steve Becomes Stephanie", Filed by: Dr. Jillian T. Weiss
12-17-08: The Beat (News Blog of Comics Culture): " RIP Maddie Blaustein" - "I am very saddened to learn today of the death of actress/comics writer/friend Maddie Blaustein at age 48. It's being reported that she died in her sleep after a brief illness."
"Maddie (born Adam Blaustein) might be the most recognizable transgender voice on the planet, from her roles as Meowth on Pokemon, and Solomon Moto on Yu-Gi-Oh, not to mention dozens of other anime and video games. She was also a writer for Milestone Comics, penning issues of Static and Hardware, as well as the limited series Deathwish." (for more about Maddie, see the Pokemon main page on Bulbapedia)
Maddie Blaustein
12-17-08: TS Roadmap.com: "Another intersex activist on issues raised by Kiira Triea (aka Denise Tree)" - "Intersex activist Peggy has contacted me about the ongoing problems with posers and fakes in both the transsexual (TS) and intersex (IS) communities."
(Note: Kiira Triea created a hoax website that's been exploited by Bailey, Lawrence and Dreger to support Blanchard's theory of transsexualism. For more information see the page on Kiira Triea and the "transkids.us" hoax.)
12-17-08: Bangkok Post (Thailand): "Miss Tiffany Queen" - "Treechada 'Nong Poyd' Malayaporn on the perks and burdens of living as a katoey in Thai society" (more, more)
12-16-08: Io9: "Kate Bornstein Weighs in on Last Night's Trannytastic Terminator"
"Last night, we met the first transgender person (that we know of) in the Terminator universe. We asked transgender activist and author Kate Bornstein for her opinion of the episode."
12-16-08: BU Today (Boston University): "I Like That About Me"
"Most children dream of possessing the magical ability to fly, to be invisible, or to talk to animals. But as a young boy growing up in Jefferson City, Mo., Emeri Burks wished only to be a girl." (includes wonderful video commentary by Emeri)
12-16-08: Women's Digest: "UCLA Study on Friendship Among Women" (This '05 posting discusses an '00 UCLA report. It contains insights that might be helpful to folks facing stress at this time of year.) (abstract, pdf)
12-16-08: Guardian (UK): "Peter Kay's Geraldine in bid to steal Christmas (No 1)"
"The comedian's transsexual talent show winner is taking on Alexandra Burke for the festive top spot . . . Sentimental, certainly; cruel, perhaps, but Kay's homespun down-to-earth laughs have always left the audience with a warm glow, not a cold sneer. Could the nation's favourite have misjudged his audience? Time will soon tell." (see video)
12-15-08: Columbus Dispatch (Columbus, OH): "Gender identity on city's agenda" - "Anti-discrimination proposal would add transgender people"
12-15-08: Detroit News: "Activists pin hopes on Obama banning transgender bias"
12-15-08: Metro.co.uk (UK re US): "Savannah Knoop: Trannie to the stars" (another article about the JT Leroy hoax)
12-13-08: TS Roadmap: "The transkids.us hoax: Another Kiira Triea victim comes forward"
"Denise Tree (aka Kiira Triea), the 57-year-old computer technician who is author of the transkids.us hoax site, has just completed her one-year probation stemming from some legal troubles in 2005. Now another victim of Denise's online hoaxes has come forward. . ."
"Young people who wish to get legitimate information should avoid the transkids.us hoax site and check out legitimate sites by and for young trans people. At this point, the only people who still believe transkids.us is legitimate are a handful of gullible academics, such as Alice Dreger and J. Michael Bailey."
12-13-08: The Olympian: "S. Idaho transgender woman fights use of male name"
"For nearly a year, Catherine Carlson refused to pay the fine for driving with a suspended license because it was issued to both her and the man she used to be. She went to jail four times over the ticket that includes both her legal name and the one she was born with, Daniel Carlson. She had surgery 28 years ago to become a woman . . . (and) legally changed her name in the 1970s, but police and court records include both in this rural farming and ranching community . . ."The ticket was the last straw," Carlson said." (This case shows how blind bureaucracies can stigmatize transitioners and doom them to marginalization. Hope that some folks can reach out and help Catherine)

12-13-08: Sify.com (India): "Two more transgender flicks in Kollywood" - Years after Santhosh Sivan's Navarasa focused on the issue of transgender, two more movies are being made on the same lines.
12-13-08: Catholic News Agency (re Puerto Rico): "Scholars call for gender ideology to be removed from public education in Puerto Rico"
". . . to introduce "this theory into public schools would only be justified if the sole purpose were to educate the young generation in the self-determination of their own sexual identity . . . opening the door to the acceptance of any form a affective relationships and sexual practice (homosexual, bisexual, transsexual)."" NEW
12-12-08: Jeffrey Spiegel, M.D.: "Finally, our FFS website!" (http://jeffreyspiegel.vpweb.com)
"We have put together a FFS focused website that we hope will act as a resource for all patients. . . It includes travel information, photos, and other helpful information. We hope you will spread the word about this site and we'll continue to make improvements!" (see especially the many photos at this link, which clarify the remarkable benefits of FFS)
12-12-08: TSRoadmap.com: "Douglas Ousterhout plans to retire in January 2011"
"If you have a goal of going to "Dr. O" for facial feminization surgery (FFS), you have two more years to schedule it. Pioneering facial feminization surgeon Douglas K. Ousterhout plans to retire approximately two years from now, in January 2011. He will continue his practice through 2009 and 2010. This was confirmed today by his office manager, Mira Coluccio."
12-12-08: WHIR News (re UK)(posted 12-10-08): "Memset Founder Wins Two Awards"
"UK-based web hosting provider Memset (www.memset.com) announced on Wednesday that its co-founder and managing director, Kate Craig-Wood, has won the Demeter award at the 2008 NatWest Everywoman National Awards. . . The NatWest Everywoman National Awards was founded six years ago by Everywoman, an organization for women in business, to showcase the successes of female business owners, many of whom have overcome significant hurdles to get to where they are, says the organization. As entrepreneurial women go, Craig-Wood bears the unusual distinction of having been an entrepreneur previous to having been a woman; Craig-Wood underwent gender reassignment surgery in 2005. Perhaps ironically, she says she has since encountered challenges trying to be taken seriously as a woman in a male-dominated industry. Those challenges may make Craig-Wood further emblematic of some of the spirit of the awards."
12-12-08: Get Surrey (UK): "Sex change Kate has never looked back"
"A Guildford woman has revealed how a sex change has helped her conquer the business world. Kate Craig-Wood was a man up until three years ago, but last week she was named one of the main winners at the NatWest Everywoman Awards." (Note the disrespectful spin in this article, and the great contrast in tone with the WHIR News article above )
12-11-08: ILGA: "T-informa 012 - 2008: Report of Second Trans Pre Conference and One year of T-Informa"
"One year ago we published the first Bulletin T-Informa of Trans Secretariat of ILGA, with the idea to create an space of interaction for trans collective, give information of trans global identity and also be a reference for the trans community. In this year we had learnt a lot, had been a personal and collective learning. Looking for give a voice to trans community we had talk about different trans personalities, we had published articles and interviews, also letters and other contributions, we relieve not only contemporary people, also some personalities that are part of the past to remember their contributions to trans visibility and also in the fight for the respect of human rights for trans population."
12-11-08: PrideSource: "Washington embraces trans athletes"
"No one had ever asked, so we had no policy," recalls Jim Meyerhoff, assistant director of the WIAA - the governing body for all Washington state high school sports. "But when we got four requests in one year, our board and executive director felt the need to explore the situation."
12-11-08: Russia Today (re Finland): "Gender bender upsets Church in Finland" - "A vicar in Helsinki has joined what appears to be a nationwide rush to change sex in Finland. After more than half a century as a man, Olli Aalto has chosen to become a woman. He's one of 1,000 Finns who've chosen to switch gender."
12-11-08: Asia One News (Singapore): "Going point blank on transgenders among us" - "Inspired by senior writer Wong Kim Hoh's provocative work, RazorTV journalist Goh Shi Ting, decided that she too, wanted to shed light on the - hush-hush - issue of transgenders in Singapore"
12-11-08: Express Buzz (India): "We deserve dignity, acceptance"
""I want to live a life of dignity." "Is the society thinking why we are begging or into sex trade?" "When will the society stop ridiculing us?" These were some of the concerns raised by the marginalised communities on Wednesday, observed as the Human Rights Day. . . Though a government order says that transgenders be given seats in educational institutions, there is still a big difficulty faced by this community as they are not able to change their male names into female names due to complex procedures involved. This is a major obstacle when they want to pursue their career and academic dreams."
12-11-08: Nashua Telegraph (NH): "Transsexual sues over discrimination" - " Milford woman charges that PC Connection refused to hire her for a sales job after learning that she'd applied to the company as a man seven years earlier." (Read a copy of Brianna Cook's lawsuit.)
12-11-08: Outcast Films: An early release version of Gwen Haworth's film 'She's A Boy I Knew' is now available on DVD:
"Haworth's documentary SHE'S A BOY I KNEW begins in 2000 with Steven Haworth's decision to come out to his family about his life-long female gender identity. The resulting auto-ethnography is not only an exploration into the filmmaker's process of transition from biological male to female, from Steven to Gwen, but also an emotionally charged account of the individual experiences, struggles, and stakes that her two sisters, mother, father, best friend and wife brought to Gwen's transition."
12-11-08: Sunshine Coast Daily (Australia): "Transexual woman ran out of town" - "A transsexual has fled the Sunshine Coast after an alleged vicious attack on a Caloundra street left her afraid to venture outside"
Note: Social mobbing, where multiple random people join in on a mob-attack, is a common way to ostracize demonized people in traditional societies (as in medieval Europe and in many conservative regions today). It is one of the most feared situations transpeople face in such societies.
12-11-08: The Edge (Boston): "HRC Releases New Faith Resources on Transgender Education and Advocacy"

12-10-08: Endocrine Today: "Easing transitions with gender assignment"
"Gender assignment can be difficult when a child is born with a disorder of sex development. Obviously, clinicians and parents try to make the decision that is right for the child. Despite the best efforts of caregivers, however, occasionally a child with a DSD will announce a desire to change gender." (A discussion of gender reassignment in intersex people who reject their birth assignment. Note the promotion of the DSD terminology by the author)
12-10-08: Dallas Morning News: "Gay rights groups protest Vatican decision"
"A coalition of gay rights groups has put out the statement below, protesting the Vatican's opposition to an international effort to decriminalize homosexuality. . ."As faith leaders we were shocked by Vatican opposition to this proposed initiative. By refusing to sign a basic statement opposing inhumane treatment of LGBT people, the Vatican is sending a message that violence and human rights abuses against LGBT people are acceptable."
12-10-08: IPS (re Mexico): "MEXICO: Supreme Court Debates Transsexual's Right to Privacy" - "When transsexuals or transgender persons in the Mexican capital have their birth certificates altered to reflect their change in identity, is it legal to include a notation on the new document indicating that Ms Y used to be Mr X?"
12-10-08: The Times of India (India): "Mayor lends an ear to transgender woes"
"City mayor Rajlaxmi Bhosale on Tuesday promised to look into matters concerning the 5,000-strong transgender community in the city. She assured members of the community that she would explore the possibility of giving them some kind of identification, so that they can lead a dignified life. . . It was a moving experience not just for the mayor, who heard their woes, but also for members of the transgender community, as they fought to keep back their tears." (an important story out of India)
12-10-08: Thanhnien News (Vietnam): "Transsexuals find new body doesn't ensure happiness"
Note: Small numbers of transwomen in Vietnam are now obtaining surgical help in Thailand, but face difficulties because of a lack of proper aftercare back in Vietnam.
12-10-08: The Edge (Boston): "Trans Politicians Move Into Mainstream"
12-09-08: San Jose Mercury News: "Parents irked that transgendered junior high students can use boys' or girls' restrooms"
"Two San Rafael parents are upset by a school policy that allows students who identify as a different gender to use the restrooms and locker rooms assigned to that gender. . . But San Rafael school officials say the policy is in keeping with state law . . ."A subject's discomfort does not have the same legitimacy on a legal basis as supporting the rights of an individual," said Dome, the district's legal counsel. "Based on a substantial legal record, the district must allow access to transgendered students.""
12-09-08: The Advocate (issue of 12-16-08): "Letters to President-elect Obama: Donna Rose"
12-09-08: Xtra (Canada, posted 12-04-08): "The evolution of desire- COVER STORY / How trans people are challenging our understanding of same-sex attraction"
12-08-08: Survey Notification (orig. posted 11-28-08): "Gender Variant Children: Views of Professionals, Parents and Transgender Adults"
"This study explores the childhood experiences of transgender adults, experiences of parents who are raising or who have raised a child with gender variance and opinions of professionals working with the transgender community. . . This study will provide research-based evidence with which to support the parents and their children, provide advocacy and enhance current trans-positive guidelines and contribute to trans-positive education models, training and guidelines for working with GV children" (link to participate in survey)
12-08-08: ABC News: "Delaying Puberty Could Help Gender Confused Kids" - "A Handful of US Clinics Offer Puberty Blockers to Young Teenagers " (more) (ABC News and the BBC News republish the New Scientist story of 12-05-08)
12-08-08: Newsweek: "A Religious Reaction to Gay Marriage" (discusses reactions to the cover story of Dec 6). NEW
12-07-08: TransTorah: "We are thrilled to announce the official launch of the TransTorah website"
"TransTorah's mission is to help people of all genders to fully access and transform Jewish tradition, and to help Jewish communities be welcoming sanctuaries for people of all genders." (www.transtorah.org)
12-07-08: New York Times Week In Review (re Mexico): "In Mexico, Beyond Gay and Straight"
"In the largely indigenous communities in and around the town of Juchitán, the world is not divided simply into gay and straight. While Mexico can be intolerant of homosexuality; it can also be quite liberal. In Mexico City, for instance, same-sex domestic partnerships are legally recognized. But nowhere are attitudes toward sex and gender quite as elastic as in towns like Juchitán in the far reaches of the southern state of Oaxaca." [A wonderful series of captioned photos by Katie Orlinsky of the Muxes (transgender women) of Oaxaca]
12-07-08: ILGA (orig posted 11-24-08): "24th world conference in Vienna: ILGA pursues its 30 year-long dialogue with the international LGBTI movement"
12-06-08: Newsweek: "COVER STORY: GAY MARRIAGE" - "Our Mutual Joy - Opponents of gay marriage often cite Scripture. But what the Bible teaches about love argues for the other side." NEW
12-06-08: Sunday Mercury (UK): "Cut-price sex change! A MIDLAND clinic offering sex change operations for just £1,500 is being investigated by health chiefs" (more)
12-06-08: Herald-Sun (Australia): "Human Rights and Equal Opportunities Commission pushes for third 'intersex' gender"
"The Federal Government's human rights arm plans to invent a new official status called "intersex" adding it to male and female as a legally recognised gender. The Human Rights and Equal Opportunities Commission wants people to be able to change their gender on their passports and driving licences even if they do not undergo surgery." (more, more)
12-06-08: Associate Press: "Transgender prostitute slain in Memphis shadows" - ""She didn't deserve to be killed, and she didn't deserve to be beaten like they did. No matter what gender she was, she was still a human being," said her mother, Hazel Skinner. "She was God's child.""
12-05-08: Colorado Springs Gazette: "Transgender teen decries hate at schools"
12-05-08: New Scientist (UK): "Delaying puberty could help gender-confused teens"
"Young teenagers with extreme gender identity disorder should be given drugs to block puberty so that they don't have to experience distressing changes to their bodies which they perceive to be out of line with their true gender. So say draft international guidelines (pdf format) issued by the Endocrine Society this week – the first to offer advice to doctors on this controversial issue. . . The recommendations are largely based on the experience of a clinic in the Netherlands where doctors have so far prescribed puberty blockers to more than 70 under-16s. The youngest they have treated is 11, although the majority are 12 or over. "We don't have any patient who has regretted their decision on the treatment," says Henriette Delemarre-van de Waal of Leiden University Medical Centre. . ."
(Note that Zucker is not even mentioned in this important science news article. At long last the care of youngsters who experience intense gender dysphoria is emerging out from under the institutional control of the reparatists.)
12-05-08: The Yale Herald: "Students speak up during Trans Awareness Week"
12-05-08: The Yale Herald: "Footnotes: what do other Ivies have to say about transgender issues?"
12-04-08: San Francisco Chronicle: "'10,000 Dresses': A book about gender identity"
""I was sick and tired of reading from my memoir. I wanted to write a fairy tale," says Ewert. "So I wrote the first draft of a transgender book for kids." . . . His protagonist is a child who dreams about climbing a staircase lined with magical dresses. He found the perfect gender-neutral name, Bailey, in a baby-naming book. Bailey feels like a girl, though her parents keep insisting otherwise."
(Note the rather cool coincidence in the naming of the transgender child in this new children's book.) (Amazon page, FaceBook page)
12-04-08: Gay City News: "In the Courts: Trans Name Change Win"
12-04-08: WPTV (Florida): "West Palm Beach transsexual to be on Real World" (more, more)
12-03-08: Colorado Springs Gazette: "Safety concerns among gay, transgendered students sparks UCCS rally"
12-02-08: Trans Political Blogspot: "Trans Rights Movement Is Disappearing Before Our Eyes", by Vanessa Edwards Foster NEW
12-01-08: The Australian (Australia): "Doctor avoids jail for indecent touching" - "A Melbourne doctor who indecently touched a suicidal transsexual patient under his care has avoided jail time."
12-01-08: Wired: "Dec. 1, 1952: 'Ex-GI Becomes Blonde Beauty'" - "1952: It's front-page news when George Jorgensen Jr. is reborn as Christine Jorgensen, gaining international celebrity and notoriety as the first widely known person to undergo a successful sex-change operation"
11-29-08: Express Buzz (re Nepal): "Sunil Pant: Face of freedom" - "Sunil Pant is a strong advocate of LGBT rights in the region. Having founded the Blue Diamond Society in 2001, he has played an important role in the Nepal Supreme Court's decision to respect sexual orientation and legally identify members of the third gender. Recently the court also ruled in favour of same-sex marriage." (interview about advances in legal rights for LGBT people in Nepal, with commentary on the situation in India) (see also "Nepal's gay MP fights for transgenders", posted 11-15-08)
11-29-08: Science News (issue of Dec 6, 2008): ""Your body is mine" - "A new experiment indicates that, under the right circumstances, people feel like they have swapped bodies with someone else . . .It sounds like a lost episode of The Twilight Zone. A man enters a laboratory, dons a special headset and shakes hands with a woman sitting across from him. In a matter of seconds, he feels like he's inside the woman's skin, reaching out and grasping his own hand. "Our subjects experienced this illusion as being exciting and strange, and often said that they wanted to come back and try it again," says Petkova, who reported the findings November 17 at the annual meeting of the Society for Neuroscience."
11-29-08: New York Times: "The Neediest Cases: Road to a New Identity Is Not Without Its Hazards" - "Rena Dunsworth, who spent 14 months in a homeless shelter, received art school tuition through the Neediest Cases Fund."
11-29-08: The Vancouver Sun (Canada): "B.C. Fed backs course" - "The B.C. Federation of Labour has passed an emergency resolution supporting a new high school course called Social Justice 12 and accusing the Abbotsford board of education of "homophobic and transphobia behaviour" for its refusal to offer the elective course this year. (Transphobia refers to fear or hatred of transsexual or trans-gendered persons.)"
11-29-08: Post-Standard (Syracuse, NY): Opinion: "Teish's Example" - "It is very sad if Moses "Teish" Cannon was killed because of hate and intolerance. I mourn her death and her family's loss. The coverage has identified her as gay. A sister said Teish considered herself transsexual and identified herself as such."
11-28-08: Pink News (UK re Thailand): "'Ladyboy' protests amid Thailand's political chaos" - "Unaffiliated to any political party, a group of transgender 'ladyboys' paraded past central Police Headquarters in Bangkok to protest at the lack of AIDS awareness in Thailand."
11-29-08: Herald-Sun (Australia): "Anger at golfer who swings both ways" - "A bitter feud has erupted at a prestige Brisbane golf club after it was revealed a leading member was undergoing a sex change." (more)
11-28-08: AFP (re India): "India's hijras spread safe sex message in life or death AIDS fight" - ""HIV is a very deadly disease," she said. "If we were having unsafe sex then we will die. If we lose our health, we lose our livelihood.""
11-28-08: Southern Voice (Atlanta, GA): "Transgender activists, allies rally at Capitol" - "A crowd of more than 100 braved wind and cold temperatures Nov. 20 outside the State Capitol to do just that. A bell chimed for each person and trans activist Sir Jesse McNulty played "Taps" after the names were read."
11-27-08: San Francisco Chronicle (re Italy): "Italy's transgender pol wins TV contest - and sets an honorable example" - "Vladimir Luxuria, the Italian, transgender actress and politician, served in the national parliament from 2006 to early 2008"
11-27-08: Medical News Today: "New Public Service Announcement Targeting A&PI Transgender Communities Released In Conjunction With World AIDS Day 2008" (see also announcement at this link)
11-26-08: New Straights Times (Malaysia): "House all ears over transvestites" - "The subject of transvestites and prostitution kept the House enthralled for about 20 minutes during Question Time."
11-26-08: GIDReform.org: "The Gender Gulag: Voices of the Asylum", by Kelley Winters - "Our country has abolished the atrocity of slavery, enacted civil liberties for people of color and just this month elected our first African American President of the United States. Yet, gender variant Americans are still incarcerated in mental institutions and physically and emotionally assaulted with drugs and "aversion therapies" for failing to comport to the roles of their assigned birth-sex."
11-26-08: TS Roadmap.com (posted 11-23): "The Portman Clinic and the Centre for Addiction and Mental Health: eugenic hotbeds" - "Any transgender person in the United Kingdom, especially young people, should avoid the Portman Clinic at all costs. They are as bad or worse than the CAMH Clarke Institute in Canada, widely considered the worst of the worst in terms of eugenic-oriented mental institutions that treat gender-variant people as criminals"
11-26-08: Reuters (posted 11-20): "The Vatican's gay witch-hunt continues" - "The Pope's plan for psychological tests to purge gay men from the priesthood is a new low" (Hmm...I wonder how the approved Catholic psychologists are going to conduct this purge? Maybe by using Ray Blanchard's penile plethysmograph while showing gay porn to suspects? And could Paul McHugh be the Vatican's 'scientific advisor' on this new witch-hunt?)
11-26-08: Newsday: "NY court removes bar to transgender name changes" - "The Golden case, which will now be sent back to state Supreme Court in Broome County, was brought by attorney Franklin Romeo of the New York City-based Sylvia Rivera Law Project. . . The group says that under the law, a judge cannot require medical evidence of a gender change to support name changes, but some still make that mistake."
11-26-08: Bay Windows (Boston): "Remembering our dead", by Ethan Jacobs" - "Ten years after the murder of transwoman Rita Hester the transgender community and its allies returned to the scene of her murder in Allston to commemorate the Transgender Day of Remembrance." - "To view a slideshow of more of Marilyn Humphries' photos of the Transgender Day of Remembrance go here."
11-26-08: The Star (Malaysia): "Gender poser: The Doctor Says", by Dr. Milton Lum - "While the causes of gender identity disorders are still disputed, one thing is certain – these patients need care and compassion, rather than discrimination"
11-25-08: SF Weekly: "Border Crossers" - "Long rap sheet? No problem. Transgender Latina hookers in S.F. are successfully fighting deportation by asking for asylum" (feature article regarding the issue of asylum for latin american transgender immigrants.)
11-25-08: Nouse (York University, UK): "Born the wrong sex" - "Though in previous years those who changed their gender identity were isolated, the thrust of transgender rights at York has gained considerable weight."
11-25-08: Latin American Herald Tribune (re Mexico): "Crying Game: Mexico City Transsexuals Can Get New Gender IDs" - "Those eligible for the benefit are those people who have a report issued by two specialists certifying that they have undergone - or are in the process of undergoing - a sex-change procedure, whether or not it involves surgery."
11-25-08: WE TV: "The World's Worst Sex Change Surgeon - Tuesday, November 25 at 11pm | 10c" - "John Ronald Brown—to some of his patients he was a hero, to many more he was the worst surgeon to ever pick up a scalpel. Operating out of garages, offices and motel rooms Brown left many of his patients dead or horribly maimed."
11-25-08: News10Now (Syracuse, NY): "Human Rights Commissioner talks about transgender death"
11-24-08 OregonLive.com: "Silverton rebuffs protest of transgender mayor-elect"
11-24-08: The Massachusetts Daily Collegian (Univ.of Mass): "Transgendered community remembers those fallen" - "At the end of her speech, Jennifer Levy quoted labor organizer Mother Jones with words that rang true for everyone present: "Pray for the dead and fight like hell for the living.""
11-24-08: NY Daily News: "Shelter for youths on the brink" - "A controversial Astoria shelter for gay and transgender young people may be forced to shut down if it doesn't receive a quick infusion of cash"
11-23-08: Reuters (re Mexico): "Mexican transvestite fiesta rocks indigenous town" - "Anthropologists say the tradition of blurring genders among Mexico's indigenous population is centuries old but has been revived in recent decades due to the gay pride movement." NEW
11-23-08: Express Buzz (India): "Plight of a transgender" - "Despite all constraints I will survive, says a determined Sree Nandu, the transgender about whom a documentary film was screened here on Saturday."
11-23-08: Syracuse Post-Standard: Feedback: "Paper devalued transgendered victim"
11-23-08: The Guardian (UK): "Porn addicts, sex offenders, rapists, paedophiles...Simon Garfield meets the therapists helping the people who can't help themselves"
"The Institute (Institute for the Study and Treatment of Delinquency) had been formed to examine the fringes of society. Founded during the political and social upheaval of the interwar years, it dealt with those thrown up and then tossed aside by a turbulent world, and its mainstay was troubled youth. The clinic attracted the psychoanalytical superstars of the day . . . The Institute saw cases of habitual criminality, desperate addiction, extreme violence and sexual perversion. Today, 75 years later, under its less revealing but more aesthetically pleasing name of the Portman Clinic, two things have changed. The caseload has increased and there's a lot more sex.
". . . I asked whether it would be possible to speak to a patient, or hear a specific case study. . . I was told this would be out of the question. . . . if a patient believed that their case was being discussed with a stranger, or if they even suspected that a disguised description might be depicting them, then years of intricate work and hard-won trust could be jeopardised. . . But Ruszczynski did give me a copy of an audit showing the reason that patients were referred to the Portman. Most were there because of 'compulsive sexual behaviours' - fetishism, transvestism, transsexualism - and some for sexual and criminal offences, including exhibitionism. The most severe cases made up about 17 per cent of the total: rape, paedophilia, sexual assault."
[Note how the Portman Clinic treats transgender and transsexual people as 'compulsive' sexual deviants, and lumps them in among pedophiles, exhibitionists and rapists. Reminiscent of the Clarke Institute (CAMH) in Toronto (which has a similar historical background), this 75 year old mental health facility is where many young trans youth are sent for "treatment" in the UK today, as you will see at this link.]
11-22-08: Taipei Times (Taiwan re Germany): "Sky no longer limit for sex-change pole vaulter" (see also Balian Buschbaum's homepage)
11-21-08: PhysOrg.com: "Hairspray is linked to common genital birth defect, says study" - "The study is the first to show a significant link between hairspray and hypospadias, one of the most common birth defects of the male genitalia"
11-21-08: Express Buzz (India) "Life in dire straits " - "Surviving a witchhunt"
". . . police claimed they had rescued a teenage boy from a "gang of hijras" who had allegedly castrated him without consent. They claim they have broken up a racket, but there are many unanswered questions about the case, which is still under investigation. Nothing has been proved yet but this hasn't stopped the authorities from using the incident to vilify the community and justify its harassment. As Jenny (name changed) puts it, "After this case, everybody is looking at us as if we are monsters out on the prowl. If this abusive and discriminatory atmosphere prevails, I am worried about what the future holds for us." . . . The huge furore surrounding a ninth standard boy who was allegedly castrated and operated upon to "make him a eunuch" had the city baying for the blood of the entire community."
11-21-08: Times of India (India)(posted 11-20-08): "Teen undergoes forced sex change surgery by eunuchs" (note: articles like this, by uncritically propagating an old urban myth about the Hijra, are whipping up public hysteria and spawning a witchhunt against them in India)
11-21-08: Human Rights Watch (re India)(posted 11-18-08): "Human Rights Watch letter to Indian PM Manmohan Singh: Illegal Mass Evictions Against a Transgender Community"
"Specifically, we ask you to institute a comprehensive investigation into the incidents of October 20-21 and of November 9-10, and take appropriate action against those found responsible. We ask that the eviction notices served by police be immediately revoked and that authorities assist the affected hijras to return to their homes or to find comparable housing. We also ask you to make a public statement condemning discrimination and abuse based on sexual orientation and gender identity, and affirming the rights of all Indian people, including hijras and sex workers, to live their lives free of societal or state-endorsed violence."
11-21-08: TransGriot: "Isis On Tyra" - "TransGriot Note: The YouTube video finally has been uploaded, so for those of y'all who didn't get to see Isis' appearance on the Tyra Banks Show Tuesday, here it is."
11-21-08: EU Observer (Europe): "Transgender people face fear and hate across Europe"
"Attitudes towards gays and lesbians in much of Europe and around the world may have made remarkable advances over the last 20 years, even if some regions of the EU are more hospitable than others. But for transgender people, discrimination, marginalisation and outright hostility remain part of daily experience." (note the cool photo of a transwoman showing "XY" in the palm of her hand)
11-21-08: Washington Blade: "2 transgender women murdered in Tenn., N.Y." - "Activists say hate crime violence an 'epidemic' "
11-20-08: Arizona Daily Star: "Brennet's life transition sparks musical growth" - "Namoli Brennet's name is inspired by the word "anomaly," meaning an exception to the rule."
11-20-08: Pink News (UK): "Education minister reveals new guidance for schools on gender identity"
11-20-08: Transgenderdor.org: "10th Annual Transgender Day of Remembrance: November 20, 2008" - "Events and Locations"
11-20-08: San Jose Mercury: "Transgender community seeks end to violence, discrimination" - "The vigil is part of Transgender Day of Remembrance, an international annual event launched 10 years ago after the stabbing death of transsexual Rita Hester in Boston. Organizers want to not only remember the dead, but call attention to the continuing violence."
11-20-08: Transfaithonline: "10th Annual Transgender Day of Remembrance: November 20, 2008" - "Remember: Faith Communities Can Save Transgender Lives . . . Too many of us have not only heard "God condemns you" -- but also "It would be better if you were dead." It is a profound and important step for every faith community to join in a resounding chorus that condemns all forms of violence against people who are differently gendered."
11-20-08: Los Angeles Times: "The mayor-elect's new clothes: Silverton, Oregon, elects a transgender leader"
11-19-08: Zee News (re India): "HRW asks India to stop violence against trans-genders"
"A leading international human rights watchdog has asked India to stop what it called "pattern-driven violence and abuse" by authorities against hijras (trans-genders). In a letter to Indian authorities, the Human Rights Watch described the action against hijras as "organised police campaign of social cleansing." It alleged that about 100 hijras were evicted from their rented accommodation on police orders earlier this month in an Indian city and most of them lost their security deposit and belongings"
11-19-08: Edge (Boston): "Transgender Advocacy Group Calls Upon Authorities to Fully Investigate Transgender Woman's Death" - "Green, who was transgender and lived as a woman, was shot and killed outside a house party in Syracuse on Friday, Nov. 14. Local media reports indicate Dwight R. DeLee, 20, allegedly shot Green because he thought she was gay."
11-19-08: GIDReform.org: "Autogynephilia: The Infallible Derogatory Hypothesis, Part 2, by Kelley Winters (see also Part 1)
The term "autogynephilia" and its corollary "homosexual transsexualism" mean far more than descriptions of erotic phenomenon. They have come to represent an over-arching body of derogatory stereotypes that are promoted as science but remain dogmatically resilient to contrary evidence. "Autogynephilia" in particular represents an affront to the human legitimacy and dignity of many transitioned women. It serves no constructive purpose in an evidence-based diagnostic nosology. I strongly urge the American Psychiatric Association to remove this offensive term from the supporting text of the GID diagnosis and refrain from adding it to the nomenclature of paraphilias in the DSM-V."
11-19-08: The Canadian (Canada): "Gender diversity: A Transsexual Woman's view of Sexism - An interview with Julia Serano"
"Most people, because they can't figure out why [men] would want to be women, assume that trans women transition for the one type of power that women are portrayed as having in our society, which is the ability to attract men. And this essentially sexualizes the motives of transsexual women. This is seen all the time, both in psychiatry and in mainstream media, where trans women are portrayed as sex workers or sexual deceivers preying on innocent straight men, or cross-dressers are portrayed as fetishizing femininity. What's implicit in that is that women have no worth beyond their ability to be sexualized."
11-19-08: The Canadian (Canada): "U.S. surgeon explores the Feminization of the Transsexual", by Douglas K. Ousterhout, M.D., D.D.S."
"Looking feminine is, of course, extremely important to you. First impressions are often based just upon your face. That which is first seen in an initial contact is frequently what defines you. It establishes not only who you are, but often what sex you are as well. As a transsexual, perhaps nothing is more important to you than appearing sexually the same as you feel emotionally. Facial feminizing surgery can help bring these two together."
11-19-08: Herald-Sun (Australia): "Doctor touched transsexual patient: A doctor has been found guilty of performing an indecent act on a suicidal transsexual patient." (more)
11-18-08: Popsci.com"Discovery of a "Transsexual Gene" Raises More Questions Than Answers" - "New research suggests transsexualism is indeed a genetic trait. But how conclusive is the study?"
11-18-08: Chicago Tribune: "Tyra Banks is making a model's wish come true" - "On her show, Banks surprises Isis King, the first transgender contestant on "America's Next Top Model," with the news that she'll be getting sex reassignment surgery. The talk show episode airs Tuesday. "This is not happening!" King, who was born Darrell Walls, says when Banks introduces her to Dr. Marci Bowers, a gender reassignment surgeon who also is paying for the surgery, UsWeekly reports." (more, more)
11-18-08: TS Roadmap.com: "APA Task Force on Gender Identity and Gender Variance" -
"At their 2008 annual meeting, the American Psychological Association (APA) released a report by their Task Force on Gender Identity and Gender Variance. They then adopted a resolution based on that report.
Beneath its façade of supportive and progressive language, the report promulgates the most controversial and conservative views about transgender people, while dismissing or downplaying more progressive, more ethical, and more scientifically rigorous literature.
For years, this task force waged a war of attrition against those who wanted the report to reflect the diverse literature on trans issues, especially from those in the trans community.
I have created an annotated version that shows the changes made since the draft was sent out for comments. Because the draft was sent out as a 195-page hard copy only, APA severely curtailed debate about the contents. My annotations include highlighted text and comments." - Andrea James [PDF copy of Andrea's color-coded comparison of original vs final report]
11-18-08: The Canadian (Canada): "Transgender and Crossdressers: Whose news?" by Gina Lance - "First, the days of a guy who likes to wear women's clothes being a newsworthy event are just about over. . . Even most transsexuals are not even newsworthy anymore unless the headline can read: Transsexual Man Having Baby. . . Most transsexuals, like most crossdressers, lead a pretty ordinary life and blend into society quite well. They are not as newsworthy as the days of Christine Jorgensen having her sex change! . . . So you ask… 'Gina, who makes the news?' Well if you're not a tranny bank robber, or a FTM pregnant transsexual, or a TG hooker caught with a movie star . . . then odds are you're just not newsworthy."
11-18-08: MCOT.net (Korea): "Transsexuals should be allowed to change legal gender without surgery: watchdog" - "Transsexuals should be allowed to change their legal gender without undergoing a sex-change operation, South Korea's rights watchdog said Monday, suggesting the Supreme Court amend its transgender guidelines."
11-17-08: io9.com: "Mad Science: Gender-Bending Body Swap Experiment Leaves Subjects Wanting More" - "The research team at the Karolinksa Institute presented their findings today at the annual meeting at the Society for Neuroscience. They provided male and female volunteers with sensory input to convince them that they had switched bodies with another person or a mannequin" NEW
11-17-08: TS Roadmap.com: ""JT LeRoy," "Danny Ryan," and "transkid" hoaxes" - "The "transkid" fraud JT LeRoy has been back in the news."
11-17-08: Los Angeles Times: "Pope's new edict on the priesthood: How can psychologists ethically help the Catholic Church screen out gay priests?" - "In this country, the 1st Amendment allows the church to bar homosexuals from the priesthood, just as it does women. But even many Catholics will be horrified by the idea of the church employing psychologists to "out" prospective priests."
11-17-08: New York Times: "Murder of Transgender Woman Revives Scrutiny"
11-17-08: The Local (Sweden): "Transvestism 'no longer a disease' in Sweden" - "Transvestism, along with six other sexual behaviours, will be struck from Sweden's official list of medical diagnoses starting on January 1st, 2009. . . .The other diagnoses which will soon disappear from the disease registry include fetishism, fetishistic transvestitism, sadomasochism, gender identity disorder in youth, and multiple disorders of sexual preferences." (Note: transsexualism is still listed as a mental illness there)
11-17-08: UKgaynews (UK re Nepal): "Tears of Joy for Nepali Gays, Transgender Persons over Supreme Court Decision" - "There were tears of joy in the Nepali LGBT community today when the Supreme Court published its full written decision on a petition demanding both protection and rights for sexual and gender minorities"
11-16-08: The American Prospect (posted 11-12-08): "Trans in the Red States" -"A grass-roots movement for transgender rights is flourishing in some of America's most conservative regions. And if successes like these are possible here, they're possible anywhere"
11-16-08: Los Angeles Times: "Wrangling over psychiatry's bible" -
"Over the summer, a wrangle between eminent psychiatrists that had been brewing for months erupted in print. Startled readers of Psychiatric News saw the spectacle unfold in the journal's normally less-dramatic pages. The bone of contention: whether the next revision of America's psychiatric bible, the "Diagnostic and Statistical Manual of Mental Disorders," should be done openly and transparently so mental health professionals and the public could follow along, or whether the debates should be held in secret.
One of the psychiatrists (former editor Robert Spitzer) wanted transparency; several others, including the president of the American Psychiatric Assn. and the man charged with overseeing the revisions (Darrel Regier), held out for secrecy. Hanging in the balance is whether, four years from now, a set of questionable behaviors with names such as "Apathy Disorder," "Parental Alienation Syndrome," "Premenstrual Dysphoric Disorder," "Compulsive Buying Disorder," "Internet Addiction" and "Relational Disorder" will be considered full-fledged psychiatric illnesses. "
Note: In this important article, Christopher Lane (author of Shyness: How Normal Behavior Became a Sickness) discusses the escalating controversy about the DSM revision process and raises serious questions about credibility of the DSM. This is a must-read for everyone concerned about the psychiatric defamation of gender variant people as being 'mentally ill'.
11-15-08: Express Buzz (re Nepal): "Nepal's gay MP fights for transgenders"
11-15-08: Liverpool Daily Post (UK): "Sex-change pioneer April to hold court"
11-14-08: ABC News: "Transgender Couples: Changing the Face of Family" - "A Spectrum of Paths to Parenthood, Long Before Pregnant Man Thomas Beatie"
11-14-08: Tonight on ABC 20/20: "Barbara Walters Exclusive: Pregnant Man Expecting Second Child" - "In First Interview Since Giving Birth, Thomas Beatie Tells Barbara Walters About Life With Daughter Susan"
11-14-08: Southern Voice: "'Uniting for the greater cause': Day of Remembrance memorializes transgender dead, brings awareness to the living"
11-14-08: ExpressIndia.com (India re Nepal): "Nepal MP speaks for rights of sexual minorities"
11-14-08: Merinews (India): "Freeing transexuality from taboo: Study" - "Although the scientists said that further research would be required to support the claims, it's indeed a reason for all the transsexuals of the world to cheer up and for the people to change their attitudes towards them"
11-13-08: Examiner: "The 'pregnant man' is back...with another baby on board" - "Yup. In this morning's disturbing news, Barbara Walters revealed on The View that the "pregnant man," Thomas (nee Tracy) Beatie, is pregnant yet again" (more, more)
11-13-08: WCAX-TV (Vermont): "Becoming, Part 2: The Mental and Medical Sides of Transgender"
11-13-08: Bianet (Turkey): "LGBTT March For Slained Transsexual İnce" - "Transsexual Dilek İnce, who was killed by a gun shot in Ankara, was interred by family and friends. The members of the Lesbian, Gay, Bisexual, Transvestite and Transsexual (LGBTT) Rights Platform marched to the Prime Ministry to protest the killing"
11-13-08: Helsingin Sanomat (Finland): "Number of transgender cases has increased severalfold in recent years: One year waiting list for surgery" - "The number of those wishing to change their sex has multiplied in recent years. In 2003-2006 around 40 people per year sought treatment from the relevant clinics in Helsinki and Tampere. Last year's corresponding figure was about 90, and this year even more patients have called at the clinics dealing with transgender issues"
11-12-08: Stanford Univ. Med. Center Press Release: "Stanford Author Explores Struggles of Intersex Individuals, Their Families and Doctors" (link to Katrina Karkazis' new book: Fixing Sex: Intersex, Medical Authority, and Lived Experience)
11-12-08: WCAX-TV (Vermont): "Understanding Transgender"
11-12-08: Aurora Sentinal (Colorado): "Friends reject police's take on transgender woman's death"
11-12-08: Nashville Scene: "Transgendered in Tennessee--Dangerous Enough For New Legislation?" (more, more)
11-12-08: The Times of India (India): "Conflicts surface over sex-change racket"
11-12-08: The Vancouver Courier (Canada): "Switching gender and outfits at transsexual clothing swap"
11-12-08: The University Daily Kansan: "Speaker sheds light on transgender life" - "Debra Davis visits the University tonight for KU Queers and Allies' Transgender Awareness Day"
11-11-08: Guardian (re Peru): "Peru: sex work or school?"
"In the city of Iquitos, in the Peruvian Amazon, attitudes towards gender roles and sexual orientation are comparatively relaxed. But despite the thriving gay and transvestite scene, members of the cross-dressing community, known as chivas, still face prejudice and violence. Sixteen-year-old Rober has been working as a transsexual prostitute since he was 12. Donning his girlish clothes and wig every night, he says that he's happier on the streets than at school, despite the risks to his safety.
I became a prostitute out of necessity, but also for the adventure. At first it seemed nice, but later I realised that what we do is very risky. But that is how you get to know life.
I used to watch the older chivas [transvestite prostitutes] and it looked like fun. I started from my own free will – no one forced me to. I was 12 years old.
People ask me why I like to dress up as a woman. I just really enjoy it. I feel pretty. I made a wig from the hair of my friends when I cut their hair for free. It takes a long time to get ready at night and I know I can't go on like this forever. When I'm dressing up, my breathing gets heavier and I feel more like a woman – I feel sexier. That is how I become Violeta."
11-11-08: GIDReform.org: "Autogynephilia: The Infallible Derogatory Hypothesis, Part 1", by Kelley Winters
"The term "autogynephilia," meaning "love of oneself as a woman," was first introduced by Dr. Raymond Blanchard of the Clarke Institute of Psychiatry, now known as the Centre for Addiction and Mental Health in Toronto. He is currently chairman of the Paraphilias Subcommittee for the upcoming DSM-V. Blanchard stated that,
"All gender dysphoric males who are not sexually oriented toward men are instead sexually oriented toward the thought or image of themselves as women."
The absolutism in this statement, in the words "all and "instead," seems astonishing. It reduces a broad continuum of sexuality among transwomen to two narrow maligning stereotypes: either "homosexual males" in denial of a "homosexual" identity or pathological narcissistic "males" sexually attracted to themselves."
11-11-08: Edge (Boston): "Transgender Victim of Police Beating Found Dead in Memphis" - "A transwoman whose videotaped beating at the hands of police helped spark a movement to fight police brutality in Memphis was found shot to death Nov. 9" (more, more, more)
11-11-08: Merinews (India): "Is being a transsexual a sin?" - "Discrimination, oppression, injustice, endless are the woes of transsexuals, who seek a fair deal from society. But their woes continue, as the tinsel world too has begun to tease them on the big screen to generate a giggle or two at their expense."
11-11-08: Christian Newswire: "Will Federal Female Employees Be Safe from Cross-Dressing Men Using Ladies' Restrooms in the Obama Administration" (conservative Christians and reactionary Catholics are now ramping up their communities' hysteria over cross-dressing) (more)
11-11-08: TV Guide: "Transgender Doctor Talks Sex Change Hospital" - "We caught up with Dr. Marci Bowers (formerly Mark Bowers), who has performed over 550 male-to-female sexual reassignment surgeries, to find out more about the life-changing operations at her clinic in Trinidad, Colo. . . " (more)
11-11-08: YLE (Finland): "Imatra Vicar Plans Gender Reassignment Surgery" (more)
11-10-08: The McGill Daily (Canada): "Non-normative gender is not a disease", by James Albaugh -"These diagnoses (Transvestic Fetishism and Gender Identity Disorder), which govern how transgender and gender non-conforming people interact with mental health providers, reflect stereotypes rather than actual people – and, with perverse irony, often hurt the people they're supposed to help. . . Perhaps most perversely, these diagnostic criteria allow people who retreat deeply into the closet – which can be very damaging to one's mental health – to escape a GID diagnosis and the social stigma of mental illness. At the same time, those who decide whether or not to transition, and by how much, are happy with who they are, yet they remain marked with that stigma for the rest of their lives."
11-10-08: Common Language Bookstore, Ann Arbor, MI: "Book Release Party: When The Opposite Sex Isn't: Sexual Orientation in Male-to-Female Transgender People, by Sandra Samons, Ph.D." - Reading and Reception, Thursday, November 13th, 7:00 p.m.
"When the Opposite Sex Isn't is unlike any psychological account. Instead of cramming trans individuals into pre-existing etiological theories and taxonomies, Samons provides insights into transgender people's lives and includes numerous helpful anecdotes that demystify their experience. This book will be appreciated and enjoyed by therapists and people interested in gender identity, human sexuality and transgender issues." - Julia Serano, author of Whipping Girl: A Transsexual Woman on Sexism and the Scapegoating of Femininity
"Sandra Samons reveals with empathy and sensitivity the journey of self discovery and social emergence transgender people experience as they reshape their lives. It's all here: from the wonderings of a child, to some questioning if it's 'too late', to the wonders of lives fulfilled. More importantly, Samons' observations of the primacy of gender identity and the plasticity of sexual orientation during transitions raise deep questions about human nature and the words we use to describe ourselves." - Lynn Conway, Professor Emerita at the University of Michigan, Ann Arbor; author of the transgender information website LynnConway.com

11-10-08; PamsHouseblend: "And now Duanna Johnson Is Dead", by Autumn Sandeen - "There's an article out today, published by Eyewitness News, Memphis, Tennessee. It's entitled Homicide Victim Identified as Transgendered Person, Duanna Johnson. Her name may be familiar to you. Duanna was the Tennessee transgender woman who was shown on surveillance tape being beaten by Memphis Police Officers -- it was reported on just this past June."
11-10-08: The Advocate: "Sex. Gender. Employment Discrimination" - "One woman's successful lawsuit against the Library of Congress could spell more legal victories for transgender employees across the country."
11-10-08: BBC News (UK): "Kidman 'to star as transsexual'" - "Actress Nicole Kidman is to play a transsexual artist in film The Danish Girl, it has been reported." (more, more)
11-10-08: Los Angeles Times: "Schwarzenegger tells backers of gay marriage: Don't give up" - "The governor expresses hope that Proposition 8 would be overturned as protesters continued to march outside churches across California."
11-10-08: YuoTube: "MSNBC Keith Olbermann on Prop 8, Marriage and more!" NEW!
11-10-08: San Frencisco Chronicle: "Same-sex marriage backers hit Capitol, churches" - "The backlash against the state's new ban on gay and lesbian marriage intensified over the weekend, with thousands of people gathering around the Bay Area and California during mostly peaceful protests."
11-10-08: Mangalorean (India): "Bangalore: Sex change racket - Financer arrested"
11-09-08: Record: "A journey from he to she" - "Ulster principal speaks about changing sexes" NEW!
11-08-08: San Jose Mercury News: "Proposition 8: Historic turning point, or just another battle in the culture wars?"
11-07-08: Gsscene (UK): "Natasha Thoday claims tribunal victory" - "The Council's legal team in effect directed a Council employee to break the law and not provide Miss Thoday with a reference for three years . . . Everyone involved with trying to cover up Miss Thoday's plight within Brighton Council should hang their heads in shame" NEW!
11-07-08: Gsscene (UK): "Guilty on 6 Counts!" - "The General Teaching Council for England has ruled that a former Education, Training and Employment Manager at Brighton & Hove City Council was guilty of discriminating against a teacher because she was transgender" NEW!
11-07-08: Transgender Foundation of America (TFA) Press Release: "Houston Studies the Transgender Community"
11-07-08: Associated Press: "Utah faces boycott after Mormon work for Prop 8"
11-07-08: The Oregonian: "Silverton gives its vote to transgendered mayor" (more, more, more)
11-07-08: Pink News (UK): "Celebs split over trans protest at Stonewall Awards" - ""This should make organisations like Stonewall sit up and take notice - if you trample on trans rights, you will get called out on it very vocally and very publicly.""
11-07-08: The Washington Blade: "Black gays celebrate Obama's win" - "His presidency will be one of inclusion: activist"
11-06-08: Xtra (Canada): "Tapping into trans-feminism" - "Feminist movement could benefit from an alliance with trans men." NEW!
11-06-08: The Daily Beast: "Did Obama's campaign draw out the black vote and doom Proposition 8? Many gays seem to think so." - "For gay Democrats, the election was a landslide that swept them up one moment and buried them the next."
11-06-08: The Local (Swedish news in English): "Free fake penises raise functionality flap" - "A decision to allow transsexual men in Sweden to get prosthetic penises free of charge from local health authorities has drawn criticism because the prostheses on offer don't get erect."
11-04-08: San Francisco Chronicle: "Castro celebrates Obama, bemoans a Prop. 8 win"
11-04-08: The New York Times: "Fighting for the Rights of Transgender Voters" - "Voter registries often carry the transgendered voter's birth name, which doesn't match their newly adopted names. As a result, many of these voters are turned away at the polling place and often shy away from trying to correct the problem immediately and cast their votes"
11-04-08: Indianapolis Star: "Now more than ever, we need to pass hate crimes law"
11-04-08: The Daily Mail (UK): "Top Muslim doctor suspended for saying 'transsexuals are twisted and society needs protection from gays'"
11-03-08: The National Health Service (UK): "Trans: A practical guide for the NHS"
"Trans: A practical guide for the NHS is a hundred page manual covering every aspect of what managers need to understand and do in order to ensure that trans people experience equal outcomes with NHS organisations – both in the provision of services, and in access to employment. The new guide provides extensive background on trans people's lives, along with clear direction on why it is important that NHS policy should ensure equal outcomes. It covers the requirements of the law in detail, and identifies areas where managers should be seeking to do more than merely comply. Separate sections deal with employment and with service commissioning and delivery – with practical tips for what to include in the action plans for equality schemes. Service planning and delivery issues do not just focus upon gender reassignment, but include life-long care for patients who have a trans background." - (download the document from this page)
11-03-08: The Hindu (India): "Transgenders to get free education" - "TIRUCHI: Bharathidasan University has come forward to offer free education and job training to bring about academic and economic inclusion of transgenders through its Centre for Distance Education"
11-03-08: The Chicago Tribune: "Pay gap after sex change studied" - "A recent study has found a new way to examine pay disparities between men and women: comparing the salaries of transgender employees before and after their gender changes. The study . . . found that although the average earnings for women who changed their gender increased slightly after the transition, it fell by nearly a third for workers who went from male to female."
11-02-08: GIDReform.org: "Disordered Identities: The Ambiguously Sexual Fetish", by Kelley Winters
(The) Diagnosis of Transvestic Fetishism (as a mental illness in the DSM) is limited to heterosexual males . . . Curiously, women and gay men are free to wear whatever clothing they chose without a label of mental illness. This criterion serves to enforce a stricter standard of conformity for straight males than women or gay men. Its double-standard not only reflects the social privilege of heterosexual males in American culture, but enforces it. One implication is that biological males who emulate women, with their lower social status, are presumed irrational and mentally disordered, while biological females who emulate males are not. A second implication stereotypically associates femininity and cross-dressing with male homosexuality and serves to punish straight males who transgress this stereotype. . .
More disturbing, the supporting text lists "involvement in a transvestic subculture" among symptomatic "transvestic phenomena." Psychiatric diagnosis on the basis of social, cultural or political affiliation evokes the darkest memories of medical abuse in American history. For example, women suffragettes who demanded the right to vote in the early 1900s were diagnosed and institutionalized with a label of "hysteria." Immigrants, Bolsheviks and labor organizers of the same era were labeled as socially deviant and mentally defective by psychiatric eugenicists. In truth, transgender support organizations worldwide are a primary source of support, education and civil rights advocacy for gender variant people, families, friends and allies. Their necessity is a consequence of social intolerance, not of mental deficiency. . ."

11-02-08: The Guardian (UK): "This is the woman who played the man who became a transsexual and fooled the world for six years" - "Between 1999 and 2005, Savannah Knoop lived an audacious double life as Jeremiah 'Terminator' LeRoy - a sex-change Aids sufferer whose stories, based around his white-trash upbringing and life on the streets, turned him into an overnight literary sensation. Polly Vernon unravels a twisted tale" (more: ". . .And she might have continued in the role if, in 2005, The New York Times hadn't exposed the hoax perpetrated by Knoop and her sister-in-law Laura Albert, the real author of the LeRoy books.").
11-01-08: The New York Times: "The Sea Horse, Our Family Mascot" - "Eli is a transgender man, and lived the first 20 years of our lives as my fraternal twin sister. I have plenty of memories of my twin as a little girl, as Emma, not Eli. More often, though, my memories adjust to represent Eli as I know him now, as my brother."
11-01-08: Out & About Newspaper: "TTPC president awarded by Baltimore Black Pride" - "Marisa Richmond, president of the Tennessee Transgender Political Coalition, has received the 2008 Baltimore Black Pride Chairwoman's ICON Award for her years of work toward advancing GLBT-issues."
October 2008
10-31-08: YouTube video interview: "Eden Lane One on One with Congressman Mark Udall" - Colorado Senate candidate, Congressman Mark Udall spoke with Eden at a campaign event, including commenting on ENDA and the issue of Transgender workplace discrimination.
10-31-08: Science Daily: "Study In Transsexuals: Significant Genetic Link To Gender Identity" (see also many links at 10-27-08)
10-30-08: Pink News (UK): "London hosts its first trans film festival" - ""We aim to increase trans visibility and acknowledgement, question the gender binary, dispel ignorance and demystify stereotypes, unite and support a diverse LGBTQI community and celebrate trans spaces and their friends"
10-30-08: The Press Association (re UK): "Doctor storms out of GMC hearing" - "A Muslim doctor accused of writing a virulently homophobic letter to a magazine for GPs has claimed he could not receive a fair trial and stormed out of the General Medical Council hearing." (see also original story of 10-23-08)
10-30-08: News.gov.hk (Hong Kong): "Poster contest to fight workplace prejudice" - "Entries are invited for the "No Sexual Orientation Discrimination in the Workplace" poster design competition the Constitutional & Mainland Affairs Bureau's Gender Identity & Sexual Orientation Unit is organising" (link to the GISOU website)
10-29-08: Eden Lane interviews (YouTube): "Eden Lane at the ACLU of Colorado Awards"
10-29-08: Camp KC (Kansas): "Book Review - How to Help Children Along the Transgender Journey" - review of The Transgender Child: A Handbook for Families and Professionals, by Stephanie Brill and Rachel Pepper with a foreword by Norman Spack, M.D.
10-29-08: The Greeley Tribune (Colorado): "Man charged in beating death of transgender woman involved in a prison riot" - "According to the report, the fight posed a "grave danger" to people in the pod." (more)
10-29-08: Dr. Phil: "Wednesday - October 29, 2008: Gender Confused Kids" - "Dr. Phil tackles the sensitive topic of children who identify more with the opposite sex. . . . Joining the discussion are experts with different points of view: Dr. Dan Siegel, professor and clinical psychiatrist at UCLA School of Medicine, and Glenn Stanton, author and research fellow with the organization Focus on the Family" (more)
10-28-08: GIDReform.org: "Disallowed Identities, Disaffirmed Childhood", by Kelley Winters
"In the context of children, transition is not an assignment by parents or clinicians. Transition means simply creating an environment where gender variant or transcendent [4] children may safely define their own roles that are congruent with their inner sense of gender identity. These roles may be stereotypically masculine, feminine or uniquely in between and may include self-expression in clothing and mannerisms and identification in name and pronouns. However, the APA labels all youth who transition their social gender roles as mentally disordered in the Diagnostic and Statistical Manual of Mental Disorders, ed. IV-TR (DSM), [5] regardless of how happy and well they are in their new roles. Many of the barriers these youth face in school and society are exacerbated by these psychiatric labels. In the Byzantine nomenclature of the current Gender Identity Disorder in Children (GIDC) diagnosis, gender transcendent children should be closeted and not seen nor heard." NEW
10-28-08: Human Rights Watch (re India): "Police Violence against Activists in Bangalore on October 20, 2008"
10-28-08: The Daily Mail (UK): "Top Muslim doctor faces sack for saying 'transsexuals are twisted and society needs protection from gays'" - "The 65-year-old, who is currently suspended, faces being struck off after the General Medical Council called for him to explain the comments." (more)
10-28-08: Pravda (Russia re Philippines): "Transsexual beauty queen crowned in Philippines" (The Miss International Queen event is traditionally held in Pattaya, Thailand, but was shifted to the Philippines due to political turmoil in Thailand).
10-27-08: Philadelphia Inquirer: "Male, interrupted" - "As more genital birth defects are seen in boys, attention turns to phthalates, chemicals found in a variety of consumer products." (more, more, more) NEW
10-27-08: Tijdschrift voor Genderstudies (Netherlands): Olyslager, F. and L. Conway, "Transseksualiteit komt vaker voor dan u denkt. Een nieuwe kijk op de prevalentie van transseksualiteit in Nederland en België," (Transsexualism is more common than you think. A new look at the prevalence of transsexualism in the Netherlands and Belgium), Tijdschrift voor Genderstudies, Vol. 11, no. 2, pp. 39-51, 2008.
On July 3, 2008, a condensed version of the Olyslager and Conway 2007 WPATH paper, focusing on the prevalence of transsexualism in the Netherlands and Belgium, was published in the peer reviewed Dutch Journal for Gender Studies. We've just mirrored the paper at this link, along with the Journal cover and contents, summaries in English and author information;
10-27-08: Bilerico Project: "Transition Regret - Some Thoughts", by Donna Rose - "Mike Penner made decisions about his life for his own reasons. His decision needs to be respected and appreciated, not second-guessed or judged."
10-27-08: AEBrain.blogspot (Australia): "One more part of the puzzle" - "This time it's been over-hyped in the headlines, yet it's still significant."
10-27-08: Prince Henry's Institute (Australia): Media Release: "Genetic link to gender identity"
10-27-08: The Sydney Morning Herald (Australia): "Scientists find a gene for the transsexual experience" - "In the largest ever genetic study of transsexuals, Australian researchers have discovered a DNA variation linked to male-to-female transsexualism. The finding strengthens the view that there is a biological reason why some people feel they are living in the wrong body, in this case men who have an strong desire to live as a woman." (more, more, more, more, more, more, more)
10-27-08: TS-Si.org (re Australia): "Genomic Association Study Identifies Genetic Basis for MtF Feminization " NEW
10-27-08: Daily Sundial (Cal State Univ Northridge): "Lecture examines link between biology and sexuality" (re lecture by Milton Diamond)
10-27-08: TVNZ.co.nz (New Zealand): "Where to go for a quick nip'n'tuck"
10-26-08: The Royal Gazette (Bermuda): "'Divas' come out for special tribute" - "The show was organised as a dedication to Joseph Ascento, who was once a regular performer in Mr. Anderson's shows."
10-25-08: Argus Observer (Oregon): "What's in a name?" - "Proper identification is at the center of issue for local transgender resident."
10-25-08: Orchestra of Southern Utah: "Artist Highlight: Sara Davis Buechner" - Be sure to listen to this interview and performances by this world class concert pianist! (more, more)
10-25-08: Weekend Post (South Africa): "Skeleton's out the closet in new book" - "An Eastern Cape author's sensational new whodunit based on the SADF's alleged barbaric sex change experiments on gay defence force members hits bookstores on Tuesday. . . He said up to 2000 gays and lesbians in the military could have been subjected to electro-shock therapy, chemical castration and aversion therapy which sometimes culminated in sex change operations in a bid to "cure" homosexuality. . . But truth can be stranger than fiction, because the doctor who allegedly headed up this military psychiatric unit in Pretoria where the unethical experiments are believed to have taken place, is now a professor of psychiatry at a Canadian university and is also in private practice." (more, more)
10-25-08: The Times of India (India): "Rally to protest transsexuals' arrest planned" - "To condemn the recent arrest of five transsexuals, human rights activists are planning to hold a massive rally. Thirty-one activists were also arrested when they questioned the transsexuals' arrest in Girinagar."
10-25-08: MYsinch.com (Singapore): "When Frankie Became Fanny" - "A father of a 10-year-old daughter has now decided to live the rest of his life as a woman."
10-24-08: Southern Voice: "State lawmakers move to dismiss lawsuit by transgender employee" - "Former legislative editor claims she was fired over transition" NEW
10-24-08: Pams House Blend: "About The "Real Life Experience" and Detransitioning," by Autumn Sandeen - "Some days I hate my job at Pam's House Blend, and this is definitely one of those days. I really need to explain what the Real Life Experience [(RLE) -- also referred to as the Real Life Test (RLT)] is and why some transsexuals detransition…And, this is because the person I met as Christine Daniels is apparently detransitioning (also called retransitioning) to Mike Penner." NEW
10-24-08: Wabash College (Indiana): "Andrea James to Give Talk at Wabash" - "'shOUT (Wabash College gay and Straight Alliance Club), has invited Andrea James to give a talk at 7:30 p.m. Wednesday, October 29. Her talk, "Identity, Gender, and Sexuality: Experiences from the Past Looking Into the Future" will take place in Korb Classroom in the Fine Arts Center."
10-24-08: The Village Voice: "Go Tranny, It's Your Birthday! - Walk on the wild side with Holly Woodlawn" - "Whether you were born too late or were just too boring to have ever been invited to one of Warhol's infamous Factory parties, you can finally buy your way in. Holly Woodlawn, Warhol's transsexual artist cohort who became immortalized in Lou Reed's "Take a Walk on the Wild Side," celebrates her birthday . . ."
10-24-08: Contra Costa Times: "Former Patton State technician sentenced in case involving transgender patient"
10-24-08: Brit-Asian.com: (re UK and India): "Diary of: Shinata Sangha - Hail Britain's Next Top Transgender Supermodel!" (more)
10-23-08: The Straight Times (Singapore re Thailand): Thai tranny pageant cancelled" - "Thailand's international transvestite beauty pageant has been postponed indefinitely amid political turmoil in the capital, organisers told AFP on Thursday."
10-23-08: DI-VE News (Malta): "Gender reassigned woman files application to marry" (more, more)
10-23-08: The Daily Evergreen (Washington State University): "Police look into possible hate crimes - In a little more than a week, there have been two attacks on transgendered students." - ""I would never have thought this would happen on our campus and I think it shocks the overwhelming majority of campus," Scheller said. "But the reality is it happened and we need to be aware that it still exists." "
10-23-08: The Gazette (Canada): "Salut, Christine Daniels", by Jillian Page - "Christine was a big influence for many transfolks. . . She inspired many people to be themselves, including me — and I thank her for that. People do change their minds in this journey sometimes. Better to find out now than after surgery, yes? . . . I wish Mike Penner all the best."
10-22-08: LA Observed (posted 10-20-08): "Mike Penner returns to Los Angeles Times" - "Eighteen month after writing a column about becoming Christine Daniels, veteran sportswriter Mike Penner has quietly returned to work at the Los Angeles Times, according to multiple sources close to the LAT's Sports staff." (more, more)
10-22-08: Telegraph.co.uk (UK): "Transsexual geisha is former Ministry of Defence worker" (more, more) (When media engage in this type of exploitation of vulnerable, exhibitionistic gender-transitioners, it's clear they don't have our community's interests at heart.)
10-22-08: Thanhnien News (Viet Nam): "Transgender journey" - "After years of living in shame and torment, Cindy Thai Tai underwent sex reassignment surgery and says she's never felt happier." (A hopeful story out of Viet Nam.)
10-21-08: GIDReform.org: "Blinded Me With Science: The Burden of Proof", by Kelley Winters -
"In the reality of human gender diversity, the current diagnostic categories of Gender Identity Disorder (GID) and Transvestic Fetishism in the Diagnostic and Statistical Manual of Mental Disorders (DSM) convey a presumption that internal gender identity or social gender expression that vary from assigned birth sex roles are intrinsically pathological and sexually deviant. Their authors and supporters have defended this axiom by disparaging skeptical criticism and indignation as "attack" on science and academic expression. Thus, the premise of 'disordered' gender identity has ascended to the level of dogma in American psychiatry and psychology, imposing an near-impossible burden of proof upon contrary evidence, dissenting opinion and especially upon transitioned individuals to prove our legitimacy in our affirmed roles."
10-21-08: Mom Logic: "Transgender Kids: Boys Will Be Girls" - "If your child longed to be the opposite sex, would you let them "switch teams?""
10-21-08: Just Out: "KBOO Show Tonight About Trans Kids" - "KBOO's Gender Blender show will be airing a live hour-long episode entitled "Trans Kids: Issues Facing Gender Variant Youth," featuring Jenn Burleton, founder and executive director of TransActive, Cris Beam, Lambda Literary Award-winning author of TransParent: Love, Family, and Living the T with Transgender Teenagers"
10-21-08: Bellerico Project (posted 10-20-08): "Harvard Business Review weighs in on transgender workplace issues", by: Dr. Jillian T. Weiss" (see also following two links):
10-21-08: Harvard Business Publishing: "Conversation Starter: If Women Were More Like Men", by Jillian Weiss
10-21-08: Harvard Business Review: "Interactive Case Study Adapted from "When Steve Becomes Stephanie," the upcoming December 2008 Harvard Business Review case study by Loren Gary and Brian Elliot - "This fictional case study looks at a human resources issue that many companies may face in the future: how to accommodate an employee's decision to change gender. Traditionally, just three experts are invited to comment on the case. In this interactive version, HBR invites you to contribute your own solution."
10-21-08: The Independent (UK re Thailand): "Thailand's lady-boys are in a class of their own, at last" - "There are about 100 transgender undergraduates at this college in central Bangkok, which offers the so-called "lady-boys" a unique educational refuge from homophobia and discrimination. . . . Some staff are resisting. "Some professors tell us we are not human beings and we should grow up," says Arttasit. "They're usually older women with thick glasses.""
10-21-08: Kennebec Journal (Maine): "Gender issues explored at UMA forum"
10-21-08: Red and Black (Univ. of GA): "Students express gender roles in unique ways" - "Performances to bring 'new flavor' to Athens community"
10-21-08: The Times of India (India): "Police arrest transsexuals, brawl ensues" (more)
10-21-08: The Star (UK): "Tranny Trucker's £20,000 Compo Win - Girlie Gear Shocks Workmates" - "A SEX-swap trucker forced to quit after going to work dressed as a woman won £20,000 yesterday."
10-20-08: The Philadelphia Inquirer: "Teens in transition - As puberty hits, transgender youths are increasingly finding it the catalyst for coming out about their sexual identities" - "A scattering of doctors such as Norman P. Spack, a pediatric endocrinologist at Children's Hospital Boston, now follow a model from the Netherlands, where children who believe that they are transgender may be given reversible puberty-blocking drugs. These allow them to take a few more years to consider their options - and be spared the traumatic experience of puberty in a gender they reject."
10-20-08: Columbia Spectator: "Transcending the Issue of Sexuality" - "As students begin to settle in a routine at Columbia—finding their place in campus activities, learning the bureaucracy of the system, and slowly becoming caffeine addicts—a small group of students begins to question where it belongs."
10-19-08: Boston Globe: "Miss Conduct: Black Tie Bummer - What's required at formal events? Plus "tranny" terms, table manners, and golf gripes."
10-19-08: The Canadian (Canada): "Transsexuality: Dating and Disclosure"
10-18-08: TransAdvocate.com: "Regarding A Recent Atlantic Monthly Story On TransYouth…", by Autumn Sandeen"
"Last Wednesday afternoon, the Atlantic Monthly posted a story online by reporter Hanna Rosin entitled A Boy's Life. The article horribly presents transyouth and their families — everything from the headline getting the child they focused on wrong (which is in conflict with the Associated Press Stylebook — the "Bible" of journalism standards) to how Kim Pearson [the Executive Director of TransYouth Family Allies (TYFA)] believes that the Atlantic betrayed the trust of the families that talked to their reporter. . . And now, a few months after the family talked to this reporter, the child profiled in the story is living full time as a girl and is doing very well at both home and at school. So, it was especially frustrating to Kim that the article gives a wrong impression how the child is actually doing."
10-18-08: Lubbock Centennial (Texas): "Tech lecture series helps shed light on transgender issues" - "Father and son stood face to face. Are you wearing lipstick? No, Bobby lied. I ate a cherry snow cone at a ball game, he stammered, and slid away. The lies have never stopped."
10-18-08: Metro Weekly (DC) Review: "Voodoo Woman" - "What's ultimately special and rare in Valencia's story are the insights she has to share about the difficulties in coming to terms with her gender identity in middle age . . ."
10-17-08: Southern Voice: "State lawmakers move to dismiss lawsuit by transgender employee" - "Former legislative editor claims she was fired over transition"
10-17-08: American Journalism Review (Oct-Nov issue): "Catching Up"- "Although they have a long way to go, news organizations are beginning to report with more sophistication about transgender issues."
10-17-08: Times Online (UK): "The Web Watcher: The Battle of the Sexes; Adele; 'Sexy Me' and 'Plain Me'" - ". . . if you consider the story of 29-year-old Adele you begin to realise that matters are far more complicated now than they ever were." See also the following link:
10-17-08: Current.com (UK) (orig. posted 10-13-08): "I'm 80% Girl, 20% Boy" - "When Adele was born they couldn't tell if she was a girl or a boy. A series of childhood genital operations 'corrected' her into a boy but as she grew up it became apparent a mistake had been made. Now at 29 Adele is trying to transition into a woman, only to find she belongs somewhere in between."
10-16-08: Salon.com: "Too young to change genders?" - "With therapy, Zucker believes children can overcome gender dysphoria. . . . It's impossible to say for sure, but the therapy certainly is frighteningly reminiscent of past attempts to "cure" homosexuals."
10-16-08: News10 (Sacramento, CA): "Transgender Teacher Outed By Students At Vacaville School" (more)
10-16-08: Bird of Paradox by Helen G.: "That's "Mister" Frankenstein's monster to you, sonny…" - "The News10 channel's website has this report about a trans man who seems as if he's trapped in a bizarre mediaeval nightmare where he's being hounded out of house and home by angry villagers armed with pitchforks and blazing torches."
10-15-08: On Top Magazine: "Coming Out Gay Becoming Moot, Transgender Most Difficult"
10-15-08: OII: "The Conflict of Disinterest", by Sophia Siedlberg - "When Julie Bindel was nominated for the Journalist of the Year Award by Stonewall, there was a storm of protest from the transgender and transsexual communities." (more, more, more, more, more, more) (note: here's a link to a 2007 cartoon that is relevant to this situation)
10-15-08: Reuters (UK re USA): "Sex Change" cuts deep beneath surface" - "The WEtv entry, which premiered Tuesday, details the sexual reassignment surgeries (to use the latest PC term) of several patients in all of the multifaceted procedure's bloody glory. And bloody it is."

10-15-08: Forensic Psychologist blogspot (posting of 10-13-08): "DSM makeover: What will they come up with next?" - "Overhaul of diagnostic bible shrouded in secrecy"
"Ironically, even DSM-III architect Robert Spitzer is being excluded this time around. Denied access to task force committee minutes and other information, an angry Spitzer wrote a protest editorial that was rejected for publication by the American Journal of Psychiatry, the official journal of the American Psychiatric Association. The editorial, "Developing DSM-V in Secret," is online here: "
10-15-08: Robert L. Spitzer, MD, Columbia University Department of Psychiatry, "Issues for DSM-V: Developing DSM-V in Secret" (editorial rejected by the journal of the APA)
"Perhaps the best-kept-secret about DSM-V is that rather than being "an open and transparent process" as has been claimed (1), it will essentially be developed in secret. Task Force and Workgroup members have been required to sign "confidentiality agreements" prohibiting them from discussing with anybody anything having to do with DSM-V."
10-15-08: American Chronicle: "Psychiatric bible to add new diagnoses: DSM makeover process shrouded in secrecy", by Karen Franklin, Ph.D. -
"Over the past couple of decades, the Diagnostic and Statistical Manual (DSM) of the American Psychiatric Association has risen from its humble origins to an object of worship, regarded as the absolute scientific truth. Privately, however, many mental health professionals refer to it as a "joke." "
10-15-08: The Atlantic (November issue): "A Boy's Life" (a feature article that contrasts the methods of Spack and Zucker) (print):
"Zucker's belief is that with enough therapy, such children can be made to feel comfortable in their birth sex. Zucker has compared young children who believe they are meant to live as the other sex to people who want to amputate healthy limbs, or who believe they are cats, or those with something called ethnic-identity disorder. "If a 5-year-old black kid came into the clinic and said he wanted to be white, would we endorse that?" he told me. "I don't think so. What we would want to do is say, 'What's going on with this kid that's making him feel that it would be better to be white?'""
10-15-08: St. Louis Today: "ST. LOUIS: Two charged in assault on cross-dresser" - "Two men were charged Tuesday with sodomy for allegedly sexually assaulting a 21-year-old man dressed as a woman last month, police said."
10-15-08: National Catholic Register (7-06-08 issue): "Boys Will Be Girls? Catholic Therapists Help Kids Overcome 'Transgender' Issues" -
"Wrote McHugh in First Things in 2004: ". . . We have wasted scientific and technical resources and damaged our professional credibility by collaborating with madness rather than trying to study, cure, and ultimately prevent it." . . . "Effective therapy brings to an end the suffering of these children; hormones and surgery do not," said Richard Fitzgibbons (more, more), a Catholic psychiatrist in Conshohocken, Pa.., who has counseled many individuals with Gender Identity Disorder to appreciate the bodies they were born in."
10-14-08: Horroryearbook.com: "THAT MAN IN HIGH-HEELS JUST TRIED TO KILL ME!" - "Horroryearbook's list of The Top 15 Transsexual Killer Movies" (Comment: The frequent exploitation of such images in modern films seems to be both a reflection of, and a partial cause of, modern-day hysteria in some quarters re transitioned women).
10-14-08: KCRA.com (Sacramento, CA): "Kids Pulled From Transgender Teacher's Class" - "Travis Unified School District Says It Must Respect Privacy" (more)
10-14-08: New York Daily News: "A surgeon who operates across the gender gap in 'Sex Change Hospital'" - Six part series 'Sex Change Hospital' premieres tonight at 11pm (10c) on the Women's Entertainment channel (WE). (more, more)
10-14-08: Independent Online (South Africa re Taiwan): "Taiwan to accept sex-change woman" - "Taipei - Taiwan, under pressure from gender-equality groups, plans to accept a woman who has undergone sex-change surgery as a man even if he doesn't have a constructed penis, a newspaper said on Tuesday."
10-14-08: e.releases.com: "Press Conference Announcing Ad Campaign to Address Radio Hall of Fame's Planned Induction of James Dobson" - "Campaign Kicks Off With Full-page Ad in the Chicago Tribune on Friday . . . The Coalition has launched a website, http://www.DumpDobson.com, and will unveil a new ad campaign at the press conference, which will debut with a full-page ad in the Chicago Tribune on Friday, Oct. 17.
10-14-08: Health24.com (South Africa): "What is gender identity?"
10-13-08: BBC News: "Gender clinic sees rise in demand" - "Clinic managers say that people are more aware of the issue and it is becoming more socially acceptable."
10-13-08: NewScientist.com blogs: "A phantom penis, and how to remove it" (article about phantom penile sensations after SRS experienced by a few transitioners) (note the blog-response by a BBL autogynephilia-theory promoter who claims to be a "homosexual transsexual" and who is operating under the pseudonym "Kay Brown" - i.e., who is exploiting the identity of the early transactivist author of transhistory.org).
10-11-08: Bay Windows: "Come out, come out where ever - and whatever - you are" - "October 11 is National Coming Out Day. In honor of the big "Yep, I'm gay," holiday, Bay Windows reached out to some folks in the LGBT community for their thoughts and advice on doing the deed."
10-11-08: The Hindu (India): "Where have Kerala's Hijras gone?" - "The State has a stiff upper lip when it comes to sexual minorities and it is a really stifling place for transsexuals." As a result, he points out, transsexual people either migrated to other States where there are social spaces for them, or lived anonymously and invisibly in their personal hells in Kerala"
10-10-08: Philadelphia Gay News: "Killer of trans woman sentenced to 5 years" - "The conviction carries a mandatory five- to 10-year prison sentence, but since Oates already has served two-and-a-half years in jail, he can be released within 30 months" (Philadelphia judge yields to trans panic defense, and let's killer off with ridiculously light sentence) (more)
10-10-08: Get Surrey (UK): "Guildford entrepreneur skydives over Everest" - "Kate Craig-Wood, 31, the managing director of Memset Ltd, was in free-fall for 60 seconds on Tuesday before landing safely among the snowy peaks at 12,350ft." (story about Kate Craig-Wood, who transitioned in 2006 )
10-10-08: Southern Voice: "Activist predicts Congress will soon ban trans, gay job bias" - "Southern Comfort Conference time for political activism, living 'authentic selves' "
10-10-08: Gay & Lesbian Advocates & Defenders (GLAD): "Kerrigan & Mock v. Connecticut Dept. of Public Health" - "On Friday, October 10, 2008, the Connecticut Supreme Court ruled that gay and lesbian couples are entitled to full marriage equality" (read about the wonderful new ruling resulting from a suit filed by GLAD)>
10-09-08: New Jersey Jewish News: "A new Hebrew name, a new identity" - "Synagogue ceremony marks transsexual's emotional journey"
10-09-08: Bay Area Reporter: "SFPD promotes trans man" - "A transgender man who's been with the San Francisco Police Department for more than two decades was recently promoted to lieutenant."
10-09-08: The Herald-Sun (Australia re Colombia): "Hermaphrodite child can choose gender - court"
"Colombia's constitutional court says a five-year-old child born with both female and male sexual organs can choose its own gender or maintain both, overruling the parents who want to make the child a boy. "The child has reached an age beyond which gender identification is determined," the court said, stating that it was now up to the child to decide its reproductive future with support from specialists and the parents. The child's choice would have precedence over the opinions of the experts and family, it said."
10-09-08: The Daily Telegraph (Australia): "Police 'degraded man in custody with tranny taunt'" - "When constable Tyrone Stacey heard that a man in custody, Garrick Jacobson, was romantically involved with a woman known by police to be transgender, he assumed Jacobson was aware his girlfriend used to be male, a court heard yesterday. "Oh, you mean the tranny?" Stacey asked after Jacobson said his girlfriend's name was Brigitte Fell. But Jacobson was confused. "What do you mean?" he asked."
10-07-08: New Straights Times (Malaysia): "A life shunned" - "Poh's short film, Pecah Lobang, was one of the winning entries at the Freedom Film Festival (FFF) 2008. Pecah Lobang, which means "busted", is about transsexual sex workers in Malaysia. It is also a term commonly used by transsexuals. "They are just normal people who had no choice but to become sex workers in order to earn a living," said Poh Si"
10-07-08: The Boston Globe: "A positive change on reality TV" - "Gunner Scott of the Massachusetts Transgender Political Coalition thinks the reality TV appearances can help change attitudes."
10-06-08: The Korea Times (Korea): "Transgender Commits Suicide" - "A transgender, who became famous for appearing in a show before and after undergoing sex change surgery, committed suicide Saturday, a day after actress Choi Jin-sil's death. Police concluded that the direct cause of the suicide was the breakup with her boyfriend, but suspect Choi's death had affected her decision to kill herself."
10-06-08: New America News (re Taiwan): "Transgenders Protest New Policy in Taiwan" - "A government policy in Taiwan has made it more difficult for transgenders to get an ID, creating panic in the community. The policy, which went into effect last year, stipulates that female-to-male transgenders cannot get an ID card that identifies them as male unless they have undergone all three parts of gender reassignment surgery."
10-06-08: JustOut.com: "Transactive on Front Lines of Human Rights for Queer Kids"
10-06-08: New York Times: "Transgender Candidate Who Ran as Woman Did Not Mislead Voters, Court Says" (more)
10-06-08: Reuters Alertnet (UK re Kyrgyzstan): "Kyrgyzstan: Protect Lesbians and Transgender Men From Abuse" - "Lesbian and bisexual women and transgender men face violent abuse, including rape, in Kyrgyzstan, both in family settings and from strangers on the street, Human Rights Watch said in a report issued today."
10-06-08: Human Rights Watch (re Kyrgyzstan): "These Everyday Humiliations" - "Violence Against Lesbians, Bisexual Women, and Transgender Men in Kyrgyzstan"
10-05-08: Right Celebrity: "David Reimer Is Born A Boy, Brought Up A Girl" - "Originally released in 2005, the television movie based on David Reimer's life aired tonight, October 05, 2008. "Born a Boy, Brought up a Girl" could be seen on TLC"
10-05-08: Taipei Times (Taiwan): "Taiwan's trailblazing transgenders" - "With rigidly defined gender roles, unsupportive parents and a largely unsympathetic public, Taiwan's transgenders must turn to the Internet as the only means to find lovers, friends, information and support" (important article on the emergence of transpeople in Taiwan)
10-04-08: Playback (St. Louis, MO): "Screaming Queens: The Riot at Compton's Cafeteria (Frameline, NR)"
"The real subject of Screaming Queens is the whole modern history of the transgender community in San Francisco. . . It creates a portrait of a time and place which to some today may seem as far removed as ancient Egypt. Cross-dressing was against the law, so transgender people could be arrested at any time. If the police needed further cause, they could invoke charges such as "obstructing the sidewalk." Applying for most jobs required presentation of an official state ID card, leaving transgender people in a unique bind because the gender designation assigned at birth could not be changed on the card to match a person's adult identity. That left few employment options; those with the talent could perform in nightclubs, while those without could become streetwalkers."
10-04-08: Iceland Review (Iceland): "Boys Will Be… Girls" - "Canadian filmmaker Gwen Haworth's documentary She's a Boy I Knew makes its Nordic debut at the Reykjavík International Film Festival and leaves a big impression on audiences"
10-03-08: TS Roadmap.com: "Snap-happy Ken Zucker and Richard Green compiling a Transgender Enemies album" - "Has-been sexologist Richard Green (author of transphobic classic The Sissy-Boy Syndrome) and his hand-picked successor Kenneth Zucker (the key proponent of reparative therapy on gender-variant children), have both been busy compiling surveillance photos of anyone in the transgender community who dares to criticize them"
10-03-08: The Inquirer (Philippines): "New TV shows hit the spot" - "Last week, the edgy weekly series' episode, "Gender Benders," focused on the growing transsexual trend. . . the production should also have given time and space to the more negative aspects of the transsexual equation." (Philippine media reacts to a program on the National Geographic Channel)
10-03-08: The Observer (student newspaper of Yeshiva Univ.): "Dr. Ladin's Transformative Journey" - "Amidst a furor of controversy and sensationalistic outside press coverage, Dr. Joy Ladin, formerly Jay, an Associate Professor of English and the Director of the Writing Center at Stern College for Women, was welcomed back to Yeshiva University."
10-03-08: The Observer (student newspaper of Yeshiva Univ.): "Interview With a Transsexual Within the Orthodox Jewish Community" (print version)
10-03-08: Washington Post: "Opponents of MoCo's Transgender Law Head Back to Court" - "The lawsuit filed in Montgomery County Circuit Court this week by opponents of new transgender protections asks the court to block the law from taking effect until residents have an opportunity to vote on the measure."
10-03-08: The Hindu (India): "Documentary on transgenders enters London festival" - "The film "Nashtavarnnangal," (Missing Colours) traces the life of Karthi, a transgender, right from infancy to that of old age and death. It also depicts the protagonist's passion for painting. "The 25-minute film also aims to show the world the talents of such persons but also their solitary confinement due to the social stigma attached with their gender," Kanathur said."
10-02-08: Black Voices: "Transgender On TV: Laverne Cox & Isis King Brings On New Reality", by Bridget Bland - "BlackVoices.com takes an up-close and intimate look at how androgyny has crossed into mainstream entertainment culture via the work and depictions of transgendered people, transvestites, transsexuals, cross-dressers and gay icons." NEW
10-02-08: African Path: "Where Africa?", by Mia Nikasimo - "Africa, my Africa! Where are the people of the LGBTIQ of African origin . . .? Wherever you are, this clarion call is what has led me to create the trans-group known as, "Transafro," which can be found on Facebook"
10-01-08: AuntySarah's Journal (UK): "Of Zombie Commuters, Nice Young Policemen, Creepy Old Men, and Protests" (A commentary on the protest of Zucker's appearance at the RSM conference on 10-01-08):
" . . . Anyway, we set up what turned out to be a terribly "nice" middle class affair, with us saying, Good morning" to people as they walked past, while offering them a copy of this leaflet. The takeup rate was pretty good, with most people meeting our cheery smiles. . . There was (a) person I didn't miss though, and this has to go down as the creepiest thing that's happened to me today . . . I looked up and realised who our would be paparazzo was; I recognised him as none other than Professor Richard Green, formerly head of the Charing Cross Gender Identity Clinic. And he was hanging around, taking photos of protesters outside an RSM conference on trans issues. Right. Well that didn't at all feel like the creepy old man hanging round by the school gate, oh no. Perhaps he has a Little Book of Uppity Trannies. A rogues' gallery of those of us who need putting in our place? . . ."
10-01-08: AuntySarah's Journal (UK): "Holiday Snaps??? (an update re why Green was taking photos):
"An update to this post from earlier today. I've spoken to someone who was in the conference, and they asked Richard Green why he was taking photos of us. Apparently he was doing it at the request of Zucker himself, who wanted a souvenir, because he "found the attention amusing". So there are going to be pictures of me, a few other transpeople, and a bunch of allies in Zucker's holiday snaps album. Knowing what they say about those who protest too much, I do hope he's not planning to view them with a box of Kleenex at the ready. Urgh! I think I need a shower. And sandpaper."
10-01-08: Bay Windows: "High Standards" - "A gendertherapist gets more than she bargained for when she falls for one of her FTM patients in Standards of Care" - "While the unwitting entanglement of the characters provides lots of laughs, the story goes deeper than the surface humor. The play reveals how complicated family dynamics can become for transgender people, even when they aren't outright rejected. It also explores the transgender community's relationship to healthcare, especially around the controversial Standards of Care . . ."
10-01-08: Just Plain Sense, by Christine Burns (UK): "Trans Kids on the Block" - "The Royal Society of Medicine convened a conference to debate this issue in October . . . I went along to Richard Green's conference at his invitation and recorded interviews with many of the speakers . . ."
10-01-08: B. E. Economic Journal (Vol. 8, Issue 1, of Jan 2008): "Before and After: Gender Transitions, Human Capital, and Workplace Experiences", by Kristen Schilt and Matthew Wiswall - "We estimate that average earnings for female-to-male transgender workers increase slightly following their gender transitions, while average earnings for male-to-female transgender workers fall by nearly 1/3. This finding is consistent with qualitative evidence that for many male-to-female workers, becoming a woman often brings a loss of authority, harassment, and termination, but that for many female-to-male workers, becoming a man often brings an increase in respect and authority."
10-01-08: Irish Times (Ireland): "Call for reform of sex-change legislation" - "There is a need for urgent reform of Irish law relating to transgendered people, according to the Irish Human Rights Commission (IHRC) . . . Under current law a transgendered person cannot have a birth certificate issued with his or her new gender, and does not have the right to marry in that identity." (more)
September 2008
9-30-08: Andrea James: Shared Experiences (TS Roadmap.com) : "Angels of Change benefit for trans youth" - "Last night was a great fundraiser for the trans youth program at Children's Hospital Los Angeles. You can see my full set of shots here" (More info on Angels of Change)
9-30-08: Xtra.ca (Canada): "Lost in transition" - "Searching for belonging as a trans man"
9-30-08: FindLaw: "Why A Federal District Court's Decision Is a Victory for Transsexuals' Right Not to Face Employment Discrimination" - "The ruling in Schroer is a landmark one, both for the inclusive protection it offers transsexuals who experience employment discrimination and for the careful way in which the court grappled with a tough legal and social issue."
9-30-08: NCLR (orig. posted 9-25-08): "Civic Celebration of the Life of Del Martin Scheduled for October 1, 2008" - "Beloved civil rights leader to be honored at San Francisco City Hall; Speaker Nancy Pelosi and others to pay tribute"
9-30-08: CEIU-SEIC (Canada) (orig posted 9-26-08): "Pride at our convention" (FR) - "Maxime Le May is 44 years old and until last year he kept a secret from even his closest friends: he was a transsexual man. Showing extraordinary courage, Maxime took delegates into the world of adversity and struggle that he and other transsexuals face." (Link to Maxime's presentation) (FR)

9-30-08: Telegraph.co.uk (UK): Transgender students force lavatory change" - "A row has broken out at the University of Manchester after its student union lavatories were stripped of their genders so as not to offend transgendered people" (more)
9-29-08: Sacramento Bee: "Police investigating death of 22-year-old as suspicious" - "Sacramento police are investigating the death of a transgender person pulled from the American River last week as suspicious. . .Molina, who biologically was a man, was in the process of transitioning to a female and presented himself as a woman, police said. He was known to friends and family as "Ruby.""
9-29-08: Stonewall Democrats 'Take Action' Alert: "The Transgender Community and Allies Support Obama" - "On Monday, September 29, we'll be holding a special coordinated blogging day to harness the power of the transgender community and trans allies to help elect Barack Obama." - "Barack supports a comprehensive ENDA inclusive of both sexual orientation and gender identity, comprehensive hate crimes protections, and prominently features trans people in his campaign. Let's help get him and Joe Biden elected!"
9-28-08: Denver Examiner: "Gay TV Tonight: Colorado Out Spoken" - "The September episode of Colorado Out Spoken will air tonight at 11 p.m. on KBDI Channel 12" - "Join host Eden Lane as she brings you back to the Democratic National Convention with interviews and special coverage not seen anywhere else. Don't miss amazing interviews with Barney Frank, Michelle Obama, and Gavin Newsom."
9-28-08: Denver Post: "Transgender girl's looks sparked school fight" - ""Every day, I was afraid for my sister. The world, the way it is, most people wouldn't accept who she was." - "Born Justin Zapata, Angie wanted to live and love as a transgender female. Her quest for a normal life on her terms ended in July, when she was beaten to death in her one-bedroom, $300-a-month apartment."
9-28-08: B92 (Serbia): "Belgrade, sex-change center" - "Belgrade is the only global center where complete sex reassignment is possible in only one surgery, Novi Sad daily Dnevnik writes. The paper says that, thanks to Doctor Sava Perović, some 200 transgender men and women have so far undergone this procedure, most of them from Serbia and Montenegro."
9-28-08: The News Journal (Delaware): "Transgender people don't even exist under the law" - "While sexual orientation is at least addressed in hate crimes law, gender identity is not. Not only are transgender Delawareans mostly invisible in public discourse, as far as Delaware law is concerned, they do not exist as such."
9-27-08: El Paso Times/Associated Press: "Transgender contestant makes 'Model' history" - "I'm just trying to be myself," King said during a telephone interview last week. "If I inspire people, that's a wonderful thing -- whether you're trans or not.""

9-27-08: Dominion Post (New Zealand): "Employers 'should help' with staff sex changes"
9-26-08: Washington Blade: "Human rights are for everyone" - "D.C. should require the Dept. of Corrections to comply with the Human Rights Act" - "Housing and classifying individuals based on their gender identification poses significantly fewer problems than relying on genitalia alone. Other sex-segregated facilities in the District, such as homeless shelters, have successfully implemented policies that align with the law."
9-26-08: Taipei Times (Taiwan): "EDITORIAL: Cloud hangs over Taiwan Pride Parade" - "Tomorrow the lesbian, gay, bisexual and transgender (LGBT) community and their supporters will take to the streets for the Sixth Taiwan Pride Parade. . . However, although Taiwan's homosexual community has made great strides, the transgender, and specifically transsexual, community still has a long way to go in gaining acceptance."
9-26-08: Southern Voice: "Male? Female? Yes. No. Maybe" - "Transgender identities cross a fluid spectrum, causing confusion for some, freedom for others"
9-25-08: New York Times: "Before That Sex Change, Think About Your Next Paycheck" (see original Journal Article) NEW
9-25-08: XTRA (Canada): New Book: Transpeople: Repudiation, Trauma, Healing" - "In new book, transpeople are assumed to be the primary experts of their own lives"
"Shelley's new work . . . delves into the social, political and academic sources of trans repudiation, which he posits is transphobia, but more than just phobia. The author, along with those who contributed their personal narratives, takes a look at the complexities of trans experiences and provides ways of "talking back" to marginalizing forces." - "I suggest that the project of trying to clinically understand transpeople be abandoned," he writes. "Rather, some core psychoanalytic concepts can be re-harnessed in an attempt to understand the perpetrators of trans repudiation."

9-25-08: The Tyee Books (posted 9-23-08): "Interview: In Defence of Trans People: Transpeople: Repudiation, Trauma, Healing" - "It is extraordinarily painful, as social creatures, to be told that you don't belong," Christopher Shelley has written. "When you're pushed out, it's damaging, it's abusive, it can mark a person for life."
9-25-08: NotADisorder: "Sorry, We're Not Disordered" (new OII website in protest of the ISNA/Dreger repudiation of intersex people as "disorders of sex development")
9-25-08: The Phnom Pen Post (Cambodia): "Transexual triumphs over gender adversity", by Nguon Sovan - "From an early age Leang Sothea knew she was different, but since having a sex-change operation in 2006 she hasn't looked back"
9-25-08: Reuters (UK): ""Raquela" a fascinating, nonjudgmental portrait" - "Fire meets ice as a transsexual from the Philippines tries to adjust to life in Iceland in "The Amazing Truth About Queen Raquela.""
9-25-08: The Guardian (UK re Iraq): Sexual cleansing in Iraq" - "Islamist deaths squads are hunting down gay (and transgender) Iraqis and summarily executing them"
9-25-08: El Blog del PJ (re Argentina): "Justicia a mujer transexual... "
9-24-08: AG Magazine (Argentina re Germany): "Kim Petras, una bella cantante transexual de sólo 16 años" - "Su caso fue polémico porque a los 12 años comenzó a hormonarse para prepararse para una futura reasignación sexual • Hoy incia una exitosa carrera como cantante." (more, more with photos and video, more, more)
9-24-08: International Herald Tribune (re Turkey): "Turkish transsexual singer shows up for trial" - "A popular transsexual Turkish singer (Bulent Ursoy) has showed up for the second hearing of her trial on charges of trying to turn the public against obligatory military service." (more, more, more, more)
9-24-08: Sacramento Bee (CA): "Body of transgender person recovered from American River"
9-24-08: TransGriot: "Out Of The Mouths Of Babes" - "Out of the mouths of babes, the old saying goes, comes pearls of wisdom. This wise youngling is Jazz, who we were first introduced to during Barbara Walters' 20/20 documentary report last year on transkids called 'My Secret Self'. "
9-23-08: C'est si Bonne, by Debra Soshoux: "Thank You, Judge Robinson! - "Diane Schroer has won her case for Title VII sex discrimination against the Library of Congress, which hired then immediately fired her when she came out as transsexual. U.S. District Court (trial court) for the District of Columbia. Judge James Robertson issued the decision on Friday, September 19th." (blog provides background perspective on past decisions on this issue).
9-22-08: PFC News Alert (UK): "Demonstration against Ken Zucker (the man who proposes reparative therapy for gender variant kids)" - Wednesday, October 1st, 8.30am, The Royal Society of Medicine, 1 Wimpole Street,London W1G 0AE"
"This is an important demonstration and it is vital that you attend if you are able. . . .It is important to come for two reasons;
1. to show opposition to Ken Zucker's 'treatments' being used on children and 2. to oppose the nature of the Royal Society of Medicine's highly political conference on trans identified adolescents.
Ken Zucker is a psychologist (not a psychiatrist) at the Clarke Institute in Toronto. He promotes his so-called "reparative therapy" which is little more than torture for gender variant (GV) children and trans identified adolescents. . . ." - Natacha Kennedy (Official Organiser)
9-22-08: Guardian (UK): "Only Skin Deep: The first transgendered contestant on America's Next Top Model should be judged on her looks alone"
9-22-08: Press Trust of India (India): "Transgenders lay seige to govt hospital"
9-21-08: MM Agency: "The Real World Brooklyn Cast Gets Transgendered"
9-20-08: EEOC.gov: "Title VII of the Civil Rights Act of 1964" - "Title VII prohibits employment discrimination based on race, color, religion, sex and national origin"
Comment: For over 40 years the civil rights act of 1964 has prohibited discrimination on the basis of sex. A Federal Court has at long last interpreted that act as covering discrimination against gender transitioners (see Schroer v Billington, below).
9-19-08: Commentary by New York Law School Professor Arthur S. Leonard: "Federal Court Adopts Religious Conversion Analogy in Transgender Discrimination Case" - "A federal judge has embraced an ingenious analogy between religious conversion and gender transition to explain his ruling that the refusal to hire a transsexual applicant is employment discrimination "because of sex" in violation of Title VII of the federal Civil Rights Act of 1964."
9-19-08: ABC News: "Transgendered Woman Wins Sex Discrimination Case"- "In Potentially Groundbreaking Case, Court Finds Sex Discrimination Law Applies to Transgendered Woman" - "A federal district court judge in Washington, D.C., ruled today that the Library of Congress discriminated against Diane Schroer when it offered her a job and then rescinded it after learning she was transgendered." (print version, more, more, more, more, more, more, more)
9-19-08: ACLU Press Release: "Transgender Veteran Wins Sex Discrimination Lawsuit Against Library of Congress" - "Federal Court Sides With ACLU, Ruling That Refusing To Hire Transgender People Is Discriminatory"
"I very much hope that this ruling will help to eliminate the all-too-pervasive discrimination against gender non-conforming people in all areas. I hope too, that employers, family members, friends and co-workers will begin to understand variations in gender identity from a basis of knowledge and not fear," added Schroer.

9-19-08: ACLU website: "UNITED STATES DISTRICT COURT FOR THE DISTRICT OF COLUMBIA
DIANE J. SCHROER, Plaintiff, v. JAMES H. BILLINGTON, Librarian of Congress, Defendant. Civil Action No. 05-1090 (JR) FINDINGS OF FACT AND CONCLUSIONS OF LAW" - This is the 35 page document of findings and conclusions in the Schroer case. Here are some excerpts:

"Analysis "must begin . . . with the language of the statute itself" and "[i]n this case it is also where the inquiry should end, for where, as here, the statute's language is plain, 'the sole function of the courts is to enforce it according to its terms.'"" – p34
"Imagine that an employee is fired because she converts from Christianity to Judaism. Imagine too that her employer testifies that he harbors no bias toward either Christians or Jews but only "converts." That would be a clear case of discrimination "because of religion." No court would take seriously the notion that "converts" are not covered by the statute. Discrimination "because of religion" easily encompasses discrimination because of a change of religion. But in cases where the plaintiff has changed her sex, and faces discrimination because of the decision to stop presenting as a man and to start appearing as a woman, courts have traditionally carved such persons out of the statute by concluding that "transsexuality" is unprotected by Title VII. In other words, courts have allowed their focus on the label "transsexual" to blind them to the statutory language itself." – p31
"In refusing to hire Diane Schroer because her appearance and background did not comport with the decisionmaker's sex stereotypes about how men and women should act and appear, and in response to Schroer's decision to transition, legally, culturally, and physically, from male to female, the Library of Congress violated Title VII's prohibition on sex discrimination". – p35
9-19-08: The Gender Centre Inc. (Australia re Canada): "Zucker: Manipulation of Young Feminine Boys" (also on the OII website)
Excerpts from this important report:
"Zucker acknowledges that G.I.D. boys most commonly turn out to be homosexual adult men, not adult transsexuals. This is in striking contrast to his recent documentary statement that "when one engages in psychotherapy" with children and adolescents with gender dysphoria that one may find that many give up the wish for a sex change and come to an alternative to the "only way I can feel good about myself" is with a sex change." It also contradicts his colleague's description of Zucker's view that, "Zucker thinks that an important goal of treatment is to help the children accept their birth sex and to avoid becoming transsexual".

With this statement, Zucker's colleague, J Michael Bailey, exposes Zucker's "treatment" as fraudulent, since we have already seen that Zucker knows that most of these boys don't become transsexual, but instead become non–transsexual adult homosexual men. Thus without Zucker's treatment, they mainly become gay men anyway; and thus, Zucker has no proof of his own fraudulent claims. We are not surprised then, that Bailey again exposes Zucker's "transsexual prevention" treatment of G.I.D. boys as fraudulent and baseless, by this following comment, "Zucker believes that most boys who play with girls' things often enough to earn a diagnosis of G.I.D. would become girls if they could. Failure to intervene increases the chances of transsexualism in adulthood, which Zucker considers a bad outcome. ... "
9-19-08: 6 Action News (Philidelphia): "Transgender's Transpass Problem" - "A sticker SEPTA uses to cut down on fraud with its Transpasses has caused an unusual problem." (more)
9-19-08: MedIndia (India): "Transsexuals' Model Villages in South Indian State of Tamil Nadu Soon" - "In a unique first-of-its-kind move in India, the Cuddalore district administration in the Southern state of Tamil Nadu has proposed to establish model villages to rehabilitate members of the transgender community. Tamil Nadu is the only state in India that has given a gender status to transsexuals"
9-18-08: The Sun (UK re Germany): "Sex change kid set for charts" - "A GIRL believed to be the youngest person in the world to have a sex change is set to become a pop star. German Kim Petras – originally called Tim – changed sex after she started hormone treatment at the age of just TWELVE. Now 16 years old Kim is ready to storm the charts with her first album after landing a record deal." (more, more with photos and video, more, more)
9-18-08: The Denver Post: "Charge stands against transgender-murder suspect" (more, more, more, more)
9-18-08: ABC 7 News (Denver): "Transgender Slaying Suspect: 'Gay Things Need To Die'" - "Judge Rules Trial Can Proceed Against Allen Ray Andrade"
9-18-08: IN LA Magazine: "Angels of Change benefit for trans youth, September 29" - See also the Angels of Change website and YouTube video - Hope you can join many others in LA at the Angels of Change benefit for trans youth programs at The Children's Hospital of Los Angeles!

September 29, 2008 @ 7pm
Arena Nightclub, 6655 Santa Monica Blvd, 90038
General admission is $8 presale and $10 at the door; VIP tickets are $35 presale, $50 at the door.
Tickets/information, call Bamby Salcedo at (323) 361-5983 or drop by the fourth floor of the Children's Hospital L.A., 5000 Sunset Blvd.
9-18-08: GayWired.com: "TransNation: She's a Boy I Knew", by Jacob Anderson-Minshall" - "Concerned about the "glaring lack of decent media out there to help [others] through our transition process," Haworth decided to film her family's struggle with her own journey. The result, She's A Boy, captures the complex, heartrending, but ultimately positive response of friends and family—including the wife she lost—to Haworth's gender transformation"
9-18-08: San Francisco Chronicle: "'The Transgender Child' New handbook has tips for parents whose children don't fit the societal mold, and probably never will" - "A child may be born with female anatomy, but what if her first words are "I'm a boy," and she wants to live as a boy as she gets older? Or a boy enjoys playing with girly toys and sometimes expresses himself in traditionally feminine ways? Two Bay Area women who have worked with transgender and gender-fluid children have written a handbook for parents whose kids aren't typical boys or girls."
9-17-08: Newsweek: "The New Transgender Reality - Reality shows have long pioneered inclusive casting. Now they're pushing the boundaries again."
9-17-08: Middle Eastern Research and Information Project (re Turkey): "Another Struggle: Sexual Identity Politics in Unsettled Turkey", by Kerem Öktem " (more) (important essay on the situation of LGBT people in Turkey)
9-17-08: Pink News (re Kuwait): "Muslim leader denies issuing progressive fatwa on gender surgery"
9-17-08: Inquirer.net (Philippines): "Call him Jeff, says SC; he used to be called Jennifer" - "A person who is genetically female but has a rare and permanent medical condition that allows the development of both male and female sex organs is now legally and officially a man."
9-17-08: The Canadian (Canada): "America's Top Model: The Isis Impact", by Brianna Austin" (more)
9-17-08: The Sun (UK): "One-legged transsexual darts ace told to hop it" - "A ladies darts team claim they were kicked out of a league because one of their players used to be a bloke."
9-16-08: Pink News (UK): "Police confirm there was no trans violence at Pride London" - "A senior Metropolitan police officer has apologised for the confusion over an incident at Pride London earlier this year. Commander Steve Allen said that "deep upset" had been caused to the trans community by earlier reports, based on a joint response to the incident from the police and Pride organisers and distributed to the press."
9-16-08: GIDReform.org: "Recommendations for Nominations to the Sexual and Gender Identity Disorders Work Group of the DSM-V Task Force" (link to more background on this issue)

"The most pressing issue concerning the professional communities at this time is that the membership of the Sexual and Gender Identity Disorders Work Group does not adequately include the diversity of clinical perspectives of professionals who work with gender-variant, transgender, and transsexual people. We are concerned that researchers and practitioners who are affirming of gender diversity and gender variant people are under-represented on the Gender Identity Disorders and Paraphilia sub-committees. Therefore, we ask trans-affirming professionals and clinicians to write the APA and recommend that the following names be added to the Sexual and GID Work Group: Michele Angello, Ph.D., Diane Ehrensaft, Ph.D., Dan Karasic, M.D., Gail Knudson M.D., M.P.E., F.R.C.P.C., Edgardo Menvielle, M.D., Herbert Schreier, M.D." [Therapists, clinicians and medical professionals: Please contact the APA and recommend that these professionals be added to the DSM Sexual and Gender Identity Disorders Work Group (see sample letters).]
9-16-08: On Top Magazine: "Transgender Woman Talks About Life After 'Diddy' " - "The first black transgender woman to appear on a reality show, VH1's I Want To Work For Diddy, talks about her experience on the show and life since."
9-16-08: GMA News (Philippines): "SC ruling: 27-year-old 'woman' is 'male'" - "For proving that her body is manifesting natural occurring male characteristics, a 27-year-old woman was allowed by the Supreme Court to change her name and gender entries in her birth certificate.
The high court ruled that Jennifer Cagandahan has congenital adrenal hyperplasia (CAH), a rare condition that could cause early or "inappropriate" appearance of male characteristics . . . and involves intersex anatomy."
9-16-08: The Canadian (Canada): "TransMission: Identity vs. Identification", by Nikki S. - "This is a major rite of passage for me, an experience that every transsexual yearns for; I am preparing to receive my first official, government-issued, female ID."
9-16-08: The Canadian (Canada): "Transsexual Modelmania", by Brianna Austin - "While the appearance of a transgender model is a first for ANTP, it is not by any stretch a first for the fashion industry. Might be ready? Hello? There have been transsexual models on the world stage of fashion for nearly a half a century."
9-16-08: NHS Dept of Health (UK): "New appointments to the Sexual Orientation and Gender Identity Group" (posting of 9-03-08)
9-15-08: Washington Post: "Maryland Politics - Ruling Inspires New Hope For Transgender People" - "With the decision by Maryland's highest court last week to block a referendum petition, Montgomery County's law banning discrimination against transgender people takes effect immediately."
9-15-08: The Rebel Yell (UNLV, Las Vegas): "Gender variance is not a disorder" - "Classifying transgender people as having a mental disability ignores society's intolerant attitudes"
9-14-08: Stopping the Hate ( Lesbian Gay Bisexual Transgender Human Rights Coalition): "Interview with African-American transgender activist Dionne Stallworth"
9-14-08: GoogleVideo: "Lucy.Teen.Transsexual.In.Thailand (orig. posted 12-20-07)" - [A wonderful 56 minute video about the experiences of 18 year old Lucy of the UK, as she travels to Thailand for her SRS with Dr. Suporn].
9-14-08: The Star (Malaysia): "If one of us ain't free ..." - "An anthropologist reports on a very different Merdeka event he attended that dealt with a subject often swept under the carpet: alternative sexualities"
9-14-08: Stephen Whittle's blog (UK - posted 9-10-08): "The Real Life Test: to be or not to be, that is the question"
9-12-08: Time: "A Transsexual Vs. the Government"
9-12-08: The Electric New Paper (Singapore): "Taught to spot problem when they're young - Counsellors take courses to handle gender-confused kids" - [Note: It appears that school counselors in Singapore are now being encouraged to use trans-reparatist methods to 'cure' gender-variant kids]
9-12-08: Radio Netherlands (re Thailand): "Transgender toilets - The third way" - "You're fourteen, at school and you need to go for a pee. You leave your science lesson and rush to the toilet. Then you stop. You're confused. In front of you are three separate toilets. One with a symbol for boys, another for girls, and there's another with a symbol you've never seen before. It's half blue and half pink Oh yes of course, it's the transgender toilet. A toilet for those boys who feel like girls."
9-12-08: Saudi Gazette (Saudi Arabia): "From abayas to thobes" - "Over the last 5 years Dr. Abbas said more than 600 people have undergone gender reassignment surgeries in the Kingdom." [Note: This story comes as a surprise - we had no idea this number of surgeries were quietly being performed there]
9-11-08: GayWired: "TransNation: Doubly Triggered", by Jacob Anderson-Minshall"
9-11-08: PrideSource: "Transgender leader Rachel Crandall to receive prestigeous community award"
9-11-08: NCTE: "Comprehensive national survey on transgender discrimination launched by National Center for Transgender Equality
and National Gay and Lesbian Task Force" (more) [Please participate in this important survey]
9-10-08: New England Blade: "GenderVision Releases 'Transgender-Friendly Public Policy,' 'Trans Partners' DVD"
9-10-08: The Gazette (Montgomery County, MD): "Transgendered protection becomes law by court action" - "Anti-discrimination measure won't appear on November ballot" (more)
9-10-08: Battle Creek Enquirer: "Nemecek: 'I don't think I'm a mistake'"
9-09-08: The Jerusalem Post (Israel): "Yeshiva U. prof on indefinite leave after sex change"
9-09-08: Transgriot: "Stealth Was A Mistake", by Monica Roberts - "One of the ongoing arguments in the transgender community that's guaranteed to generate heated debate one way or the other is the stealth vs out one."
9-09-08: New America Media (re China): "Transgender Dancer's Hard Road to Love - Portraits of Young People in a Changing China" - "In the third in a series, Dundon profiles 20-year-old Huang Ping, a transgender dancer who worked at Changsha's first gay bar, the Night Cat"
9-09-08: Yale Daily News: "For transgendered Elis, a push for a home" - ""Going into the college process, what I really hate is filling in the gender boxes on applications," he said. That's because Ian R. is a queer, transgendered high-school senior applying to Yale, and while he identifies primarily as male, he is physically female."
9-08-08: Chronicle of Higher Education: "Transgender Professor Causes a Stir on Return to Yeshiva U." - "Her return has caused a stir among the university's rabbis, who said the 47-year-old's lifestyle is a violation of Torah law and morality."
9-08-08: New York Post: "YE-SHE-VA University is Rattled by a Transgender Prof" - "A Yeshiva University professor left two years ago as a man - and returned last week as a woman . . . "He's not a woman. . . " said Rabbi Moshe Tendler, a senior dean at Yeshiva's rabbinical school and a professor of biology and medical ethics. "He's a person who represents a kind of amorality which runs counter to everything Yeshiva University stands for. There is just no leeway in Jewish law for a transsexual." . . . After months of heated debate among rabbis, administrators, Ladin and her lawyers, the university agreed to let her return, according to sources close to the negotiations." (more, more, more)
9-08-08: AsiaOne (re Singapore): "Trans Singapore" - "A degree from Curtin University, Western Australia, and a regional management position in a large logistics organisation. While laudable, Juliet's achievements are not likely to make most people sit up and take notice. Until, of course, the 40-year-old tells them she is a transsexual."
9-07-08: AsiaOne (re Singapore): "When Papa became Mama " - "Fanny happily lets on that she recently found a job in a construction firm. Her boss and her colleagues are aware of her status. She does not harbour grand plans such as marriage for the future. 'I just want to focus on my daughter.' The latter ponders when asked what it's like to have two mothers. 'It's okay to have two mummies. I can still enjoy both their love.'"
9-07-08: CBS News: "The Sex Change Capital of The U.S." - "A Small Rocky Mountain Town Is Home To A Cottage Industry Helping Transgender People" - "When people decide to make one of the most drastic changes in their lives, they often head to the most unlikely town you could ever imagine. Our Cover Story is reported by Seth Doane"
9-07-08: GayWired.com: "Majority of Americans Agree that Transgender Employees Should be Judged by Job Performance, not Gender Identity" - "According to the 7th annual national Out & Equal Workplace Survey, seven out of ten heterosexual adults (71 percent) agree that how an employee performs at their job should be the standard for judging an employee, not whether or not they are transgender."
9-07-08: Haaretz (Israel): "Moving between the sexes" - "The regulations also prohibit carrying out the operation privately, and permits it to be performed only at Sheba. . . . the Health Ministry has established a committee to re-examine the procedure. . . There are already signs of opposition from some of those involved to the demand to make the criteria more flexible." [Comment: This is an important story about challenges to stringent government control of transitions in Israel.]
9-07-08: Out In Bloomington: "Genetically testing the Olympics" - "The era of searching for a "commie" under every rock came to an end some time ago, and it is now time to put to rest paranoid reactions to a nonexistent threat such as those of various gender identities and presentations."
9-06-08: The New York Observer (of 8-26-08): "The Second Most Beautiful Girl in New York" - "Looking for love but finding lust in the city of men" - "Transitioning in New York is like paradise," she said. "Yes, you deal with bullshit. You deal with people making comments"—that's called getting "spooked"—"but I can't imagine living anywhere else going through what I went through. Because I'd say for every person that would make a nasty comment, there are 10 people that will tell you that you're gorgeous and that they love you and that you're fierce."
9-06-08: The Sydney Morning Herald (Australia): "Love triumphs across the line" - "When being true to yourself means you must divorce your soulmate, the law really can be an ass, writes Adele Horin"
9-05-08: The TimesOnline (UK): "Salman Rushdie investigates India's transsexual underworld" - "In his contribution to Aids Sutra, a collection of essays about the HIV/Aids problem in India, Salman Rushdie reports on the culture of the hijra"
9-05-08: Vietnam News (Vietnam): "Your say - Should sex changes be allowed for all those who so desire?" - "The topic has generated a lot of interest with Vietnamese people. Here are some opinions from our readers."
9-05-08: LynnConway.com: Open letter to the President of the APA re "Falsification of GID prevalence results by the APA Task Force on Gender Identity and Gender Variance" - "It matters not whether the APA Task Force's falsification of prevalence values was intentional or whether it was due to carelessness, ignorance and/or group-think about old, oft-cited numbers. What matters is that the APA must terminate its propagation of erroneous trans-prevalence values and correct the Task Force report accordingly"
9-05-08: Journal of Sexual Medicine (June 17, 08): "The Treatment of Adolescent Transsexuals: Changing Insights", by P. T. Cohen-Kettenis, H. A. Delemarre-van de Waal and L. J. Gooren, Dept. of Medical Psychology, VU University Medical Center, Amsterdam, The Netherlands.

". . . in judging the desirability of hormonal pubertal suppression as a first but reversible phase in the sex reassignment procedure, one should not only take consequences of the intervention into account. Rather, one should also consider the consequences of nontreatment. Nonintervention is not a neutral option, but has clear negative lifelong consequences for the quality of life of those individuals who had to wait for treatment until after puberty."
[Note: This paper is a must read by parents, families, friends and allies of trans children.] [PDF]
9-05-08: Journal of Sexual Medicine (Aug 28, 08): "Specific Cerebral Activation due to Visual Erotic Stimuli in Male-to-Female Transsexuals Compared with Male and Female Controls: An fMRI Study", by E. R. Gizewski, E. Krause, M. Schlamann, F. Happich, M. E.Ladd, M. Forsting M and W. Senf, Dept. of Diagnostic and Interventional Radiology and Neuroradiology, University Hospital Essen, Essen, Germany.
"There is a continuing controversial discussion of whether or not transsexualism has a biological representation. Differences between males and females in terms of functional imaging during erotic stimuli have been previously described, revealing gender-specific results. . . .We revealed a cerebral activation pattern in MTF transsexuals compared with male controls similar to female controls compared with male controls during viewing of erotic stimuli, indicating a tendency of female-like cerebral processing in transsexualism."
9-05-08: HR Magazine: "Sexual Equity in the Workplace" - "Leaders of pioneering companies identify reasons for having a workplace open to gay, lesbian, bisexual and transgender employees—and steps to create such environments."
9-05-08: The Bulletin (Toronto, Canada): "'Straight guy' to wed woman born a man"
9-04-04: Southern Voice: "A transsexual Jewish man and his new CD" - "I just call it like I see it," Katz says. "And you can't help but have a sense of humor about the whole ordeal when you're a Jewish transsexual man from the Deep South."
9-03-08: New York Times: "Life's Work - Smoother Transitions" - "Across the country, particularly at larger companies, transgender workers are being protected and assisted in ways that were hardly imaginable a few years ago"
9-03-08: Bay Windows: "Transgender Emergency Fund kicks into gear"
9-03-08: Pink News (UK): "France to ask UN for universal decriminalisation of homosexuality"
9-03-08: Sydney Star Observer (Australia): "Pratt makes senate history" - "Pratt has been open about her relationship with Aram Hosie, who began transitioning to become a man after they met"
9-03-08: AM New York: "Nigel Barker: Transgender on America's Next Top Model shocking but necessary"
9-03-08: Creative Loafing (Tampa, FL): "A transgender woman's difficult job search" - "Prejudices compound the struggle to find employment"
9-02-08: National Post (Canada): "When Jill wants to be a Jack" - "As children across the country return to school, the National Post takes a look at the curriculum issues that are flashpoints in their respective regions and examines how the most controversial subjects are taught."
9-02-03: Market Watch: "Majority of Americans Agree That Transgender Employees Should Be Judged by Job Performance, Not Gender Identity"
9-02-08: Diversity, Inc: "More Companies Are Providing LGBT Protections" - "In the 2009 CEI, 259 businesses achieved a perfect score, a 33 percent increase over last year. The 2008 CEI recorded 195 companies with a perfect score" (Link to 2009 HRC-CEI report)
9-02-08: CNN.com: "Raytheon Repeats Its Perfect Score on the Annual Corporate Equality Index" - "Raytheon became the first defense and aerospace company to achieve a 100 percent score on the CEI in 2005. Since then it has continued to lead the industry in fostering a respectful workplace environment where all employees can achieve maximum growth and productivity regardless of sexual orientation, gender expression and-or gender identity."
9-01-08: The Canadian Press (Canada): "Vancouver transsexual says city party nixed parks board candidacy over sex issues" (more)
August 2008
8-31-08: The Advocate online: "The Naked Truth: Calpernia Addams" - "Calpernia Addams strips down for our feature on the beauty and blemish of the human body." - "Calpernia Addams survived the crushing self-critiques that nearly drove her to suicide as a young man only to be faced with the physical scrutiny that comes with being a Hollywood TV personality. "When I look in the mirror I'm not happy with what I'm seeing," says the transgender actress. "But I've come to accept and make the best of it." (Sept 23 issue of the magazine) (Article links to a wonderful video interview)"
8-31-08: Miami Herald: "Profile: Now he really is Jahn the Man" - ""In my dreams, I was always a boy,'' he says. . . ."It's hard to explain, but at that age, it's not even about who you're attracted to. We were too young to think about that. It was just my role.''''
8-31-08: The Star (Malaysia): "Talk, don't condemn" - "We speak to the directors of two powerful new films exploring human rights and democratic space, ahead of the annual Freedom Film Fest Merdeka month screenings, which begin on Friday."
8-30-08: Variety Magazine: "'Queen Raquela' set to visit U.S." - "Pic is set for limited release Sept. 26 in New York and Los Angeles." (Link to cool movie-trailer, more, Website, Myspace site, Facebook site, Twitch film review)
"Billed as a transsexual Cinderella story, this Berlinale Teddy winner is amazingly engaging for its heady blend of gritty vérité and whimsical fairy tale. Why should I care about froggy-throated Filipina "lady-boy" Raquela Rios and the journey by which she lifts herself out of the gutters of Cebu City, through Internet porn, through Icelandic fish factories, to a delicately-staged freedom in Paris? Because it documents the desire each and every one of us has to achieve our dreams. Because each and every one of us deserves a better life. Because we're all orphaned royalty exiled from our true kingdom. If Queen Raquela can do it—however she has to—we all can do it, however we must." - Michael Guillen, Twitch film review.
8-30-08: Seattle Times: "Seattle conference helps families understand gender issues" - "Parents of children who believe they are different from the gender in which they were born, and adults exploring their own gender identity, are offered support at a pair of conferences scheduled for this weekend at the Washington State Convention & Trade Center in Seattle." (For more information, see: GenderSpectrumFamily.org)
8-30-08: International Herald Tribune (re Mexico): "Mexico City approves name changes for transsexuals" - Mexico City's legislature has passed a law making it easier for transsexuals and transgender people to legally change their names and obtain revised birth certificates that reflect their gender identification."
8-29-08: Organisation Intersex International (OII): "Intersex: I am not Disordered, I am Human", By Sophia Siedlberg - "We also need to see people as people, not "Lesbians" or "Gays" or "Bisexuals" or "Transgenders" (These are cold labels being applied to lives being lived by human beings, that reduce these lived lives to little more that an act or a characteristic.). Perhaps we need to rethink how we describe the world around us."
8-29-08: Washington Blade: "Activists fear sex worker arrests near new condos - Trans, gay prostitutes targeted in Mt. Vernon Triangle" - ". . . calling on the District government to use existing social services programs rather than a police crackdown to curtail street prostitution in the city's Mount Vernon Triangle neighborhood, where transgender and gay male sex workers have plied their trade for more than 20 years". Note: The area around 5th and K Sts., N.W., has been D.C.s trans stroll for many years.
8-29-08: Austin360.com: "A trend of transgender movies" - "A feast of transgender and intersex films are highlighted at the Austin Gay and Lesbian International Film Festival"
8-29-08: Hindustan Times (India): "Gays have no legal rights: ministry" - Health Minister Anbumani Ramadoss's demand to legalise homosexuality in the country will remain a pipedream. The Law Ministry is opposed to his demand of scrapping section 377 of the Indian Penal Code, which prescribes a sentence of up to life imprisonment for those indulging in "unnatural sex"."

8-29-08: The Vancouver Courier (Canada): "Transsexual's old online ad won't derail parks board bid - Former mayor backs NPA nomination candidate and escort" - "Former Vancouver mayor Philip Owen told the Courier he is a big fan of Hamilton's community work and activism. Owen publicly endorsed Hamilton at a fundraiser and political roast in her honour Tuesday night."
8-28-08: LynnConway.com: "Falsification of GID prevalence results by the APA Task Force on Gender Identity and Gender Variance", an Investigative Report by Lynn Conway - "The Report of the APA Task Force on Gender Identity and Gender Variance [APA08] grossly underreports the prevalence of "gender identity disorder" by a factor on the order of 10 to 20. . . . The underreporting of GID prevalence derives from a deliberate misuse of clinical definitions and a failure to mention known calculation errors in sources." (more)
8-28-07: San Francisco Chronicle: "Lesbian rights pioneer Del Martin dies at 87" - "Lesbian rights pioneer Del Martin, whose trailblazing activism spanned more than five decades, most recently in the battle for same-sex marriage, died Wednesday, just two months after she made history again by wedding her longtime partner in San Francisco City Hall." (more, more, more, more)
8-28-08: The Guardian (UK): "Young transsexuals should be allowed to put puberty on hold" - "Halting development allows teenagers time to consider their potential treatment, says Richard Green" - Comment: Here we see Richard Green, founder of the ASB and one of Zucker's long-time supporters, distancing himself from any hints of gender-reparatism.
As Andrea James says: "I believe they are all trying to rehabilitate themselves in fear of getting the Zucker treatment. If they keep making statements like this, that's a good thing, and I believe is a direct result of the pressure they are facing. No one wants to be labeled a villain and see their legacy disintegrate while they are still alive."
Many see a comparison with how psychologists started to see George Rekers (the gay-reparatist so extolled by the religious right), eventually avoiding mentioning him altogether. Zucker is on the same course, as his fair-weather colleagues start to see him as an embarrassment and a liability.
8-28-08: Austin360.com: "A fascinating visit to the 'sex change capital of the world'" - "In their documentary 'Trinidad,' Austin filmmakers PJ Raval and Jay Hodges look at Colorado's transsexual underground that is very much above ground"
8-28-08: SX (Australia): "Senate gets transgender, gay rights champion- Transgender and marriage rights advocates have welcomed Senator Louise Pratt's commitment to LGBT rights." - "The newly-elected WA (Western Australia) Senator, whose partner is a transgender male, made her inaugural speech yesterday, saying, "I look forward to a time when we have removed at a federal level all discrimination on the grounds of gender identity and sexuality"
8-27-08: Lakeland Echo (UK): "Fly-past tribute to RAF veteran" - "A FLY-PAST of a lone Vulcan bomber across Morecambe on Friday was a fitting tribute to a leading transgender activist, author and RAF veteran of 40 years.
The life of Lynne Janine Braithwaite BEM, who died on August 12, was celebrated at a packed Lancaster Crematorium where friends and family said their farewells to a remarkable person."
8-26-08: DiscoverMagazine.com (8-25-08): "Bizarre Disorder Makes People Want to Sever Their Own Limbs" - "Those lobbying for its inclusion as a mental disorder compare it to Gender Identity Disorder, in which people get sex changes because they feel out of place in their natural body" (Comment: Discover gives further media exposure to Anne Lawrence's and Ray Blanchard's theory that transsexualism involves an amputation fetish).
8-26-08: Bay Windows: "NCTE: We're not working with HRC" - "We have asked HRC to stop misrepresenting our organizational relationship, and though they refuse to stop, we will continue to focus on the important work to be done and leave HRC to their irresponsible positions."
8-26-08: St. Petersberg Times: "Susan Stanton's marriage comes to an end" - "The Largo city manager fired after revealing plans to become a woman has ended her 18-year marriage." (more)
8-26-08: The Villager (NYC): "Dressing like a harlot isn't the half of it on Village stroll" - "As the moon hung lower in the sky, Moenae Johnson, 19, of Queens, hung out at a bus stop on Hudson St., looking like the nice girl next door. . . "Today is classic and simple, but I'm usually a flashy person with bright colors and labels, and I like to be a little slut in the summer and show some skin," Johnson said."
8-26-08: Vietnam News (Vietnam): "Government approves decree allowing sex-change surgery" - "According to the Decree, only people who have abnormal reproductive organs are considered for a sex change operation. Sex change for lifestyle reasons is still forbidden."
8-26-08: Air Force Times: "Study: Transgender vets face discrimination" - "A new study by a California research center finds that transgender veterans — people who changed their sex after getting out of the military — believe they are facing discrimination and disrespect at Department of Veterans Affairs medical facilities"
8-25-08: Indiaglitz (India): "Karan to star as a transgender person" - "In his next flick titled 'Arthanari' Karan would be seen playing a transgender person. . . 'Gone are the days when transgender people were shown in poor light in films. Movie audiences have begun to understand and respect these people. 'Arthanari' would help a lot in making people understand a lot about these people' said Karan."
8-24-08: Notes from Eden: "First Transgender Broadcaster to cover the Democratic National Convention" - "My friend Donna Rose, and others have gently nudged me, and encouraged me to step out and be counted, be seen, so perhaps by adding yet one more example of what a transgender person is we might help others to know and accept us. So now I have said it loud and clear.... "
8-23-08: Connecticut Law Tribune (posted today, dated 8-25-08): "Transgender Workers Struggle With Bias Claims" - "Employment attorneys and lawyers for advocacy groups are keeping a close eye on a federal lawsuit in Washington, D.C. that could provide additional protections for transgender people in the work force."
8-23-08: Daily News and Analysis (India): "Blurring gender divides" - "The transgender community turned up in full force at the recent gay pride march, but they keep a low profile in the city." - "A number of them are into prostitution, others find shelter in the dark night, away from judgemental eyes. . . . "We all want to be loved, and to be in love, but it's not in our destiny.""
8-22-08: Kuwait Times (Kuwait): "Transsexuals meet with MPs over new law"
8-22-08: PGN: "Shooter of trans woman convicted of voluntary manslaughter" - "A Philadelphia judge has acquitted the killer of a trans woman of murder charges, despite an impassioned plea by the prosecutor that malice was behind the shooting"
8-22-08: ABC News: "America's Next Transgender Top Model? - Transgender Contestant Isis Will Compete on 'America's Next
Top Model'" - "Is America ready for a transgender top model? Tyra Banks seems to think so -- or at least, she seems to think that a transgender model ought to be able to strut, pose and vogue alongside female hopefuls in a bid to prove she's the next big thing."
8-22-08: Reality TV World: "'Top Model' producer: Transgender model to help "redefine" beauty"
8-22-08: Associated Press: "A Blurry Line Can Divide Male and Female Athletes" - "In a life shadowed by mystery and scarred by shame, one thing was blindingly obvious about Stella Walsh: She could run faster than almost any woman alive."
8-22-08: Southern Voice: "Study states 10 percent of trans vets turned away from VA hospitals"
8-22-08: Market Watch: "Greenberg Glusker Attorney Rachel Wilkes Lauded for Pro Bono Asylum Victory" - "Undeterred Greenberg Glusker Attorney Prevents Deportation of Abuse Victim to Mexico" - "Leyva suffered repeated physical and sexual abuse by her family, neighbors and the Mexican police, a common reality facing the Mexican transgender population."
8-22-08: The Birmingham News (Alabama): "Work it, girl! ASFA alum Laverne Cox vying for job with Diddy" - ""As a transgender woman, I felt like I had to be better than anybody else," she says. "And I maybe felt more pressure than everyone else. To me, the stakes were very high. I certainly didn't go on the show to lose." "
8-22-08: Canada.com (Canada): "TRANSGENDER STRUGGLE: From Jen to Kip: One woman's journey to become a man"
8-22-08: Liverpool Echo (UK): "Former trucker's CS gas drama: A TRANSSEXUAL former trucker was sprayed with CS gas after rowing with police officers investigating a burglary." - "Gaynor said: "I lost my job because of the clothes I wear. Now I am being punished for reporting a crime. I am the victim of discrimination.""
8-22-08: Al Watan Daily (Kuwait): "''Transsexuality not criminal felony,'' declares Arab Human Rights chairwoman" - "Dagher referred to the farـreaching consequences of the law, including depravation of leading a normal life as some families detached themselves from their transsexual relatives, and some transsexual individuals were barred from education."
8-21-08: Citizen Link (news-site for 'Focus on the Family'): "'Transsexual' Man Sues Library of Congress over Job Offer" - ""Activists will no doubt attempt to use this case to lobby to have the nebulous concept of 'gender identity' added as a category meriting special protection under federal law," said Caleb H. Price, research analyst for Focus on the Family".
8-21-08: Vogue Magazine: Vogue's September Fall Fashion Issue features a beautiful transgender woman, Nina Poon, modeling for Kenneth Cole (page 589). - Link to Kenneth Cole's page about Nina - containing the Vogue ad-page and a video of Nina and her boyfriend (more)

8-21-08: Organisation Intersex International (OII): "Laurent is Dropping a Big Hinton - The Socio-medical Emergency Monologues", By Sophia Siedlberg - "While Hinton concludes with lengthy speech about how intersex people need additional "protection", what she really means is that a child will be given medical "care" which they are unable to refuse or consent to, and even if they survive that, they will still be regarded as "Disordered" (Dysgenic)." - Note: This essay is an OII response to Amy Hinton's recent interview on PoliticalAffairs.net.

8-21-08: Pink News (re South Africa): "South African Trans-woman in beauty pageant furore"
8-21-08: WalesOnline (Wales): "Sex change claims" - "A PRE-OP transsexual claims her career has been "destroyed" since she announced she wanted to become a woman."
8-20-08: ACLU Blog of Rights: "America in Transition: A Transgender Special Forces Colonel vs. the Library of Congress" - "Diane Schroer's story tells us that we can't afford to live in the America of the past much longer. For our own sake, we have to become the America we aspire to be." Comment: This is a powerful essay. Please read it and pass it on. NEW!
8-20-08: GIDReform.org: "Blinded Me with Science: Devolution of the DSM", by Kelley Winters - "Derogatory stereotypes that equate gender diversity with evolutionary unfitness and psychiatric pathology, like those of same-sex orientation that preceded them, are contradicted by the pervasive reality of gender diversity throughout nature and human culture."
8-20-08: PoliticalAffairs.net: "Talking About Disorders of Sex Development: Interview with Intersex activist Amy Hinton"
8-20-08: Just Out Blogspot: "Transgender Job Bank Website Launching" - "T-Job Bank (www.tjobbank.com) is designed to connect trans-friendly and trans-positive employers with trans job seekers." (more)
8-20-08: The ABA Journal: "Researcher Testifies Job Offer Rescinded After Sex Change Disclosed" (more)
8-20-08: The Washington Post: "Job-Seeker Who Changed Her Gender Goes to Court"
8-20-08: Psych Central: "Improve Treatment for Gender-Variant Individuals"
"The report noted that APA has previously adopted resolutions discouraging psychologists from using diagnoses that are potentially harmful or discriminatory.
Accordingly, if there were evidence showing the GID diagnosis to be similarly harmful and discriminatory against gender-variant, transgender or transsexual people, there would be a precedent for a resolution discouraging psychologists from using this diagnosis," the task force wrote.
However … there is a great deal of disagreement about the GID diagnosis and whether it is helpful or harmful; therefore, the Task Force does not recommend that APA take a position on GID at this time.""
Comment: You can probably guess who insisted on calling gender variance a "psychological disorder", then avoided his scheduled appearance at the APA Convention where he'd have had to defend that position (i.e., Zucker).
8-20-08: Willamette Week: "The Trans Muslim: Why can't Khadija go to mosque?"
8-20-08: Access Atlanta: "'Becoming a Man' sets Atlanta actor free - Play about transgender ordeals enlivens 7 Stages" - "In his autobiographical solo performance piece, "Becoming a Man in 127 Easy Steps," the Atlanta-based artist describes the comic absurdity, social stigma, emotional imperilment and sheer-naked vulnerability of the transgendered life."
8-19-08: The Boston Channel: "School Custodian Starts New Year With New Gender" - "Custodian Changing Gender From Male To Female"
8-19-08: Brazil Magazine (Brazil): "Sex Change Is Human Right in Brazil and Can Be Made for Free"
8-19-08: Pink News (UK re US): "Fox News apologises for transgender comments"
8-18-08: TS Roadmap.com: "Ken Zucker blows off scheduled appearance at American Psychology Association"
8-18-08: ENDAblog: "Tentacles" - Comment: In this page ENDA bloggers expose Kim I. Mills (spokesperson for the APA Trans Task Force) as a rabid transphobe.
8-18-08: TS Roadmap.com: "Trans task force report for American Psychological Association is out" (more) (policy statement PDF; report PDF).

8-17-08: Shelley Janiczek Woodson, Ph.D.: "Where's Zucker? Or, How a Hard Working Task Group Produced an Important Policy Statement, While Missing the Boat"
8-17-08: The Hindu: "Transgenders press for land" - "The greatest problem faced by transgenders is finding accommodation. Since most of us are ostracised by our families, we have nowhere to go . . . "
8-17-08: Telegraph.co.uk (UK): "My husband the transsexual" - "Although they remain rare, relationships that have somehow survived a sex-change have made the headlines recently. And the advent of civil partnerships has provided a means for couples who do choose to divorce to be recognised in law."
8-16-08: Law.com: "LAW.COM (dated 8-16-08): "Transgender Bias Suit Against Library of Congress Could Change Federal Policy" - "A transgender job bias suit against the Library of Congress moves to trial Tuesday in federal court in Washington, D.C., with potentially major implications for federal antidiscrimination policy."
8-16-08: Newsday.com: "GRAY MATTERS: AARP flexes its muscle on Medicare, support for gays" - "While many in the older generation still live in the shadows, hiding their sexuality, says SAGE, "the next generation if LGBT seniors, part of the boomer generation, has decisively and proudly embraced their sexual orientation and gender identity. Collectively, they will be a powerful and insistent force in combating the marginalization and invisibility that plagues the older generation.""
8-15-08: Lower Hudson News-Journal: "Another kind of bullying"
8-15-08: The Olympian (Olympia, WA): "Civil rights should protect all people"
8-15-08: MTV.com: "Kim Stolz Cautiously Applauds First Transgender 'America's Next Top Model' Contestant" - "I'm certainly not saying that Isis deserves special treatment or that she and "ANTM" have a responsibility to educate viewers; I'm merely stating the fact that this season will have the capacity to shape people's minds across the world about a minority that is still "taboo" and thought of as a "mental illness" by many of the nation's top physicians."
8-15-08: Philadelphia Gay News: "Subpoena of DA records in Morris case 'imminent'" - "Morris was a transgender woman who died shortly after receiving a courtesy ride from Philadelphia police during the early-morning hours of Dec. 22, 2002." . . . "Kathleen R. Padilla, a local transgender activist, lauded the PAC for its commitment to the Morris case. "The disappearance of Nizah Morris' official homicide file causes deep consternation among so many community members," Padilla said. "Anything the PAC can do to shine a light on this murky case will only serve to improve relations between the community, police and [the] D.A.'s Office.""
8-15-08: Stuff.co.nz (New Zealand): "Jobless Beyer eyes Aussie" - "Former Labour MP Georgina Beyer plans to move to Australia because she cannot find work" (more)
8-14-08: GIDReform.org: "Diagnosis vs. Treatment: Psychosexual Stigma", by Kelley Winters, Ph.D.
"Undermining the legitimacy of social and medical transition in the title, diagnostic criteria and supporting text of the current Gender Identity Disorder diagnosis, the American Psychiatric Association has undermined the human dignity and civil justice of gender variant and especially transitioning people. The Sexual and Gender Identity Disorders work group of the DSM-V Task Force has an opportunity to reconsider consequences of social stigma that have been overlooked in past editions. Once again, it is time for diagnostic nomenclature that does not harm those it is intended to help."
8-14-08: San Diego Union-Tribune: "Groups challenging detention of transgender immigrant "
8-14-08: TSRoadmap.com (re UK): "Ken Zucker to appear at UK gender conference" - "Kenneth J. Zucker, the most prominent proponent of forcing transgender children into reparative therapy, has been invited to an September conference on gender identity in adolescents at the Royal Society of Medicine. Based at the notorious Centre for Addiction and Mental Health (aka the Clarke Institute) in Toronto, Zucker will be one of two invitees not from the UK."
8-14-08: The Guardian (UK): "'My body is wrong'" - "Should teenagers who believe they are transgender be helped to change sex? And if so, what about the four-year-olds who feel the same way? Viv Groskop meets the parents and doctors in favour of intervention" . . .
"A conference to discuss gender identity disorder in adolescents will be held in October at the Royal Society of Medicine. Some parents whose children have gender identity issues are already angry about the fact that few professionals have been invited from abroad. They see the UK as lagging behind developments in other countries. Treatment centres in Australia, Belgium, Canada, Germany, Norway, the Netherlands and the US all offer medication to suspend puberty. Not enough is known about this in the UK, according to the Gender Identity Research and Education Society (Gires), and only two of the 15 presenters at the conference are from overseas. . ."
"Terry Reed, a trustee at Gires and the mother of a transgender adult, says that many British specialists are "transphobic". "As far as they're concerned, a trans outcome is bad. They are hoping that during puberty the natural hormones themselves will act on the brain to 'cure' these trans teenagers. What we do know is what happens if you don't offer hormone blockers. You are stuck with unwanted secondary sex characteristics in the long term and in the short term these teenagers end up suicidal.". . ."
Important note: Gender-reparatist Ken Zucker is one of the foreign invitees, revealing the inherently anti-transition bias of the UK conference. You are invited to sign a petition protesting Zucker's key role in the conference. See my comment at signature #272.
8-14-08: Gay Wired: "TransNation: Former Attorney Tackles Workplace Issues, FTM Borderlands and Transphobia", by Jacob Anderson-Minshall - "The work Weiss has taken on, she says is not something that one person can really tackle alone. Instead, she argues, it takes "many, many individuals. It's not something that should be reserved to people who are quote activists or… academics or scholars. The way to do [it] is simply to—in your own life—come forward and… educate people about issues of sexual orientation and gender identity. Ultimately that's what's going to change society. A lot of transgender people are concerned about standing up too tall or too proud in society, fearing that they'll be the target of violence and ridicule. I think that's what needs to change. [In order] to change society we need to stand up and be counted." " (more)
8-14-08: The Star Online (Malaysia): "Time to engage Mak Nyah" - The Mak Nyah community wants to be part of society and to be accepted as they are. This calls for heart-to-heart engagement and not enforcement."
8-13-08: Reality TV Scoop: "Meet Isis, Transgender America's Next Top Model Contestant" (more, more, more, more)
8-13-08: Washington Post: "Md. High Court Takes Transgender Case"
8-13-08: Melbourne Community Voice (Australia): "International Trans Day" - "Most gay historians will tell you modern gay activism began with the riots at the Stonewall Inn in New York, 1969. But on Friday many in our community will commemorate the anniversary of another incident three years prior to Stonewall. International Transgender Day of Awareness, August 15, marks the 42nd anniversary of the 1966 Compton Cafeteria riot in San Francisco, where transgender and queer patrons rebelled against police harassment"
8-12-08: NewIndPress (India): "Aravanis return youth to family after parent's plea" - "This episode has opened a debate on whether an individual has right to choose life much against the parental concern? Whether Aravanis have the right to extend protection to newcomers? Whether parents have right to expect too much from their wards? Social activist Malliga Chandran said that a lot of awareness was needed to accept transgenders in the social set up if not in the family fold"
8-12-08: Pink News (UK): "London Transgender Film Festival announced"
8-12-08: My Fox Colorado (Denver): "Issues & Risks Transgender People Face"
8-11-08: Gay Wired (re East Germany): "East German Shot-Put Champ Says Steroid Use Led to Sexual Reassignment Surgery"
8-11-08: ABC News: "Women With Male DNA All Female - Women with Rare Syndrome Learn to Live with Male Chromosomes" (story about women with AIS)
8-11-08: Washington Blade: "Dem platform called 'strongest ever' on gay rights - Document calls for 'sexual orientation,' 'gender identity' protections" - "A final draft of the Democratic Party's 2008 platform strengthens the party's support for gay civil rights and calls for an end to discrimination based on gender identity." (to be presented to the Democratic National Convention in Denver later this month for final approval)
8-11-08: The New York Press: "The Queerest Thing: Transgender Nomi and Voguers Steal the Show at Hercules and Love Affair" (link to Naomi online)
8-11-08: The Valpariaso Times (Chile): "Gay Rights Group Outraged at Transphobic Comments" - ""Transphobic" comments by a candidate for a city alderman's position in Valparaiso sparked outrage this week from Chile's leading gay rights group – the Chilean Movement for Sexual Minorities (MOVILH)"
8-10-08: The Greeley Tribune: "Friends, family gather to say goodbye to slain woman" - "Monica Zapata reflected Saturday night in front of 200 people about her sister's life and death and could not keep from leaning on her family an arm's length away. . . .

Angie Zapata would have celebrated her 19th birthday last week. "She always knew she was supposed to be a girl. And we knew it too," Monica Zapata said. "Don't remember her as transgendered but remember her as a beautiful, loving woman."" (more)
8-10-08: The Jakarta Post (Indonesia): "U.S. grants asylum in Indonesian transgender case" - "The United States granted, for the first time, an asylum claim to an Indonesian transsexual last month, an activist said"
8-10-08: The Buffalo News: "Transgender city worker dismayed by intolerance"
8-09-08: Lower Hudson Journal News: "BOCES, transgender teen face challenge"
8-08-08: GID Reform.org: "Diagnosis vs. Treatment: Barriers to Medical Care" - "The current diagnosis of Gender Identity Disorder has contributed to derogatory stereotypes of mental illness and sexual deviance, creating barriers to medical care for transsexual and other gender variant people before and after transition. The DSM-V Sexual and Gender Identity Disorders work group has an opportunity to refute these stereotypes with diagnostic criteria and supporting text that are affirming of transition rather than promoting punitive gender-conversion therapies."
8-08-08: Jillian T. Weiss & Associates: "NYC Diversity Seminar: Transgender Issues in the Workplace" - "You are invited to attend an NYC Diversity Seminar presentation on Transgender Issues in the Workplace on Friday, November 14, 2008, from 10 a.m. to 4 p.m. in New York City at our midtown location."
8-08-08: Pam's House Blend: "Democratic National Convention Transgender Representation", by Autumn Sandeen - "Going back four years to the 2004 Democratic National Convention, there were five trans representatives at the convention. Unofficially, the 2008 Democratic National Convention looks to have eight representatives. So just in raw numbers, there is going to an improvement in the amount of trans representation this convention."
8-08-08: Bloomberg.com (re Thailand): "Thailand's Teen Castration Ban Splits Doctors, Gay Campaigners"
8-08-08: Organisation Intersex International (OII): "I Got Your Message!", by Sophia Siedlberg - "Today the 8th of August 2008 sees the opening of the Beijing Olympics and the one debate that interests me is the one about sex testing. Already some "religious" people have crawled out of the woodwork saying that "sex testing is good because it keeps those who are aberrations in the eyes of G-d out". Hmm yes, I suspect they would have really enjoyed the 1936 Olympics then"
8-08-08: Medindia.com (India): "Transgender Community's Employment and Health-Focused NGO Seminar in Chennai" - "Nearly a hundred and fifty members belonging to the transgender community converged at a seminar organized in Chennai this week to promote health awareness among the community and to float schemes to help the members become self-employed and lead a life of self-respect and dignity."
8-08-08: Law.com: "Federal Court: N.Y. Had Right to Halt Medicaid Funding for Gender Reassignment"
8-07-08: PageOneQ: "Vigil for Colorado teen in 'transgender panic' killing planned as suspect faces judge"
8-07-08: Greeley Tribune: "Man charged in the beating death of transgender woman appears in court" - "Allen Andrade, 31, of Thornton is charged with first-degree murder, felony bias-motivated crime, felony motor vehicle theft and felony identity theft. Transgender woman Angie Zapata would have celebrated her 19th birthday Tuesday."
8-07-08: Bay Area Reporter: "New book explores trans kids" - "Writers Stephanie Brill and Rachel Pepper hope to make that path a bit easier with their new book The Transgender Child"
8-07-08: Catholic News Agency: "Florida Citizens Unite Against 'Transgender' Activists" - ""The concept of 'gender identity' was fashioned by radical homosexual groups and advocates to protect the bizarre sexual behavior of a few people," President and Chief Counsel of the Thomas More Law Center Richard Thompson commented in a statement. "In practical effect, these types of ordinances end up being used to intimidate and prosecute Christians and anyone else who raises objections to this form of deviant behavior.""
8-06-08: Here on Earth - Radio Without Borders: "Transgender International" - "After decades of harassment, there are signs that transgender communities in India and Cuba are finally getting accepted. India has a transgendered TV talk show host, and in Cuba, gender reassignment surgeries are being routinely performed. Progress? You decide" Guests: Joe Elder, professor, Department of Languages and Cultures of Asia and Department of Sociology, UW-Madison; Adrian Lopez-Denis, professor of Latin American History at UCLA; Ron Brenesky, chairman of Unity Coalition of Miami, Florida NEW!
8-06-08: Boise Weekly: "Gender Barred - Transgender inmates sue for hormones"
8-06-08: Chinaview (re Vietnam): "Vietnam issues sex change decree" - "The Vietnamese government issued a decree limiting the legality of sexual reassignment operations, under which sexual reassignment surgery is now legal only for people with inborn or behavioral sexual variants" (more)
8-05-08: BBC News (UK): "Man denies transgender killing" - "A teenager accused of killing a transgender woman he had become intimate with has said he did not know she was biologically still a man. Shanniel Hyatt, 18, denies murdering 39-year-old Kellie Telesford at her flat in Thornton Heath."
8-05-08: AlterNet: "Rethinking Sexism: How Trans Women Challenge Feminism", by Julia Serano - "The world's largest annual women-only event excludes trans women, sparking a debate among feminists about sexism and privilege."
8-04-08: Daily Mail (UK): "Anger as 350 police officers taken off the beat for sex-swap awareness classes because one is changing gender"
8-03-08: New York Times: "The XY Games", by Jennifer Finney Boylan - "If transgender athletes are now allowed to compete officially, and if gender testing has been shown frequently to render false results, then what exactly are the Chinese authorities testing for? The Olympic hosts seem to want to impose a binary order upon the messy continuum of gender. They are searching for concreteness and certainty in a world that contains neither."
8-03-08: Chicago Tribune (re Maryland): "Transgender protections trigger backlash, referendum"
8-02-08: The Local (Sweden): "Castration law for Swedish transgenders" - "A new proposal to introduce castration as a prerequisite for those undergoing gender reassignment surgery in Sweden has been met with outrage by a leading gay and transgender rights organization" (Could this proposal be a reaction to the recent birth of a child to a transitioned man?).
8-02-08: New York Times: "Death of a Transgender Woman Is Called a Hate Crime"
8-02-08: Weekend Post (South Africa): "Long and painful journey to womanhood"
8-01-08: The Star (Malaysia): "Transsexuals gather for annual religious festival"
8-01-08: Athletic Business: "Change Candidates" - "As some young athletes wrestle with gender identity, athletics policymakers are preparing for a sexual evolution"
8-01-08: Out&About (Tennessee): "Straight ally advocates for gender identity protection"
8-01-08: Southern Voice: "Tenn. church shooter angry at 'liberals and gays' - Two killed in rampage at Unitarian Universalist Church " - "McKendry, the first victim killed, and his wife had recently taken in Taylor Bessette, a transgender teenager in the foster care system. Bessette told the local media to remember McKendry as a hero for taking a shotgun blast to protect others."
July 2008
7-31-08: The Denver Channel: "Arrest Made In Transgender Teen Slaying Case" - "Affidavit: Man Was Angry After Finding Sex Partner Had Male Organs" (link to photo of the 20 year old victim: Angie Zapata) (more, more)
7-31-08: Associated Press: "Colorado man charged in transgender slaying" - "A Colorado man is accused of fatally battering a sex partner with a fire extinguisher after discovering that his companion was a transgender woman . . . He told investigators that he took a fire extinguisher off a shelf, struck Zapata twice in the head and thought he "killed it.""
7-31-08: Straight.com (Vancouver, Canada): "Transgender rights still unenshrined"
7-30-08: TS Roadmap.com: "YouTube videos of the presentations at Joelle Ruby Ryan's NWSA panel on resisting transphobia in academia".
This is the event that Alice Dreger failed to stop by widely defaming Joelle on the National Women's Studies Association e-mail list when Joelle sent out the call for papers. Joelle courageously went on to organize this historic first-of-its-kind panel anyways - a panel in which prominent transwomen critiqued academic transphobia in an academic conference. The presentations by Joelle Ruby Ryan, Élise Hendrick, Katrina Rose and Andrea James were powerful ones, as you'll see in the YouTube videos.

7-30-08: New York Times (re China): "A Lab Is Set to Test the Gender of Some Female Athletes"
7-30-08: Pat Griffin's LGBT Sport Blog: "Sex Testing at the Olympics" - "Organizers of the Bejing Olympics have set up a lab to test the sex of women whose femaleness is deemed questionable. This statement raises the hair on the back of my neck. The intention is to catch, what some officials in the Olympic movement call, "man cheats." They are referring to men who disguise themselves to compete as women."
7-30-08: The First Post (re Iran): "Drastic surgery for Iran's gay men"
7-30-08: Times of Malta (Malta): "Constitutional Court: Woman born a man insists on right to marry" - ""I'm still young and will keep fighting for the family life I always wanted... It is my right and if I don't get it from the Maltese courts, I'm ready to take my case to the European Court," Joanne Cassar, 26, said when contacted"
7-30-08: The Guardian (UK re China): "The gender trap" - "We're familiar with drug testing for athletes, but officials at the Beijing Olympics will be taking things one stage further and examining competitors whose sex is in doubt." (more in the Times online)
7-29-08: Blaze (Australia): "OII Denounces 'Sex Tests'" - "Sex tests" by Chinese Olympic officials are "neither scientific nor humane" says the Organisation Intersex International (OII)"
7-29-08: BBC News (re Thailand): "Thai school offers transsexual toilet" - "Between the girls' toilet and the boys', there is one signposted with a half-man, half-woman figure in blue and red. . . . The headteacher, Sitisak Sumontha, estimates that in any year between 10% and 20% of his boys consider themselves to be transgender - boys who would rather be girls"
7-29-08: New Scientist: "'Transsexuality gene' boosts male hormones" - "A gene variant has been identified that appears to be associated with female-to-male transsexuality – the feeling some women have that they belong to the opposite sex." (more, more, more)
7-29-08: Eyewitness News (Memphis): "Neighbors Help Troubled Transgender Woman"
7-28-08: Washington Post (re NYC): "Trans Formed: To Be Homeless & Transgender"
7-28-08: PinkNews (UK): "South African named as new UN human rights chief" - "The new UN High Commissioner for Human Rights will be South African judge Navanethem Pillay. . . Last year Mrs Arbour declared her support for the Yogyakarta Principles. They refer to the application of international human rights law in relation to sexual orientation and gender identity and address issues such as rape and gender-based violence, extra-judicial executions, torture and medical abuses, repressions of free speech and discrimination in the public services."
7-28-08: Organisation Intersex International (OII) Press Release: "OII Denounces Sexist Discrimination and Human Rights Violations of Intersexed Athletes in Beijing" - "OII has learned that the Chinese medical establishment is defying the International Olympic Committee's finding that sex or gender testing in Olympic sport is neither scientific nor humane, by re-instituting invalid, outmoded "sex tests" for the Beijing Games. An example of the Chinese medical establishment's egregious violation of scientific fact and their assault on human dignity is the notification of their decision to use chromosomal and genetic tests, as well as nude examinations of the appearance of women athletes competing in the Olympic Games in Beijing."
7-28-08: San Francisco Chronicle: "Protesters Among the Gay Tuxedoed Crowd" - "This is one for the history books," said Robert Haaland, a longtime San Francisco transgender activist. . . . A coalition of groups, including Pride at Work, And Castro 4 All, and the Harvey Milk LGBT Democratic Club, called a boycott and managed to get not only local politicians, but also the Human Rights Campaign (HRC) dinner's keynote speaker to cancel at the last moment. . . .It's hard to imagine that HRC can now proceed with business as usual. The message from Saturday's boycott and protest was loud and clear: Transgenders and their allies are not going away. HRC should be very worried."
7-27-08: San Jose Mercury News: "L.A. mayor backs out of S.F. gay rights event: Boycott urged over transgender snub" - "Los Angeles Mayor Antonio Villaraigosa pulled out as keynote speaker for a gay rights group's fundraising event scheduled for Saturday night following intense lobbying from transgender activists angry over the group's stand on a federal gay rights bill."
7-27-08: The Virginian-Pilot: "In transgender circles, silicone is a risky shot at womanhood"
7-27-08: The Australian (re China): "Chinese to check athletes' genders in sex-change crackdown at Beijing Olympics" - "Suspect athletes will be evaluated from their external appearances by experts and undergo blood tests to examine their sex hormones, genes and chromosomes for sex determination," said Union Medical College Hospital's Professor Tian Qinjie" (If this report is correct, it appears that the Chinese are in conflict with recent IOC rulings eliminating 'sex testing').
7-27-08: The Hindu (India): "On the frontline" - "As Rose, the host of 'Ippadikku Rose', fights to realign rigid notions about gender and sexuality, it's worth asking if we know what tolerance really means"
7-27-08: The Plain Dealer (Cleveland): "Transsexual fights city of Cleveland over pool locker room" - "Karen Deamons wants to use the women's locker room, like a normal woman" (more)
7-26-08: Bernama (Malaysia): "Sixteen Transsexuals Busted For Participating In Beauty Pageant"
7-25-08: CBS5-San Francisco: "Human Rights Campaign SF Fundraiser Faces Boycott" - "Several gay rights groups are planning to protest Saturday's fundraiser for the Human Rights Campaign. They accuse the national gay rights group of excluding the transgender community." (good video coverage, including comments by Robert Haaland & Diego Sanchez)
7-25-08: Southern Voice: "Transgender woman sues Georgia lawmakers - Federal lawsuit alleges unconstitutional bias in state job firing" - "On Oct. 16, 2007, Brumby fired Glenn after confirming she was transitioning. When she asked why she was being terminated, she said Brumby told her she would make other employees uncomfortable and that lawmakers would find it "immoral.""
7-25-08: Washington Blade: "A pro-trans president? - Now's the time to ask tough questions of Obama and McCain on our issues", by Gwen Smith
7-25-08: Southern Voice: "Searching for trans love in the gay world - Are queer women more open to dating trans partners than gay men?"
7-25-08: Gay.com: "Pa. justices strike down LGBT hate-crimes law"
7-24-08: Time (re Mexico): "Postcard from Mexico City - A Den of Sin or a Beacon of Liberty?" - "Mexico City judge Gustavo Lugo signed off on Mexico's first transgender marriage, ruling it a perfectly legal union between a registered male and a registered female. . . . Splashed over Mexican newspapers and TV shows, the wedding became the latest symbol of Mexico City's transformation over the last two years into the socially liberal capital of a conservative Catholic country."
7-24-08: Washington Post: "Ruling Clears Way for Vote on Transgender Protections" - "A Montgomery County judge today sided with opponents of broad new protections for transgender individuals, clearing the way for voters in November to accept or reject the law."
7-24-08: Radio Netherlands (Netherlands): "Woman ruled man is woman - Vindication comes decades on" - "A Dutch athlete suspended in 1950 by the Dutch Athletics Union on the grounds that she was actually a man, has finally been vindicated thanks to DNA technology."
7-24-08: GayWired.com: "Celebrity Daughter Kathlyn Beatty Rumored to be Transgender" (more)
7-24-08: San Francisco Chronicle: "'One Damn Man': Transsexual pen pals pen play" - ""I think things have gotten more difficult over the years as (people) see negative images portrayed on television," says Brevard, who says she was one of the first people in the United States to have gender-reassignment surgery, in 1962. "It's important to us to live in mainstream society. We didn't do this to hang from some high-wire somewhere. Through their performance, the women are hoping to "add one more voice" to the discussion about - and the perception of - transsexuals." (Report on an upcoming performance of scenes from "Inside/Out" by Aleshia Brevard and Gina Grahame).
7-24-08: Irish Times (Ireland): "Equality agency intervenes in gender identity cases"
7-23-08: Examiner.com: "Murder in Greeley: "All she wanted was to be beautiful." - "On Thursday, July 17, Angie Zapata, an 18-year old Latina transgender woman was found murdered in her home in Greeley, CO. It appears that there may be anti-transgender motive in this brutal crime." (more, more, more, more, more)
Angie Zapata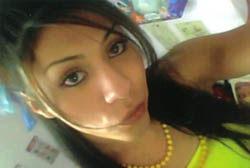 7-23-08: Earth Times (re Germany): "Top German court okays 'transsexual' to stay with wife" - "A man who has sought legal recognition as a woman will be allowed to stay married to his wife, Germany's constitutional court ruled Wednesday. The top court ruled as unconstitutional legislation that would have effectively forced persons having sex changes to dissolve their marriages. The law only allows a sex change by single people. . . . Germany's parliament was instructed to amend the invalid law by August 1, 2009. Judges said parliament could prescribe that the man's marriage be converted into a same-sex marriage. Germany recognizes marriage-style unions between homosexuals."
7-23-08: Popmatters.com: "A Clan, a Network, a Tribe, a Family" - "Not only does the GLBT community view itself as one movement, society has mandated that the groups are linked -- if not intentionally, then through selective exclusion."
7-22-08: AHN (re Bahrain): "Bahraini Lawyer Becomes First Woman To Win Two Sex Change Cases"
7-22-08: OutInAtlanta: "LAMBDA LEGAL FILES FEDERAL LAWSUIT AGAINST GEORGIA GENERAL ASSEMBLY OFFICIALS FOR FIRING TRANSGENDER WOMAN"
7-22-08: Atlanta Journal-Constitution: "Transgender woman sues Georgia lawmakers, supervisor" (more)
7-21-08: GIDReform.org: "Blinded Me With Science: Sampling Error," by Kelley Winters - "The cornerstone of empirical science is elimination of bias by sampling data that is representative of the population under study. However, the APA relied on data from unrepresentative clinical populations to conclude that all gender variant people, whose gender identity or expression vary from their assigned birth sex roles, are mentally ill in the Diagnostic and Statistical Manual of Mental Disorders rev. IV-TR. In fact, the current diagnosis of Gender Identity Disorder allows no possibility for the existence of countless well-adjusted transsexual and gender variant people already in society. The Sexual and Gender Identity Disorders work group has an opportunity to replace stereotype with science in the DSM-V, to base diagnostic nomenclature on sound data that is representative of real gender variant people from non-clinical populations"
7-21-08: Times Online (UK): "Should I help my 12-year-old get a sex change?" - "When children are adamant that they are trapped in the wrong body, is it ethical to offer them hormone treatment? A concerned mother and a Dutch psychologist believe the answer is 'yes'"
7-20-08: GID Reform Weblog by Kelley Winters: "Top Ten Problems with the GID Diagnosis" (posted 7-16-08)
7-20-08: AFP (re Thailand): "Thai teens seeking sex changes grapple with new rules" - "The regulation was introduced in April after health authorities became alarmed by stories and the subsequent public debate about underage boys seeking -- and receiving -- castrations as the first step toward gender reassignment surgery."
7-20-08: Trend News (re Hong Kong): "Television programme calls transgender people "human monsters"" - "Television watchdogs were investigating after transgender people were described as "human monsters" in a Chinese language television programme, a media report said Sunday, the dpa reported.

The expression "yan yiu," which translates as "human monster," was used 23 times during a report on transgender people in Thailand broadcast by the ATV television station, the South China Morning Post said. . . .

Sam Winter, a professor at the University of Hong Kong's faculty of education and also director of Transgender ASIA Research Centre, said the use of the expression would damage Hong Kong's reputation as a cosmopolitan city."
7-20-08: Newindpress.com (India): "A transgender realises her dream" - "Her struggle to fulfil her dream of joining teachers training was realized on Saturday"
7-20-08: The Star (Malaysia): "Activist: Transgender lot needs help as they can't get jobs"
7-20-08: Typically Spanish (Spain): "Protesting transsexual found dead in Sevilla" - "F.P. had spent some time protesting about a 'police mafia' in the city of Sevilla"
7-20-08: The Edge (Boston): "A novel defense: Convict's bid for retrial hinges on alleged anti-trans discrimination against potential juror"
7-19-08: Newsweek: "Young, Gay and Murdered" - "Kids are coming out younger, but are schools ready to handle the complex issues of identity and sexuality? For Larry King, the question had tragic implications."
7-19-08: The Daily Mail (UK): "Changing times: How the trauma of the 7/7 bombings convinced a top GP to fulfil his lifelong dream of changing sex"
7-18-08: World Professional Association for Transgender Health (WPATH): "WPATH Clarification on Medical Necessity of Treatment, Sex Reassignment, and Insurance Coverage in the U.S.A." (an important document to study and disseminate)
7-18-08: Bianet (re Turkey) "Police Officers Finally On Trial For Beating Transsexual Esmeray" - "The police officers who beat up and insulted transsexual Esmeray in June 2007 for passing by the front of the station"
7-17-08: CeskeNoviny (Czech Republic): "Sex change treatment should start in adolescence - Czech experts"
- "The government working group for sexual minorities wants the bill on special medical services to enable sex-change treatment to start being applied to people under 18, Minister for human rights and ethnic minorities Dzamila Stehlikova told CTK today." . . . "Some 40 sex-reassignment operations are annually performed in the 10-million Czech Republic on the basis of the patients' request. They must also be approved by an expert commission."
7-16-08: The Queens Courier (Queens, NY): "Transgender/priest attack is troubling"
7-14-08: Winston-Salem Journal (NC): "First Few: Durham blogger gets convention press credentials" - "Pam Spaulding's "Pam's House Blend" is a progressive blog that is centered on lesbian, gay, bisexual and transgender issues."
7-12-08: The Canadian (Canada): "The Pyrrhic Victory of OHIP-funded Sex Reassignment Surgery - An open letter to George Smitherman and David Caplan", by Nikki S., Transgender Columnist
"A Pyrrhic Victory is one that has devastating consequences for victors. The re-listing of SRS is, to be sure, a victory for the trans community, and should be celebrated as such. But OHIP-funded SRS, left solely under the iron fist of CAMH's Gender Identity Clinic, would be a devastating setback for the trans health movement, one with consequences almost as dire as the original 1998 delisting of SRS. . . . "

7-12-08: Times&Transcript (Canada): "Young adult embracing new identity" - "Newly-developed resource guide offers support to parents of trans youth"
7-11-08: Bay Windows (Boston): "GLAAD, MTPC take on Herald for 'offensive coverage of transgender people'"
7-11-08: College On The Record: "My Transgender Life After Wesleyan: Transphobia"
7-11-08: The Jewish Daily Foreward (re Lebanon): "Israeli Singer Finds Lebanese Fans" - "Aderet, who is a transsexual, seems to have tapped into the power of music. Indeed, it appears that Arab audiences care more about her hit song than they do about her religion, nationality or sexual identity." [See and hear Aderet singing her mesmerizing song "Say no more" in this YouTube video]
7-10-08: Endocrine Today: "U.S. laws struggle to keep up with gender advances: From children born with DSDs to transgender adults, the legal issues confronting certain groups can be challenging" [Comment: Article tries to be forward-looking, but in the process heavily promotes the Dreger-Chase DSD terminology]
7-10-08: NY1 News (New York City): "Queens Residents Speak Out Against Violence On Transgender Youth"
7-10-08: Bay Windows: "Trans parents, trans kids: two new guides" - "Two new works offer much-needed guidance for families with transgender members, but each approaches the subject from a different perspective. One addresses parents of transgender children, while the other targets children of transgender parents."
7-10-08: Gay & Lesbian Times (San Diego): "Man charged with sexually assaulting, robbing three transgender women"
7-10-08: New York Times Movie Review: "XXY (2007): Confronting the Perils of Puberty Squared" - "How must the world appear to someone who has been treated as an exotic clinical specimen from birth? The moody, surreal "XXY" explores the world of Alex (Inés Efron), an intersex teenager — born with both male and female sex organs — navigating the treacherous emotional and hormonal rapids of uncertain gender. . . . Under increasing pressure from her parents to make a final decision about whether to live as a boy or a girl, she is furiously reluctant to choose."
7-09-08: IndyBayMedia: "Transgender rights talks from the fifth annual Trans Pride March rally in Dolores Park" - "A significant amount of time in the four hour TransMarch rally was spent in discussions of medical problems related to the continued classification of transgender people in the DSM IV (Diagnostic and Statistical Manual of mental illness) as a mental health condition. The DSMIII had considered gay and lesbian people as having mental illness, those diagnoses have since been eliminated. Activists burned a copy of the manual on stage as a protest. . . . Transgender activists are organizing to eliminate this diagnosis." (Ed: bold for emphasis) (Comment: This article goes on to quote some of the language used in the DSM re transpeople, and by simply quoting that language reveals how incredibly stigmatizing it is).
7-09-08: iPetition.com: "PETITION: Oppose Reparatist Therapist, Kenneth Zucker speaking at RSM in London" - Yet another petition is launched in protest of the activities of trans-reparatist Zucker. This will likely happen over and over again in the coming years, until there's no place he can hide from his past brainwashings of trans-youth.
7-09-08: Edge (Boston): "Bi personals site boots trans member", by Ethan Jacobs - "When Nick Teich created a free account on the online personals site BisexualDatingNow.com last week, he decided to disclose that he is transgender. Perhaps he shouldn't have."
7-08-08: Breakpoint: "Sexual Ethics: It's a Sick, Sick World," By Chuck Colson [In this piece Colson parrots the teachings of Paul McHugh and rails against the work of Norman Spack, M.D. You remember Colson: he's a convicted felon who was involved in the Watergate Burglary. He turned to religion and has reached the point of being a Christian-right fanatic.]
7-08-08: NY1 News (New York City): "Four Teens Arrested For Transgender Center Attack" (more, more)
7-08-08: Out & About (Memphis): "Transgender murder victim laid to rest" - "Family seeks justice for Ebony Whitaker"
7-08-08: The Times of India (India): "Transgender to play lead in Tamil film" - "Young Karpaga, who makes her debut as a heroine in a Tamil film, is understandably nervous. She is busy rehearsing her lines and learning the nuances in the art of make-up, as the offer is not a passport to fame and wealth, but a lifetime opportunity to join the mainstream of the society. . . Karpaga, the heroine of 'Paal', is the first transgender in the country to don the leading role in a mainstream movie" (A special article signaling change in India) (more)
7-07-08: Xtra (Canada): "Trans activists infuriated by doctors in charge of gender identity definitions" - "Toronto MDs could rewrite definitions for pyschiatric association's mental health guide"
"The appointment of two Toronto doctors to a committee revising medical definitions of gender identity has infuriated trans people across North America. . . .Trans activists are also worried that Kenneth Zucker and Ray Blanchard both work at the Centre for Addiction and Mental Health (CAMH), which will decide who is eligible for sex reassignment surgery (SRS) once it is relisted under the Ontario Health Insurance Plan."
COMMENT: As the mainstream G/L media gets this story, Zucker and Blanchard are scurrying like crazy to cover their tracks by having spokespersons deny Zucker's trans-reparatism and Blanchard's defamatory trans-taxonomy. What a pathetic act, eh?
7-07-08: Screening at OutFest in LA on July 12 & 14: "She's a Boy I Knew" - "Winner of six audience awards, She's a Boy I Knew is a groundbreaking feature by transgender filmmaker Gwen Haworth who boldly turns the camera on her parents, sisters, best friend, and wife, all of whom unexpectedly find their bonds strengthening as they overcome preconceptions of gender and sexuality" (Reviews: Variety, DIVA, EDGE NY, XTRA).
7-07-08: The Times of India (India): "Time to give 'third sex' its legal rights"
7-07-08: Boston Herald: "Undercover 'john' takes on trannies, pimps" - Comment: a rather sleazy transphobic article.
7-07-08: Brisbane Times (Australia): "Boys won't be boys with new gene"
7-06-08: The Guardian (UK): Pregnant with discrimination: Ultimately it is prejudice about Thomas Beatie's perceived gender transgression that lies at the root of the objections to his decision to give birth," by Jane Czyzselska
"But as the growing transgender community proves, biology is no longer destiny. Since the transgender model April Ashley went public about her story in the 1970s, the number of people transitioning from male to female, female to male or simply living "in between" genders has increased considerably. . . These and the many more ordinary transgendered people living in Britain today are living proof that the outmoded idea of a biologically determined male-female gender definition is beginning to look unhelpful and inappropriate."
7-05-08: Telegraph (UK): "Questioning a transexual friend: Diane Purkiss reviews Becoming Drusilla: One Life, Two Friends, Three Genders by Richard Beard" - "But that's just what makes the book so refreshing; it's an attack on meaningless milestones of "passing" that are only applied to women whose gender identity is compromised. . . And yet there is an obvious way in which transsexuals are like all of us. Beard's title reflects Simone de Beauvoir's observation that "one is not born a woman; one becomes one".

7-05-08: TransAtPride.org (UK): "TransphobiaAtPride" The Pride march and rally are now over for 2008. A lot of fun was had by many, but unfortunately transphobia reared its ugly head at the Pride rally in Trafalgar Square."
7-05-08: Eyewitness News (Memphis, TN): "Family of Murdered Transgender Seeks Justice" - ""I'm thinking he ran across a man," she says, "who wanted female company. And he thought he had a beautiful young lady. And in the midst of the moment, he found out Rodney wasn't a woman and got mad and shot him."" (Story contains video report; click here for photo of Ebony Whitaker)
7-05-08: Times Online (UK): "How blue pills turned Heidi Krieger into a man " - "It took many years for Andreas Krieger - the name Heidi chose after her sex-change operation in 1997 - to discover what had been perpetrated at the Dynamo Club. Top-secret documents relating to the sporting system in East Germany were uncovered only after the fall of the Berlin Wall in 1989 and it took almost a decade to excavate the full, mind-bending story."
7-03-08: Salon: "What the Pregnant Man didn't deliver: Thomas Beatie brought us a media circus and late-night punch lines. But there's something missing, say some transgender advocates -- more respect."
7-03-08: ABC News: "'Pregnant man' gives birth to girl" (more, more, more, more, more)
7-03-08: Tgctr.org: New Houston Transgender Center to open on August 1, 2008 (video tour of the new facility)
7-03-08: Bay Area Reporter: "Trans March rallies around inclusion"
7-03-08: Just Out (Portland, Oregon): "Boys Will Be Girls - Transgender child caught between two worlds"
7-02-08: Out&About: "Transgender Woman Murdered in Memphis" - "TEP and TTPC warn against increasing 'transphobia'"
7-02-08: Reuters (re Lithuania): "Lithuania pays transsexual $63,140 for surgery" - "Last year the individual, who was born female in 1978, won a case against Lithuania in the European Court of Human Rights. The court ruled the predominantly Catholic country had to enact a gender reassignment law, or pay 40,000 euros to enable surgery to take place abroad." (more)
7-02-08: Windy City Times: "Historic trans hearing takes place in Congress" - "Subcommittee Chairman Robert Andrews, D-N.J., said under federal law it is permissible to fire persons, or refuse to hire them, because they are transgender or are perceived to be gender non-conforming. "To me, this makes no sense whatsoever." Employment should depend only upon how well one does the job" (more)
7-02-08: Bay Windows: "Bi personals site boots trans member"
7-02-08: Matangi Tonga (Cook Islands): "Workshop probes MSM, Transgender and HIV in the islands" (more)
7-01-08: ChicagoPride.com: "Positively Aware Takes a Look at HIV in Transgender Community"
---
Click here to access the currrent Trans News Updates
Click here to access the Trans News Updates for 2008 (1st half)
Click here to access the Trans News Updates for 2007
Click here to access the Trans News Updates for 2006
Click here to access the Trans News Updates for 2005
---
LynnConway.com > TS Information > Trans News Updates > News of 2008 (2nd half)
---