Maria's Story
Copyright © 2004-8, by Maria

Maria

Legal Secretary

[click on photo for larger view]

Historia de Maria (en español)
My name is Maria. I was born in El Paso, Texas. My family moved to Chicago when I was about one year old. We settled in a Chicago neighborhood known as Pilsen. My mother to this day lives in the same house I was raised. "Be proud of who you are. Be Proud of your heritage. Because that gives you muscle." This statement made by Vincent Barba sums up the spirit of this Lower West Side neighborhood. Pilsen is a neighborhood that struggles to this day for political representation, education, social justice and workers' rights. Pilsen has welcomed countless immigrants to begin a new life in America. It is now one of the largest Mexican communities in the United States according to the Chicago Historical Society. Besides all the wonderful restaurants and culture, one of my favorite places in Pilsen is the Mexican Fine Arts Center Museum.
I was raised by the best mom in the world. Her name is Josefina De La Rosa and she is proud of who I am today. My Father chose to leave when I was only two years old. I will not discuss him further because I find it difficult to talk about someone you miss dearly, yet do not know if he is thinking of you. I can only say that he lost out on a great family. To this day I struggle to forgive my Father for leaving, especially the pain he caused my mother. I strongly believe a Father and Mother should kill themselves for their children. By that I mean always love and stand by their children. When I was in my teens, I resented my mother for me not having a father, I do not know why. I would do anything for my mom and I intend to help her in anyway until I die.
I am the youngest of eight siblings. I have four beautiful sisters and three handsome brothers. All of them are supportive with my transition. It took one brother a while to become understanding of my transition. He was always trying to make me a "man". Today he kisses me on the cheek when he sees me. I have nothing but the most respect and love for him; he is a wonderful family man and a great father to 4 children of his own. I was always fond of my sister Yvonne; the way she applied her make-up and that she always had a boyfriend. I wanted to be just like her. It is interesting how she and I look alike today. We were always sisters and we both knew it.
My hardest years ironically were the best years for my sister. My late teens and early twenties were a fearful and confusing time in my life. I can remember in kindergarten, I was immediately drawn to the playhouse with pots and pans, dolls and pretty colors. I also had my first crush, his name was and we were in the same class until the sixth grade. I did well in school until I entered high school. I didn't have many friends. I was quiet and kept to myself for fear of being discovered as liking boys. My actions were always feminine, however I didn't know it or I was in denial. It was at a family function where my brother-in-law was filming using a camcorder that I saw how feminine I spoke and acted. Scary, I wanted to hide in the closet forever.
In my last year of high school, I had my first sexual experience with Gabriel, a man I met at the lakefront. Gabriel was a masculine hetero looking man. He was exactly what I was attracted to. It turned out he lived with his boyfriend and we went our separate ways. I graduated high school and managed to get through college. I frequented gay clubs during my college years and had many gay friends. I had a few sexual partners after Gabriel, but I still felt in the wrong place or more like in the wrong body. I was confused, was I gay or a transsexual? My gay friends and I frequented Normandy's, a predominantly Hispanic gay club, afterwards I would go home and they would continue into the night, clubbing. One Saturday, I decided to go with them to Cheek's, the thing to do after Normandy's. That was my first exposure to transsexuals. I found out who I was. I was lost and was beginning to find my way home. The following week, I want to Fashions Under 10 and purchased my first basic black dress and wore it that weekend. WOW, I felt wonderful. I became a Cheek's regular and began to explore the straight nightclubs. What was a fun weekend event would become my life.
I graduated from DeVry University in 1991 with a B.S. in Computer Information Systems. I immediately found a job as a Computer Analyst. I worked that position for about 1 year. I was still living at home in Pilsen when the dressing became an every night event. I eventually lost my job as Computer Analyst because all I could think of was what to wear that weekend and I wasn't concentrating on work. One night as I was leaving home dressed, and my nephew Roy saw me as Maria. I think I was more shocked than him. Roy is no longer with us today but his spirit lives on inside me. Roy treated me no different and always had a sweet smile on his face. That was his way of telling me that I was ok. I actually thought no one was aware I was sneaking out dressed at night. Today, my sisters and mother tell me different. They knew what I was doing but not where I was going
In 1993 I moved away from home, with a young boy who was also transitioning, who is now a beautiful young woman. I was twenty-six years old. It was a great opportunity. She taught me the ropes on how to making money on the side. Let's face it: transitioning is expensive. I advertised as a pre-op transsexual for men who were looking for a pretty girl with little extra downstairs. It was still a long road to womanhood.
At around this time, I ventured into China Club, a nightclub that is no longer open. I was basically a boy in a dress at the time but I was a woman in the eyes of people at China Club but my concentration was having men see me that way. I was talking to this handsome guy when all this commotion at the stairway was happening. We go look and see this tall goddess walking down the stairs. She was wearing a transparent lacy dress with no sign of a panty. "Is it a guy", they were shouting. I saw a vagina through that dress, I saw a woman. The person they were referring to was Angie (Anjelica Kieltyka), who today is one of my best friends and my drag mother. She introduced herself a few months later at Crobar, another nightclub in Chicago. Throughout the years she has inspired me to be the woman I am today. I continue to ask her advice, especially when it comes to men.
Angie introduced me to Dr. Bailey who I admired. He was handsome, educated and intelligent in a weird tranny chaser kind of way. I can say that because I know something about Dr. Bailey that many people don't. He immediately granted me a letter of recommendation for SRS surgery. He later wrote things about me in his book that I can defend against in writing this bio. He not only betrayed me, but all transsexual women. The best that came out of this Bailey controversy is that I made wonderful friends.
I started saving for future surgeries I would have, breast implants, silicone injections and what seemed unattainable, sex reassignment surgery. I had breast augmentation in 1995, it was at that time I decided to live full-time as a woman. By then, I was mostly frequenting straight clubs, meeting and dating guys, making up for lost time. It was a wonderful but hurtful time. Experiencing being treated like a lady, wined and dined, sleeping with straight men who admired my beauty, at the same time, I was hurt by men. They just couldn't commit to a long term relationship because of my pre-operative status. I like to think they were not ready for a long term relationship.
In January of 1997, I flew to Brussels, Belgium to undergo sex reassignment surgery. My sister Yvonne borrowed me the money to pay for my surgery. I was a new woman upon my arrival in Chicago. I was on top of the world, happy and satisfied. I was complete. In 1998 I went to back to the world of working, legally that is. My first job was working in downtown for a small consulting firm. I was exploring my new body with guys. Through that I met Henry, Jewish, successful, my first boyfriend. He helped me purchase my first car and was there whenever I wanted to talk. I think we were more just friends. To this day my friends tell me I should not have let him go. I was determined to find the guy of my dreams.
In the early months of 2000 I met Jim, who I later married. He was divorced, handsome, successful, had a beautiful home, and had full custody of his 2 children. Instant family, motherhood I thought, my family would be proud. This is what they would want me to have. He proposed in Italy during a trip he took me on, it was at that time I decided to tell him about my SRS. He told me he loved me and still wanted to marry me. I said yes and was excited. I left my apartment and job in Chicago to live with him in the country. Shortly after we married, I began to miss the city, my friends, my apartment and my single life in the city. Jim and I started fighting almost on a daily basis. I finally suggested a divorce. I was not ready for marriage. Time to start over.
Shortly after my divorce, I became roommates with Claire. A year later she purchased property in Naperville and I moved into a one bedroom at the same apartment complex. We had fun living together. I was connecting with my girlfriends again. I eventually went back to work for a small company in Naperville. I started going out again, and in late summer of 2002 Angie invited me to "Market Days", a yearly predominantly gay festival on the north side of Chicago. At the end of that night I was standing on Belmont and Halsted when I noticed 3 guys, obviously straight. One in particular had this athletic boyish look, baseball cap and all, that caught my eye. To protect his identity I will refer to him as "Erez". Erez was 22 and I was 35 at the time we met. I thought to myself, this could be fun. I was definitely in it for sex. I decided to tell him about my past and gave him my number. That same night Angie and I took Erez and his friends to a transsexual bar called Lola's. To my surprise he called me a few days later. We are still dating today. He has shown me how a man is to treat a woman. I hope he remains a part of my life for a very long time.
I now live in Chicago, Illinois. I am currently working as a legal secretary and taking classes to pursue paralegal certification. I am closer to my mother than I have ever been. I have a wonderful home, two beautiful cats and the best friends in the world. Most important to me is I have my family and they have me, without them I would be a lost kitten in the wilderness. We all have a story and a life. I live it day by day and I am thankful for what I have today.
Maria
Maria at a dinner with friends at Winberie's restaurant, Oak Park, Illinois, June 2003
Left to right: Lynn, Maria (en espaņol), Victoria (en espaņol) and Gabrielle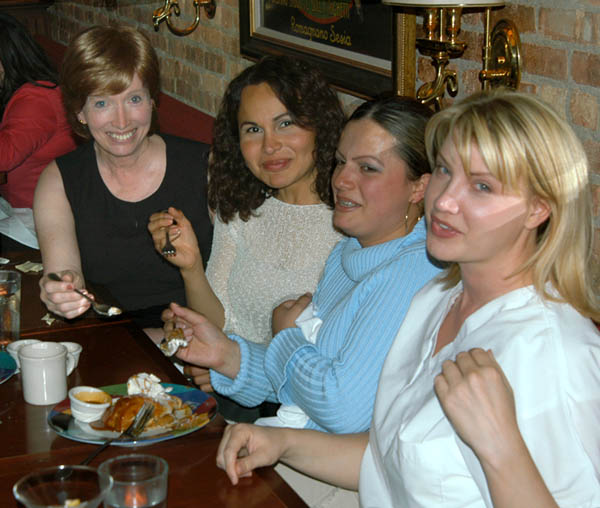 Maria and Andrea James at the NWSA Conference, June 2008