Tista's Story
Tista (India),
Actress, poet, trans-advocate
News and Media Articles about Tista.
Information about Umesh Bist's new film "Beyond Reflections"
Photos of Tista from the set of "Beyond Reflections"
Clips from "Beyond Reflections" (New!)
Filmmaker Umesh Bist writes:
Come check out the blog page for BEYOND REFLECTIONS. The site brings together filmmakers, film festivals, film industry and audiences in a way that nobody else can do:
http://audience.withoutabox.com/films/beyondreflection

You can help me build activity and support the film by rating it and discussing it online, and by adding it to your Favorites. It's easy.
---
News and Media Articles about Tista:
September 23, 2004: "Gender bender: will and way to cross over," The Telegraph, Calcutta, India.

November 13, 2004: "Gender truths & candid call," The Telegraph, Calcutta, India.
December 18, 2005: "Trapped By Nature - India's Sex Change Phenomenon' & 'Trapped By Biology - Breaking the Silence on Sex-Change in India", NDTV 24X7, India.

April 24, 2006: "Tista's struggle", The Statesman, Calcutta, India.
August 23, 2006: "Researcher fights for sexual re-orientation," by Sumanta Ray Chaudhuri, in DNA India. "Tista has filed an complaint at Khardah Police Station in North 24 Parganas on August 20 against one Raju Sarma, who allegedly molested her in public."
January 22, 2007: "Body Search - Umesh Bist, the filmmaker who seeks out biting reality, scoffs at moral codes with his latest documentary on a transsexual", Delhi Newsline, Expressindia.com (Article about Umesh Bist's filming of Tista's story in "Beyond Reflections") NEW!



---
The Telegraph, Calcutta, India
September 23, 2004
http://www.telegraphindia.com/1040923/asp/calcutta/story_3780531.asp
Gender bender: will and way to cross over
RAJRUPA GHOSH
While youngsters his age were going to college and checking out career options, Sushanto Das was fielding a volley of questions from Rabindra Bharati University, where he had been denied admission, because of his sexuality. While his earlier para friends where enjoying gully cricket, he was dealing with insults from neighbours who took it upon themselves to make his and his family's life miserable. He was scared, upset and totally at a loss.
Now 29-year-old Sushanto is Tista — confident with a new name, sexuality and identity. Decked in all prettiness in a saree with a hint of lipstick, bangles, bindi and bead jewellery, she is through with her days of apprehension and misery, as she takes up a career in acting.
A transexual woman, Tista, already has two films in her booty. "I had been working as research assistant in Calcutta for a University of Berkeley fellow on gender identity disorder. I had amassed a whole lot of material on the subject and had written a script for a film to deal with the topic."
When Tista had taken her idea to film-maker Buddhadeb Dasgupta, he made her act in a 25-minute documentary I could not be your son, mom, which was eventually shot partly in her Agarpara home and Calcutta.
"In Buddhada's movie, I did not have much acting to do. But as I faced the camera for the first time, I realised it was my calling," says Tista.
Next came Subrata Dutta's 45-minute film The Third Gender? which was screened at the Bulgaria film festival recently. "I played actress Arunima Ghosh's friend and confidante. Though the name hints at some ambiguous gender in the film, I was not directly part of that ambiguity. In fact, the name alludes to Arunima's character in the movie," says Tista.
Right now, Tista is getting ready to act alongside June Maliah in Shankho Ghosh's full-length feature film Ebong Fera and telefilm Naari, where she plays a college girl. "While I was scared about how I would look on screen, my directors always pacified me saying, it was their duty to see to it. So my priority remains now to improve my acting skills," she explains.
Having had positive responses from some of Calcutta's well-known theatre companies, Tista has finally decided to join Shaonli Mitra's Panchambaidik. "I start rehearsals from next week," she says, adding, "I had been an active member of Akashbani's Golpodadur Ashor when I was a kid. After I turned 14, a fresh audition saw me through to Yubabani. I still enjoy reciting poetry at functions," she explains as she narrates a couplet from her own book of poetry, Noshto Podaboli, published by Prothom Aalo.
Flush with excitement of having signed a contract for acting in Akash Bangla's series Sahityer Sera Somoy, Tista is also getting ready with a book on her life, which she will call Shudhu Hridoyer Jonyo.
---
The Telegraph, Calcutta, India
November 13, 2004
http://www.telegraphindia.com/1041113/asp/calcutta/story_3980183.asp
Gender truths & candid call
A STAFF REPORTER
Tista at the Rajabazar Science College seminar. Picture by Sanjoy Chattopadhyaya
"When she first came to me for counselling, she was at a loss. And look at her now…" exclaimed psychologist Suparna Das.
She was talking of Tista, a transexual woman, who, held over 50 academics spellbound for over three hours with her lecture on Gender Identity Disorder (GID) recently.
The lecture, organised by Eastern Zonal Psychological Association at Rajabazar College, was the first-of-its-kind in Calcutta and Tista, 29, was in her element talking about her disorder — the historical and social background and conditions along with her own dilemmas during her conversion from Sushanto to Tista.
"Though we do not get many patients like Tista who want to change their sex, the very few that we come across, tend to be of immense intensity," explains Suvra Chunder, secretary, Eastern Zonal Psychological Association.
"A workshop like this one will be of immense help to sensitise society about people with GID. These patients' trauma of dealing with their own sexuality, coupled with their families' attitudes, can lead to severe mental problems and in many cases, suicide."
Though a study in Sweden mentions that only one out of 30,000 men and one out of 100,000 women are afflicted with Tista's disorder, psychologists believe that there are many more who do not turn up at a doctor's clinic. (see below*)
After the lecture, Mallika Banerjee, reader in the psychology department, Calcutta University, said: "A huge number of such patients are suppressed because of the alarmingly low level of consciousness and awareness at all levels of society. The pressure of having to fight society at every step, along with their own discomfiture of being fit into bodies they wish to change, can be highly traumatic for youngsters."
Suparna Das added: "Sometimes, people with GID can't deal with the harassment and stop thinking about a change. But only because they can't fight anymore."
Tista and her lecture, therefore, was exemplary for more reasons than one. "Speaking forth on an issue as sensitive as this requires a lot of determination. She can garner more support for people like her, than psychologists ever can do," said Suvra Chunder.
Students, practising psychologists, teachers and counsellors all were unanimous in their appreciation of the lecture, which could have gone on for longer, judging by the enthusiasm and inquisitiveness of the audience.
As for Tista, this is just another chapter of change. "After all the harassment I have been through, this is like a dream come true. I am looking forward to creating a forum to provide help to people like myself."
Now on a high, having procured a "legitimate ration card and voter's ID card after hours of standing in queues and making government officials see reason", Tista is busy with shoot schedules for a telefilm, in which she works with actors Parambrata and Manoj Mitra among others.
*Note: For more information on the Prevalence of Transsexualism, see the following link:
http://ai.eecs.umich.edu/people/conway/TS/TSprevalence.html
---
NDTV 24X7, INDIA
Sunday, December 18, 2005
'Trapped By Nature
- India's Sex Change Phenomenon' & 'Trapped By Biology
- Breaking the Silence on Sex-Change in India'.
Review and Commentary by Parth
Hi All

Writing this quickly, just finished seeing the 1 hour long programme
'We The People' on NDTV 24X7 with the theme 'Sex Change In
India'. It was brilliant.

Barkha Dutt handled the issue so sensitively & beautifully. The two
captions kept alternating were - 'Trapped By Nature - India's Sex
Change Phenomenon' & 'Trapped By Biology - Breaking the Silence on
Sex-Change in India'.

3 individuals, now women shared their emotional stories in pieces -
actresses Tista Das & Bobby Darling & Mahua a student.

The program commenced with a 2 minute clip from Tista's real life
documentary.

Tista Das who has successfully undergone SRS, briefly spoke &
touched all with her statement of how she aligned her body to
herself; she became emotional when asked about the fact that she
cant be a biological mother & asked the audience so aptly whether
motherhood is to give birth to or nurture a baby.

Bobby Darling shared her childhood concerns & how she thought she
was a eunuch in early school; & how difficult it is for her even now
to stand in a queue, men's or women's; & talked about how she had to
dance in bars & repetitively play gay characters in films/serials in
order to earn her livelihood.

Mahua a student of Delhi University (St Stephens College) in the
hormonal phase of therapy enroute to SRS narrated how when younger
she loved the pink shirt in the women's section, but had to buy the
brown shirt in the male section; how she hated looking in the mirror
& was depressed seeing hair on face & hands/body; & how she found
her body strange.

Anand Grover, a Mumbai lawyer said that the rights of TG persons is
grey area at present (they follow England); & how Indian passport
authorities allow the change by filing an affidavit; & how the legal
rights assessment was a long, painful & yet untested sphere.

Renuka Narayan an expert on culture & working with disabled children
was emotional & talked about how religions take a dim view on
homosexuality. She refered to the curse on Arjuna (from Mahabharata)
who had to become a female dancer for a year. She also commented on
how Kuchipudi & other Indian dance forms always involve cross-
dressing.

Dorothea Riecker, an Indologist working with eunuchs made the point
that due to the hijra tradition she feels India is more accepting of
TG's than Europe.

Three experienced doctors also spoke - Dr Kuldeep Singh, plastic
surgeon at Apollo Hospital talking about the gender reassignment
surgery (GRS) procedure & criteria; & how they have to be refered by
psychiatrists who have ruled out underlying mental illness; & how
they have undergone hormonal treatment (& some even electrolysis) &
how most were already living in relationships. Dr Amit Sen,
psychiatrist, Sitaram Bhartia hospital looked at these people with
gender identity disorder (GID) as normal. Dr Sheela Rohtagi, Tista's
GRS surgeon from Kolkata (contact information) said she had never
refused GRS to anyone.

There were some wonderful relevant questions by the audience to
these 3 women - on issues of motherhood in such women; gender
identity being a social construct; what about those who can't afford
SRS (the entire change costing few lakh rupees); how to avoid misuse
of SRS just for curiosity/exploration; whether they have they
realized themselves better after SRS; if they are accepted by
society or feel lonely (Tista replied emotionally 'I'm with me, how
can I be alone'); & the important issue of support from parents,
family & friends.

Passing references were also made to the recent DIG Panda & the
Mafatlal cases.

The program ended on an emotional note when Barkha asked the 3
women their dream for future, their aspirations five years ahead.

So heartening to see such an open interaction on this issue on such
an important program!! If there is a repeat sometime of this
program, do see it, those of you who missed it; highly
recommended!!!!

Cheers
Parth

------------------------------------------------------------------
The opinion expressed in the above message is solely that of the author and GayBombay may not necessarily subscribe to it in part or in whole.
The GayBombay Website: http://www.gaybombay.org
(Old website address: http://www.gaybombay.cc)
The GB Mailing List: An online community: to interact, express yourself, discuss: http://groups.yahoo.com/group/gaybombay.
--------------------------------------------------------------------------

---
The Statesman, Calcutta, India
by Rupam Jain
Thirty-year-old Tista Das will vote for the first time on 27 April (third phase of Assembly election) from Ward No. 8, booth 47. A resident of Mahajati Nagar, Agarpara, Tista is a little old to be a first-time voter. This is her story.
In Calcutta University one day, Sushanto Das asked a guard there where the toilet was. He was shown the "ladies" toilet. Some understood, others didn't. "His parents were hostile, he had to be shifted from one place to another for shelter," says Shantiranjan Basu, a retired advocate cast out by his son for helping people like Sushanto. Thirty-year-old Sushanto Das is now Tista Das.
"Though I had a very masculine name, I always felt trapped in a man's body. I felt incomplete and wanted to align my body with my psyche."
Tista is the first and only transsexual in the city to have a voters' ID card. She underwent a sex-change operation on 9 May, 2004 coinciding with her birthday. "I insisted that I be operated on this day. I wanted a rebirth and this was it," she says.
There are, however, others like her — Manabi and Sohini Bagchi, but they do not have either have voters' ID cards or ration cards.
Nandini of Southern Avenue (who committed suicide more than a decade ago) was the first to undergo a sex change in Kolkata, followed by Manabi, Tista and Sohini, but Tista stands out.
Her struggle began when she voiced her opinion that she wanted to be a woman because she felt like a woman. "My family was against me, they did not support my decision but I chose to fight because I understand that everybody is a victim of society. I was young and the trauma began affecting my studies. I changed colleges and finally completed my graduation through correspondence from Bethune College." Tista is now a complete woman and a look at her will confirm this fact. "My fight was fought alone, but I must say that my friends have always supported me," she says. "First I got my ration card and then started running around to get a voters' ID card and finally I got it on 15 July 2005."
Though she has a voters' ID card now, her certificates still bear the name Sushanto. "A case against the Kolkata Municipal Corporation is still going on with regard to my change of name on my birth certificate, and I will hopefully also get my college certificates bearing the name Tista." She has also applied for a passport.
Dr Shila Rohatgi, who operated on Tista, said: "She is a fighter and so she is the only one to have a voters' ID. She alone could do this." Presently working as a project co-ordinator for Transgenders Voices Inc, an American organisation, Tista balances her work and passion ~ cinema, and like any other celebrity she had been approached by the Left Front to campaign for elections in Durgapur, but she refused. "I have nothing to do with politics. I will vote simply to prove that I have voted as a woman and I am a woman."
---
Beyond reflections
A DOCUMENTARY FILM ON SEXUAL REASSIGNMENT SURGERY
Basic Premise:
The dominant liberal feminism of the 1970s de-emphasized gender differences, claiming that women were the equals of men and that this would be obvious if only they were offered the same opportunities as men with no special privileges necessary. On the other hand, cultural feminists claimed that women's unique perspective and talents must be valued, intentionally emphasizing the differences between men and women. However post-modern feminism questions the very origins of gender, sexuality, and bodies. According to post-modernism, the emphasis or de-emphasis of difference by cultural and liberal feminists is meaningless, because the difference itself and the categories difference creates are social constructions.
It is here that postmodern feminism (study by Dr. Fausto-Sterling) depicts this social construction in a unique manner; it illustrates the role of science in the construction of gender, sex, and bodies. There are three main ways in which science aids in the social construction of sex: first, new surgical technology allows doctors to literally construct genitalia; second, socially accepted biases affect the way scientists design, carry out, and analyze experiments and results; and third, bodies can be physically changed by the social conditions of their environment.
The film 'Beyond reflections' explores the social and medical ethics of trans- gender sex operations. Today the medical sciences have the power to grant freedom to a male mind trapped in a female body and vice versa. But in a society caught up in complex cultural-economic issues, the surgeons find themselves facing a dilemma. Will the Transsexual already facing social and legal sanctions be further condemned by the medical community?
09881014851(Delhi), 09833495414(Mumbai)
---
Photos of Tista from the set of "Beyond Reflections":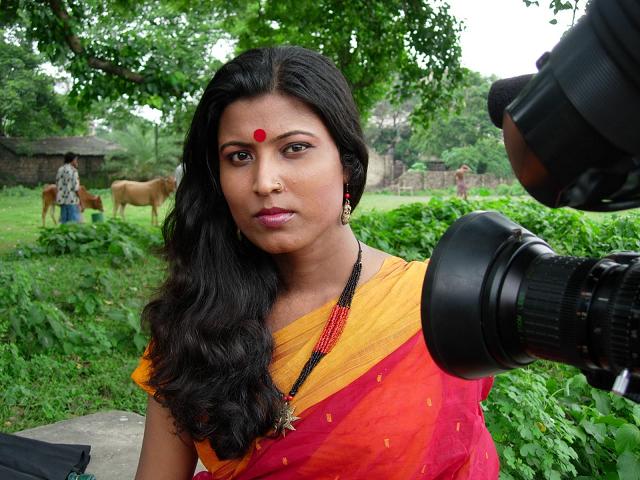 Here we see Tista with filmmaker Umesh Bist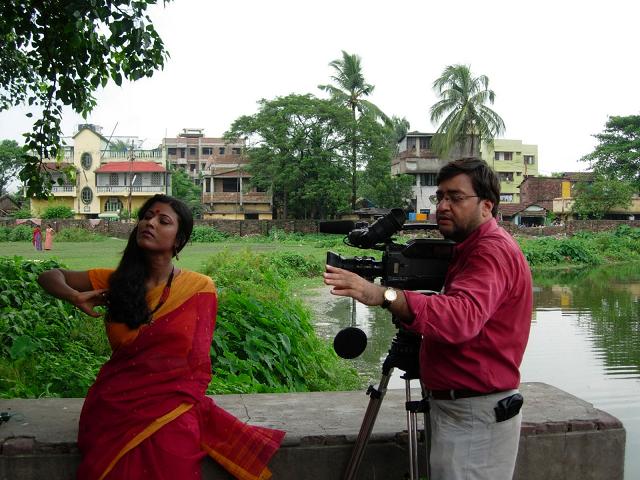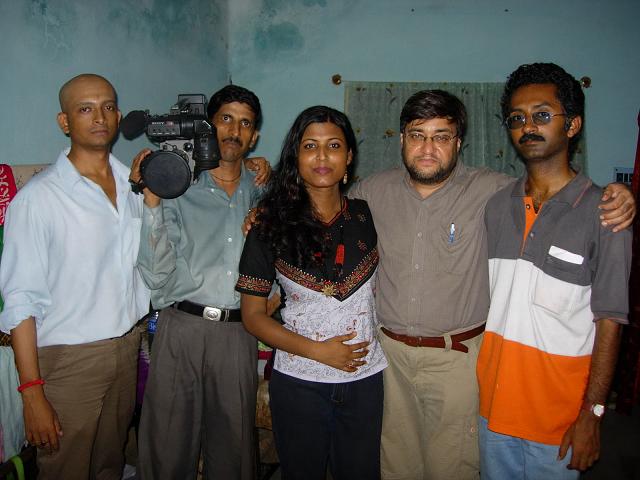 ---
More photos of Tista, at home and at work:
Tista at home, in a reflective mood
Tista works in a textile house as a Designing Assistant and Painter.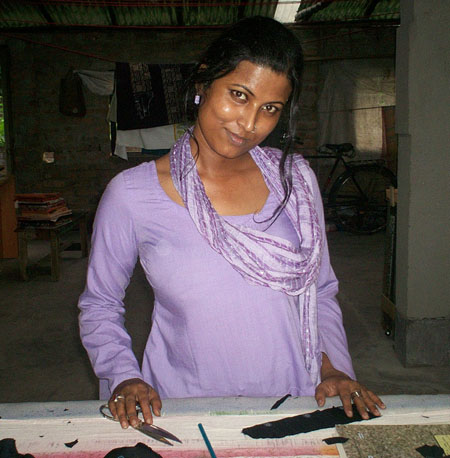 Tista, painting on a shree
---
More of Tista's photos:
Dr. Anirban Majumder: Tista's Endocrinologinst
Tista's TV interview on "Tara News" with singer Kabir Suman on International Women's Day
Tista's lecture on Special Gender Issue at Rajabazer Science College as a panelist,
organized by Esternal Zhonal Psychological Association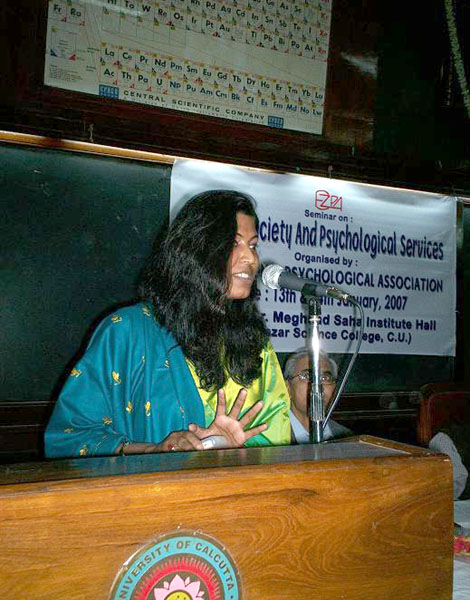 Tista with Kabir Suman in a Protest Campaign on "NANDI GRAM" massacre issue by Left Front.
Tista with poster on her back to protest on NANDI GRAM massacre issue.
---
LynnConway.com > TS Women's Successes > Gallery Page 1 > Tista
---