Faiza's Story
Copyright © 2006, by Faiza Khalida
Faiza Khalida (Brazil)
High School English Teacher
Transitioned on the job as a teacher
Dear Lynn,
I am very happy with your e-mail. Your website is wonderful! Congratulations! I attached newspaper articles about my story. It would be nice if you can include my story and photos in your website, and link to my homepage and other links.
Thanks,
Faiza
---
Contents:
O DIA, Saturday October 1st, 2005 (English)
O DIA, Sunday October 2nd, 2005 (English)
O DIA, Sunday October 9th, 2005 (English)
O DIA, Saturday October 1st, 2005 (Português)
O DIA, Sunday October 2nd, 2005 (Português)
O DIA, Sunday October 9th, 2005 (Português)
Compiled and Edited by Lynn Conway
English translation by Faiza Khalida
Proofreading by Sonia John
---
O DIA newspaper, Rio de Janiero, Brazil
Saturday October 1st, 2005
Online version:
http://odia.terra.com.br/rio/htm/geral_6757.asp
Baixada Fluminense gives a show of citizenship! Teacher of Belford Roxo undergoes surgery to become a woman, and already has documents with feminine name.
Journalist Helvio Lessa; Photography: Pedro Andrade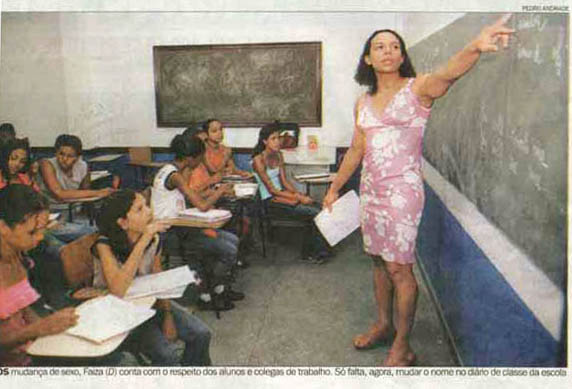 Photo: After surgery for the harmonization of her sex, Faiza enjoys the respect of her students
and colleagues at work, and has changed her name in the diary of the school.
On the day before Christmas of 2004, the teacher of english Faiza Khálida Fagundes Coutinho, resident of Xerém in Duque de Caxias, then age 32, was in the operating room in a hospital in Bangkok, Thailand for an operation that lasted 12 hours. Less than a year later, she recuperated from the operation, began a process to alter her documents and today she can sign lawfully as Faiza Khálida. The change of name was one of the landmarks in the life of the educator, who was in a process to correct her records in the Office of the secretary of Education of Belford Roxo, where she works.
The rectification of the civil records is part of a process in her life that began three years before, when she began treatment with hormones. "I was born a woman in a man's body " summarizes Faiza, who doesn't like to pronounce her old name and refuses to show photographs of when she had a male body. "That gives me depression. I can't talk about it" explain the transsexual, who has psychologists helping her.
Faiza didn´t encounter big embarrassments, like the other famous transsexual case of Roberta Close (of Brazil, ndt), who had to wait a long time to obtain new legal identification. Faiza asked on July 31 that the court make a positive judgement for changing her name and sex in all her civil identification, and on September 12, 2005 she received a new birth certificate, three days before her 33rd birthday. "It was a birthday present," she says.
Faiza also has her driving license, a new identification card, social security card and university transcripts of graduation in Portuguese Language. She also changed her name in the school newspaper of Municipal School Jorge Ayres of Lima. "Everybody treats me with respect " says.
Almost one year to arrange for surgery
Faiza remembers the year of 1995, when she obtained the first of the two teaching positions she's held. "I wanted to make the change and live like I am. But I only admitted to do this with my financial independence. Since that time, I start to save money for the surgery, which was my principal objective," she explained
The negotiation with a surgeon from Thailand began in the beginning of 2004. She made many contacts until everything was prepared, and then embarked alone for Bankok, Thailand on December 20, 2004. The operation cost $5,500 dollars. "I was so in peace and tranquility that I didn't want to read about the tsunami, I thought that it was a serial killer", she mentioned.
Roberta Close waited 16 years
The fight of the model Roberta Close, 40, to no longer be called Luiz Roberto Gambine Moreira after her surgery in 1989, took 16 years.
The model obtained legal recognition as a person of a feminine gender on March 4, 2005 (Pt), in the Ninth Family Court in Rio de Janeiro.
In 1992, she had already obtained authorization for the exchange of documents, in one instance, but that was denied by the Supreme Federal Court in 1997. Not having another recourse, the defense entered another action asking the recognition of her feminine characteristics. The transsexual surgery was permitted in Brazil in 2002, through resolution 1.652 of Medical Federal Council (CFM), citing criteria as discomfort with the natural anatomical sex; a desire expressed for a transformation of the genitals, lose the primary and secondary sex characteristics of the own sex of birth, and acquire those of the opposite sex; a permanence of these disturbances in a continuous and consistent form for two years; and a absence of mental disturbances.
The patients have be more older than 21 to undergo the surgery, according to the resolution. It can only be done after evaluation by a group of doctors, psychiatrist, surgeon, doctor for hormones, and social assistance, and it is necessary to have appropriate physical characteristics.
Photo: New Birth Certification (Reproduction)
Process for receipt of new documentation during a few months.
Photographer: Narcisa Tamborindeguy
---
O DIA, Rio de Janiero, Brazil
Sunday October 2, 2005
Online version:
http://odia.terra.com.br/rio/htm/geral_6834.asp
A lesson in solidarity
Journalist: HELVIO LESSA
Photographer: Pedro Andrade
Photo: Gecy said that she was surprised with her daughter's decision and that she sometimes makes mistake by calling Faiza by her old name.
Mother of teacher who underwent surgery for sexual reassignment doesn't create obstacle when her son decided to undergo the surgery.
The support of family and friends was fundamental for the English teacher, Faiza Khálida Fagundes Coutinho, 33, resident of Xerém, Duque de Caxias, as she faced the difficulties of transition when deciding to undergo surgery to leave being a man and change into a woman. Since July, by court decision she is no longer called Murilo. " I tried not to hurt my family and the people near me. When I started to use hormones three years ago, I told to my mother and sister " she said.
Faiza's mother, the housewife Gecy Fagundes Coutinho of 73 years of age, says that she was surprised with the revelation, but she suspected something when the son removed the beard with laser treatments. "I said : I am with you till the feet of the cross", said Gecy . The only slip she made was with the new name." "Sometimes I slip up, because I'm still not accustomed to it".
Respect of students and co-workers is also big
The comprehension and the cares are equal in the Jorge Ayres de Lima School in Belford Roxo, where Faiza gives classes for more than 400 students. " Everybody treats me fine," guarantees Faiza.
"She is a very special teacher" said Priscila Silva, 14, a student of the seventh series. "She will always be sweetheart to us" adds the businesswoman Iracema Silva Avarenga, 43, says Priscila´s mother who has become Faiza´s friend.
Between the teachers the respect is also big, "An excellent friend. Always talked about the wish to have the surgery", tells the coordinator Cássia Conceição 38. The principal José Carlos Neto, 43, says that he encouraged for Faiza´s name change in the school directory. "Here she is treated like a woman", he says.
The Secretary of Education of Belfor Roxo, Maise Rangel Shett, said that the Proxy Officer is engaged to change Faiza's name on her Public Servant Card. Faiza has already obtained documents like birth certification, driving license and the papers for her social security and identification card.
TESTIMONIES
Gecy Fagundes Coutinho, housewife, 73:
"I will never desert a daughter."
"I had a couple two children. Now, there are two daughters. My other daughter also accepted the change well. The young ones accept faster. I am a strong person. I will never desert a daughter. There are people that send their children to other states in these cases. But I am a mother, I am not a stepmother.
Faiza Khálida, Teacher, 33:
"My father didn't live to know about it."
"I postponed my decision to start hormone treatment earlier because of my father. He died last year, some months before I traveled to undergo the surgery. Thus my father didn't live to know about it. My greatest happiness was when my mother phoned me on December 25 and wished me Merry Christmas. It was an immense joy."
---
O DIA, Rio de Janiero, re Baixada, Brazil
Sunday, 9 October 2005
Ready for a new life:

After surgery of sex change, teacher of Belford Roxo has already received a marriage proposal.
Journalist: HELVIO LESSA
After facing a surgery to change sex, and changed into a woman and obtained the change of name from Murilo Fagundes Coutinho to Faiza Khálida Fagundes Coutinho, the teacher from Belford Roxo dreams about finding a special man. For her prince charming, she is saving her virginity. And she says that she's even already had a marriage proposal. "For a long time, all the men that came near me saw me as gay. That wasn't working for me", testifies the resident of Xerém, Duque de Caxias.
She told that today she has only relationships with people whotreat her like a woman. "I am evaluating the situation a little. I don't want any person until I have a marriage proposal. I am busy enough at home and with my job." For Faiza, sex is a little part in life. "I made the change for the sake of my identity, not for sexual reasons". But I know that sex is also a part of life", she explains.
The inner personal conflicts that she faced were bigger then the prejudice of people around her. "In the passage from childhood to my teens, it was horrible. I saw the hair growing on my body. I saw that I was becoming masculine. It was a conflict", she explained.
Conscious of her feminine condition since infancy
The teacher knows that the society would have difficulties accepting cases like her. " We've got to have a great strength to face all this reality. To carry this change alone. I knew since infancy that I wouldn't be able to live the lie of being a man for much time. But I tried, to please the community," she confesses.
The drama lived since infancy began to be registered soon after adolescence, in poems that "then" Murilo made. Today resolved, Faiza is ready to publish a book with 23 poems selected from that time. The materials are now with a publishing house and will be published by internet. The title is a translation of her name, Khalida, that signifies "The love that overcomes everything".

"I was putting this description in the paper. I sent for a publishing house, and they will publish. I think it is very interesting for the doctors for understanding more our mind. But I don't make poetries to teach anybody. I don't have this objective," tells the teacher.
To face the radical changes, Faiza has obtained psychological counseling and the help of relaxing medicine and anti-depressants. Because of this, although she already has a driving license she can't drive right now. "The medicines diminish my reflexes". Faiza believes that she can stop the psychologist's counseling and the medicines because, she is now feeling fine. "But since the doctors want her to continue with the medication, for now she's staying with them," she says.
Photographer Pedro Andrade:
Faiza obtains in a short time new documents like driving license, with a female name.
Win in a transsexual fight
The president of the Pink Triangle Association of Nova Iguaçu, Eugênio Ibiapino dos Santos believes that the success of Faiza Khálida is important progress in the fight for the citizenship. "No doubt it is a big advance. Congratulations for the transsexuals", he said. However, he explains that surgery for the reassignment of sex is not the objective of gays and travestis.
Ibiapino points out that the association fights for the Congress to approve a proposal that is there, ready to be voted on, for all transsexuals to have the rights for the surgery and hormones. "The transsexuals need assistance by psychologists too", he explains. "The opinion of Ibiapino is very important to me", affirms Faiza.
Testimony
Faiza Khálida, 33:
"Total support "
"The Baixada Fluminense is giving an example of good citizenship. Opposite to what some people think, this isn't a place of prejudice. Instead it is a happy place, where there is real respect for differences. I exposed myself too much when I told my story, but I had 100% of support of my friends and neighbors. Now I am very happy with all the things that are happening with me".
---
O DIA, Rio de Janiero, Brazil
Sábado, 1 de outubro de 2005
Online version:
http://odia.terra.com.br/rio/htm/geral_6757.asp
Baixada Fluminense dá um show de cidadania ! Professora de Belford Roxo fez cirurgia de readequação sexual e já tem documentos corrigidos.
Jornalist : Helvio Lessa
Fotógrafo : Pedro Andrade
[ FOTO: Após cirurgia de harmonização de sexo, Faiza conta com o respeito dos alunos e colegas de trabalho. E mudou o nome no diário de classe da escola.]
Na véspera do Natal de 2004, a professora de inglês Faiza Khálida Fagundes Coutinho, moradora de Xerém , em Duque de Caxias , então com 32 anos , estava na sala de cirurgia de um hopital em Bangcoc, na Tailândia, onde ficou por 12 horas. Menos de um ano depois, ela se recuperou da operação, iniciou um processo de alteração da documentação e hoje já assina legalmente como Faiza Khálida. A mudança de nome foi um dos marcos na vida da educadora que está em processo para alterar os registros na Secretaria de Educação de Belford Roxo, de onde é funcionária.
A retificação dos registros civis é parte de um processo que começou há três anos, quando iniciou o tratamento 'a base de hormônios. " Nasci mulher em corpo de homem " , resume Faiza , que não gosta de pronunciar o antigo nome de registro e se recusa a mostrar fotografias de quando tinha um corpo masculino . " Me dá depressão. Não consigo falar " , justifica a transexual, que faz acompanhamento com psicólogos.
Faiza não passou por grandes constrangimentos , como de outras transexuais famosas , caso de Roberta Close, que demorou para ter legalmente a nova identidade. Ela conseguiu em julho de 2004 que a justiça deferisse o pedido de mudança e no dia 12 de setembro recebeu a nova Certidão de Nascimento, três dias antes de completar 33 anos. " Foi presente de aniversário " , diz
Faiza também tem carteira de habilitação, nova carteira de identidade , cpf , certidão e histórico de graduação em Língua Portuguesa . E mudou o nome no diário de classe da Escola Municipal Jorge Ayres de Lima. " Todos me tratam com respeito ", diz.
Quase 1 ano para contratar cirurgião
Faiza relembra o ano de 1995, quando conseguiu a primeira das duas matrículas na rede municipal de ensino. " Tinha vontade de fazer a transição e viver como sou. Mas só admitia isso com minha independência financeira. Desde aquela época, comecei a juntar dinheiro para a srs . Era o meu maior objetivo " , explicou.
A negociação com um cirurgião da Tailândia começou no início de 2004. Foram dezenas de contatos até acertar tudo e embarcar sozinha , para Bangcoc, no dia 20 de dezembro. A operação custou 5,5 mil dólares ( cerca de 12,1 mil ). " Estava tão em paz e tranquila que nem quis ler um jornal sobre a tsunami, pensei que fosse um serial killer " , mencionou.
Roberta Close esperou 16 anos
A batalha da modelo Roberta Close ( foto ) 40 anos, para deixar de se chamar Luiz Roberto Gambine Moreira após a cirurgia em 1989, demorou 16 anos.
A modelo conseguiu no dia 4 de março deste ano o reconhecimento de pessoa do sexo feminin (Pt) na 9ª Vara de Família do Rio de Janeiro .
Em 1992, ela já tinha conseguido altorização para a troca de documentos, em 1ª instância, mas que foi negada pelo Supremo Tribunal Federal em 1997. Como não cabia mais recurso, a defesa entrou com outra ação pedindo o reconhecimento de suas características femininas.A operação de trangenitalismo foi permitida no Brasil em 2002, através da resolução 1.652 do Conselho Federal de Medicina ( CFM ), desde que levados em conta critérios como desconforto com o sexo anatômico natural; desejo expresso de eliminar os genitais, perder as características primárias e secundárias do próprio sexo e ganhar as do sexo oposto; permanência desses distúrbios de forma contínua e consistente por , no mínimo, dois anos; e ausência de transtornos mentais.
Os pacientes têm que ser maiores de 21 anos para se submeterem 'a cirurgia, segundo a resolução. Deve ser feita somente após avaliação de equipe médico psiquiatra, cirurgião, endocrinologista, psicólogo e assistente social. É necessário ter características físicas apropriadas.
Foto: Processo de retirada da nova documentação durou poucos meses
---
O DIA, Rio de Janiero
Domingo, 2 de outubro de 2005
Online version:
http://odia.terra.com.br/rio/htm/geral_6834.asp
Uma lição de solidariedade
Jornalist : HELVIO LESSA
Fotógrafo : Pedro Andrade
FOTO : Gecy diz que se surpreendeu com a decisão da filha e ainda erra algumas vezes chamando Faiza pelo nome do antigo
Mãe de professora que fez a cirurgia de redesignação sexual não criou obstáculos quando a filha decidiu fazer a cirurgia.
O apoio da familia e dos amigos foi fundamentral para que a professora de inglês, Faiza Khálida Fagundes Coutinho, 33 anos, moradora de Xerém, Duque de Caxias, conseguisse enfrentar as dificuldades da transição quando resolveu fazer cirugia para adequar seu sexo . Desde julho , por decisão judicial , deixou de ser identificada com um nome que a constrangia. " Procurei não magoar minha família e as pessoas perto de mim. Assim que comecei a usar hormônios há tres anos , contei para minha mãe e irmã ", conta.
A dona-de-casa Gecy Fagundes Coutinho , 73 anos, diz que ficou surpresa com a revelação, mas que desconfiou quando a filha fez o laser no rosto . " Aí eu falei : Estou com você até os pé da cruz ", contou Gecy . O único deslize é com o nome " de vez em quando troco, ainda não me acostumei " , justifica.
Respeito também também de alunos e colegas de trabalho
A compreensão e o carinho são iguais na Escola Municipal Jorge Ayres de Lima, em Berford Roxo, onde dá aulas -para mais de 400 alunos. " Todos eles me tratam bem " , garante Faiza . "Ela é uma professora muito especial " , conta Priscila Silva, 14 anos , aluna da 7ª série. " Sempre será querida entre nós " , acrescenta a comerciante Iracema Silva Alvarenga , 43 anos, mãe de yeras, Priscila, que se tornou amiga de Faiza .
Entre os professores, o respeito também é grande . " Uma excelente amiga. Sempre conversou sobre a vontade de fazer a cirurgia " , conta a coordenadora Cássia Conceição, 38 . O diretor José Carlos Neto, 43 , diz que está se esforçando para que o nome de Faiza também mude no diário da escola . " Aqui ela é tratada como mulher " , diz.
A secretária de Educação de Belford Roxo , Maise Rangel Suhett, disse que a Procuradoria do município está se empenhando para fazer a troca de documentos na ficha funcional. Faiza já conseguiu documentos como Certidão de Nascimento , Carteira de Habilitação e os protocolos do CPF e da identidade.
DEPOIMENTOS
Gecy Fagundes Cutinho,
DONA_DE-CASA, 73 ANOS
" NUNCA ABANDONAREI UMA FILHA "
" Tinha um casal de filhos. Agora são duas meninas . A minha outra filha também a mudança aceitou numa boa. Sou uma pessoa forte. Nunca abandonAarei uma filha. Tem gente que manda os filhos para outros estados nestes casos. Mas eu sou mãe, não sou madastra " .
Faiza Khálida ,
PROFESSORA , 33 ANOS
" meu pai não chegou a saber "
" adiei minha decisão de começar o tratamento com hormônio mais cedo por causa do meu pai. Ele morreu no ano passado, alguns meses antes de eu viajar para fazer a cirurgia. meu pai não chegou a saber. Minha maior felicidade foi quando minha mãe me ligou dia 25 e me desejou feliz NATAL . FOI UMA ALEGRIA IMENSA " .
---
O DIA, Rio de Janiero, na Baixada
Domingo, 9 de outubro de 2005
Jornalist : Helvio Lessa
Fotógrafo : Pedro Andrade
Identidade
Pronta para uma vida nova:

Depois da cirurgia de mudança de sexo, professora de Belford Roxo já recebeu até proposta de casamento
Jornalist: HELVIO LESSA


Após enfrentar cirurgia para mudar de sexo para virar mulher e conseguir mudar o nome de Murilo Fagundes Coutinho para Faiza Khálida Fagundes Coutiinho, a professora de Belford Roxo, a professora de inglês de Belford Roxo sonha com um homem especial. Para o príncipe encantado, ela guards sua virgindade. E garante que já teve até proposta de casamento. " Há muito tempo, todos os homens que se aproximavam de mim me viam como homossexual. Isso na minha cabeça não funcionava " ., justifica a moradora de Xerém, Duque de Caxias.

Ela conta que hoje só tem relacionamentos com homens que a tratam como mulher. " Só que eu estou valorizando um pouco a situação . Não quero qualquer pessoa . Até proposta de casamento já tive . Mas vivo de casa para a escola " , disse . " Eu busquei minha identidade, e não sexo. Mas sei que também faz parte " , explica .

Os conflitos pessoais que enfrentou foram maiores que o preconceito das pessoas que a cercavam. " Na passagem da infância para a adolescência , foi péssimo . Via os pêlos nascendo no corpo . Vi que ia me masculinizando . Era um conflito " , explicou.


Consciência da condição feminina desde a infância

A professora sabia que a sociedade teria dificuldades de aceitar casos como o dela. " A gente tem que ter uma estrutura muito grande para poder enfrentar toda essa realidade. Carregar essa mudança toda sozinha . Eu sabia desde pequenina que não conseguiria levar a mentira de ser homem por muito tempo. mesmo eu tentando para agradar a comunidade " , confessou.

O drama vivido desde a infância começou a ser registrado logo após a adolescência, nos poemas que então murilo fazia. Hoje já resolvida. Faiza está prestes a publicar um livro com 23 poemas selecionados daquela época . O material já está com uma editora e deve ser vendido pela internet . O título é a tradução do seu nome , khalida, que em árabe significa " O amor tudo supera ".

"Fui colocando essa depressão e essa angústia no papel. Mandei para a editora, e eles vão publicar . Acho muito interessante para os médicos entenderem mais a nossa cabeça. Mas não fiz poesia para mostrar para ninguém. Não tinha pretensão de publicar um livro ", conta a professora.

Para enfrentar a mudança radical, Faiza conta ainda com tratamento psicológico e ajuda de remédios calmantes e antidepressivos. por isso , apesar de já ter carteira de habilitação, ainda não pode dirigir. " Os medicamentos diminuem o meu reflexo " . Faiza acredita que já poderia parar com o tratamento psicológico e com os remédios porque se sente muito bem . " Mas , já que os médicos não me liberaram, continuo seguindo as determinações " , diz.


[ Foto: Faiza conseguiu em poucos meses tirar novos documentos, como Certidão de Nascimento e Carteira de Habilitação, com nome feminino ]


Vitória na luta dos transexuais

O presidente da Associação triângulo Rosa, de NOva Iguaçu, Eugênio Ibiapino dos Santos, acredita que a conquista de Faiza Khálida é um progresso na luta pela cidadania. " Inegavelmente é um grande avanço. Está de de parabéns essa vitória dos transexuais " , disse . No entanto , ele ressalta que a questão da operação para a adequação do sexo não é o objetivo da maioria dos gays e travestis.

Ibiapino lembra ainda que a associação luta para que seja aprovado um projeto que tramita no Congresso Nacional, mas que falta ser colocado em votação, pelo qual todos os transexuais teriam direito a financiamento pelo SUS para fazer o tratamento _ até com o fornecimento de hormônios . " Os transexuais precisam também de acompanhamento psicológico ", explicou . " A opinião do Ibiapino é muito importante para mim " , afirmou Faiza.


DEPOIMENTO

Faiza Khálida , 33 anos

" Apoio Total "

" A Baixada Fluminense está dando um exemplo de cidadania . Ao contrário do que algumas pessoas pensam , aqui não é lugar de preconceito. É um lugar feliz onde existe respeito 'as diferenças. Eu me expus muito ao contar a minha história, mas tive 100% de apoio doa meus amigos, dos meus alunos e dos vizinhos. Estou muito feliz com tudo isso que está acontecendo comigo. "


---
Faiza's Links:
Faiza's Website:
http://faizakhalida.sites.uol.com.br/
Teachers' Day photo:
Botanical Gardens
http://jardimbotanico.nafoto.net/
Escola municipal
Thailand:
Love
http://faizakhalida.nafoto.net/
Volleyball
http://faiza.ubbihp.com.br/index/index.html
O Amor
http://faizakhalida.sites.uol.com.br/poesias.html
---
LynnConway.com > TS Women's Successes > Gallery Page 1 > Faiza's Story
---