Human Rights Violations against the Transgender Community

A study of kothi and hijra sex workers in Bangalore, India
- September 2003
Report by Peoplesí Union for Civil Liberties, Karnataka (PUCL-K)
Forward by Upendra Baxi
This poignant expose of human, and human rights, violations against transgender persons and communities
should be compulsory reading for Indian human rights communities. The dominant discourse on human rights in India
has yet to come to terms with the production/reproduction of absolute human rightlessness of transgender communities.
The work in your hands not merely foregrounds the microfascism of the local police state, it also archives practices
of everyday resistance to it and a programschift for a more inclusive formation of human rights movement in India.
- Upendra Baxi
---
Table of Contents and Foreward to the PUCL Report
Download the entire 117 page PUCL Report in PDF Format (720 KB)
Download the PUCL Report's covers in PDF Format (270 KB)
Obtaining hardcopies of the Report from Sangama
---
Reflections on the PUCL Report
by Lynn Conway
Dear friends,
In September 2003, the Peoplesí Union for Civil Liberties, Karnataka (PUCL-K) published a truly remarkable report on human rights violations against the transgender community in India. In the spring of 2004, I was fortunate to obtain a hardcopy of the report, and I wish to alert you to it via this webpage.
The 117 page PUCL report begins by providing background on the social, cultural and political context of the Kothis and Hijras. It then documents violence and abuse against these peoples via testimonies of many who have been directly affected, and goes on to discuss the institutional basis of all this violence. The report then documents efforts by the Kothi and Hijra to organize and protest the violence and discrimination that they face. It also documents many useful recommendations on how to improve the plight of transgender people in India. The report concludes with many useful appendices of valuable information, including contact information for Kothi and Hijra support organizations.
Th PUCL report provides valuable insights into Hijra life. Many of you may not realize that the Hijra traditions and community go back 4000 years in India. Hijra practices include a tradition innovated thousands of years ago for surgically intervening in cases of transsexualism so as to effect a "sex change" from male towards female. You will learn in this report that the practice of a "one-year real-life test", which we think of as part of the "modern HBIGDA tradition", may itself have originated in ancient Hijra traditions. This time-test is practiced there to this day, in this case under Hijra gurus instead of psychiatric "gatekeepers". (For more background on the Hijra, see Lynn's pages on Transsexualism and Sex Reassignment Surgery, and links you'll find there).
There are roughly one million Hijra in India, representing approximately one in every 400 postpurbertal persons born male there. This very large prevalence (~1:400) of the Hijra in India, most of whom have undergone 'nirvan' (a sex change by ancient surgical means), is strong evidence that the intense transgender condition is far more prevalent (by about two orders of magntitude) than traditional western psychiatrists and psychologists have ever been willing to admit. These large numbers also speak of the countless tragedies occurring in the current climate of oppression, degradation and violence against transgender women, not only in India but in many other traditional societies all around the world.
The PUCL Report reveals all too clearly the trap that transgender women often fall into in traditional societies: They become outcasts, because they have no family to harbor them, and then - having no means of support - become labeled as a sex object and forced by circumstances into sex work in order to survive. When young and nubile, transgender women may take some degree of comfort in their acceptance as a women by the men who use them sexually, not realizing the long-term difficulties that they will face later in life as they ages in a society that offers no other kind of work for them to engage in (other than begging).
While reading this amazing report, you will be struck with how similar in many ways is the plight of the Hijra to that of young transgender women in many western countries, where so many are similarly forced onto the streets of our big cities. Thrown away by their families, and unable to obtain proper documentation, education and employment, many kids must resort to sex work in violent environments in order to survive. See, for example, the recent Southern Poverty Law Center investigative report "Disposable People: A wave of violence engulfs the transgendered, whose murder rate may outpace that of all other hate killings", about the plight of minority transgender youth in Washington, D.C.
The life-long social entrapment of many transgender women into sex work in countries like India reinforces the stigmatization of their entire community as outcasts there, creating a veritable caste system of transgender sex workers. The ongoing entrapment of one in every few hundred transgender kids into becoming willing sex objects for the local males thus works to the great advantage of the patriarchal society in which it occurs. However, the women themselves are trapped into a lowly caste from which they cannot escape and which provides them few options for a full and normal life over the long term.
This fate befalls them simply because they are transgender, and thus see becoming a Hijra as being far preferable to the worse fate (to them) of remaining male. Since prostitution is "illegal" in most traditional societies, the police become a state-supported mechanism for enforcing sex worker traditions: The police do not protect the women from abuse, but instead victimize them if they don't keep in line or if they protest the system. As a result, the police are the source of many abuses against transgender women in India, as elsewhere.
After reflecting on these difficulties, the PUCL report has many positive things to offer - especially in its recommendations about how the situation of the Hijra and Kothi can be improved in the future. It also implicitly suggests how very large are the numbers of transgender people worldwide, and how similar are their problems in many other countries. If we could find ways to band together in solidarity on a more global scale, we could press more firmly for changes within each separate country. This report provides much food for thought as we contemplate these possibilities.
Upon reading the PUCL report, I immediately contacted one of the principal authors, Arvind Narrain, to discuss how it might be made more widely available outside India. Only 1000 copies had been printed in each of the English and Kannada versions, and I wondered if there were a way to make it available in electronic form for distribution via the internet. Arvind most kindly sent me the complete postscript form of the report, and I volunteered to host it for distribution via my website. You can retrieve the report - in a nicely formatted PDF version for reading and printing - at the links given above.
I highly recommend that you read and study this remarkable report. Many thanks to Arvind Narrain (ALF), Shakun (Vimochana), Muddappa (DISC), Babaiah and Sreedhara (PDF), Famila (Sangama) and Ramdas Rao (PUCL-K) for their labor of love and compassion in producing it.
Lynn Conway
June 6, 2004
---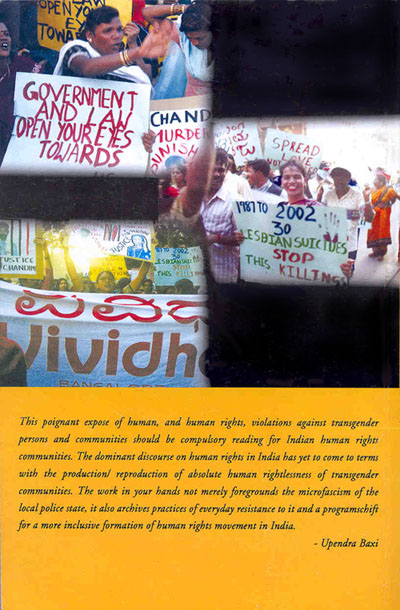 ---
Obtaining Hardcopies of the Report:
PUCL and Sangama welcome any comments and suggestions on this report.
Do get in touch with Ramdas Rao (ramdas_rao@hotmail.com) or Arvind Narrain (anarrain@yahoo.co.in) about feedback.
For obtaining copies of the complete report, please contact
Sangama, Flat 13, 3rd Floor, Royal Park Apartments, 34 Park Road, Tasker Town, Bangalore 560051
e-mail: sangama@sangamaonline.org . Price Rs. 50 plus postage and handling charges.
---
Example Incident Reports:
Report of the death by burning of Chandini:
December 19, 2002 SANGAMA ACTION ALERT: JUSTICE FOR CHANDINI (who was burned to death on Dec. 1, 2002)
Increased violence against hijra by police - a disturbing new trend following hijra complaints of police violence:
June 24, 2004: RAPE AND POLICE ABUSE OF HIJRA IN BANGALORE, INDIA: CALL FOR ACTION BY SANGAMA

---
JUSTICE FOR CHANDINI

Source: Sangama (GLBT rights organization)
URL: http://www.sangamaonline.org/
Date: Dec. 19, 2002


Chandini alias Nazir, a 22 year old hijra (transgender woman) died
in mysterious circumstances on the night of December 1, 2002,
Sunday in Bangalore, India.

On December 4th all English and Kannada newspapers
sensationalised the death of Chandini. Her death was reported as a
suicide. The reason given was that she set herself afire because her
husband Gnanaprakash discovered her hijra identity and threatened to
reveal it to his parents. They reported that Chandini deceived
Gnanaprakash by hiding her hijra identity at the time of marriage. It
is not at all surprising that the police also accepted in totality
this version of what had happened as supplied by her husband.

The following is a brief accounting of the true events as ascertained
by a fact-finding team comprising of representatives from the
Peoples Union for Civil Liberties (PUCL), Karnataka; Alternative Law
Forum (a group of lawyers); Sangama (a sexuality minorities' rights
group); and Vividha (an autonomous group of sexuality minorities).

Chandini hails from Arsikere, Hasan and has been living in Bangalore
for the past 5-6 years. Gnanaprakash initially met her in a hamam
(bath houses where hijras live). After a six-month relationship and
after much persuasion Chandini agreed to marry him. They married 16
months ago. There is photographic and videographic evidence of the
marriage, and of it having been attended by many friends of Chandini
from the hijra community. A week after the marriage, Gnanaprakash
accompanied Chandini when she decided to go for Nirvan (Castration)
in a hospital in Cuddapah, Andhra Pradesh. After the operation
Chandini and her newly wed husband lived at Chandini's Guru (Hijra
mother in the hijra community) Prema's house, for about a month.
Later they rented a house in Amrutha Halli, on the outskirts of
Bangalore and lived together as husband and wife, for 5 months. He
was often violent towards her and began to harass, beat her and took
away all the money that she was earning through sex-work. After six
months of living together unable to bear his constant demands for
money and to escape his torture, she left for Pune.

Chandini returned to Bangalore on November 7, 2002 and began living
with her Guru in Amrutha Halli. Gnanaprakash learnt of her return to
Bangalore and came to her Guru's house. In the absence of her Guru
he forced her to leave with him. She had on her person 60 grams of
gold jewellery and Rs. 50,000 in cash when she left. Gnanaprakash
took her to a rented house in Ramaswami Palya (Banaswadi police
Station Limit) in Bangalore. He deliberately isolated Chandini from
her only support, the hijra community. She was found dead on the
night of December 1, 2002.

Local police in Banaswadi Police Station initially refused to
register thecomplaint of Prema (Chandini's Guru). They in fact said
that they do not recognise the hijra community or its relationships.
They said they would act only if Chandini's biological parents issued
a complaint. They also claimed that they only recovered Rs.5000 in
cash while investigating Chandini's death.

There are several issues that suggest suspicion of foul play in
Chandini's death. First, it is obvious from the foregoing that the
statement of Chandini's husband of being tricked into marriage by
her is a lie. There is evidence of his having frequented hamams from
earlier days, and the photographic evidence of the marriage clearly
shows that he new Chandini was a hijra at the time of marriage.
Second, there are witnesses to the fact that Chandini was brutally
treated by her husband, and ran away from him to Pune. Third, when
Chandini left her Guru's house (under pressure) she had with her
Rs.50000 and 60 grams of gold, while the police claimed to have
recovered only Rs.5000.

We do not have much faith in the local police of Banaswadi Police
Station undertaking an impartial investigation. There bias against
the hijra community is obvious. There is also the possibility of they
being offered cash inducement in order not to undertake the
investigation seriously.

The fact finding committee has spoken to Chandini's parents who
dispute local police claims of the Rs. 5,000, found with Chandini,
having been returned to them. They also mentioned that when they
first saw the dead body of Chandini, she had gold ornaments on her
which were missing later.


We are starting an email campaign as one of the many ways in which to

pressurize the police to investigate this incident seriously, and to

ensure that people responsible for Chandini's death do not go

unpunished. We request you therefore to send a mail to the Chief

Minister of Karnataka at cm@kar.nic.in and to the

Chairperson, NHRC at chairnhrc@nic.in, demanding an impartial

enquiry into Chandini's death. A model copy of a letter to the Chief

Minister is given below. Please also send a copy to

Please act immediately and widely distribute this mail.


Visit our website www.sangamaonline.org for
information about hijras and other sexuality minorities.

In Solidarity,

Famila, Revathi, Roshan, Lokesh, Sharada, Kumar,
Chandru, Sumathi, Lakshmi, Ajith, Manohar, Nithin
For Sangama


________________________________________________

Copy of letter to Chief Minister of Karnataka / The Chairperson NHRC

Chief Minister's e-mail : cm@kar.nic.in
NHRC Chairperson's e-mail : chairnhrc@nic.in


Sir,

We have come to know of the death in mysterious circumstances of
Chandini alias Nazir, a 22 year old hijra (transgender woman) on
the night of December 1, 2002, Sunday in Bangalore. There is
reasonable suspicion to suggest foul play in her death.

We have also come to know that the local police in Banaswadi Police
Station initially refused to register the complaint, and are not
very serious in their investigations into the matter. They are also
many noticeable discrepancies with their accounts of the incident.

We believe that people of all communities, and all social persuasions
have an equal right under the law in this society. We also know that
the reality is not so for most people. In particular, minority
communities like hijras are subject to severe persecution by the
society, and by the police who are expected to ensure that no such
persecution takes place.

We therefore request your direct intervention to ensure an impartial
enquiry into the whole affair, and punishment of all those guilty.

Sincerely,

(your name)


SEND E-MAILS TO THE CHIEF MINISTER OF KARNATAKA
AND TO THE NATIONAL HUMAN RIGHTS COMMISSION.

PLEASE ALSO WIDELY DISTRIBUTE THIS MESSAGE.

<end>


---
Thanks to CR4SD and Dr. Sam Winter of Hong Kong (who maintains the Transgender Asia website) for widely disseminating the following Sangama alert.

Note: the hijra human rights activist Chandini in this alert is not the same Chandini whose tragic death in 2002 is discussed in the PUCL report.

RAPE AND POLICE ABUSE OF HIJRA IN BANGALORE, INDIA:

CALL FOR ACTION BY SANGAMA

June 24, 2004


MODEL LETTER
1. Mr. Dharam Singh, Honorable Chief Minister of Karnataka
2. Justice A. S. Anand, Chairperson of National Human Rights Commission
3. Dr. Poornima Advani, Chairperson of National Commission for Women
4. Shri T. Madiyal, Director General and Inspector General of Police, Karnataka
5. Shri S. Mariswamy, Commissioner of Police, Bangalore City
6. Chairperson, National Human Rights Commission

Dear Madam/Sir

We are shocked to hear of the brutal torture suffered by Kokila, a
Hijra, on 18th June 2004, at the hands of policemen of Byappanahalli
Police Station, Bangalore, India. The police took her into custody
when she was being raped that night by ten goondas near Old Madras
Road. Instead of providing support and relief to her, they carried on
the brutal assault at the Police Station.

This is not a stray incident but is part of ongoing police violence
against hijras. The level of violence has increased after hijras and
other sexuality minorities started protesting against police
brutality. The police are used to treating hijras as outcasts with no
rights. The police think that no hijra would dare to stand up to
them. Police routinely use hijras by falsely implicating them in
crimes. The vicious anger with which the police have reacted to the
hijras protesting against their torture is frightening.

We demand that the policemen implicated, Ashwat Narayana (PI),
Krishanappa (SI), Ramakrishna (Constable) and Roshan Ali Khan
(Constable) be immediately arrested and sent to judicial custody. We
also demand an impartial CBI (Central Bureau of Investigation)
enquiry into the whole incidence. Only such strong measures will send
the message down that human rights violations will not be tolerated
any longer.

We reiterate that notions of different rights for different sets of
people, and discrimination by the police against hijras and various
other minority groups/communities can have no place in a civilized
democracy that India claim to be.

Sincerely

[Name, organization, address]




BACKGROUND PROVIDED BY SANGAMA

Kokila, a 21-year-old hijra (member of a traditional male-to-female
transsexual community in South Asia), has been living in Bangalore City
for the last 5 years. She survives by doing sex-work, the only option
available to most hijras.

On 18th June, 2004 (Friday), around 8 p.m., while she was waiting for
clients, she was raped by 10 goondas (all male) who forcefully took her
to the grounds next to Old Madras Road. They threatened to kill her if
she wouldn\'t have sex with them. She was forced to have oral and anal
sex with all of them. While she was being sexually assaulted, two
policemen arrived. Most of the goondas ran away from the scene but the
police caught two. Kokila told the police about the sexual assault by the
goondas. Instead of registering a case against the goondas and sending
Kokila for medical examination, they harassed her with offensive language
and took her along with the two captured goondas to the Byappanahalli
Police Station. The police disallowed Kokila to put-on her trousers and
forced her to be naked for the next 7 hours.

In the Police Station Kokila was subjected to brutal torture. They took
her to a room inside the Police Station, stripped her naked and
handcuffed her hands to a window. Six policemen, allegedly drunk, hit her with
lathis and their hands and kicked her with their boots. They abused her
using sexually violent language, including the statements: \"ninna
ammane keyya\" (we will fuck your mother), \"ninna akkane keyya\" (we will
fuck your sister), \"khoja\" (derogatory word used against
transgenders) and \"gandu\" (one who gets penetrated anally, a derogatory word).
She suffered severe injuries on her hands, palms, buttocks, shoulder and
legs. The police also burned her nipples and chapdi (vaginal portion of
hijras) with a burning coir rope. One policeman of the rank of SI (Sub
Inspector of Police) positioned his rifle on her chapdi and threatened
to shoot her. He also tried pushing the rifle butt and lathi into the
chapdi and saying, \"Do you have a vagina, can this go inside?\" !
while other policemen were laughing. This is to humiliate a transsexual
woman by insisting that she is not a woman, as she was not born with a
vagina.

At around 11 p.m. PI (Inspector of Police, highest-ranking Police
Official of that Police Station) arrived into the room. He directed the
policemen to continue the torture. The torture continued till 1 a.m. in the
night. Despite begging for water she was not given any water. The
police tied her up and the Inspector of Police threatened to leave her on
the railway track unless she confessed to the knowledge of the robbery of
a diamond ring and a bracelet. They paid no attention to her pleading
that she had no knowledge of the robbery, or the person they were trying
to get to implicate in the robbery.

At 1 a.m., four policemen (including PI and SI) dragged Kokila into a
police jeep and took her to a hamam (bathhouse run by hijras) in
Krishnarajapuram area. They physically abused her and forced her to knock on
the hamam door and call the hijras living there to open the door. At
around 2 a.m., they took her to another hamam in Garudacharapalya area.
They broke open the lock of that hamam. They forced her to wear male
clothes (shirt and trouser). They tied a towel to her head and threatened
to shave off her hair. Police also searched both the hamams illegally.

At around 3 a.m., while on the way, Kokila begged the Police to take
her to the house of Chandini (a hijra human rights activist) who lived
nearby. The police entered Chandini\'s house forcefully and searched the
entire house despite severe protests by Chandini. Chandini told the
policemen that they couldn\'t enter her house at such hours and without
any valid reason and her consent. When she protested, the police
threatened her and her husband with dire consequences. Finally, on Chandani\'s
demand that Kokila be left behind, and her assurance that she would
bring Kokila to the Police Station in the morning if her presence were
required, the police left her residence at 3.30 am.

Kokila\'s complaint was registered in Ulsoor Police Station on 19th
June 2004. The complaint was registered only after legal intervention and
after putting a lot of pressure on various high-ranking Police
Officials of Bangalore City for three hours. The IPC (Indian Penal Code)
Sections in the FIR (First Information Report) are 506 (criminal intimidation
- threat to cause death or grievous hurt), 377 (unnatural sexual
intercourse), 504 (intentional insult with intent to provoke breach of
peace), 324 (voluntarily causing hurt by dangerous weapons or means) and 34
(acts done by several persons in furtherance of common intention).
Kokila has already identified four policemen who tortured her. She has also
identified five goondas, who sexually assaulted her.

These are not stray incidents but are part of ongoing police violence
against hijras. The level of violence has increased after hijras; other
sexuality minorities and sex-workers started protesting against police brutality.

---
Reset 6-08-04

---

LynnConway.com > TS Information > Transsexualism > PUCL Report

---