Nungning's Story
Copyright © 2005, by Nungning
Nungning (Thailand)
Physiotherapist, clinical instructor
My name is Nungning. I am 28 yrs old, and am a physiotherapist at Trang Hospital in the upper-south of Thailand. My hospital is center hospital of public health, Thai government …so that means I am in government service, too!!!
I am also physiotherapy instructor in the Trang nursing college and clinical instructor at many universities in Bangkok: Huachiew Chalermprakiet University, Srinakharinwirot University , Rangsit University... and I am consultant for budgeting plan and projects for my hospital, and a product consultant for a medical equipment company too!!!
I graduated with a bachelor degree from Chulalongkorn University at Bangkok.
My university, it is No.1 in Thailand… I was so proud to join with my lecturers and my new friends. At university I met many t-girls from another province of Thailand, and I took my first steps as t-girl there.
My teacher gave me a chance to show what I am as a t-girl, but not too much coz I am physiotherapist student and must meet and talk with many patients and give treatment them too… so in the leisure time with friends I am full t-girl, but when I am physiotherapist student I still be t-girl and so polite t-girl too… but all of physiotherapist will wear trousers …so I don't have chance to wear mini skirt while in university.
I went to do my practical work at Vachira Phuket Hospital, in Phuket. My clinical instructor and patients there were so good … they understand what t-girls feel and let me be free to be a girl when I did my practical work too. Phuket is international province and there are many t-girls at cabaret shows there.
My clinical instructor need me to work at their hospital after graduated too… I can pass the examination and be in government service too. I was in Phuket for 1+ yrs and then move to Trang Hospital coz Trang Hospital is bigger and be central general hospital.
Before I came to Trang, I met the director and talk to him about who I am and what I feel too… feel so good with my coworkers. So my boss they say "good person, good heart, good work"… if those 3 things you can do, you can work here…and now I can prove that I can not only 3 things do coz I have another good too…I am so proud!
It seems that I would feel very busy now doing so much work ...but it doesn't. I am so happy with my job, my coworkers, my students and my friends too.
By the way, I was born in Chiang Mai in the north of Thailand. My parents are farmers and are poor. When I was young, I must help my family to do the farm work too…so fun.
I had problems with my dad and mum about my feeling from the bottom of my heart that yes… I am not boy, but I want to be girl. And they couldn't accept the way that I am.
I have only one younger sister and she understand me all…but in Thai village they are so conservative person and my dada and mum are the same too!!! They don't like t-girl coz many t-girls act like prostitute, need sex and they think if I am t-girl I will be the same. I am the oldest son too… My dad wanted me to marry and have kids…he put all hope on me, but I can't do that …so he didn't like me.
But I was not too worried, because I know I can study the best and have very good job and support my family too!!!
I started on hormones at 2nd yrs in university coz my t-girl friends and I met many t-girls on hormones, and they have very soft skin too…and it's easy to buy hormones from general pharmacy shop in Bangkok.
I had SRS with Dr. Kamol Pansritum on January 9, 2002… I am so happy with Dr. Kamol's staff…they are very nice and great taking care pre and post operation!!! I am so impressed and happy with Dr. Kamol's skill … I now have a woman's life and a full life too!!!
And my parents change their mind and now accept me... TS girls can do more, and sometime more than boy and girl too!!! So now they love and understand me.
I also have a god family at Trang too. My god family is my extended family. I met them when I went for promotion of health with hospital staff. My god dad is a police officer, my god mum is a house wife. I have 2 older god sisters and one god sister is t-girl too…. My dad and mum are very nice people. They understand t-girls and the way what I am … and I can consult anything with my god family too.
As I look to the future, I would like to have good family and friends… have good time to take care of my mama and papa …and maybe have small beauty and health club too!!!!….
Nungning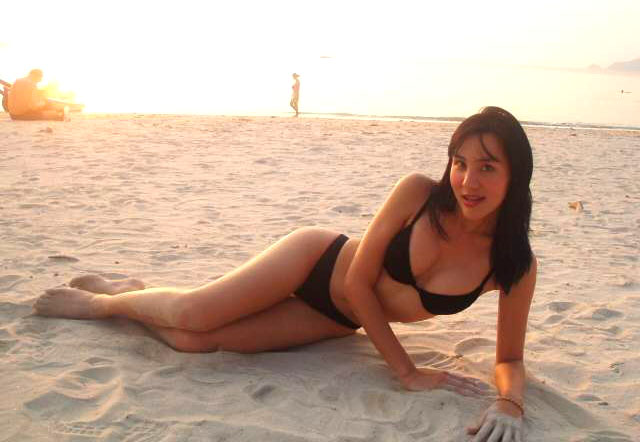 ---
LynnConway.com > TS Women's Successes > Gallery Page 3 > Nungning's Story
---