Femke's Story
Copyright © 2007, by Femke Olyslager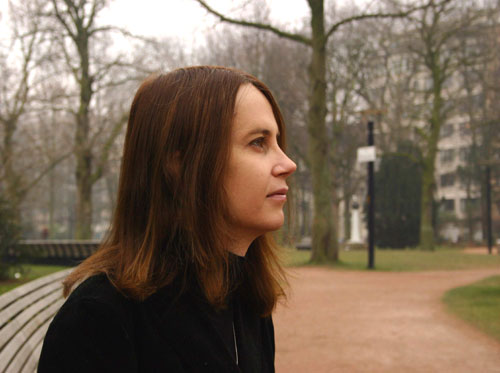 Femke Olyslager, Ph.D. (Belgium)
Professor of Electrical Engineering and Applied Physics, Ghent University
Femke's story, as originally posted:
Femke Olyslager was born in 1966 near Antwerp in Belgium. Already during preschool it became clear that she was not like other boys. As a shy boy, struggling with anxiety and depression, she found relief in science and as a bright student leaving high school she started studying Electrical Engineering at Ghent University in Belgium.
After obtaining a PhD she then continued a successful academic career leading her to become a Full Professor in Electrical Engineering and Applied Physics at Ghent University at the age of 35. Her life, even while having two lovely children, remained difficult culminating in severe anxiety disorders and physical weakness. At the age of 38, at a moment when being really became unbearable, she was directed by the web site of Mianne Bagger to that of Lynn Conway.
Reading Lynn's biography took away all doubts: "I sense an intense situation," Lynn answered after Femke sent her an email. Femke then discovered, to her own surprise, that the university hospital at her own university hosts a leading gender team. Under the dedicated counseling of Griet De Cuypere, MD, PhD, and the understanding and support of her friends, most of her family and her university, she was able to transition smoothly and to find peace in life.
Femke's research deals with the study, simulation and application of electromagnetic fields. She has authored several hundreds of publications in international journals and conference proceedings, authored two monographs and received many national and international scientific distinctions. She is a Fellow of the IEEE (Institute of Electrical and Electronics Engineers) and Assistant Secretary General of URSI (International Union of Radio Science). She is a Supporting Member of WPATH (World Professional Association for Transgender Health). Her scientific background and her transition led Femke, working together with Lynn, to study and report on the prevalence of transsexualism (more). In her free time she enjoys art and sometimes she risks embarking on creative computer graphic experiments!
---
*In Memoriam: Femke Olyslager
We were very deeply saddened when Femke Olyslager passed away on January 28, 2009. A kind heart and dear friend to ever so many people, Femke succumbed to ill-health of long standing.
Femke was a brilliant scientist in her professional specialties of computational and theoretical electromagnetics. She and I also recently collaborated on studies of the prevalence of transsexualism (more, more). Her creative mind and keen insights led to considerable progress in that area, and her passing is a great loss to science.
Although often suffering in silence herself due to ill-health, Femke always reached out to others in need, to provide hope and encouragement and a helping hand - especially to other gender transitioners. We will always remember her warm and gentle spirit, and will treasure our memories of this wonderful woman. May she rest in peace in a better place.
– Lynn Conway
---
Links to memoria by Femke's colleagues at URSI and by Femke's friends Evie, Leona Lo, Chloé Desoutter and Susanna Boudrie (see below).
---
A remembrance card passed out by Femke's family at her funeral.
The design on the cover was by Femke.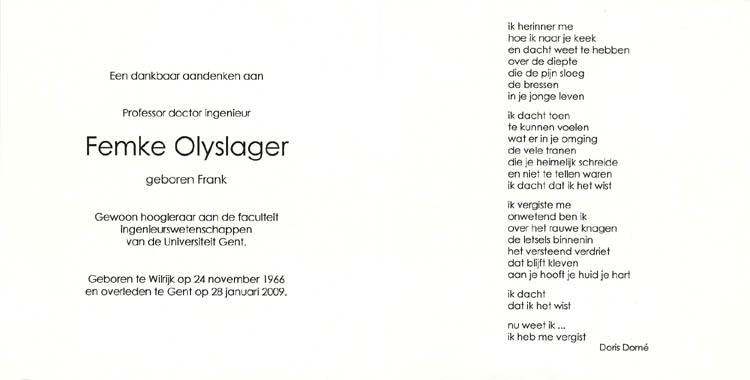 ---
Prof. Femke Olyslager passed away unexpectedly on January 28, 2009. Prof. Olyslager was born in 1966. She received the MS degree in 1989 and the PhD degree in 1993, both in Electrical Engineering from Ghent University, Ghent, Belgium. She was a full professor of Electromagnetics at Ghent University. She was a brilliant scientist who made outstanding contributions to the fields of computational and theoretical electromagnetics. She authored or coauthored approximately 300 publications in international journals and conference proceedings. She coauthored Electromagnetic and Circuit Modeling of Multiconductor Transmission Lines (Oxford University Press, 1993), and authored Electromagnetic Waveguides and Transmission Lines (Oxford University Press, 1999).
Prof. Olyslager had been the Assistant Secretary General of URSI (ed: International Union of Radio Science - Union Radio-Scientifique Internationale), since 2002. She was an Associate Editor of the IEEE Transactions on Antennas and Propagation and an Associate Editor of Radio Science. In 1994, she became a laureate of the Royal Academy of Sciences, Literature and Fine Arts of Belgium. She received the 1995 IEEE Microwave Prize for the best paper published in the 1993 IEEE Transactions On Microwave Theory and Techniques, and the 2000 Best Transactions Paper Award for the best paper published in the 1999 IEEE Transactions on Electromagnetic Compatibility. In 2002, she received the Issac Koga Gold Medal from URSI, "In recognition of her work on theoretical and numerical electromagnetics (in particular in the field of boundary integral equations, waveguides, and bianisotropic media)." In 2004, she became a laureate of the Royal Flemish Academy of Belgium. She was elected a Fellow of the IEEE in 2005 (ed: more) "for contributions to theoretical and computational electromagnetics."
Throughout her career, she showed a commitment to URSI. She will be deeply missed by the radio science community. The Department of Information Technology and its Electromagnetics group, her many PhD students to whom she was an inspiring example, and the URSI Board and Secretariat are deeply saddened by this loss of a dear friend and colleague.
– prof. P. Lagasse (Secretary-General of URSI)
– dr. W.R. Stone (Assistant Secretary-General of URSI)

http://ursi-test.intec.ugent.be/?q=node/108
---
In Memoriam:
The following statement was read by Femke's friend Evie at the funeral, for the friends of Femke:
Femke,

we missen je. We weten het niet meer meid,
wat te doen,
wat te zeggen

Je hebt ons verbaasd, lieve vrouw, met alles wat je deed,
met je werk, je teksten, je tekeningen, wat je bereikte,

Maar vooral wie je was, jouw heerlijke liefde
en vriendschap die je ons toonde, je warme hart,
je aanmoediging voor ons om door te gaan en alles
te ontplooien, je scherpe geest, je gastvrijheid.

Femke, je vrienden zijn hier, en we denken aan je.
Jij was er voor ons, en de leegte die we nu voelen is
met geen woorden te beschrijven.

We weten het Femke, dat je soms blij was, en soms droef,
en we respecteren je keuze. We houden van je.

Je zal altijd bij ons zijn, in de steden waar we rondlopen,
in de gedachten die we hebben, in de kunstwerken die we bewonderen,
in de manier waarop je ons opnieuw leerde kijken, hoe je kon genieten
van de kleine en de grote dingen.

Het spijt me, schreef je, maar het spijt ons ook.
Dat we niet meer konden doen,
dat je je kinderen zo miste,
dat je zoveel pijn had.

Maar we zijn ook blij, want je hebt ons leven zoveel beter en mooier gemaakt, zoveel rijker.

En Femke, we zullen ook al de mooie momenten herinneren.
Jij, genietend van je werk, altijd nieuwe tekeningen proberend,
vrolijk zijn bij je vrienden, herstellen na je operatie,
vrolijk in de zon warmend of blij met lekker eten of rondreizen
naar zoveel plaatsen...

Dank je lieve vrouw.
− Evie
Translated from the Dutch by Evie:
Femke,

we miss you. We don't know anymore girl,
what to do,
what to say.

You've amazed us, sweet woman, with everything you did
with your work, your texts, your drawings, what you accomplished,

But especially with who you were, your amazing love
and friendship that you showed us, your warm heart,
your encouragement for us to keep going and develop
ourselves, your sharp mind, your hospitality.

Femke, your friends are here, and we are thinking of you.
You were there for us, and the emptiness we feel
now cannot be described in words.

We know, Femke, that you were sometimes happy and sometimes sad,
and we respect your choice. We love you.

You will always be with us, in the cities we wander around,
in the thoughts we have, in the works of art we admire,
in the way that you taught us to look anew, in the way
you could enjoy the great and small things.

I'm sorry, you wrote, but we're sorry too.
That we could not do more,
that you missed your children so much,
that you had so much pain.

But we are also happy, because you've made our lives so much better and more beautiful, so much richer.

And Femke, we will also remember the nice moments.
You, enjoying your work, always trying out new designs,
being happy with your friends, recovering after your operation,
happily warming in the sun or enjoying good food
or travelling to so many places...

Thank you sweet woman.

− Evie
---
Femke Olyslager was Professor in Electrical Engineering and Applied Physics at Ghent University. Throughout her life she struggled with gender identity conflict, and although she was married with two lovely children, she also suffered from severe anxiety disorders and physical weakness. At the age of 38, she approached Lynn Conway for advice. Under the dedicated counseling of Griet De Cuypere, MD, PhD, and the understanding and support of her friends and her university, she went through gender reassignment surgery and found new life as a woman.

I first met Femke when she travelled to Singapore for a regional conference on electromagnetic fields. She was shy and nervous, yet humorous and tender in so many ways. We met again last year when she attended her second conference in Singapore. This time, we spent more time together, and even coordinated a media conference to release the first-ever transsexualism prevalence rates in Singapore. I remember working on her powerpoint presentation in her hotel room - that was a fun experience!

Alas, Femke passed away last night. All that I have of her are the newspaper clippings from the Chinese media and the intelligent poster she designed and courriered to Singapore for me. I wish I could hold her hands once more and tell her everything will be alright, that she will turn the corner eventually.

May her soul rest in peace.

– Leona Lo, Singapore

http://leonalo.wordpress.com/2009/01/30/in-memoriam-femke-olyslager/
http://leonalo.wordpress.com/2009/02/05/femkes-photos/
http://leonalo.wordpress.com/2009/02/04/re-femke/
---
In Memoriam:
Femke was a beloved friend. She was at the same time brilliant, amusing, and with a deep personality.
I remember when I met her. We talked about many things, especially the studying protocol for the prevalence of transsexualism. But our topics were not limited to that. We had much wider conversation fields. Architecture, electronics, quantum physics, computing for the hard ones. Sexuality, how she suffered of anatomic problems, how deeply she missed her children, the hate she couldn't understand from her former in-laws.
I loved the way she dressed. She played with black and white colors. It became one of my inspirations for some costumes I use in performances. She was an artist, also, though she denied it. The last work I saw of her was an adaptation of one of Piranesi's works, using vector graphics.

Femke was an anxious friend. I had passed over this anxiety: our relation was deeper than that. She was more than just a friend. The long conversations we had are not forgettable.
I can't believe she won't say hi again. I can't believe "femkex" will never pop-up on Skype again and ring my computer. I said goodbye, but still, it's cruel.

The goodbies were a pain. It was not only Femke's ceremony. Some people there tried to raise "Frank Olyslager" from the dead. The man she never was. This was painful, I thought I'd leave the ceremony, but I stayed, for her and for us all. My transgender mate had me stay. I promised that I would never let her family call her anything but the name she chose. I hope that it will never happen to anyone again.

Femke Olyslager will always live on somewhere in my heart, and in the hearts of all the people that were present this day.
− Chloé Desoutter
---
In Memoriam:
We were some 300 people that had met up to say goodbye to Femke; in spite of the fact the it was in her natal village, some 2 hours drive from Gent, where most of her friends and colleagues live.
Her boss made a very bad speech, not honoring her memory by referring to her both as Femke and her old name.
Another WBT and, I each held a speech where we both made clear that one of Femke's main problems was that she was withheld access to her children. Femke's ex. wife and her family stomped out of the ceremony, but finally the children had heard first hand what had happened to their "disappearing" "father", and that Femke cared for them and was a very very appreciated friend and scientist.
My speech was the following:
"I had only the chance to know Femke less than a year, but what a year. It became a very special period of my life...
She incarnated the word kind. She always thought about her next.
Although haunted by her ghosts, she only had one regret: that she no longer had any contact with her children. When she was deep down her last month, the thought of them were the only thing that kept her going.
Femke's exceptional kindness was widely known and today I bring the last greeting from people in Singapore, Sweden, France, Ireland and the US.
Rest in peace Femke. You live in the loving memories of your friends and loved ones."
– Susanna Boudrie
---
LynnConway.com > TS Women's Successes > Gallery Page 4 > Femke's story
---