My Story

, by Kalki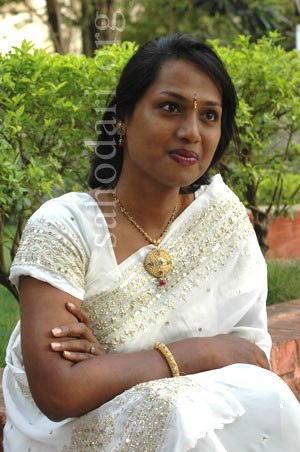 Kalki (India), Founder/Director
'I am not a woman, I am a super woman' I always tell my friends. A woman to me should be powerful and strong, mentally and physically. Right from my childhood, that is the how I perceived femininity. That is how I longed to be.
My name is Kalki, I was born in Pollachi, a small town in the state of Tamilnadu, India. My family is a typical Indian middle class family. My mom was a home maker and my dad was into truck business. I have two lovely sisters who are married and are successful in their own ways. My mom is the pillar of our family. She always told us 'Education is the only permanent asset to a human being'. My dad was a generous man who helped the poor. My parents put me in a boarding school in Kodaikanal and I initially hated it because I had to leave home and be away from my family. I cried a lot. But I was a good learner and was the topper in my class. English was my favourite subject.
Though I had spent a lot of time with my sisters, I loved being with boys because they were more adventurous than girls. I always wondered why girls don't do the things that boys do. I had great respect for girls who were bold rather than beautiful.
I remember my childhood very well. Even when I was 10 years old, I wanted to be a girl and wearing skirts and frocks excited me beyond anything else. Even when I played or did mock dramas at home with sisters, I always took the role of a business woman, a dancer or a warrior princess. I bought a red lipstick with my pocket money when I was 10 and hid it in my little closet.
When I was 13, one day my mom found my poems in a bunch of papers in which I had written about my feelings of femininity and my struggles with the world. She was upset and began to watch and care more for me. As a child, I was definitely feminine, I was so sure that I will be a complete woman one day. I used to think often 'One day I will make the world turn on me'.
For my higher schooling, my parents enrolled me in a boys high school and I hated that. I had no close friends in school. My classmates would tease me and verbally abuse me for who I am. My teachers too would mock at my effeminate character. I was hurt so much and was longing for true, understanding, compassionate friends. To escape the hurt, I used to bunk classes and hide in a park. That is where I found Apsara who later became my mother in the Thirunangai (Transgender) family. Apsara was a transsexual woman who also faced stigma and discrimination. She was a few years elder to me. Through her, I met many transgender people and at that young age, I had already become a part of the transgender family.
The transgender women of south of India have a family system that unites and binds us. We are an all women's family and no men – no husbands, fathers, uncles, sons or grand sons. It is a women's world and is a mix of Hindu and Muslim cultures. Truly it is a secular system. The mothers are usually called as Gurus and the daughters as Chelas. This was a family hierarchy which is fully matriarchal. We have great grand mothers, grand mothers, mothers, aunts, mother in laws, daughter in laws, daughters, grand daughters and great grand daughters. Apsara, my mother from the trans family is my Guru. The chronological age has no value here, whoever joins the family becomes the part of the hierarchy and transwomen who join thereafter will be the daughters or grand daughters of that person. This is a unique family system which the transwomen have been following for more than 100 years and it is a strong bond which unites us as a family network throughout the country. Girls from any religion or sect can become a Chela (daughter).
As a girl who stepped into the transfamily as early as 14, I now have several daughters and grand daughters. It is a true bonding based on loyalty, love and faith. Transwomen who run away fearing the stigma from their family and relatives usually join or create these families. Transwomen who stay with their biological families can be a part of these families too.
Usually in India, transgender people walk out of their homes or are forced to go away owing to social stigma. I was one of those lucky ones to be accepted by my biological family. To make them accept me and understand me was a gradual process, years of hard work and patience and my family finally accepted me totally.
Having been with many transgirls right from my teens, I know how they are discriminated in public and how much suffer because of stigma and poverty. Due to this, many girls go through bouts of depression very often. Some get addicted to alcohol and substance abuse for temporary relief and happiness. Another solace is Love. Their love for a man could make them very strong or very weak. I know happily married girls and also girls who committed suicides unable to cope love failures. Discrimination, social stigma, fears and depression were killing our community.
After completing my Bachelor's degree in English, I enrolled for Master's degree in Journalism and Mass communication in Madurai Kamaraj University - not as a career move but to sensitize the gender issues through the media. During my studies, I started publishing a monthly magazine in Tamil for the transgender women called 'Sahodari' which means Sister. It was a great platform for voicing our needs, advocating for our rights, telling the world who we are. There were wide appreciations from all. The Indian media too wrote about it. I gained support from college and university students from Tamilnadu. Some of my best friends were those who have been with me in my struggles and battle for equality for transgender people.
During all these years, I was transitioning quietly. After completing my studies, I joined as a Media specialist in a multinational company and was leading a team of men in media and publishing research projects. The money that I earned there supported me financially for my transition and I went through laser hair removal treatment for an year and later did my Gender Reassignment Surgery.
Later I quit the job and started an organization called 'Sahodari Foundation'(yes, the same name of my magazine) to work for establishing social, economic, and environmental justice for Transgenders and gender non -confirming people. I moved to Auroville the universal city of human unity and peace. There I worked with the village youth in a fantastic musical instruments project called Svaram. I was also a part of the 'Auroville Theatre Group' and played a double role the contemporary version of William Shakespeare's 'Hamlet'. Auroville was a good place where I transitioned completely and had many precious experiences in life. I have some wonderful friends there. A year and a half later, I moved to Chennai, the capital city of our state and immediately speeded my advocacy work.
I have been continuously meeting hundreds of students from colleges in Tamilnadu and in Kerala to ensure their participation and support in anti-discrimination and equality of Transgenders. We transwomen not only fight for our justice, but we voice against oppression, violence and war too. In 2008, we showed our protest against the war and genocide in Srilanka in which thousands of Tamil people were killed in ethnic war. Transgender women gathered and we fasted for a day without any food and water to show our protest in a non violent way. I always believe that transwomen are powerful and should protest against injustice wherever it exists.
For the past 9 years, I have been campaigning vigorously through out the state of Tamilnadu. Many girls worked hard in this issue. We all work together in our mission for a better life, better tomorrow. We met the most influential people of our state and raised support. Last year, the government of Tamilnadu instituted Transgender Welfare Board, which is the first initiative of its kind for transgender people in India. Slowly there is wide acceptance for us in all walks of life. In the state government co-education colleges, there is a special category for admissions to studies for transgender women. Some universities have come forward to even offer free admissions for transgender people. The government has allotted free housing, has created a panel of doctors to provide health care and Sex Reassignment Surgery and tries to help transwomen to lead a dignified and happy life. We will have special identity cards in a year and can access services from the government with concession. We have come a long way and our state is proudly the best trans friendly model state in India.
But there is still a long way to go. The discrimination has come down but not wiped out. Most transwomen are poor and they need good housing, care homes for elders, employment and education for young transpeople. I, like many other trans advocates in our state, am working towards achieving these needs.
Sometimes I feel lonely and think about having a life partner. Love is a hope, a power that can transform anyone for the very best in life. My sweetheart - he is born somewhere for me and we will meet soon. Until then, and thereafter, my journey will continue…
Kalki

Founder/Director Sahodari Foundation
Web : http://www.sahodari.org
Email : aurokalki AT gmail.com

Awards: Lifetime Achievement Award from Lions Club of Chennai, Top Ten Nambikkaigal (Hopes) of 2009 by Anantha Vikatan Tamil magazine.
http://www.sahodari.org/about-kalki.html
http://www.sahodari.org/media-press-kit.html
Portrait of Kalki

Enjoying the cascades of fresh water

As a panelist at the international Conference on Sexology

Fasting against genocide and war against Srilankan Tamils

With Member of Indian Parliament Kanimozhi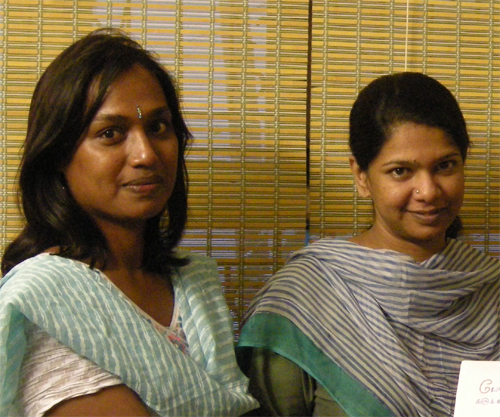 In a street play at Sahodari's street show 'Transwomen-The Hunt for Dignity'

At Sahodari's street show 'Transwomen-The Hunt for Dignity'
organized with fellow transwomen and LGBT activists

With students during a gender seminar at Kottayam, Kerala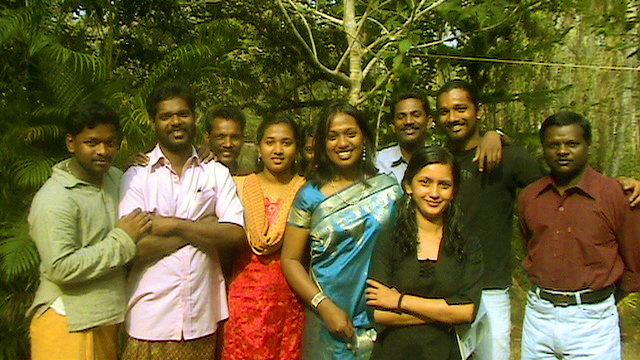 Kalki lecturing on transgender issues in Farook college in Kerala
and Ethiraj college in Tamilnadu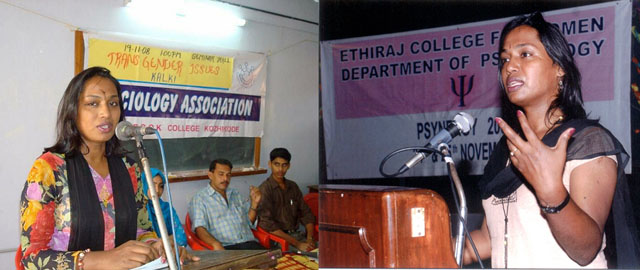 With friends at a Transgender women's shelter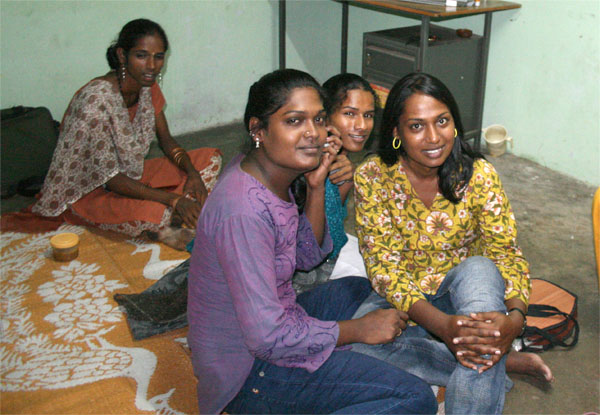 ---
LynnConway.com > TS Successes > Photo Gallery 1 > Kalki's Story
---