Raytheon GLBTA NEWS
Gay, Lesbian, Bisexual, Transgender, and Allies Employeed Resource Group
August – October 2005, Vol 1 Issue 2
Another Milestone in the Journey: GI and E Added to EEO Policy
The news of the addition of gender identity and expression to Raytheon's Equal Employment Opportunity (EEO) policy was posted on the Raytheon Web site July 18. This step of inclusion was built on a long term partnership between GLBT employees and Raytheon diversity leadership. Diversity lnc e-magazine has called the issue of gender identity and expression the "acid test" for diversity, but Raytheon achieved it through a diversity partnership to reach a win-win solution.
Amanda Simpson,
RMS Tucson
The Beginning
As in the case of any diversity milestone, there was a journey behind attaining this achievement. Even the gay and lesbian rights movement has not always included transgender issues. Since the mid to late 1990s more and more G/L organizations have adopted the use of "bisexual" and "transgender" in their names.
Raytheon was no exception. Amanda Simpson, a 23-year employee and a chief engineer and test pilot at Raytheon Missile Systems in Tucson, had transitioned from male to female over six years ago while at Raytheon. Although she was not the first Raytheon employee to transition, she quickly became the most visible.
At that time, there was no GLBTA chapter in Tucson, and the only chapter (in North Texas) was called LGEN (the Lesbian and Gay Employee Network). The Tucson chapter, started in 2000, was originally called GALA (the Gay and Lesbian Alliance). When Simpson became aware of the group and wanted to join, the members changed the name to Gay, Lesbian, Bisexual and Transgender Alliance. GLBTA-Northeast, which had formed just before the Tucson chapter, already had the "GLBT" name, and the Wichita chapter, which formed after Tucson, had the same. The North Texas chapter also changed its name to GLBTA. As GLBTA grew, subsequent chapters (El Segundo, Fullerton, Aurora, Mid-Atlantic) all included the "B" and the "T."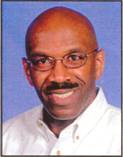 Raytheon Chief Diversity Officer,
Hayward Bell
The First Steps
In 2002, Simpson, at the invitation of then-Raytheon Director of Global Diversity Linda Rusk, gave an educational slide presentation to the Raytheon HR Diversity Council (HRDC). At that time, Raytheon had just implemented domestic partner benefits for same-sex couples. In addition, the Human Rights Campaign, the nation's largest GLBT organization, had recently instituted the Corporate Equality Index (CEI), a tool to measure how equitably corporations are treating their gay, lesbian, bisexual, and transgender employees. Raytheon scored 86 percent on the first CEI, only missing a 100-percent score by not having a policy protecting employees from discrimination based on gender identity and expression. However, in 2002 there were only
11 Fortune 500 companies with a 100-percent CEI score.
Momentum Builds
GLBTA leaders realized there was an education gap that needed to be filled, along with momentum from additional Fortune 500 companies adopting gender identity and expression nondiscrimination policies. By2003, there were 21 companies with 100-percent scores. Meanwhile, the GLBTA chapters across Raytheon were making the addition of gender identity and expression a top priority so that Raytheon could realize the benefits of both positive company image in the GLBT community and the advantages of attracting and retaining a wider range of diverse talent. By 2004, there were 56 companies with a CEI score of 100 percent.
At the 2004 Out &Equal Workplace Summit in Tempe, attended by over 50 Raytheon employees (both GLBT and allies) there were a number of excellent and informative workshops on gender identity and expression. These workshops told the people side of the employees' stories and also cited the benefits to companies. Rusk attended and was both interested and moved by the presentations. One take-away for Rusk was meeting a female-to-male transsexual and presenter, Jamison Green. Rusk also read Green's book, Becoming a Visible Man, and purchased several of Green's books to share with other Raytheon leaders.
Year of the Change-2005
In February 2005, Rusk retired and Hayward Bell, from Allied Products and Chemicals Inc., became Raytheon's chief diversity officer. Under Bell, Allied Products and Chemicals had added gender identity and expression to its EEO policy. Also in February, Louise Young, Raytheon GLBTA founder and past president of GLBTA-North Texas, was part of a Raytheon delegation to the annual meeting of the National Organization of Gay and Lesbian Scientists and Technical Professionals (NOGLSTP) in Washington, D.C., to accept the NOGLSTP National Corporate Award. Another NOGLSTP award winner was professor emerita Lynn Conway of the University of Michigan [see separate story in this issue]. Young realized that the story of Conway, a celebrated engineer who had transitioned from male to female in 1968, could be a catalyst to the efforts started by Simpson.
Bell agreed to bring the concept of the EEO policy change to the HRDC and Executive Diversity Council (EDC) meetings in April, along with an educational slide presentation prepared by Young using many of Simpson's original slides and the story of Lynn Conway.
Vision and Courage
Both the HRDC and the EDC (under the leadership of Raytheon diversity champion Louise Francesconi, president of Raytheon Missile Systems) approved recommending the policy addition to the senior leadership team. One essential requirement was the generation of a complete education package on gender identity and expression for managers and HR professionals that could be in place before the announcement of policy change. In June, the senior leadership team approved the policy change, which started moving through appropriate Raytheon channels.
By mid- July, Raytheon announced the EEO policy change in the same manner as any policy change and informed the Human Rights Campaign. Raytheon became the first aerospace and defense company to reach 100 percent on the CEI - the 71st company to do so. A press release issued by the Human Rights Campaign [see page 15] was picked up by The Boston Globe, which published a story on Page 1 of the business section; The Wichita Eagle; Bloomberg Business News; and a number of other publications both inside and outside the GLBT community.
Reflections
Simpson said, "When I proposed this change several years ago I knew it was a huge undertaking, but that it would open many paths for many others. There truly is a great deal of education to be done on so many levels. The nuances of gender identity or expression are many and are mostly misunderstood - even by those who seemingly 'get it: But with this change comes momentous opportunity. Raytheon continues to demonstrate its commitment to diversity and building an inclusive culture. All employees, current and future, will benefit by the commitment to an open expression of ideas and the basic foundation that they are valued by the company for their contribution to the success of Raytheon:'
"The explicit inclusion of the words 'gender identity and expression' in the EEO policy was really an affirmation of practices that we've had with different employees over the past few years at different locations;' said Bell. "The policy change was a way to confirm that-to cement that-and make it clear and consistent across our enterprise:'
Young noted, "Raytheon diversity leaders, senior management and the GLBTA leaders have a sound partnership-a relationship of the highest level of mutual trust and respect. This is the way we have reached our many diversity achievements. The win-win formula is the only way. There are so many heroes on this effort: Amanda Simpson, Rachel Beitz (president of GLBTA-Aurora), all the other transgender employees at Raytheon, Hayward Bell, the HRDC, EDC, and senior leadership team have proved once again that together we can build a more inclusive company."
_______________________________________________________
GLBTA−Global
Professor Lynn Conway, Guest at Out& Equal

Professor Lynn Conway,
one of the most distinguished engineers of our time
Lynn Conway, professor emerita at the University of Michigan in Ann Arbor, will be a guest of Raytheon at the 15th Annual Out & Equal Workplace Summit in Denver, Sept. 22-24.
Hired as a male, Conway was a key member of the IBM team that created the first "superscalar" computer in the mid-1960s - the classic architecture used in many high-performance PCs today. She transitioned from male to female in 1968 and was fired by IBM when she announced her intention to do so.
Starting over in "stealth," meaning without other people knowing of her past, she went on to a stellar career. Thousands of chip designers learned their craft from her text, Introduction to VLSI Systems, co-authored with professor Carver Mead of Caltech. Much of the modern silicon chip design revolution is based on her work.
The following are among Conway's many achievements:
● Elected a member of the National Academy of Engineering, the highest professional recognition an engineer can receive
● Fellow of the IEEE
● Served as an SES-4 (the civilian equivalent of a major general) at the Defense Advanced Research Projects Agency (DARPA)
● Served on the U.S. Air Force Scientific Advisory Board and on numerous committees of the national academies
● Elected to the Electronic Design Hall of Fame
● Holder of fiveU.S.patents
The Raytheon delegation looks forward to having her as their guest.
_______________________________________________________
GLBTA−Global
Raytheon Gears Up for Out & Equal Summit

Dorene Robarge of the corporate diversity office
and member of the Out & Equal core planning team is handling logistics.
Out & Equal Workplace Advocates, based in San Francisco, champions safe and equitable workplaces for lesbian, gay, bisexual and transgender people. Their prime activity is the annual Out & Equal Workplace Summit that draws attendees from all over the nation plus several foreign countries. More than 850 HR professionals, GLBT workplace leaders and allies are expected to attend the 2005 summit.
This is Raytheon's seventh year to attend Out &Equal and the sixth year as a corporate sponsor. A GLBTA core planning team is partnering with Dorene Robarge of the Raytheon Diversity Office (Global Headquarters) and Chase Hawkins, IDS diversity director, as HRDC liasion to ensure Raytheon and its attendees receive maximum benefits from the summit.
This year the core team is implementing a buddy system that will match first-time attendees with those who have attended before. The buddy will offer guidance on workshops, logistics and other nuts-and-bolts that will make the summit experience more enjoyable and valuable.
The objectives of this year's Out & Equal Summit are:
● Increase attendance proportion of allies and executive sponsors over past years
● Promote Raytheon as GLBT-friendly at the summit
● Increase summit networking opportunities for Raytheon GLBTAmembers and allies
● Provide a positive experience for new Raytheon O&E attendees and allies
● Participate in a record number of workshops (Raytheon has already met this goal by providing 12 presenters at eight workshops, topping last year's eight presenters at six workshops!)
● Offer high-quality summit workshops that garner favorable reviews by attendees
The core team has prepared a prebriefing that provides a quick preview of this year's conference to give attendees a glimpse of what will happen at the summit. Access it at: http://pub01.rsc.raytheon.com/nxt_glbta/presentations.htm
Information is also available at the Out & Equal Workplace Advocates Web site: http://www.outandequal.org
A recap of the summit will be published in the next issue of this newsletter.
_______________________________________________________
GLBTA−Global
HRC Praises Raytheon EEO Policy Change
They say "good news travels fast:' and that was no exception with the recent addition of "gender identity and expression" to Raytheon's EEO policy. The positive press coverage ensures that Raytheon's diversity leadership within not only the defense and aerospace industry, but all industry is well-known.
Following is the Human Rights Campaign's press release on Raytheon's attaining a 100-percent score on HRC's Corporate Equality Index. HRC is the nation's largest GLBT rights organization.
Defense Giant Raytheon Protects Transgender Employees
'Our national security deserves the nation's best defense experts, regardless of who they are,' said HRC's Joe Solmonese.
Joe Solmonese,
Human Rights Campaign president
WASHINGTON – The Human Rights Campaign lauded Raytheon Co. for adding gender identity and expression to its equal opportunity policy. Raytheon becomes the first aerospace and defense giant to rank 100 percent in HRC's Corporate Equality Index, which rates companies on how they treat lesbian, gay, bisexual and transgender employees and investors.
"Our national security deserves the nation's best thinkers, regardless of who they are,' said HRC President Joe Solmonese. "Raytheon employs some of the nation's top security experts and wants them focused fully on their job. The threat of discrimination hurts job performance and Raytheon understands that. We're proud to see Raytheon achieve a 100-percent rating from the Human Rights Campaign, showing its commitment to this issue of fundamental fairness:'
Hayward L. Bell, Raytheon's chief diversity officer, explained, "For Raytheon, adding gender identity and expression to our policy was an example of matching the talk with the walk. We have historically supported employees facing transitions so this policy change makes our intention and beliefs regarding inclusion more explicit and it ensures consistency across the company. In addition, we have provided information kits on gender identity and expression to our leaders and human resources professionals to ensure they are more knowledgeable and thus better able to support Raytheon employees."
"Knowing I'm going to be evaluated on how well I do my job and not my gender identity or expression is key to my productivity as an employee:' said Amanda Simpson, a Raytheon employee for 22 years. "As a transgender employee, who transitioned while at Raytheon, I am especially proud of my company for ensuring our EEO policy now covers bias against gender identity and expression."
HRC's Corporate Equality Index requires that a company prohibit gender identity-based discrimination in order to achieve a 100 percent ranking. At least 72 Fortune 500 companies, including Raytheon, prohibit gender identity-based discrimination.
Raytheon Co., with 2004 sales of $20.2 billion, is an industry leader in defense and government electronics, space, information technology, technical services and business and special mission aircraft. With headquarters in Waltham, Mass., Raytheon employs 80,000 people worldwide.
The Human Rights Campaign is the largest national lesbian, gay, bisexual and transgender political organization with members throughout the country. It effectively lobbies Congress, provides campaign support and educates the public to ensure that LGBT Americans can be open, honest and safe at home, at work and in the community.
---
Raytheon Group Photo from O&E 2005: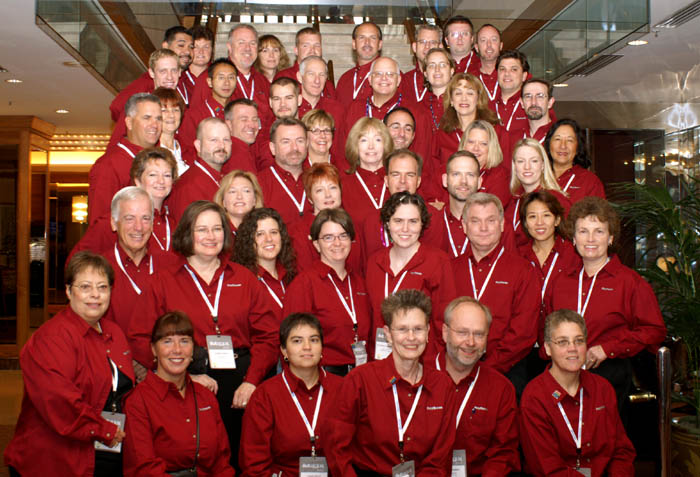 ---
For more about the HRC CEI, see:
HRC 2005 CEI Press Release and Executive Summary
HRC database listings of companies' CEI ratings
For more about "Out & Equal", see:
Out & Equal Workplace Advocates
O & E 2006 Summit to be held in Chicago!
See also:
Poster of Lynn as Raytheon's Guest at O&E 2005 (click here for hi-res 1 MB jpg)
Raytheon 2006 Pride Day Poster (0.8 MB jpg)
---
LynnConway.com > TS Information > News > Raytheon Adds GI&E to EEO Policy
---